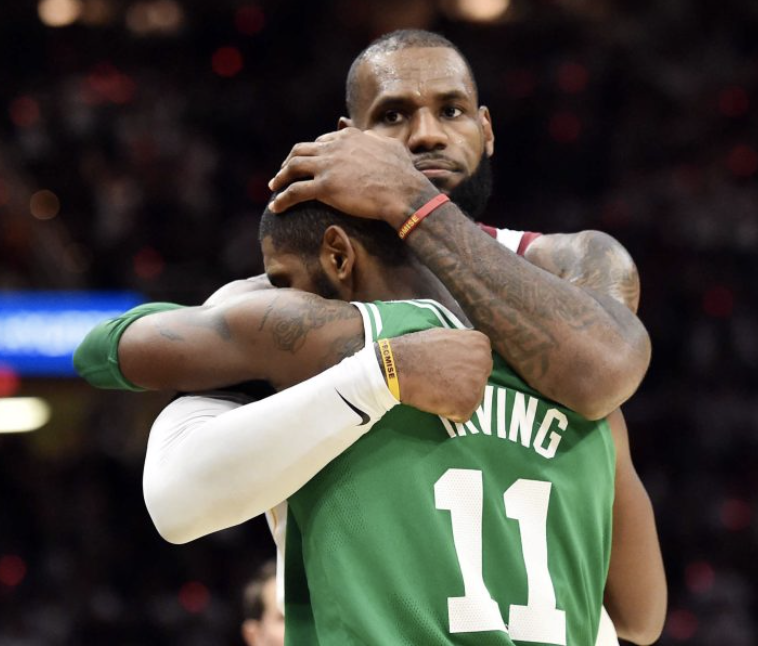 NBA POWER RANKINGS
Week 21
I wasn't really sure what I wanted to do with this. This is obviously going to be the last Power Rankings for a while here, and I figured that there wasn't much point in doing the usual. I thought for a while about just doing a little status report on every team heading into the hiatus. Seemed like a decent idea that would leave us with one last look at the league before we enter a month of unknowns. I thought about writing about things like the MVP race and the playoff chase. I thought about writing some jokes. Rudy Gobert flashed across my mind quite a few times because I didn't have much else to turn to. I wrote a little recap of how I was feeling as everything was happening, but I didn't really like that either. I think what I want to talk about a little bit is the importance of sports. Not to diminish the importance of health or economic security, or to suggest that the decision to not play public sports for at least a month or so was the wrong one. Not to suggest that something is more important or less important than another thing. Just because we're seeing a lot (even more than usual) of people going around and spitting out some version of "All this is going on and you care about sports?" Just because yes, I really do care about sports. Even now. Even in a time like this. And I know a lot of people feel similarly.  
The simple reality is that I would not be who I am without sports. I've played tee ball, soccer, football, baseball, tennis, basketball, volleyball, and golf. I've been on swim teams, cross country teams, and track teams. I've wrestled (semi-professionally) with my brothers on random pieces of furniture. I'm the unofficial world champion in mini hoop. I've played mini golf, which is absolutely a sport. I played hockey a few times before I split my lip on the ice during recess in third grade. I've played kickball and badminton, lacrosse and flag football. I've wheeled myself around on a mini circle scooter in the name of some sort of hockey-soccer combo sport in gym. I've put serious mental effort into thinking about trench ball strategy. I played four years of three high school sports with all the combined heart (a lot) and skill (somehow negative in some areas) of my mom and dad's genes. 
When I was younger, I didn't stop playing sports when I was by myself. I had a collection of NFL and college mini helmets, and I would throw them in a big plastic bag, shake them up, close my eyes, pick teams, and draw out a full season of football on endless sheets of paper that drove my mom mad. I did the same with other sports. I was, in my backyard and basement, the quarterback of Michigan and the Packers. Michigan's point forward. The first basemen of the Brewers. The dude who scored all the goals in soccer – the correct term here, I believe, is scorer man. I threw myself around my back yard to fake tackles, tossed the ball in the air and ran the bases after smacking it somewhere with the plastic bat that's now sitting in maximum security in my bedroom closet back home, and faked out defenders on the way to legendary basement buzzer beaters. When we went on vacation, one of my first orders of business was getting my dad to cut up some cardboard box to hang on the wall as a hoop. The games had to go on, even if that meant the ball going through the former holder of a six pack of beer. I may have been a long way from the pros, but that didn't mean my games weren't sponsored by Heinekin. Sports were, and still are, an escape. 
I got older, and a lot of those backyard activities shifted to the Wii, and then the XBox. I was playing for the Bucks, the Packers, the Wolverines, the Brewers. Real Madrid and Man United. I was taking on Tiger Woods and causing absolute chaos on the NASCAR track. The controller needs to be put down at some point, but those games offer the chance to live in a world that most of us can't achieve. The chance to, even in the most shallow way possible, experience some dreams. 
Even today, I still shoot around on the mini hoops in my basement. I still get excited when I dunk on a hoop that probably doesn't sit above my shoulders. I still pretend I have a basketball in my hands and make a bunch of clutch jumpers in my room. I still dominate my friend Blase every time he tries to walk onto my basement court. I play, when I can (and this is never enough), the sports that I have always played. I run around the court, the field, the park, and the gym, and nothing can stop the joy that it brings. 
But the effects of sports run much deeper. The whole team sports mantra is repeated often enough for it to seem a little ridiculous, but it really is all true. When you walk out to practice, you learn what it means to be responsible. To be a part of something bigger than yourself. To have someone other than yourself dependent on your actions. You don't make it work in life without that. You can, if the chemistry is right, learn what it means to love someone enough to give everything you have for them. When you step into the weight room, you learn what you need to put in to improve. What you need to give to be better. When you step onto that hot grass field in the middle of summer, you learn that the best work is often the hardest work. Again, you learn that you can't get what you want until you give it all you have. When you step on that court and play the game, you learn through losses what isn't enough. You learn what you need to put into the work that they don't see to impress them when they do see. That lesson hurts, but those are the types of lessons that are most likely to stick with you. When you walk out there and win, you learn the joy of success. The joy of all of that hard work paying off. And then you get back in the gym and chase that feeling again. 
Then there are the relationships that sports bring. 
There's sitting on the couch with your dad and watching your favorite teams, the ones that you and him have shared and always will share. Those are the teams that drive so many of your conversations. The teams that drive you to sit in the wind and cold just to be there when they play. The teams that drive you to laugh and cry and cheer and scream. Together. 
I'm never going to forget warming up for a little league game and seeing my dad sitting out beyond the outfield in one of his folding chairs. Or looking around during a basketball game and finding him somewhere in the stands. Or seeing him walk up at some random Wisconsin high school forty-five minutes from our house just to see me and my team play. Or just because I forgot something that I needed for the game at home. And now I'm crying so I need to finish this paragraph. Must be the coronavirus. 
There are deeper things than sports in our relationship, but that stuff is hard. It's hard to express and often even harder to see. Sports are easy, and they allow us to show those deeper things without the difficulty. They allow us to show that we care, and they allow us to show ourselves and others what it really means to work, to love, to be present. There is so much in life that is really hard, and social connectors like sports allow us to bridge the gaps that those difficulties can otherwise create. 
There's also the impact that sports has on our relationships with friends and siblings. Again, sports are that bridge. Without them, we'd honestly probably be stuck just sitting there staring at the wall after about ten minutes of awkward conversation. I really think that's true. We bond over ripping on each other's teams. We bond over coming together to cheer for our shared teams. We bond over all the time that we spend talking about random teams. We bond over playing real sports and fake sports. We even bond over talking about fake sports. Because we love sports. At the end of the day, it's that simple. We need things that we love because it can often be very hard to feel good about a lot of the things that we need. 
That brings me to today's situation. The world is, for all intents and purposes, shutting down. Schools, big events, and more are closing their doors for, at minimum, two weeks. It looks like it could be a lot longer too. Over the past few days, sports fans have seen the NBA, NHL, MLB, soccer (too many leagues to name individually), XFL, and golf seasons suspended. The college basketball tournaments that combine for some of the most joyous times of the year have been cancelled. We are left with bowling as the only live American sport, and I'm pretty sure that statement is one-hundred percent true. In a time like this, it is easy to feel desperate and upset. To think about all of the effects of this and just want to shut down. That's how I've been feeling the last few days. This is all way too much to take in, and the usual source of comfort isn't there. I'm not even joking when I say that the emotional pain caused by seeing Michigan's first Big Ten tourney game cancelled while I was getting ready to open up the live stream for it was scarring. The March Madness brackets, even in good times, bring so many positive things. Now, in a time of great need, they're gone. 
Of course, this has to be the case. We're dealing with a serious issue that must be addressed. Hopefully, it is one that our drastic steps will control, but those drastic steps were necessary either way. So, what do we do in the interim? What was the immediate point of this whole rambling take on the importance of sports?
Hopefully what I've gotten across here is that sports are great (and crucial) because of the unbridled joy they bring and because of the way they bring us together. The lessons are important too, but obviously not quite as much in the short term. Right now, we need that unbridled joy and those close relationships. We're going to be okay, but it's not going to be easy if we allow all of the sometimes crippling emotions around us to take over. We're in a tough situation, and the only way to get out of those is to keep moving and use whatever we can to make it better.  
The things that will make it better are the things generated by sports – that joy and those relationships. The best of the best might not be playing in front of us anymore, but we still have each other. So, grab a ball and throw it around with your dad, your brother, or your friend. Shoot some hoops. Take some swings. If you don't want to go within 20 feet of anybody, then I have plenty of tips on how to make a solo backyard football game interesting. It might require the ten year-old in you to come out, but that's not the worst thing in the world that can happen right now. Get together with the people that mean the most to you, and do the things that mean the most to you. That isn't sports for everyone, but it is something. Take that something, and make the most of your day with it. Do that, and every day is going to be a little bit better. Find that light. And, just maybe, when we walk out of this on the other side, we'll realize that we should do whatever we can to find that light in every moment, regardless of how light or dark the world around us seems at the time. I know that's something I need to work on.
Be smart. Be safe. But don't let the virus that's already taken so much take our happiness too.
Here's one last ranking of the NBA before we enter the wilderness for a while. I didn't say anything below. Hopefully I've said something meaningful above. 
Golden State Warriors (15-50)
Cleveland Cavaliers (19-46)
Minnesota Timberwolves (19-45)
Detroit Pistons (20-46)
New York Knicks (21-45)
Atlanta Hawks (20-47)
Chicago Bulls (22-43)
Charlotte Hornets (23-42)
Washington Wizards (24-40)
Phoenix Suns (26-39)
San Antonio Spurs (27-36)
Orlando Magic (30-35)
Portland Trail Blazers (29-37)
Sacramento Kings (28-36)
New Orleans Pelicans (28-36)
Brooklyn Nets (30-34)
Memphis Grizzlies (32-33)
Indiana Pacers (39-26)
Philadelphia 76ers (39-26)
Dallas Mavericks (40-27)
Miami Heat (41-24)
Oklahoma City Thunder (40-24)
Houston Rockets (40-24)
Utah Jazz (41-24)
Denver Nuggets (43-22)
Los Angeles Clippers (44-20)
Boston Celtics (43-21)
Toronto Raptors (46-18)
Los Angeles Lakers (49-14)
Milwaukee Bucks (53-12)