The Sixers lost to a Blazers team without CJ McCollum, Damian Lillard, and Jusuf Nurkic last night, but Joel Embiid still managed to drop 37 in the loss. Ben Simmons was out too, so I'll cut Philly some slack. In any case, yesterday's game was a great example of Embiid's offensive versatility, a versatility that has him right in the middle of the MVP race so far. Let's take a quick look at three key areas where he contributed –
1. Screening
Embiid's screening is key in setting up his teammates to attack the paint. Here, we see Embiid taking care of Gary Trent while Tobias Harris drives: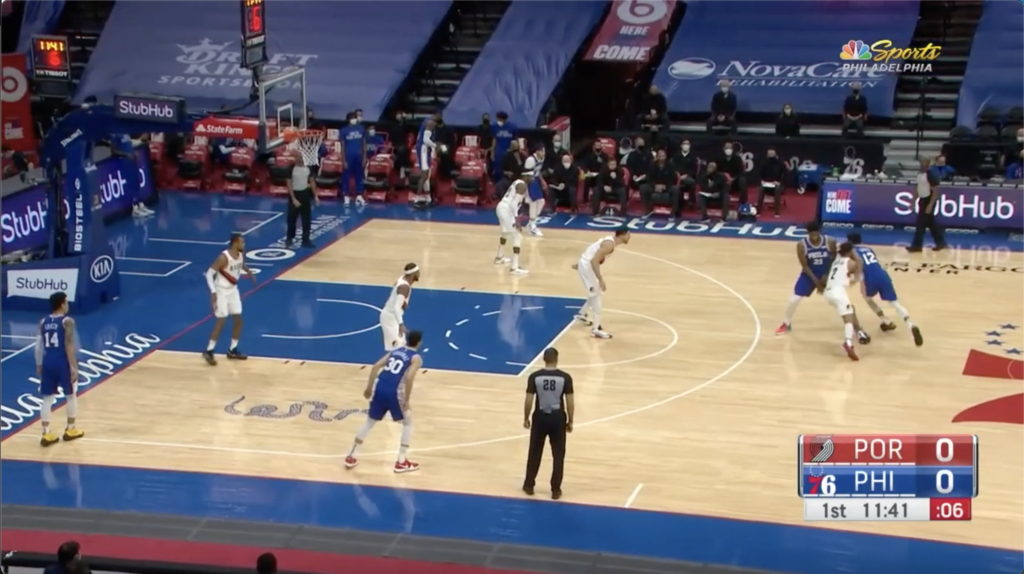 Why is this important? It puts Trent behind Harris and allows him to attack the slower man (Enes Kanter) that had been guarding Embiid.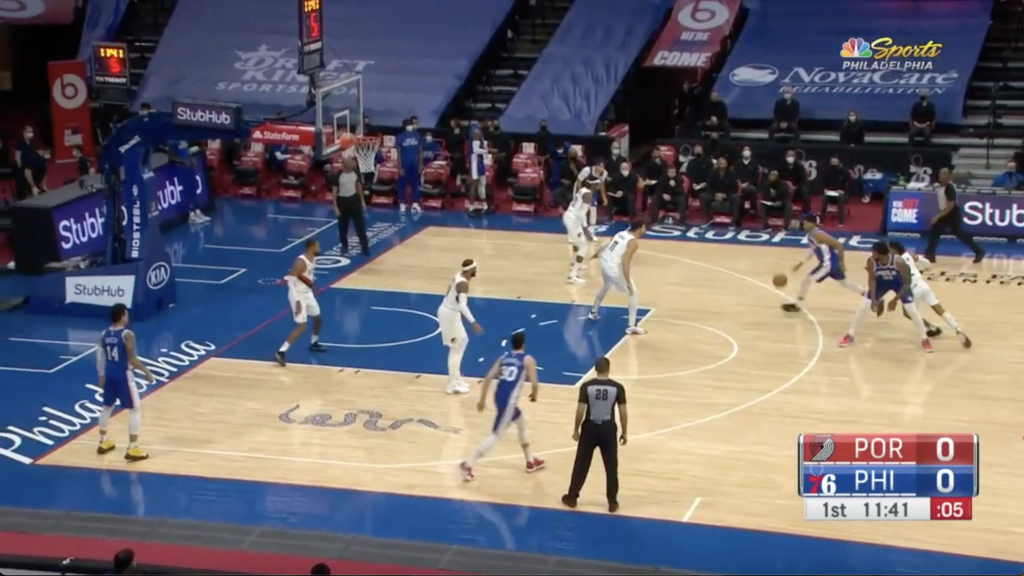 Harris can get any look he wants from there, and he pulls up to sink a great look at a mid-range jumper.
We see it again here –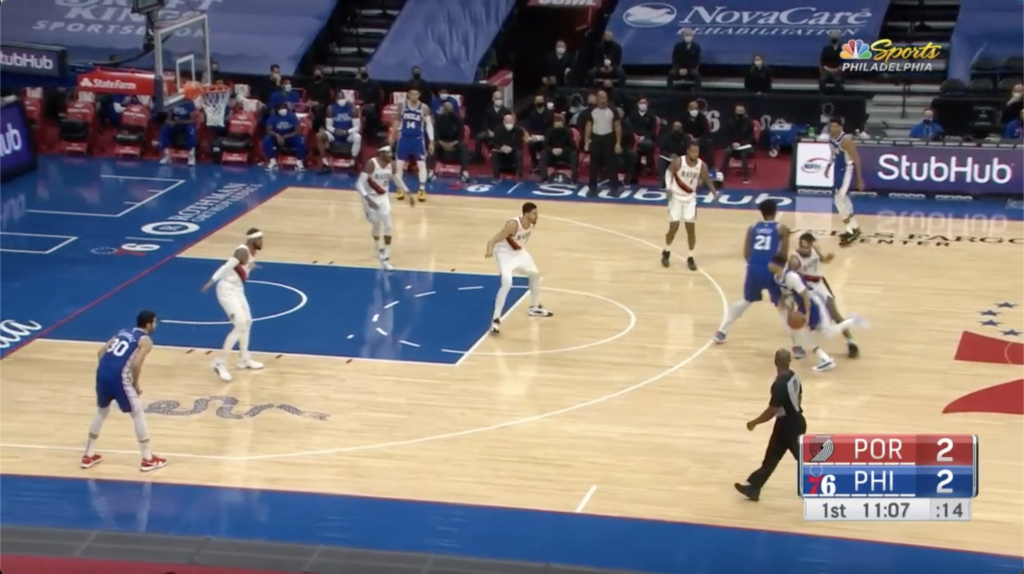 Embiid doesn't appear to get perfect contact on this screen, but it still accomplishes the goal of getting Trent behind his man.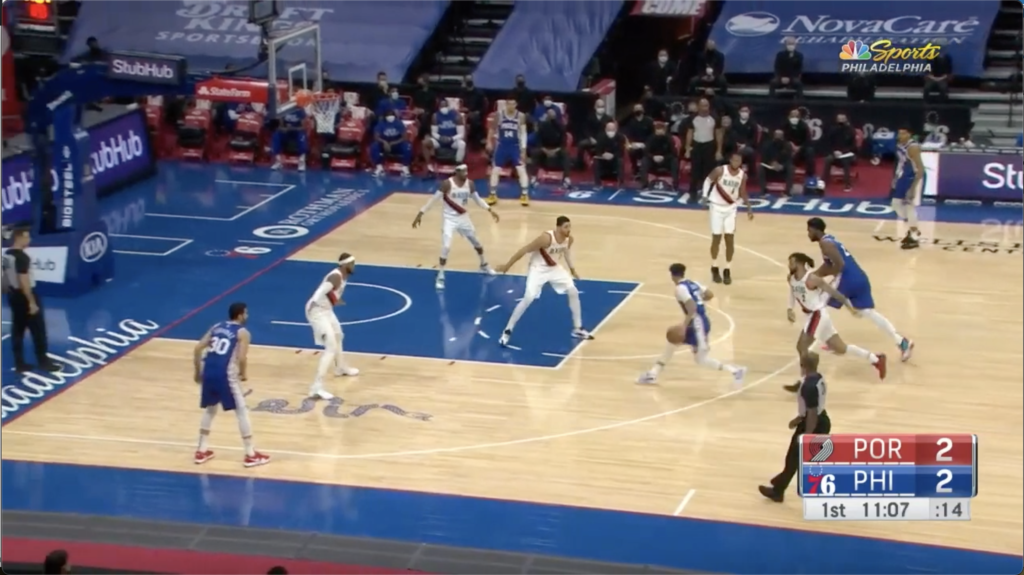 This time it's Seth Curry, and much like Harris, Curry can dribble straight at Kanter. It's far easier to create a look that way. Instead of taking the shot himself, we see Curry set up Embiid for the mid-range jumper. Trent chases after Seth to help protect Kanter, and that leaves the trailing Embiid wide open.
His ability to take advantage of those looks is crucial. If there's no threat from Embiid outside of the paint, defenses don't have to worry about him. They can go all-out in attacking that guard coming off the screen, and the chance of a score drops heavily. When Embiid is able to pop or roll into the open space for a jumper, the Sixers can create a great look even if the the defense hones in on the driver and stops his shot. We'll see more of the mid-range in a bit, but first one last screen –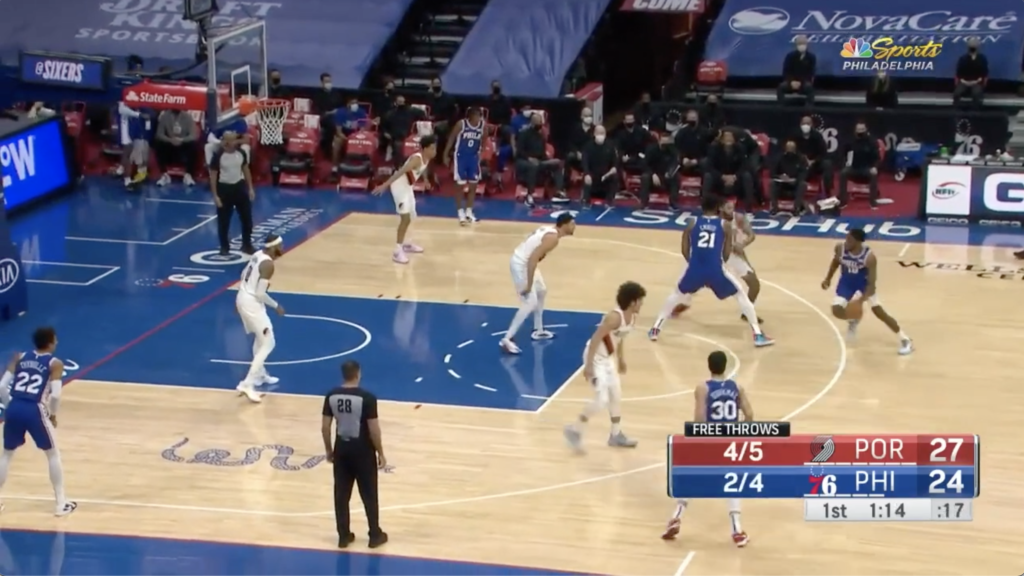 Embiid hits Trent again, freeing up Shake Milton. Once again, we see the space this creates with Milton's defender at his back and Kanter in front and attempting to protect the rim –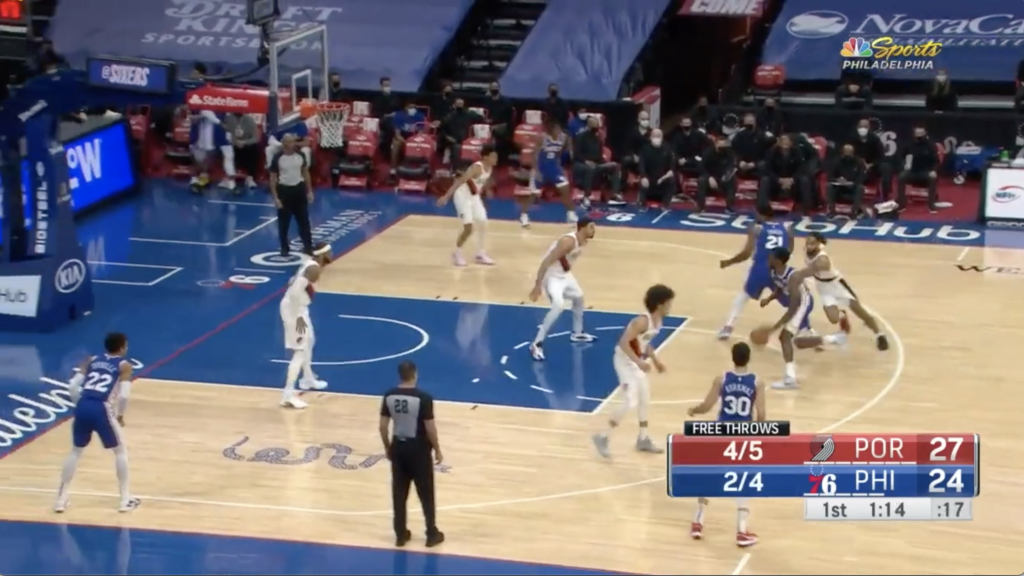 Like Harris does when he gets the space, Milton pulls up before he gets to Kanter and gets a great look. He hits it.
That's six points in less than a quarter coming directly off of screens set by Embiid, and it doesn't even include this possession here where Embiid allows Furkan Korkmaz to attack the rim and score on a tough finish –
We can see on the pause that Robert Covington ends up in a positionwhere he's out of the play. Korkmaz is attacking Kanter, and there's nothing Covington can do, especially with Embiid wide open at the top of the key.
2. The Mid-Range
We saw the first mid-range jumper Embiid hit, and it's a consistent piece of his game right now. You can get really good mid-range shots in today's league, especially if you're a big who dominates in the paint. When that shot is falling, it's almost impossible to prevent Embiid from scoring, and it fell consistently last night. Here are just a few examples –
In these two examples, we see Embiid doing it himself. He dribbles to his spot, pulls up, and puts the ball in the hoop. That's guard-level play from a big seven-footer, and it's an element of his game that creates a massive issue for opposing defenses. How do you stop this when he can also kill you in the post? In both cases, you can see the on-ball defender backpedaling in an attempt to prevent rim access, giving Embiid the space he needs to shoot.
3) Post/paint scoring
Then there's Embiid's bread and butter, his ability to score close to the rim. First we see him hustle down the floor and finish on a trail –
Milton gets caught up in traffic and doesn't have a great path to the rim. The easy solution? Laying it off to Embiid, who finishes over the smaller man with ease.
We also see plenty of possessions where the goal is getting Embiid the ball with his back to the basket –
Look at how deep he is when he catches the ball –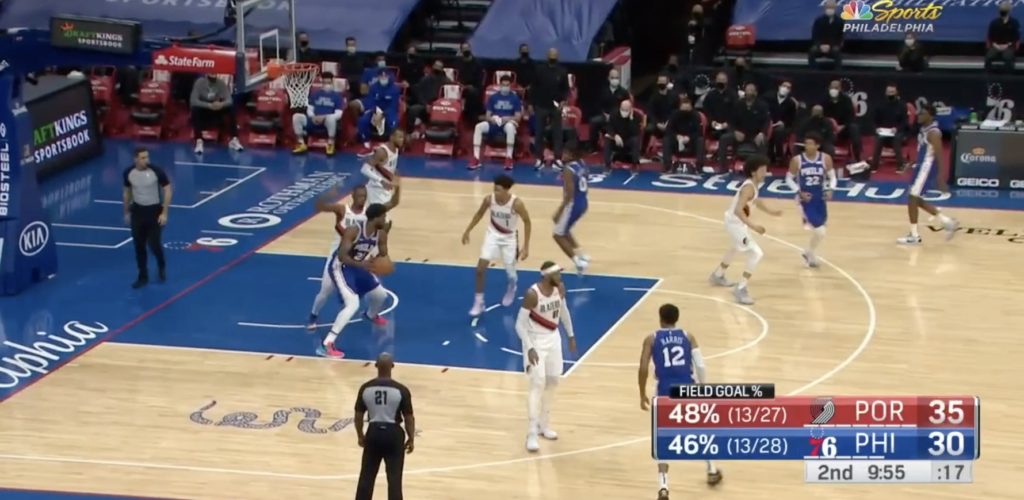 That's simply unstoppable, and it's a great sign of the importance of post positioning. If you can catch the ball on the edge of the restricted area, you have the advantage every time. Then there's this final look, where Embiid gets the ball in the short corner. You can't just turn and lay it in from there. You need to rely on some skill, and that's exactly what we see.
Embiid powers through the double team and manages to knock down the short jumper despite the contact. It was so impressive that he broke the video audio at the end.
He's always been one of the best post players in the league, but Embiid's mid-range abilities – and the looks his screens produce for others – have him playing as well as anyone offensively. He's third in the league in points per game, fourth in offensive win shares despite ranking 86th in minutes played, and fifth in offensive BPM. Health will always be a question, and Embiid has already missed some games this year. But it would be foolish to count him or the Sixers out as long as he's playing like this.
Now to the picks. We had a positive day in both CBB and the NBA yesterday. Let's go for the two-peat.
Screening
College Basketball Record: 299-284-5 on individual bets, 9-53 on parlays, -$72
All Involved CBB Picks: 369-335-8 ATS, 30-47 Dog MLs
NBA Record: 24-45, 1-7 on parlays, -$524
Joint Parlays: 0-3, -$30
$11 for spread, $10 for ML
Penn State v. Maryland (+2.5)
Dayton (-6) v. George Mason
UC Irvine v. CS Bakersfield (+6)
Boise State (-4) v. Nevada
Bulls (-2.5) v. Magic
Congrats to the Bulls on their official uncancellation. Don't make me reverse that after tonight.
Pacers (-1) v. Pelicans
Bucks (-10.5) v. Cavs
Nets v. Raptors (+5.5)
Heat v. Wizards (+7)
Clippers v. Celtics (+6.5)