Mike Bets #151
6 min read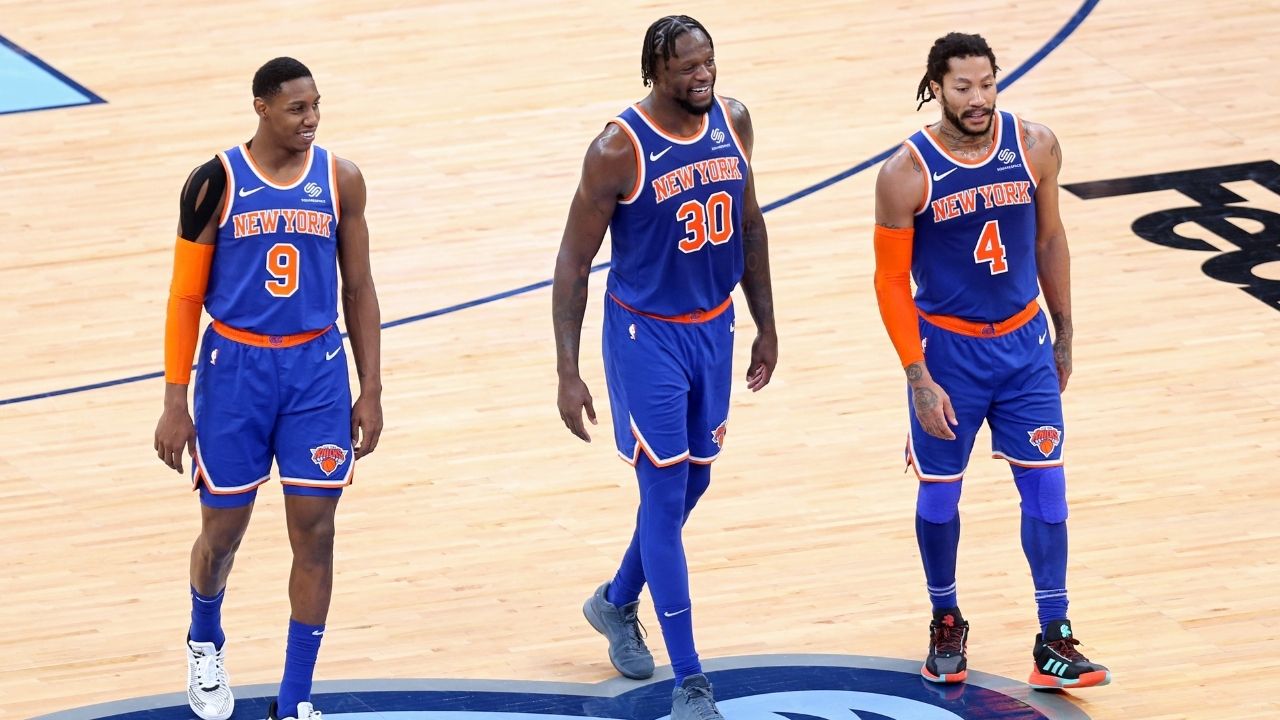 With the end of the regular season coming so soon, I'll just keep updating the magic number list on here throughout the week so we all know where everyone stands when it comes to seeding. The top six and top ten teams. in both conference are very nearly decided, and last night was huge for the Spurs in that regard.
EAST
Sixers = Clinched top 3 – 1 for Nets & Bucks
Nets = Clinched top 3 – 4 for Bucks, 9 for Sixers
Bucks = Clinched top 3 – 5 for Nets, 8 for Sixers
Knicks = Clinched top 7 – 2 for Celtics, 3 for Hawks, 4 for Heat
Hawks = Clinched top 7 – 1 for Celtics, 3 for Heat, 5 for Knicks
Heat = Clinched top 8 – 1 for Hornets, 3 for Celtics (could clinch tomorrow with win over Boston since that would give Miami the tiebreaker but 3 if they lose that game), 5 for Hawks & Knicks
–
Celtics = Clinched top 9 – 1 for Pacers, 2 for Hornets, 7 for Hawks, 7 for Heat (would go down to 4 with win tomorrow given tiebreak situation), 8 for Knicks
Hornets = Clinched top 11 – 1 for Bulls, 2 for Wizards, 3 for Pacers, 7 for Celtics, 8 for Heat
Pacers = Clinched top 11 – 2 for Bulls, 4 for Wizards, 6 for Hornets, 8 for Celtics
Wizards = Clinched top 11 – 2 for Bulls, 4 for Pacers, 6 for Hornets, 8 for Celtics
—
Bulls = 6 for Wizards, 7 for Pacers, 8 for Hornets
Raptors = Eliminated
Cavs = Eliminated
Magic = Eliminated
Pistons = Eliminated
WEST
Jazz = Clinched top 2 – 3 for Suns
Suns = Clinched top 4 – 1 for Nuggets, 2 for Clippers, 5 for Jazz
Clippers = Clinched top 4 – 4 for Nuggets, 7 for Suns
Nuggets = Clinched top 5 – 1 for Mavs, 5 for Clippers, 8 for Suns
Mavs = Clinched top 7 – 2 for Lakers, 4 for Blazers, 8 for Nuggets
Blazers = Clinched top 7 – 2 for Lakers, 4 for Mavs
–
Lakers = Clinched top 9 – 1 for Grizzlies & Warriors, 6 for Blazers, 7 for Mavs
Warriors = Clinched top 10 – 1 for Spurs, 4 for Grizzlies, 7 for Lakers
Grizzlies = Clinched top 10 – 2 for Spurs, 5 for Warriors, 8 for Lakers
Spurs = Clinched top 12 – 1 for Kings & Pelicans, 7 for Warriors & Grizzlies
—
Pelicans = 3 for Kings, 7 for Spurs
Kings = 5 for Pelicans, 8 for Spurs
Thunder = Eliminated
Timberwolves = Eliminated
Rockets = Eliminated
So, what's going on today?
The Nuggets can clinch the 4 seed with a win, and it would keep hope of the 3 seed alive. Falling two games back of the Clips – which would happen if they lose and the Clippers win in Toronto – would all but end things with three games to go.
For the Hornets, a win clinches their play-in spot and puts them in a great position to wrap up the 8 seed. All they would need is two wins in three games, and it would be theirs regardless of how the Pacers and Wizards finish. A loss keeps that door wide open. The Hornets do control the 8 seed, but it's still a relatively fragile hold.
There are only lottery implications here. The current reverse standings are below –
Rockets
Pistons – 4 back
Thunder – 5 back
Cavs – 5 back
Magic – 5.5 back
Timberwolves – 5.5 back
The Pistons still have their spot in the bottom three, which offers equal odds for the top pick. The Timberwolves, on the other hand, have fallen out. This is their chance to get back in and cause some complete five-way chaos. If the Pistons lose, we could get some relative clarity with two of the three spots likely decided and the Timberwolves likely on the outside looking in.
The Raptors have absolutely nothing to play for. The Clippers could get closer to the 3 seed and keep minimal hopes of the 2 seed alive. There's not a whole lot of drama in this one with the Raptors floating in no man's land and the Clips fighting a seeding battle that might end up being rather irrelevant based on how the rest of the West shapes up.
This game is crucial. With a win, the Celtics keep their top six hopes alive. They'd be one back with the tiebreaker and three games to go, meaning they'd need the Heat to slip up once more than they do in those final three games. The Heat would still control their own destiny, but the Celtics would be very much alive. With a loss, they wouldn't be. Since the tiebreaker hinges on this game, Boston would be relegated to the play-in completely with a loss. Technically, due to some bizarre tiebreaker situations, they'd still be alive to pass the 4 seed Knicks (by winning out and having the Knicks lose out) but not the 5 or 6 seed Hawks and Heat, but the point is that a loss here would, for all intents and purposes, guarantee the Celtics end up as the 7 seed. A win keeps hope alive. The stakes for Miami should be clear. Win, and you avoid the play-in.
With a win, Dallas keeps hold of the 5 seed, pushes the Lakers to the brink, and makes sure there's some distance between them and the Blazers. That distance disappears with a loss, creating a tie for the 5 seed that the Mavs do not control. The top six would still be relatively safe, but you want to lock these things up as soon as possible. For Memphis, this is a key chance to build off a nice win over the Pelicans yesterday. With a win, they keep pace with the Warriors regardless of what Golden State does tonight and decrease their magic number for the top nine to just 1. With a loss, they'll be dependent on a Golden State loss to stay tight in the race for the 8 seed.
It's simple for Philly – win and you're the 1 seed. The fact that just one win can do that should show that a loss wouldn't be all that bad, but, again, you want to lock these things up as soon as possible. For Indiana, a win keeps their top eight hopes from the brink, allows them to gain a full one-game advantage over the Wizards, and puts the Bulls on the very edge. A loss could all but knock them out of the top eight, and it keeps the door open for Chicago.
The Bulls need to win. Their elimination number – with both the Pacers and Wizards – is just 2, which means a loss and a Pacers win tonight would put them in a position where winning out and having the Wizards lose out is the only path to the playoffs. It's not a whole lot better than that even if they win, but you at least stay at unrealistic instead of miraculous. For the Nets, this is a chance to take advantage of the Bucks' loss in San Antonio. A win puts them a game up on Milwaukee (who owns the tiebreaker) and gives them control of their own destiny when it comes to the 2 seed. A loss, and that control falls right back into Milwaukee's hands.
Speaking of the Bucks, they could use a bounce back here. It's all about the 2 seed now, and a win keeps them in decent position regardless of what happens in Chicago. A loss, however, if paired with a Nets win, would be hugely detrimental. It's a good thing the Magic wouldn't exactly be mad with a loss.
The Warriors' win over the Jazz last night means that Phoenix can get back within a game of the top seed with a win here. Lose, and Utah will have a very firm grasp on the top spot. The Warriors are in a very similar spot to the Grizzlies, though they do have the half game edge coming in. Win, and they keep that edge. Lose, and the Grizzlies might find themselves with the upper hand. Memphis and Golden State play each other in their season finales with the tiebreaker on the line, so both control their own destiny for the 8 seed as long as they stay close. A win here would also guarantee the Warriors a top nine spot.
There's a lot at stake for both teams. The Knicks can clinch a top six spot with a win and a Celtics loss. They would also maintain their lead over the Hawks and Heat. Lose, and there's a jumble of teams in that 4-6 range. The Heat would actually own the 4 seed tomorrow morning with a win and a Knicks loss. For the Lakers, they need wins to keep top six hopes alive. There's still plenty of work to do, but it needs to start with a win in this one. A win here would also clinch the 7 seed. With a loss, their top six hopes would be hanging by a thread.
The Kings are technically alive. They will not be alive anymore with a loss in this one. The Thunder, meanwhile, are right in the thick of that bottom three race and could use a loss.
TODAY'S PLAYS
Heat -1.5
Knicks +5
We went 2-1 yesterday. Let's keep it rolling.