2020 NBA Playoff Predictions
43 min read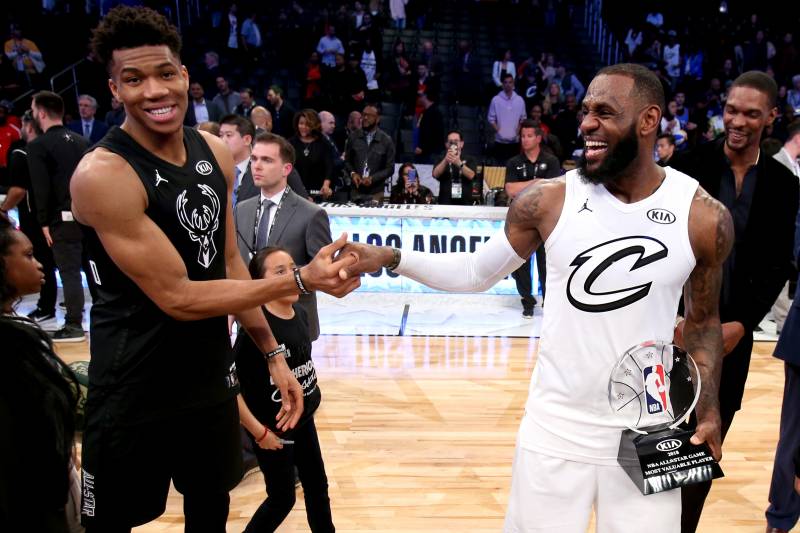 We made it. It's four months late, but the NBA playoffs are finally here. Do Giannis and the Bucks have what it takes to take home the title? Do the Lakers have enough around LeBron and AD? Can the Raptors defend their crown? Are the Clippers the best team in LA? Is the Russ and Harden pairing destined to fall short like every other recent Houston team? Can the Celtics ride their strong bubble start all the way to a trophy? These questions and more will be answered over the next few months. From what we've seen over the last few weeks, it should be one heck of a postseason.
Game Schedule –
WESTERN CONFERENCE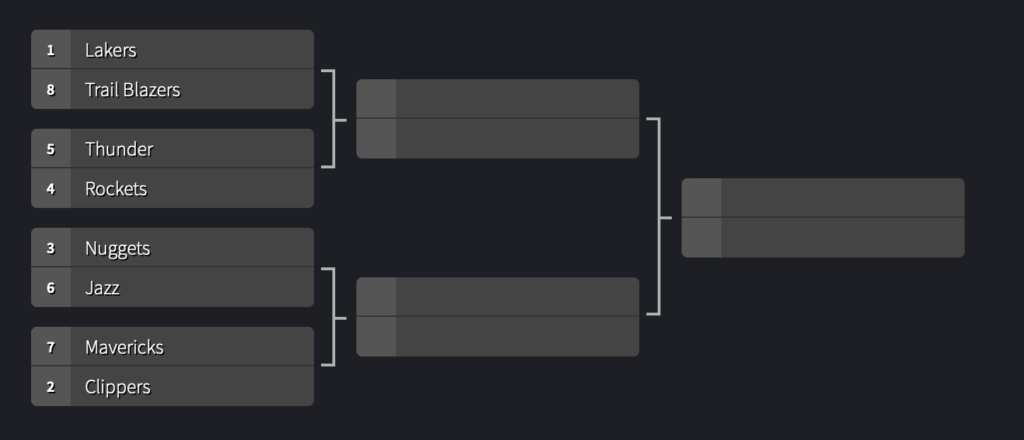 First Round
Los Angeles Lakers versus 8. Portland Trail Blazers
Quick Team Summaries –
The Lakers, for most of the season, were the second best team in the league. They played great basketball on both sides of the court and were led by LeBron James, who produced a great age-35 season. Los Angeles ran away with the 1 seed despite being outscored by roughly a point per 100 possessions when James sat, which speaks to his greatness and the weaknesses of this roster.
Anthony Davis is a fantastic two-way big who can do pretty much everything but shoot threes and pass at an elite level. He's also 196th in the league with an on-off split of -3.0. His all-time production has never quite translated into wins, and the rest of the roster is filled with role players that either have not or will not take steps towards being anything more. They get their basic jobs done more often than not, but there's no one like Kevin Love or Chris Bosh in that group. Without both Avery Bradley and Rajon Rondo, Los Angeles is at their weakest point right now. They've really struggled offensively and were outscored by 7 points per game during the seeding games, a mark that ranked 21st out of twenty-two teams. It's likely that they play better than that in the postseason when the games actually mean something, but can we really expect to see a fifteen-point swing in performance? That's what it will take for the Lakers to get back to their pre-break form, and they won't be winning many series if they don't get there.
The Trail Blazers are a great offensive team that couldn't play defense if their lives depended on it. They were 1st in scoring efficiency and 20th in defensive rating in the bubble. Damian Lillard is at the center of everything offensively, and he's on an elite run of basketball right now. Very few are as good at scoring and making plays off the dribble. Second option CJ McCollum is dealing with a fractured back, but he has shown an ability to step up when it matters despite the injury. Jusuf Nurkic has been a force in the paint since his return from injury, and Carmelo Anthony and Gary Trent round out Portland's top five. Anthony has made clutch shots to make up for some otherwise iffy play, and Trent is the closest thing Portland has to a good perimeter defender. He's knocking down roughly 40% of his threes on the season. The Blazers don't have much depth either. Zach Collins has struggled to produce much in his own return from injury, and guys like Hassan Whiteside and Mario Hezonja are responsible for at least as many bad plays as they are good ones.
X-Factors
Anthony Davis
If Davis can with some consistency replicate the form he displayed in a recent win over the Jazz (42 points, 12 rebounds, 4 combined blocks and steals, 4-8 from three, +7 in an eight point win), then the Lakers are going to be a tough out regardless of how the rest of the rotation is playing. There are very few teams in the league, if any, that can handle Davis at that level. LeBron is still the game-controlling superstar, but the Lakers are at their best when Davis acts as a hammer and destroys other teams through blunt force of production. Portland simply can't contain a fully unleashed AD, and his ability to play at that level more often than not could decide this series.
2. Jusuf Nurkic
Portland will lose very quickly if Lillard and McCollum can't produce offensively, but Nurkic is the real key to their hopes of beating the Lakers. The Blazers went from good to elite offensively largely because of his versatility. He does things that Whiteside can't do as a scorer, but he also opens doors for Lillard and McCollum that Whiteside can't open with his screening and spacing abilities. He makes everything easier when he's on the court. If Davis and Dwight Howard shut him down, Portland's done. Nurkic needs to be at the top of his game here. Anything he can do on the other end to slow down Davis would be a plus, but I wouldn't hope for much there.
3. Kyle Kuzma
Kuzma has been an X-Factor for the Lakers all season long. He's the closest thing they have to a true third option offensively, and his ability to take on that role with consistency would raise the floor of this team considerably. He was all over the place during a relatively disappointing season, and that continued in the bubble, where he has scored as little as 9 points and as much as 25. If he can get a rhythm going against a Portland team that might be guarding him with Melo, that would be a big boost both now and later for the Lakers.
3 KEYS
Lakers need to find their offense
Los Angeles scored 106.4 points per game over the past two weeks, which puts them ahead of only the Wizards. They were 19th in FG% (43.8) and dead last in 3PT% (30.3). For reference, Giannis shot 30.4% from deep this season. Again, there's reason to believe they'll be better than this when the games start to matter, but putting in more effort doesn't necessarily translate to better shooting. Are we really going to see a huge and automatic jump in efficiency once the playoffs begin? It's probably a little more complicated than that, but the Lakers won't have much time to figure things out. The Blazers aren't a freebie match-up. They'll need to be close to their best to move on. Unfortunately for Portland, keeping a struggling offense down is easier said than done with their defense.
One more note – a point that separates the Lakers from other struggling teams is that they pretty much had everyone that they're going to have in this series available throughout the seeding games. If we take away the meaningless final game, LeBron, Davis, Kuzma, Green, Caldwell-Pope, Caruso, and Howard combined to miss five total games. No one missed more than one. Playing like this when you get thirty out of a possible thirty-five appearances from your top seven players by minutes played isn't ideal.
Winning the supporting cast battle
This one is pretty simple. If Kuzma, Danny Green, Kentavious Caldwell-Pope, and Alex Caruso come out and start landing haymakers on the Blazers, this series won't last very long. Portland is going to need strong production from Nurkic, Anthony, and Trent because James and Davis are likely going to outshine Lillard and an injured McCollum at the top of the ticket. That's not an insult to Portland's top duo; it's just undeniable that James is the best player in this series and that McCollum is a distant fourth even when he's playing well. Barring historic performances from Dame and CJ, the Blazers are going to live or die by the efforts of their other players.
This is going to be a key for any team that plays the Blazers during these playoffs. I'll say here what I said about the Grizzlies the other day. If Melo, Gary Trent, and fractured back CJ beat you by playing flawless offensive games, then you shake your head and move on. If you let Dame go for 60, that's on you. The Lakers need to force Lillard to make plays for others rather than himself. With Bradley, their best backcourt defender, not playing, that's going to need to be a team effort. If you hold him to reasonable production, you have to feel good about winning four out of seven.
Prediction
The Lakers aren't playing well at all right now, and I'm not convinced that it's as simple as flipping a playoff switch. The Blazers are playing good basketball, but their defense isn't good enough to create blowout wins. They've gone 7-2 in the bubble with the league's best offense, and they haven't won a game by more than 10 points. They've only won two by more than 6 points. There's also the fact that they're scoring over 122 points per 100 possessions right now. That's seven points than the all-time record that the Mavs set this year, and it's simply unsustainable. An offensive drop-off is coming. The Lakers aren't going to just brush the Blazers to the side, but they have the best player in this series and far more room to grow heading into these playoffs. It's hard to see how the Blazers could be much better, and virtually every game they played came down to the final two minutes. Unless Los Angeles continues to be downright pathetic offensively, they're not going to lose more than twice in this series.
LAKERS IN 5
4. Houston Rockets versus 5. Oklahoma City Thunder
Quick Team Summaries –
The Rockets switched out Chris Paul and Clint Capela for Russell Westbrook and Robert Covington, and they went from a slower, my-turn-your-turn offensive system to a fast, free-wheeling style of small ball. Two things remained the same. They chuck up a historic amount of threes, and they're elite offensively and mediocre defensively. The problem is that Westbrook, the main beneficiary of the spacing-based move towards small ball, is out for at least the series opener and likely more. They'll miss his speed and playmaking ability off the drive, even if James Harden, the best and most important player in Houston, can keep the system working regardless. I don't know if Westbrook being out lowers the floor all that much here, but it does significantly lower the ceiling.
Around their top duo, the Rockets have a lot of wings that can shoot and play solid defense. Robert Covington, PJ Tucker (the de facto center), and Danuel House have been leading the charge, but Austin Rivers, Jeff Green, Eric Gordon, and Ben McLemore have all played important roles as well.
The Thunder turned an off-season of doubt into a very successful regular season, as they held on to potential moving pieces in Chris Paul and Danilo Gallinari and rode them to a playoff appearance. Paul is the conductor of the train, and he's at the front of a more meticulous, isolation-based offense that utilizes the three-pointer less than most. There's a very clear contrast between these two offenses. Paul and Gallinari, along with Shai Gilgeous-Alexander, Dennis Schroder, and Steven Adams, formed one of the best five-man lineups in the league. The three-headed point guard lineup with Paul, Schroder, and SGA was especially effective, and Schroder is ready to play again after missing all but one seeding game for the birth of his second child. Adams missed time too, and the downside was an up-and-down run of play from OKC. The upside was the emergence of forward Darius Bazley, who scored 20 points in three of the final four regular season games and shot 56% from three in those contests. He will look to add to a lacking supporting cast alongside Nerlens Noel, who has been a very good backup center for the Thunder.
X-Factors
Russell Westbrook
Westbrook's health is going to be a determining factor in his first playoff meeting with his former team. The Thunder likely become the favorites if he misses everything. Houston's roster is perfectly set up to complement a two-star system. When you take out one of the stars, things get a little tricky. Harden is the best player in this series, but the Thunder might have the next three or four best if Westbrook is unavailable. That puts a lot of pressure on Covington, Tucker, and Co. It's going to be hard, though far from impossible, to win four games out of seven in that scenario. If Westbrook plays, he lifts Houston's ceiling back above OKC's, and we're suddenly looking at the Thunder being the ones that need to step up more than their opponents. That's a significant shift in dynamics.
2. Steven Adams
Everyone inside of OKC's top five is going to be key. That's a given on a team with relatively little depth. Adams is especially important in this match-up though. It's the first playoff series for the small ball Rockets, and his ability to exploit their lack of size inside could shift the outcome. Houston is used to getting destroyed on the boards at this point, but they could be in some serious trouble if Adams, a very good offensive rebounder, is able to repeatedly produce extra possessions by crashing the offensive glass. This will also be the first playoff test for PJ Tucker in guarding a skilled big man in the post. Tucker is a very good post defender for his size, but size is still an important word. Adams might not be Anthony Davis or Nikola Jokic, but he's pretty dang good on the block. The last thing to watch with Adams is his ability to stay on the floor defensively. Can he guard both the perimeter and the paint? The Rockets could be getting a lot of open looks in the corners if he struggles to do so.
3. Eric Gordon
Gordon, almost like Kuzma with the Lakers, is the potential third option that's never really shown up this season. He has the ability to make plays off the dribble and act as a release valve of sorts for Harden and Westbrook, but injuries, poor shooting, and just overall poor play have led to an incredibly disappointing season for him. If Gordon can turn it around in the playoffs, something that's far easier said than done, then Houston can add another element to an already elite offense. A return to form as a shooter, even if it comes with nothing else, would help – Gordon is a high-volume chucker that shot 31% from deep after hitting threes at an above average rate in prior seasons.
3 KEYS
Getting offenses up to speed
Only the Mavs scored at a better rate than the Rockets through March, and the Thunder had a solid offense of their own. But both teams have struggled to score in the seeding games, ranking 19th and 21st in scoring efficiency, respectively. They've made up for it with stellar defense. The Thunder can boast the second best bubble defense, and the Rockets aren't too far behind in seventh. Whoever figures out their offense first will stand a good chance in this series. I wouldn't be too worried about either team with all of the moving parts they've been dealing with over the last two weeks, but good offense isn't always something you can just turn on and off. It might take a game or two, and every game counts.
Who's better in the clutch?
The Thunder were the best closing team in the NBA this season, and that helped them get all the way up here instead of the six or seven seed. The Rockets, to their credit, have been playing great defense down the stretch of the seeding games. Oklahoma City might still have the edge with Westbrook out. Paul is the central force for the Thunder, but Gilgeous-Alexander and Schroder are also more than capable of making plays for themselves and others. The Rockets, if they don't have Westbrook and can't get much from Gordon, are probably looking at Austin Rivers as their secondary creator. Harden is good enough to bridge that gap, but it's also a lot easier to contain one player than three. If Houston's shooters don't make shots late, the Thunder could have the edge in close games. Westbrook coming back alters this equation, and it becomes a game of stopping the other team's best playmakers. That's the battle we want to see.
This is very similar to what the Lakers need to do with Lillard, and it's basically a continuation of the last point. If you're Billy Donovan, you want to put the game in the hands of Covington, Tucker, House, and Green, and it's theoretically possible to do it for as long as Westbrook is out. If the Thunder can win a game or two early by forcing the ball towards the wings and away from Harden – this is not exactly easy to do to be fair – they'll be in a great spot even if Westbrook returns later in the series. With Houston's recent struggles from deep (roughly 2% below their pre-break mark in the bubble), making the supporting cast hit shots off of Harden's passes could be the path to victory for the Thunder.
Prediction
The Rockets are the better overall team, though the Thunder are far better than most would give them credit for. Paul is having a fantastic season, and they've got some really high quality lineups. Houston is going to have serious issues if Westbrook can't play at all, but it seems right now that he might miss two or three games. I think the Rockets take at least one of those and seal the deal when he returns. Harden has some points to prove with Golden State finally out of the picture, and the small ball defense has been very impressive in the bubble.
ROCKETS IN 6
3. Denver Nuggets versus 6. Utah Jazz
Quick Team Summaries –
The Nuggets regressed slightly after coming within a game of the conference finals last season. They've yet to break into the top five or six in overall metrics during the Jokic era, and that's typically where the title winners reside. Denver was all over the place on both sides of the ball this season. They ended up 9th in scoring efficiency and 13th in defensive rating, but they were everywhere between 2nd and 23rd offensively and 1st and 22nd defensively in any given month. Those chaotic swings continued in the bubble, where they're currently 5th in scoring efficiency and last in defensive rating.
This is a slower team, and they run a lot of their stuff through the pass. Jokic, arguably the best passing five man in league history, is at the center of it all. He was easily the best all-around center in the league this year with Joel Embiid and Karl-Anthony Towns struggling through injuries, and he has a good argument to top them regardless of everyone's respective health. The big issue for Denver right now is the absence of Will Barton and Gary Harris. Both, with Jokic, Jamal Murray, and Paul Millsap, were part of the team's best and most commonly used lineup, a lineup that played more than 500 minutes more than any other five-man grouping. While Harris has dropped off statistically since his 2018 peak, Barton was quietly putting together a very good season. It seems like they're going to return at some point, but neither one has played in the bubble and there is no indication of when exactly they will. Michael Porter Jr has stepped up to fill the offensive void that they left open, but the defense has fallen off a cliff without two of its best wing defenders.
The Jazz made a move towards offense last summer, bringing in Bogdan Bogdanovic, Mike Conley, and Jordan Clarkson to fire up a previously average offense after years of playoff disappointment. Despite an up-and-down first season for Conley, the moves worked, and the Jazz improved offensively. Unfortunately, that improvement caused Utah's formerly elite defense to fall and meet the offense somewhere in the middle. They were just good on both sides of the ball. That's not necessarily a bad thing, but injuries have likely sunk Utah's season before we get a chance to see if they're better suited for playoff basketball.
Bogdanovic, a crucial offensive piece, is done for the year after wrist surgery. He's easily the best shooter on a team that shoots a lot of threes for their relatively slow pace, and his absence is a big blow to their offensive progress. Conley is also out after leaving the bubble for the birth of his son. That's obviously the right call for him to make, but with the quarantine rules, he's going to miss at least two games even if he were to fly back to Orlando the day after he arrived back home. Utah is going to be heading into this short-handed, and they're not exactly swimming with role players that can pick up the slack. They've maintained their new balance in the bubble, but there's been a big drop-off in quality, as they've ranked 15th in both offensive and defensive rating. They haven't found any sort of rhythm on either side of the ball, and it's a little late to get started on both.
X-Factors
Rudy Gobert
Jokic is as good as it gets offensively at the center position. Luckily for Utah, Gobert is as good as it gets defensively at the center position. The problem for the Jazz is that Jokic is averaging roughly 29 points, 9 assists, and 12 rebounds per game against them this year with Gobert fully present, and the Nuggets won all three games (though they were close). Stopping a star doesn't fall fully on one guy, but Gobert is going to need to step up defensively in this series if Utah has any chance of advancing. Anthony Davis had a massive game against the Jazz in the bubble too, and that just can't happen in the postseason. Gobert's ability to set screens and keep the offense flowing around him is also going to be key for a team looking for signs of life offensively.
2. Michael Porter Jr
Porter Jr has stepped up in a big way inside of the bubble, averaging 22 points and 8.6 boards per game. He's scored 20 four times and posted four double-doubles. As things stand, Denver is going to need to score a lot to keep up with their porous defense, and Porter is going to be in the middle of that even if Barton and Harris return. He has the size advantage on anyone that Utah might throw at him, and he will need to keep scoring at a decent rate when the stage gets bigger.
3. Jordan Clarkson
There are a lot of players that could go here in this series, but Clarkson gets the nod with Conley missing. His primary job is to find himself good looks and convert those looks into points, and he will need to do that early and often in this series for a Utah team that's going to be grasping for straws offensively. Denver isn't stopping anyone right now, but there's only so many scorers that you can take away from a team. Utah needs elite production from Clarkson, Donovan Mitchell, and Joe Ingles.
3 KEYS
Denver needs to be better defensively
This one is pretty simple. You can't allow almost 122 points per 100 possessions and expect to be happy with the results. The Nuggets are getting outscored by just under 5 points per game in the bubble despite scoring at a really good clip. That's even worse than the Jazz. I don't what the answer is with Harris and Barton sidelined, but something has to be done. With all that said, there is reason to believe some natural movement towards the mean is coming. Their defense has been unnaturally bad so far.
Without Bogdanovic and Conley, the Jazz are going to need everybody to step up and be at their best. You can't afford another key player to be off their game when you're already getting nothing from two of your top six players. Donovan Mitchell and Rudy Gobert need to play like clear All-Stars and dictate the way these games are played. Joe Ingles, Royce O'Neale, and Clarkson need to do their jobs, whether that's facilitating, defending, shooting, scoring, or some of each. The bench, which is suddenly lacking with everyone moving up to replace the departures, needs to provide some sort of impact. The Jazz are undermanned here, and they don't have as deep of a roster as the Nuggets do. It's going to take more from the players they do have to pull this one out.
Who has more players at the top in this series?
Who are the best players going to be? If Gobert or Mitchell outplay Jokic, then Utah is in the driver's seat, but that's not all that likely given Jokic's form against Utah this season. The more important questions will likely be answered by the players below these three. If Porter Jr and Murray join the top five, then the Nuggets will be in a good spot. If Ingles and Clarkson have a massive series and take those last two spots, then Denver is going to be in trouble. It's possible that Millsap steps up and shifts the series for Denver or that Barton or Conley return late to help their team finish things off. Stars do have a disproportionate impact in the playoffs, but the second tier of players can be the deciding factor too. When they perform at an elite level, their team is in a great position. Whoever wins that battle here will likely take the series.
Prediction
This should be a really good one. The three games between the two this season have been decided by an average of 3.7 points, and they played a 2OT game just last week. As far as a prediction goes, it's really hard to pick a winner since both teams have been so flawed and beat up in the bubble. If one of them snaps out of it, which is entirely possible, they could cruise. Denver has better depth than Utah, and I think the loss of Conley was the final straw for the Jazz. Barring both a mid-series return from him and the continued absence of Barton and Harris, it's hard for me to see Utah walking away victorious. With that said, I think this one goes the distance; both of Denver's 2019 playoff series went seven games and I don't trust them to quickly pick up four wins here.
NUGGETS IN 7
2. Los Angeles Clippers versus 7. Dallas Mavericks
Quick Team Summaries –
The Clippers have been one of the consistently great teams all season long. Only the Bucks and Lakers were better during the pre-break season, and Los Angeles hit the floor running in the bubble despite the absence of Montrezl Harrell, a Sixth Man of the Year candidate. Consistent injuries and rest-based absences haven't stopped them from playing with a good rhythm more often than not this season, so I don't see much of a reason to worry about their ability to reinsert Harrell, who is ready to go, into the rotation.
Kawhi Leonard is arguably the best two-way player in the game not named Giannis Antetokounmpo, and he has the postseason pedigree that Giannis lacks. He'll be looking to back up the title he won last summer with Toronto. Paul George has struggled with injuries this season, and he's only been a top twenty-five player a year after finishing third in MVP voting. He's still a premiere two-way wing, and, in Leonard and George, the Clippers have the tools to lock down some of the league's best wings. They also have an absolute dog at the point guard position in Patrick Beverley, and Doc Rivers has options on his bench for both offense and defense. Harrell's return will be massive, as he brings a lot of energy and versatility. No other top team in the West has such a diverse group of players, though the Bucks and Raptors have an argument on the other side of the bracket.
The Mavs might be the closest thing in the West. They have a deep and highly skilled roster that produced the most efficient offense in league history, averaging over 115 points per 100 possessions before the break. They've upped that slightly in the bubble. Luka Doncic is producing numbers at a Harden-like rate, and he's been wildly impressive so far in Orlando. So has Kristaps Porzingis, a two-way, floor-spacing seven-footer who has picked up steam as the year has gone in his first season back since a 2018 ACL tear. Those two are surrounded by a diverse, offensive-minded supporting cast, and the Mavs play almost as well with Doncic on the bench as they do with him on the floor.
They're also probably a year or two away from being title contention. They've struggled mightily in close games, and they haven't won nearly as often as their overall quality of play would warrant. By performance metrics, this is a top six team. By record, they're outside the top ten. The youth of Doncic and Porzingis is likely an important factor, but so is the defense. Dallas has been below average all season long on that side of the ball, and only the Nuggets have been worse over the last two weeks. The Mavs tend to allow big scoring outbursts from two or three opposing players in their losses.

X-Factors
Kristaps Porzingis
Defending mobile bigs that can space the floor is probably Los Angeles's biggest defensive weakness. They typically run a system with Ivica Zubac that has him dropping towards the rim off of screens. That simply can't happen when Porzingis is the screener, and he has seven inches on anyone else they might throw at him (there's zero chance 35 year old Joakim Noah ends up guarding Porzingis in a playoff game). He can just shoot over Harrell, Leonard, George, Marcus Morris or JaMychal Green. That's better than leaving him wide open on a pick-and-pop, but it's not an ideal situation if you're the Clippers. If the Mavs have any chance here, it's going to be because Porzingis has a great series. Dallas and Los Angeles met last week, and it was a 98-99 game when he scored his 30th point early in the fourth. He didn't score again, and the Clips ended the game on a 27-13 run. Porzingis will need to be producing at a high level for 48 minutes to make this competitive.

2. Montrezl Harrell
Harrell does a lot of things for the Clippers. He's in the top three on the team in points, rebounds, FG%, and blocks, where he ranks first. He provides some defensive versatility in the front court, and a Beverley-Leonard-George-Morris-Harrell lineup could be what Doc Rivers has in mind to close games. Those first four played 147 minutes together with Zubac, and they posted a net rating of 22.9. That's roughly seven points better per 100 possessions than the Bucks were in all of Giannis's minutes, and Harrell could swap in for Zubac in a series like this where there's no bruiser in the paint like Nikola Jokic or Anthony Davis. Of course, all of this is based on the idea that Harrell can play a big role right now, and there's no way of telling if that's true or when it will be if it's not. With no seeding games under his belt, it might take some time for Harrell to get back in the swing of things. It will be easier for the Clippers to win this series if he's ready to go sooner rather than later.
3. Tim Hardaway Jr and Seth Curry
These two have been Dallas's most consistent shooters all season long, and they're third and fourth on the team in scoring. The Clippers are likely going to try to make someone other than Doncic beat them, and Hardaway and Curry will need to step up when that happens. If these two aren't scoring at a decent clip, the Mavs will be in trouble.
3 KEYS
This is very similar to what I was saying about the Nuggets. You simply cannot allow opponents at such a high rate and expect to win games consistently. If Dallas goes into this series against an elite, well-rounded team and just starts hemorrhaging points, they don't stand a chance. The bubble Mavs are scoring 1.5 points more per 100 possessions than the bubble Clippers, but they're also giving up 10.8 more. Carry the 8, and it's pretty obvious that that's not a winning formula. Back in March, that defensive gap was about four points. It needs to be back down there for the Mavs to have any chance, and it could very well move in that direction just as a consequence of the sample size increasing. It's hard to believe that teams like the Nuggets and Mavs can be this bad defensively over a longer stretch of games.
Forcing Doncic's teammates to make plays
This is the key defensively for the Clippers, who aren't very well equipped to handle Porzingis. They do have plenty of strong wing defenders to throw at Doncic, and they key will be forcing the ball towards guys like Hardaway and Curry. That doesn't mean giving them wide open threes, but you want them to be setting up looks instead of Donic. Now, it's impossible to just stop someone like Luka, but every possession where you force the ball out of his hands is a win. Getting those to build up over the course of a game is an important piece of limiting Dallas's offensive effectiveness.
The Clippers will need to be operating at full speed to optimize their chance to make the franchise's first conference finals and potentially go even further, and that's not going to happen without Harrell playing at a high level. Dallas is better than their seed suggests, but they're also clearly the inferior team here. The Clips will need some sort of value from Harrell to play him in important moments – they can't just toss him into a high-stakes game when he's not ready – but they more opportunities they can give him here, the better off he'll be down the road. There's definitely going to be some rust that needs to be knocked off.
Prediction
I like the Mavs a lot. They're incredible offensively, and I'd take them over a few of the better seeded Western teams right now. Unfortunately for them, they're stuck playing the Clippers. I could see Dallas winning a game or two with huge performances from Doncic and Porzingis, but this is clearly Los Angeles's series to lose. They're 3-0 against the Mavs now, and with the way Dallas is defending right now, they get the only sweep of the first round out West.
Clippers in 4
Conference Semifinals
*All future rounds will be updated in real time with previews based on the actual results, but for now I'll make quick predictions based on my first round picks. These predictions will stay up throughout the playoffs too.
Lakers versus 4. Rockets
Assuming that Westbrook is ready to go for this series, I like the Rockets. They have the bodies to throw at LeBron, and I think they can survive a big series from Davis. Harden steps up to bring Houston back to the conference finals.
ROCKETS IN 6

2. Clippers versus 3. Nuggets
The Clippers are the better team whether the Nuggets are fully healthy or not. Denver can't control Leonard and George, and the Clippers stifle everyone around Jokic on the way to a fairly smooth series win.
CLIPPERS IN 5
Conference Finals
2. Clippers versus 4. Rockets
I'm all-in on the small ball Rockets. I think their defensive progress is real, and Zubac, for all the things he did well this season, isn't going to dominate PJ Tucker. Westbrook outperforms George and Houston finally makes it back to The Finals.
ROCKETS IN 7
EASTERN CONFERENCE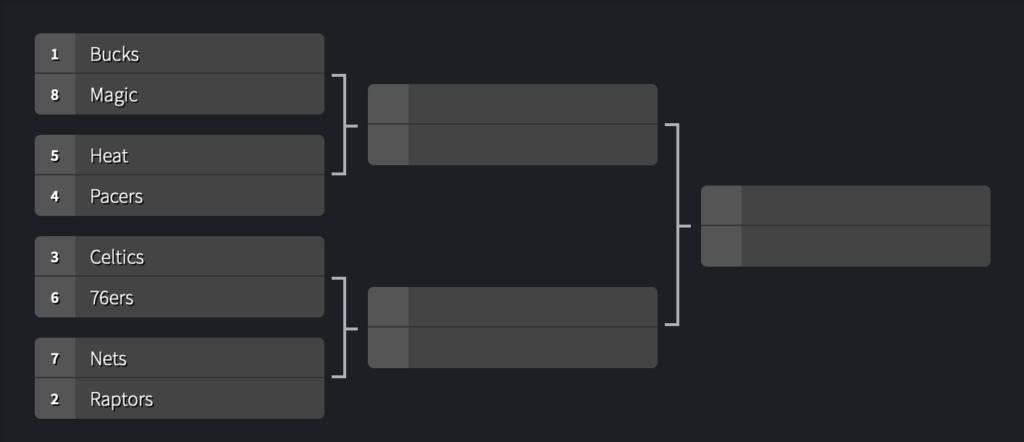 First Round
Milwaukee Bucks versus 8. Orlando Magic
Quick Team Summaries –
The Bucks were far and away the best team in the league this season. With Giannis on the court, they were an astounding +15.8 per 100 possessions, and that number has dropped slightly over the last two weeks. The closest player to Antetokounmpo is Milwaukee's Donte DiVincenzo, who posted a +13.3 in his minutes. Wesley Matthews is third and Brook Lopez is fourth, and then you finally get to Kawhi Leonard and his +12.0 in fifth before Eric Bledsoe, George Hill, and Khris Middleton round out the top eight. Milwaukee ran through pretty much everyone they played. Now the trick will be winning the games that truly count.
The Bucks easily had the league's best defense pre-virus, and they were a top five offense for almost the entire season before they slipped to sixth by less than 0.1 points per 100 possessions right before the suspension of play. Giannis is going to be the back-to-back MVP, and he deserves to be the Defensive Player of the Year as well. Khris Middleton had the second best season as a second option in the league this year, trailing only Anthony Davis, and no one combined volume and efficiency as well as he did. Eric Bledsoe and Brook Lopez are defensive studs that play key offensive roles, and the Bucks have a wide array of skilled role players alongside those four. They've struggled in the bubble, dropping to average net rating and point differential numbers, but they've also had to deal with injuries and suspensions. They're a lot closer to their former form than a team like the Lakers, and these games didn't matter to them either.
On the surface, it looks like the Magic essentially repeated their 2019, but it was really a rather disappointing season for Orlando. Jonathan Isaac, the defensive menace that sits at the center of this team's future went down with serious knee injuries twice. He tore his ACL in the bubble, and is likely going to miss most or all of next season. With Aaron Gordon continuing to level off well before stardom, another down year offensively, and no one stepping up to produce any sort of career year, there just wasn't a lot to get excited about in Orlando.
This is a solid team, but it would be considered a major upset for them to win even two games here. Nikola Vucevic, a 2019 All-Star, had another solid year in the middle for the Magic. He's a very good scorer and rebounder, and he shoots and passes well for his position. Vucevic is surrounded by some fine players. Evan Fournier is a decent playmaker and scorer. Terrence Ross and Aaron Gordon are both athletic and relatively successful offensively. Markelle Fultz had a mini resurgence, and DJ Augustin and Michael Carter-Williams bring some offense and defense to the backcourt. There's just not a lot of upward mobility happening on this roster. Mo Bamba has yet to make a big impact, Isaac can't stay on the court, and Fultz still has a ways to go.
X-Factors
Markelle Fultz
The Magic aren't beating the Bucks. They went 0-4 against them this season and they're not playing particularly well right now. What Orlando can do is build some sort of momentum on a national stage heading into next season. With Isaac out, that's going to have to come through a breakout performance from Fultz. Fultz is still severely flawed as a shooter, but he has shown his scoring and playmaking ability throughout the season. If he can be at his best this series, he'll have a wave of momentum to ride into the off-season, where he needs to make some strides as an overall player.

2. Eric Bledsoe
Bledsoe's playoff struggles in Milwaukee are no secret. His production has consistently dropped in the postseason, and his shooting has been downright abysmal. Bledsoe hasn't been as much of a disaster as it might appear, but he just hasn't been the same player under the brightest lights. That will need to change to give this team the best chance at finishing the deal this fall. He's a great two-way guard at his best, and the Bucks are clearly better when he's playing at that level. Getting the postseason started right with a good performance against the Magic will be significant.
3. Donte DiVincenzo
DiVincenzo was one of the better bench defenders in the league through March, and he has developing scoring and playmaking abilities. He's also really struggled in Orlando. Bledsoe's absence early on forced him out of his element as the starting point guard, and DiVincenzo never found himself even after Bledsoe's return until a very good closing game against the Grizzlies. Building on that momentum in this series before the competition kicks up will be key for both Donte and the Bucks.
3 KEYS
This is a key for both sides. For the Magic, and any playoff opponent, turning Giannis into a passer and the rest of the Bucks into the scorers by consistently throwing three bodies at him is the best way to attack this Bucks offense. That's how the Raptors held them down last summer, which is why this is important for Giannis and the Bucks too. Antetokounmpo will need to be better at making the correct reads this time around, and the players around him will need to be better at converting the looks. Both Giannis and the roster around him are better suited for this kind of opposition than they were last year, but they'll still need to prove it on the biggest stage.
The Bucks have been average on both sides of the ball in Orlando, but they also played just two games with their entire starting line-up available. They still beat the Celtics and Heat and lost to the Rockets and Mavs by four points each. Everyone's back now, and Milwaukee needs to run through the Magic to get ready for the better opponents that will be waiting down the line.
Closing down the perimeter
The numbers here aren't as bad as they would seem from watching the games, but the Bucks have left the perimeter wide open at times over the past few weeks. They do naturally give up threes at a league-leading rate as a result of their interior-oriented defense, and it's hard to argue with the results. Milwaukee's defense was better than the second-place Raptors by the same margin that stood between Toronto and the seventh-place Pacers back in March. The key was limiting help defense and trusting the bigs in the middle so that the perimeter defenders could still challenge the threes. The Bucks were 15th in opponent 3PT% despite the rate at which they gave them up. That hasn't changed in the bubble – opponents are even shooting 0.1% worse from deep – but Milwaukee is giving up six more looks from three. That really shouldn't be a problem. Toronto is also giving up a ton of threes, and they've continued to be dominant defensively. Teams are only shooting 2% better from deep against the Bucks. It seems likely to me that all of this come down to small technical issues that Milwaukee was having in the seeding games. They should be able to turn that around in the playoffs.
Prediction
These are two teams on completely different levels. The only question is how quickly the Bucks are able to turn the machine back on.
Bucks in 4
4. Indiana Pacers versus 5. Miami Heat
Quick Team Summaries –
The Pacers managed to stay in the middle of the playoff race despite getting very little from All-Star Victor Oladipo before the break. They played a slower, defensive-minded game and shot very few threes offensively, and Domantas Sabonis emerged as another All-Star. Unfortunately, he went down a few weeks ago with plantar fasciitis, and it's not clear when, or if, he will return this season. With Sabonis out, the Pacers are playing faster, but they've maintained their defensive focus. TJ Warren has added to his efficient season with an incredible run of scoring in the bubble, and Malcom Brogdon, Oladipo, and Myles Turner round out a decent top four. There are a lot of decent pieces in Indiana, and they've outplayed the Heat so far in the bubble, though they did lose the only match-up between the two where both were playing all of their players.
The Heat surrounded their two-way All-Stars (Jimmy Butler and Bam Adebayo) with a deep and elite group of shooters. Despite a poor shooting season from Butler and Adebayo being non-existent beyond the arc, Miami led the league in 3PT%. They play slow, run a lot of their offense through the pass, rebound well, and are solid but short of great on both sides of the court overall. Erik Spoelstra has a lot of options to work with across the board because the young talent has stepped. Kendrick Nunn was in the G League last year, and he was an effective starting point guard this season. Tyler Herro immediately stepped in as a scorer and playmaker off the bench. Duncan Robinson produced volume and efficiency from deep that no one but Steph Curry has matched over a full season. This is a tough team that could be great, but they have yet to consistently play at a championship level.

X-Factors
TJ Warren
Warren had a very efficient season as a scorer and improved his all-around game, but he's been on a different level in the bubble. He scored 53 against the Sixers in Indiana's opener, and he topped 30 three times in his other five appearances. If the Pacers are going to win this series, they will need that version of Warren, not the one that scored 12 points on 5-14 shooting against the Heat last Monday. Like Sabonis, Warren is dealing with plantar fasciitis, something that popped up last week. His case is less severe and won't stop him from playing as things stand, but it is something to monitor.

2. Victor Oladipo
We have not yet seen the old Victor Oladipo in 2020. It's understandable given his injury issues, but his numbers have been down across the board. He's struggling both from deep and from the field. That really hasn't changed down in Orlando, where he scored between 13 and 16 points in all but one of his appearances (22 against the Lakers). For reference, Oladipo averaged more than 23 points per game during the 2018 season, his last full year of basketball. On the bright side, he's shooting 40% from the field and 34% from three. Those aren't good marks, but they are improvements from his short run of play back in March. None of this is to say that Oladipo is bad. Even in his current form, he's a help to the Pacers. He's just not all that close to playing at an All-Star level, and his ability to get closer to that point could swing the series.
3. Tyler Herro, Goran Dragic, and Kendrick Nunn
Butler and Adebayo run the show for Miami, but these three might be the difference between winning and losing this series. They are the best isolation scorers on the team outside of Butler, and their ability to get their own buckets is going to be crucial against a very good Pacers defense. Indiana is fourth in the league in opponent 3PT%, and Miami's probably going to need to find ways to score that don't include setting up open looks from deep. If these three don't make that happen, it could be trouble for the Heat offensively.
3 KEYS
Who wins the three battle?
Let's keep going with that last point. The Heat are the best shooting team in the league, but the Pacers are one of the best at stopping the three. Something obviously has to give. If either teams clearly wins this battle – whether it's the Heat raining down threes or the Pacers largely shutting them down, they'll have the edge in the overall series. If it's mostly a wash, then other factors will player a larger role.
Who are the top three players on the floor?
With Sabonis out, Butler and Adebayo had the top two seasons out of anyone playing in this series. If they dominate play, then this could be over quickly. But if Warren, Oladipo, Brogdon, or even Turner change the situation at the top, then we've got ourselves a series. If one of those four outplays Adebayo or Butler, or if they are the four next best players after those two, then Indiana is going to have a good chance here. If they struggle, and someone like Dragic or Robinson steps up in a big way for the Heat, Miami will likely roll.
For much of the season, these were two of the slowest teams in the league. The Pacers began to play faster when Sabonis went down, and they're right above an average pace since. I don't think there's enough of a gap here for this to really matter, but the Pacers could potentially throw the Heat off by speeding up the game a little bit.
Prediction
Warren's outburst of scoring isn't something that's sustainable over a larger period of games, which was already starting to show over the last few seeding games that he played. With Sabonis out and Oladipo functioning at half speed, no one is going to make up that gap for Indiana. The Pacers are a tough group, and they're more than capable of winning a few games here. The Heat have the best players and the more well-rounded group. Teams that thrive defensively and play mediocre offense don't tend to do so well in the playoffs. Just ask the Jazz.
Heat in 6
3. Boston Celtics versus 6. Philadelphia 76ers
Quick Team Summaries –
The Celtics swapped out Kyrie Irving for Kemba Walker, and they rode a newly positive culture to a very good season. Boston was great on both sides of the ball, and they boast one of the deepest group of wings in the league with Jayson Tatum, Jaylen Brown, Gordon Hayward, and Marcus Smart playing alongside Walker. They lack a true superstar – Tatum was only playing at that level for about a month shortly before the break – but there's a lot of talent here. Daniel Theis plays smart and effective basketball in the middle and he and the flawed but very productive Enes Kanter have made up for the off-season loss of Al Horford.
Boston has been great inside the bubble, ranking sixth in both scoring efficiency and defensive rating and second to the Suns in net rating. They're outscoring opponents by more than 7 points per game despite the 5-3 record. Boston is already playing good basketball, though whether that will be enough for a deep postseason run is up for debate. They've lost to both Milwaukee and Miami over the last two weeks, and there's still plenty of work to do.
The Sixers had a wildly disappointing season after they mixed up the roster over the summer yet again. Al Horford and Josh Richardson replaced Jimmy Butler and JJ Redick, and the bench was almost completely replaced. Their starting lineup was supposed to carry them to title competition, but it wasn't even good enough to compete for a top 3 seed. Horford and Richardson were iffy at best, Tobias Harris was fine but nowhere near good enough for his new contract, and there simply wasn't enough shooting around Ben Simmons and Joel Embiid, who both suffered through a series of injuries. The Sixers aren't bad, and Embiid specifically could be set for a monster series against Boston. They're just not as good as the Celtics, and the season-ending injury that Simmons recently suffered ended any potential debate. It's a lost year for Philly.
Like the Pacers, the Sixers are a slower team with a much better defense than offense. They're also notoriously bad outside of Philadelphia. At home, they were on pace to top the 73-win Warriors over a full season. On the road, they wouldn't even have won 30 games over and 82-game schedule. It's almost two separate teams, and they won't have any games at home in these playoffs.
X-Factors
Tobias Harris
Embiid will be Embiid as long as he's healthy, but a massive series from Harris is the only that could keep the Sixers in this thing. He's going to need to do plenty offensively to make up for the loss of Simmons, and he's also going to need to step up and limit one of Boston's wings on the other side of the court. If Harris doesn't show up, the Celtics will run all over Philly.
2. Daniel Theis
This is Theis's first playoff run as a starting center, and he gets the privilege of guarding one of the most dominant offensive forces in the league in the opening series. The Celtics will be able to survive a massive set of performances from Embiid, but it would be troubling if Theis gets dominated here. He's been very good all season long, but the middle has always been a potential weakness for the Celtics. With Marc Gasol and then Giannis and Brook Lopez waiting ahead with much better teams around them, Theis will need to prove he can reliably man the paint and guard centers who can space the floor. Boston likely won't go very deep if he falls short.
3. Al Horford
Horford has had a disastrous first season with the Sixers. His numbers have dropped off everywhere, and he hasn't looked much better since the season started back up. Horford's greatest strengths are his defensive versatility and his ability to stretch out opposing teams on the other side of the court. The former has remained important and will be crucial now with Simmons out, but the latter has been drastically reduced by playing alongside Embiid. In today's league, there aren't really any slow-moving behemoths at the power forward spot, and Horford loses a lot of the advantages he would have over centers when he plays there. He's not going to out-athlete Gordon Hayward or Jayson Tatum. If he doesn't find a way to be more effective offensively, the Sixers won't be in a good position in this series.
3 KEYS
The Celtics aren't very well equipped to handle Embiid, but this is their series to lose if they can at least prevent him from destroying them repeatedly. For the Sixers, a gigantic effort from Embiid might be the only way they have a chance here. If he's not the best player on the floor in this series by a sizable margin, Philly doesn't stand a chance. He is the best player between these two teams, but he will need to be especially great to keep this close. He'll obviously need to stay healthy, something that he has struggled to do even within the bubble.
Dominating the wing battle
I mentioned Boston's stock of wings above, and they will be able to dictate this series regardless of what Embiid does. Tatum, Brown, and Hayward are better than Harris, Richardson, and a misplaced Horford, and the Celtics are going to win this series as long as it plays out that way. If those three struggle and let the Philly wings keep up with them, the Sixers will have a fighting chance.
The Celtics are playing good basketball right now. They're the better team in this series, and it isn't particularly close. They need to keep their foot on the gas so they can head into the next round still feeling good about where they stand. If they come out sluggish and this turns into a long dogfight of a series, any advantage that Boston gained from their hot start will be lost. Both the Bucks and Nets figure to be on to the second round in five games or less. Against a depleted Sixers team, the Celtics should really try to keep pace.
Prediction
I think Embiid does enough to grab a win, but I don't trust the Sixers at all to come out and string together good performances. Even with Simmons in, this was an iffy team, and it will only be harder for them now. Boston rolls into a big second round meeting with the Raptors.
Celtics in 5
2. Toronto Raptors versus 7. Brooklyn Nets
Quick Team Summaries –
The Raptors are an elite defensive team with an up-and-down offense. In the bubble, the defense has been incredible and the offense has trended towards being down. Toronto has a surprisingly deep roster led by one of the best coaches in the game, and they have plenty of weapons. They're just not great offensively, and they were 12th in scoring efficiency before the break. The defense will keep them in games, but the offense will need to be slightly better than it is now (18th out of 22 in bubble points per game) to give this team a chance to repeat as champions.
Pretty much everyone in Toronto can play good defense, and they're finally healthy after a long season of injuries. Pascal Siakam, Kyle Lowry, and Fred VanVleet lead the show. They'll need to hit their shots, but the production of Marc Gasol, OG Anunoby, Norm Powell, and more will be just as important.
The Nets were an average team this season with Kevin Durant sidelined and Kyrie Irving and Caris LeVert both missing a ton of games. They were solidly within the playoffs, but locker room tension and a laundry list of injuries set a bad mood heading into the bubble. Durant, Irving, Spencer Dinwiddie, DeAndre Jordan, Nicolas Claxton, Wilson Chandler, and Taurean Prince were all out, and it looked like the Nets would be a bit of a mess.
Instead, they came together and fought hard. They went 5-3 to clinch the seven seed, and the buzz surrounding this team is suddenly very good again. It's been a weird year for the Nets, but they have the chance to end it on a very good note with a strong effort against the Raptors here.
X-Factors
Pascal Siakam
The Raptors need Siakam to be a star if they're going to go to The Finals. Can he score repeatedly in the clutch? Can he get a clean look when everyone knows he's taking the shot? Can he do all that and still put in a good effort defensively? It might be hard to answer those questions against the Nets, but there should be some close game opportunities for him.
2. Caris LeVert
A huge performance from LeVert is the only chance the Nets have at taking a game. He's going to need use his scoring ability against one of the league's best defenses. If Toronto shuts him down completely, the Nets could be in trouble.
3. Marc Gasol
Gasol is very clearly nearing the end of his career, but his defensive versatility and floor spacing ability are still crucial to the Raptors. They are simply better when he is on the court, and he has struggled to stay there this season. Turning in a solid effort in this series and staying healthy heading into the stretch run would be a boost for Toronto.
3 KEYS
Winning the hustle battle
The Nets could win this and still get swept, but it's going to be an absolute train wreck if they let the Raptors outwork them. Brooklyn has found success in Orlando because of their high work rate, and that will need to continue here if they want to avoid getting blown out of the water.
This is where I think the Raptors will really miss Kawhi. When defenses tighten late in games and you need your best player to go and make three shots to seal the deal, who are you turning to? Lowry and Siakam are fine players, but there's a reason that the 2018 Raptors lost in the playoffs despite posting very similar numbers to the team that won a title last year. They didn't have a star, and this team doesn't have one either. Someone is going to need to step into that role, or Toronto won't be repeating as champions. Depth only gets you so far in the playoffs.
The Nets have had a really positive experience inside the bubble so far, and it's crucial that they don't blow it by getting run off the floor by the Raptors. Brooklyn doesn't need to win this series, but keeping the games relatively close would allow them to head into the off-season feeling really good about themselves. It might also seal Jacque Vaughn into the head coach position permanently.
Prediction
I'll give a game to the Nets. They've played so hard and have been really impressive over the last two weeks. They're just not good enough to hang with the Raptors, and Toronto is too experienced to let this series drag on further than it should.
Raptors in 5
Conference Semifinals
Bucks versus 4. Heat
I like the Bucks here. Miami has done a good job of containing Giannis and Milwaukee this season, and they have the defensive wings and shooting ability that you need to beat the Bucks. They were also absolutely murdered in the second half by Milwaukee a little over a week ago. It's hard to be hot from deep game after game. Antetokounmpo is the best player and the Bucks are the better team. They make enough shots to win tough games.
BUCKS IN 5
2. Raptors versus 3. Celtics
This is going to be a great series, and it will likely come down to how well Toronto is able to play on both sides. Can they keep up offensively? Can they dominate defensively? I keep going back-and-forth on this one, but I they have just enough in the tank offensively. Toronto's experience wins the day here.
RAPTORS IN 7
Conference Finals
Bucks versus 2. Raptors
The Bucks will be looking for blood in this series, and they're better equipped to handle Toronto's defensive approach. The Raptors don't have Kawhi Leonard to ice games late, and this is where his departure finally catches up to them.
BUCKS IN 6
Finals
Bucks versus Rockets
The Bucks were the best team in the league before the break. They find their form again in the playoffs, and they finish what they started before the world went sideways. Milwaukee has a point to prove after all the talk about Los Angeles, Miami, Toronto, Boston, Philadelphia, and Houston.
Bucks in 6