CBB Roundup: America East Conference
5 min read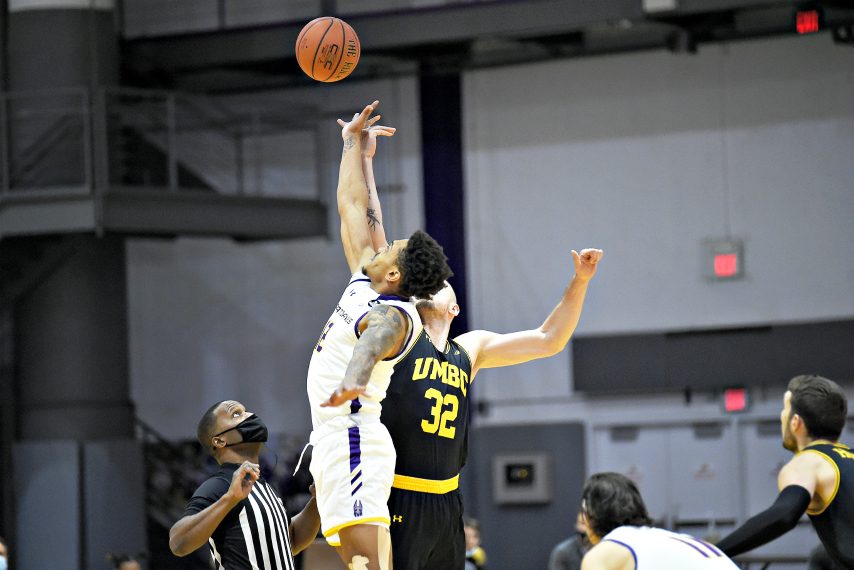 The American East is a ten-team conference that typically sends one team to the tourney. That won't change this year. Only one of these American East contenders will keep playing beyond the conference tournament, and the regular season will give us a good idea of who is most likely to win that honor. With every team four to six conference games in, how is the conference shaping up?
1. Stony Brook 4-0 Conference (6-4 overall)
Stony Brook is the only remaining undefeated team in conference play. They've swept two-game series with both Binghamton and UMass Lowell so far, with the wins coming by an average of 11.5 points per game. All four have come by at least seven. The upcoming series against New Hampshire, another team near the top right now, will be a big one in determining who stands where. One thing to remember: the 4-0 conference record means Stony Brook was just 2-4 out of conference, with losses to St Johns, Bryant, St Peters, and Hofstra. They only picked up one D1 win during that opening stretch, and it came by just 3 over Fairfield. There's still much to prove for this team.
2. UMBC 3-1 (7-2)
UMBC has looked like the best team in the conference so far this season, but that didn't prevent the recent loss to Binghamton that has them in a tie for second. Before that defeat, the Retrievers had won seven in a row since an opening 62-70 loss to Georgetown. Like Stony Brook, they haven't really matched their non-conference efforts since conference play again. Unlike Stony Brook, they have seemingly gotten worse. UMBC was 4-1 in non-conference with an average margin of victory of 14.5 points. George Washington was the toughest opponent in a relatively easy slate, but it's not like the America East is any harder. And yet, UMBC has won games by just 1, 5, and 7 so far in conference. Which version of UMBC is the real one? This new team might not have what it takes to take home the conference title. This weekend's match-up with New Hampshire will be telling (Stony Brook doesn't play this weekend and then plays NH next weekend).
3. New Hampshire 3-1 (4-3)
New Hampshire picked up a big sweep of Hartford before splitting games with a poor Maine team in their second series. In the non-conference, they went 0-2 against D1 teams, losing to Bryant and Quinnipiac by 14 combined points. It's hard to say too much about this team (though the defensive numbers look good), but we will likely learn quite a bit from their next two series against the top two teams in the conference. Are they up for the task? If they compete well the next two weekends, a title challenge may be in the cards.
4. Hartford 4-2 (7-4)
Hartford is tied with UMBC for most overall wins in the conference, and they've won four games by double digits so far, including one each against Maine and Binghamton. They swept both teams with two three-point wins in the other games they played against them. There's no particularly impressive win here – they were swept by New Hampshire and opened the season with losses to UConn (by 12) and Villanova (34) – but there's no avoiding the fact that this team has largely managed to win the games in front of them. That matters, especially in a smaller conference where everything depends on your ability to win a few games in early March. Hartford is a team to watch here.
5. Vermont 3-3 (3-3)
Vermont has been a major player this conference for years. They've won 20 or more games every year since 2009, and they have seventeen of those seasons in the last nineteen years. The Catamounts have participated in March Madness in seven of the last eighteen seasons, and they were on track to make it eight in eighteen before all heck broke loose last fall. That's why it's so surprising to see them at 3-3 so far despite only playing teams in the bottom half of the conference. They've split games with NJIT, UMass Lowell, and Maine. But, two of those losses have come by one point, and it's fair to question whether the covid-imposed late start has had any effect here. Will we see Vermont turn it on as the season continues and become a major conference title threat? I wouldn't bet against them after so many years of success.
6. NJIT 2-2 (3-3)
NJIT split two non-conference games against Temple (loss) and Rider (win). Then they split two games with both Vermont and UMass Lowell. This looks like a pretty classic middling team. They'll win some games throughout the season. They probably won't threaten to win the conference. The upcoming stretch against Maine and Albany is worth watching. If NJIT walks away at 6-4 or 7-3, they will have at least established themselves as a threat to the top half.
7. UMass Lowell 2-4 (3-7)
UMass Lowell picked up a huge win over San Francisco to start their season, and they've never returned to that high point. They lost to Illinois State immediately after, a loss that was followed by defeats against Ohio State and North Carolina State (by 31). In conference, they've split games with Vermont and NJIT around a sweep at the hands of Stony Brook. It seems now that San Francisco hit a bit of a rough patch in those first two games. UMass Lowell has done nothing since to refute that suggestion.
8. Maine 1-3 (1-4)
This is one of the bottom feeders. Maine lost to Boston College by 16 in their only non-conference game. Three of four conference games have been close, but nothing here would point to title potential.
9. Albany 1-3 (1-4)
The same goes for Albany. There's not a huge gap between the top and the bottom based on early results – Albany is just -13 through four games with UMBC and Vermont – but someone has to be at the bottom. It's looking like Maine and Albany will fill those spots.
10. Binghamton 1-5 (1-8)
Binghamton is the worst team in the conference, which makes UMBC's loss to them all the more frustrating. They went 0-3 against Marist (twice) and Youngstown State before conference play, and they're -48 in the six conference games since. This is not a team that's guaranteed to lose every game, as they showed against UMBC, but they're not good.
Prediction: This comes down to a top four of Vermont, UMBC, Stony Brook, and Hartford (not necessarily in that order). UMBC has shown the most so far, and they reach the tournament again by taking care of business in March.