Celtics-Heat Preview
9 min read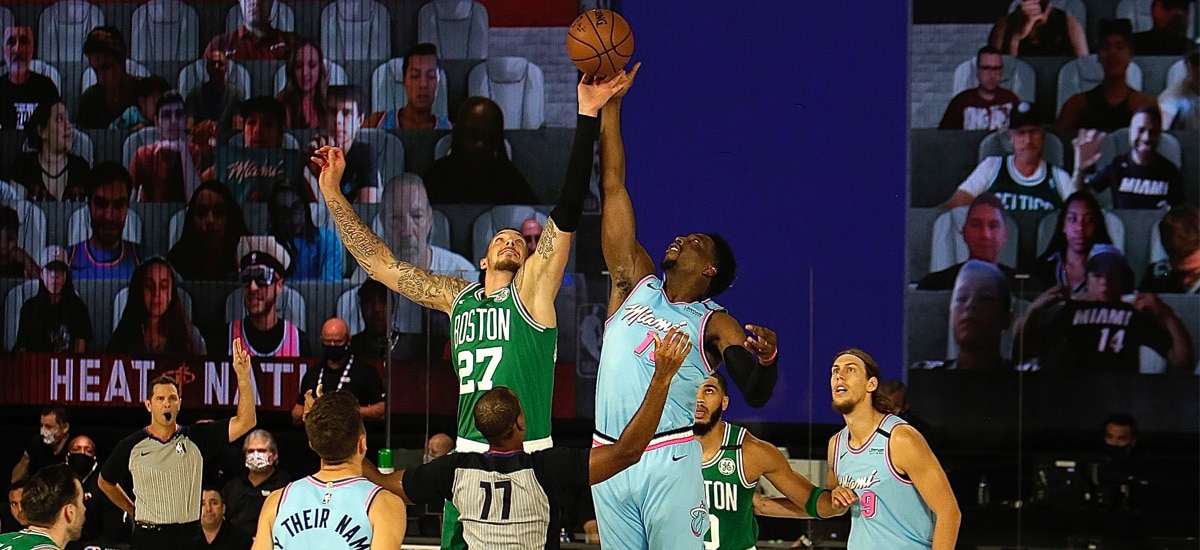 The Eastern Conference Finals are here, and it's Boston v. Miami in the playoffs for the first time since 2012, when LeBron and the Heat took out the Celtics in seven in these Eastern Conference Finals. That was Ray Allen's last year in Boston before he switched sides. This time around, we get Jimmy Butler and the deep and determined Heat against the Celtics and their highly skilled perimeter players. Will the Heat continue their run all the way to The Finals? Or will the Celtics prove to be a better matchup as they ride their starters to yet another Finals trip?
Let's go through the basics –
The Schedule
Game 1 – September 15 (Today) @ 6:30 p.m. Eastern

Game 2 – Thursday @ 7 p.m. Eastern
Game 3 – Saturday @ 8:30 p.m. Eastern
No other game times are determined, but there will be a game every other day until the series is decided.
Game 4 – Monday, September 21
Game 5 – Wednesday, September 23
Game 6 – Friday, September 25
Game 7 – Sunday, September 27
Injury Report
Celtics –
Gordon Hayward (ankle) is out for Game 1. He appears to be day-to-day at this point, but there is no firm date for his return. Hayward's fourth kid is also coming at some point this month, so that will make him unavailable again when it happens. Javonte Green (knee), who played under 500 minutes during the regular season, is doubtful for tonight with a knee injury.
Heat –
Chris Silva is done for the season with a stress fracture in his left pubic bone. He played 346 minutes for the Heat this season.
Season Series
December 4 – Celtics 112, Heat 93
January 28 – Celtics 109, Heat 101
August 4 – Heat 112, Celtics 106
The Heat played a lot of good basketball against some of the best teams in the East, but the Celtics weren't one of them. This will represent a change for Miami, who just faced a Bucks team that was both struggling overall and a perfect match-up for them. That's not the case here, as the Celtics hit the ground running in the bubble and have the perimeter talent to go up against anyone. If the Heat win this series, it won't be because of the match-up.
My Original Predictions for this Series
What did I predict back in my full playoff preview (http://statpadders.com/?p=1277)?
Bucks-Raptors
Bucks in 6
We can just skip this part. In fairness, I did have the Raptors-Celtics series going seven games. That counts for something. I would also say that the Bucks were very clearly not at their best. Miami deserves credit for playing as well as they did, but they beat a version of the Bucks that had been hit by a car on the way down to Orlando.
Quick Team Summaries
The Celtics swapped out Kyrie Irving for Kemba Walker, and they rode a newly positive culture to a very good season. Boston was great on both sides of the ball, and they boast one of the deepest group of wings in the league with Jayson Tatum, Jaylen Brown, Hayward (out for now), and Marcus Smart playing alongside Walker. They lacked a true superstar for much of the season – Tatum was only playing at that level for about a month shortly before the break – but there's a lot of talent here. Tatum also appears to have taken the next step down in Orlando. Daniel Theis plays smart and effective basketball in the middle and he has combined with Enes Kanter and Robert Williams to make up for the off-season loss of Al Horford.
Boston hit the ground running during the seeding games, ranking sixth in both scoring efficiency and defensive rating and second to the Suns in net rating. They outscored opponents by more than 7 points per game despite their 5-3 record. Boston entered the playoffs playing well, and that hasn't changed since. They rolled past the Sixers and then clawed out a win over the defending champs despite playing the vast majority of their playoff games without Hayward. The Celtics are in prime position to take advantage and end this strange season with a shot at their eighteenth title.
The Heat surrounded their two-way All-Stars (Jimmy Butler and Bam Adebayo) with a deep and elite group of shooters. Miami led the league in 3PT% even though their two All-Stars weren't threats from beyond the arc. They play slow, run a lot of their offense through the pass, rebound well, and are solid but short of great on both sides of the court overall. Erik Spoelstra has a lot of options to work with across the board because the young talent has stepped up. Kendrick Nunn was in the G League last year, and he was an effective starting point guard this season. He's now coming off the bench behind the rejuvenated Goran Dragic. Tyler Herro immediately stepped in as a scorer and playmaker off the bench, and he's been playing more than 30 minutes per game in the playoffs. Duncan Robinson produced volume and efficiency from deep that no one but Steph Curry has matched over a full season. This is a tough team that could be great, but they have yet to consistently play at the level you'd like to see from a Finals threat. The last few weeks have been their best of the season, but this match-up, against their first playoff opponent operating at something close to full speed, will be an opportunity to prove that they belong on any stage.
Miami had no issues with a somewhat depleted Pacers team in the first round, winning in a sweep as Indiana could never execute in the fourth quarter. They didn't have too many issues with the Bucks either, and they took control of that series with their fourth quarter play as well. The issue? Milwaukee was very much in every game of that series, and they missed Eric Bledsoe in one loss and Giannis in another. They also played one of, if not the, worst quarters in playoff history to close out Game 3, giving the Heat another win. Miami deserved to win the series, but it wasn't quite the cakewalk some have portrayed it as. The Bucks were also clearly not at their best. Can the Heat do it again against a Celtics team that is playing good basketball?

X-Factors
1. Kemba Walker
Walker averaged 17 points per game against the Raptors. It wasn't a bad series by any means, but he did start to struggle a little bit towards the end when Toronto turned a little more attention his way. Kemba needs to be better and more assertive as a scorer in this series. Tatum and Brown are great, but they're also really young. It's unbelievably hard to control a series at this stage when you're not even 25. Walker needs to be there to make up any gaps that we see. He's spent his whole career as a great player on a mediocre team. This is his chance to show that he has the ability to be a winning player with the right set of teammates. It's been a good year for both Walker and the Celtics, but it's now time to put up or shut up. It's Walker's turn to shine as a scorer.
2. Jimmy Butler
The Heat are going to rely on their depth and their wide array of shooters and defenders. Getting another full team performance is the only way they move on. With that said, Butler needs to be the guy. He needs to step up in the fourth like he did in Games 1 and 3 against the Bucks. He needs to be a go-to scorer when the margins shrink, and he needs to battle Tatum and Walker for the title of best player in this series. He has a history of stepping up when it counts. Now that he's on his biggest stage yet, he needs to keep that reputation going.
3. Gordon Hayward
How much will Hayward play? Which version of Hayward will we see when he does play? These are the two key questions for Boston. Getting Hayward back is going to be important regardless of how he plays because it will shore up their depth. The Celtics gave 25 minutes to Semi Ojeleye, Brad Wanamker, and Grant Williams in Game 7 against the Raptors. Ideally, that number is a little lower, and Hayward's presence would also allow Brad Stevens to play his starters a little less. Tatum, Brown, Walker, and Smart all played massive amounts of minutes against the Raptors. That's necessary at this point to an extent, but some rest would be good. Hayward, even playing at a relatively poor level for him, would be an upgrade for Stevens to use in his rotation. The problem for Boston is that Hayward, like many others, often struggles to find his rhythm when he comes back from injury. Can he do more than just soaking up minutes? If he can, Boston has a whole lot of star power on the wings.
3 KEYS
Keep Smart and Crowder going
Smart is always going to bring the effort, energy, and defense, but he stepped up offensively in the last round. He made five or more threes in three of the seven games against Toronto. For reference, he did that just nine times in sixty regular season games, and he was 2-15 from three against the Sixers. Can he keep the magic going? The short answer is probably not, but the Celtics might need the production if Hayward remains out.
Crowder has been on an unbelievable shooting run with Miami. He's a career 34% shooter from deep that made less than 30% of his threes with the Grizzlies this season, and yet he's made over 44% of his triples with the Heat. He was 22-51 from three against the Bucks, and all but two of his shots came from beyond the arc. That's ridiculous. His ability to keep shooting at that level will be of massive importance to the Heat. These are likely going to be slow and close games. Every point counts.
Stevens v. Spoelstra in a meeting of two very good coaches. Let's run through some decisions to watch –
What does Stevens do with Hayward when he becomes available? Who does he lean on beyond his starters? Does he use Kanter or Williams behind Theis? Does he adjust the drop-back defense that they typically run with Theis in an effort to stop Miami's shooters? Who does he turn to down the stretch when he needs a bucket?
Does Spoelstra continue to go nine deep or does he start to lean on his starters a little more? Will Herro continue to play such a big role? What happens if the Celtics start to consistently attack Herro or Duncan Robinson as defenders? What role does Andre Iguodala play behind Crowder and Butler? How are you using Adebayo defensively when the Celtics have all of their offensive firepower away from his position?
Are Brown and Tatum ready?
They've already been on this stage when LeBron and the Cavs knocked them out in the ECF two seasons ago. It's still quite a bit to ask of a 22 and 23 year old, especially given their big role. Can they step up and play to their potential? The lack of fans will likely help, as it takes away a significant element of pressure, but it's still a big moment. If they respond well, the Celtics will be in a great spot. If they struggle, there aren't too many guys that can pick up the slack on this team. Miami very clearly has an edge in depth (bonus key), and Boston can't afford to turn this into a bench series. They need their top guys to perform.
Prediction
Miami deserves a huge amount of credit for the way they've taken care of business so far in the playoffs. I'm not trying to take anything away from them. They have a great coach and a great team culture, and they're playing really well. They've also faced a Pacers team without their best player and a Bucks team that was struggling and in a terrible match-up. This is their first playoff series against a high-flying team that doesn't profile as a favorable opponent based on their roster and style of play. The Heat won't make it easy, but I have to go with Boston here. They have the better players at the top, and this is the perfect environment for their young guys to succeed in the playoffs.
Celtics in 6