Detroit Pistons: 2k Rebuild
12 min read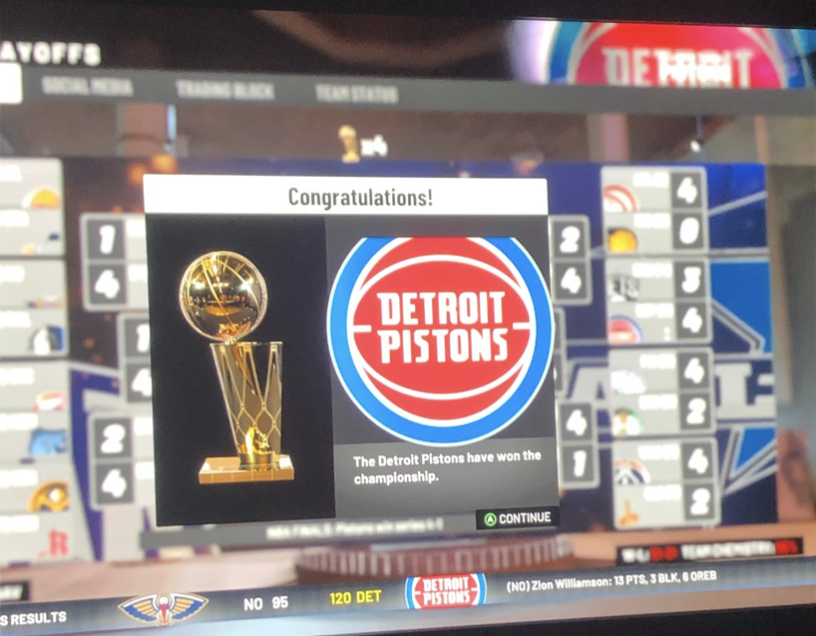 Please check out http://statpadders.com/?p=950 as this is a continuation of that article. 
What started as a realistic rebuild quickly turned into a classic 2K simulation where every player turns into a superstar and every team attempts to contend. However, this is still a fun read, and I'm sure many Pistons fans would be very happy with the players I ended up drafting and trading for. Many of the trades offered by the CPU in this rebuild that I eventually took shows us how bad of a game 2K really is. Still, I'd say that the first two years of this rebuild situation are fairly realistic, and then once we shift into contending mode, it gets crazy. Let's get started. 
Season 1: Finishing the COVID-19 Season
Since I am unfortunately a broke college student, this was done using 2K19, and therefore I had to completely sim the whole first season instead of starting from the current standings. The good thing is that the Pistons still sucked and actually had the worst record in the NBA at 19-63. 
Because videogames hate me, I ended up with the #3 overall pick even though I had the best odds to get the #1 pick. Still, this left me in a great position to draft a franchise level talent. As mentioned in my previous article, the Piston's Big Board of players to draft this year goes as follows: 1. Anthony Edwards 2. LaMelo Ball 3. Obi Toppin 4. Cole Anthony 5. RJ Hampton. Ant unfortunately was taken at pick 2, but I was more than happy to scoop up LaMelo with the #3 overall pick. In the second round, I was excited to see a diamond in the rough type of player still available. That player was Jalen Smith from Maryland who I took at pick 31. Smith is a double double machine that can be an energetic rim running bigman that can block shots at the NBA level. It will be interesting to see where Jalen gets picked in the real draft. As mentioned in the previous article, since the Pistons are going into a rebuild, it would be smart for them to pick up a few raw big men that could develop into solid NBA players. Jalen fills one of these spots. 
2020 Free Agency
From there, we reach free agency. As expected, Tony Snell sadly picked up his $12 million dollar player option. In an attempt to keep Christian Wood and sign Malik Beasely as outlined from my previous article plan, I looked to remove this cap hit via the trade market. The Hornets offered their 2023 1st rounder for Tony Snell and a 2021 second rounder, so I took that ASAP to get rid of his salary.
Also detailed in the past article is the fact that Derrick Rose is likely to be traded at next season's trade deadline. However, I also mentioned that Harry Giles was a target for the Pistons in free agency to fill the void of a backup big as Thon Maker is not the answer. Because 2K sucks, they said Harry Giles had a team option which was picked up. In reality, the Kings weirdly let this option go. I moved up the timing of the Derrick Rose trade and sent him to the Kings for Harry Giles in the offseason as well. In reality, the Pistons could get a better return for Drose if he stays relatively healthy. We will see next season.
Christian Wood was offered 4 years 72 million from the Pistons and initially accepted it. Strangely, he got Greg Monroe syndrome and then changed his mind and accepted his qualifying offer instead of taking the big payday. It works for the Pistons as they can delay paying him the bucks another year.
Finally, we successfully brought in my top free agent target, Malik Beasely on a 4 year deal that would pay him about ~16 million a year. Meyers Leonard was also brought in for a cheap deal for more depth at the center position. This was a solid AND FAIRLY REALISTIC offseason for the rebuilding Pistons. Onto year two…
Season 2: The Losing Continues… As Planned
For some reason, 2K hates Blake Griffin, Christian Wood, and Malik Beasely. Blake is only an 81 overall, Wood a 77, and Malik a 79 to start the season. In my opinion, these guys should have been rated way higher as Blake could possibly return to All NBA production, after being traded, in the eight games he played for the Timberwolves, Malik Beasely was averaging 21.1 points, 5.8 rebounds, and 2.3 assists per game, and Wood was averaging about 20ppg and 10rpg after the Andre Drummond trade. Haters gonna hate but here's the year 2 lineup to start the season.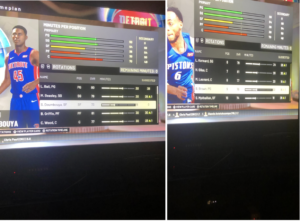 A couple of notable midseason moves were made this season for the Pistons. First off, to keep the Pistons solid, young core kept together, I extended Bruce Brown on a 3 year $21 million dollar deal. This might have been a slight overpay, especially for 2K standards, but I like Bruce and he is a solid defender and playmaker off the bench for the Pistons. 
Secondly, I had to trade Harry Giles. The dude wanted $20+ million per year in the offseason while he was averaging 6 points a game for us. In reality, he could be a solid, cheap bench player for the Pistons, but if he wants that much money, he's going to get traded. I sent him to the Bulls for another young bigman prospect, Daniel Gafford. Gafford is very similar to Jalen Smith as a rebounding, athletic rim runner center. He is also on a much cheaper ~$1.5 million per year salary for the next 3 years. 
Other than that, this season was another good tank year. We improved by winning 4 more games; an elite 23-59 record, the second worst record in the NBA. On the bright side, LaMelo Ball was a great scorer and won Rookie of the year averaging 20ppg and 5apg. Even though he's 6'7", he still somehow cannot rebound in this game which baffles my mind.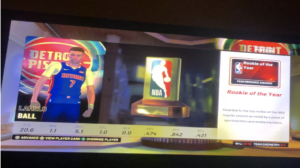 Looking at the rest of the team, Blake Griffin regressed, and Malik Beasely did not produce like I thought he would. This is most likely because of his questionable subpar 2K rating. Whatever. Onto the draft!
Season 2: The Draft
I had the second overall pick in the draft. I traded it along with a future first and second to move up to the #1 overall pick. With it, I took Jaylen Green. If you haven't heard of him or watched his highlights, I recommend it. The kid is going to be insane at the next level. Green has been in the news recently as he accepted a 500k contract to play in the G-League instead of taking the traditional NCAA route. He will start at SF for us: another young star to complement Sekou and LaMelo.
Season 2 Free Agency
As expected, Blake Griffin picked up his huge almost ~$40 million player option. I don't know if anyone would actually take a Blake Griffin trade with that big contract, but the Miami Heat did in 2K! So, I traded Blake for cap space so I could resign C.Wood and Luke Kennard to keep the young core. This is probably the first unrealistic move of this rebuild.

Then, I signed my main man Christian Wood to a 3 yr $42 million deal. He deserves the payday after all he has been through. Good for him. Can't wait for the Pistons to pay him in real life. Wood recently tweeted "Beat that rona" which shows how much of a beast he is.
Also, I signed Cool Hand Luke to a 3 yr $33 million dollar deal. I feel like this is also a pretty realistic deal. Kennard is a sniper and a great scorer off the bench to have. In reality, the Pistons have explored what they could get for him on the trade market.
From there, I had some money and needed to find a PF replacement for Blake. I decided to go small ball and signed Kelly Oubre to a 3 yr $45 million deal. With this era of positionless basketball, I feel like this could work. This is also probably not that realistic since Blake and his huge contract would still likely be playing PF for us.
Finally, I needed a third center for depth so I signed my main man Taco Fall to a league minimum deal. Everyone loves Taco. He will be the Piston's Boban 2.0. 
Season 3: WTH Happened?
I thought this was the year we were going to make it back to the playoffs, but boy was I wrong…
The team didn't produce so things started to get crazy. I got tired of 2K hating on the current players that I brought in. None of them were developing like I thought they would. Malik Beasely, Christian Wood, Luke Kennard, and Kelly Oubre were not putting up the numbers they should have in real life. Therefore, I got pissed and traded them all. First went Malik Beasely because the CPU offered me Myles Turner for him. 
I simulated further to around the trade deadline and the move did not help at all. Detroit was 14-34 so I shook it up a little more. Pat Riley must have had a concussion because he essentially offered me Bam Adebayo for Wood and Oubre. A franchise altering center joins the Pistons! He's already won a skills challenge and is one of the best passing centers in the game. I also think he will also win a defensive player of the year award in the future. In reality, Wood is also (hopefully) a superstar center, and Oubre is an above average starter, so this trade would maybe be relatively fair. I am sad to see Wood go even though 2K disrespects his game, but am extremely excited to welcome BAM. He was averaging an insane 25ppg prior to the trade.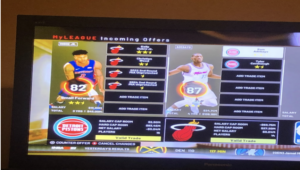 Additionally, looking at some stats, Luke was still one of the worst defending wings in the game. So I decided to bolster our defense, trading Kennard for Marcus Smart. He is essential to Boston's success, so I doubt this would happen in real life, but Smart is a great veteran presence that should help the team. He is also on a team friendly deal in 2K that will only pay him ~$6 million per year for the next 3 years which is a steal.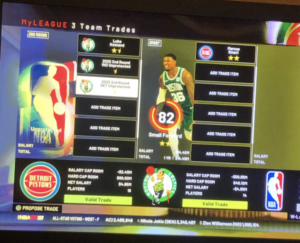 After the trade deadline, there was still sadly not that much improvement. The Pistons finished with a 28-54 record- again an improvement, but still no playoffs. On the brightside, our #1 overall pick, Jaylen Green was elite and won rookie of the year.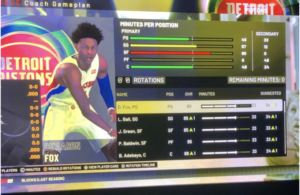 Season 3 Offseason
Even though I was slotted at the #4 overall pick, I knew this player was probably not going to tip the needle and take us to the next level. I needed another way to improve the roster to get back to the playoffs and contend. Naturally, the trade finder feature on 2K came to the rescue. Myles Turner and Taco Fall for De'Aaron Fox was the result. Fox is arguably the quickest player in the game. He is extremely athletic and gets tons of steals, and the best part is that he is a 90 overall in the game. This moves LaMelo to the 2 guard spot. The core is now Fox, Ball, Green, and Bam. Now all I need is a power forward in the draft to push this team over the edge.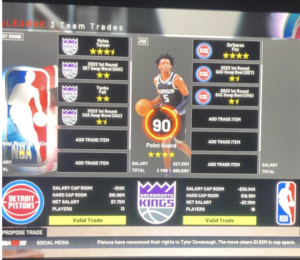 With the #4 overall pick, I did just that. I was able to get the skinny Patrick Baldwin, a 6'10" forward that can score from anywhere on the court. He reminds me of Brandon Ingram except even bigger: essentially a Kevin Durant prototype. He was the highest overall player (85) that came out of this draft class. 
With the majority of the core on rookie deals (LaMelo, Green, and Baldwin) and Bam and Fox on max contracts, there was not much for me to do in free agency. So, I extended Svi Mykhailiuk on a 3 year, $12million deal. He hasn't been playing much which explains his willingness to take a cheap deal. The rest of the bench depth came in on veteran minimum contracts. Former Pistons Aaron Baynes, Reggie Bullock, and Markieff Morris rejoined the team. Also, pest defender Patrick Beverly came on for the minimum. With that, here is the potential lineup for the following season. Ladies and Gentlemen it is time to contend!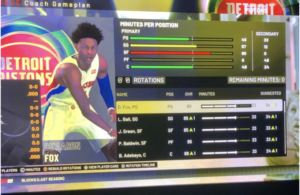 There were a ton of ups and downs in this season. Even though Sekou had a knee injury that sat him out until the All Star break in the first game, the team started out red hot winning their first 10 games. They regressed to 34-19 by the trade deadline. Since Sekou was hurt this year and didn't put up any numbers in the previous seasons, I was able to extend him to a solid 4 year $34 million dollar deal. He still hasn't reached an age where he develops significantly, but I'm hopeful he will be great in the next few years. After the deadline, the team sucked for some reason. Was it Sekou's return to the lineup from injury? Anyways, the Piston's ended the season on a 10-19 run which finished them at 44-38 – good enough for a 6th seed. We made it back to the playoffs! Though we lost in the first round of the playoffs to the Wizards, all my young players were due to develop and become even better.
Another bright part of the season was the fact that Patrick Baldwin won rookie of the year. We now have had 3 rookies of the year in a row which is insane and has never happened before in NBA history.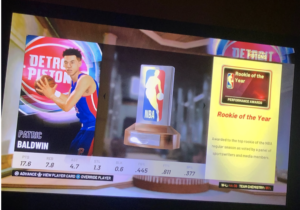 Season 4
Something else that is huge for the team and surprising is the fact that I got the #1 overall pick in the draft. The Kings and I swapped picks in the D'Aaron Fox trade, and they were the worst team in the league, so, I was able to draft the #1 overall recruit in the nation for any age class: Emoni Bates. Our team is now so deep that this generational talent won't even start for us which is ridiculous.
In free agency, the bench yet again had to be addressed with cheap veterans. Here is a summary of the moves I made. Shockingly, N'Faly Dante, who is a 5 star recruit that is the #1 center in the class of 2020 was available in free agency. He took a cheap 2 year deal even though he is an 84 overall. He will be a great backup bigman as part of our young core. Alex Caruso, Aron Baynes, and Davis Bertans were additionally signed on cheap deals for depth.
After the first game this season in which we beat the Knicks 144-68, I think this is the year the Pistons win a title yet again. Before that, I realized that LaMelo Ball was in the last year of his contract, and would likely not resign for anything cheaper that the max. He has been the least productive part of this core in the rebuild, so I decided to move him early on as a James Harden type of trade just like the OKC Thunder did in the past. In summary, I traded LaMelo Ball and Bruce Brown for Jaden Hardy and Isaiah Taylor.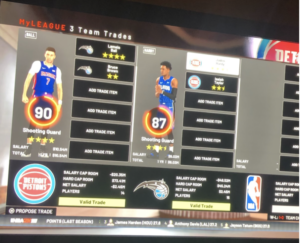 Jaden Hardy is a 5 star prospect that plays for the Vegas Elite high school team. I've scouted him in real life in the past, and the kid is legit and one of the smoothest players I've ever seen. Not only that, but basketball runs in his family's blood. His brother, Amauri Hardy, who was the leading scorer for UNLV this year and just transferred to Oregon, dropped 40 on my high school team back in the day. Don't worry though: my team still won and I blocked Amauri 4 times. Here's photo evidence.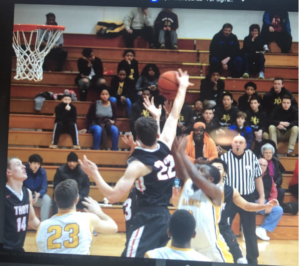 Anyways, Jaden Hardy has 3 more years under contract as opposed to LaMelo's one more year, and they have a similar rating in 2K. Taylor is also an improvement over Bruce Brown for the backup point guard spot. 
This team was very solid and played together fairly well with a ton of balanced scoring. Therefore, I didn't need to make any moves at the trade deadline. They finished as the 5th seed with a 51-31 in a loaded Eastern conference. The power rankings favored us more as we were 4th in those rankings according to 2K. This was proven in the playoffs as the underdog Pistons team started off the playoffs by beating the 4th seed Nets. Then they took down the 1 seed Atlanta Hawks, who had the best record in the league and won the title last year. They finished their half of the bracket with a sweep of the 2 seed Washington Wizards, the team who eliminated us last year. The Pistons are back in the NBA Finals! Let's go!
In the finals, we matched up against the New Orleans Pelicans. Their core was very young, talented, and lengthy: very similar to Detroit. Lonzo Ball, Markelle Fultz, Brandon Ingram, and Zion Williamson in their primes are a tough matchup to Detroit's young team. It didn't matter: With the help of home court advantage, the Pistons won easily in 5 games. Rookie player Emoni Bates won Finals MVP dropping 22 points a game off the bench. It took awhile, but in the end, the Pistons won a championship.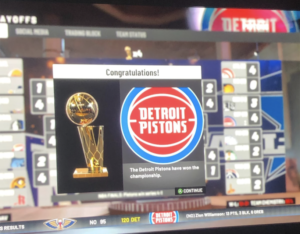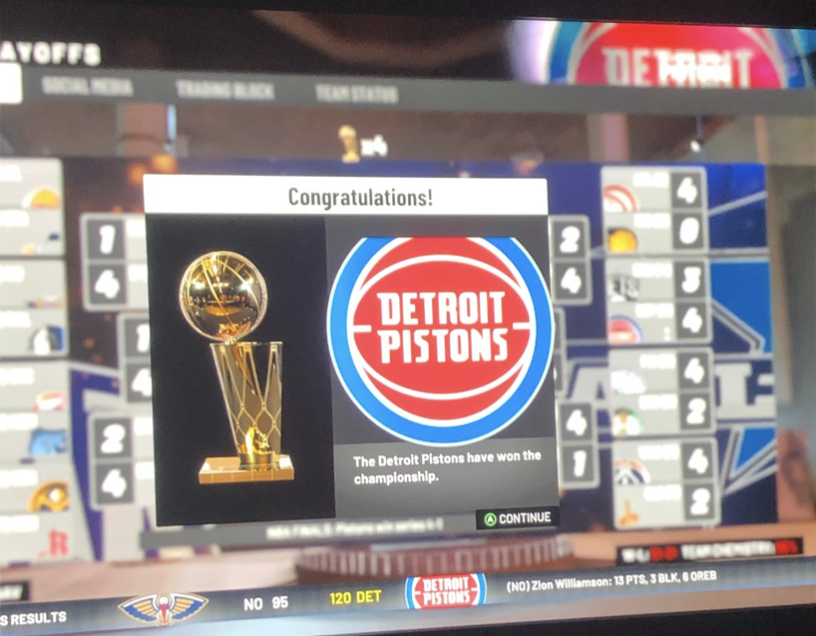 Though in reality, the Pistons won't have this outstanding young core, it wouldn't surprise me if they tank and get a couple of top picks in the future. The future can still be bright in Detroit. I hope you enjoyed this rebuild article as much as I did. Tune into MBAA's website for more great content like this.