DETROIT PISTONS: Season Recap and What to Do Next
14 min read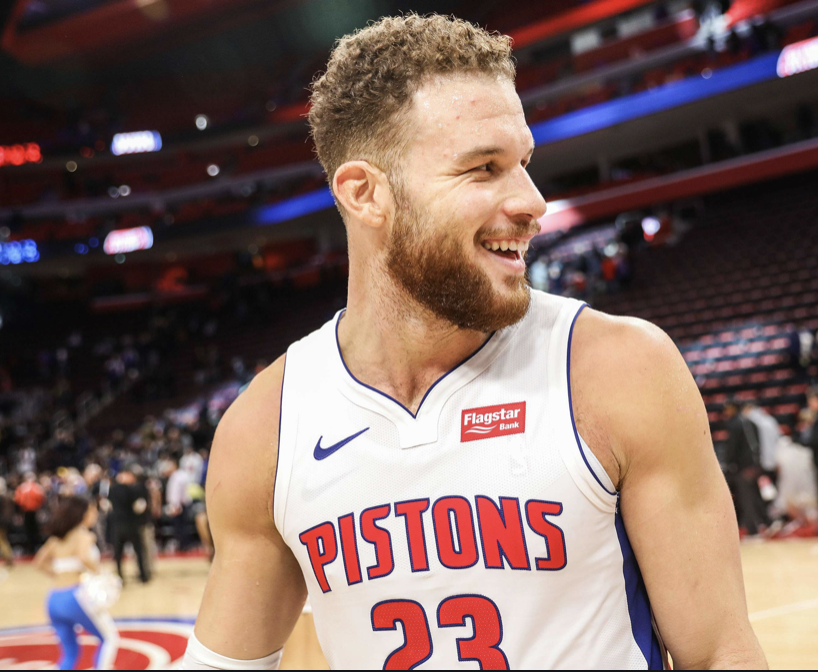 Assuming CoronaVirus has ended the NBA season, without a doubt, this year was a flat out disappointment for the Detroit Pistons. Being an optimist, however, you have to try and see the bright side of every situation. In this article, we will explore what occurred this season, the positives on the Piston's roster that they should build on, and where to go next from here in regards to the draft and free agency. 
What Happened?
First off, their star All-NBA caliber player Blake Griffin barely played and when he did, he was a shell of his former self. One benefit of the COVID-19 situation is that Blake has time to recover in an attempt to find his 2018-2019 playing ability. Even if he doesn't return to an elite skill level, having Blake's leadership and playmaking ability on the court next season should boost the Piston's record and team chemistry.
 Next, they traded their former "franchise player", Andre Drummond, for a second round pick and salary cap relief. Some people were disappointed with the return, but I think having the salary cap flexibility to sign free agents or take on bad contracts in trades that could bring in assets highly outweighs keeping and overpaying a lazy, outdated center. It was a step in the direction of a must needed rebuild. Further, as will be explained in the next paragraph, the Piston's already have their future center replacement on the roster. Similarly, the Pistons waived Markieff Morris and Reggie Jackson to let some young players get more minutes. This helped the Piston's to tank which has given them better draft lottery odds.
***
What's Next?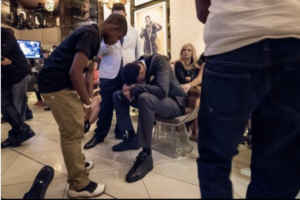 Take a good look at this picture. This is what a man looks like when he has hit rock bottom. This right here is a big part of the Piston's future, Christian Wood. He was heartbroken after finding out he went undrafted. Some people simply give up or never take the next step once they fail. However, Christian Wood is a fighter and he represents the blue collar Detroit mindset perfectly. In 8 games for the Pelicans last year, Wood averaged 16.9 points and 7.9 rebounds per game on 53.3 percent shooting. After beating out Joe Johnson for a roster spot, Wood is now in the discussion for MIP in the NBA. Since we traded our dinosaur center Andre Drummond, Wood has exploded and averaged 22.8 points and 9.9 rebounds per game on 56.2 percent shooting and 40 percent shooting from deep. That my friends is what you call a modern day big man. He's athletic as hell which allows him to guard multiple positions, he rebounds well, spaces the floor with his jumper, and dunks everything when he is close to the basket. Everyone in Detroit is clearly praying that he recovers from CoronaVirus, but once healthy, the first move that the front office needs to do is lock up Wood for the next 3-4 years. I can see him signing with us for ~4 year $48million. An athletic frontcourt of Blake Griffin and Christian Wood, who both space the floor, could give opponents matchup nightmares next season.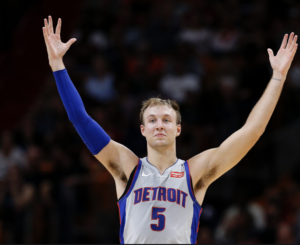 One aspect of the season that will get overlooked is Luke Kennard's development. Sadly, Cool Hand Luke only played in 28 games this season. When he did play, however, Luke's offensive ability was the definition of smooth. Luke put up 15.8 ppg, 3.5 rbg, and 4.1 apg on ~40% shooting from downtown. The key for Kennard to take the next step and become an above average NBA player is two-pronged. First, he needs to prove he can stay healthy while playing impact minutes. Secondly, his defense needs work. If he can be even just an average defender, Kennard could be a key component of the Piston's future. The Piston's explored trading him to the Suns this season, but I believe extending Luke Kennard to a similar contract as C.Wood (3-4 years around $10+ million per year) and playing him as our 6th man off the bench that provides a scoring spark plug is the best option for the team. Luke is a young, homegrown draft talent that wasn't a bust (yes I'm throwing shade at you Stanley Johnson) and is a sniper from deep that forces defenses to keep honest.
The Rest of the Roster
The only other relevant, young pieces on the Piston's roster are Sekou Doumbouya, Bruce Brown, Svi Mykhailiuk, and maybe Jordan Bone. Before talking about them, let's do a quick rundown on the rest of the roster.
Brandon Knight

is 28, has injury history, and his contract is coming off the books. He has played well for us since the trade, so he could possibly be re-signed to a cheap contract as point guard depth depending on what the team does/thinks of Jordan Bone.

John Henson

is 29 and hasn't done much of anything in his NBA career, especially over the last few years. Let him walk. He should not be part of our future

Some people like and want

Langston Galloway

to return to the Pistons. I personally am not one of them. Sure, he's a nice guy and is well liked in the locker room, but he is 28 and his game is too inconsistent for me. He did shoot the ball well for us this year, but I don't like that he takes minutes away from young wings like Svi, Bruce, Sekou, and Luke. Langston should have been traded to a contender at the deadline, but now I am completely okay with letting him walk instead of paying him big money. Best of luck Langston.

Derrick Rose

is one of the most loved and respected players in the league. Why he chose to sign and play for Detroit beats me. He put up numbers his first season with us and showed the league that he still has a game. Sadly, I can almost guarantee that Drose will be traded to a contender at the trade deadline next year. If he puts up similar numbers to this season, there is no reason that the Pistons don't get a solid asset to help our future for him via trade.

Thon Maker

might be 40 years old and has a really poor defensive IQ. I love his hustle, but he should not be in the NBA. Good luck in free agency Thon.

Jordan McRae

is about to turn 29 and is an NBA journeyman. Sure he can score the ball, but why would we re-sign him and let him take minutes from young wings? (The same logic applies with Langston Galloway). McRae would sign for cheaper than Galloway, so I could see him being signed for cheap as a wing depth piece.

Khyri Thomas–

We still haven't really seen him play as he was hurt this whole season. He seems like another irrelevant second rounder. He is under contract for next season. Hopefully he can show us that he can be a part of our future.

Tony Snell will likely pick up his player option next year. He is a solid defender and shooter, but again, not a game changer. The best team in the league, the Bucks, traded him to us for nothing as they knew they didn't need him. If we are building a contender, there is no reason to resign Tony in 2021.
Sekou, Bruce, and Svi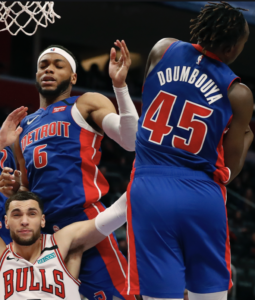 I like to tell the truth so here it is: Sekou Doumbouya sucked in his rookie year. Am I mad or surprised? Not at all. Should you be? Nope. He's the youngest player in the NBA. Heck, I'm even older than him. Could I put up 6.4 ppg, 3.1 rpg, and 0.5 apg on 39% shooting from the field in my rookie year in the NBA? I barely eclipsed those numbers in my senior year in high school. The point is that this production was expected from him when he's this young. His game is raw and he when he did play, Coach Casey totally misused him on the court. Sekou himself said that he didn't like being a spot up shooter that wasn't involved in the offense. In the G League, he was a completely different player that was very effective with the ball in his hands running the pick and roll. He averaged 17.4ppg with 5.5rpg on 48.6% shooting from the field and ~36% from deep in the G League. With time to develop, and a coach that uses him right and trusts him, I think this could be the expected production of Sekou in 3 years time as a starter for the Pistons. I don't think he will ever reach the explosive production level of Pascal Siakam, but I could totally see him become a discount version of Pascal. 
I along with most other Pistons fans like Bruce Brown. He plays with a competitive edge, and plays that lockdown Bad Boys defense. Unfortunately, he is pretty ineffective on offense. Though he took strides offensively this year boosting his points per game to 8.9 and 3 point percentage from deep to ~34%, due to his offensive ineffciency, I don't think he's a starting caliber player on a contending team. I would love for Bruce to be our backup point guard of the future. Is he Rondo? Kris Dunn? Eric Bledsoe? He probably won't reach the peak of any of these players, but Brown is big for the point guard position, (6"5 205) he plays good defense due to his athleticism, and is a good rebounder and passer at the position. I'm comfortable with handing him the reins as our backup point guard of the future.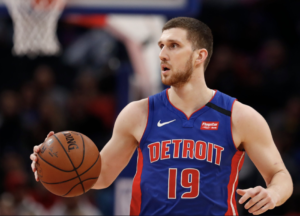 Svi is another guy that is not a starter on a contender. However, that brother can shoot. Shooting the deep ball has become a valuable commodity in the NBA, and Svi excels at it as he shoots 40% from 3. Having shooting wing depth off the bench in Luke Kennard and Svi could be a deadly bench combo for years to come. Though not a great defender, the floor is always spaced with him on the floor which opens up drives from Drose, Bruce Brown, Blake Griffin, and Christian Wood.
The Draft Targets
Anthony Edwards

LaMelo Ball

Obi Toppin

Cole Anthony

RJ Hampton
Plain and simple, the Pistons need a young point guard/combo guard that can be the main ball handler and playmaker for the team as they go on their rebuild. Derrick Rose is not a long term solution, and as previously mentioned, he will likely be traded at the deadline. Though Bruce Brown has drawn discount Russell Westbrook comparisons, he does not have the offensive capability to be a starting point guard in the NBA yet. Slated at #5 in the draft, the two premier guard prospects, Anthony Edwards and LaMelo Ball, will unfortunately probably not slip that far. If the Pistons get lucky draft odds and move up into a position where one of them is available, you take that player and thank the draft gods for a franchise guard. 
If they stay at 5, though not a PG, I think a great player for the Pistons to target is forward Obi Toppin. Obi absolutely killed it at Dayton this year. A freak athlete that averaged 20 ppg on 63.3% shooting this season in college, Toppin is a big wing that would complement Sekou nicely as an athletic, lengthy defending frontcourt duo that many contending teams have. For example, Boston's Jayson Tatum and Jaylen Brown, the Clippers' Kawhai Leonard and Paul George, Giannis and Middleton in Milwaukee, are all dream scenarios that Piston's fans wish Obi and Sekou could become. The Atlanta Hawks, who are also in a rebuild, seem to be trying out this same strategy with two young big wings in Cam Reddish and DeAndre Hunter.
If Ant, LaMelo, and Obi Toppin are gone or their draft odds slip, the Pistons should take either combo guard Cole Anthony or combo guard RJ Hampton. I don't believe these players are franchise altering talents, but they could suffice at the point guard position. Cole Anthony would be a similar player to Collin Sexton as a young, energetic guard that can score the ball. Hampton has some risk as he comes from overseas, but has a high ceiling that the Pistons could take a chance on.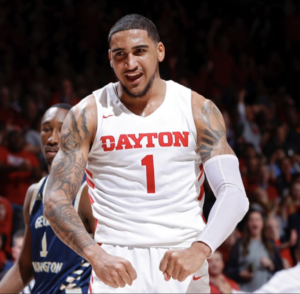 The Future Lineup
Assuming we stick with the assumption that we draft at pick 5, I think the Pistons will take Obi Toppin. Therefore, ideally, pre free agency, the future lineup would be something like this. I assume that we sign Wood no matter what and that Tony Snell picks up his player option. 
PG: Derrick Rose
SG: Luke Kennard
SF: Tony Snell
PF: Blake Griffin
C: Christian Wood
Backup PG: Bruce Brown
Backup SG: Svi
Backup SF: Sekou
Backup PF: Obi
Backup C: ?
In my mind, the Pistons are kind of stuck in limbo until Blake's massive contract is gone. Therefore, the core of Sekou, Obi, Wood, Brown, Svi, and Luke have a couple years to develop and create chemistry. The target year to contend is 2022 once Blake is gone. As previously mentioned, Drose isn't the long term solution at point guard. That is a target in either Free agency, this draft, or next draft that the Pistons must hit. Ideally, once Blake is gone, Sekou will be starting and have a dangerous lengthy frontcourt of Sekou, Obi, and Wood- all who can shoot the three.  Also as mentioned before, Luke Kennard eventually shifts to the bench and becomes the Piston's scoring sixth man microwave. 
Therefore, the future lineup in 2 years is something like this.. 
PG: ?
SG: ?
Sf: Sekou
Pf:Obi
C: Wood 
Backup PG: Brown
Backup SG: Luke
Backup SF: Svi
Backup Bigs: ?
Svi and Bruce Brown can likely be signed for relatively cheap contracts as they are not franchise altering talents. Let's assume around $7.5 million each. As stated earlier, Luke and Wood should be locked up to long term contracts worth $10+ million each. Let's assume combined their contracts are worth ~$25 million a year. Sekou's contract would be worth around $5+ million in the target contending year of 2022. Obi Toppin's slot contract value at pick 5 would be around $9+million in 2022. Therefore, about 7.5+7.5+25+5.5+9.5= about $55 million of salary would be locked up for the majority of the Piston's core in 2022. That leaves the Pistons with lots of money to find an above average starting point guard, shooting guard, and a couple backup big men off the bench. 
Filling the Holes in Free Agency
Looking at 2020 free agency, there are a couple of targets to fill the future needs of a starting PG, SG, and backup bigs. There are 4 big players that the Pistons could target and pay some significant money for. With the money freed up from trading Drummond, the Pistons should attempt to sign one of these players.
 Demar DeRozan has been linked to the Pistons due to his relationship with coach Casey. Though others hate the idea of overpaying for an aging Derozan, I would not be THAT opposed to the idea. He'd give us 20+ppg while being the star figure that replaces Blake Griffin in a couple years. He could be an intriguing option that would move up the Piston's rebuild into contention a couple years early. Paying $30+ for another aging star would be an undoubtedly hard pill to swallow, so I would personally pass on DeRozan. 
Malik Beasely in my opinion is a better target for the Pistons that would perfectly fit the long term shooting guard role. He is only 23 years old and one of the best unheard of shooters in the game. After being traded this season, in the eight games he played for the Timberwolves, he put up 21.1 points, 5.8 rebounds, 2.3 assists per game. He is another player that would shoot ~40% from 3 along with Luke Kennard, Svi, and maybe even Tony Snell and Christian Wood. At 23, he would have a couple of years to develop and mesh with the Pistons young core. Though he is a restricted free agent, it would be interesting to see if the Timberwolves would match a competitive offer of ~$20+ million per year (He denied a $10 million dollar per year extension last year). This should be the Pistons top target this free agency in my opinion. 
Fred VanVleet is another Toronto Raptor that is linked to the Pistons due to Coach Casey. Fred has accelerated his game to 17.6ppg with 6.6apg as a key cog in the Raptor's system. He could be the long term solution at point guard as he is just 26. Signing him to a 4 year contract that pays him ~$20 million per year would not be the worst thing in the world. An underrated playmaker, he would play for us for the majority of his prime and be a good mentor for Bruce Brown. 
The last target would fill the backup big void that the Pistons currently have. Montrezl Harrell is 100x the player that Thon Maker is. He plays with the same energy and hustle as Thon, but is actually good at basketball. Montrezl comes off the bench and scores 18.6ppg for arguably the best team in the league, the Clippers. Giving him ~$15 to 20 million for the long term would be a smart move. It is the same logic as VanVleet. He doesn't eat up all your cap space, plays for Detroit during his prime, and fills a void of a contending team. He could even start for us and move Christian Wood to the bench if needed. Either way, having consistent energy and scoring from the center position would be a huge upgrade for the Pistons as the lazy Andre Drummond would take some games off. Harrell is a leader that holds others accountable, so he would be a great addition for the locker room.
Young Backup Bigs with Potential
Since Detroit isn't an attractive free agency location, I doubt we get any of these big time players unless we overpay. Therefore, if we strike out, I think targeting Jahlil Okafor or Harry Giles  or both as young projects could also be a smart opportunity. These guys are young and could produce with an opportunity for consistent minutes. 
Conclusion
In sum, the Pistons still suck and I should be their GM. If we follow my rebuild/draft plan, the young Pistons players would improve and be ready for contention by 2022 when Blake Griffin and his contract are gone, depending on if we find an impact point guard to lead our team. Keep in mind, this doesn't take into account the 2021 free agency and draft. The ideal lineup in 2022 would be something like…

PG: ?
SG: Malik Beasley
Sf: Sekou Doumbouya
Pf: Obi Toppin
C: Christian Wood 
Backup PG: Bruce Brown
Backup SG: Luke Kennard
Backup SF: Svi
Backup PF: Harry Giles
Backup C: Jahlil Okafor
The point guard position is still up for grabs, but the Piston would have a couple of years to figure that out via trading Derrick Rose, signing a free agent, or solving it via the draft. Most of these players would be in their mid to late 20's by 2022. Signing a couple of veterans here and there to teach these young guys some skills would be huge for the team. The point guard position is arguably the most important position in the NBA. They are the QB of the offense and usually are leaders in the locker room. The future of the Pistons depends on it. I will probably do a 2k rebuild trying to do this and see how the team pans out. Be tuned in for when this comes out.