SOUTHWEST DIVISION (Rankings based on predicted regular season finish in conference)
Memphis Grizzlies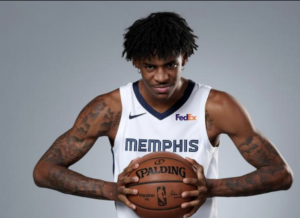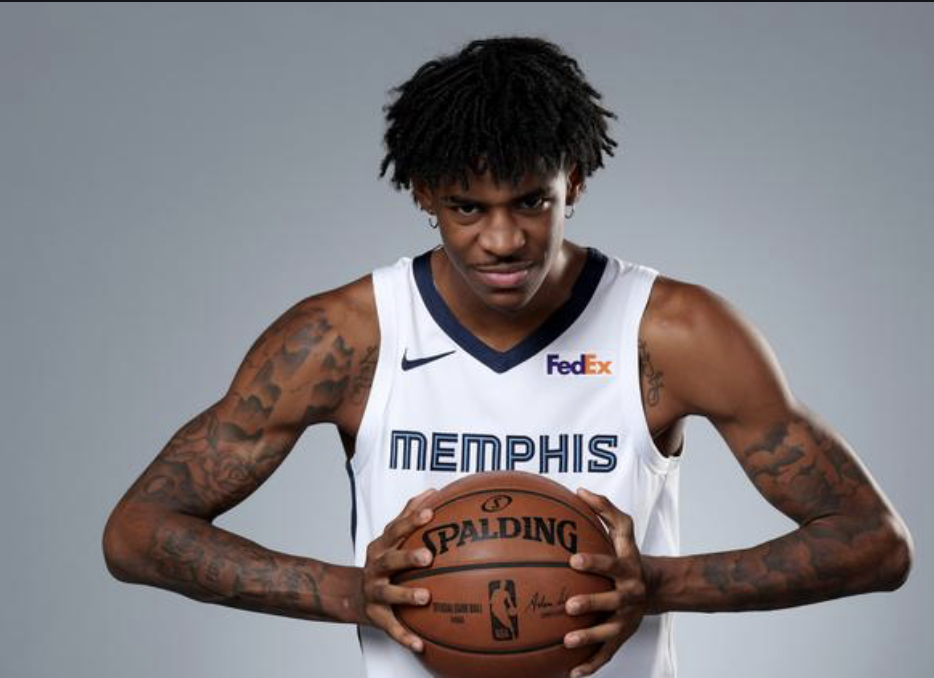 Key Player: Jaren Jackson Jr.  
Young Talent to Watch: Ja Morant, Jaren Jackson Jr., Dillon Brooks, Brandon Clarke
Key Losses: Mike Conley, a ton of role players who played 30-50 games
Key Additions: Ja Morant, Brandon Clarke
 Projected Starting Lineup: Ja Morant (PG), Dillon Brooks (SG), Kyle Anderson (SF), Jaren Jackson Jr. (PF), Jonas Valanciunas (C)
Major Storyline: A new era 
Worst-Case Record: 15-67
Best-Case Record: 30-52
Marc Gasol helped Toronto win a championship last year after being traded near the end of the regular season. Mike Conley will be looking to do something similar in Utah this season. With their departures, Memphis will officially move on from the Grit and Grind era. The pieces that remain are exciting, but they will likely struggle to win games this season. Ja Morant is electric at the point, but he's also a rookie being thrust into a huge role. He's an elite athlete, and he has the tools to be an elite scorer and passer at the NBA level. He also shot a respectable 36% from three last year at Murray St. He should be a stud for years to come, but, again, this year might be a struggle at times. He's leading a young and, for now, relatively weak team, and that's not ideal for a rookie point guard in the West. Dillon Brooks missed 64 games last year after a solid rookie season. He has shown signs of being a decent defender and good scorer. Brooks hasn't shown signs of doing much else. He will get plenty of time to develop on a young Grizzlies team. Kyle Anderson is a good defender and average offensive player. That's not a bad thing, but he will need to show more to to be a big part of this team in the future. Like Brooks, he will have plenty of opportunities to do so. The rest of the starting lineup in Memphis is actually pretty promising. Jaren Jackson Jr. could be special, and he should be playing with Morant for a long time. He showed plus defending ability in his rookie season, and unlike guys like Jonathan Isaac and Mo Bamba, his offensive game showed signs of life. Jackson scored about 13 a game on 36% shooting from deep. He will need to improve as a rebounder and passer, but those things should come with experience and added strength. He has all of the intrinsic tools to be a very good player, and a very good wingman for Morant. Just like Morant, he will need some more time to fully develop those tools, which likely means the losses will pile up in Memphis this season. Jonas Valanciunas is solid at the 5, as he showed throughout his time in Toronto. He seems to have fallen under the radar a little bit after the Raptors won a title without him, but he's a good rebounder, a solid interior defender, and a decent scorer. In his brief time with the Grizzlies after the Gasol trade, he nearly went for 20 points and 11 rebounds per game. He averaged around 12 points and 8 rebounds over his last few years in Toronto, but he should also have a much bigger role than he ever did in Canada. He might not be able to go for 20 and 11 over a full season, but it's not an unreachable target. He also showed some promise as an improved passer at the end of last season, and has shown a willingness to work on his perimeter shooting. He's still only 27, and the Grizzlies will likely go into this year hoping that he can mesh with their young core. The bench behind these five is mostly full with a bunch of guys a few years into their career that will try to show they can play a role in this team's future. The two notable exceptions are Jae Crowder and Brandon Clarke. Crowder is a solid veteran, and presumably a potential trade target for contenders later in the year. He shoots well enough (34% career from deep) to at least get some attention on the perimeter, and he is a good defender that can guard multiple positions. Crowder's also a workhorse that will be a great leader for the young guys in Memphis as long as he's there. He came over in the Conley trade, and it's likely that a few contending teams will consider bringing him in at some point for some added wing depth. Clarke, a rookie like Morant, is on the opposite side of the spectrum. He won't start behind Jackson and Valanciunas, but he has a bright future. He's a center in a 6' 8" body, and he has an uncanny ability to block shots to go along with good scoring and finishing ability. He will need to develop his passing and find a better and more consistent three-pointer to really take off, but he could be another stud for the Grizzlies. Tyus Jones, De'Anthony Melton, Josh Jackson, Grayson Allen, Bruno Caboclo, and Ivan Rabb will all be looking to prove that they belong in Memphis in the long haul. Jones bumped up his passing last year to nearly five assists per game.  He has been more comfortable as a scorer the last two years, but he has never scored more than 7 per game. Heading into his fifth year, he doesn't look like anything more than a role player with some decent passing ability. That's not a bad skill to have, and Memphis will attempt to develop the other areas of his game over the next few years. De'Anthony Melton spent his rookie year in Phoenix. He showed some all-around potential despite fairly limited production, and he will have the chance to strengthen his game with very little pressure in Memphis. Josh Jackson, another former Sun, has been an absolute bust so far, and he will start this season in the G League. Jackson has been an incredibly negative player, racking up roughly -7 wins over replacement in his first two years. He has produced -2.4 win shares despite producing positive defensive win shares. Jackson actually hasn't been horrific defensively, and that's where most of his potential lies. He still does have some, as he will only turn 23 this year. There are two major obstacles in his way right now. One is that his defense needs more work, as he hasn't been particularly good on that end despite not being a disaster. The other is that other defensively-focused guys like Stanley Johnson are just below average on offense. Jackson has been plain awful. He's posted around 12 points and 2 assists per game with a 42% field goal percentage on 30% from deep. The 12 points per game are more a result of having a relatively high usage rate than anything else. He's almost managed to reach -5 offensive win shares, which is just painfully bad. He's a no-risk pickup for the Grizzlies, but Jackson has not provided a lot of hope so far in his career. Bruno Cabocolo played a measurable role for the first time in his five-year career last season after playing a total of 35 games in his first four years. He still only played 34 games last year, so it's hard to tell what exactly the Grizzlies might have here. He shot 37% from three, but didn't really stand out in any other statistical category. He appears to have some defensive potential. We will likely find out this year if he will ever manage to take on a season-long role for a team. Ivan Rabb has yet to really break into the rotation during his two years in Memphis. He has potential as a traditional, rebounding and inside scoring big man. He started attempting threes on a limited basis last season. Rabb could be better defensively. He has a chance of being pretty effective if he gets a bigger role. Grayson Allen didn't play a lot in Utah last year, and he wasn't very good when he did play. He's only entering his second year, but he will need to show more to stick around. Miles Plumlee is also on this team. He's not going to be more than a low-usage big man. He's not terrible, but he's not good either. The Grizzlies will be better served in giving their young guys as much run as possible. Andre Iguodala will workout privately instead of playing for Memphis, but he will remain on the roster until they find a suitable trade partner. He will be a significant addition for any contender come playoff time, and the rumor mill surrounding him will be worth watching. The Grizzlies have a young, unproven team. They also have a new, unproven coach in 34-year-old Taylor Jenkins. That's not the recipe for a good record, but Memphis fans should be excited about the future. Morant, Jackson Jr., and Clarke figure to be a part of this team for a long time. Valanciunas should play a key role over the next few years as well. There will be plenty of chances for other guys to prove themselves, as well as opportunities to add more elite talent through the draft. The Grit and Grind era may be over, but Memphis should return to winning ways relatively soon. 
Dallas Mavericks
Key Player: Luka Doncic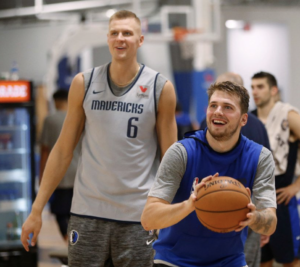 Young Talent to Watch: Luka Doncic, Jalen Brunson, Justin Jackson, Kristaps Porzingis, Isaiah Roby
Key Losses: Devin Harris, Dirk Nowitzki 
Key Additions: Kristaps Porzingis (injury kept him out after midseason trade), Seth Curry, Delon Wright, Boban Marjonovic
Projected Starting Lineup: Delon Wright (PG), Luka Doncic (SG), Tim Hardaway Jr. (SF), Kristaps Porzingis (PF), Dwight Powell (C)
Major Storyline: The next Dirk(s)?
Worst-Case Record: 30-52
Best-Case Record: 47-35
The Mavs finished 33-49 last season, good for a tie for 12th in the West. This team should be better, as they added some potentially key pieces and didn't lose a ton in terms of actual on-court impact. Delon Wright was an unfortunate sacrifice as part of the Marc Gasol trade last year, but he's turned into a solid player. In 26 games with Memphis last year, he averaged 12 points, 5 rebounds, and 5 assists over 30 minutes per game, and he's turned into a decent defender that will likely take the opponent's number one guard. He's not a great shooter (33% average from deep), which might turn into a bit of a theme in Dallas this year, but he should provide some solid production for the Mavs in a starting role. Doncic is an all-around star in the making after he averaged 21 points, 8 rebounds, and 6 assists in his rookie year. He will very likely be an elite scorer and playmaker. He will never be great defensively due to his lack of lateral quickness and overall athleticism, but he wasn't all that bad on that end last year. He should be fine as a defender. He shot 50% on corner threes, but only took 6% of his threes from there. Overall, he only hit 33% from deep. Again, shooting and spacing will likely be an issue for the Mavs, and any steps Doncic can make towards replicating his corner success all over the court will be huge. Tim Hardaway Jr. should provide somewhere between 15 and 20 points per game. He's not great in any other area of the game, but he's not terrible either. He's probably somewhere between average and slightly above average overall. He's only a 34% career shooter from deep, which is again, not ideal. Having the 1, 2, and 3 spots taken by guys who top out at 34% from three is not the greatest recipe for success, though Doncic has the playmaking skill to make up for some of it. Kristaps Porzingis is coming off an ACL tear, but he should be good to go after sitting out a year and a half. I'm not really sure what to make of Kristaps. He can score (nearly 23 a game over 48 games two seasons ago), he can shoot (39% from deep in his last half season and 36% overall), and he's a plus defender that led the league in block percentage in that half season. He's also not a particularly good rebounder for his size and has never come all that close to averaging 2 assists per game. The knee should be fine, but it's also supporting a 7'3" body that weighs 240 pounds. You just never know. I think he's good, but it's hard to tell how good since he was on the Knicks. Assuming he's close to where he was before the injury, he should run a devastating pick-and-roll/pop with Doncic that could help open up some space. These two should fit well together, but due to the solid but relatively unspectacular team around them, they are probably going to have to play like they are legit number one and number two options from the opening tip for the Mavs to be players in the playoff chase. With their youth and Porzingis's knee, I'm just not sure that that is a realistic hope this season. At the five, Dwight Powell should be the starter. He's an elite finisher, nearly hitting 80% of his shots from between 0 and 3 feet from the basket last season, which led to a field goal percentage that ranked in the top 10. He also shot 45% from three in 22 starts last year while shooting under 30% off the bench. I don't know what to make of that, but he has to be hoping that trend continues. He's played about 21 minutes per game the last two years and has averaged roughly 9.5 points, 5.5 rebounds, and 1.3 assists on Over 36 minutes, he's around 16, 9, and 2. His numbers are solid, and he's pretty efficient. He's also led the league in offensive rating the last two years. I'm not really sure that means anything, but Powell should be pretty good in a full-time starting role. His ability to maintain his hot shooting will be key to the floor spacing in Dallas. Jalen Brunson will look to build on a solid rookie year as the backup point guard. He averaged 9 points, 3 assists, and 2 boards per game on 35% from deep. He shot 39% from three in college, and he will likely play be called upon to play off of Doncic as a shooter. JJ Barea is somehow only 35, and he is supposed to be back after an Achilles injury cut last season short. His perimeter shooting, which has never been great, took a 5% nosedive last year, but he still poured in the points and assists off the bench. His passing has gotten better with age, and I would not bet against him being a solid contributor yet again. Seth Curry was brought in for his shooting, and he will provide it. He's a career 44% three-point shooter. He's shown some limited potential as a playmaker, but on a team with relatively little shooting, he will likely be asked to hunt shots. Justin Jackson made some small leaps last year. His counting stats went up slightly and he took more threes while raising his hit percentage to around 35%. He put in 8 points, 2 rebounds, and 1 assist in 18 minutes per game in 29 games in Dallas last season. He will look to build on that progress this year, and should play a solid role off the bench. Dorian Finney-Smith will likely do the same after improving in each of his first three seasons. He's versatile, and a solid defender. He's also taken strides to become a passable offensive player. Ryan Broekhoff shot 41% from three in a limited role. It doesn't look like there will be a ton of opportunity to expand that role this season, though he will likely be called on to take some threes. Courtney Lee had a major dip in production last year, as he couldn't really break the Dallas rotation. A career 39% shooter from deep, he only hit 29% of his shots from behind the arc last season. He had the lowest amount of points, assists, rebounds, steals, and blocks per game of his career, and that might not change this year given the number of players that Rick Carlisle has to work with. Isaiah Roby is a rookie with some interesting tools to work with as a potential all-around contributor. I wouldn't bet on a huge role for him this season, but he could be a good player relatively soon. Aric Holman averaged roughly 10 points and 6 rebounds on 43% shooting from deep his last two years at Mississippi St. He's an intriguing rookie as well, though his role should be pretty small this season. Maxi Kleber is a solid rim protector and rebounder, and he shot 35% on just over 5 threes per game last year, which is an impressive volume for a center. He should be a factor in this year's rotation. Also adding depth to the center position is Boban Marjanovic, who, at 7'3", 290 pounds, is an actual giant. He will finish in the paint and rebound when he is in, though he's not all that great defensively. He's not going to play many minutes, largely due to the fact that he is 7'3", 290 pounds. He's missed almost 150 games over the last four years and only plays about 10 minutes per game when he does get on the court. Again, this should be an improved Mavs team. Wright and Curry look like good additions, and Porzingis should be a good running mate for Luka, who will have another year of experience. They should have enough shooting from their bigs and bench guards to mostly make up for the lack of it in other areas of the roster. The problem for Dallas is that they will need to jump 4 or 5 teams to make it to the playoffs, and that's a tall order. They could jump the Timberwolves if Minnesota doesn't make a big move, but they will also, in all likelihood, need to finish above the Pelicans, Kings, and Spurs. I don't see it happening this year. 
New Orleans Pelicans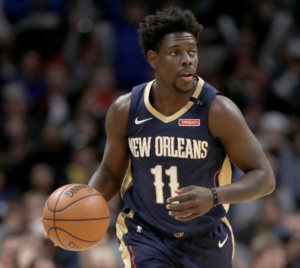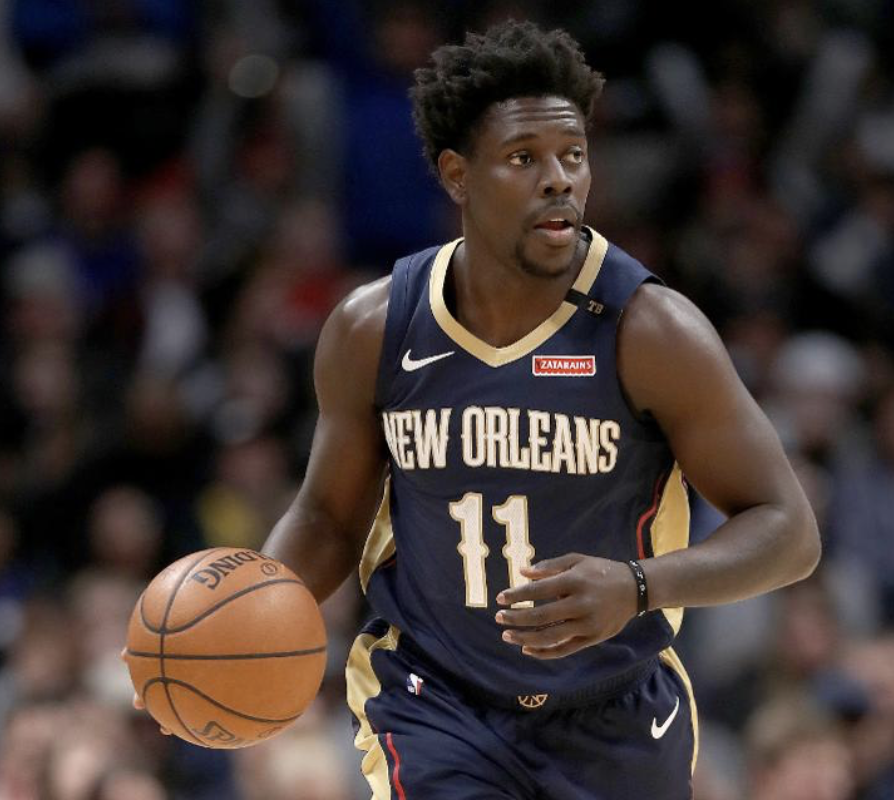 Key Player: Jrue Holiday 
Young Talent to Watch: Zion Williamson, Brandon Ingram, Lonzo Ball, Jaxson Hayes, Nickeil Alexander-Walker, Josh Hart, Kavell Bigby-Williams
Key Losses: Anthony Davis, Julius Randle, Darius Miller, Cheick Diallo, Ian Clark, Elfrid Payton, Solomon Hill
Key Additions: Zion Williamson, Derrick Favors, Brandon Ingram, Lonzo Ball, Josh Hart, Jaxson Hayes, Nickeil Alexander-Walker, JJ Redick, 
 Projected Starting Lineup: Lonzo Ball (PG), Jrue Holiday (SG), Brandon Ingram (SF), Zion Williamson (PF), Derrick Favors (C) 
Major Storyline: The next king of New Orleans
Worst-Case Record: 37-45
Best-Case Record: 52-30
The Pelicans saw their worst nightmare come true last season when Anthony Davis forced his way out of town, but they might have come out of it in a better situation. I really like this team. Lonzo Ball has been very poor as a shooter. His 43% career average from the free-throw line, not three-point line, means that he needs to rehaul the mechanics. It looks like he might have done that, but he will need to show it consistently in game action. Outside of shooting, he has actually been pretty good. He has elite court vision, is a very good rebounder for a point guard, and has potential as a plus defender. Injuries have hampered his production at times, which is concerning, but he has all of the tools to be an all-around star if he can figure out the shot. The Lakers may end up regretting letting him go. Jrue Holiday is one of the more underrated players in the game. He's turned himself into a good passer, rebounds fairly well, and scored a career-high 21 points per game last year. He's not great as a shooter (36% career), but he's picked up his shooting and efficiency from inside the arc. Holiday has become a good defender with the ability to guard multiple positions; he and Ball should form a formidable defensive backcourt. Brandon Ingram came over with Ball in the Davis trade. He has the tools to be an elite scorer and a playmaking contributor, but he needs to develop greater consistency, especially from the three-point line. He went for 18 points, 5 rebounds, and 3 assists per game last year, showing signs of developing an all-around impact, but he could be a lot more efficient. Injuries have also been an issue with him. He just turned 22, and the Pelicans will be hoping that the move from LA will help him reach his potential. Zion Williamson will start right away at the 4, and he should be a star. He's an explosive athlete who almost averaged 23 points and 9 rebounds per game for Duke last season to go along with over four combined steals and blocks per game. He will likely spend a ton of time making cuts and dunking passes from Ball and Holiday. His two big flaws are his passing (roughly two assists per game at Duke) and his shooting (around 33% from deep). The passing won't be an issue with Ball and Holiday in the lineup. He will have plenty of time to develop that skill. The shooting could be the big issue in New Orleans. There will be some help on the bench, but no one in this starting lineup is a great shooter. The Pelicans will need Ball, Ingram, and/or Zion to show some legitimate progress from beyond the arc, and Zion will need to develop a midrange game at the very least to add some more variety to his offensive game. He's not just a dunker, but adding a shot will make more room for him to get to the rim on his drives. Derrick Favors was brought in to start at the 5. Favors is a good finisher and rebounder. He plays solid defense. He's not a shooting threat, but he should be a solid starter. Rookie Nickeil Alexander-Walker could play a big role off the bench. He went for 16 points, 4 rebounds, and 4 assists per game at Virginia Tech last year on 37% shooting, and has looked very confident in his scoring and playmaking ability so far in the preseason. Frank Jackson didn't do a ton off the bench last year. He's only 21; he will get more chances this year. He shot 40% from three in his one year at Duke. JJ Redick will be extremely important in whatever role he plays because of his shooting ability. He's a career 41% shooter, and he does most other things at least at an average level. Redick might not start like he did in Philly, but he will have a big role to play either way. E'Twaun Moore has hit 43% of his threes the last two years. He's not going to do a whole lot else, but his shooting will be very valuable. Josh Hart is the least alluring of the Davis trade package. He's not bad, but he looks like an average bench guy right now. He probably has the potential to be a slightly better scorer and shooter, but there doesn't appear to be a ton there. Kenrich Williams flashed the ability to contribute some shooting, rebounding, and defense in his rookie year. He will look to continue to develop in those areas in what might be a smaller role this year with the influx of players. Jaxson Hayes, the eighth overall pick, is pretty raw. He has potential as an elite rim protector and has the tools to be a good rebounder and finisher. He will need some time, and he showed no signs of a deep shot or passing ability in his only season at Texas. Hayes will definitely be a work in progress this year. Jahlil Okafor had a quietly solid year last season. He's a traditional center with the ability to score and rebound fairly well off the bench. Kavell Bigby-Williams, like Hayes, could be a good rim protector, finisher, and rebounder at the NBA level, but he will need to develop the other areas of his game. If Ball, Ingram, and Williamson really take off this year, this is a scary team. Holiday is very, very good. Favors is good as well. Redick and Moore should light it up from deep off the bench. Okafor can provide decent minutes in relief of Favors. Alexander-Walker and Hayes have bright futures too. A lot of this team's potential success lies in the hands of young talent, and for that reason it might be another year before they are real contenders. Still, the Pelicans should be a significant part of the playoff race, and if the Spurs weren't the Spurs, I would probably have them in that eighth spot. 
San Antonio Spurs
Key Player: DeMar Derozan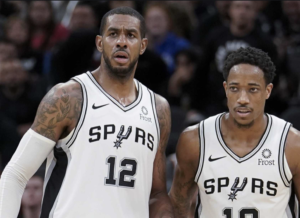 Young Talent to Watch: Dejounte Murray, Derrick White, Lonnie Walker IV
Key Losses: Davis Bertans, Dante Cunningham 
Key Additions: Dejounte Murray (back from injury), DeMarre Carrol, Trey Lyles
Projected Starting Lineup: Dejounte Murray (PG), Derrick White (SG), DeMar DeRozan (SF), Rudy Gay/DeMarre Carrol (PF), LaMarcus Aldridge (C)
Major Storyline: Going for 23rd straight playoff appearance
Worst-Case Record: 43-39
Best-Case Record: 52-30
The Spurs have made the playoffs every season since Titanic was released. I'm not going to bet on that changing. This year's team will add Dejounte Murray, who missed all of last year due to injury. Murray is a defensive menace with good rebounding numbers for a guard. His offensive game needs a good amount of work, but this team is going to run through DeRozan and Aldridge anyway. Anything that Murray can provide on that end will be a positive. Derrick White burst onto the scene last year. He has the tools to produce in a variety of areas, and he is a major athlete just like Murray. He's not consistently great at any one thing yet, but he still has time to grow. It feels like DeMar DeRozan belongs in a different era. He only shot about 40 threes last year, and hit 15% of them. The Spurs seemed to stop the effort that the Raptors had put into expanding DeRozan's game beyond the arc, and it worked. He went for 21 points, 6 rebounds, and 6 assists per game last season on solid efficiency numbers, and played good defense. He scored, rebounded, made plays for others, and had a really good year. Rudy Gay should start at the 4. Gay is a scorer, averaging somehwere between 18 and 22 points per 36 minutes each of the last 8 seasons. He hit 40.2% of his threes last year, a career high, which means that he will likely regress closer to his career average of 35%. He's fine as a rebounder and defender, and will likely be the starter more often than not. LaMarcus Aldridge is the other cornerstone of this team. It hasn't always been easy in San Antonio for Aldridge, but he also had a very good year last year, averaging 21 points and 9 rebounds per game on solid shooting and efficiency numbers. He's not a three-point shooter either, but it works for the Spurs, especially with the shooting they have on the bench. Aldridge has said that he will work on shooting more from deep, so we'll see what happens with that. He's also not a great passer, but he threw in 2.4 assists per game and was fine defensively. Jakob Poeltl might occasionally start at the 5, pushing Gay to the bench. He's a solid rebounder, and he shoots pretty well from within the paint. He usually fares pretty well as a rim protector and in guarding other traditional big men. He just hasn't played that many minutes, only averaging 16.5 per game last year for the Spurs. It's unlikely that he will start unless he or Aldridge are able to expand their range due to the floor spacing problems they create. Patty Mills will likely be the first guard off the bench. He's a very good, high volume shooter (39% career from deep). He has improved as a playmaker and defender throughout his time in San Antonio. Bryn Forbes is another elite, high volume shooter (43% on 5 threes per game last year). He's improved as a rebounder and defender. Both Mills and Forbes can make plays for others when they need to. Marco Belineli is another high volume shooter off the bench with a career hit rate of 38%. These three are a formidable group of snipers. Lonnie Walker IV is an athlete like Murray and White. He's probably even more special athletically, but he just wasn't able to stay healthy last year. Walker had a great summer, and he's a candidate for a White-like breakout season. DeMarre Carrol will back up DeRozan and Gay. He's fine offensively and a 36% career shooter from deep, and he has the ability to guard good wing players. He's past his prime, but he will bring some needed wing depth to San Antonio. Trey Lyles is fine defensively. He's an inconsistent shooter, but he can stretch the floor when he's hot from deep. He should play some solid minutes off the bench. Luka Samanic is a 19-year-old from Croatia. I wouldn't expect much of an impact from him this season, but he has potential as an athletic, 6'11" big who has flashed an ability to score both in the paint and beyond the arc. Drew Eubanks and Chimezie Metu both spent most of last year in the G League, but they have promise as solid rebounders, finishers, and interior defenders. They will both look to break into the rotation this year, and that might hinge on their ability to develop a consistent three-pointer. Dedric Lawson is a rookie out of Kansas. He will likely only play meaningful minutes in the G League. I've never watched Titanic. I've also never watched an NBA regular season that ended with the Spurs going home. I just don't see either of those things changing this year. This team has two good leaders in DeRozan and Aldridge, a number of solid shooters and role players, a few dynamic athletes, and Gregg Poppovich. This last playoff spot will come down to the Spurs, Kings, and Pelicans, with the Mavs and Timberwolves hoping to push themselves into that group. I'm taking the Spurs as long their streak is alive. 
Houston Rockets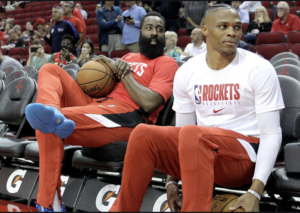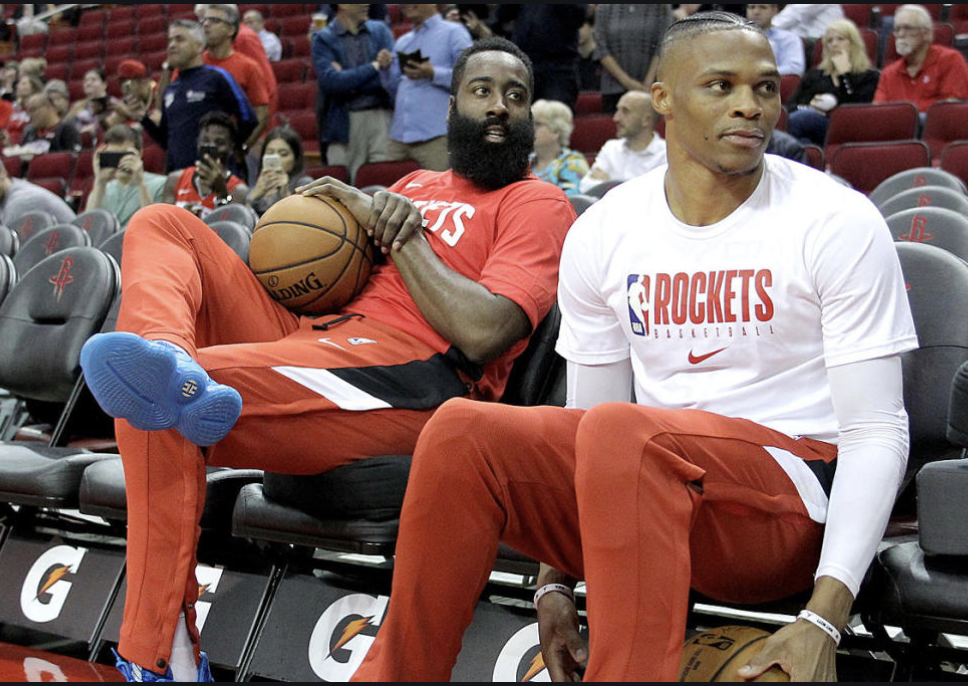 Key Player: Russell Westbrook
Young Talent to Watch: Shamorie Ponds, Isaiah Hartenstein, Chris Clemons
Key Losses: Chris Paul, Gerald Green (potentially out for year with broken foot), Kenneth Faried
Key Additions: Russell Westbrook, Tyson Chandler, Thabo Sefolosha, Ben McLemore, Ryan Anderson
 Projected Starting Lineup: Russell Westbrook (PG), James Harden (SG), Eric Gordon (SF), PJ Tucker (PF), Clint Capela (C)
Major Storyline: Getting over the hump
Worst-Case Record: 46-36
Best-Case Record: 60-22
 I really like the Rockets. They've been the second best team in the West the last few years, and now, with the conference wide open, they have a great chance to be the best team. It's been somewhat overshadowed by the moves in LA, but the Rockets also went out and improved themselves this offseason. Russell Westbrook averaged a triple-double for the third year in a row last year. He hasn't gotten the attention he deserves for the feat. He's the best rebounding guard in the league, an elite passer, and a plus defender (better than ever on this end). He's very good at getting to and finishing at the rim. He will turn 31 soon, so questions about potentially waning athleticism are fair. He hasn't hit that point yet though. The one hole in his game is his shooting, which has an adverse effect on his offense. He is not efficient as a scorer from anywhere outside of right at the basket. He takes more jumpers than he should based on his success rate. He's a career 31% shooter from deep, and he hit only 29% of his threes last year. His midrange is more inefficient than ever. He did hit 37% of his corner threes last season, and hit 32% of his catch-and-shoot threes. He's a positive player either way, but the key to really unlocking this team's potential could be Westbrook using his half-court touches mostly to get to the rim and create for others while allowing his teammates to create open, catch-and-shoot jumpers for him. He should also be able to produce a number of points in transition. The one clear edge that Paul has over Westbrook at this point is shooting, and the more that Westbrook can cancel that out, the better the Rockets will be. James Harden is an incredible offensive talent. He's led the league in scoring the last two years, dropping 36.1 points per game last year. He's averaged over 25 points per game 7 years running. Like Westbrook, he is a very skilled passer, and he has averaged at least 7 assists per game 5 years in a row. He led the league with 11.2 assists per game in 2016-17. He is also a very good rebounder for a guard. He's not a great defender, but he has learned how to fit into the defense around him. Like Steph Curry, he has a knack for getting steals. Harden has led the league in offensive win shares and total win shares each of the last three years while leading the league in win shares per 48 minutes, offensive box +/-, total box +/-, and VORP a combined 5 times across those 3 years. He has led the league in usage rate each of the last 2 seasons. Simply put, Harden is on a very short list of the most impactful players in the game. He should have a little more help than he did last season, when injuries to Paul and Clint Capela made him a one-man show at times, but his incredible impact should continue. Eric Gordon has turned into a really good player in Houston. He can shoot (37% career from three), and his ability to drive and make plays is a key part of the Rocket offense. He's solid defensively, and the addition of Westbrook alongside Gordon and Tucker could improve this team's defense. PJ Tucker has hit about 37% of his threes the last two years in Houston, grabs rebounds at a decent rate, and is one of the better wing defenders in the league. He's missed 9 games in 8 years. He is a huge part of making this team's defense work, and he is perfectly content to play off the ball on offense. Clint Capela feasts on lobs, and Harden and Westbrook will be able to provide plenty. He has ranked in the top 3 in FG% and eFG% each of the last 3 years, and has always ranked in the top 6 in TS% during that time. He's one of the best finishers in the game, and that skill is maximized by the talent around him. Capela's become a very good rebounder as well, and his ability to grab offensive rebounds and extend possessions is another key part of the offense. He's solid as a rim protector, and his ability to switch on the perimeter helps make the defense work. He is exactly what Houston needs at the 5 spot. Austin Rivers is solid as a backup guard. He's not great at anything in particular, but he's able to contribute in a variety of ways. Ben McLemore has never really taken off, but he's a decent shooter (35% career) and defender that can play some solid minutes. Chris Clemons is a scorer, averaging 30.1 points per game last year in college. He played in a low-level D1 conference, so it's not clear how ready he is to step in and contribute now, but he could produce some buckets off the bench. Michael Frazier is a shooter, but he has never played in the NBA despite leaving college in 2015. He was the G League's Most Improved Player last year and has worked to round out his game. He could probably provide some minutes if need be. Shamorie Ponds averaged 19 points, 4 rebounds, and 4 assists across 3 years of college. He's a good scorer, but he might not be game ready in his rookie year. Like Frazier, Jaron Blossomgame has never gotten NBA minutes despite leaving college a few years ago. He averaged 19 points and 7 rebounds per game last year in the G League, and could potentially get some minutes at the forward spot if the Rockets find themselves in a position of need. Danuel House played some key minutes down the stretch for Houston last year, hitting 41% of his threes and offering fine production as a rebounder and defender. He should be a part of the rotation this year. Gary Clark didn't produce a whole lot in about 12 minutes per game across 51 games for the Rockets last year, but he looks like a solid defender. He's not bad as a limited role player, and he's only entering his second year. Thabo Sefolosha is a solid shooter (36% career from deep) who can get really hot (44% from three last year). He's another good wing defender, and he should play some solid minutes this year. Ryan Anderson is back in town. He can stretch the floor, but is a liability defensively. He might not have much of a role here. Nene is a veteran big man that can produce solid play off the bench. He finishes around the rim and is solid defensively. Tyson Chandler is 37, but he can still grab boards and finish in the paint coming off the bench. He's not the rim protector he once was, but he should be fine defensively in a small role. Isaiah Hartenstein didn't play much in his first NBA season, but he has looked like a very good rebounder and finisher with floor spacing potential in the G League. He might be one to watch this year. The Rockets's stars should be more regularly available than those on other teams, and that should give them a big boost in the race for the 1 seed. Harden is one of the best players in the game, and he might be the best scorer in the league. With KD out, he probably is. Westbrook, despite his shooting flaws, is playing some really good, all-around basketball right now. Clint Capela is in the perfect role, and Gordon and Tucker are huge on the wing. There are reliable veterans on the bench, and I would put the Rockets as the favorite in the Andre Iguodala sweepstakes. Iguodala would add another veteran wing defender with the ability to contribute in a variety of ways offensively. This is a very good team, and I like the Rockets to win the West and meet the Bucks in the Finals.