2019-2020 NBA PREVIEW: Central Division
22 min read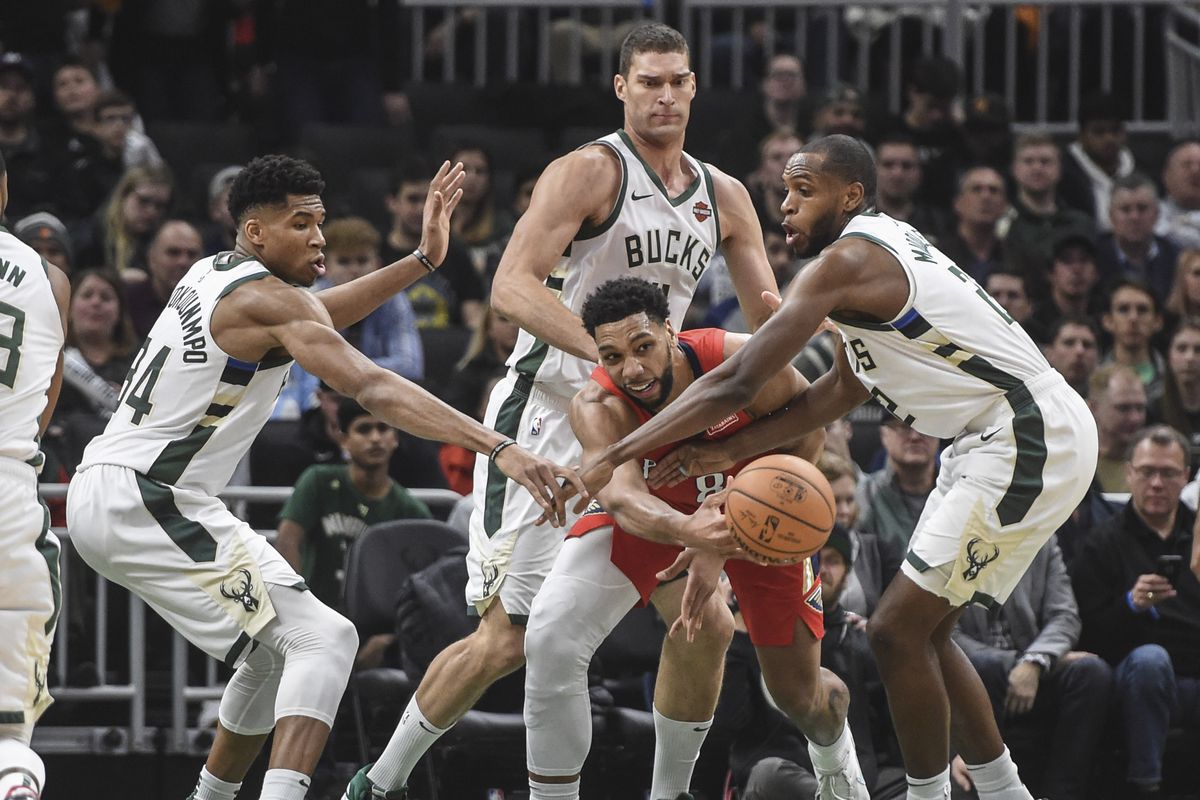 CENTRAL DIVISION (Rankings based on predicted regular season finish in conference)
Cleveland Cavaliers
Key Player: Kevin Love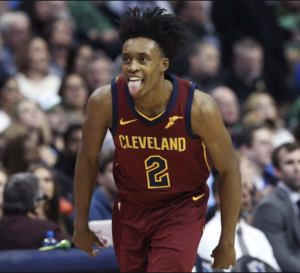 Young Talent to Watch: Darius Garland, Collin Sexton, Cedi Osman, Dylan Windler, Kevin Porter Jr. 
Key Losses: Rodney Hood (traded to Portland near end of last season)
Key Additions: Kevin Love (only 22 games last year due to injury), Darius Garland, John Henson (injury), Dylan Windler
Projected Starting Lineup: Darius Garland (PG), Collin Sexton (SG), Cedi Osman (SF), Kevin Love (PF), Tristan Thompson (C)
Major Storyline: Young guards 
Worst-Case Record: 22-60
Best-Case Record: 40-42
The Cavs were terrible last year, ranking 24thor worse in points per game, opponent points per game, SRS, offensive rating, defensive rating, and expected record. They finished last or second to last in four of those areas. Luckily, it's hard to see all of their struggles carrying over to this season. Larry Drew, a fine assistant coach, was stuck with the head coaching job after Ty Lue's early season departure. That won't be the case this year, as John Beilein will take his great college experience to the next level. While Beilein isn't guaranteed to be a success, especially in year one, he should at minimum bring a positive sense of stability to Cleveland. Additionally, due to trades and injuries, the Cavs played 22 players at least 10 games. That should change as well. At guard, a lot will depend on the play of Collin Sexton and Darius Garland. The 19-year-old Garland only played five games in an injury shortened freshman year at Vandy, but he projects to be similar to Sexton: pretty dynamic on offense, pretty iffy on defense. Sexton averaged 17 points, 3 rebounds, and 3 assists per game last year on 40% shooting from three. He needs to improve his passing and his ability to score inside the arc, but he can be a solid offensive player. The advanced stats aren't pretty, but it's worth noting that Sexton was asked to carry the load with very little surrounding talent as a rookie. He will be better, and if he and Garland can work to become an average defensive pairing, the Cavs should be set at the guard spots for the foreseeable future. Unfortunately, that is unlikely to happen immediately, which will lead to some struggles this year. Jordan Clarkson, Brandon Knight, and Matthew Dellavedova will all play as backups, which is not a terrible situation. Clarkson can score, and Dellavedova is an improved passer with decent shooting and defensive numbers despite some drop off from earlier seasons. Knight has struggled in recent years, but for a team that probably won't contend for a playoff spot, he will do as a fifth guard. The forward spots are set up pretty well for the Cavs. Cedi Osman is young, and although his ceiling doesn't appear to be particularly high, small upticks across the board would make him a decent starter. Then, there is the return of Kevin Love from injury. Love's reputation has taken a hit over the last couple years, but he's still a good player. In only 22 games last year, Love averaged 17 points and 11 rebounds per game with shooting stats that ranged from average to above average. Slightly better stats in previous years suggest that Love could be even better in his return. Like Beal, Love cannot carry a franchise, but the players around him are much better if everyone stays healthy. For that reason, the Cavs have a higher ceiling with the pieces currently in place, and it would be somewhat surprising to see Love go unless a team makes a desperate offer. Backup forwards include Larry Nance Jr. (a good role player who was forced into a starting role last season), promising rookie Dylan Windler (a lanky shooter), and another decent role player in Sindarius Thornwell. Rookie Kevin Porter Jr. is probably a little ways off from contributing, but he is another intriguing piece. Injuries also wrecked the Cavs at center last year, as Tristan Thompson only played 43 games. When healthy, he provides the minimum double-double with average shooting numbers in starting minutes. Ante Zizic, who replaced the injured Thompson, will score a few and rebound off the bench. John Henson also returns from injury. Henson is basically Thompson lite with a potentially emerging three-point shot (35% in limited action last year), which makes him a fine backup center. Nance Jr. should also get some minutes here. These Cavs probably won't be great, and their relative lack of defense will likely end up burying them. Still, the return of Love and Thompson for full seasons, paired with another year in the league for Sexton and the addition of Garland, should at least make the team competitive again. If everything fits together perfectly, they could make a surprise run at a record close to .500. 
Chicago Bulls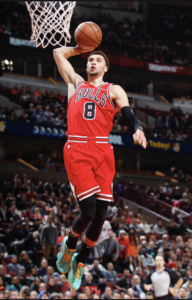 Key Player: Zach LaVine
Young Talent to Watch: Coby White, Wendell Carter Jr., Lauri Markkanen, Daniel Gafford
Key Losses: Robin Lopez
Key Additions: Coby White, Tomas Satoransky, Thaddeus Young
Projected Starting Lineup: Tomas Satoransky (PG), Zach LaVine (SG), Otto Porter Jr. (SF), Lauri Markkanen (PF), Wendell Carter Jr. (C)
Major Storyline: Staying healthy 
Worst-Case Record: 30-52
Best-Case Record: 44-38
Chicago's chances this year will largely depend on the health of their young starters, which sank last year's team. Zach LaVine is a dynamic scorer with decent passing and rebounding numbers. His shooting and efficiency numbers are solid, and he can contribute on defense. He was 12th in the league in usage rate last year as well, showing an ability to carry the load. He's also missed 112 games over the last three years. Last year's 63 game season suggests a trend towards more availability, and the Bulls will need this to be true to be relevant. Lauri Markkanen is a good, efficient shooter, especially for a seven-footer. He can score and rebound enough to largely balance out his subpar passing and defense. A third-year jump in those last two areas could turn him into a very good young player. However, he has never played 70 games in an NBA season, and missed 30 games last year. He will need to be on the court consistently to take that jump. Wendell Carter Jr. didn't play enough last year to give a good idea of his true potential. Like Markkanen, his passing could improve, but he appears to be a decent defender at this point. Carter shot 41% from three at Duke, which points to a coming boost to shooting numbers that were dragged down by terrible perimeter shooting last year. Despite shooting only 19% from deep, he had average efficiency and advanced shooting stats. That's a good sign, and Carter Jr. should be solid for the Bulls this year if he can play more than 44 games. Outside of these three, the Bulls did a pretty good job of adding surrounding talent to raise their floor. They are better positioned to win games if they get hit with the injury bug again. Otto Porter Jr. is an above average shooter with decent rebounding numbers. He's not a great passer or defender, but he's fine in both areas, and he should help stabilize the Bulls in a full season with the team. Rookie center Daniel Gafford cannot shoot from deep or pass, but he could provide interior scoring and rebounding off the bench right away. He could be an upgrade over replacement level Cristiano Felício. Thad Young is a great addition as Markkanen's backup. He is still a plus defender, and he does pretty much everything on offense at a solid level. New point guard Tomas Satoransky won't jump off the page, but he is a solid passer with slightly above average shooting numbers. He should be a slight upgrade over Ryan Arcidiacono, who could also still give the Bulls solid minutes at the point. This leaves three younger guards who will likely start the season on the bench. Denzel Valentine is an average player; he is fine as a backup guard. Kris Dunn made solid improvements after his rookie season, but he appeared to stagnate in his third year. Another jump could make him a good NBA player. Unfortunately, rookie Coby White probably will, and should, take a good piece of Dunn's minutes, which might make Dunn a trade candidate. White is a physical specimen, a freak athlete with great speed and height, and he was a dynamic scorer with promising shooting numbers at UNC. He will need to improve his three-point shooting and fairly average passing numbers while continuing to work on defense, but there is little reason to believe that he won't improve in these areas. White may not be a huge contributor this year, but he should be the point guard of the future. The Bulls should have the pieces to make a run at the playoffs this year if everyone stays healthy. Most of their young guys are more game ready than those in Cleveland and New York. But if injuries derail yet another season in Chicago, fans will have to wonder whether their promising future will ever come.   
Detroit Pistons
Key Player:Blake Griffin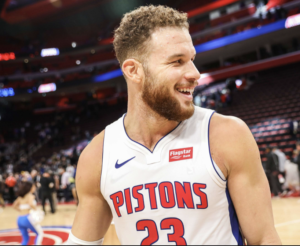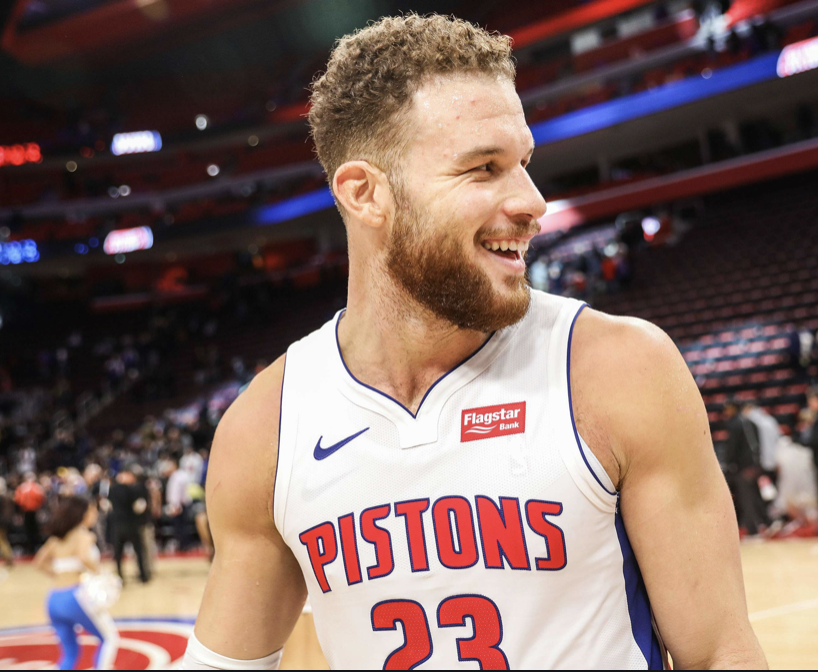 Young Talent to Watch: Bruce Brown?
Key Losses: Ish Smith, Reggie Bullock, Zaza Pachulia, Stanley Johnson (midseason trade)
Key Additions: Tony Snell, Markieff Morris, Derrick Rose
Projected Starting Lineup: Reggie Jackson (PG), Bruce Brown (SG), Tony Snell (SF), Blake Griffin (PF), Andre Drummond (C)
Major Storyline: The Blake show gets renewed for another season
Worst-Case Record: 38-42
Best-Case Record: 46-36
The other team that will most likely take one of the last two playoff spots is the Detroit Pistons. Like Orlando, they play super slow, have a decent defense, and are below average on offense. In the East, that's probably a recipe for decent regular season success. Pistons fans should probably be troubled by the lack of promising young players, but that's a problem for another year. Blake Griffin was the best player in Detroit last year by a fair margin, averaging 24 points, 7 rebounds, and 5 assists per game with decent shooting and efficiency numbers. Griffin carried the team offensively when he was on the court, and he is the best scorer and playmaker on the roster. He carries some injury concerns, but his ability to play 35 minutes a game in 75 appearances last year is a very good sign on that front. The guys around him aren't stars, but they should do the job again for Detroit. Reggie Jackson probably isn't anything more than an average starting point guard, but that'll do for a low seed. He dropped 15 points and 4 assists per game last year with average shooting and efficiency numbers, and he played and started all 82 games. He also shot more threes, making 2.12 per game at a 37% clip, and boosting his effect on the offense. Detroit brought in Derrick Rose to be the backup. He hasn't played more than 66 games since 2011, and he's no longer a plus defender. Still, he had a pretty good season last year in Minnesota, improving his perimeter shooting on the way to 18 points and 4 assists per game. If he can keep last season's uptick in shooting and efficiency, he will be a great scoring option off the bench with some added playmaking. There may not be a ton of playing time for Tim Frazier, but he will be a good shooter and solid passer when he's on the court. Bruce Brown was not good on the offensive side in his rookie season. It's not entirely clear that he will improve there, but he looks like a decent defender. Luke Kennard could also start as the two guard. He's been a good shooter and average defender in two seasons. He may not get better either, but he should at least be able to take on a few more shots this year. Langston Galloway provided similar stats to Kennard on worse shooting numbers. None of these guys are great, but they should be fine on defense and bring a little bit of scoring. Tony Snell is the new small forward in Detroit. He's famous for playing over twenty minutes in a game without recording a stat, which really wasn't all that surprising if you've ever watched Tony Snell. He's a good shooter from behind the arc, but he doesn't shoot very often and does little else on offense. He will often disappear on the court. That being said, he's solid on defense, and he might be able to emerge as more of a scorer in a bigger offensive role. Svi Mykhailiuk can shoot but did almost nothing else in limited minutes his rookie year. This could lead to some minutes for Joe Johnson, who was recently signed after starring in the Big 3 league. He looked washed before taking a year away from the NBA, and very little should be expected from him. If he can bring some scoring off the bench, that would be a nice bonus for Detroit. Markieff Morris was brought in to back up Griffin. The advanced stats don't love the second Morris brother, but he should bring solid scoring and rebounding off the bench when Blake needs a breather. At center, Andre Drummond was really poor in the playoffs after a good regular season. He led the league in rebounds for the third time and is undoubtedly elite in that aspect of the game. He's not a very good finisher compared to other top centers, but he put in 17 points a game last year. Additionally, he's been able to boost his free throw shooting by over 20% since his rookie year. It's still not good (roughly 60%), but it's a whole lot better. He appears to be working on a three-pointer, but that should still be a few years away. The Bucks took him off the floor defensively in the playoffs, but he has been fantastic on that end in the regular season, leading the league in defensive win shares the last two years. The Pistons may never succeed when it really counts with Drummond as he is now, but he is a very good regular season player. Thon Maker has game-changing potential on defense with his ability to protect the rim and switch on the perimeter. He's never been particularly effective on offense. Still, he's only 22 (or 29), so there's some hope that he will improve there. Christian Wood destroyed G leaguers last year, but never broke into the rotation in Milwaukee. He averaged 17 points and 8 rebounds per game while playing the last 8 games in New Orleans. The advanced shooting and efficiency stats were great, but other advanced stats saw him as a replacement level player despite the impressive numbers. Wood will remain a mystery until he gets a longer chance somewhere. With Drummond and Maker, that might not come in Detroit. The Pistons took the 8 seed last year. They only lost role players this offseason. Snell should bring some stability on the wing, and Rose should provide a scoring punch off the bench. They should make it back to the playoffs again. 
Indiana Pacers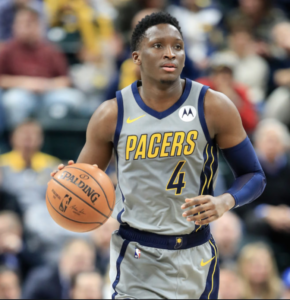 Key Player:Victor Oladipo
Young Talent to Watch: Aaron Holiday, TJ Leaf
Key Losses: Cory Joseph, Bojan Bogdanovich, Thaddeus Young, Darren Collison, Tyreke Evans
Key Additions: Malcolm Brogdon, TJ Warren, Jeremy Lamb
Projected Starting Lineup: Malcolm Brogdon (PG), Jeremy Lamb* (SG), TJ Warren (SF), Domantas Sabonis (PF), Myles Turner (C) 
*Victor Oladipo out until winter
Worst-Case Record: 33-49
Best-Case Record:48-34
The Pacers probably won't be bad this year, but it's unclear how high their ceiling is with Victor Oladipo out indefinitely and a significant amount of offseason losses that will likely cancel the effect of the offseason additions. Oladipo has turned himself into a really good player, averaging roughly 20 points, 5 rebounds, and 5 assists per game on solid shooting numbers the last two years. He's a plus defender as well, leading the league in steals per game and steal% two seasons ago. On the other hand, most of his numbers took a turn for the worse last year as he struggled with nagging injuries even before rupturing his right quad. He might not play in a game until the winter, and it could be a while after that before he's back to full effectiveness. After he went down, the Pacers finished 16-23. That's not ideal, and, to make matters worse, many of the pieces that made even that work are gone. Bojan Bogdanovich is in Utah, taking a huge chunk of the offense with him. Cory Joseph and Darren Collison were good contributors at the point. They're both gone. Thad Young, who we've already talked about, is gone as well. Last year's Pacers team was average on offense and elite on defense. With these guys gone, the offense could take a dangerous dive, and the defense might slip a little bit without Young in the mix. Malcolm Brogdon will be the new point guard in Indianapolis. He was a 50-40-90 player last year in Milwaukee, leading the league in shooting nearly 93% from the line while averaging 15.6 points, 4.5 rebounds, and 3.2 assists. He's fairly efficient and can guard a variety of players on the wing with decent results. He's a good, solid player. If he can boost his assist numbers a little in more of a playmaking role, he should do enough to replace most of the production of Collison and Joseph. Unfortunately, there are some areas of concern around Brogdon. He's missed 52 games over the last two years, and the Pacers really can't afford injuries with Oladipo already sidelined. Additionally, there's a good chance that Brogdon will see his shooting numbers dip without the benefit of the offensive pieces around him in Milwaukee. Still, if he can come close to last year's numbers, that will go a long way towards keeping the Pacers afloat without Oladipo. Jeremy Lamb will fill in for Oladipo at the 2 spot. He and TJ Warren, the new small forward, will be asked to replicate Bogdanovich's offensive impact. Lamb has become a decent scorer and solid rebounder, but he has never been much of a passer and his shooting is nothing special. He's just fine. Warren has come close to averaging 20 points per game over the last two years with slightly above average efficiency numbers. He's shot 40% from three or better for a season twice. He's also shot worse than 27% three times. He's an okay rebounder with little passing ability and is not a great defender. He's never missed less than 16 games, and he's failed to hit 50 games three times. Luckily, Bogdanovich has never been much of a passer either, but he's an elite shooter who played 81 games last year with an ability to contribute to the elite defense around him. It's not clear that Lamb and Warren can replicate that even if they're at their absolute best, which leaves the Pacers with little margin for error to begin the year. Domantas Sabonis and Myles Turner will man the frontcourt. They're elite defensively. Turner led the league in blocks last year, came seventh in defensive win shares, and third in defensive box +/-. Both ranked in the top 10 in defensive rating. Sabonis is also a great finisher and rebounder who finished in the top 15 in win shares per 48 minutes. He's shown promise in limited attempts from deep. On the other hand, he's never played more than 25 minutes per game. With Young gone, he will need to maintain his production while taking on a bigger role this year. Turner has not been fantastic on the offensive end, though he has been a good shooter (39% from deep last season). Both of these guys will need to step it up offensively in their age-23 season if the Pacers are to make a serious run at a high seed. The bench in Indiana is pretty unremarkable, which makes Oladipo's injury and the threat of injuries to Brogdon and Warren all the more concerning. TJ McConnell is a solid backup point guard from Philly. Aaron Holiday was fine off the bench in his rookie season. They should be able to fill in the gaps behind Brogdon, but if he goes down, the Pacers will be without a good starting point guard, unless Holiday makes a huge jump pretty much out of nowhere. Doug McDermott is still a very good shooter who is okay on defense. He doesn't do much outside of shooting, but he will likely provide some decent minutes. Justin Holiday will get some minutes at the 2 and 3. He's a backup for a reason, but he should provide a little bit of scoring off the bench, Edmond Sumner has played 212 minutes combined in two years. He has some positional versatility, but he just hasn't shown much so far. TJ Leaf hasn't broken into the rotation in his first two years. With Young gone, he might get his chance. He's got some potential as a solid floor spacer with decent rebounding ability, but he just hasn't seen the court enough to make good on it. Alize Johnson played 64 minutes in his rookie season; it would be shocking to see him contribute this year. Amida Brimah played four years at UConn, averaging 7 and 5. It's hard to see him doing anything in his rookie year. The biggest bright spot on the bench will likely be blocked by Sabonis and Turner. Rookie Goga Bitadze was a force in the paint as a 19-year-old in Europe. He's shown an ability to stretch the floor as well. He has a great chance to be a good NBA player, but it's unclear if that chance will come in Indiana. The Pacers had to take the value pick at 18, but he's just not a great fit for this team. The Pacers are already missing their best player and are likely one or two key injuries away from falling off the rails this year. Given the injury history of Brogdon and Warren, that's a major concern. Even if they stay healthy outside of Oladipo, this is not a deep team, and it will require good performances from all five starters on a consistent basis to stay alive in the East race. If everything goes mostly right, the Pacers should be right around the bottom of the playoff hunt when Oladipo comes back, potentially sparking a run at a higher seed. Despite the very real concerns, there's still a pretty good chance of that happening, and I wouldn't bet against the Pacers making the playoffs.
Milwaukee Bucks
Key Player:Giannis Antetokounmpo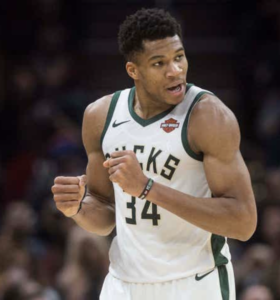 Young Talent to Watch: DJ Wilson, Donte DiVincenzo, Sterling Brown
Key Losses: Malcolm Brogdon, Tony Snell
Key Additions: Kyle Korver, Wesley Matthews, Robin Lopez, Frank Mason, Dragan Bender, Thanasis Antetokounmpo 
Projected Starting Lineup: Eric Bledsoe (PG), Wes Matthews (SG), Khris Middleton (SF), Giannis Antetokounmpo (PF), Brook Lopez (C)
Major Storyline: Taking the Final(s) step
Worst-Case Record:50-32
Best-Case Record: 68-14
Last year, Giannis Antetokounmpo almost averaged 28 points, 13 rebounds, and 6 assists per game on 58% shooting, threw in nearly 3 combined blocks and steals per game, led the league in PER and win shares per 48 minutes, and ranked in the top 3 in VORP, Defensive Box +/-, Box Plus/-, Win Shares, Offensive Win Shares, Defensive Win Shares, and Defensive Rating. He also managed to finish 5thin Usage Rate, 17thin Offensive Rating, and Seventh in Offensive Box +/-. He's a monster in transition and on defense, where he can do practically anything. Antetokounmpo was clearly the league's best two-way player during the regular season, and he got the MVP because of it. The playoffs showed that he still has a little bit further to climb before he matches the Lebron-KD-Kawhi trio at the peak of their powers, but he's well on his way. He's still only turning 25 this season despite this upcoming season about to be his 7th in the league. Furthermore, Mike Budenholzer might be the perfect coach for him. The only clear shortcoming in his game right now is his perimeter shooting, and even that seems to be perceived as more of a problem than it actually is. He shot 26% from deep on almost three attempts per game last year. That's not great, but it's far superior to making zero threes. Antetokounmpo is also better than Simmons in both his own ability to get to the rim and the shooting and spacing he has around him. Even better, he shot 33% from deep on almost 4 attempts during last year's playoff. If he unlocks the deep shot, there may be no stopping the Greek Freak. With Giannis leading the charge, the Bucks were the best team in the regular season last year. Even though we may say Giannis resting a little more this year, there's little reason to think that won't happen again, especially given the battleground out West. Khris Middleton is one of the best number twos in the league. He's obviously not Anthony Davis, Paul George, or Russell Westbrook, but he should at least be considered on any list of the top 20 players in the NBA. Middleton quietly averaged 18 points, 6 rebounds, and 4 assists last year on 38% from deep. He's only missed 5 games over the last two years, is almost always a solid defender, and has solid overall shooting numbers considering that his game is largely focused on isolation and three-point looks. He often shows up in the big moments too, shooting 61% from three in the seven-game Celtics series two years ago and shooting 44% from deep over 15 playoff games last year. Middleton is a vastly underappreciated player, and he was absolutely worth the max he got this offseason. Eric Bledsoe admittedly crashed and burned in the playoffs last year, as he did the year before. It's a real problem, and it needs to be addressed. The loss of Malcolm Brogdon might really hurt if Bledsoe falters again this year because it took away some of the margin of error that Milwaukee has around Giannis and Middleton. That being said, Bledsoe fits perfectly with this team when he's on his best game. He is an elite athlete and defender (first team all defense). He can find his own shot off the drive, is a decent playmaker, and has rebounded fairly well for his position over the last few years (4-5 per game). He's not a great shooter, but he's serviceable. His ability to drive and finish helps to counter spacing issues. He's shown great effort and attitude since his move to Milwaukee, and I'm betting on him to break out of his postseason slump. Brook Lopez is one of the more unique players in the game, and he thrived last year in Milwaukee. He shot 37% from deep on 6 attempts per game, and also came in fourth in the league in blocks with just over 2 per game. Lopez was the first player in NBA history to average 2 made threes and 2 blocks per game over a full season. His ability to space the floor and protect the rim is a big positive. On the other hand, Al Horford exposed him on the perimeter defensively in the playoffs. Horford is pretty unique and will play the 4 this year, and the Bucks showed that they should have the depth to get around similar issues. Still, it's something to keep an eye on for the playoffs. These four make up the core of this team, and the players around them form one of the deepest groups in the league. Budenholzer has six guys to work with at the 2 spot and in backing up Bledsoe and Middleton. None of these guys are as good as Malcolm Brogdon, but they should do enough to largely negate his loss. It's also important to note than the Bucks really didn't skip a beat when Brogdon missed time last year. That's not to say that they won't miss him, but his departure is far from a crushing blow. Wesley Matthews and Sterling Brown are the two most likely starters at the 2. Matthews will turn 33 a few weeks before the season, but he's a career 38% shooter from deep who still plays solid defense. He's not quite on Brogdon's level, especially in terms of playmaking, but he should do enough when he's on the court to keep the machine humming. Brown has been a solid defender in his first two years. Even if Matthews does start, others will likely take bigger roles, as he has only played about 16 minutes per game so far. He shot around 37% from deep last season, which is fine. He's solid, but he hasn't been great in any area up to this point. His numbers jumped up pretty much across the board last season, and the Bucks will be hoping for more jumps this season. George Hill and Pat Connaughton will be huge off the bench. Hill is a solid veteran presence who does a lot of good things on the court. He was surprisingly bad from deep in 47 games in Milwaukee last year (28%), but he had shot at least 40% from three the three years prior and shot 42% from behind the arc in the playoffs. He's not a bad defender either, though he is getting up there in age. Connaughton was solid last year, averaging 7 points, 4 rebounds, and 2 assists on 33% from three with good defensive numbers. He likely has some better shooting numbers in him, and he has a lot of athletic tools. Kyle Korver will come in to throw some flames off the bench. He thrived with Lebron, and he will likely thrive with Giannis. He should be another solid veteran for this team. Donte DiVincenzo dealt with injuries throughout his rookie season, but he has legit offensive potential. He's going to require more work and experience, and he should get some early on. Frank Mason doesn't have a clear role here, but he's not a bad guy to have on the end of the bench. There are also plenty of bench guys to work with at the 4 and 5 spots. Ersan Ilyasova is a charge taking machine with solid shooting and rebounding numbers. He provides some spacing off the bench. Robin Lopez, brother of Brook, is more of a traditional center. He will be solid off the bench and should provide Budenholzer with the ability to occasionally change up the looks and schemes throughout the game. DJ Wilson deserves more minutes. He can space the floor, rebound, guard multiple positions, and is not a terrible passer given his age and position. Wilson has some serious potential on the defensive end, but he needs more time on the court to make the most of it. His development could be a major key in overcoming likely attempts to scheme Lopez out of the game defensively in the playoffs. Dragan Bender and Thanasis Antetokounmpo, brother of Giannis, will round out the bench. Anything that they can provide on the court will be seen as a positive. Bender is a reclamation project after flopping in Phoenix and the older Antetokounmpo will likely struggle to transition from the Greek game two years after his brief, two game stay with the Knicks. There are a few reasonable worries about Bledsoe and Lopez in the playoffs. That being said, these aren't terrible problems to have, and having the MVP helps in overcoming a lot of issues. The Bucks have surrounded Giannis with shooting, defense, and depth to create as few problems for him to deal with as possible. This is a legitimately great basketball team. The Bucks are set up to rule the East, and they have as good of a chance as anyone of taking this thing home in the summer.