MBAA Mid-Season NBA Awards
5 min read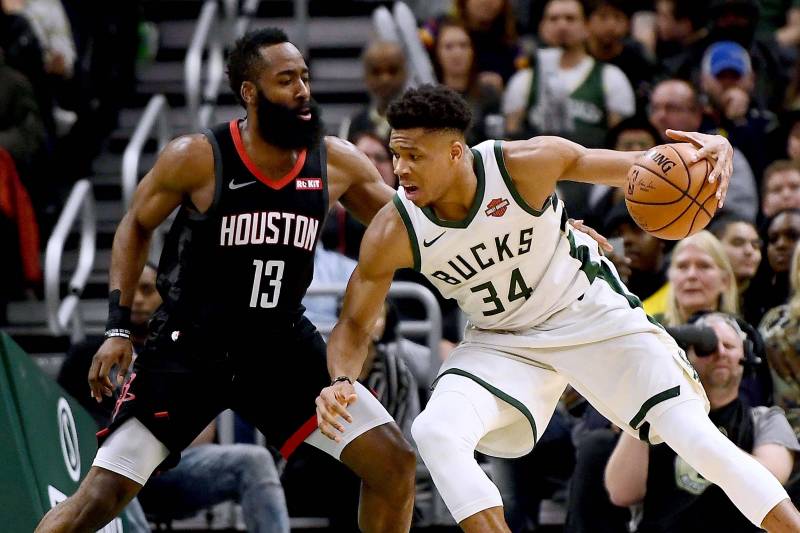 Most Valuable Player
The Pick: Giannis Antetokounmpo, Milwaukee Bucks
Winning MVP once was clearly not enough for Giannis. He has elevated his play to even greater heights and has the Bucks at the top of the Eastern Conference. Giannis is first in the NBA in PER, fourth in offensive win shares, first in defensive win shares, and second in box +/-.  Nobody in NBA history has had a season averaging at least 30 points a game, a PER above 32, and a true shooting percentage over 60%.
This decision wasn't easy, as two other players are making viable cases for MVP. Luka Doncic and James Harden have both had tremendous seasons. Doncic at the age of 20 has the best box +/- in the entire NBA. He has a 62.3% true shooting percentage, and has single-handily put the Mavericks in the Western Conference playoffs. There are MVP's in his future. James Harden is once again scoring at a mind-blowing rate. Harden is averaging 36.3 points per game to lead the NBA and is first in offensive win shares. I give Giannis the edge over these guys for a couple of reasons. Giannis is an elite defensive player and is on the best team out of the contenders.
Honorable Mentions: Luka Doncic (Dallas Mavericks), James Harden (Houston Rockets)
Defensive Player of the Year 
The Pick: Giannis Antetokounmpo, Milwaukee Bucks
This is what really makes Giannis special and the clear MVP.  Last season, he was All-NBA Defensive First Team and has gotten even better. He is currently leading the NBA in defensive win shares and is responsible for the Bucks having the best team defensive rating. Antetokounmpo has a DFG% of 37.9%, trailing only Anthony Davis among qualified players. His defense in isolation is deadly as he only allows 0.44 points per possession, which places him in the 97th percentile in the NBA.
The main other reason the Bucks are so good on defense is Brook Lopez. Lopez is second in the NBA in blocks per game, first in block percentage at 8.5%, and second in defensive box +/-.
Ben Simmons has a lot of critics when it comes to his shooting, but his elite defense cannot be questioned. He leads the NBA in steals per game, is fourth in defensive win shares, and sixth in steal percentage. This has helped the 76ers leap to third in team defensive rating. It was really tough to leave guys like Andre Drummond and Rudy Gobert off of this with the great defensive seasons they are putting together.
Honorable Mentions: Brook Lopez (Milwaukee Bucks,  Ben Simmons (Philadelphia 76ers)
Sixth Man of the Year 
The Pick: Lou Williams, Los Angeles Clippers
They should really just rename this award after Lou Williams. This would be his third straight win and fourth overall. Lou Williams is averaging 20 points a game with a true shooting percentage of 56.4%. He leads all bench players in points per game and assists per game, while playing on a team with championship aspirations.
His teammate, Montrezl Harrell, is also having a tremendous season. I actually think there's a pretty good case for him winning the award. He's second in bench scoring, first in bench PER, and is top-20 in the NBA in win shares.
Derrick Rose has been one of the great free agent values of the summer and has been terrific for the Pistons. He's third in bench scoring and third in assists. Rose has a career-high true shooting percentage of 56.5%. He will likely draw a ton of attention from contenders around the trade deadline.
Honorable Mentions: Montrezl Harrell (Los Angeles Clippers), Derrick Rose (Detroit Pistons)
Rookie of the Year
The Pick: Ja Morant, Memphis Grizzlies
This award is not up for discussion. Ja Morant is the Rookie of the Year. The Memphis Grizzlies were projected to be one of the worst teams in the NBA this season, but are currently in a Western Conference playoff spot. Only two rookies in NBA history have averaged over 17 points a game with a true shooting percentage above 57% and an assist percentage over 35%. Kyrie Irving and Ja Morant. The 19-year-old has truly been incredible and a must watch.
His teammate, Brandon Clarke, has been a tremendous find for the Grizzlies.  Clarke has a true shooting percentage of 68.1%, a PER of 21.9, and is averaging over 12 points a game. He's the only rookie in NBA history to average at least 12 points with a true shooting percentage of at least 68%.
One of the best stories in the NBA this season has been Kendrick Nunn. After spending a year in the G-League, Nunn has developed into a big-time scorer for the Miami Heat.
Honorable Mentions: Brandon Clarke (Memphis Grizzlies), Kendrick Nunn (Miami Heat)
Coach of the Year 
The Pick: Nick Nurse, Toronto Raptors
This award was really tough. There are a ton of coaches who you can make a case for. I'm going with Nick Nurse for the job he has done in Toronto this season with everything working against him. The Raptors lost their best player and one of the league's best in Kawhi Leonard. It hasn't stopped the Raptors from being one of the best teams in the Eastern Conference. Their currently 29-14, third in the East. This is especially impressive when you factor in the large number of injuries the team has dealt with.
Billy Donovan had faced so much negativity from fans and the media during his time in Oklahoma City prior to this season.  This offseason the team traded its two best players and yet they are currently in a playoff spot with a 25-19 record. We all know Erik Spolstra is a tremendous coach and this year has proven that point. The Heat who were expected to be a borderline playoff contender are currently 30-13, second in the Eastern Conference.
Honorable Mentions: Billy Donovan (Oklahoma City Thunder), Erik Spolstra (Miami Heat)
Most Improved 
The Pick: Brandon Ingram, New Orleans Pelicans 
It took until his fourth year, but Brandon Ingram has broken out for real. Ingram is showing all of the signs of being a superstar for years to come. He may be an All-Star as soon as this season. Ingram is tenth in the NBA in scoring at 25.3 points per game, while shooting 39% from deep. Only half way into this season, he already has more win shares than any full season in his career.
Bam Adebayo has been one of the best big men in the entire league this season on both ends of the floor.  He has almost doubled his scoring output with a career-high shooting percentage. Bam has an assist percentage of 21.1%, up from 14.2% a season ago. He is seventh in the entire NBA in defensive win shares and thirteenth in offensive win shares.
Only four active players at the age of 21 have averaged at least 19 points, 3 assists, with a true shooting percentage above 56%. The four? LeBron James, Devin Booker, Trae Young, and Shai Gilgeous-Alexander. After trading Russell Westbrook and Paul George, SGA has quickly become the face of a franchise with a very exciting future.
Honorable Mentions: Bam Adebayo (Miami Heat),  Shai Gilgeous-Alexander (Oklahoma City Thunder)