Mike Bets #180
7 min read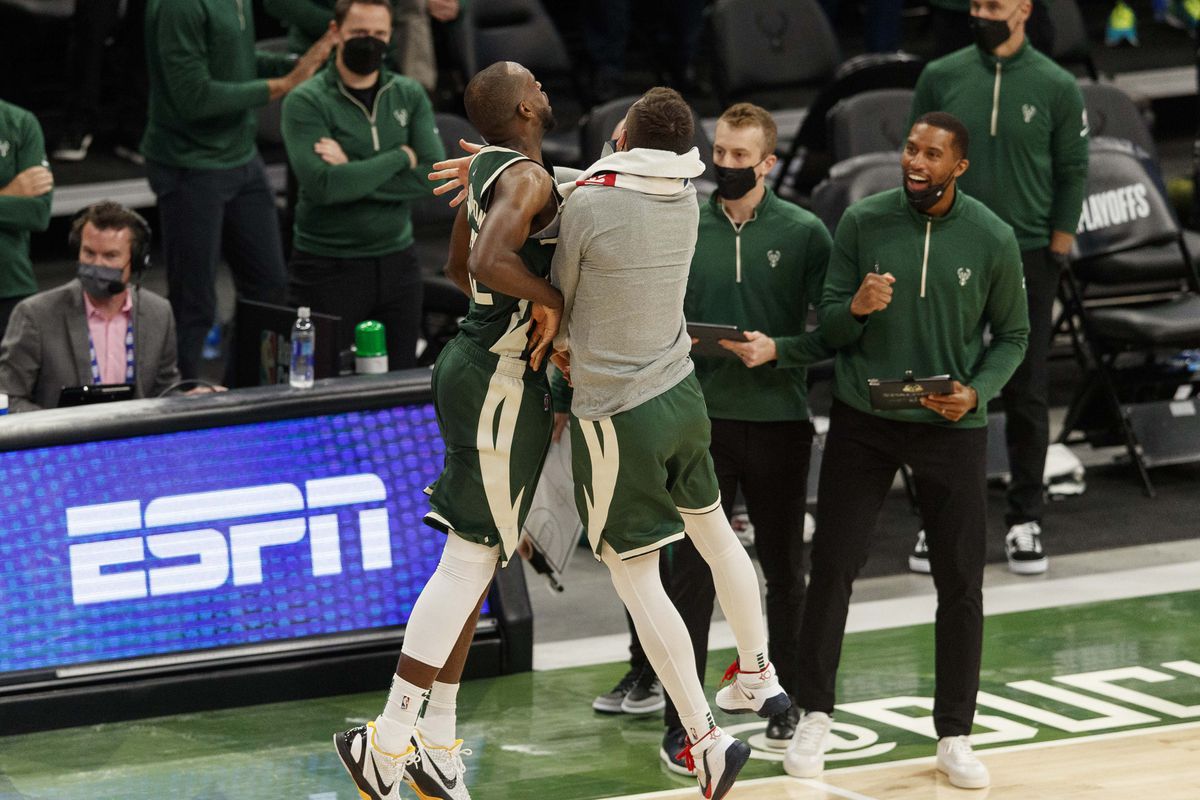 The Bucks pulled things off in Brooklyn, winning a nail-biting Game 7 – the first winner-takes-all game to go to OT in roughly 15 years. Giannis and KD were magnificent yet again, and it was the Bucks' supporting cast that made the difference at the end. Both Khris Middleton and Jrue Holiday stepped up to make the necessary plays down the stretch after Brook Lopez, PJ Tucker, and Pat Connaughton made their own marks on the game. Tonight, we do it again in Philadelphia as the Sixers try to avoid another disappointing playoff exit while the young Hawks look to keep their run going. Before that, the Suns and Clippers will tip the WCF off with Chris Paul and Kawhi Leonard both sitting out. Let's talk 3 Things.
1. One Heck of a Series
Bucks-Nets lived up to the hype. The game we saw last night was one of the best the league has produced in a very long time. As with any great series, so many guys stepped up while others shrunk under the bright lights. Ultimately, it was the oft-maligned Bucks that made the final statement, proving their mettle and clinching the return trip to the ECF. Some shoutouts are in order –
After the Game 2 disaster, Giannis put up five straight 30-point double-doubles. He now has eleven double-doubles in eleven tries this postseason. In Games 6 and 7, with the season on the line, he was simply magnificent: getting what he wanted at the rim, making just enough free throws, and buying into the physicality of the series. This was a legendary stretch of performances from the league's premier rising star, and he now has his eyes on winning his first title at the age of 26 – before LeBron, Jordan, Shaq, etc.
Durant showed why he has a legitimate claim to being the most gifted scorer of the basketball in league history, but he also showed far more than that over the last two weeks. KD played 40+ minutes in six of seven games, went the distance twice, topped 9 rebounds six times, topped 5 assists five times, and did just about everything anyone could have asked for. The 97 combined points in Games 5 and 7 were pretty impressive too. The last shot fell short, but hats off to Durant. He played his best basketball.
Middleton didn't have the most efficient Game 7 and started off the series with two horrendous offensive performances, but he stepped up when he needed to. His 35 points in Game 3 saved the season. His 38 points in Game 6 staved off another Nets comeback. Then he hit the decisive jumper in overtime last night. Middleton's rebounding (four games with 10+ boards) was great, and he was awesome defensively, especially in these last two games. He was signed to be a star, and he delivered against Brooklyn.
Lopez stepped up in the paint all series long, and the Bucks need every one of his 17 points in Game 7. Throw in the crucial block on KD in the final minutes that capped off a very good defensive game, and you have all the ammo you need to forget about his struggles in drop coverage earlier in the series.
Say what you want about Griffin's on-court antics and the trick he pulled on the Pistons, but there's no denying that he gave the Nets everything he had in this series. He was fantastic in a key Game 1 win with 18 and 14. He was just as good last night with 17 and 11. Griffin played well in Games 5 and 6 as well. Credit where it's due – he played his tail off.
Props to Brown, who worked as hard as anyone out there. He was absurdly good in Games 2 and 3, and he just out-hustled the Bucks throughout the series. So many loose balls and offensive rebounds ended up in his hands. He gave everything he had. You couldn't have asked for more.
You don't stop Kevin Durant, but Tucker began to frustrate him more and more as the series went along. He made just enough plays out there, coming up with timely strips and shot contests. His six threes in Games 4 and 7 were massive as well. Tucker brought an edge that the Bucks have lacked in the past, and all it took to get him was a pair of bench-riding DJs.
Connaughton's contract was the object of a whole lot of hate when it was signed last summer, but he was worth every penny over the last four games of this series. The stats – outside of his 3-5 night from beyond the arc in Game 7 – aren't all that impressive, but Pat filled the role the Bucks needed in the absence of Donte DiVincenzo. Bryn Forbes and Bobby Portis couldn't do it in this series, Pat Connaughton did.
Harden obviously didn't have the prettiest series as he tried to fight back from injury, but he deserves his props for the fight he showed. He averaged 8 assists and 6.7 boards per game, consistently drew fouls, and, in Games 6 and 7 at least, hit some pretty clutch shots. This wasn't peak Harden, but it felt like he played just about as well as he could have.
Then there are the two most disappointing players of the series – Joe Harris and Jrue Holiday.
Harris was a complete no show over the last five games, shooting 8-33 from deep and only reaching 10 points once. It was an inexplicable showing from one of the best shooters in the league, especially after he opened the series going 8-16 from behind the arc.
Holiday was just as bad offensively. He somehow managed to shoot just 43-119 from the floor (36.1%). That's abysmal, and he was also a downright miserable 9/46 from three (19.6%). He just didn't look right on that side of the ball all series long.
At the end of the day, Holiday made a few plays at the end of Game 7. Harris notably missed his big chance. That might have decided the series, and now Holiday gets a quick chance at redemption while Harris faces a long summer.
2. Who rises to the occasion in Phoenix?
The key storyline early in the Western Conference Finals will undoubtedly be the absence of two of its best players in Paul and Leonard. Paul figures to return at some point while Leonard is a complete mystery. Both teams will obviously have an advantage in facing another team down its leading star, and the importance of supporting players will be far larger. Can Terrance Mann and Reggie Jackson continue to deliver for LA? What can Jae Crowder and Mikal Bridges do for Phoenix? Can Cameron Payne step in for Paul? Will Paul George or Devin Booker shine brighter? How does DeAndre Ayton adjust to the small-ball approach of the Clippers? Or will they be the ones that are forced into adjusting with Ivica Zubac? Stars often determine postseason results, and their absence here opens the door to many more variables.
3. Different Stakes in Philly
This is just a massive game for the Sixers, who find themselves in a similar situation to the Bucks. Both teams are led by relatively young cores aging into their primes and sitting a few years into their respective title windows, and the pressure will be relentless when/if they fall short of the ultimate goal yet again. The Bucks, at least, are now heading to their second ECF in three years as bonafide contenders. The Sixers have yet to make that step. This – the fourth season of the Embiid-Simmons duo – might be their last chance. With such a fragile superstar like Embiid, there's only so much time you can allow before taking drastic measures to switch things up. Philly has consistently changed the supporting cast around its top duo. Last summer, they changed the coach. If they lose to an underdog Hawks team (or see themselves decimated by the Bucks), the thread keeping Simmons attached to Embiid might snap. His defense is special, but it's simply impossible to defend the three single-digit scoring performances in this series.
For the Hawks, the story is a little different. It's true that every chance you get in the playoffs should be taken with the utmost care and urgency. You never know when that window will snap shut, and Atlanta will be hugely (and rightfully) disappointed if they lose tonight. Being good over the next five-plus years guarantees nothing as far as winning a championship goes. This very well might end up being one of their best chances. With that said, a series loss would still be as close to a moral victory as you can find at this stage of the playoffs. Trae Young has been absolutely fantastic, and the pieces around him have fit very, very well. This is a young Hawks team, and they've already accomplished far more than most had expected from them. There's much reason to hope, regardless of what happens tonight.
TODAY'S PLAYS
Hawks +7
Clippers +4
Hawks Sixers U216