Mike Bets #185
5 min read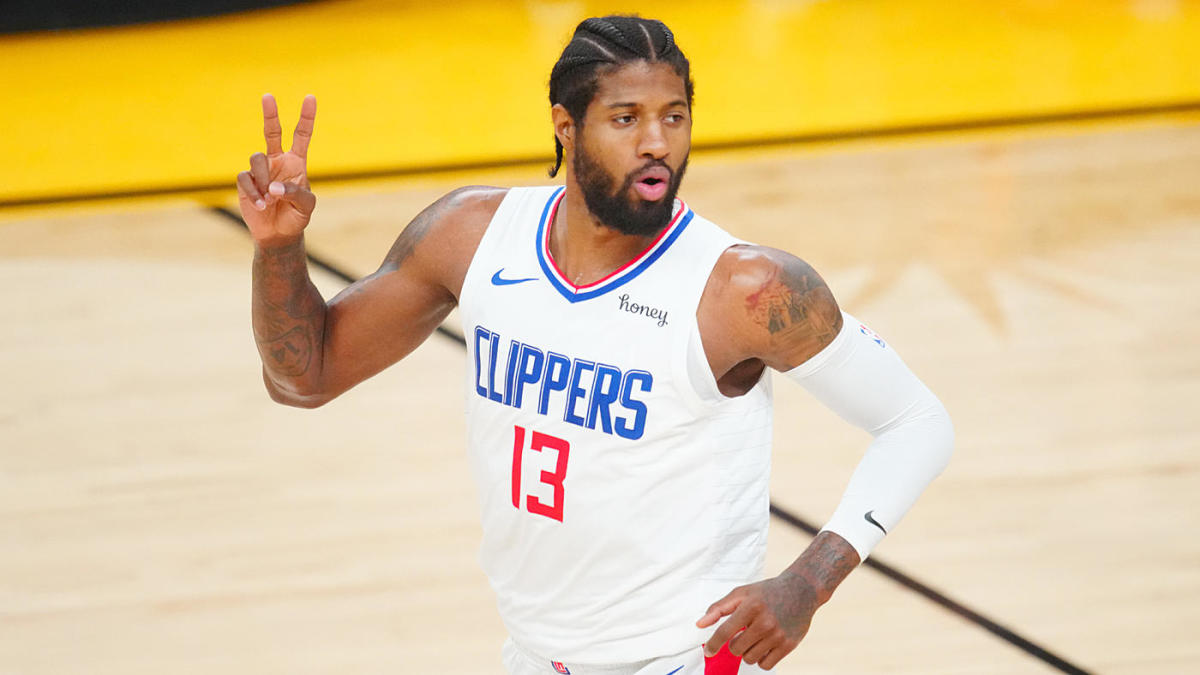 The Clippers pulled out a great Game 5 win in Phoenix last night, prolonging the WCF for at least a few more days. Paul George was the decisive factor with 41 points, 6 assists, and 13 boards, and both Reggie Jackson and Marcus Morris topped 20 points. Tomorrow, LA will have the chance to make the series go the distance and bring things back to Arizona for a huge Game 7. But first we have tonight's Game 4 between the Bucks and Hawks in Atlanta. Trae Young is out after stepping back onto a ref's foot in the Game 3 loss. With a win, Milwaukee will all but wrap things up. If things go in Atlanta's favor, however, the Hawks are right back in this thing with three games to go. The stakes are obviously high. Let's talk 3 Things.
1. Clippers are finally doing what they were supposed to do
With Kawhi Leonard sidelined, or "suited" if we're basing this off of where he sits during games, the Clippers won't be anyone's popular pick to win the title. That's been the case since he went down, and that would be true for the Bucks without Giannis, the Suns without Devin Booker, and the Hawks without Trae Young too. This isn't to say that the Clips are already doomed, but it does mean that a series loss wouldn't be the end of the world for this team. You never want to drop out of the playoffs. It just becomes a little easier to stomach when you're going at it without your best player.
The other thing that's making it easier – they're finally showing the fight and toughness that we expected to see from this roster. It's well-known by now that it didn't happen last summer when the Nuggets reached up from their 1-3 deficit and yanked the Clippers straight back and out of the bubble. That devastating collapse had the Clips flying under the radar for much of this season. It's hard to regain trust when you toss it away so cavalierly.
Still, it was hard to escape the feeling that they would eventually find their way. Leonard and George are both tough two-way players and leaders. Morris and Patrick Beverley, whatever you want to say about them, are absolute dogs. Reggie Jackson runs on pure confidence, and it seems like Terance Mann is the same way. This year's additions of Rajon Rondo, DeMarcus Cousins, and Serge Ibaka only added more experience and grit. All of that is why it was so surprising to see them lose their first two playoff games and then go down 11-30 in Game 3 in Dallas. The team that was built for these moments didn't seem to be ready for the bright lights, but that's no longer true.
The Clippers are 10-6 since those two opening losses. They're 10-2 from Game 3 on in these playoffs. They've bounced back from two early series deficits, and they're not going to go down easy for the Suns either. Paul George, after much criticism, has been absolutely fantastic, especially since Leonard's injury. They may not end up as the last team standing, but they're finally showing the fight that kind of team needs. They deserve a whole lot of credit for that. It's far easier said than done, and they're now doing instead of talking.
2. What do Hawks have without Trae?
Young missed nine games during the regular season, including, coincidentally, two games against the Bucks. For what it's worth, Atlanta was 1-1 in those games. They were 5-4 without him overall, and those games were all over the place in terms of score and opponent. I have two things to watch for here –
Look for Collins, Huerter, and Bogdanovic to force the issue
This shouldn't be much of a surprise, but these three are likely going to take a lot of shots tonight in Young's absence. Here are their numbers from those 9 games:
Collins: 6 appearances, 20 ppg, 13.3 shots per game
Huerter: 8 appearances, 15.1 ppg, 11.4 shots per game
Bogdanovic: 6 appearances, 25.2 ppg, 18.3 shots per game
As we can see, Bogdanovic is going to be a massive key. If he continues to struggle to get beyond his knee injury, the Hawks might end up dead in the water offensively. He's been dreadful in this series, scoring just 7.7 points per game and making only 25% of his threes and total shots. However, he did shoot sixteen times in Game 3, suggesting that there might be some increasing comfortability here. They need someone to create, and there might not be enough juice with Young out and Bogdan limited. They need him tonight.
Williams gives up a lot defensively – potentially even more than Young – but there aren't too many options for the Hawks here. If things slow down, look for the move to Williams. He can create for himself and others, and he took at least seven shots in each of the games he played without Young. He averaged 10.6 shots per game in those six appearances, up by about a shot and a half from his season average with Atlanta.
3. Can Khris and Jrue both bring it in the same game?
The Bucks have made it this far by relying on Giannis's consistent production, getting just enough great play amid offensive inconsistencies from their secondary stars (Jrue and Khris), and using the energy-filled performances of the rest of the rotation. There is, in other words, a bit of an ebb and a flow to all of this, a rhythm if you will. Milwaukee is winning without Middleton and Holiday consistently scoring 20 points each because they've set up a system that doesn't rely so heavily on their scoring ability. They get it done defensively, as playmakers, and as rebounders, and the scoring comes when it does. To elaborate on those inconsistencies a little more – Game 6 of the Nets series was the only time all postseason that Middleton and Holiday have both scored more than 20 points. They've only scored more than 15 points in the same game four times in fourteen tries. That's not what you'd expect after these two averaged 20.4 and 17.7 points per game on the season, respectively.
The obvious question – what happens if they can both have big point totals in one game? With the Hawks on the chopping block, now might be the time. As the great Paul Grunau once said, "Step on their necks."
TONIGHT'S PLAYS
Bucks ML. Smash it.