Mike Bets #186 – How Bucks can Win Game 6
4 min read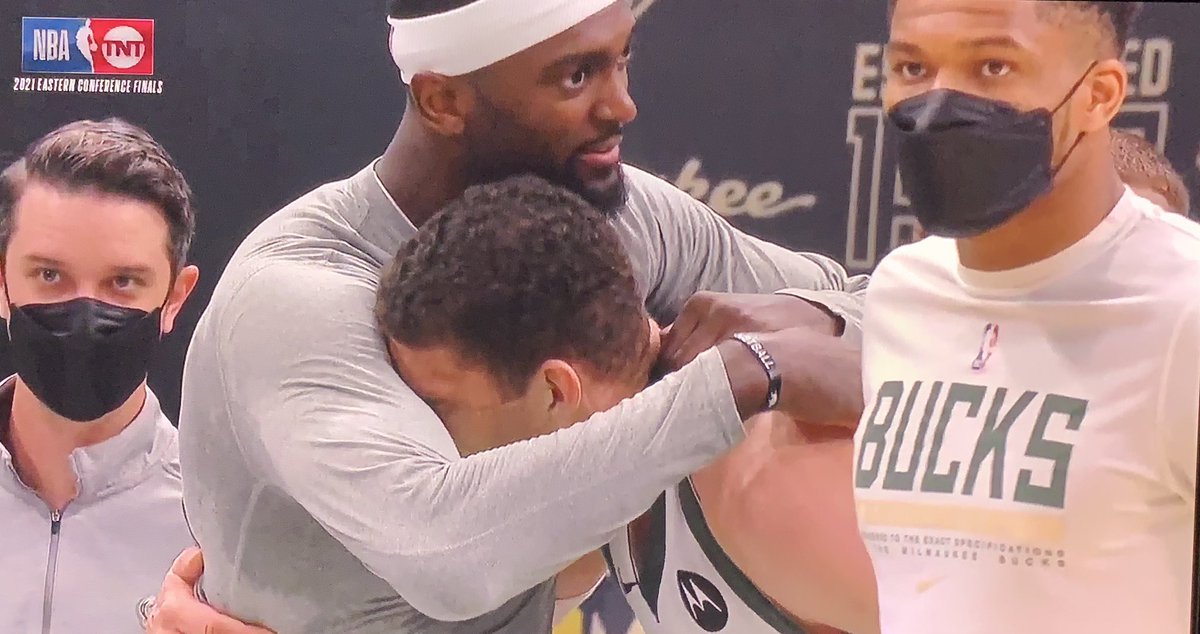 Let's keep it simple today. It's the third biggest game of the Bucks' season so far (Games 6 and 7 v. Brooklyn), with the chance to end the ECF one game short of its potential length and lock down a trip to the NBA Finals. Milwaukee hasn't taken that step in forty-seven years. Here are a few things they should try to do in order to finally return to the biggest stage in basketball.
1. Finally have a blowout shooting performance
There have been a few games in these playoffs – Games 2 of the Heat series and this Atlanta series stand out – where the Bucks have done their thing from the three-point line. But this is a team that has broken 40% shooting from the perimeter just three times this postseason, the first being that Game 2 against Miami and the second and third coming in Games 5 and 7 against the Nets. They've made more than 42% of their threes zero times so far. That's an absurd result from a team that came just short of shooting 39% from deep during the regular season – a number that they are nearly nine percent below so far in the postseason.
The Bucks have shot below 30% from three in seven of their playoff games, below 25% in six, and below 20% in three. Remember that this is all in just sixteen games. In seventy-two regular season games, Milwaukee shot below 30% from deep just nine times. They hit less than a quarter of their threes in just three games, half of the total they've achieved this postseason in fifty-six less chances. We can talk about factors that hurt their shooting in the playoffs – lack of truly elite shooters, enhanced spacing issues, etc. – but the simple truth is that a downward shift of this magnitude is inexplicable. They just can't put the ball in the hoop so far in these playoffs. The good news for their remaining playoff future – the Law of Averages always wins. The kind of shooting performance that makes you forget (temporarily at least) the struggles would go a long way tonight.
2. Keep Khris and Jrue Going
With the season on the line Thursday night, the Bucks' secondary stars delivered, combining for 51 points, 19 boards, 21 assists, and 3 steals. They shot a combined 19-40 from the field as well, a key after some pretty inefficient performances these last few weeks. Now they need to do it again. Say what you want about Giannis, but the man produces every single night. With him out, there's far less margin for error when it comes to Khris and Jrue. They can't afford to post an off night unless the other goes absolutely nuclear, and it'd be preferable if both just continue to play good basketball. They're leading the way now.
3. Feed Brook and Bobby
We all know what these two did Thursday night –
Brook posted one of the better playoff games you'll see, becoming the first player in NBA history to score 33+ points on 18 or less shots and 7 or less free throws while also blocking 4+ shots. That's a very specific sentence, but it doesn't change the fact that Lopez was fantastic in Game 5. So was Portis, who brought crucial energy and offensive production to a team that needed both with their star down. Behind these two and continued offensive rebounding success from PJ Tucker and Pat Connaughton, Milwaukee dominated the paint. That needs to continue tonight too. Sometimes basketball is simple – feed the hot hand(s).
4. Attack Trae
It's not clear if Young is playing yet, but the Bucks should attack him mercilessly on defense if he does. Test out that foot early and often, and turn an athletically diminished version of an already struggling defender into a gate that can't shut. Ball movement, cuts, screens, dribble hand-offs – use them all to keep Young in the action as much as possible when you have the ball. It's been true all series, but it's especially true now: when Trae is using his energy trying to keep up defensively, you've already taken a big step in limiting him on the other side.
5. B.Y.O.E
Bring your own energy. Atlanta will be loud. The Hawks will give everything they have. Your best player and leader won't be there to lead the way. So who is going to step up? It's one thing to do what you did in Game 5 at home. It's another to bring that show on the road. But it's crucial that the Bucks do. A shaken, mentally defeated Bucks team was buried in Game 4. If they're not stronger and louder tonight, the story of this series might have one more chapter to go.
TODAY'S PLAY
Bucks +125
Time to fulfill the prophecy