Mike Bets #231
21 min read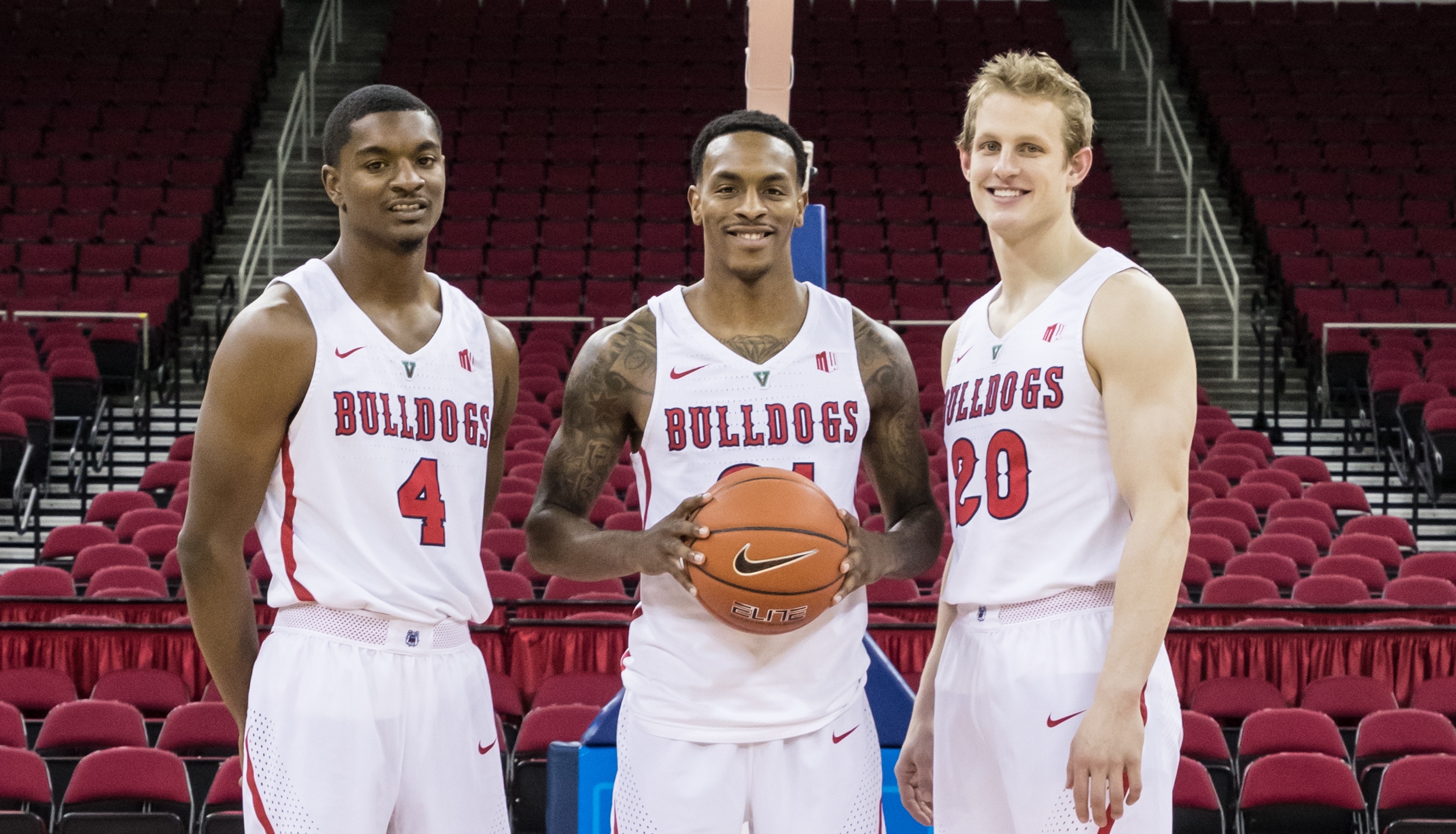 We're back. It's been a few weeks since I rode off into the finals week and holiday sunset with an absolutely brutal Saturday of college basketball picks, and I'm now ready to do it again. I've spent the time away putting a tremendously small amount of effort into recalibrating the selection process here at Mike Bets. Physically, nothing has changed. Mentally, spiritually, and philosophically, we might even be less prepared than we were before. But we're ready to rumble because that's what we do. Let's roll.
First, let's do a quick run-over of the basketball landscape to get back on top of where things stand, starting with the NBA.
Eastern Conference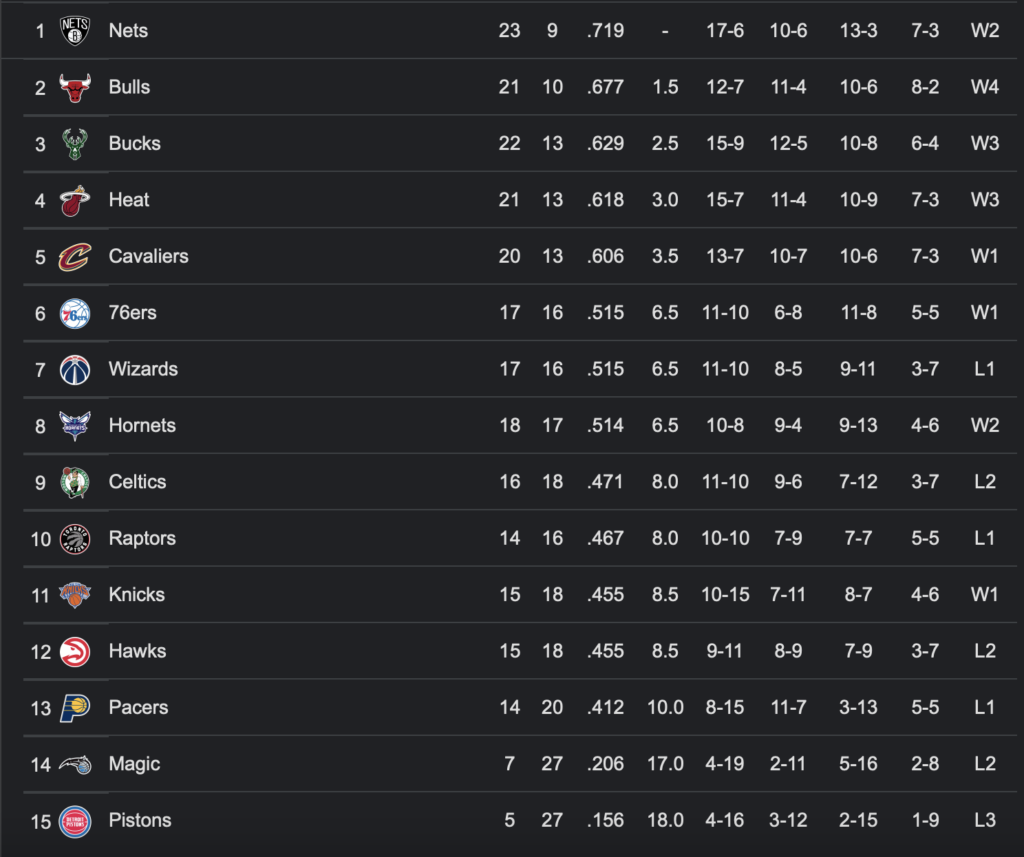 The Nets and Bucks are doing about what we expected despite tons of injury and covid issues. A small sample size from last year suggests Brooklyn can be even better when Kyrie Irving returns in whatever form that ends up being, and Milwaukee is 14-2 when Giannis, Khris, and Jrue all play.
The Bulls are starting to fall off a little bit defensively, sliding to 10th in the league overall, but that's still far better than most, including me, thought they would be on that end. If they can stop the slide there – it's reasonable right now to attribute some of it to the covid issues that have been killing them in recent weeks – this is a very good two-way team that will have their say this summer. DeMar DeRozan and Zach LaVine have both been fantastic.
The Heat deserve credit for looking the part after their offseason moves. They've cooled off a bit after their red hot start, but this is still a good team. They're in position to make some noise in the East this year.
The Cavs deserve a ton of praise. I think I was pretty high on them before the season, and I thought challenging for the play-in spot would be a great season. They've jumped well beyond that. Darius Garland, Jarrett Allen, and Evan Mobley are all well on their way to earning some individual honors for a Cleveland team that is elite defensively and getting better offensively. They're fourth in the league in net rating.
Philadelphia is scuffling in the middle of the playoff picture. The bottom line is that they need Ben Simmons either on the court or grabbing them a somewhat comparable return in trade. You just can't take a team's second best player and best defender away and expect them to be just as good. We're seeing that in Philly.
The 7-13 range is a mess of imperfect teams that suddenly find themselves with fewer potential playoff spots than expected with the Cavs rolling and the Bulls looking like a clear playoff lock.
The Wizards are just 7-13 in their last twenty and have fallen outside of the top twenty in both offensive and defensive rating after their strong start. They're going to have to hope that Rui Hachimura and, eventually, Thomas Bryant, can return to help steady what might soon be a rapidly sinking ship.
The Hornets are great offensively and absolutely brutal defensively. It's hard to see them rising beyond the middle if that doesn't change.
The Celtics are decent and not much more than that. Even when Jaylen Brown plays, they're just 9-11. They'll stick around the play-in zone all year, but it's hard to see this team making any noise once the real playoffs begin.
The Raptors aren't bad, which is more than I thought they'd be able to say at this point. They're also not good, and they're right about where you'd expect to find a team that sits between 15th and 20th in both offensive and defensive rating.
The Knicks are pretty much in the same boat, ranking 15th offensively and 21st defensively. They've been pivoting in recent weeks to try to fix what was a very lopsided start in the favor of offense. New York hasn't quite found the lineups and style of play they're looking for yet this year. We'll see if Thibs has the answers somewhere up his sleeve.
The Hawks have been pretty disappointing despite few injury issues outside of De'Andre Hunter and Bogdan Bogdanovic. Like the Hornets, they've been great offensively and pretty abysmal defensively, and it's looking like they jumped the gun last year. This isn't a top five team in the East. Hopefully they still have that potential in them.
Then we have the Pacers, who sit 12th in net rating with an expected record of 18-16. That would put them in the 6th seed, and yet they're 14-20 and down in 13th. One would think that has to change at some point, though it certainly won't if Indiana does pursue this rumored rebuild.
Detroit and Orlando are in a battle to finish last, though both teams have seen some pretty good things from their younger players so far.
Western Conference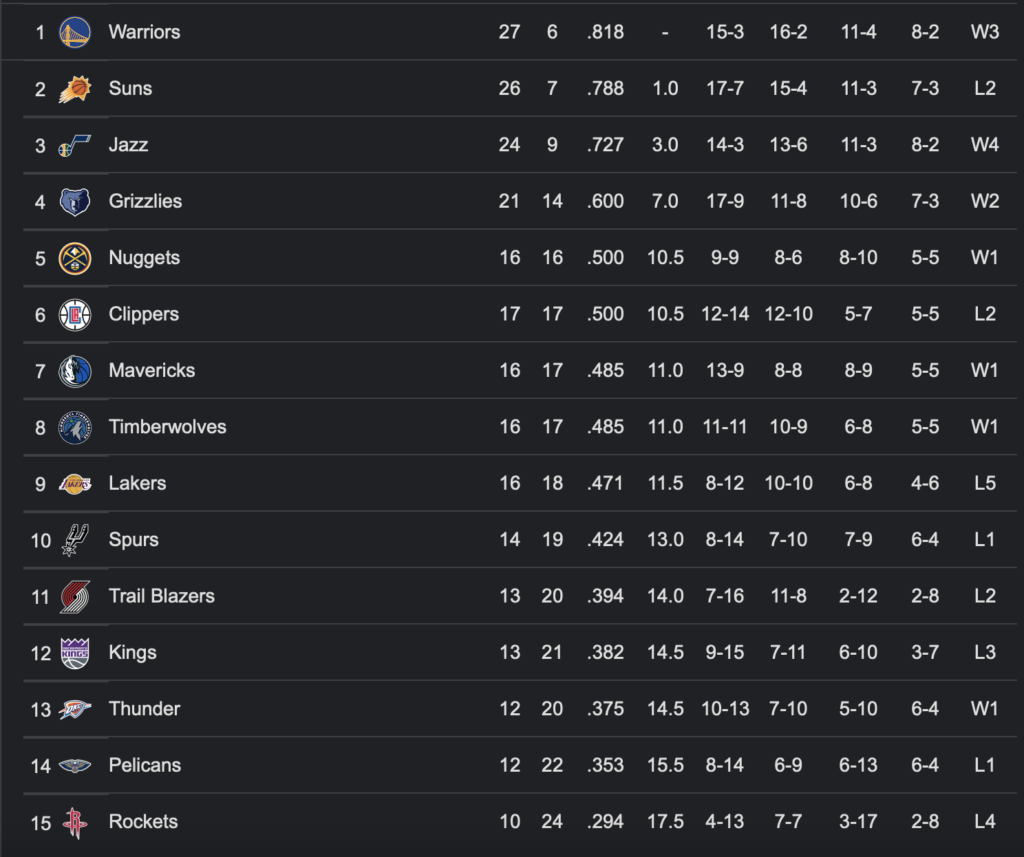 The Suns and Warriors have been unquestionably elite so far. Golden State is top 4 on both sides of the court. Phoenix is top 8. We haven't even seen Klay Thompson (or James Wiseman) for the Warriors.
The Jazz have been just as good. They have an expected record of 26-7, and they sit above Phoenix in net rating and SRS. They're top 6 on both sides of the court and have had the best offense in the league to this point. The pressure is on in Utah. This is year six of really good regular season play, and it's the second straight year with a winning percentage above 70%. From all that, they have three second round appearances. That's not going to cut it this year.
The Grizzlies are taking advantage of a weakened West so far. We'll see if they can continue to do so. Their defense has improved dramatically in recent weeks, coinciding with the absence of Ja Morant. They're 10-2 without him and 11-12 with him, which is…interesting.
Nikola Jokic has kept Denver afloat despite numerous injuries and absences. There's just no way this team can compete for anything significant if they're not healthier by the summer, but Jokic is pretty clearly pushing himself past guys like Harden and LeBron and into the league's top 5 at this point.
The Clippers have scraped by with an elite defense and just enough from Paul George and Reggie Jackson on the other end. With both out right now and George likely remaining out for close to a month, things might get a little dicey here. LA is 3-5 without George so far. All things considered though, the Clips have done very well so far to potentially give themselves a shot if Kawhi returns for the playoffs.
The Mavs's offense has somehow fallen off the grid after a few elite seasons to start Luka's career. Recent reports suggest the Luka-Carlisle pairing was never going to work, but I don't think Jason Kidd is the answer either. Dallas is thoroughly mediocre in what was supposed to be a year of progress.
The Timberwolves are relatively okay, which is a big step forward for them. Their offense isn't very good, but they're right in the thick of the play-in picture despite it. That's a win for Minnesota.
The Lakers just aren't good. Their offense is abysmal and their defense is just good instead of elite or even great. It's a mix of LeBron's increase fragility, AD's continued fragility, the confusion surrounding Russ's role on this team, and the highly questionable decision to pair an aging LeBron and one of the most injury-prone stars in the league with the oldest possible supporting cast. Things aren't good in Lakers land.
The Spurs are the West's Pacers. They have an expected record of 18-15 and rank 10th in net rating, yet they're 14-19 and the 10 seed in just the West. If that changes at some point, supposed contenders like the Lakers and Blazers might miss out on the play-in altogether.
The Lakers are still probably well-set to make the play-in because the bottom of the West is very poor. The Blazers now have a mediocre offense to pair with their awful defense, and they can't buy a win on the road. The Kings are bottom ten in both offensive and defensive rating, which generally isn't a recipe for success. The Thunder can't score at all. The Rockets can't score or stop anyone, and they're a ridiculous 2-17 when Jalen Green plays. Then there's the Pelicans, who are a half-decent 12-15 when Brandon Ingram plays. The problems are that he missed seven games (all losses) and that Zion Williamson's return is beginning to look like a '22-'23 occurrence. It's been a bad year for the West in general.
NCAAM
I'll just run through various things that stick out to me so far here.
Liberty is off to a relatively underwhelming 8-6 start. It looks like FGCU (10-4) might be capable of pushing them in the A-Sun this year.
The American had a pretty good run in non-conference play.
UCF is 8-2 with a win over Miami and the losses coming to Oklahoma and Auburn.
Houston is 11-2 and has looked dominant at times. They have four Power 5 wins of 10+ points, and their two losses were by a combined total of 3 points.
Cincy is 10-3 with wins over Illinois and Georgia, though the loss to Monmouth won't do them any favors.
ECU, SMU, and Wichita State are all 9-3. Their resumes aren't especially impressive, but they are at least in position to potentially end with a good overall record.
Memphis is the clear disappointment at 6-4 with the loss to Murray State, but they've also flashed their potential with wins over St Louis, Virginia Tech, Western Kentucky, and Alabama. Their season is far from over.
After a down year with just two bids in 2021, the AAC is in a good spot to chase their all-time record of 4 (2014, 2016, 2019) again this year.
Davidson is 10-2, well-positioned to return to NCAA Tournament after close win over Alabama. There's still a lot of work to be done in A-10 play, but it's hard to ask for a much better start than that.
Elsewhere in the A-10, Rhode Island (8-3), St Bonaventure (8-3), Richmond (9-4), St Louis (8-4), and potentially VCU (7-4) and Dayton (8-5) will be fighting for bids in one of the more competitive non Power 5 conferences in the country. Syracuse, Kansas, Virginia Tech, Vandy, Boston College, Boise State, NC State, Marquette, and Clemson have all already lost to one of those teams.
Duke is 11-1 and a bad half in Columbus away from 12-0. They've played a bad half here and there but have largely looked really good.
Wake Forest is also 11-1 with wins over Oregon State, Virginia Tech, and Northwestern and the only loss coming against LSU. They'll be a very interesting team to watch in ACC play. Are they real?
Syracuse, Virginia Tech, Virginia, Louisville, Florida State, and more have struggled in an ACC that doesn't look particularly threatening right now. The conference has sent 7 teams to each of the last two tournaments after peaking at 9 in both 2017 and 2018. It doesn't look like they'll be returning to the glory days this year.
Eight of ten Big 12 teams have two or less losses. The conference looks packed once again. Baylor is undefeated. So is Iowa State. West Virginia, TCU, and Kansas have all been unblemished outside of one relatively confusing loss each. Oklahoma, Texas Tech, and Texas haven't gone anywhere either. Even Kansas State, in ninth after non-conference play, looks like a functional basketball team after a few years where that wasn't the case. Buckle up.
The Big East has also been very impressive from the jump.
Providence is 11-1 with wins over UConn, Texas Tech, Rhode Island, Northwestern, and Wisconsin.
9-3 Creighton has beaten Nebraska, Villanova, and BYU.
Villanova has beaten Xavier, Syracuse, and Tennessee, and they've yet to lose to anything close to a bad team, which means at least something.
Xavier crushed Cincinnati, and they also beat Virginia Tech, Ohio State, Oklahoma State, and Marquette.
UConn has topped Marquette, St Bonaventure, Auburn, and VCU.
DePaul is 9-1 with wins over Louisville and Rutgers.
Seton Hall is 9-1 with wins over Michigan, Texas, Cal, and Rutgers.
Even Butler (Oklahoma), Georgetown (Syracuse), and Marquette (Kansas State, Illinois, Ole Miss, and West Virginia) have really good wins to their name. Last year, both Villanova and Creighton lost in the Sweet 16 by double digits. In 2019, no Big East team even made it that far. That two-year run of limited postseason success following two Villanova titles in three years should end this year. We'll see if it does.
Good luck figuring out the Big Ten, which may or not be good. The Big East Big Ten Challenge was a disaster, but the Big Ten ACC Challenge went far better. Was some actual momentum found, or did the competition just get a little easier?
Purdue is 11-1 and has looked dominant for the vast majority of their season. They also lost to a Rutgers team that lost to UMass and Lafayette and failed to break 50 against Merrimack.
Iowa is 9-3. They're also 1-3 against Power 5 teams and almost blew that one win against Virginia.
Indiana is 10-2 but their best win is Nebraska? Notre Dame? St John's? They're 0-2 on the road, though both games finished close and were classic tale-of-two-halves.
Michigan State is 10-2 and trending up fast. Their losses to Kansas and Baylor weren't exactly representative of a team that can hang with the very best, but it's hard to find fault in what they've done in the other ten games.
Ohio State is 8-2 and beat Duke, Seton Hall, and Wisconsin. They also probably don't beat Duke if Duke doesn't beat themselves. Depth is still a question. That doesn't mean the Buckeyes don't look dangerous though.
Minnesota is 10-1 and rolled Michigan out of their own building with a dominant second half a few weeks ago. They also beat Mississippi State in Starkville. Might they be far better than expected in year one of the Ben Johnson era?
Speaking of Michigan, the Wolverines are 7-4 despite a pretty significant amount of talent. Their worst loss is 11-1 Minnesota, so there hasn't been a whole lot of permanent damage done to this point. But Juwan Howard and Co. have a lot of work to do if this team is going to contend for any banners.
Wisconsin is 9-2 with an impressive collection of wins (Texas A&M, Houston, St Mary's, Georgia Tech, Marquette, Indiana), but they're also heavily reliant on Johnny Davis. They've proven they can compete far better than I thought they could. What's the ceiling?
Illinois is 7-1 in their last eight with five Power 5 wins and the only loss coming in a close one to Arizona. Their 2-2 start included Kofi Cockburn's three-game absence and a bizarre twenty-point loss to Cincinnati in his season debut. If you throw those four games out the window, the Illini look ready to contend again.
Even Northwestern is in on the action with an 8-2 start. Six of those games were cupcakes, but a 2-2 record against Wake Forest, Providence, Maryland, and Georgia offers at least some hope for this version of the Wildcats having enough to rack up more than a few Big 10 wins and make another tourney push. They'll have to consistently beat the Rutgers, Marylands, and Penn States of the world to give themselves a shot. Good start so far in that regard.
UAB is off to an interesting 10-3 start with a win over St Louis and no losses of more than 6 points. They've won 20+ games four times since their last NCAA tournament appearance (2015). Can they break back through this year?
UWM (3-8) has been really disappointing after a summer of excitement with the Patrick Baldwin Jr commitment and a greater influx of talent. They're simply not good. Luckily, all it takes to go dancing is a few good days in the early spring. Can they find the spark they need before then?
Cornell ruled the Ivy League from 2008 to 2010, making three straight tourney appearances. They haven't been all that close to returning since. They're 8-2 right now, though Princeton is looming with Harvard not far behind.
Iona and Monmouth are off and running in the MAAC. The former is 10-2 with wins over Alabama, App State, Harvard, and Liberty, among others. The latter is 10-3 and beat Cincinnati and Princeton. It should be quite the race between these two this year, with Fairfield looking on as a potentially disruptive third wheel.
Things look relatively familiar at the top of the MAC. Toledo is looking to build off of last year's momentum and regular season title as they challenge more perennial contenders in Ohio and Buffalo. The Rockets haven't gone dancing in over forty years, and they'll be looking to make up for last year's missed opportunity. Akron, who has made the tourney three times since 2009, is off to a good start as well. One thing to watch – Bowling Green hasn't made the NCAA Tournament since 1968. They're 57-34 the last three years and off to a 7-4 start this year. They might play spoiler.
Loyola Chicago has largely picked up where they left off despite the departures of Porter Moser, Cam Krutwig, and more. They lost to Michigan State on the final possession, and their only other loss came against Auburn. They've also beaten DePaul, Vandy, and Arizona State. Drake has looked decent on the way to a 9-4 start, but their 0-2 Power 5 record and the loss to North Texas probably means an at-large bid like last year's is already on the ropes. They'll need to take advantage of their opportunities against Loyola this time around.
From 2010-2015, the Mountain West sent 3+ teams dancing in five of six years. They haven't topped two since. At the beginning of conference play, there's once again opportunity for that to change this year.
Colorado State is 10-0 and well on their way to a bid. They've beaten Creighton, St Mary's, and Mississippi State.
San Diego State might be in the second best shape at 8-3 with their wins over St Mary's, Arizona State, and Georgetown and the losses coming to Michigan, BYU, and USC. The Aztecs would be looking at nine tourney appearances in twelve years had covid not derailed the 2020 tournament. Recent history suggests they probably need 11-12 conference wins to start thinking about an auto-bid, though they did go 16-2 in conference back in 2016 and still fell short in a year where the Mountain West sent just one team.
The rest of the conference is less secure in their positioning. Wyoming is 11-2 with a bunch of okay wins (Washington, Utah Valley, Northern Iowa, South Florida, Grand Canyon, etc.) that don't really tip the needle. They'll need a very strong conference showing to even start to think about anything other than the automatic route. So will Fresno State (10-3), who has even less quality wins to speak of. Utah State has wins over Richmond and Oklahoma if they can build a decent conference record. They're probably the third-most likely to receive an auto-bid as things stand now. Then there's Boise state, who has wins over Ole Miss, Washington State, and Temple.
There's zero chance that all of these teams make the tournament. Even three of the six (or three out of the conference at large if someone like Nevada manages to spoil things in March) would be pretty impressive. But the Mountain West is a conference capable of sending 3-4 teams in a strong year, and there are definitely some decent teams here this season.
Right now, Wagner looks like the clear best team in the Northeast Conference. They've picked up some decent wins against Hartford, Stony Brook, Fairfield, and, most impressively, VCU. Their lone tourney appearance came back in 2003. Can they make it two this year?
As usual, Murray State and Belmont are both teams to watch in the Ohio Valley. They've either split or individually won the regular season championship every year since 2010, and one of the two has won seven of the last twelve conference tournaments. Murray State has already beaten Memphis. Belmont has topped Furman, Drake, Iona, and St Louis, which is about as good of a foursome of mid majors as one can find. Hopefully we see these two play with everything on the line in March.
The Pac 12 might have a shot at their first title since 1997.
USC is 12-0, though there's more to prove. Their best win is probably either Utah or San Diego State, and they beat Temple, Washington State, and UC Irvine by 5 or less. To put this another way, they're off to a fantastic start that doesn't really give us a detailed view of just how good they are on a national scale.
UCLA is 8-1, and they've looked the part of top 10 team outside of a rough night against Gonzaga. They've beaten Marquette, Colorado, UNLV, and Villanova by 9+. They just need to get past the covid issues that have kept them off the court since December 11.
Arizona is 11-1 with an impressive resume of wins – Michigan, Illinois, Oregon State, Wichita State. Their only loss came in Tennessee by two possessions.
We get Arizona-USC, Arizona-UCLA, and USC-UCLA the first two weeks of February. The Pac 12 will be hoping those still look like battles between national contenders by then.
Elsewhere in the Pac 12, Oregon (7-6) and Arizona State (5-7) have been wildly disappointing. Oregon was blown out by BYU and Houston, lost to St Mary's by double digits, and started conference play 0-2 against Stanford and Arizona State. Arizona State, meanwhile, has a win over Creighton but also lost to UC Riverside and produced just 29 points in an abysmal, dismantle-your-program type loss to Washington State. Both teams would essentially need to be flawless from here to make a convincing argument for an at-large bid. Good luck.
The SEC looks to be pretty deep this year.
LSU is 12-0 and rolling teams. Only two of those wins were by single digits, and no one has come closer than 5 points. The lack of a signature win is holding them back a bit in the AP Poll (Liberty, Belmont, Wake Forest, Penn State, Georgia Tech, and Ohio make for a full collection of good but not great wins), but the Tigers look really good.
So do the Auburn Tigers, who are 11-1 with wins over St Louis, Murray State, UCF, Syracuse, Loyola, and South Florida. Their game with LSU tonight is worth paying attention to.
Arkansas is 10-2. They're reeling after losses to Oklahoma and Hofstra and dealing with the same issue of lacking quality non-conference wins as they had last year, but we also saw them end up with a 3 seed last year. Eric Musselman will do his thing.
Kentucky is 9-2 and very talented once again. There's work to be done, as evidenced by the recent loss to Notre Dame, but they also blew the doors off of North Carolina the next time out. This is a dangerous team.
Tennessee is also 9-2. Outside of a blowout loss to Villanova and their loss to Texas Tech in one of the ugliest top 25 basketball games in years, they've looked pretty dang good. Wins over Colorado, Arizona, and UNC are already on the resume.
Alabama is once again the college basketball equivalent of a random number generator. They've beaten Houston and Gonzaga, absolutely obliterated Miami, and picked up decent wins over South Dakota State and Drake. They've also lost to Iona, Davidson, and Memphis, which isn't terrible but also falls well short of what you'd expect of the team that beat Houston and Gonzaga. You have no idea what you're going to get with Alabama, but the ceiling is sky high and you generally get more good than bad.
These six are likely the class of the conference, but there's reason to hope that the SEC runs deeper than normal beyond that top group this year.
Florida being good isn't a surprise, but it's not clear that they'll be anything more than a decent team this year. They've looked very good at times (win over Ohio State, rolling past Florida State and Cal). They've also lost to Texas Southern and Maryland.
Texas A&M being 10-2 is a bit more surprising. They've been a .500 team the last three years after making the tourney in 2016 and 2018. Can Buzz Williams bring them back in year three? They already have wins over Oregon State, Butler, Notre Dame, and Abilene Christian, and the losses were against Wisconsin and TCU. About a week from SEC play starting, this looks like a team that can go dancing.
Mississippi State has beaten Richmond and Furman, and their worst loss might be Louisville with the way Colorado State and Minnesota have started. They have a lot of work to do to puff up the resume, but they're in a position where that work is far from impossible.
South Carolina is also 9-3 with wins over Western Kentucky, Florida State, Georgetown, Wofford, and UAB. A loss to Princeton and a blowout loss to Coastal Carolina don't make for an ideal one-two punch, but it could be far worse than that.
Then there's 8-4 Ole Miss and Vandy. Ole Miss has already lost to Samford, Boise State, and Western Kentucky, but they've shown their (somewhat limited) potential against Memphis and Dayton. Vandy did the same by beating BYU the other day. Both of these teams could make some noise in conference play.
The SEC has sent 8 teams dancing just once in conference history (2018). With the ACC struggling, the Big 10 chaotic, and the Pac 12 not particularly threatening outside of their top three, this might be the year to push for eight again.
Samford is 10-2 with wins over Ole Miss and Oregon State, and their only losses have come to San Francisco and Belmont. They're a team to watch in the Southern as they look to make their first tournament appearance since 2000.
Texas A&M Corpus Christi went dancing back in 2007, their first year in the Southland Conference, after making the move to D1 in 2003. They've won 20+ games three times since then, and they're on track to do it again after a 10-3 start that has them 10-0 against non Power 5 teams. Can they make it back to the Big Dance?
The Summit League should be fun this year.
South Dakota State is 11-4 and has won at least 59% of their games in eleven straight years. They only have five tourney appearances to show for it. Can they make it six in twelve? They've already beaten Nevada, George Mason, and Washington State, among others.
North Dakota State is 9-4 and looking to make it five tournament appearances since 2000.
Western Illinois beat Nebraska and went 3-1 against the MAC in non-conference play. To make their first tournament appearance in school history, they'll need to fight through two teams that have done it quite a few times.
The Sun Belt should also live up to its Fun Belt name, with seven teams 7-4 or better. That said, 7-4 Coastal Carolina's win over South Carolina is probably far-and-away the best win anyone in that group of seven has, which might mean the fun in Fun Belt won't be for everyone this year.
The WCC has three teams 11-3 or better to hopefully push Gonzaga this year.
San Francisco is 12-1 with wins over Arizona State, Fresno State, UNLV, UAB, Nevada, Samford, and Davidson. Their only loss came by one point to Grand Canyon.
St Mary's is 11-3 with wins over Notre Dame, Oregon, and Utah State, and they've only lost to Wisconsin, San Diego State, and Colorado State.
BYU is also 11-3.
There's no reason to suggest any of these three are a Gonzaga-like juggernaut, but they're typically pretty good. Based on non-conference play, they could very well make them work this time around. As far as Gonzaga goes, they still look pretty dang good. I'm not sure that "they only went 3-2 with two single digit losses against top 25 power 5 teams" is much of an argument. They should roll through the WCC again, but hopefully, for everyone's sake including theirs, there's a little more challenge to it this year.
Lastly, we have the WAC, which is now packed with good mid majors.
New Mexico State is 11-2. Since joining the conference in 2006, they've represented it in ten of sixteen NCAA tournaments and were 16-0 in conference play the year March was cancelled.
Grand Canyon is 10-2. They moved up to D1 and joined the WAC in 2014. After winning 20+ games three times in their first seven D1 seasons, they finally broke through to the tournament last season in year eight.
Abilene Christian is 9-2. This is their first year in the WAC after they made the tournament twice in their last three years in the Southland Conference. They certainly could have gone three-for-three in 2020.
California Baptist joined the conference and D1 in 2019. They've already won twenty games (2020). Can they push for the tourney this year after a 9-3 start?
Utah Valley joined the WAC with Grand Canyon in 2014. They've won 20+ three times since, and they'll be looking to go dancing for the first time in an eighteen-year D1 history that already includes five seasons of 20+ wins.
Stephen F. Austin joined with Abilene Christian this year. They've made the tourney five times since 2009 and were the Southland conference tournament favorites in 2020.
Sam Houston State also came over from the Southland this year. They've made the tourney just twice since 1985 (both since 2003), but they've won 20+ games ten times in the last nineteen years.
That's a packed conference, and we didn't even mention Seattle (eleven tournament appearances and a trip to the national championship in the 50s and 60s) or Dixie State and Tarleton State, who will both be looking to make a mark in their second years as D1 schools. The WAC should be a lot of fun, and they might be able to turn themselves into a multi-bid league within the next few years.
With that, let's find some winners.
TODAY'S PLAYS
NBA record: 66-61-2 ATS (11-19 Underdog ML), 10-12-1 O/U, 0-1 parlay
CBB record: 49-70-2 ATS (2-9 Underdog ML)