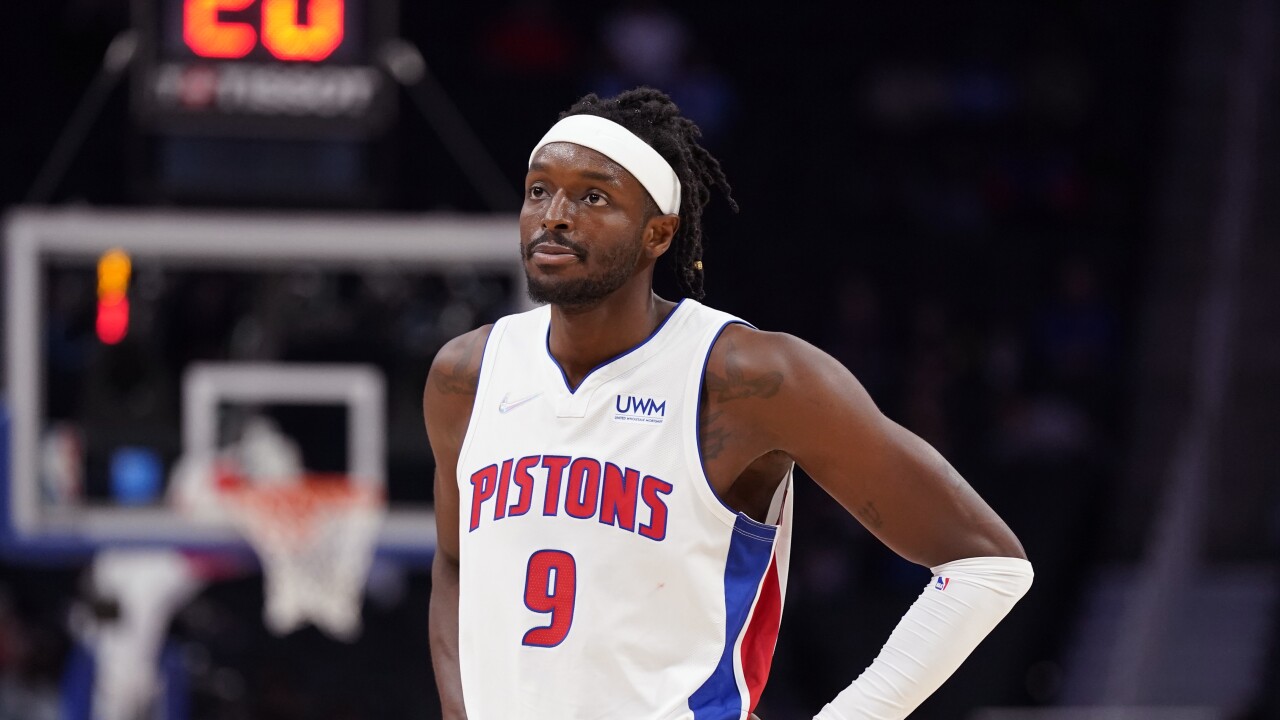 With a 5-27 record, the Pistons' season has been very bleak to say the least. Before the season, some thought they could improve their record to play-in status in the East with their new, talented rookie Cade Cunningham and improvement from second year players Killian Hayes, Saddiq Bey, and Isaiah Stewart. Unfortunately, those hopes haven't been realized as regression and stalling from those three along with injuries to key veterans Jerami Grant and free agent signing Kelly Olynk have led to this abysmal record.
Logically, holding onto valuable, veteran assets like the 27 year-old Grant in the middle of a rebuild doesn't make a whole lot of sense. He doesn't fill the timeline for contention. It's not hard to see why trade rumors might start to swirl, and that is exactly what is happening in Detroit right now. After exploring multiple trade scenarios, I think this one with Atlanta is a realistic win-win that pushes the Hawks toward contention and gives the Pistons some nice assets for their rebuild.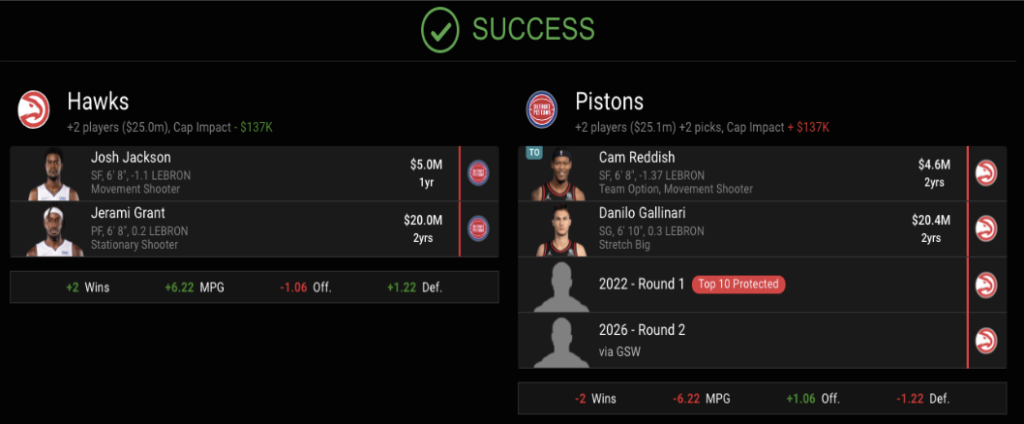 With this trade, the Hawks get much needed defensive help in the form of Grant with Hunter out due to injury, and they simultaneously get out of the Gallinari contract overpay. This might help the Hawks take that final leap to potential contention in a weird COVID season. Atlanta would likely have to give up a first for the contract dump and to get a player the caliber of Mr. Grant. Meanwhile, the Pistons would get an intriguing young wing in the form of Cam Reddish that would probably complement Saddiq Bey nicely. An all-tall future lineup that could switch everything on defense in the form of Cade, Cam, Saddiq, Miles Bridges (potentially signed in off-season), and Beef Stew – or another mobile center upgrade (potentially in the draft with Chet Holgrem) – is intriguing for a rebuilding team. 
That pretty much summarizes the blueprint behind this rebuild in my mind:
Get a young player and/or draft picks for Grant.
Sign Bridges, a more efficient scorer and the younger hometown kid, to replace Grant.
Draft a center that can space the floor and be a lob-threat to open up the offense for Cade while also protecting the paint and guarding bigger centers on defense. Let's jump into it and see how this would play out via 2K simulations.
Finishing the 2021-2022 Season and Completing the Draft and Free Agency
I waited until the trade deadline to complete the trade, as it is unlikely that this would happen right now with Grant out for roughly 5 more weeks with a thumb injury. As expected, the Pistons finished with a terrible record (second worst in the league behind the Magic) and ended up with the #3 pick in the draft lottery, which seems realistic. Getting lucky in the lottery will be key for this team as a top three pick would allow them to select one of the three cream of the crop top prospects in Paolo Banchero, Jabari Smith Jr., or Chet Holmgren. Falling in the draft would likely mean the front office taking long looks at combo guard Jaden Hardy (another kid with Detroit roots) or center Jalen Duren. 
Anyway, in the 2K simulation, with Paolo and Jabari off the board, the Pistons drafted their franchise center of the future in Holmgren. We all know that his upside is elite as he is a potential unicorn player that can do everything and play like a guard sometimes even though he is 7 feet tall. The deciding factor on his career trajectory, as it has been for a few years now, is if he can gain weight and bang down low with NBA centers. Right now, he's only a meager 190 lbs. Regardless, he is an immediate plug-in to the Pistons lineup that can run the pick and roll as a lob threat or pick and pop floor spacer for Cade/Killian. Additionally, his 7'6" wingspan would make finishing in the paint extremely difficult for opponents on defense, which would be especially important as the Pistons are really lacking a traditional big on their roster right now. This would push Isaiah Stewart to a more natural fit of a high energy big off the bench that plays in short spurts and wreaks havoc off the bench similar to what Montrez Harrel did in his 6th man of the year campaign a few years ago. 
Additionally, the 1st round pick that the Pistons acquired from Atlanta in the Jerami Grant trade ended up being #21 overall, and with that pick, I selected F Caleb Houston from Michigan. I'm not sure if he will still be on the board at 21 as a 19 year-old, 6'8″, 5-star recruit with a pretty jump shot, but he is still very raw and definitely needs some more seasoning. He projects as one of those 3-and-D guys that every good team needs. The pick makes sense for the Pistons as they need more wing depth. Josh Jackson's contract is expiring and, he's fallen out of the rotation. Also, though I love Hamidou Diallo's energy, his lack of a consistent jump shot that can help with floor spacing brings questions to his long-term fit with the team. 
In free agency, though it will change slightly with the potential Grant trade, Spotrac projects around $39 million in practical cap space for next season with Blake Griffin's dead money finally coming off the books. This puts the team in a position to make a splash in free agency that will complement the young core going forward. By far, the best player to target for this team, especially if you trade Grant, is Miles Bridges. He was almost a member of the 50/40/90 club last season and has broken out this year, averaging 19.7 ppg and 7.2 rpg while helping the Hornets play .500 basketball. He's a Flint, MI native, played for Michigan State, and grew up a Pistons fan, and he also seems to be a Troy Weaver guy as he is uber athletic and can guard multiple positions well. I signed him to a 4 year, $100 million deal in the game. The Hornets, for comparison's sake, low-balled him with a 4 year $60 million extension offer this past off-season. Bridges and Saddiq Bey should work together well as the team's forwards in the long run. I also re-signed Rodney McGruder to a minimum deal as he has been a veteran leader in the locker room, which is good for the young guys and roster continuity.
The 2022-2023 Season
Let's see how this new look team performs after the Grant trade, the Chet draft pick, and the Bridges signing.
Starters:
PG Cade Cunningham
SG Cam Reddish
SF Saddiq Bey
PF Miles Bridges
C Chet Holmgren
Bench:
PG Killian Hayes / Cory Joseph / Saben Lee
SG Frank Jackson / Hamidou Diallo
SF Danillo Gallinari / Hamidou Diallo / Caleb Houston
PF Kelly Olynk / Danillo Gallinari / Trey Lyles
C Isaiah Stewart / Kelly Olynk / Luka Garza
This new roster performed much better than the current team as they finished with a 34-48 record. In only his second season, Cade took a big jump, averaging 21 ppg, 6 rpg, and 4 apg. Holmgren averaged an intriguing 14 ppg and 7 rpg with 2 bpg in his rookie season. Bridges came in and averaged a cool 17 ppg and 7 rpg on efficient shooting splits and showed his prowess as an off-ball scorer. His rebounding improvement over Grant will be super helpful too, as that is something the current team is missing as well. All in all, I think that quick turnaround and growth is what you would want and like to see for a young team like this. 
That sums up my thoughts on what Pistons should do next as they go through this rebuild: comment below if you would have done anything differently or liked what I did here!