Mike Bets #234
6 min read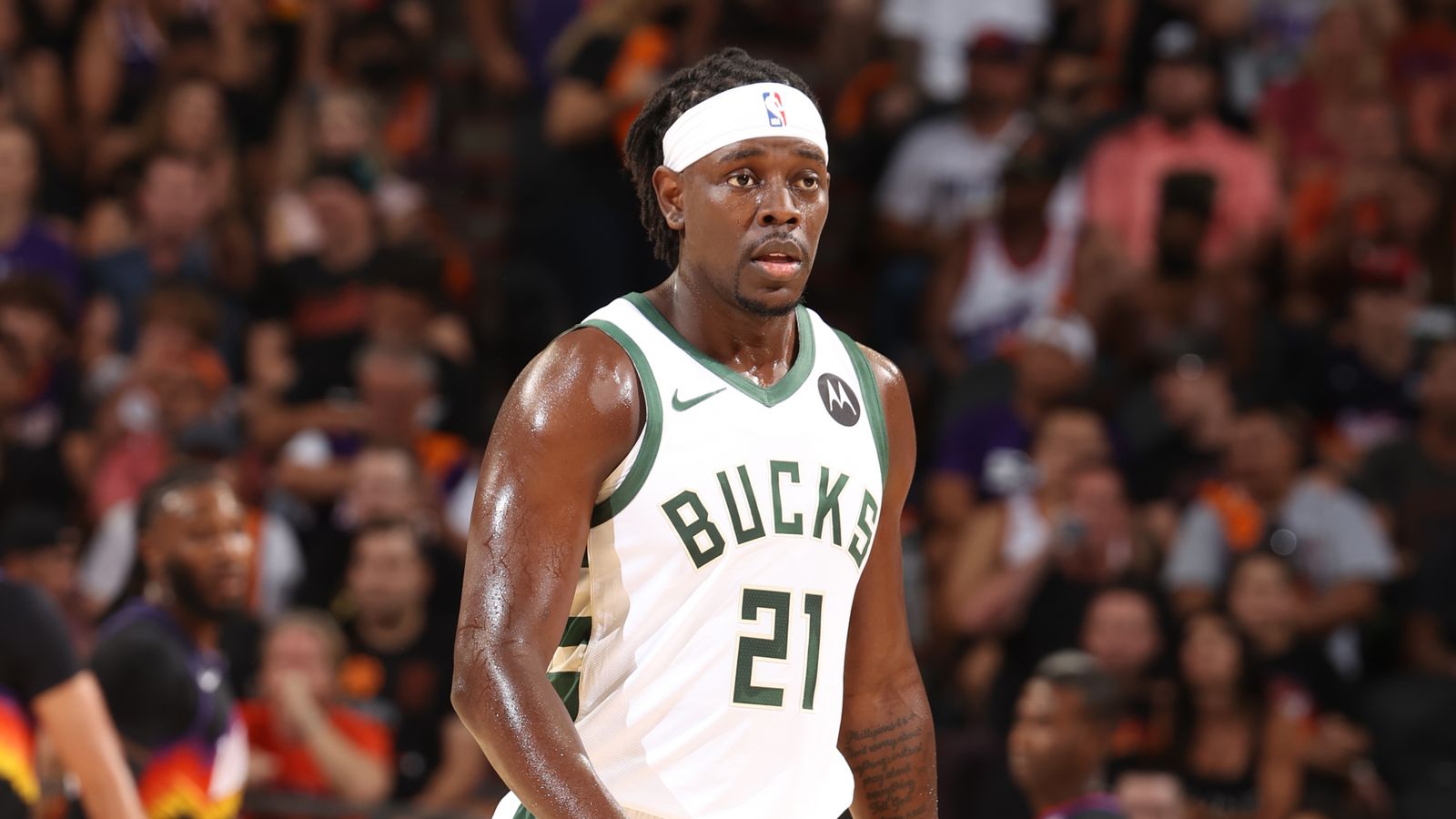 Happy Friday. It's Orange Bowl day, so we won't have any plays on the basketball side of things today. But we can still recap last night. Let's get to it.
NBA
The Bucks rolled the Magic for the second time in three days. Mike Budenholzer is now 17-2 against the Magic with fourteen double digit wins as head coach of the Bucks (including playoffs), and Milwaukee is now 15-2 this season when Giannis, Khris, and Jrue all play. That's well above a seventy win pace over a full season. Seven Bucks scored in double figures, led by Antetokounmpo's 33. They've had five relatively easy games in a row, a stretch that continues for another few days, and they've taken advantage so far with five wins in five tries.
Holiday continued a strong stretch of play with 25 points, 7 assists, and 5 boards per game. He's one of just five Eastern Conference guards averaging at least 15 points, 6 assists, and 4 rebounds per game (Harden, LaMelo, VanVleet, Brogdon). He's where he ranks among EC guards (remember there are about 30 starters) in various stats –
7th in assists per game (6.6)
12th in scoring (17.8)
6th in steals per game (1.6)
8th in FG% (49.3%)
9th in VORP (1.1)
8th in BPM (2.6)
5th in win shares per 48 (.145)
6th in PER (19.3)
That's not exactly an All-Star argument. There are twelve spots in the East. Giannis, KD, James Harden, Jimmy Butler, Joel Embiid, Zach LaVine, and DeMar DeRozan will take seven barring something wrong happening. Despite Atlanta's struggles, Trae Young deserves a spot, and LaMelo should make it nine. Cleveland, whether it be through Darius Garland or Jarrett Allen, should get at least one. It's hard to imagine Jayson Tatum being left off regardless of Boston's record. Domantas Sabonis is probably in too. That's already a full roster with Fred VanVleet, Malcolm Brogdon, and others just as in the mix as Holiday outside of those already listed. I want to give myself credit here for getting through all of this without mentioning Khris Middleton, who simply doesn't deserve an All-Star spot based on his first half of the season. Anyway, the point is not to say Holiday should be an All-Star but rather to just point out how good he has been and how wide his impact is. He does just about everything and is one of the league's better guards even if he falls just outside of certain award cutoffs. Milwaukee has a true Big 3.
Kyle Kuzma and Bradley Beal sparked the Wizards in a blowout win over a Cavs team playing without their three best guards for the first time. Both Collin Sexton and Ricky Rubio are now gone for the year, and Cleveland seems set, for good reason, to bring in another guard to help Darius Garland when he returns from protocols. Before last night's game, numerous reports suggested Rajon Rondo will be joining the Cavs via trade soon. Arguments over the exact quality and impact of Rondo at this point in his career aren't particularly important; he's a floor general for a team that needs another one. Assuming that the effort to bring in Rondo or another similar player is actually being made and not just reported, it's good to see Cleveland staying aggressive. They're having a fantastic season, and there's no reason to avoid low-cost moves that can help keep their playoff chances alive.
The Sixers picked up a nice win over the Nets in last night's third game. Brooklyn's top four (KD, Harden, Aldridge, Claxton) scored 88 points to Philly's 86 (Embiid, Maxey, Curry, Drummond), but it was the production the Sixers got from the rest of their rotation that was ultimately the difference. The Nets still hold the East's 1 seed, though their lead was cut in half. Both the Bulls (0.5) and Bucks (1) are now within a game of the top, and both will play the Nets over the next two weeks. For the Sixers, that's four wins in five games to help push themselves up to the 6 seed. There's a lot of work ahead, but it does seem safe at this point to trust them to make the playoffs without getting Ben Simmons or his trade counterpart into the rotation at some point. There's just no reason to believe they can do much more than based on how their season has gone so far. Getting Simmons back out there or pulling off a trade that actually works for both sides would change things.
The Warriors-Nuggets game never tipped off due to a late covid postponement, prompting these tweets –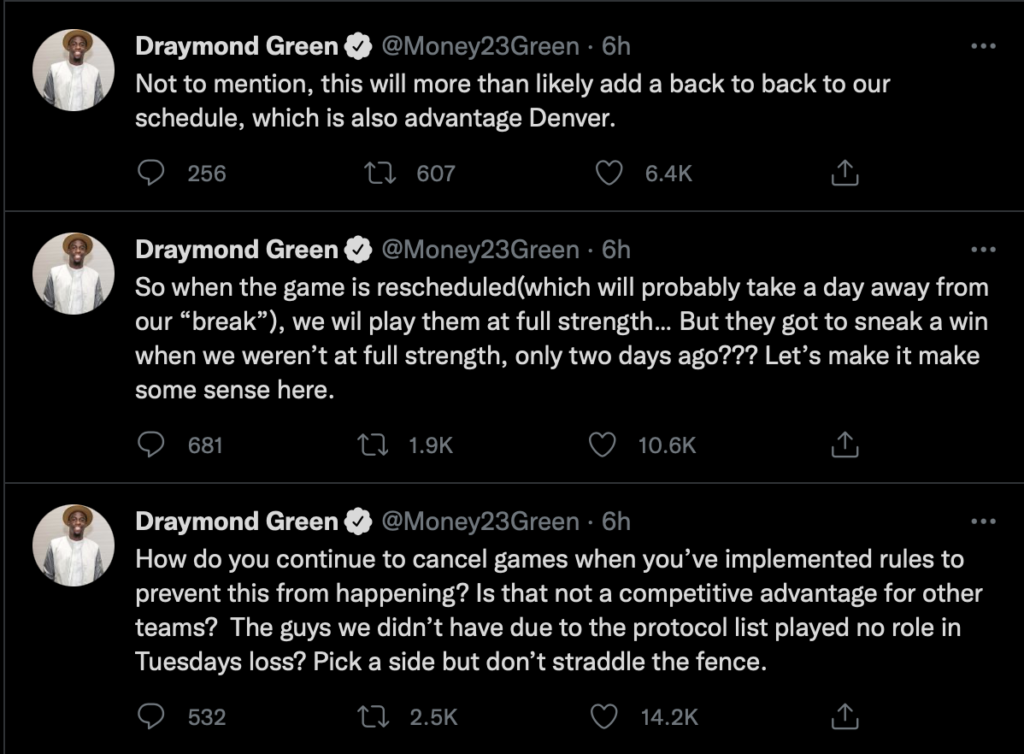 So I'll do a quick Guess That Player! instead. The mystery player is…(all rankings based on minimum of 250 minutes)
7th in win shares per 48 minutes
This wasn't a great game of Guess That Player! – there's no way for anyone to actually guess a player based on this alone – but I bet you weren't looking at those ranks and thinking "that's Gary Payton II". He's produced some insane advanced metrics with the Warriors so far this season. It'll be interesting to see where he sits by the end of the year.
NCAAM
St Joes murdered Richmond, winning by 27. This was the first bad loss of the year for the Spiders (though Utah State isn't looking great after the other day), so it's not necessarily a season killer. But it does severely limit the margin for error the rest of the way. They need to be great from here if they want to have a shot at the tourney, and it's just not looking likely. The 2020 cancellation was especially brutal for Richmond. They had their best team since their last trip to the Big Dance in 2011, and they likely would have gone dancing again. After last year and their start to this year, that's looking more and more like a one-time opportunity rather than an extended stretch of prosperity.
UCF beat Michigan to add another Power 5 win to their resume (Miami). As American conference play begins to kick off, they're in a great spot to build towards March. For Michigan, this is yet another brutal loss. They don't even look like a tournament team right now, which is mind-boggling given the talent returned and brought in. The Wolverines certainly lost a ton of key pieces from last year's team, including a miracle PG transfer in Mike Smith and three elite two-way wings in Livers, Wagner, and Brown, but no one saw this type of drop-off coming. Juwan Howard has his work cut out for him. They're going to need 10+ Big Ten wins to make some things happen, and it's hard to see this team – one that really hasn't changed over more than a month of basketball – getting there. DeVante' Jones has shown the downside of using the portal to bring in a good mid major "guard" to plug your point guard hole. There's very little shooting. There's even less defense. Hunter Dickinson is showing that his (still very impressive) freshman season was hugely dependent on what he had around him. Second halves have been horrendous. Big Ten play offers a lot of opportunities, including the opportunity to be embarrassed in a big way if you don't get things figured out.
A quick note on Michigan's second halves in their losses –
Seton Hall – Up 3 at half, lost second half by 5
Arizona (the exception) – down 8 at half, lost second half by 10
UNC – down 2 at half, lost second half by 19
Minnesota – up 4 at half, lost second half by 10
UCF – up 4 at half, lost second half by 18
That's brutal, and while there's plenty of blame to go around, a ton of it has to land on the lap of the coaching staff. You just can't have this.
UAB continued their good start with a solid 75-62 win over UTEP. Like I said the other day, they're a team to watch in C-USA as they look to make it back to the NCAA Tournament for the first time since 2015 despite multiple 20-win seasons between now and then.
South Dakota State picked up a nice 90-86 win over North Dakota State to grab an early advantage in the race for control of the Summit Conference.
Abilene Christian edged past Utah Valley to start WAC play right. As someone who bet ACU all year last year and then picked them to beat Texas, I will continue to provide updates on them. Good start to the conference season.
TODAY'S PLAYS
NBA record: 68-65-2 ATS (11-19 Underdog ML), 10-12-1 O/U, 0-1 parlay
CBB record: 52-78-2 ATS (2-10 Underdog ML)
Go Blue.