Mike Bets #402 – It's Christmas
33 min read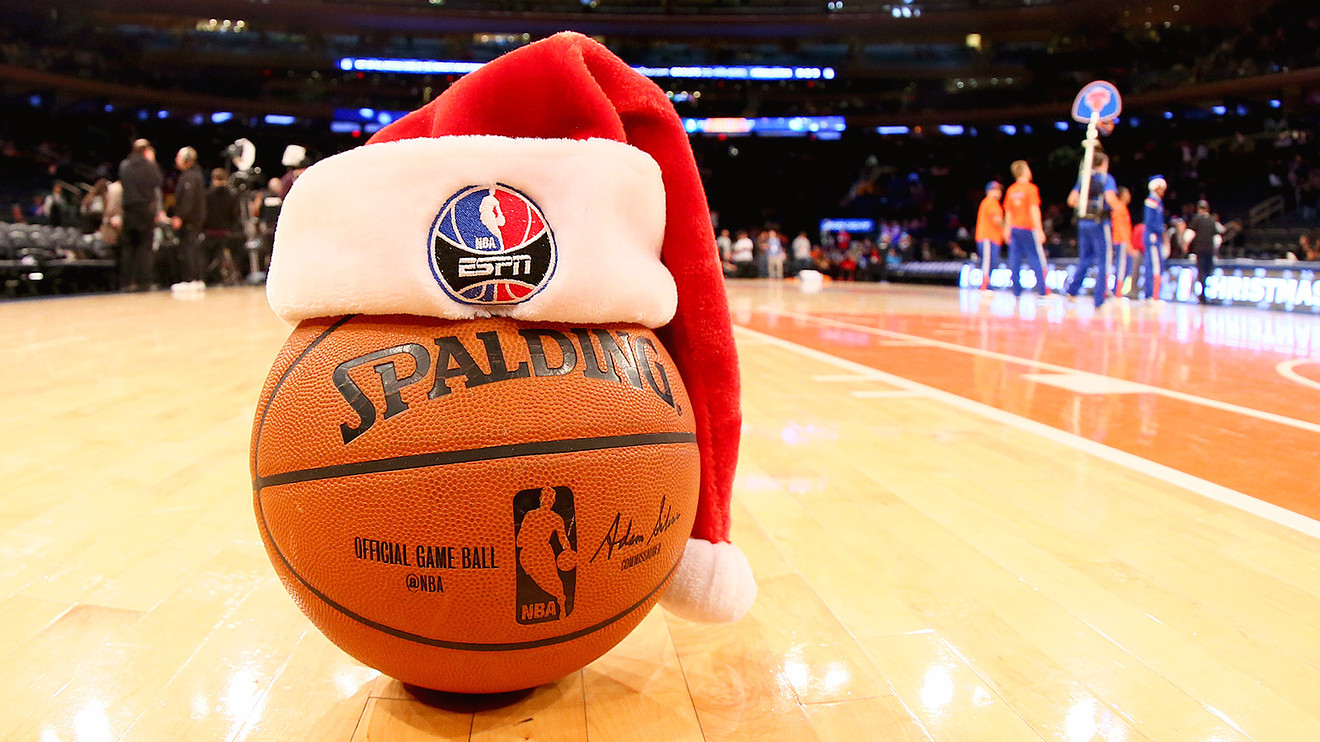 Merry Christmas. We're about 40% of the way into the NBA season, and we're right around the start of conference play in college ball. It's time to take some stock of where everyone stands in each, and then we'll take a look at some plays for the Christmas slate.
NBA
Let's do some simple tiers here.
Fighting for the bottom three
Pistons
Hornets (2 games ahead)
Rockets (2.5 games ahead)
Spurs (3.5 games ahead)
These are your bottom four in net rating by a significant margin, and they were all supposed to be pretty far down in the standings. A few more signs of on-court progress might be welcome, especially in Detroit, but no one in this group is all that upset to be here.
Still relatively bad, but they're looking better
Magic
Thunder
The Magic have won eight of ten and are playing some pretty good basketball. They're only 2.5 games out of the playoffs. Oklahoma City has been much improved defensively, and they're only 2 games out of the playoffs in the West. It would still be an uphill battle for either team to a make a play-in appearance, but they're both showing clear signs of progress from years past.
Disappointing play-in contenders
Lakers
Wizards
Bulls
All three teams are pretty bad and boast below average offenses and defenses. All three were also probably looking at the play-in as their realistic goal, especially with all the built-in issues from a general lack of roster-wide talent to Lonzo's injury to Washington's durability to AD's propensity for injury to LeBron being almost 40. And things have gone pretty poorly for all three. AD and Kristaps Porzingis have both been quite good, but these teams aren't good or healthy. Chicago has all sorts of locker room noise, and trade rumors abound in Washington and Los Angeles. The play-in is still within reach with the Lakers and Wizards 2.5 games out and the Bulls just half a game out, but it's hard to see any of these teams ending their season with anything better than an early postseason exit.
Play-in contenders that wanted more
Warriors (11 West, 6 back of top, 1 back of play-in, 3 back of top 6)
Timberwolves (10 West, 5 back of top, 2 back of top 6)
Raptors (10 East, 8 back of top, 3 back of top 6)
Heat (9 East, 7 back of top, 2 back of top 6)
Hawks (T-7 East, 6 back of top, 1 back of top 6)
Trail Blazers (T-8 West, 4 back of top, 1 back of top 6)
The Warriors can't play defense, don't have depth, will be without Steph for at least another few weeks, and have been a brutal 3-16 on the road. The Timberwolves are somehow worse on both sides of the court after trading for Rudy Gobert, have injury issues of their own with KAT, and have struggled to get consistent quality play from Anthony Edwards and D'Angelo Russell. The Raptors are fine, but they're just very mediocre despite Pascal Siakam's fantastic start to the year. Scottie Barnes isn't what they need him to be yet. The Heat's offense is dreadful. The Hawks finally have a competent defense, but their offense has fallen into below-average territory, and there's been noise coming out of their locker room too. The Blazers just aren't stopping anyone. All of these teams had, to various degrees, dreams of making some sort of noise in the playoffs. It's not looking all that likely that any of them will.
Pacers
Jazz
Both teams have their flaws. The Jazz can score with anyone but will also let just about anyone score with them. The Pacers are a little below average on both sides and overall. But both teams are also significantly better than they were supposed to be, and they've sustained it long enough to remove doubt. The Pacers are a decent enough team, one that could certainly find themselves in a playoff spot. The Jazz have a great offense, and they could make their way into a playoff series too. Lauri Markannen, Jordan Clarkson, Tyrese Haliburton, Benedict Mathurin, and more are stepping up.
Good teams with some work to do
Mavs
Clippers
Nuggets
The Mavs have a whole lot of Luka and not a whole lot else, which tends to be a non-working formula come playoff time. Significant roster improvements are a little difficult to imagine, but they may be necessary to make this team something more than a threat to win a playoff series or two. The Clippers have been excellent with Kawhi, but keeping him healthy is a challenge in and of itself at this point. Concerns about chemistry and flow will fade if he plays regularly over the next few months, but they're there right now. The Nuggets have the best record in the West, but they sit outside of the top 10 in net rating, which has been a common theme for them the last few years. They're currently well on pace to finish at least three games above their expected record for the third time in five years. Nikola Jokic is ridiculous, but Jamal Murray could be much better, the team can't play defense, and Michael Porter Jr is up there with AD and Kawhi in the "will he be playing next week?" crew.
They're legitimately good
Kings
Knicks
The Kings and Knicks are legitimately good. The Kings can score, and their defense is bad but not terrible. And the Knicks have it rolling on both sides of the court, ranking in the top ten in both offensive and defensive rating. Neither team was expected to contend for a title this year, and that hasn't really changed. The Kings defense will likely leak too much in the playoffs, and the Knicks just don't have a true star-level player. But they're both among the six best teams in their respective conferences thirty games in, and there's a fairly decent chance they stay there the rest of the way.
Bucks
Celtics
Nets
Cavs
Suns
Pelicans
Sixers
Grizzlies
These eight – not in the order shown above – are the top eight in both SRS and net rating, which tends to be a good place to be for playoff success. All eight have the pieces for deep playoff runs, and all eight are headed towards seeding that will put them in relatively favorable positions, at least in the first round. If I had to rank them today in order of their title chances, I'd go with…
Bucks
Celtics
Grizzlies
Pelicans
Cavs
Sixers
Nets
Suns
but there arguments for and against all of them.
Milwaukee has the best player in the world, two more top 30 players at their best, a defensively dominant Brook Lopez, and a deep supporting cast, but they will need to get Khris Middleton firing on all cylinders again to have their best shot at a second title.
Boston has an awesome rotation, a true superstar in Jayson Tatum, a very strong second option in Jaylen Brown, and great versatility, but they've looked very vulnerable lately.
The Grizzlies have some helpful experience from last year and a strong supporting cast for their dynamic playoff star in Ja, but the offensive efficiency has been a little questionable so far.
The Pelicans lack deep playoff experience, but they have a deep roster with some great two-way support pieces and a ton of offensive talent. They're in the top six in both defensive and offensive rating.
The Cavs also fall short on experience beyond Kevin Love, but Donovan Mitchell has been a much-needed go-to scorer offensively. He plays alongside another really good guard in Darius Garland too. With Evan Mobley and Jarrett Allen anchoring the defense, the roster composition looks really good in Cleveland. How will the offense fare when the margins thin in the playoffs?
The Sixers have a game-changing force in Joel Embiid, and they're seeing the promise of James Harden realized so far this year. Tobias Harris and the perimeter shooting have delivered too. But questions remain around the league's 15th ranked offense.
The Nets have a ton of star power, and they've looked really good lately. Not many teams rank in the top ten in both offensive and defensive rating. There's a strong connection between that improvement and the significantly better play of Ben Simmons. It's still a little hard to see the depth and the rotation come together for a championship run, but the Nets shouldn't be ignored.
The Suns have a lot of questions to answer, from Chris Paul's aging game to Cam Johnson's absence to the whole Jae Crowder situation to the relationship with DeAndre Ayton, and the defense is starting to show some cracks. But this team can score, and Devin Booker is really quite good.
CBB
This won't be the deepest analysis you've ever seen, but let's run through a basic conference-by-conference look at the tourney picture ahead of conference play.
Bids: 1
Favorite: FGCU
Jacksonville has a win over VCU. Liberty beat Bradley and has looked solid. Lipscomb won't go down easy either. But 10-3 FCGU, with wins over USC and St Bonaventure, has had the most impressive start to the year. They host Jacksonville in an interesting one on New Year's Eve.
Bids: 1
Favorite: UMass Lowell
UMass Lowell is 12-2 with losses to Rutgers and Rhode Island by 10 total points. But Bryant, UMBC, and Vermont, even in a down year for the Catamounts, have postseason experience and will be nipping at their heels.
Bids: 3-4
Likely tourney teams: Houston, Memphis
Spot contenders: UCF, Cincinnati
Houston is all but a lock. The better question there is how many losses they can afford without dropping seed lines. Memphis has been impressive against a solid schedule and looks to be in solid shape as well. It's possible that both UCF (9-3) and Cincinnati (9-4) got enough done in the non-con to leave the door open for both, but neither has a particularly impressive resume. With so few opportunities to pick up quality wins in the AAC and Houston being so hard to beat, it'll likely be a tightrope walk to see both go dancing. ECU is also 9-4, but they have some pretty shoddy losses and only beat Toledo and South Carolina. It would take an impressive conference run for them to get there. Others can theoretically get the job done with nearly flawless conference records (Wichita State has been competitive against a good schedule), but that seems unlikely.
Bids: 1-3
Likely tourney teams: ?????
Spot contenders: Fordham, Duqesne, UMass, VCU, Dayton, Davidson, St Louis, maybe even Richmond and George Mason and St Bonaventure and Loyola Chicago?
It's been seven straight tournaments of either two or three teams for the A10, so odds are that trend continues. It's a solid conference that should garner multiple bids. But it's also looking a little fragile this year. I honestly have no idea how these teams will stack up in a few months. KenPom doesn't love the A10 right now. Only Dayton (59) is in the top 60, and only St Louis (74) and Richmond (98) join them in the top 100. Dayton (83) is the only team in the top 100 in the NET rankings. Dayton is 8-5 and lost to Virginia Tech by 28. Are they good? Probably not. Fordham is 12-1. Their best win is…Tulane? Harvard? Duquesne is 10-3. Their best win is either UC Santa Barbara or New Mexico State. UMass is 9-3. They look pretty solid. VCU looks alright. St Louis and Davidson have had a rough few weeks. Richmond has already lost by 20+ twice. Loyola Chicago does not look good. St Bonaventure has lost five of six, all to mid major opponents. It's a bit of a mess in the Atlantic 10, but that means there are spots up for grabs.
Bids: 7-9
Likely tourney teams: Miami, Virginia, Virginia Tech, Duke
Spot contenders: UNC, Clemson, NC State, Pitt, Wake Forest, Georgia Tech, Notre Dame
It could be a nice year for the ACC. After sending 7, 7, and 5 teams dancing the last three tournaments, I think they can top that this year. Miami is 12-1 and playing some really good basketball. Virginia has played too many close games for true contender comfort, but they're already starting to hear the music after wins over Baylor, Illinois, and Michigan. Virginia Tech suffered a brutal loss to Boston College the other day, but they're 11-2 with some solid wins. They should get the job done. Duke and UNC have some work to do to contend for titles, but they're both solid and, to be blunt, would be shock omissions from the tournament even if they were near the bubble. That narrow loss to South Carolina and the bizarre blowout loss to Loyola Chicago aren't ideal, but Clemson is in solid position at 10-3 (2-0). And NC State is 11-3 and looking pretty solid as well. That's seven right there, and a resurgent Pitt and Wake Forest are certainly threats to make it to the Big Dance. Both Georgia Tech and Notre Dame would need some impressive runs to get there, but the door is theoretically open.
Bids: 6-8
Likely tourney teams: Kansas, Texas, Baylor, TCU
Spot contenders: Kansas State, West Virginia, Texas Tech, Iowa State, Oklahoma, Oklahoma State
Six or seven has been the magic number in the Big 12 every year since 2014, but there are an awful lot of quality teams in the conference this time around. Some teams do have to fall off the pace, but eight, which would be a conference record, is theoretically possible if things break right. Kansas is in. Texas is in. Baylor has already beaten UCLA and Gonzaga and doesn't have a bad loss yet, so it's hard to see them slipping anywhere near the danger zone. TCU has been suspect and have the ugly loss to Northwestern State, but it's hard to dismiss the 10-1 record and the wins over Iowa, Providence, and Utah. All four were expected to go dancing without any stress heading in, and all four are still on pace to do that.
The rest depends on how other teams respond to the conference slate. Kansas State is 11-1 with wins over LSU, Nebraska, Nevada, and Wichita State, but they're about to see a step up in competition. West Virginia steamrolled Pitt and Florida and only lost to Purdue and Xavier on the way to 10-2, but they went 4-14 in Big 12 play after a 12-3 start last year. Will a mostly new roster produce a new result? Texas Tech has played in the last four tournaments, but they beat who they should have and lost to Ohio State and Creighton in the non-con. We don't really know what they are. Iowa State is 9-2 but got smacked by UConn and Iowa. Then there's the two Oklahoma teams, who might both be pretty good despite the losses they've picked up. All ten teams could make it, but not all ten will. I'd bet on the likely four and WVU to do it. The other spot (or two or three) are up for grabs.
Bids: 4-7
Likely tourney teams: UConn, Xavier, Marquette, Providence
Spot contenders: Creighton, Villanova, St Johns, Butler, Seton Hall
The seven might be a little optimistic here, but we'll roll with it. UConn is a lock. They've beaten everyone they've played by double digits. Xavier has three losses: Indiana, Duke, and Gonzaga by single digits. They've beaten Florida, Cincy, West Virginia, and Seton Hall and are looking good. Marquette smashed Baylor, and their four losses have all come by 5 or less points to likely tourney teams. That does put them a little short on other quality wins, so there's work to do. But they're on pace to get in with few worries. And Providence just beat Marquette in OT. They're in a similar situation where they'll need to keep winning games, but they should be able to do it.
The rest of the conference is a bit of a question mark. Creighton looked great at 6-0 with wins over Texas Tech and Arkansas, but they're now 7-6 (1-1). They don't have any terrible losses, but can they go like 13-7 in conference play to put themselves in a decent spot? I don't know. Villanova has largely looked awful, but they're 7-5 with wins over Oklahoma and St Johns. They're far from dead if they can get the train on track in conference play. St John's is 11-2, but the loss to Villanova this week was discouraging. Syracuse and Nebraska won't do for your best wins. They have some work to do. Then there's Butler and Seton Hall, who are both just about already hanging by a thread after 0-2 conference starts. They'd need a pretty quick rebound that would be hard to see happening. It's not shaping up to be a great year for the Big East in terms of volume of bids. Of course, a four bid year would be the fourth of the decade, so it wouldn't exactly be a disaster either. And they should at least get four.
Bids: 1
Favorite: Montana State
Montana State is the only team above .500 in the conference right now at 7-6. They are 42 spots higher than the next closest team in NET, coming in at 124. They are 34 spots higher than the next closest team on KenPom, coming in at 147. I won't profess to be a Big Sky expert, but they appear to be the clear favorite to grab the bid, which would be their second in a row.
Bids: 1
Favorite: Longwood
A repeat bid for the Longwood team that returned about 75% of last year's production is probably the most likely outcome here. They lead the conference in NET and on KenPon, and they're 8-5. High Point (8-4) is also worth paying attention to. They picked up a nice win over Furman and also beat Wofford. UNC Asheville is also 8-5, and they beat UCF in their opener. Don't sleep on Radford or Gardner-Webb either; both have played some good teams close. Winthrop has been a threat in years past, but they look shaky this year.
Bids: 7-10
Likely tournament teams: Purdue, Indiana, Illinois, Wisconsin
Spot contenders: Maryland, Ohio State, Michigan State, Northwestern, Rutgers, Penn State, Iowa, Michigan
The Big Ten has never hit double digit bids, but it's not impossible this year. This is a deep conference that should send quite a few teams on to the postseason. Purdue is the #1 team in the country and a lock. Indiana is 10-3 with two top 5 losses and wins over Xavier and UNC. Illinois is 8-4 (0-2) with two losses of 15+ in their last three games, but they've beaten Texas and UCLA. It'll be hard to not make it with those wins barring total collapse. Wisconsin is 9-2, and they beat Iowa, Maryland, Marquette, USC, and Dayton. They should make it too. Greg Gard just keeps making it happen.
The question is how many teams can join them. Maryland beat Illinois, Miami, and St Louis, but they lost three in a row after their 8-0 start, including a thrashing at the hands of UCLA. All three losses came to ranked teams, but they'll need to bounce back. Ohio State is sitting pretty at 8-3 with wins over Rutgers, Texas Tech, and Cincy and no bad losses, but they'll need to keep winning. Michigan State's win over Kentucky carries some solid weight, and their recent win at Penn State is a good sign that they'll compete for conference wins. Northwestern is 9-2 and looking rather good, 29-point loss to Pitt notwithstanding. Rutgers beat Indiana and Wake Forest and still has the advantage of the RAC. The loss to Temple isn't ideal, but they can overcome it. Penn State is playing pretty well, though they missed a huge chance against Michigan State. They're 9-3, don't have a bad loss, and beat Illinois by 15. Iowa suffered a brutal loss to Eastern Illinois the other day, but they beat Iowa State, Clemson, and Seton Hall, and can get in with a solid but unspectacular conference showing. Even Juwan and the Wolverines can get in. They have zero bad losses and lost to Virginia, Kentucky, and UNC by 10 total points. They also have maybe 0.65 good wins depending on how you score a road win over Minnesota and a neutral site win over Pitt, though the latter is picking up some steam. There's quite a bit of work to do for Michigan, but they're far from done.
Nebraska did beat Creighton. I'm still not putting them on this list. I did look them up to scroll through their schedule though, which caused me to realize that Fred Hoiberg is still their coach. Maybe this is the year he wins five Big Ten games! He's been slowly counting up. 2, 3, 4…
Bids: 1
Favorite: UC Santa Barbara
The Gauchos (apparently a Gaucho is a South American cowboy) are 9-2. They haven't really played anybody of note and lost to a pretty bad Northern Arizona team, but that's alright. UC Irvine is usually solid, and they're 7-5 with wins over Oregon and New Mexico State. They did lose to Pepperdine and Fresno State, who both lost to UCSB. Hawaii is also looking pretty good. They're 8-3 with a win over Washington State and two one-possession losses. They also, believe it or not, played Pepperdine. Pepperdine has played four members of the Big West and would have played a fifth if not for their game against Cal Poly not happening because of health and safety protocols. In another crazy twist, Cal Poly posted on their website at 11:37 AM on November 29 that the game "was not expected to be rescheduled". Then, at 12:03 PM, Pepperdine posted on their website that "both teams are actively working to reschedule the contest". There have been zero updates form either side since, which is fantastic. Pepperdine actively worked to reschedule the contest by calling the Cal Poly AD, who actively worked to reschedule the contest by having a phone that could theoretically receive a call. And then he got the call and said "no". Anyway, if we were to rank the Big West by one of my favorite basketball ranking systems – the What Was Your Margin Of Victory In Games Against Pepperdine Scale – we'd end up with this –
1 Hawaii: +6
T2 UCSB, UCSF (Cal State Fullerton): +3
3 Cal Poly: +1 for the power move that was cancelling the Pepperdine attempt to reschedule the game before it even happened
4 UC Irvine: -9
Bids: 1-2
Favorite: Charleston (at-large bid theoretically possible)
The CAA has some good teams. Towson beat UMass and started the year 8-1. Hofstra has beaten Princeton, Iona, and George Washington. Delaware has beaten Princeton and Davidson. And UNC Wilmington crushed Jacksonville and beat High Point and Vermont on the way to 10-3. But Charleston is 12-1 with the loss coming against UNC. They've beaten Chattanooga, Davidson, Richmond, Virginia Tech, and Kent State. The win over Virginia Tech is especially impressive. It would take a lot more work to get an at-large bid. We're talking a 15-3 conference record at a minimum, which would put them at 27-4 heading into a conference tournament where they would then lose a fifth game. There are a lot of potential bad losses on that schedule. It'd be better to secure the auto bid. But it's not out of the question that they do win 15+ conference games at this point, and that could leave the door open. They're knocking on the door of the top 50 in NET already. The issue, again, is that there are so many more bad losses to be had than good wins. A loss to Elon or Hampton torpedoes a lot of good momentum.
Bids: 1-4
It is probably much more likely that we see the Conference USA get one bid rather than two, never mind three or four. But there's also a nonzero chance that Florida Atlantic, UAB, and North Texas all find themselves in position to receive an at-large bid. Multiple bids haven't happened here since 2012, when Memphis was still in the conference. But FAU is 13th (!!!!) in NET after an 11-1 start that featured a win over Florida, ten double-digit wins, and a 32-point beatdown over FGCU. Their only loss came to Ole Miss. Both North Texas (42) and UAB (52) are within range of at-large territory too. North Texas is 10-2 with wins over UMass and Grand Canyon. They got smacked by St Mary's in a 33-63 loss, but they could realistically win a lot of conference games. So could UAB, another 10-2 team. They beat Georgia and have only lost to Toledo and West Virginia. All three play each other twice (and FAU actually plays UNT and UAB in their next two games). Is it possible we see them get to 15-16 conference wins? Maybe. This is a decent conference. Louisiana Tech, Charlotte, Western Kentucky, Rice, Middle Tennessee, and UTEP are all solid. Wins won't come super easy. But if they get them, and even two of these teams are roughly 25-6 (16-4)…that's probably worthy of a very long Selection Sunday discussion at the very least.
Bids: 1
Favorite: UWM
I am officially declaring the Panthers of Milwaukee the Horizon League favorites. This is going to be an absolute crapshoot of a conference tournament when we get there. Northern Kentucky will always be a threat to take it. Cleveland State is erratic but good when they're on. Detroit Mercy is 30-20 at home and 20-56 anywhere else under Mike Davis, which means they should probably try to get the whole tournament played in Detroit. On a related note, what the heck is going on in that gym when Detroit Mercy plays home games? Youngstown State and IPFW both look pretty decent at 9-4. Wright State is lurking despite the 0-2 conference start. And UWM has been very competent on the way to 8-4 (2-0).
Bids: 1
Favorite: Yale
The Ivy tournament should be fun this year. Yale is probably the clear favorite; they almost beat Colorado and lost to Butler and Kentucky by 10 each in their only three losses. But Cornell is 9-3 and pushed both Miami and Boston College to the last seconds. Princeton is 9-4 with four losses of 7 or less points. And Harvard beat UC Irvine, Siena, and Loyola Chicago.
Bids: 1
Favorite: Iona
This is Iona's conference tournament to lose. Rick Pitino and Co. were the favorites heading in last year and exited unceremoniously, and the obvious goal will be to avoid that fate this time around. Siena will be dangerous. They beat Florida State and Seton Hall. Quinnipiac has shown a knack for winning close games so far too. But this is Iona's to take. Bottom line. The pressure is on.
Bids: 1
Favorite: Kent State
It has to be Kent State in the MAC. They're 10-3, and they were with Charleston, Houston, and Gonzaga every step of the way in those losses, which came by a combined 14 points. But there are a lot of teams capable of winning some games in the MAC. Toledo beat UAB and has been knocking on the door with conference records of 13-5 or better four of the last five years. Might they finally get in? Ball State doesn't have much in the way of impressive wins to their name, but they are 8-4 with three losses of 5 or less points. Ohio was really good last year and could snap into gear. Buffalo has a few big losses, but they also beat George Mason and St Bonaventure. Akron punched their ticket last year, and they have double digit wins over Wright State and Western Kentucky on the way to 7-5.
Bids: 1
Favorite: Norfolk State
Norfolk State has represented the conference in each of the last two tournaments. They're 9-5. North Carolina Central is 6-7, good for third in the conference by winning percentage, and they went dancing for the MEAC in all three tournaments before the last two. That's five in a row for one of these two teams. If I had to guess, I'd say it'll one of them again. They play during the regular season on January 30 and February 27.
Bids: 1
Favorite: Drake
This is another conference where a ton of teams could hold reasonable expectations of winning the conference tournament. Drake is 10-3 with a win over previously undefeated Mississippi State, but they also somehow lost by 30 to an underwhelming Richmond team and are 1-1 in conference play after dropping a close one to Indiana State. Indiana State is 9-4, but they were 9-1 two weeks ago and didn't exactly play Arizona, Kansas, and Duke in the interim. The loss to Northern Illinois looks especially bad. Bradley is 9-4 with two double digit conference wins and a 19-point win over Akron, though they didn't look particularly impressive against some of the better teams on their non-conference slate. New members Murray State and Belmont both have plenty of postseason experience from the OVC, and they both have some solid wins on the year too. Southern Illinois beat Oklahoma State and is 9-4. They've been .500 or better in conference play six out of the last seven years and won't be an easy out.
Bids: 2-5
Likely bids: New Mexico, UNLV, San Diego State
Bid contenders: Utah State, Boise State, Colorado State, Nevada, San Jose State, Air Force
Three bids would be a really good year for the Mountain West, so it feels a little bold to have that be their minimum number here. Before sending four teams dancing last year, they had sent just one or two to six of seven tournaments. I do think they can send at least three this year though. You figure a record of 22-8 or so probably leaves you in decent shape. New Mexico is 12-0 with wins over Iona, San Francisco, and St Mary's. They can go 10-8 in conference play. UNLV is 11-1 with wins over Southern Miss, Washington State, Hawaii, Dayton, and Minnesota. Their loss came to San Francisco by just two points. They can go 11-7. 10-2 Utah State, who beat San Francisco by 18 and Santa Clara and Bradley by 22, could go 12-6. Boise State is 10-3, and they beat Washington State, St Louis, Texas A&M, and Colorado. Nevada is 10-3 too, and they've beaten Akron, Grand Canyon, and a good San Jose State team. San Diego State is 9-3, and they beat Stanford, BYU, and Ohio State while only losing to Arizona, Arkansas, and St Mary's. Even Colorado State is alive at 8-5 with their wins over Loyola Marymount and St Mary's, though the loss to Northern Colorado hurts. San Jose State and Air Force are both theoretically alive for at-large bids by record (9-4), and San Jose State did beat Santa Clara. But it'd take an unexpected turn of events for either one of them to be good enough to pick up the required wins in conference play. Not all of these teams will get to 20 wins, and history suggests they'll want a few more than 20 to feel safe. But there's a lot of good teams in the Mountain West, and at least a few of them will get the wins they need to go dancing.
Bids: 1
Favorite: Wagner
Wagner has gone 13-5 in conference play two years in a row only to fall short in the conference tournament. They were smoked and played around with during a 43-70 demolition at the hands of Peter Kiss and Bryant in last year's NEC championship game. There's reason to want to win it this year. On the other hand, former coach Bashir Mason is now at St Peter's and only 30-40% of last year's production returned, so maybe those scars aren't still around. Who knows. They're the favorite here either way. At 7-4, they're the only team in the conference with a winning record.
Bids: 1
Favorite: SIU Edwardsville
Belmont and Murray State had won four of the last five conference tournaments in the OVC, and neither is around anymore after their move up the alphabet to the MVC. I have questions about the geographical significance of the Ohio and Missouri valleys (are these real valleys?), but that's not important. I think SIU Edwardsville is the favorite here. They just beat St Louis. They were a bucket away from beating Bradley. They're also 59 spots higher than the next best OVC team on KenPom, and 118 spots (!!!) higher than the next best team in the NET rankings. Case closed. This has never been a particularly deep conference. We'll need to see way more sustained winning from Tennessee Martin or Tennessee Tech to trust either of them, though both look decent so far. Morehead State has been rather underwhelming.
Bids: 3-6
Likely bids: Arizona, UCLA, Arizona State
Bid contenders: USC, Washington, Utah, Colorado?, Oregon?, Oregon State?
I'm physically shaking my head at the fact that the Pac 12 has managed only three bids in three of the last four tournaments. What kind of Power 5 conference is this? They had less bids last year than the Mountain West! Arizona (Tennessee, Indiana) and UCLA (Maryland, Kentucky) have picked up some nice wins in December, and they're both more worried about seeding than the bubble. Arizona State is 11-2, which should have them feeling good. They crushed Michigan and beat Creighton, VCU, Colorado, and Stanford. But are any of those wins really that good? And how about that loss to 3-9 Texas Southern? Or the 37-point surrender against San Francisco the other day when they were down a starter? I'll stand up for the Sun Devils. I think they should have been ranked higher than #25 being 11-1. But there's absolutely a world in which they get smacked by Arizona on New Year's Even and spiral onto or even off of the bubble. They're 44th in NET, which isn't bad. But there's also not a whole lot of room for error there.
The rest of the conference is a mess. USC just isn't that good. They're 87th in NET and lost to FGCU. That win over Auburn will help if they can put up a respectable conference record though. Washington lost to Gonzaga by as much as Montana and Kent State combined. They did not beat Auburn (they lost 61-84). The also lost to Oregon State, but at least it wasn't California Baptist (unfortunately they did also lose to Cal Baptist). On the bright side, they're 9-4, and they did beat St Mary's. Utah has the massive win over Arizona and a very plain resume outside of it. They're probably in as good a position as anyone outside of those top three in the conference. Colorado is insane. They lost to Grambling State. Then they beat Tennessee, whose only other loss is Arizona. Then they lost to UMass. Then they beat Texas A&M by 28. Then they lost to Boise State by 13, blew a huge lead against Arizona State, and lost to Washington by 10. Then they beat Colorado State by 28. There's no way they play with enough consistency to make the tournament, but that win over Tennessee could theoretically plug a lot of holes. Oregon is bad. Oregon State is bad. On the other hand, Oregon and Oregon State might be good enough to piece together some wins in the Pac 12. Will those efforts be enough to save 7-6 records with few good wins attached to them? Probably not, but, for now, there's hope.
Bids: 1
Favorite: American
American is 8-3 and beat Georgetown, for however much the latter is worth (probably not much). Navy also looks like a threat. They've beaten Towson, Princeton, and Youngstown State on the way to 7-5. Boston and Bucknell are both 7-6, but neither has done anything of note. The real wild card here is Colgate. They've made the last three tournaments, though that streak would have been interrupted by a narrow conference championship game loss in 2020. They're 6-7 this year, which is not great. But they also beat Syracuse, and they might just run through the conference again. Time will tell. This also brings up the fact that Colgate has now beaten Syracuse twice in a row after losing the previous 54 games of their series, a losing streak that went all the way back to 1963.
Bids: 7-9
Likely tourney teams: Tennessee, Arkansas, Alabama, LSU, Mississippi State, Missouri, Auburn, Kentucky
Spot contenders: Georgia, Ole Miss, Florida, Texas A&M
Shoutout to the SEC. They've sent at least six teams to the last four tournaments after failing to hit that number the previous nine years, including the first five years after their move from twelve to fourteen teams. And they're looking set to do it again without breaking a sweat. This is a good conference.
Tennessee is 10-2 and ranked in the top 10. They've beaten Butler, USC, Kansas, and Maryland, and their only enemy is the Pac 12, which is somehow an overtime USC loss away from having a joint 3-0 record against one of the better teams in the country. The Vols are only worried about seeding. Arkansas is 11-1 and ranked in the top 10. They beat Oklahoma and San Diego State, and their only loss came by 3 points to Creighton. The Hogs are only worried about seeding. Alabama is also 10-2 and ranked in the top 10. They beat Memphis, Houston, UNC, and Michigan State. They'll live with losses to Gonzaga and UConn. The Tide are only worried about seeding.
LSU is 11-1 with a win over Wake Forest and the loss coming by 2 points to Kansas State. The resume is shallow, but that's what being 11-1 is for. They should be fine going .500 in conference play, and they can probably do better. Mississippi State is 11-1 too after the loss to Drake. They have a very nice win over Marquette and also beat Utah and Minnesota. They should also need nothing more than a competent showing in conference play. You won't believe this, but Missouri is also 11-1. They did get trucked by Kansas, but trucking Illinois will make up for that. They also have solid wins over UCF and Wichita State and should stroll into March with even or better conference play.
Auburn and Kentucky are pretty good too. Auburn is 10-2 with the wins over Washington, St Louis, and Northwestern. Losses to USC and Memphis won't do much harm. And Kentucky is 8-3 with no bad losses, though they will need to add to the wins over Michigan and Yale. It's hard to see either team missing the tourney.
That's eight teams with really good chances at the tournament. Tennessee, Arkansas, and Bama are in, you have to imagine at least two of LSU, Mississippi State, and Missouri get there, and, again, you wouldn't pick Auburn or Kentucky to miss out. If that all goes according to plan, there probably aren't enough wins for other teams, but there are a few poised to take advantage if someone stumbles. Georgia might be first on that list. They're 9-3, and they've avoided bad losses. They'll need an impressive conference showing to get in, but it's possible. Ole Miss is 8-4, but they'd be much happier if they were 9-3 without the loss to North Alabama. The win over FAU might end up being a great one, but the Rebels will need a lot of SEC wins. So will Florida. At 7-5, the Gators are kind of like Michigan. They don't really have a bad loss, but they also have very little in the way of good wins. Florida hasn't been as competitive in their losses either. Then there's A&M, who doesn't appear to have carried over last year's late-season momentum. Losses to Wofford and Murray State aren't terrible but won't do them any favors, and the wins aren't really there yet either after a few missed opportunities against Memphis and Boise State.
Bids: 1
Favorite: Furman
Is this finally the year for Furman? They've won double digit conference games in seven straight seasons, topping twenty overall wins in six of those years, and they have zero tourney appearances to show for it. They also only have one (shared) regular season conference championship across those years, so this isn't a case of a team consistently choking as much as it's a team that's consistently been good and yet just not good enough. They're 9-4 on the year and have lost three games by 5 or less points. Chattanooga will challenge for the crown again; they're 8-5 with four single digit losses. Wofford is also 8-5 and just beat Texas A&M. But this should be Furman's turn at the top.
Bids: 1
Favorite: Northwestern State
Northwestern State is 8-4, just lost to Baylor by 10, and beat both TCU and Southern Miss. They are 156th in NET, 51 spots ahead of the next best Southland team. Potential challengers include 6-6 Nicholls State, who has lost to Mississippi State by 2 and Texas Tech by 7 so far this month, and Texas A&M-Corpus Christi, who is also 6-6. And there is your monthly Texas A&M-Corpus Christi analysis.
Bids: 1
Favorite: Grambling State
Grambling State is 6-5 and beat Colorado and Vanderbilt. They're 69 spots ahead of the next SWAC team in NET and 10 spots ahead of the next team on KenPom. The biggest threats are probably Texas Southern (3-9) and Southern (4-9). Texas Southern beat Arizona State and has played six tournament teams and Wichita State so far. It's an approach they've used before, and it's worked to the tune of six tourney appearances in their last eight tries. Southern played Youngstown State tough and beat Cal. Unfortunately for Cal, it's not really clear which of those performances was more impressive.
Bids: 1
Favorite: Oral Roberts
St Thomas can't go dancing until 2026, so they're off the table here. Oral Roberts looks pretty good. They're 10-3. They just smashed South Dakota State. They beat Liberty and played fairly well against St Mary's and Utah State. Max Abmas is still around. They're the pretty clear favorites here. Western Illinois and Denver are also above .500, though neither looks particularly threatening. South and North Dakota State(s?) both look to be having down years. There's an open road in front of Oral Roberts.
Bids: 1
Favorite: Marshall
There is a world in which Southern Miss earns an at-large bid. They're 30th in NET. They're 11-2. They've only lost to UNLV and Northwestern State (by 2). They would probably need to go 16-2 at the worst to get to 27-4 before an additional loss in the conference tournament given the lack of quality wins (Vandy is the best for now), but let's say that's possible. I just don't think it's worth taking into account. I think Marshall is better. Their two losses are worse, but they've beaten Toldeo, Ohio, Akron, and Duquesne. Louisiana Tech is also 10-2, and they've beaten Harvard, Louisiana Tech, and SMU. Their losses came to Texas and Drake. James Madison is 9-4, has scored 90+ points nine times, and also hung with Virginia in a game that only included 105 total points. Old Dominion has wins over Furman, ECU, and George Mason and is 8-4. Troy almost beat San Diego State and is 8-5. Twelve of fourteen teams in the conference are above .500. It should be a slugfest of a conference season, which is exactly what at-large hopefuls want to avoid in these conferences. The Sun Belt will give one team to March.
Bids: 2-4
Likely tournament teams: Gonzaga, St Mary's
Spot contenders: San Francisco, Santa Clara, BYU, Loyola Marymount
Four would be a record for the West Coast, and it's not super likely. But it's theoretically possible with six teams at 10-5 or better and Gonzaga both already a lock and looking a little extra vulnerable. The Zags are going to make the tournament. They've beaten Michigan State, Xavier, Kentucky, and Alabama, Washington, and Kent State. There's no question there. The question is who will join them. St Mary's should. They've beaten Oral Roberts, North Texas, Vandy, New Mexico State, and Wyoming, and they've avoided bad losses. They're 16th in NET. Barring chaos, they're in.
The others have some work to do, but games against those first two will offer opportunities. San Francisco is 11-4 and has some really nice wins over Arizona State and UNLV. The loss to UT Arlington stings though. Santa Clara is 12-3 and just knocked off Boise State to add to wins over UC Irvine and Iona. They will need to beat Gonzaga or St Mary's at least once if not twice. Loyola Marymount beat Nevada and Wake Forest on the way to 10-4. They'll need some wins too, but the door is theoretically open. Then there's BYU, who beat Creighton, Dayton (rhyme), and Utah but also lost to South Dakota. A win over Gonzaga or St Mary's would go a long ways for them too. The most likely scenario is that one of these four does enough to get in while the Zags and Gaels beat up on the rest of the conference, but there's always a chance for more.
Bids: 1-2
Favorite: Sam Houston State
I love Sam Houston State. They've beaten Oklahoma and Utah on the way to 10-2. That's two Quad 1 wins, and both of their losses (Nevada, Oklahoma State) are Quad 1 as well. They're 20th in NET. Grand Canyon, Utah Valley, New Mexico State, Seattle, and more will make for a tough conference slate, but 25-5 might be enough for this team to get in. I think they're in significantly better shape than Southern Miss.
Total bids: 61-90
And there we are. The numbers above are the cumulative totals of my low-high ranges, with 1-1 being used for any one bid leagues. With 68 teams making it, there's obviously a decent amount of hope out there that won't be realized. Note that the 61 does not just refer to auto bids and teams that I considered "likely tournament teams". The Big Ten, for example, had a range of 7-10 but just four likely tournament teams, which I considered teams that I would feel confident putting in the bracket today almost regardless of how the rest of the season went (this is not to say they'd be in if they lose out but rather that I trust that their realistic worse-case finish is probably still going to be good enough). I think you can pretty reasonably take 8 off the best-case projections for the non major conferences, which would bring the 90 down to 82. If I were to do another "reasonable" cut of the major conferences to their most likely best-case scenario, I'd give the SEC 8, the Pac 12 4, the Big East 5, the Big 10 10, the Big 12 7, and the ACC 8, which would bring the 82 down to 75. That still leaves some room, which doesn't bode especially well for the Michigans, Iowas, Wake Forests, Iowa States, Missouris, and LSUs of the world. Those teams will need to win their games. There are only so many spots available.
TODAY'S PLAYS
NBA record: 58-59-2 ATS, 14-18 ML, 2-6 O/U, 1-6 parlay, 0-1 props, -20.93 units
The Knicks are 3-4 all-time on Christmas Day against the Sixers, who have won two in a row in the series. The last time either the Knicks or Sixers beat each other three times in a row on Christmas? Never. Go Knicks. MSG will be hopping.
The Lakers are so bad.
I don't have analysis for this one. Not that I've had analysis for any of these. Go Bucks.
The Warriors without Steph are bad enough to make up for the fact that they've been really good at home. The Grizzlies will step up into the spotlight. They love it.
There's a 0% chance I will be watching any of this game. Give me points.
CBB record: 38-43-1 ATS, 3-8 ML, 4-2 O/U, 3-2 parlay, -9.2 units
PARLAY: Iona, Utah State, Hawaii MLs (+210)
Merry Christmas