Mike Bets #445
10 min read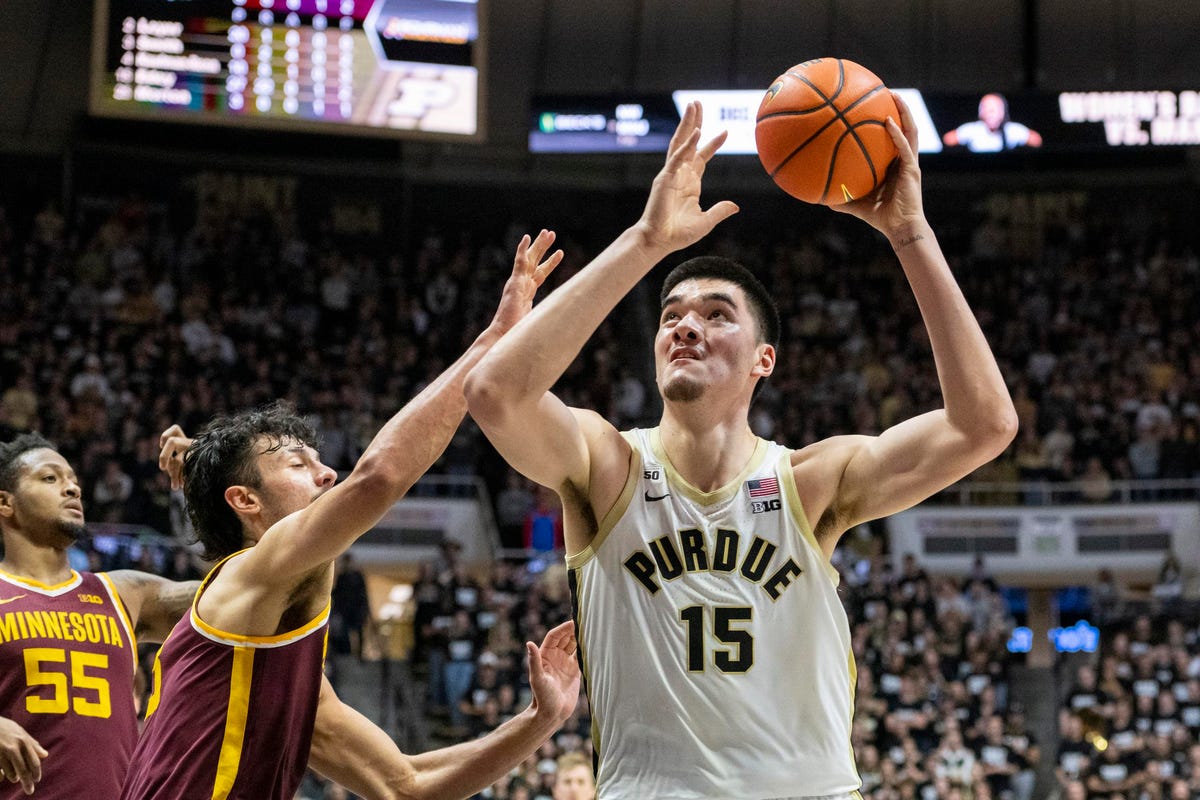 Happy Sunday. Yesterday was a solid day. The NBA record was slightly under at 3-3-1. The CBB record was 9-7, and we were +2.4 units on college ball with the wide variety of plays that were going there. We'll take that any day. Let's keep it rolling tonight. But first, a look at yesterday's action.
NBA
The Sixers held off the Nets in Brooklyn in a low-scoring game. Joel Embiid (37) and James Harden (29) accounted for almost two-thirds of Philly's points. Mikal Bridges dropped 23 to lead Brooklyn in scoring in his debut. He's been scoring at a really nice clip lately, and this is a good start with his new team. Just 59.7% of his twos have been assisted this year, a number more than 10% lower than his previous career low. He's also taking 2.4 more twos per game than his previous career high. The evolution of Mikal Bridges is here. The Sixers are three and a half back of the Celtics (and two and a half back of the Bucks) after the win. Brooklyn falls two and a half back of the Cavs and the 4 seed (and three and a half back of the Sixers). They have just a game and a half on the Heat behind them. The upcoming stretch is huge – Brooklyn's next seven games come against teams currently in the East's top ten. How good are the new Nets?
The Heat came back in the fourth and then outlasted the Magic in OT to pick up a road win. Miami is just a game and a half back of the 5 seed now, and they'll maintain the same amount of separation from the Knicks and the 7 seed behind them. The Magic fall three and a half back of the play-in with the loss. They still have twenty-five games left, which is quite a few, but that huge run that could feasibly give them a shot just doesn't seem to be coming.
Bradley Beal dropped 32, and the Wizards rolled past the Pacers in Washington. The Wizards are the 9 seed, and they have a full game on the Raptors and the 11 seed. A fun Wizards fact – Washington has had all three of Kyle Kuzma, Bradley Beal, and Kristaps Porzingis in just eight of their last thirty-one games. The Pacers will fall two games out of the play-in. Mathematically, their season is far from over. Based on current momentum, they're all but dead. They just keep losing.
The Nuggets started slow, but they eventually got around to taking care of business in Charlotte. The Hornets, for the moment, have sole possession of the league's third-worst record. The Pistons have messed around and won two of five, and that has them on the outside looking in for at least a day. Nikola Jokic produced a 30-point triple-double in the win. The Nuggets have a four game lead over the Grizzlies at the top of the West.
Trae Young scored 24 and dished out 17 assists, and the Hawks beat the Spurs in Atlanta. San Antonio holds on to the league's second-worst record. Atlanta still sits all alone in the East 8 seed.
Julius Randle and Jalen Brunson combined for 69, and the Knicks outlasted the Jazz in MSG. Randle and Brunson have been superb for New York. They're still a game and a half back of the Heat after both teams won last night. The Knicks are 15-15 at home last night. They have twelve games left there. Can they push it above .500? It's been an interesting trend all year. New York has been one of the league's best road teams, but they've been pretty mediocre, if not outright poor, at home. Utah will fall into a tie for the 11 seed, half a game back of the 10 seed. They might not be destined to finish in the top ten after their future-geared trade deadline. Two games against the 10 seed Thunder over the next three weeks will be big.
The Cavs beat the Bulls in a 97-89 rock fight. Only eight players – total across the two teams – managed to score in double figures. Cleveland keeps pace at a game back of the Sixers. Their lead over the Nets and the 5 seed – a key one for first round home court – has grown to two and a half games. The Bulls have a half game lead over the Raptors and the 11 seed after three straight losses.
The Lakers beat the Warriors in a game that featured neither LeBron nor Steph but did include all of the Lakers' recent acquisitions. The Warriors are alone in the 9 seed with half a game on either side. They've lost four of six. The Lakers are still the 13 seed, but they're back within two games of the play-in.
The Kings snuck past the Mavs in OT to split this mini two-game series. This was a big win for Sacramento. They have sole possession of the 3 seed and a two game lead over the Mavs instead of being tied with them. Dallas is tied with the Suns for the 4 seed, with the Clippers half a game back in the 6 seed. De'Aaron Fox dropped 36 to lead all scorers. Sacramento is going to head into the All-Star break with the 3 seed, and they deserve their props. It's been a fantastic season so far.
CBB
Marquette bounced back from the loss to UConn by handling Georgetown. They have a half game lead on Xavier and Creighton at the top of the Big East. Their next two games? Xavier on Wednesday. Creighton a week from Tuesday. The conference crown is up for grabs over the next ten days.
Indiana squeezed past Michigan after the Wolverines went scoreless for more than five minutes at the end of the game. Juwan Howard continues to be a great example of coaching malpractice. It's been unforgivable loss after unforgivable loss this year. This team should be like 18-7 (10-4) with 5+ Quad 1 wins. They should have won at Iowa. They should have beaten Virginia. They should have won last night. There's no world in which they should have lost to Central Michigan. But here we are. Howard should have one more chance at the most. He just has shown zero signs of an ability to make it happen.
Alabama got past Auburn with a strong second half. The Tide are 12-0 and running away with the SEC title. Auburn should be okay, but five losses in six games should have at least a few alarm bells running. They can't lose five of their next six too.
Arizona lost to 11-14 Stanford. That's a tough one. Outside of Purdue, Alabama, and Houston, the one seed battle has been littered with losses from potential takers, so this doesn't necessarily disqualify Arizona from said 1 seed. But this is a really bad loss. It puts them a game and a half back of UCLA at the top of the Pac 12 too.
Texas smashed West Virginia to stay atop the Big 12 by a game. WVU is 15-10 (4-8). I don't understand how you could possibly make the tournament winning 33% of your conference games. And yet, Lunardi had them as a 9 seed on Friday. Being top 25 in NET helps I guess, as does the fact that they're 11-0 outside of Quad 1 games.
Missouri probably locked up a bid with their win over Tennessee. The Vols have looked really vulnerable lately. Any chance they had at chasing Bama for the SEC title is gone.
UCLA came back in the second half to beat Oregon and push themselves into more secure position at the top of the Pac 12. It's a missed chance for a bubbly Oregon team. Their next five are against bad teams. Even one loss might be close to fatal.
Virginia got a no-call at the end of regulation and went on to beat Duke in OT. They're tied with Pitt atop the ACC. Duke is a pretty underwhelming 2-6 on the road.
Kansas smashed Oklahoma to keep pace at a game back of Texas. Oklahoma might just finish at the bottom of the Big 12 now after Texas Tech has started to piece together some wins.
Oklahoma State won at Iowa State, a huge win to further solidify their resume. They're in a really good spot. Iowa State has now lost a few in recent weeks. They'll want to regain some momentum before March hits.
Kansas State lost in Lubbock to join Iowa State in falling off the Big 12 pace. Both are now two games back of Texas. Texas Tech isn't making the tourney, but they've finally started to win some conference games. They're 2-10 in Big 12 play after yesterday.
Baylor came back to beat TCU. Mike Miles still isn't back for TCU. Baylor is 9-1 in their last ten.
St Mary's beat Portland, and Gonzaga came back to beat BYU. The Zags are still a game back at the top of the WCC. These two play again in the last game of the regular season.
Miami is half a game back of the the top of the ACC after dispatching Louisville.
Providence had a chance to make it a three-way tie for second in the Big East, but they blew it in a tough loss to St John's.
Creighton topped UConn. Both teams are going dancing, and Creighton has been a heck of a lot more convincing in Big East play.
NC State smashed BC to move to 20-6 (10-5).
Illinois came back to beat Rutgers behind a strong defensive effort. Both teams will have nothing to worry about heading into Selection Sunday. The Illini have won eight of ten.
San Diego State is 20-5 (11-2) after topping UNLV. They have a one-game lead at the top of the Mountain West, but trips to New Mexico and Boise State remain as hurdles.
Pitt is tied for the ACC lead after beating Florida State. They're pretty close to safe bid-wise, but avoiding bad losses against a relatively easy closing stretch would help remove some potential stress.
Maryland held off a Penn State team that's suddenly in quite a bit of trouble after five losses in six games. They have quite a bit of work to do.
Kentucky might be out of the bracket entirely after losing to Georgia. They were doing so well, but it was a brutal week for the Cats. The upcoming trip to Mississippi State is huge.
It took OT, but FAU is 24-2 (14-1) after knocking off LA Tech.
Drake and Bradley both took care of business yesterday, and they're tied atop the Missouri Valley at 12-4. February 26 – Drake @ Bradley. Belmont, Indiana State, and Southern Illinois are all just a game back.
UNC smashed Clemson. They need wins, and they picked up a solid one yesterday. The Tigers have fallen from the top of the ACC after a tough stretch of losses. Things might start to get pretty bubbly for them too. UNC will remain on the bubble as well.
Florida lost at home to Vandy. There's a nail in the coffin. This was a good win for Vandy though. We talked about looking for signs of program momentum yesterday. A strong finish would do the trick.
Wisconsin is dead after losing to Nebraska. It's been tough sledding for the Badgers in Big 10 play.
Charleston is 24-3 (12-2) after beating Hampton. The margin for error remains somewhere right around 1. The only question is whether it's a little less or a little more.
Wake Forest kept their hopes alive by sneaking past Georgia Tech at home. They have some work to do. Upcoming trips to Miami and NC State are huge. They need at least one of those games.
USC is in serious trouble after losing to Oregon State. There's a world in which the Pac 12 has a 1 seed, a 2 seed, and zero other teams in the tourney.
North Texas is 21-5 (12-3) after crushing Charlotte. They deserve a little more love.
Mississippi State picked up a huge road win over Arkansas. They're back on the bubble after five straight wins. A huge home game against Kentucky awaits. Arkansas still has some work to do with a tough closing stretch coming up.
Arizona State beat Cal in OT to at least feasibly keep their season alive.
Seton Hall lost at Villanova. That's a really tough one for a team on the wrong side of the bubble. They needed that one.
Boise State continued to march towards a bid with a win over Wyoming.
Texas A&M is 10-2 in SEC play after beating LSU, who holds the new title of league's worst team at 1-11. A&M is getting close, but they have a really tough closing stretch. It's make-or-break time.
Utah State lost to San Jose State, and that might be something close to the nail in the coffin for a team that has a good record and few good wins. With no Quad 1 wins and two Quad 4 losses, they might be dead.
TODAY'S PLAYS
NBA record: 141-123-5 ATS, 25-41 ML, 66-52-1 O/U, 1-7 parlay, 0-1 props, -9.47 units
Both teams average more than this per game. Give me the over.
CBB record: 142-134-4 ATS, 28-49 ML, 4-3 O/U, 8-16 parlay, -27.2 units
Minnesota's last three games have been losses of 20+.
The continued insistence of Vegas to pretend that Ohio State is a decent basketball team is very confusing to me.
Small line. Best team in the country. I'll take a shot at it. Purdue is 7-1 on the road.