Mike Bets #48 CRASH DISASTER
5 min read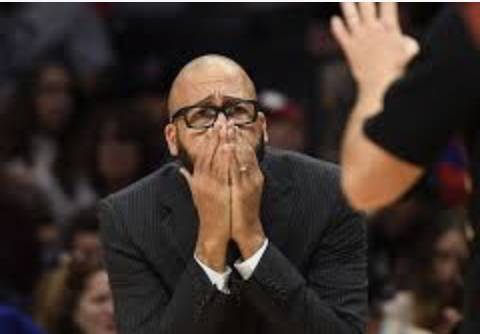 We've had a disaster here at Mike Bets, as a crash has wiped most of today's pick explanations off the face of the earth. I'm not doing those over, so I'll just post the picks and what remains of the analysis. Trust that these picks were all researched as we head for a third positive day in a row to start the season.
College Basketball Record: 22-12 on individual bets, 3-8 on parlays, +$247.00
All Involved CBB Picks: 38-20-1 ATS, 2-1 Dog MLs
Today's picks:
$11 to win $10
Western Carolina (-8.5) v. Troy
Troy is playing their first game after a 9-22 season last year. Western Carolina rolled all over UNC Wilmington in their opener, winning 98-76. They're coming off of a 19-12 season. Ride the WCU wave here.
Florida Atlantic (-5) v. Jacksonville State
Florida Atlantic lost a close game against South Alabama two days ago. Both teams were around .500 last year. Jacksonville State lost by more than 20 against a good Alabama team to kick off their attempt to improve on last year's 13-19 record. FAU pulls out the win this time out.
Drake (-8) v. South Dakota
South Dakota lost by 23 against a solid Colorado team in their opener. Drake pulled away late to beat Kansas St 80-70. Kansas State isn't good right now, but a terrible Power 5 team is still a pretty good team overall. Drake builds on that opening momentum with an easier win against a lesser opponent here.
UCLA (-7.5) v. Pepperdine
Pepperdine strolled to a comfortable 86-72 win over a poor UC Irvine team on Wednesday while UCLA was blitzed by San Diego State in a poor opening performance. It's supposed to be a very good year for the Bruins, and they respond here against what is a relatively average mid-major team despite their strong opening performance. For now, in the Bruins we trust. A big performance is coming.
Houston (-11.5) v. Boise St
Houston won 20+ games for the fifth time in a row last season with a team that had just one senior. They beat Lamar 89-45 in their opener, and they continue to roll here against a decent Boise St team that will be playing its first game after some key losses from last season. The Broncos won 20 games last year, but they start with a lopsided loss this year.
Louisville (-6) v. Seton Hall
Louisville beat Evansville 79-45 in their opener. Seton Hall will be playing their first game since the end of the Myles Powell era. Harvard transfer Bryce Aiken and a relatively talented roster will likely produce another solid season for Kevin Willard and Co., but starting that season off with a competitive effort against a strong Louisville team is a tough ask. A really tough ask. Go Cards.
San Diego State (-13) v. Cal Irvine
San Diego St dispatched UCLA in their opener. UC Irvine lost to Pepperdine by 14 (that's one more than 13). According to the Transitive Property, the Aztecs win this game by…23.654 (also more than 13). You can't take anyone other than San Diego St here.
Marquette (-14.5) v. Eastern Illinois
Marquette opened their season with a 99-57 win over Arkansas Pine Bluff, who lost more games by 25+ last season (8) than they won (4). For those doing the math at home, 8 is 2 X 4. In other words, that game means very little. Eastern Illinois, meanwhile, came back late to lose to Wisconsin by just 10 points. So, what's the play here? Marquette. They score more than the Badgers, and that's the difference late. We're not going to see the same grind-to-a-halt offense that allowed EIU to come back in their opener. Marquette rolls again.
Vanderbilt (-6) v. Valparaiso
Valparaiso has hung around .500 since joining the Missouri Valley Conference three years ago. Could they keep it close against a Vandy team that went 11-23 last season and lost their best player to the draft (NBA, not military)? Yes, but probably not. Both teams are without their top two scorers from last year, and the talent gap should decide things here as both teams take the court for the first time this season.
Lousiana Tech v. UT Arlington (+6)
Louisiana Tech has won 42 games over the last two years, but they're down a number of key players from last season. I like UT Arlington to build on the momentum from their seven-point loss to Oklahoma State and keep this one close. They played pretty terribly offensively and still played a solid Power 5 team well. They can win this one.
Georgia Tech v. Mercer (+13)
Mercer's 79-48 opening win over North Georgia (the Nighthawks) might not be very meaningful, but it will give them some confidence to build on. Georgia Tech, on the other hand, is coming off a 4 OT loss to Georgia State. At this point, I'd say that Georgia State>Georgia Tech>North Georgia. If Mercer is 31 points better than North Georgia, can they really be 13 points worse than Georgia Tech? Yes, but I'm not betting on a team that lost to a lesser opponent in a 60-minute game just about 48 hours before this one. Mercer keeps it close enough to cover.
Colorado (-6) v. Kansas St
K St lost to Drake by 10 the other day. This was a really bad team last year, and they might be worse this year. Colorado is better than Drake, and they're a lot better than Kansas State. They cruise here.
Richmond (-21) v. Morehead State
Richmond was very good last season, and they return their four best players. Kentucky beat this Morehead St team by 36 the other day. The Spiders can cover 21.
Pacific (-4) v. Fresno State
Pacific lost some key pieces from a 23-win team, and they beat UC Riverside 66-60 in their opener. Fresno St lost some key pieces from an 11-win team. They beat William Jessup and their 1,750 total students 87-47 in their first game. I'm riding with Pacific here. Fresno has yet to prove anything, and they were the worse team last season.
Everything else…
Tulane -7
UNC Ashville -7
Texas Tech -295
Navy +16.5
Syracuse -23
Arizona -27
Iowa -27
NC State -20.5
Wake Forest -17.5
Rutgers -22.5
Hartford +22
Wisconsin -34.5
$12 to win $11
Gonzaga -18.5
Virginia -15.5 (too late for these two)
Toledo +9
Illinois -16
Belmont -3
Kansas -20
Bradley -13.5
Buffalo -6.5
Abilene Christian +2
West Virginia -7.5
Northern Iowa -3
South Dakota State -1
VCU +6.5
Parlay: Virginia, Illinois, Belmont, Abilene Christian, Buffalo, Bradley, Colorado (too late for UVA here too)
BEST CASE: +$1,153
WORST CASE: -$452
It's time to eat (leftovers).