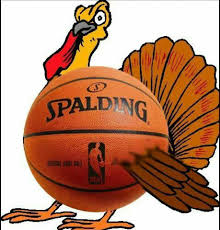 Happy Thanksgiving.
Today, we're thankful for living
For family and friends
For the memories that never end
For turkey and stuffing and pie
For lions and cows and the Mediterranean fruit fly
For football and basketball and sports overall
For the ability to watch and make picks on them all
For the ups and the downs
And even the Cleveland Browns
For all the twists and turns that brought us to today
For we wouldn't have it any other way
Happy Thanksgiving.
Now let's get to the picks.
College Basketball Record: 8-4 on individual bets, 3-5 on parlays, +$206.00
All Involved CBB Picks: 24-12-1 ATS
Today's picks:
Toledo (-8) v. Oakland -$11 to win $10
Toledo opened their season with a close loss against a solid mid-major team in Bradley. They led by 8 at the half. Oakland lost by 52 against Xavier. Toledo may not be Xavier, but they have to be the pick here – as does any opponent of Oakland until they produce a more competent performance.
San Francisco (-8) v. Towson – $11 to win $10
Towson lost 54-89 to Virginia yesterday. San Francisco, who entered the season as one of the favorites for second place in the Gonzaga Conference (formerly known as the West Coast Conference), lost as well in a bit of a shocker against UMass Lowell. Why San Fran here? They shot below 40% from the field and below 20% from deep in their opener while UMass Lowell made over 50% of their shots. That would seem to point to a bounce back coming today, and a Towson team that gave up 89 against UVA won't stand in the way of a return to offensive form.
Gonzaga (-4) v. Kansas – $11 to win $10
Gonzaga is 19-5 over the last four years in non conference games against major conference opponents, and Mark Few brought in an elite recruiting class over the off-season. This is a really good team, and they send a message by handling Kansas in a battle of heavyweights.
Illinois (-38.5) v. Chicago St – $11 to win $10
Chicago St hasn't won 10 games since 2014, and they've already lost to Ohio by 23 this season. Illinois, fresh off a 62-point win over North Carolina A&T, will roll in a similar way here.
Xavier (-9) v. Bradley – $11 to win $10
Xavier beat Oakland by 52 in their opener. Bradley beat Toledo by 2. Xavier likely won't play so well twice in a row – and Bradley is better than Oakland – but a 10-point win isn't too much to ask for here. Ride the Musketeers until they cool off.
LSU (-25) v. SIU Edwardsville – $11 to win $10
SIU Edwardsville has never finished at or above .500 since joining the D1 ranks about one decade ago. The talent gap between them and a LSU team that sits just outside the top twenty-five is wide – at least 26 points wide.
St John's (-10) v. La Salle – $11 to win $10
St Johns barely beat St Peters in their opener, but they at least got the game under their belt. La Salle has yet to play this season, and that will make it even tougher for the middle-of-the-pack Atlantic 10 team to hang here. The close opener serves as a wake-up call for St Johns without destroying any confidence, and they take care of business today.
Auburn v. Saint Joe's (+7.5) – $11 to win $10
Auburn was great last year but returns very little of the talent from that team this year. St Joes was really bad last year but returns quite a bit of talent from that team. Auburn is the better, more talented team, but experience could win the day here for St. Joe's. They keep it close as the Tigers try to find their footing.
Nebraska (-3.5) v. Nevada – $11 to win $10
Nevada opened with a 62-48 win over North Dakota St, the reigning Summit Conference champions who lost their top two scorers to graduation. Nebraska rolled all over McNeese St on the way to a 102-55 win. The Huskers aren't great for a Big 10 team, but they do have far more established talent in their second year under Fred Hoiberg. They are no longer a pushover, and they'll be able to score enough here to overcome the Wolf Pack.
Random error is going to lead to all these next spread picks being for $12. Not intentional.
Memphis v. Western Kentucky (+4) – $12 to win $11
Western Kentucky made just six threes and still dropped 93 on Northern Iowa yesterday. That might be more indicative of how bad UNI's defense is than anything, but, for now, I'll take it as a sign that this team is going to score and score often. Against a Memphis team that rode a 1-18 perimeter shooting night from St Marys to a 17-point victory, that will be enough to keep it close. Either team could win this game, so take the team that's being given four points.
West Virginia v. VCU (+10.5) – $12 to win $11
VCU pulled away from Utah State in the second half behind a strong and overwhelming defensive effort, scoring 85 points in the process. West Virginia beat South Dakota St in a closer-than-anticipated opener. Despite going 18-13 last year, VCU lost just four games by 11 or more. They keep that total at zero for the new season today.
Saint Mary's (-1) v. Northern Iowa – $12 to win $11
As I've touched on, St Mary's shot just 1-18 from deep against Memphis in their opener. They were expected to struggle offensively after some key roster losses, but that's a little beyond struggling. A game against Northern Iowa will offer the chance for a rebound, and the Gaels will take advantage. On the other side of things, UNI shot an unbelievable 20-39 from deep. They should move in the opposite direction, and I like St Mary's to end up on top here.
Utah State (-2.5) v. South Dakota State – $12 to win $11
Utah St ran out of steam in the second half yesterday, turning a three point halftime lead into a sixteen point loss against VCU. South Dakota St stuck with West Virginia before losing by 8. I would bet on Utah St bouncing back with a full game effort here, especially against a team that won't play such physical and tough defense.
Mississippi St v. Liberty (+5.5) – $12 to win $11
Mississippi St scored 42 points against Clemson yesterday. 42. Liberty wasn't exactly killing it against Purdue in a 64-77 loss, but you have to lean towards them keeping it close here until we see more from Mississippi St.
Clemson v. Purdue (PK) – $12 to win $11
Clemson's opening win over Mississippi St was never really in doubt as they won the first half 26-19 and ended the game up 53-42. That's a job well done, but I would have expected Purdue to be the favorite here, especially after a solid opening performance against Liberty. They won't be as offensively challenged, and they should win this game. Boiler up.
Villanova v. Arizona St (+5) – $12 to win $11
Neither team rolled in their opener, with Arizona St beating Rhode Island 94-88 and Villanova beating Boston College 76-67. I think you have to take the points here with a great offensive team like the Sun Devils. They're going to score (they scored 90+ yesterday despite making just six threes like WKU), and I don't think Villanova scores enough to keep up, never mind enough to win in a blowout.
Boston College (PK) v. Rhode Island – $12 to win $11
Rhode Island shot over 50% from the field and the floor last night. They're a good team, but they cool off a little bit here, allowing Boston College to build on a strong performance against Villanova that just saw them run out of steam late.
Belmont (-13.5) v. Howard – $11 to win $10
Belmont has won 20+ games every year since 2006 – except for 2009, when they won a pitiful 19 games. Howard won four games last year and lost their top scorer to graduation. This should be a murder.
BYU (-19.5) v. New Orleans – $11 to win $10
New Orleans won 9 games last year and also lost their top scorer. BYU won 24, and they won by nearly 50 yesterday against a small college in Utah (Westminster). This one shouldn't be close either.
ML PICKS FOR UNDERDOGS
AZ ST +195 – $10 to win $20
Liberty +204 – $10 to win $20
WKU +165 – $10 to win $17
THE WON'T LOSE PARLAY – $10 to win $100
Gonzaga -4
Purdue PK
Toledo -8.5
SF -8
THE "OH, IT'S THANKSGIVING?" PARLAY – $10 to win $154
Lions-Texans O52
Lions ML
Gonzaga -4
Purdue PK
THE OTHER PARLAY – $10 to win $60
Nebraska -4.5
VCU +10.5
St Johns -9.5
BEST CASE: +$568
WORST CASE: -$276
It's time to eat.