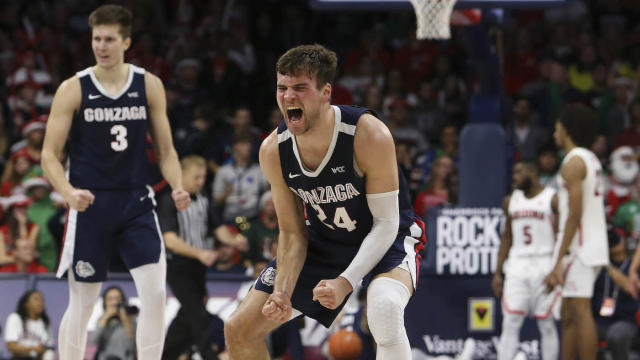 Parlay day was a success yesterday. Despite suffering through one of the worst days of the season so far (6-10-1 ATS), Mike Bets made $54 because of one parlay hit. If Providence hadn't gone 0-3 from the line in the last fifteen seconds and finished half a point short of coverage, we would have seen a 7-9-1 record with an end result well over $100. Parlay-heavy Tuesdays will remain a feature, but now it's Wednesday. Let's get to the picks.
College Basketball Record: 73-55-2 on individual bets, 4-18 on parlays, +296.00
All Involved CBB Picks: 96-70-4 ATS, 4-3 Dog MLs
Today's picks:
$11 to win $10
FSU (-25.5) v. North Florida
The Seminoles return over half of the production from an elite 26-5 team, and they added five-star Scottie Barnes over the off-season as well. This is going to be a very good team again, and North Florida is 0-3 with losses to Eastern Kentucky (13), NC St (35) and Miami (18). FSU can and will cover here.
SMU v. Houston Baptist (+32)
SMU is averaging 94 points per game while shooting 42% from three through 2 games. They've beaten Sam Houston St by 30 and Texas A&M Corpus Christi (not the SEC team) by 37. Houston Baptist is not good – they've lose to TCU by 24 and Arizona State by 23 – but 32 points is a ton to ask for here from a Mustangs team that is bound to cool off a little bit at some point.
Northwestern v. Arkansas Pine Bluff (+27.5)
Is Northwestern good? Not particularly. Has Northwestern played yet this season? No. Is a bad team playing their first game of the season going to cover a -28.5 line here? Absolutely not. APB hung with Iowa State, a Power 5 team at a comparable level to Northwestern right now, losing by 17 the other day. That's a fairly big loss, but it's still well within the safety zone here. Even against Marquette and Wisconsin, two better teams, they lost by just 42 and 34. Those are two blowouts, but they're not big enough to push me towards NW here. The Cats would need to come out firing to have a chance to cover here, and I just don't see it happening.
Michigan (-15) v. Ball St
Michigan bounces back from a sloppy showing against Oakland in a big way here. Go Blue.
Pacific (-5) v. Montana St
Montana St dropped 91 on UNLV in a 13-point opening win but hasn't played since. Pacific has started 1-1 as they look to build off their 23-10 record from last season, but their win came over a UC Riverside team that just beat Washington by 15 while their loss came against a now 3-0 Nevada team. This is a tough one, but, after some deep reflection, I'm taking Pacific. Montana St caught a very inexperienced UNLV team in their first game of the season. That's not the situation here.
St Johns is 3-0 with close wins over St Peters and BC and a bigger win over La Salle. They were up big against BC the other day before almost giving the game away. BYU started 3-0 with some big wins against poor competition, but they were murdered by USC yesterday (53-79). Before that game, I would have taken the Cougars here, and I don't that should change. This is still a solid team, and they bounce back against a St Johns team that probably deserves to get one in the loss column.
Xavier v. Tennessee Tech (+23)
Tech is 0-2 with losses to Indiana (30) and Chattanooga (8), but they have to be the play here. Xavier is 4-0, but the last three games have been decided by just 7 points combined despite the opponents being Bradley, Toledo, and Eastern Kentucky. Those are fine mid-major teams (and Xavier isn't at risk of losing here), but I still wouldn't bet on a 25-point win here based on current form.
Seton Hall (-2.5) v. Rhode Island
Seton Hall lost by just 1 to what has looked like a very good Louisville team before they used a 51-27 second half to run away from Iona after trailing by 2 at half. Those inconsistencies aren't unexpected early in their first season without former star Myles Powell. Rhode Island is a really solid A10 team that followed up close losses to ASU and BC with double digit wins over the two USFs – South Florida and San Francisco. The Rams absolutely can win this game, but I really like what I've seen from Seton Hall so far. They've played well when they're on, and that carries over to this game.
Gonzaga (-8.5) v. West Virginia
WVU picked up an impressive early season tourney win with consecutive victories over South Dakota St, VCU, and Western Kentucky. They're in a very good spot as they enter this game. But, with all due respect to those teams, the competition kicks up a little bit here. A WVU team that won but never exactly rolled in those first three games is going to struggle to keep up. Gonzaga beat Kansas by 12. They beat Auburn by 23. You're not going to win every game by 10+, but you can win quite a few of them that way. Betting on an inevitable letdown that will likely only happen a few times simply can't be the strategy. Ride the Zags.
Iowa St (-1.5) v. South Dakota St
I would have been all-in on SD St before St Mary's beat them 72-59 the other day. That dropped the Jackrabbits to 1-2, and their opening stretch suddenly looks a lot less impressive despite their blowout win over Utah St. That's not to say that St Marys is bad (they're a very good WCC team), but it does mean that South Dakota St might have a harder time competing with a major conference team. Iowa St isn't particularly good right now, but they do have the talent edge and a decent opening win over Arkansas Pine Bluff that saw them pull away gradually should give them enough confidence to win here.
Murray St (-8) v. Middle Tennessee St
MTSU is 0-2 with losses to Omaha and ETSU. This year, with ETSU down, that's not a very good look. They've been terrible from the floor and are also holding their opponents to an even worse percentage from deep that is simply not sustainable. I can't see them competing here against a Murray St team that returns a lot of talent from a 23-win season.
Nevada (-3) v. San Francisco
A win over Virginia is admittedly a rather big statement, but the simple reality is that USF hasn't looked very good outside of that game. Rhode Island handled them easily the other day, and the opening split of games against UMass Lowell and Towson was pretty poor. I have to go with the 3-0 Nevada team here. They've shown a lot of good things so far, especially in their ability to control the end of the game against both Nebraska and Pacific.
UNLV has yet to be competitive for a full 40 minutes against Montana St, UNC, and Bama. Davidson, meanwhile, has lost to both Texas and Providence by less than a possession. They'll be determined to get something tangible from what's been a pretty good showing in Asheville, and they control this game.
Alabama (-2.5) v. Providence
I like the Crimson Tide here anyway, but Providence is officially in the dog house after what they did last night. Roll Tide.
$12 to win $11
Stanford has played way too well so far to come away from this tournament with a 1-2 record. They destroyed Alabama and hung with UNC from tip to buzzer. An Indiana team looking for answers after putting up just 44 against Texas yesterday won't find them here. Ride the Cardinals.
UNC has struggled earlier in games this year, but they've made it happen when it matters late. Texas has looked very good, and this kind of feels like their tournament. We often see teams win these early ones on a dominant run of 2-3 games. That might happen, but I've got the Tar Heels here. They're looking to really prove that they're back after a down year, and a win over Texas would do just that. They get it done.
DOG MLs
PSU v. VCU (+160) – $10 to win $16
Penn St pulled away from VMI to win by 23 in their opener. This is their second game. VCU has already Utah St, WVU, and Memphis, and they won all but the middle game. With Lamar Stevens in the NBA and coach Pat Chambers being forced to leave the program just a few weeks ago, PSU is in a bit of a rough spot as they enter this season. I don't trust them, and we've already seen VCU do some good things this season. They might have the edge here anyway, but that early experience tilts the scale in their favor.
Oregon v. Missouri (+155) – $10 to win $16
Missouri wasn't anything more than average last year, but they returned almost everyone and already have a win (91-64 v. Oral Roberts) under their belt this season. That should help them compete with an Oregon team playing their first game and trying to compensate for the loss of three starters and about 60% of last year's production. The Ducks should have another good year, but it takes them a bit to get going. The Tigers win this one.
Baylor (-4.5) v. Illinois
The Bears have been nothing but impressive so far, and they're on a mission to finish the job they started last season. Illinois has looked good themselves, but a nail-baiter against Ohio revealed some flaws. This is Baylor's game to lose, and they're taking it home comfortably by the end.
Washington St v. Oregon St (+1)
This is the "trust me" pick of the day. Oregon St already has a win over Cal under their belt and they take this one too.
NEW FEATURE ALERT
Not every game makes sense as a play, but there are still games to keep an eye on so that we can get a better feel for certain teams. Here are those games today –
The Bearcats play their first game of the season here. They've won 20 games every year since 2011. This is absolutely a team to watch for later, so keep an eye on how they come out of the gates today.
Clemson v. South Carolina St
This is a -35 line, which I refuse to touch. However, it's still important to see how Clemson does here. They picked up a very impressive win over Purdue the other day after they beat up on Mississippi State in their opener. If they build on that performance with a dominant, no-question-about-it win here, something may be brewing with the Tigers.
Doesn't make sense to toss at this game today, but watch to see how the Buckeyes play today. After a dominant win over Illinois St, they struggled with UMass Lowell last time out. Can they roll today and cover -24 or will the struggles continue against another lesser team?
I can't find a line for this one, but it's a game to watch. Army is 3-0, though their best (and only significant) win came over Buffalo. Florida hasn't played yet, which might explain why there's no line here. Keep an eye on this to see how ready Florida is and how real Army might be.
Wichita St v. Oral Roberts
I would lean Wichita St to cover -10 here just because of how badly Oral Roberts lost to Missouri in their only D1 game of the season, but I'm staying away due to the chaos surrounding the Shockers right now. Gregg Marshall stepped down about two weeks ago, and the team has just 8 active players due to covid protocols. From what I understand, five of those guys are the typical starters, so they should be relatively fine. I'm still not touching this. With that said, should be interesting to watch how Wichita St looks in their first game without Marshall. With their depth hampered, the takeaways from this performance might be limited, but there still should be something to see.
I'm staying far away from a Memphis -20 line, but it's worth seeing how they perform here after a series of disappointing losses. The Tigers lost to WKU and VCU (both good teams) after a very impressive win over St Marys. Can they bounce back today and leave those losses in the past?
I'm going to pass on this one as well, but it's a great test for the Razorbacks. Can they cover -14 against a solid UTA team and prove that they're ready to be a top SEC team again? Or will they struggle and show there's more work to be done. It's a little hard to tell from their early games against iffy competition, but they look good so far.