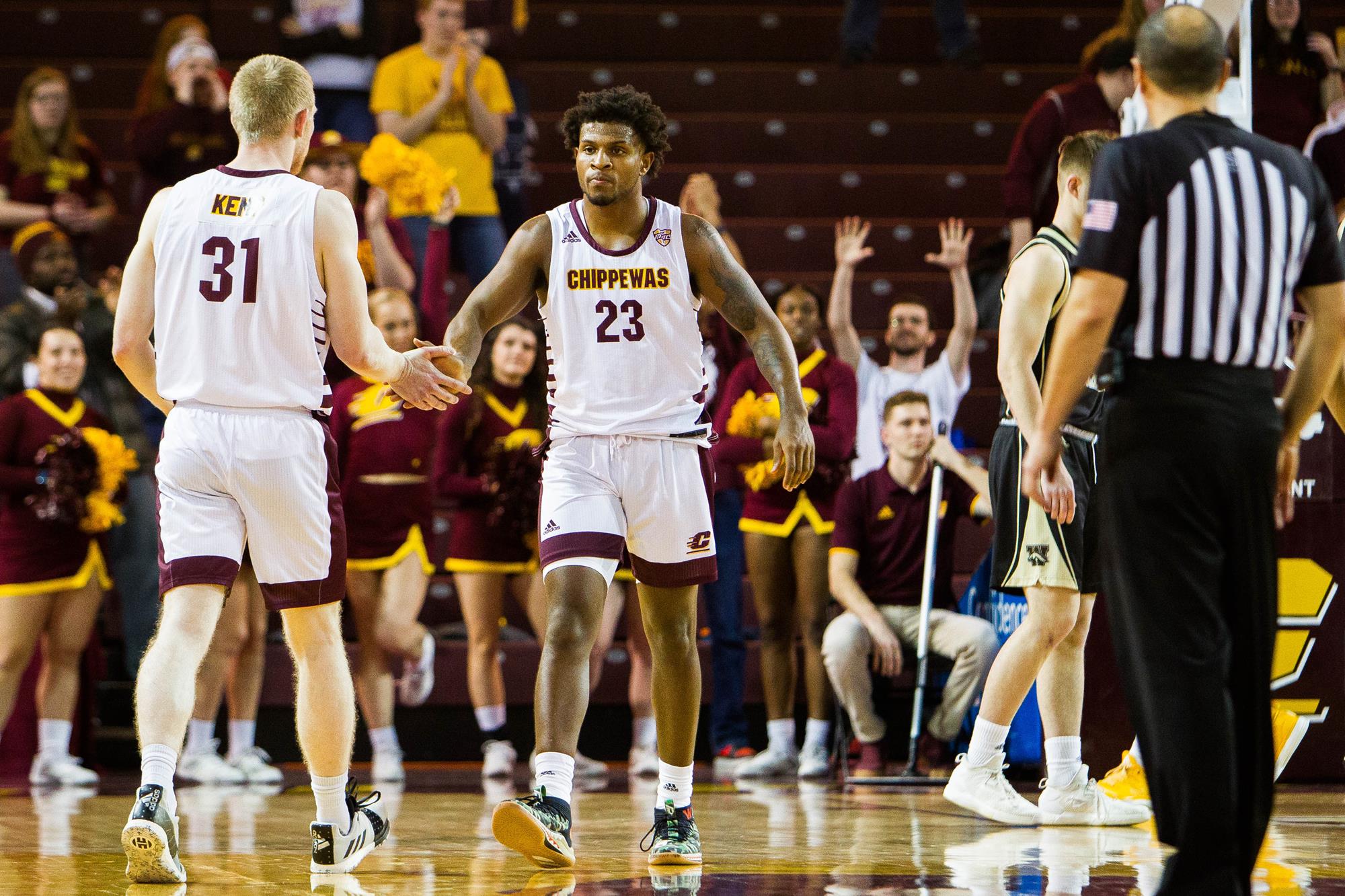 Nice.
What is not nice is my last two days of picks. I've gone from +$191 on the season to +$35 in just 48 hours. That kind of swing is generally inadvisable. It's been a rough couple days of betting, but now it's Friday. It's the weekend. It's not about how you start, it's about how you finish, and we're going to punch this weekend in the mouth.
Punch it.
Punch it.
Let's go.
College Basketball Record: 163-159-3 on individual bets, 6-40 on parlays, +$35.00
All Involved CBB Picks: 230-207-6 ATS, 19-23 Dog MLs
Unfortunately, I really don't like the board today. It's doesn't matter though. Still gonna punch it.
$12 to win $11
Western Michigan v. Central Michigan (+1)
Central has started to recover from a rough start with wins over Western Illinois and Valparaiso. They've scored 79, 84, and 91 in their last three games the third being a 91-39 win over a D2 opponent. Western, on the other hand, has fallen to 1-4 after losses to UWM and Detroit. They haven't been getting killed by anyone, but they've been less impressive than CMU, especially over the last week or so. I'll take the Chippewas here.
$11 to win $10
Southern Illinois v. North Dakota (+7.5)
Southern Illinois gave North Dakota its biggest loss of the year with a 21-point win yesterday. Not only does some reversion to the mean seem likely based on the fact that UND had previously only lost by 14 or less despite playing teams like Minnesota and South Dakota St, but pretty much every doubleheader that has happened so far this year has seen the team that was soundly beaten in Game 1 turn around and cover or even outright win in Game 2. It happened twice yesterday with Sacred Heart beating LIU after a 20 point loss and Wagner covering +8 after losing to Bryant by 12 the day before. I lost both of those bets, so I'm turning to UND here. Watch them lose by 35 this time.
Howard is 0-4 and has yet to lose by less than 14 against Belmont, Queens NC, George Mason, and Bellarmine. Hampton is the required pick here. Punch it.
Georgia Tech v. Florida A&M (+22.5)
Florida A&M has played three major conference teams and lost by 10 (Georgia), 21 (Oregon), and 31 (Oklahoma). Against a Georgia Tech team that looks decent but has been up-and-down so far, I like them to stay within 22. This is a really heavy line.
Tulsa v. Northwestern St (+16.5)
This is also a very heavy line. NW St is 1-5, but they've kept TCU (6), Louisiana Tech (14), UL Monroe (9 in OT), and UT Arlington (9) close. Their only huge loss came against Texas Tech (43) in their opener. Tulas isn't as bad as their 1-3 record might suggest, with their losses coming to Wichita St, South Carolina, and TCU by a combined 20 points, but it feels like 17 is a lot to ask for here. Take NW St to keep it competitive enough to cover.
Eastern Washington (-9.5) v. Northern Arizona
Eastern Washington has now played Oregon, St Marys, Washington St, and Arizona, and only Oregon beat them by more than 5. Northern Arizona still hasn't come all that close to being within 20 of anyone after playing Arizona, UC Riverside, and Colorado St. Don't bet on NAU here.
Nevada (-11.5) v. Air Force
Nevada is 5-2, and they've covered this number against Pacific and ND St already. Air Force has won twice, including a 15-point win over Lamar, but they lost 53-81 to a good Drake team the other day and also suffered an inexplicable 18-point loss to a terrible Seattle team. Nevada is simply better here, and there's no reason to trust Air Force and what they've shown so far.
Utah St v. Northern Colorado (+11.5)
Utah St hasn't played in 10 days, and they haven't played a D1 game since their 65-68 loss to BYU 13 days ago. They've been wildly inconsistent, falling apart late against VCU and getting steamrolled by South Dakota St before they comfortably beat Northern Iowa and hung with BYU. Northern Colorado hasn't been great, with a 8-point win over Denver and a 36-point loss to Colorado marking their only two D1 games, but I would take them to keep this somewhat close, especially given the layoff for Utah St. Northern was solid last year, and they can compete here.
West Virginia (-15) v. Iowa St
Iowa St is simply awful. They lost to Iowa by 28, and they just lost a relatively uncompetitive game to Kansas St, who had been the worst major conference team in the country before that game. Don't take ISU. Ever. WVU is also coming off their best game of the season, a 16-point win over Richmond that wasn't even that close.
Idaho is 0-4 but has yet to lose by more than 22. Utah definitely isn't the worst team they've played, but the Utes haven't beaten teams like Idaho St, Washington, and Utah Valley by any more than 16. I just don't see the 24 point margin happening here.
Washington St v. Montana St (+6.5)
Washington St is 5-0. All of their wins have come by less than 10 points. Four of their wins have come by less than 5 points. This has happened despite their schedule consisting of Idaho, Portland St, Texas Southern, Eastern Washington, and Oregon St. This is not your typical 5-0 team. Montana St is 1-1 against D1 competition with an opening 91-78 win over UNLV and an overtime loss to a solid Pacific team. They should cover here.
Tennessee (-29.5) v. Tennessee Tech
Tech is 0-7 with 30-point losses to Indiana and Xavier, and they're coming off of a 24-point loss to Jacksonville St. They've been more competitive in their other games, but this simply isn't a good team. They're going against a red-hot Tennessee team that just beat a decent App St team by 41, and it makes zero sense to go with anyone other than the Vols here.
Northern Illinois v. Chicago St (+18)
NIU is 0-5 and coming off a 53-point loss to Iowa. There's no way in heck that I'm betting on them to win a game by 19 points. Chicago St played maybe their best half of the year last time out before crumbling completely in the second half. They finish the job and cover in this one.
Belmont (-8) v. Tennessee St
This is a very reasonable line for a Belmont team that is 6-1 and beat this same team by 15 a few weeks ago, which should limit the doubleheader effect. Belmont hasn't been great at blowing teams out and covering big lines, but 9 isn't too much to ask for.
Drake (-6.5) v. South Dakota
San Diego St (-6) v. BYU
Richmond (-1.5) v. Loyola Chicago
Rhode Island (-1.5) v. Davidson
GAMES TO KEEP AN EYE ON
Santa Clara v. San Jose St
Santa Clara is 6-0, but they're one of those teams that haven't been rolling past anyone. I just don't trust them to cover a -9 line here, and I won't ever bet on San Jose St, an abysmal basketball team. But, keep an eye on this one to see if Santa Clara can be a little more impressive in win #7.