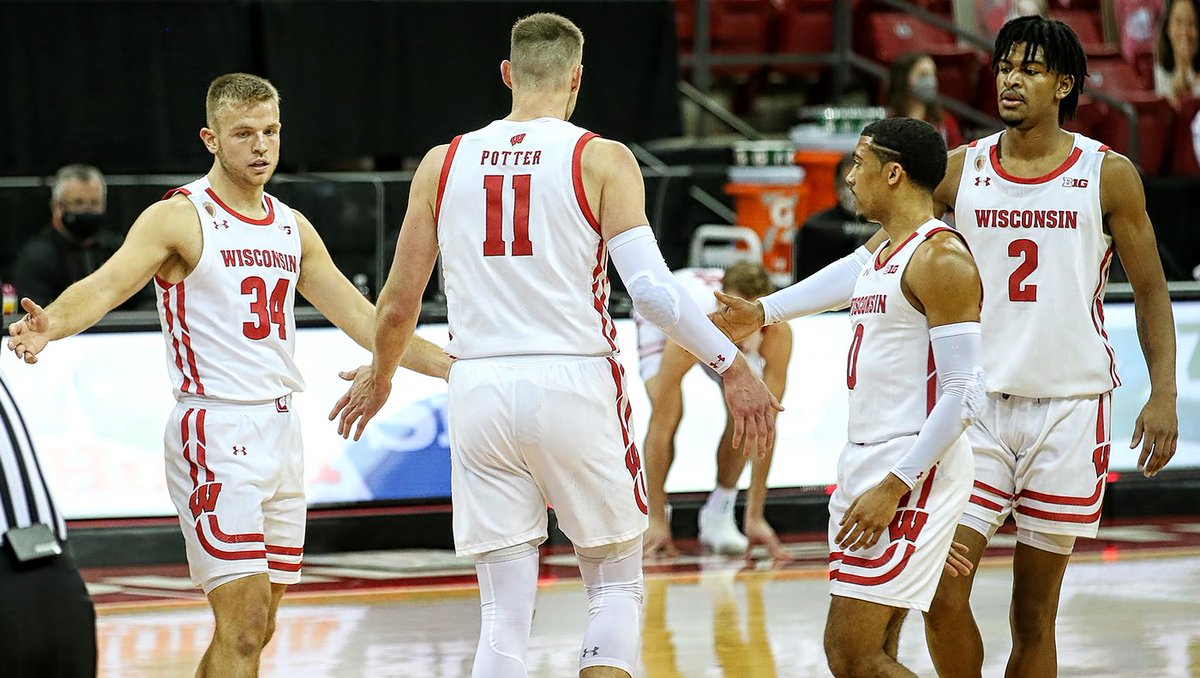 It's Friday, and this week that means a ton of college basketball games but very few from the major conferences. Wisconsin-Rutgers is one of the very few exceptions. That means I'm going to go on a quick run through a number of one-unit plays that I feel good about from those games. Let's have a fun Friday.
Yesterday felt like a terrible day of betting, and yet I went 2-2 on CBB picks and 2-1 on NBA picks. That makes me positive on three of the last four NBA days, and that's what we call progress (ignore the overall record).
College Basketball Record: 211-204-3 on individual bets, 8-45 on parlays, +$108
All Involved CBB Picks: 279-258-6 ATS, 22-30 Dog MLs
NBA Record: 14-24, 0-7 on parlays, -$348 (really bad)
Joint Parlays: 0-2, -$25
ONE UNIT SMALLER CONFERENCE PLAYS – $11 to win $10
Lipscomb (-6) v. North Florida
Winthrop v. Longwood (+16.5)
Liberty (-10) v. Stetson
Bryant (-6) v. St Francis (PA)
Western Kentucky (-3.5) v. Marshall
Charlotte v. UAB (+110) – $10 to win $11
Buffalo v. Bowling Green (+5)
UWM (-3.5) v. IPFW
Wright State v. Cleveland State (+9.5)
South Alabama v. App State (+120) – $10 to win $12
North Texas v. UTEP (+5.5)
CBB Parlay – $13 to win $88
MLs for WKU, UWM, Wisconsin, Nevada, and St. Bonaventure
$22 for the rest
St. Bonaventure (-8.5) v. Duquesne
Duquesne has lost by 9 to Dayton and by 13 to Davidson in their two toughest games of the season so far. The Bonnies have a win over Richmond to their name, and they've started 5-1. They won their last two games by 40 combined points. I like them to cover here.
Wisconsin (-2.5) v. Rutgers
How good is Wisconsin? We find out tonight because great teams simply don't lose this game after what happened in Ann Arbor the other day. Rutgers is a tough team, but this is also a team that has lost four of five since a win over Illinois, and three of those losses have come by more than 10 points. That includes a double digit home loss to Ohio State last time out. The Badgers should be the better team. They'll need to prove it on the court tonight. Conference title hopes will sink if they leave Piscataway with a loss.
Nevada (-6) v. Fresno State
Nevada is the better team, and Fresno State is 0-2 with two 22-point losses against top 150 teams this season. I like the Wolf Pack to grab a comfortable win here.
The Bulls have lost their last three games by four points or less. All three were on the road, with two in Los Angeles against the Lakers and Clippers. Throw in a win over the Mavs and a comeback win in Portland just before the mini slide, and Chicago has been playing some good basketball lately. They should be ready to go in this one after the close losses. OKC has been surprisingly competent as well, but they're 0-2 and -39 on this current homestead. It's a rare occasion, but I trust the Bulls to pull this one out.
Timberwolves (-2) v. Grizzlies
The Timberwolves let the Grizzlies score more than 80 points in the paint and win the fourth quarter by 21 in an 11-point loss on Wednesday. If they have any heart at all, they'll bounce back here. It doesn't need to be any more complicated than that.
The Hawks rebounded from a four-game losing streak with a blowout of the shorthanded Sixers on Monday. They haven't played since, but I like them to keep the momentum going against Utah here. This is still the Atlanta team that started 4-0.
Zion is back after a brief absence, and the Lakers have won three in a row by double digits. That's an impressive streak for a great team, but it's also simply unsustainable at the NBA level. At some point soon, they'll play a closer game, and tonight is a good bet.
The Clippers are 4-3 in January, but they haven't won a game by more than 7 yet this month. Take the Kings.
GAMES TO KEEP AN EYE ON
Cleveland and New York are a combined 0-7 since last Friday. Keep an eye on the Cavs. Can they break 100 points and end their streak of scoring woes before it reaches ten games?
The Celtics are playing their first game since last Friday after some extended covid issues. Jayson Tatum is still out, so I'll stay away from this one. Keep an eye on the Cs though. How will they manage with a limited roster after the week off? Boston has a big two-game series in Philadelphia starting next Wednesday.
This line at -7 is a little too thick for my liking, but keep an eye on the Bucks here. They're sitting at the top of the league in a number of overall metrics because they've absolutely throttled inferior teams, but Milwaukee is only 1-2 against teams above .500 (Magic, Jazz, Celtics). The Celtics loss did end on an unlucky heave of a three, but the bottom line is that the Bucks still have some more to prove against the top of the league. A win against a Mavs team that just got Kristaps Porzingis back and has won four in a row would be a nice statement with the Nets and Lakers coming up after the weekend.