Mike Bets #84 – Harden Grades and More
13 min read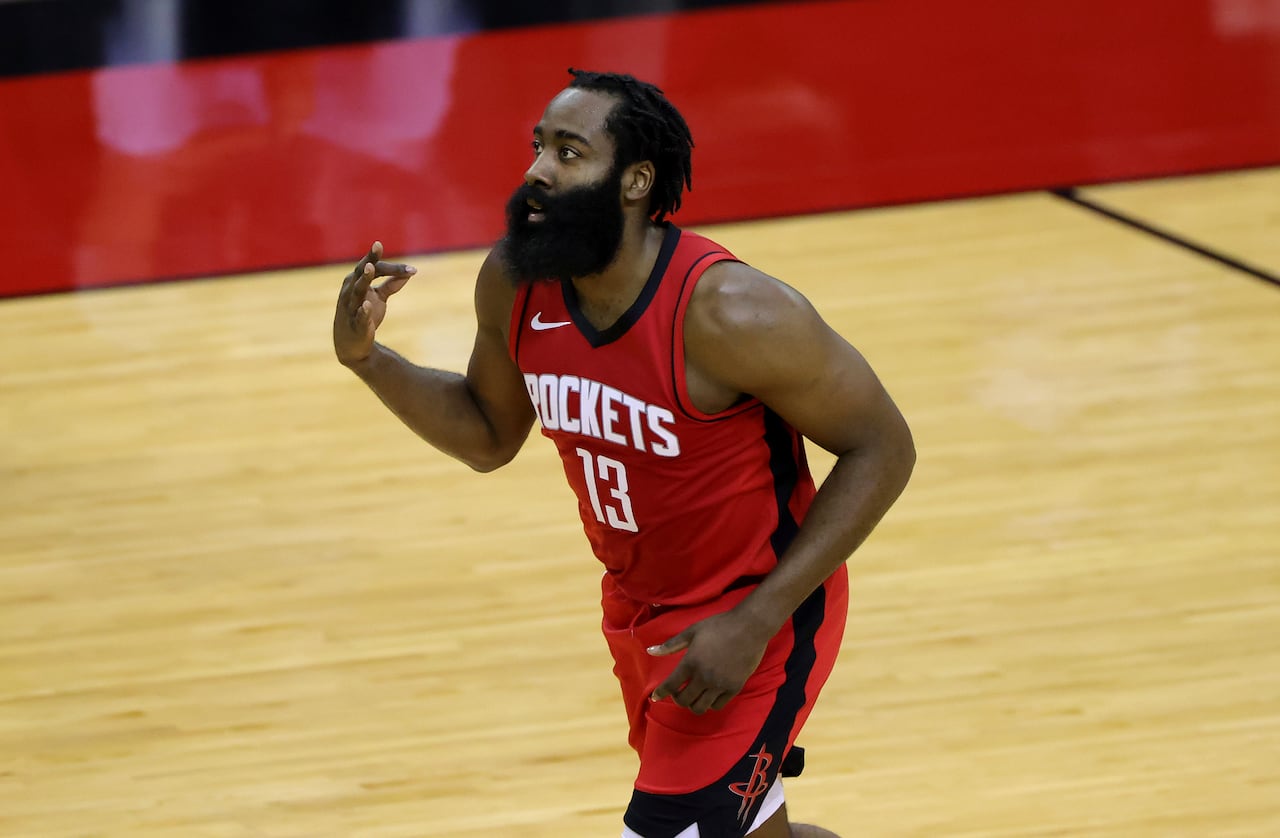 Before I get into the Harden trade, I need to recognize Boise State, who plastered Wyoming for the second game in a row. The Broncos are now 12-1 with twelve straight wins, and they've been dominant ever since the opening loss to Houston. Last night marked their eighth win of 19 or more points. The Mountain West is stacked behind them too. Utah State is 9-3 with all nine wins coming by double digits. San Diego State is 9-2 with wins over UCLA, St Mary's, and Arizona State. Colorado State is 8-2 with a win over San Diego State. 8-5 Nevada is no slouch either. This could be a four-bid league, something that hasn't happened since they sent five in 2013.
Now to the other thing that happened yesterday. Let's run through some quick grades –
CAVS: Traded Dante Exum and Milwaukee's 2022 first round pick for Jarrett Allen and Taurean Prince
This was an absolute win for the Cavs. Exum is seven years into his career (with one lost to injury), and he's never produced much of an impact. The pick should be very late given where Milwaukee is as a franchise right now. Prince is wildly inefficient, but he's also a 26-year old who has been a rotation piece in every season of his career. That's not bad for the throwaway addition because Allen is the real gem for Cleveland here. He's a 22-year old who should control the rim for the Cavs for years to come. Allen is finishing an absurd 81% of his field goals from within three feet of the rim so far this season. He's averaging more than 10 boards per game in well less than 30 minutes per game. He can protect the rim with some of the best defensively. The Cavs still have a number of questions to answer on the road to contention, but this was one of the best moves that they've made in years.
Grade: A
Pacers: Traded Victor Oladipo for Caris LeVert and a 2023 second rounder from Houston
The Pacers are also indisputable winners here. We've been hearing about Oladipo wanting out forever. I tend to (likely naively) believe the players that, like Oladipo, refute the rumors. That doesn't mean that it's not a relief in Indy to know that the talk can finally now stop. And the Pacers got one heck of a prize for trading away his expiring contract. That 2023 second round pick is beautiful.
So is LeVert, who has made good on his scoring potential the last two seasons. He's averaging more than 18 points per game for the second year in a row so far, and he's made clear improvements as a passer and shooter, going all the way up to 6 assists per game this year. That gives the Pacers three very good leading options that can score and pass (Brogdon, Sabonis). When TJ Warren comes back alongside those three, Indiana will have their shot to finally end their first round playoff loss streak. It's never a great thing when you lose a high-motor former All-Star, but you tend to not feel the pain when you're able to replace him with a smooth scorer and playmaker that also happens to be two years younger.
Grade: A-
Rockets: Traded James Harden and the '23 second rounder for Victor Oladipo, Rodions Kurucs, Dante Exum, four unprotected first rounders ('22 Bucks and '22, '24, '26 Nets), and four unprotected pick swaps with Nets ('21, '23, '25, and '27)
The Rockets needed to move on from Harden. They had no choice after his comments earlier this week. You don't ever want to trade one of the best scorers in league history, but it becomes pretty hard not to when he claims that the team isn't good enough and beyond his help after he pulled all sorts of shenanigans early in the season. Given those circumstances, they did very well here to land four future first round picks and the potential to improve upon their draft standing an additional four times. Then there's Oladipo, who's averaging roughly 20 points, 6 rebounds, and 4 assists per game this season. Can a team with John Wall, Oladipo, PJ Tucker, Christian Wood, Eric Gordon, Danuel House, Ben McLemore, Jae'Sean Tate, DeMarcus Cousins and Sterling Brown make the playoffs? If the chemistry works, which is far more likely now, then why not? I still like this Houston team. The Rockets did well to keep their playoff chances alive while also improving their future prospects.
One other thing to watch here – Oladipo is on the last year of his contract. If he really does want to go to Miami, we may see another trade before long. This grade might depend on what Houston ends up getting from that, but they should be very happy with themselves for now.
Grade: B+ (will depend on Oladipo's future)
Nets: Traded LeVert, Allen, Prince, Kurucs, three unprotected first rounders, and four unprotected pick swaps for James Harden
It's pretty simple. The Nets are betting their future on their ability to win now with KD, Harden, and Kyrie. If it works, it will be a great bet. The championship is worth everything. If it fails, it's going to be a really bad situation in Brooklyn. For now, let's focus on the present.
The good thing for the Nets is that they have three of the most talented individual offensive players of all-time on their roster and one of the best shooters in the league (Joe Harris) alongside them. All three stars can get their own shot at will, and Harden and Irving are elite distributors too. There should be some questions about their ability to play team basketball (Durant and Russ falling apart in OKC wasn't all that long ago), but the offense is why this team might work. The rest is why they might fail.
The depth is suspect at best. We're looking at a 5-9 of DeAndre Jordan, Timothe Luwawu-Cabbarot, Jeff Green, Landry Shamet, and Bruce Brown. This is a necessary risk for any super-team, but it's still a risk. If anything happens to the stars, we'll have trouble, and the Nets are still going to need at least something from these guys. I do think they can deliver the necessary production, but it's far from a given.
The defense is somewhat questionable too. It's not a situation where we have a ton of notoriously bad defenders, but there is a clear lack of great defenders. KD is a good one. He also just retuned from an Achilles tear. Harden has turned himself into a capable team defender. On a team without guys like PJ Tucker and Robert Covington behind him, he might struggle. Irving is no defensive disaster, but he's not going to make your defense work either. Neither is anyone else on this roster. Last year's Mavs posted the best offensive rating in league history and sunk to a 7 seed, partially because of a below-average defense. It should be a worry for Brooklyn.
Then there's Kyrie. Where is he? Is he coming back? We don't know, and that's absolutely insane for a man that's making $40 million per year. Without Irving and Durant, the Nets were title contenders. Harden alone is not enough to replace both Irving and the huge chunk of depth that the trade took away. Brooklyn needs Irving, and it's becoming pretty clear that he doesn't feel that he needs them. That's a scary thought with so much on the line.
Grade: Incomplete. The Nets will get an A here if they win a title with Harden, but it could get ugly if they don't
The Nets are now at the center of the player power era, which emerged in full force this week. The idea of it is nothing new – look to Kawhi and PG last summer, AD in New Orleans, most of the things LeBron has done since (and including) The Decision, and even far older examples like young Kareem in Milwaukee. Stars have had a unique pull over their teams for a very long time. But we've never seen anything quite like this.
Harden was playing for a Rockets team that had made the playoffs eight years in a row. They had made the second round five times and the WCF twice. This was not a long-suffering team that just couldn't win games. And yet, here we are, with Harden forcing his way out only nine games into the season on a team that clearly has the talent to make the playoffs yet again. With two years left on his contract, he simply decided that he didn't want to keep trying for that elusive title with Houston. And just like that, he's gone.
For the second time, then there's Kyrie. Irving has walked out on his team. He didn't tell Steve Nash he would be gone. He has given no indication of how long he might be out. There are so many jobs and millions that depend on his performance, and Irving just isn't there. In a different era, that would be a massive problem. Now, we're hearing excuse after excuse for Kyrie and still haven't seen any sort of punishment. It's crazy to watch, and it's an even better sign of what the league might be approaching. If a star player can sign a $40-50 million contract and then just take a break without providing any sort of explanation a few games into a season (never mind the part where he was allegedly seen at a birthday party), the time of unprecedented player power is here. What Irving is doing is a big issue for a league attempting to 1) secure TV deals and the like and 2) maintain the importance of the regular season, and Adam Silver has no control over the players if this goes unpunished. With that, let's get to today's games.
Yesterday didn't go particularly well. The Bucks turned a 20-point lead with 3:30 left to go into a 9-point win. The line, of course, was -10. Rhode Island (-3) fell in OT. Texas allowed a 0-5 run in the final 30 seconds, turning a 2-point lead into a 5-point loss and murdering me in the final game of the night. But, these things happen. I'm still easily positive on the year for CBB. Today is a new day. Let's find some winners.
College Basketball Record: 209-202-3 on individual bets, 8-45 on parlays, +$112
All Involved CBB Picks: 277-256-6 ATS, 22-30 Dog MLs
NBA Record: 12-23, 0-7 on parlays, -$366 (really bad)
Joint Parlays: 0-2, -$25
$22 for spread, $20 for ML
Stanford is 4-1 in the Pac 12. They've won three consecutive games by double digits. They grabbed an important non-conference win against Alabama. This is a good team, and Utah (0-5 against top 100 teams) is not. Take Stanford.
The trust me pick of the day. I think Indiana is better than Purdue, and they cover -3 at home.
Belmont (-12.5) v. Tennessee Tech
Belmont is the class of the Ohio Valley, and they've won eight games in a row, all by at least nine points. Against a 1-12 Tennessee Tech team with five losses of 20+, they should get the coverage job done.
Colorado State (-19) v. San Jose State
San Jose State just lost two consecutive games to Fresno State by 15. Colorado State beat Fresno State by 22 twice. San Jose State has four losses of 30+ this season. They should get crushed again here.
In a game where both teams are severely limited by injuries and covid protocol, the Sixers have the clear best players on the floor in Embiid and Simmons. The Heat have just eight guys barring a surprise return from Meyers Leonard, and Tyler Herro, Duncan Robinson, and Gabe Vincent all played about as well as they could have against Philly on Tuesday in an overtime loss. This one might get away from them, but I still like the Heat to keep it close. The Sixers should only have eight too, and Danny Green did hit nine threes in that Tuesday game. Tyrese Maxey had 16 points and 8 assists. The Heat aren't the only team with some great individual performances that might not be repeated. Eleven points is a lot. Take the Heat.
Raptors v. Hornets (+8.5)
The Raptors are 2-8, and they're worse than the Hornets by net rating, SRS, and point differential. Nine points? That's a whole lot here. Take Charlotte even though they're coming off the back-to-back.
The Spurs have won just one game by more than 10 points all year, and it was a 12-point win. If they cover, it likely won't be by much. I like the Rockets to come out tonight and play well with the weight of James Harden off their shoulders. There are still a lot of good players in Houston.
GAMES TO KEEP AN EYE ON
This game started before noon on a Thursday, which should be illegal by this point in the season. Regardless, it was a crushing loss for UCF. Wins over Florida State, Auburn, and Cincy provided some hope that an at-large bid was a possibility, and losses to Michigan, Houston, and, to a lesser extent, South Florida, were not going to look all that bad on the resume. This one will. Temple isn't good, and they might have put a nail in UCF's coffin. It's not ideal to be a 3-4 team with three conference losses in the AAC.
Colorado took care of business, crushing a poor Cal team to move to 4-2 in Pac 12 play. The Buffs are in a great spot, and they have a key home game against Stanford before an easy four game stretch (Washington, Washington State, Washington State, Utah) that could spark a run at the conference title if it goes well. If it goes poorly, the Buffs will have more work to do to secure their spot in the tourney.
San Diego State v. Utah State
Two tournament hopefuls from the Mountain West meet in this one. I briefly looked at their resumes way at the top. This game isn't make-or-break for either, but Utah State could use the quality win more. Keep an eye on what might be the best game tonight.
This one is a massive game in the WCC. Both teams are 9-3. BYU has wins over Utah, Utah State, and St Johns and no bad losses (Gonzaga, USC, Boise State). St Mary's has less impressive wins over Colorado State, Northern Iowa, and UTEP, and they also suffered a potentially bad loss to Santa Clara the other day. They probably need this one more as far as at-large hopes go. Can they get it done? Keep an eye on this one because it should also be a great one.
Keep an eye on this one just to make sure USC wins. They're 3-1 in conference and Washington is no good, but the Trojans have been prone to letting lesser teams hang around. This would be a really bad loss for them.
UCLA is the team to keep an eye on the Pac 12 after their 5-0 conference start against the likes of Arizona, Colorado, and Arizona State. With three easy games coming up, the Bruins should be 8-0 heading into a five-game stretch that includes Oregon (twice), Stanford, and USC.
Keep an eye on Arizona here. At their best, they've beaten Colorado by 14. At their worst, they've dropped games to Stanford, UCLA, and USC and barely gotten by vastly inferior teams. These swings should be expected for a very young team, but a loss to someone like Oregon State would be hugely detrimental come tournament seeding time. Can they avoid it and get back above .500 in conference play?
Keep an eye on Pepperdine, who started 2-2 with a win over Cal and close calls against UCLA and San Diego State. They've stunk since and lost by 28 last time out. This one shouldn't be particularly close, but a decent effort from Pepperdine would at least speak to their potential to have a decent finish to the season.
Southern Utah v. Eastern Washington
This is a huge game for all the Big Sky conference fans out there. Keep an eye on Southern Utah. They're 9-1, but their most impressive wins on the year were probably the consecutive one-point victories over Montana. They have more to prove despite their 4-0 start to conference play, and a win over an Eastern Washington team that has held Arizona, St Mary's, and Washington State within two possessions would be a great statement.
Warriors v. Nuggets & Pacers v. Trail Blazers
The issue with writing these for the NBA is that there's not really any sort of significance on the vast majority of individual regular season games. Doing well over 10, 20, 40, and 80 games will matter, but a single loss is almost always meaningless (this obviously changes somewhat when we get to the final weeks). The Clippers lost a game by 51, and they're sitting alone in second out West because they've won eight of eleven outside of that loss. Still, these are two late night games that should be entertaining if you're looking for something to keep an eye on. The Nuggets are an offensive powerhouse, and their defense is bad enough to let Steph and the Warriors hang around if they can hit their shots. Then you have Brogdon and Sabonis taking on Dame and CJ in Portland in the first game of the post-Oladipo era. The Pacers have plenty of experience playing without the former All-Star after two injury-riddled seasons.