Milwaukee Bucks Exit Interview 2019-2020
37 min read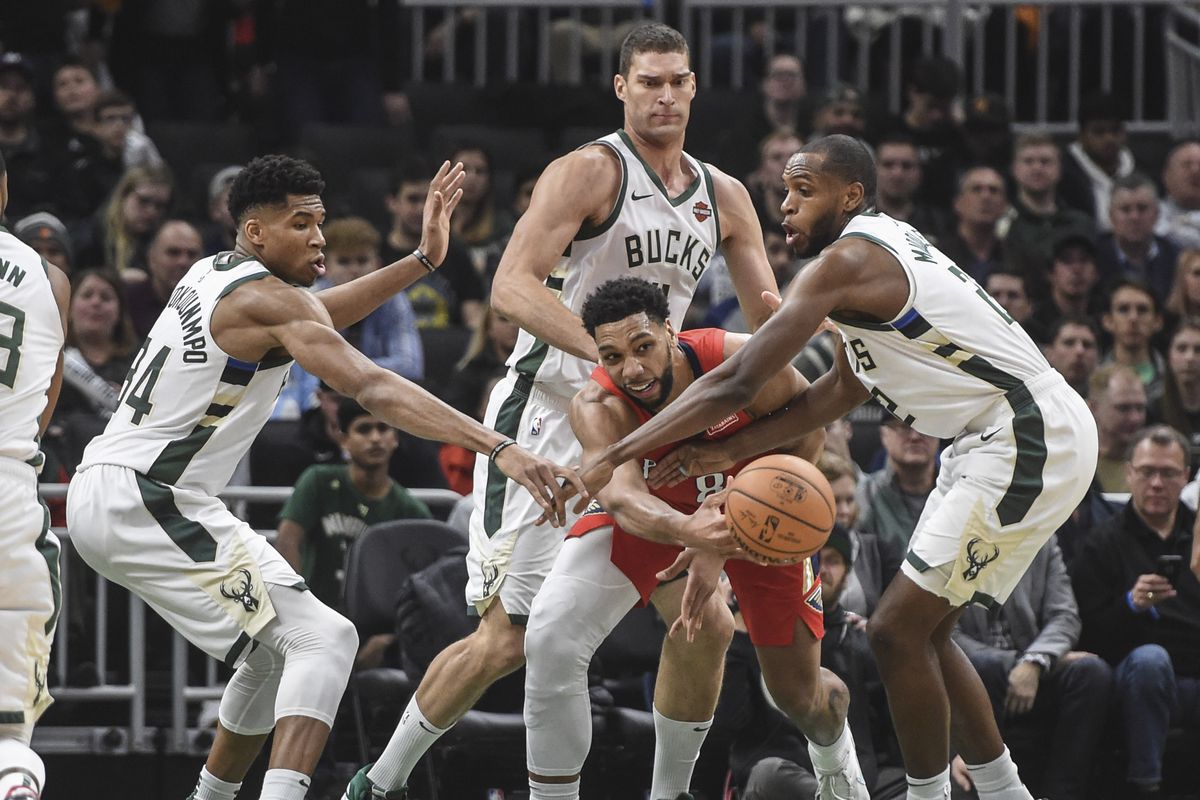 Well, it finally happened. The Milwaukee Bucks played their last game of the season. In a sign of the times, it happened less than a week before the Packers play again. Some of the typical postseason emotions were there, especially the butterflies in the stomach during close games and the dead weight in the same spot after losses. But these playoffs didn't hit quite the same this time around. The four month break threw everything off, and I, much like the Bucks, never got back to full speed. I'm disappointed but largely fine. The gut punch that was Game 3 and the 13-40 fourth quarter probably helped take away some of the pain away before the real end too. Either way, I'm already excited for next season.
What exactly is next season going to bring? It should be another season near the top – the Bucks have an MVP nearing his peak, a perennial All-Star, and one of the better supporting casts in the league regardless of how the restart went. But do they need to make some real changes to realize their potential? Or should this off-season be more of an attempt to add some finish and repaint a few things?
Let's start with a quick recap of how each portion of the season went.
Team Grades
Regular season part one (October-March)
The Bucks went 53-12, topped the league in virtually every metric, and challenged some historically great teams in stats like margin of victory, record, SRS (strength of schedule and margin of victory), and more. The tail ends were a little iffy – Milwaukee was just 4-6 in October and March as opposed to 49-6 in the four months in between – but the Bucks really couldn't have been much better. They were very clearly the best regular season team in the league.
Grade: A+
Regular season part two (eight seeding games)
The Bucks went 3-5 and never really found a rhythm. On the other hand, they played just two games with their full starting lineup. One was a comeback win over the Heat. The other was an overtime loss to the Mavs. They beat the Celtics and the Heat and lost late to both the Mavs and Rockets. It wasn't the best stretch of play we've ever seen, but it wasn't that bad considering the circumstances – injuries, meaningless games, lacking rhythm, etc. Taking much of anything away from these games would be a mistake.
Grade: C
The bottom line is that the Bucks failed to make the Finals for the second year in a row after finishing as the regular season's best team. There's no getting around that.
Grade: D
That's the grade they deserve. I just don't think that this was as bad as it might look if you just check the bracket and see Heat 4 – Bucks 1. The future really isn't very grim.
To start, I would say that these were unusual circumstances. That's not an excuse for not getting it done, but it is a reason to look at what happened and recognize that things might have been different without the four month break and with playoff games in front of the home fans. I just don't think you can look at this and completely avoid that. Yes, the Bucks fell short, but there were external forces at play here. The virus can't get all of the blame, but it shouldn't be overlooked either.
As for the playoffs themselves, the Bucks beat the Magic in five and then fell to the Heat in five. The Orlando series was fine by my book. The opener was a poor showing, but the Bucks were in complete control for 80-90% of the last four games. They were very clearly the better team in that series. The Heat series wasn't great, but I think there are some good things to take away from it if we can look beyond the surface results.
The Heat played really well and deserve a lot of credit. At the same time, a lot of things didn't go Milwaukee's way. Miami playing near their best was one of them. Jimmy Butler and Jae Crowder posted some of their best performances of the season in this series, and Goran Dragic and Bam Adebayo arguably did too. Again, the Heat deserve credit, but this series looks a lot different if they weren't peaking at the exact right time. Then there was the loss without Bledsoe, the loss without Giannis, and the loss that only happened because the Bucks played the worst quarter in playoff history (their 13-40 four quarter in Game 3 was reportedly the most lopsided quarter loss in any NBA playoff game). Every game came down to the fourth quarter.
None of that changes the fact that the Bucks lost, but we're not far from looking at a very different outcome here. Considering the narrative that the Heat played great while the Bucks struggled – which holds some truth – that would seem to be a very good sign for the Bucks. If losing a relatively close series in the conference semis where a number of factors go against you is near your bottom, then you're probably in a decent spot. Here's the question – Do the Bucks need to make changes to better optimize their chances to be at their best in the postseason? My short answer – nothing major.
To get into why, I'll run through each current Bucks player, starting with their performance this season and things they can do to improve. I'll then take a look at their future with the team. What role should they play next season? Or should the goal for improvement be bringing someone else in entirely? I'll also take a look at Mike Budenholzer, who Bucks fans have turned against faster than Giannis in the open court. Let's get to it.
The Roster (this season)
1. Giannis Antetokounmpo
Performance: Antetokounmpo is set to win his second consecutive MVP award. He had one of the most productive seasons ever, and he will likely become the third player ever to win both the MVP and the DPOY in the same season. He wasn't at his best against Miami. That's just about the only negative here. It also means that there's still room to improve for the 25 year old, which is nothing but a positive when he's already this good.
GRADE: A+
Personal Improvements: Antetokounmpo needs to do one of two things – develop a better perimeter shot or a more complex post game. There is far more to his offensive game than running and dunking, but Giannis depends on his ability to make use of space in a way that almost no one else can. During the regular season and most playoff series, that works great. It's incredibly hard to stop him. But, when he goes against a team with a huge group of versatile wing defenders in the postseason, there can be issues. Those teams can shut down the fast break and limit Antetokounmpo in the half court by building a wall of bodies between him and the basket. In that scenario, charging towards the rim from beyond the three-point line isn't the most efficient approach. The solution is to either hit a ton of threes or, preferably for Giannis, start from inside the arc. He should be catching at the elbow, on the block, and in the short corner, and that means he will need a greater variety of moves from those areas. He started to develop a nice little fadeaway jumper, but that progress seemed to stall down in Orlando. Securing that move – and some others – this off-season, will make Antetokounmpo a far more dangerous offensive weapon in a playoff series like the one the Bucks just played. Shooting would always work too, but finding the perimeter shot is easier said than done for a 6'11" point forward. It will likely start to click eventually (like LeBron in his age-27 season), but the interior moves should be the main focus in the interim.
2. Khris Middleton
Performance: Middleton turned in what was arguably the league's best combination of scoring volume and efficiency this season. He was a few made shots away from becoming the fifth player ever to post a 50-40-90 season while averaging 20 points per game, and he repeatedly showed an ability to take over games with his scoring. He also met or exceeded career highs in both rebounds and assists per game. Middleton fully deserved to be an All-Star for the second year in a row, and he looked more than capable of being the second best player on a championship team this season. He would be one of the top two players on each of the remaining Eastern Conference playoff teams.
GRADE: A+
Personal Improvements: Middleton showed some really good signs as a playmaker down in the bubble. It's far from an area of need, but he also hasn't posted elite playmaking numbers over a full season. Continuing the boosted assist numbers that he produced during the playoffs (6 assists per game) would only help Milwaukee's offense. I would also look for the development of a tighter handle. Middleton is great at getting to his spot and creating a look in a few dribbles, both in the midrange and from deep, but he struggled at times in the open court or when he was tasked with dribbling around the perimeter rather than straight into a jumper. Cutting down on some of those turnovers – an issue that plagued the Bucks over the last few weeks – would be a significant positive. Lastly, I would look for Middleton to improve as a one-on-one defender. He's a fine team defender, but he does tend to lose individual battles with elite scorers. Most defenders do, and the Bucks have a guy like Wes Matthews for a reason. It would still be nice to see Middleton fare a little better in isolation defensively. These are nitpicks, but that's what you get when you're a two-time All-Star.
3. Brook Lopez
Performance: Lopez was elite defensively all season long. Outside of the Giannis-AD-Gobert trio, there wasn't a better defensive big in the league this year. Lopez's exceptional rim protection is the basis of everything the Bucks do defensively, and he made noticeable improvements – by my eyes at least – to his mobility beyond the paint. On the other side of the ball, Lopez struggled from deep for much of the regular season, but he found his stroke in Orlando. He was very good on that end more often than not in the bubble. We also saw an increase in paint scoring from Lopez this season, which is an area of his game that has been elite in the past.
GRADE: B+
Personal Improvements: Defensively, the only place that Lopez can really improve at this point is on the perimeter. Milwaukee's scheme doesn't open him up to that very often, but he will sometimes end up on quicker players outside of the paint. It's not reasonable to expect him to dominate those match-ups, but there's always room for improvement there. The more capable Lopez is at making the occasional switch, the more variety the Bucks will be able to pursue defensively with their best players on the court. That can be a major difference in the playoffs.
Offensively, consistency from deep is the key. Lopez shot roughly 36% from deep last season. He shot under 32% from deep this year, but he easily topped 40% in the playoffs. That latter number is likely too much to ask, but something around last year's figure would be nice to see. Even in the playoffs, Lopez showed some inconsistency. There were quick stretches where he would hit multiple threes, and there were long stretches where he would hit brick after brick. You don't need to be a great percentage shooter as a seven footer to provide significant perimeter impact, but a little bit more consistency – especially in the fourth quarter – would be a nice improvement from Lopez.
I'd also like to see some more paint touches because he's really good down there. You can't have him live in the paint when your star is a non-shooter who runs on his ability to get to the basket, but it's not too hard to fit in a post look for Lopez every once in a while. When he's playing without Giannis, that should be a staple of the offense. You need to put your best players in the best situations, and Lopez is in a great spot when he has the ball on the block. It's also worth noting that a Lopez post up is a look that you're probably going to be able to generate just about whenever you want to. Defenses are too focused on Antetokounmpo, Middleton, and the other shooting or driving threats to be lasered in on preventing Lopez post ups, and it should be a greater focus on Milwaukee's end when the offense is struggling or when there's a weaker big on him (see Meyers Leonard's brief appearance in the Heat series). Some more rebounding – from both of the Lopez brothers – would also be good. It's partly Giannis's presence and the scheme, but I saw them get beat on the boards a little too often, especially against Adebayo and the Heat. With Giannis, I wouldn't look too closely at their rebounding stats. That doesn't mean that they can't be a little better on the boards.
4. Eric Bledsoe
Performance: Bledsoe was terrific again defensively. The defense is simply so much better when he's available at the point of attack. His energy and athleticism make for an elite player on that end of the court. The problem is the other half of basketball. Bledsoe has the ability to push the pace, drive to the rim, and make plays for others. We see that from him, but his inconsistency in applying those skills is frustrating. His playoff shot selection runs from mind-bogglingly bad to average, and he seems to be unable to adjust on the fly. When the shots aren't falling, which happens often, the solution for a below average shooter cannot be to chuck up some more. For that reason, he gets a lower grade.
GRADE: C+
Personal Improvements: Stop shooting pull-up threes. Just stop shooting them. Threes in general, really. Bledsoe has yet to make more than 30% of his corner threes in a full season with the Bucks. He has yet to hit 35% of his overall threes as a Buck, and he has only had two above-average shooting seasons in his career. Giannis could use the spacing, but not at the cost of making Bledsoe – a solid offensive player in his own right – lean into a part of his game that simply doesn't work. It would be great if he put in a ton of work on his shot this summer, and returned next year with a consistent jumper. I'll take it. But unless we're looking at a career-best season from deep, Bledsoe needs to spend less time shooting and more time using his speed to move the ball around the court. Drive. Cut. Kick. Do it all. Milwaukee's playoff offense was often too slow or stagnant as the surrounding players watched Antetokounmpo or Middleton go at it from the top of the key. You've got the perfect player to jumpstart some movement. Use him.
5. Wesley Matthews
Performance: Matthews had a solid season. He played good perimeter defense, hit over 36% of his threes, and brought the overall toughness that great teams need from their supporting players. It would be nice to see a little bit more of the interior offense that he flashed in the last game of the season, but that might be a bit much for the soon-to-be 34 year old. His defensive contributions tended to outweigh his offensive struggles when they came, and Matthews was typically hitting enough shots to be fine on that end.
GRADE: B
Personal Improvements: Again, it would be nice to see something beyond hoisting threes from Wes. That's always been his game – and one that he's typically very effective with. In an ideal world, we'd be working towards ways to get a little more than that. Matthews looked lost at times offensively early in the Miami series. He would dribble into a double team near the paint and just get stuck with no escape route. Again, I thought Matthews had a very good year, but there is some room to be better offensively. The other thing I would look for – a boost in 3PT%. He shot over 36% from deep, which clears league average. It was also his third-worst season from three. There's definitely been a downturn over the last five years as he's aged and gone through some injury issues, but it wouldn't be surprising to see Matthews move towards the 37-38% range next season.
6. George Hill
Performance: Hill killed it from the three-point line over the first half or so of the season before coming down to Earth late. He was still more than respectable as a shooter in every part of the season that wasn't March (1-8 in three games). Hill is a dependable veteran that is almost always going to give you a solid floor. He's capable of creating a look for himself and others, and he's an easy option to go to. At the same time, he's 34. It's not ideal to be looking to him as a primary creator – something that Budenholzer did at times in the playoffs. He's not going to lock down anyone either. That's not really on Hill at his age, but it is a limitation that seemed to be ignored at times by this team.
GRADE: B
Personal Improvements: Like Matthews, there's not a whole lot to be said here. Hill, at 34, is who he is. That's not a bad things, as he brings a lot of stability to the court. He's a good shooter and just a dependable player. I've used that word twice because it's probably the best one to describe him. He brings decent playmaking ability and decent team defense. I can sit here and say that I'd like him to be even better in those areas, but that's unrealistic. The one thing I will ask for – another good shooting year. I don't expect another 46% success rate, but can he stick around 40%? It's a figure that he's now topped four times, with a fifth season at 39.9%. All four of those seasons have come in the last five years. The lone exception saw him shoot 28% from deep for the Bucks last season to undo a hot start in Cleveland. I don't want a repeat of that.
7. Donte DiVincenzo
Performance: DiVincenzo had a fantastic first part of the season. He was about as effective of a defender as he could have been, and he showed some offensive flashes in his second season. Donte isn't going to lockdown LeBron or Kawhi, but he does a great job of harassing his assignment and forcing them into a quiet or sloppy game. His defense is going to be crucial moving forward. The other side of the ball is the question mark. I don't want to talk about improvements in the performance section, but DiVincenzo plays offensively like he's still in college on a talent level. He takes deep threes that make you shake your head. There is a lot of playmaking talent here, but he's not at the point where he can consistently show it. DiVincenzo really struggled in the bubble, but he essentially redeemed himself in my eyes with a very strong finish. He was back to his typical self in the second half of the Miami series, and I'm willing to chalk up his struggles to the unusual circumstances of the bubble. I'm very excited about Donte's future.
GRADE: A-
Personal Improvements: The next thing defensively for DiVincenzo is probably going to be taking the step to guys like Damian Lillard and James Harden. He's in a really good spot right now, but can he start to show signs of star-stopping ability next season? Can he step into a Bledsoe-like role on that side of the court? I would say that is probably a little too much to ask from a third-year player, but it's something that DiVincenzo can start to work towards.
His off-season efforts need to be focused on his offense though. After shooting 40.1% from deep as a junior at Villanova, he dropped down to 26.5% as a rookie. That rose to 33.6% this year in what was his first full NBA season. He needs to keep that progress going. He's a go-to scorer at heart; that's why we see all of those deep triples that seem so out of place. With a little more progress as a shooter at this level, those looks start to make a lot of sense. If Donte is able to make himself an actual threat from well beyond the three-point line, things start to look a lot different from a spacing perspective.
The other keys – improving playmaking and overall scoring ability. DiVincenzo does a solid job of scoring at the rim. Now let's work on getting there more. Having the elite three-pointer to play off of will be important. Then there's the playmaking. How good can you be at setting up others? DiVincenzo only averaged 3.5 assists per game in his last college season, so there's no elite facilitator in hiding here. The Bucks don't need him to be that either. What they could use are small improvements around the margins. Can you consistently pump-fake, take a few dribbles towards the rim, and either go all the way or find the open man when the help defense comes over? Plays like that, along with the shooting improvements, would establish DiVincenzo as a good two-way NBA player for years to come.
8. Marvin Williams
Performance: Williams came in at the trade deadline and did what was asked. He played solid team defense, rebounded well, and hit 43.5% of his playoff threes to make up for an iffy finish to the regular season from deep. It was a strong finish, and a good pickup for the Bucks. Williams didn't do many negative things.
GRADE: B+
Personal Improvements: None. Williams hung up his sneakers after a stellar fifteen year career. He deserves to not worry about his jumper or his defense.
9. Pat Connaughton
Performance: Connaughton had a fine regular season for his role. He's athletic and a solid rebounder. He was a little below average from deep. He wasn't lost as a playmaker or defender. It wasn't anything special, but it was a decent performance. In the playoffs, Connaughton really struggled outside of a 15-point and 11-rebound Game 2 against the Magic where he shot 5-8 from deep. In the other eight games (he played just one minute in Game 3 of the Miami series), he scored more than 4 points just once, when he scored 5. He had eight total assists in those eight games. He made just three threes in fifteen attempts. It wasn't a strong showing. Connaughton is a very solid ninth man, but he didn't show it in the playoffs. It's fair to say that he shouldn't have played quite as much as he did in some games, but the bottom line is that he didn't deliver at all when he was out there.
GRADE: C-
Personal Improvements: We're starting to get to the point where pretty much everything could be improved, but that's not really a helpful point to make. Connaughton should look to improve his shooting. He hit just over 35% of his threes in his final season with Portland, but he has been down around 33% in each of the last two years with the Bucks. Move towards that Portland number and ideally beyond. The other aspect of the game I would emphasize is playmaking. Connaughton tailed off slightly this season after reaching a career high 3.5 assists per 36 minutes last year. He's never going to go out there and just sling pinpoint passes around, but improvement in his ability to make the next pass and be a threat off the dribble would be helpful.
10, Kyle Korver
Performance: Korver is here to shoot, and he made more than 40% of his threes in both the regular season and the playoffs. No one expects much defensively from him, so it's hard to knock him for that. I thought he always played hard. My big issue with his play was the turnovers. Korver rarely passed (not an issue in my book when you're an all-time great shooter), but he tended to look like a deer in headlights when he did, especially in the playoffs.
GRADE: B-
Personal Improvements: The man is 39. You don't really improve at that point; you either retire or keep doing what you've been doing to the best of your abilities. Whether he plays another year or not, he will go down as one of the best shooters in NBA history. If Korver does keep it going, I'd like to see some better decision making when the ball isn't leaving his hands as a shot.
11. Ersan Ilyasova
Performance: Ilyasova had a solid regular season. He hit threes at an above average clip, rebounded well, held up fine defensively, and basically did what Ersan does. He also barely played in the playoffs. He's not a sharpshooter or a dependable playmaker and ball handler, so his days of playoff contributions might be largely over. He's not a bad player, but it's hard to say that he brings something that someone younger and more athletic can't also bring.
GRADE: C+
Personal Improvements: I don't really have any comments here. I don't know what he could possibly do to better himself at this point beyond going on some crazy workout/diet plan and gaining new life as a bouncy, fast player. That seems beyond unrealistic. He plays solid basketball, but, again, he doesn't bring anything that I need and can't find in a younger player. Taking charges isn't enough to get playoff minutes. At this point, Ersan's impact is probably only going to be felt in the regular season.
12. Robin Lopez
Performance: Lopez was fantastic as a rim protector, and he showed some signs of an emerging perimeter game offensively. The main issue – he struggled with his post efficiency. It seemed that his post ups were ending in a prayer more often than not. Like Ilyasova, he barely played in the playoffs.
GRADE: C
Personal Improvements: Continue to expand the game. This was only the third year of perimeter shooting from him, and it'll be easier to turn to him when it matters if he can continue to build on his shooting momentum. That applies on the other end too. Can you go beyond the paint? Can you guard the occasional switch? I'd also like to see better post play from Lopez. To my eyes, at least, his style of play down there is not very pretty. He struggled to get clean looks at times.
13. D.J. Wilson
Performance: I might be the biggest D.J. Wilson fan in the world that's not personally related to him, but I don't have many positives here. Wilson averaged under 10 minutes per game and appeared in just half of the regular season games. He wasn't even a thought in the playoffs. His shooting (18-73 from deep) was terrible. He looked like an actual baby deer on offense – just shuffling around and unsure what to do with his body. I will go to my grave thinking that D.J. can be a valuable two-way piece in a consistent role, but you're never going to get the chance if you can't at least do something of note offensively.
GRADE: D+
Personal Improvements: The shooting needs to be reversed. Wilson hit 36% of his threes last year on slightly more attempts per game. Do whatever it takes to get back to that. My big key here is confidence. Wilson just exudes a nervous feeling every time he's on the court. He rarely looks sure of himself when he's playing. I think a large part of that is his role – going all-out with no sense of apprehension when you could be pulled at any moment isn't easy – but you simply need to figure out a way to make the most of the position you're in if you want to get to a bigger one. Wilson didn't do that this year, and that needs to change next year. Get in the gym and find yourself because the defensive potential is there. The shot is there. The part where he puts it all together at the NBA level isn't there yet.
14. Sterling Brown
Performance: Brown played more than Wilson, but there's not much to say for it. He often looks like a bull in a china shop offensively, running around with the ball with zero regard of the other nine players on the court. Brown attacks by himself way too much. His shooting also took a dip – from 36% to 32%. Brown could potentially be a useful role player, but he really didn't shot that this season.
GRADE: D+
Personal Improvements: Channel the energy. Choose your moments. Brown's attack mindset could actually be really helpful on this team, but he needs to be able to control it and use it for good rather than going all-out just because he can. I would say that should be the main focus. Like Wilson, the shot will need to be there too. He showed that it can be last year.
15. Thanasis Antetokounmpo
Performance: Antetokounmpo played just 129 minutes for the Bucks across 20 appearances. He turned 28 this season. Everyone recognizes why he's with the team, and it has very little to do with his on-court contributions. What I will say for Thanasis is that his leadership seems to be fantastic. There's only so much we can gather through the screen, but the man is consistently talking from the bench and providing support. He's always there for his teammates, and that's something that every team could use, regardless of his last name.
GRADE: A+ brother, leader, and bench mob member
Personal Improvements: We've seen so little from him at the NBA level that it's a little hard to come up with specific improvements that could be made. From what I've seen, pretty much everything outside of his finishing at the rim could use some work. There's a reason he wasn't in the NBA from 2017-2019. The most obvious fix is his three-point shooting. Antetokounmpo went 0-10 from beyond the arc this season.
16. Frank Mason (two-way)
Performance: Mason did very little at the NBA level, playing just over 100 minutes in nine appearances. He also played two playoff minutes. His real impact this year came in the G League, where he averaged roughly 26 points and 5 assists per game while shooting 42.5% from deep. He was named G League MVP for his efforts despite playing in only 23 games.
GRADE – Incomplete at the NBA level; A+ for G League performance
Personal Improvements: Mason needs to be better as a shooter at the top level (29.8% career). His G League season showed that he has the range, but it is worth wondering if the step up in size and athleticism that the NBA brings is a step too much. A strong defensive showing will be key, as will the continuation of solid NBA playmaking (6.1 assists per 36 minutes across his career and 8.8 this season). Mason doesn't profile as a starting point guard, especially on this type of team, but he can contribute off the bench if he's knocking down shots and spreading the ball around while playing solid defense. Those are the parameters. Can he meet them?
17. Cameron Reynolds (two-way)
Performance: Reynolds didn't play a single NBA minute this season after briefly appearing in 19 games for the Timberwolves last year. He averaged about 14 points and 5 rebounds per game for the Wisconsin Herd in 38 appearances. Reynolds doesn't really fit into the picture here.
GRADE – Incomplete at the NBA level; C- for G League performance
Improvements: I simply don't know enough about Reynolds to suggest much here. It looks like he could use some work everywhere. The Bucks will need some playmaking off the bench – shooting and solid defense are prerequisites – but that doesn't seem to play into Reynolds's hands. I wish the man the best, but it's more than unlikely that he finds a place in this rotation next season.
The Roster (Next Year)
Currently Guaranteed Spots
1. Giannis Antetokounmpo
Contract: $27.5 million in 2021; super max extension becomes available this off-season
External Improvements: None. Even if you believe there are a few players better than Antetokounmpo (I personally don't), there's no way that any of them end up in Milwaukee next season. You're not getting better than this.
Next Year's Role: Team leader and MVP. I don't know if a league MVP three-peat is in the cards, but Giannis will once again be the best player in Milwaukee.
One other note – Antetokounmpo is here for the long haul. I have zero doubts.
2. Khris Middleton
Contract: Roughly $35 million per year over the next three seasons and then a $40 million player option in 2024
External Improvements: Is all the talk about Middleton not being good enough to win a championship as the number two option actually valid? Not even a little bit. Here's a look at how he compares to other second options –
Only seven teams had two All-Stars this year – the Bucks, Heat, Jazz, Rockets, Celtics, Sixers, and Lakers. Throw in Paul George in LA and Victor Oladipo in Indiana, who both either sat out or struggled through injuries early, injured duos in Steph/Klay and Kyrie/KD, and KAT and D'Angelo Russell in Minnesota, and you've got twelve teams with two players who have made the All-Star Game at least once in the last two years. This isn't the best way to narrow it down, but it does put Middleton on a shorter list.
Only LeBron James, Russell Westbrook, CJ McCollum, and Paul George scored more points per game as the second leading scorer on their team.
Only Kawhi, who trailed Ivica Zubac, finished ahead of Middleton in win shares per 48 while being second in the stat on his own team. Middleton finished ahead of LeBron, KAT, Jokic, Chris Paul, Joel Embiid, and more here.
Only Anthony Davis and George finished ahead of Middleton in BPM this season as the second best player on their own team in the stat. Middleton beat out Jayson Tatum, Trae Young, Rudy Gobert, Ben Simmons, Bam Adebayo, and more here.
Only Davis, Kemba Walker, and Adebayo finished ahead of Middleton in VORP this season as the second option on their own team. This stat isn't perfect given its dependence on minutes played, but it's another sign of Middleton's spot near the top.
Davis is in a league of his own as a second option. George and Westbrook, at their best, sit behind him, thought it's not easy to argue that either one of them was at their best this season. There's a very clear case to be made that Middleton had a better season than both. So either the Lakers are the only team that can win a title, or the Bucks, with Giannis and Khris, can make it work. I would lean towards the latter.
Next Year's Role: Second best player on the team. Let's make it three All-Star games in a row for my man Khris.
3. Brook Lopez
Contract: Roughly $13 million per year through 2023 (three more seasons)
External Improvements: I don't see how you upgrade this spot. Lopez has to be untouchable because the players that would warrant a complete blowup of the team simply aren't leaving their current teams. He's a perfect match for Giannis – a big man that can space the floor and dominate the rim defensively. I talked above about some things I'd like to see from Brook next year, but I don't see how the Bucks get better by moving in a completely different direction here.
Next Year's Role: Starting center. Another All-Defense season would be great.
4. Eric Bledsoe
Contract: Roughly $17.5 million over the next two seasons before a third year that becomes fully guaranteed ($19.4 million) by July 2022. Just under $4 million of that final year is guaranteed.
External Improvements: This is the big question. Can the Bucks upgrade at the point guard spot. The short answer is yes. The longer answer is that they'd better be pretty dang careful if they're going to pull the trigger.
Here are some of my issues, first focusing solely on the Bucks:
Bledsoe is fantastic defensively. There's a clear drop-off in this team's defensive energy when he sits. If we're going to move him, it better be for a very clear offensive upgrade or Jrue Holiday, who brings the defense and the offense (more on him in a bit).
I would not include Donte for anything less than a superstar. I'm so high on him. He was incredibly effective this year – in his first full NBA season – and he can really only get better offensively. I'm just not buying in on giving up Bledsoe and Donte for a year or two of a potential starting point guard upgrade. It's just not worth it for me. Your fourth best player isn't that important. You do need a bench too, and the Bucks are suddenly short-handed there with the retirement of Williams and a number of potential free agent departures on the bottom half of the bench. George Hill only has so many years left too. You can't win a title with five players, and the Bucks goal needs to be staying competitive now while also remaining flexible for the future. Giannis is only 25. That means a lot of years where you need to have title-caliber teams around him. We can't just be making decisions about 2021 here.
Now onto the options I've been hearing about. There are mainly three somewhat realistic options that have been circulating – Chris Paul, Holiday, and CJ McCollum (not a point guard but a reasonable option to play instead of Bledsoe portion-wise).
Let's start with Paul. Everyone loves this move. I'd be incredibly nervous if it happened.
Paul is now 35. He was great this season, but he's a ticking time bomb. You never know when Father Time will catch up. Bledsoe, for all of his faults, is a far better age fit with Antetokounmpo (25). Making reckless moves is the kind of thing that can close a championship window far earlier than it should close.
Paul has never made the Finals despite playing with James Harden, Blake Griffin and DeAndre Jordan, and more. Does this mean he won't if he gets traded to the Bucks? Not at all. What it does mean is that Paul's presence is by no means a guarantee of a title. You're taking a risk with him just like you'd be taking a risk by rolling out Bledsoe again next year.
Paul is a better offensive fit – he can shoot from beyond the arc and find his own looks in the midrange. He's not as good defensively at this point. I'd also worry about the touches. Is he really willing to be the third best offensive player on his team? That's something he's never experienced.
Getting Paul likely requires DiVincenzo, Bledsoe, and some lesser players or picks. I'm just not confident enough that Paul is the answer to give up all of that. Again, he's 35 year old who may or may not fit in the locker room. I just don't like the move.
NO to Chris Paul
Now onto Holiday, who would be a very nice fit if he were simply swapped with Bledsoe. I just don't know that the trade gets done in a way that makes sense for either side.
Holiday can do it all. He can shoot, score, pass, and defend. He's a good veteran player. He's exactly what the Pelicans need to complement their young core.
There's just no reason for New Orleans to trade him. And while Holiday is great, he's also not worth three key rotation players like Lopez, Bledsoe, and DiVincenzo. I see zero ways in which that makes the Bucks better, and I don't see the Pelicans accepting anything less.
Does Bledsoe and Donte for Holiday work? Maybe. I'm just not taking that if I'm the Pelicans because I don't have to. And if I'm the Bucks, I'm looking at my roster as a whole and scratching my head because I've suddenly only got five players left that played for me in the playoffs assuming that Wes Matthews opts in to his player option. Holiday would obviously make six, but there'd be moves to make and about $5 million less to make them with if this deal went through.
I'm not opposed to having Jrue Holiday, but it seems unlikely. From the Bucks perspective, we're looking at a team that was one bounce away from The Finals last year. Should a rough finish to a strange season really be enough to tear part of that team up? I'd be hesitant.
McCollum is last.
CJ is obviously far better as a shooter and scorer than Bledsoe. He's also far worse as a defender. I honestly don't know that those two things, overall, go in McCollum's favor. I also don't see a Bledsoe-CJ swap being accepted, and anything more would be a pretty clear shift in Portland's direction in my eyes. I think we need to be really careful about Bledsoe here. 3PT% is not the only part of the game, and we can't ignore the other parts in trading for shooting.
NO to McCollum
Next Year's Role: In Milwaukee as the starting point guard. If it was up to me, the Bucks would enter next season with Bledsoe in town. Bled needs to adjust in the playoffs, but I don't see a better alternative outside of getting Holiday for Bledsoe and picks/scraps, which seems more than unlikely.
5. Wes Matthews
Contract: $2.6 million player option
External Improvements: It doesn't get much better as a fifth starter. I have no idea what Matthews might do with his player option, but he plays tough defense and shoots the ball fairly well. That's really all the Bucks can ask for. I'd keep him unless he asks for a crazy amount of money in a new deal, which I don't really see the market for.
Next Year's Role: Fifth starter barring a big playmaking leap from DiVincenzo.
6. George Hill
Contract: $9.6 million for next season; $10 million for 2022 becomes fully guaranteed after June 30
External Improvements: Hill is a really solid sixth man. I don't think anyone other than Dennis Schroder or Lou Williams does it better from the guard spot. Both guys are under contract with their respective teams for next season. I don't see either ending up in Milwaukee.
Next Year's Role: One of the first off the bench
7. Donte DiVincenzo
Contract: $3 million for next season; $4.7 million team option for 2022
External Improvements: I don't see how you can improve upon a 23 year old defensive pest with serious shooting and playmaking potential as your seventh man. This is the trade chip if a star becomes available, but I don't see that happening. For the record, I'd say there's a 99.5% chance that Bradley Beal plays in Washington next season. I'd also be hesitant to add him alongside Middleton (who I'd prefer to Beal) and Giannis given the high-volume tendencies of all three. Beal's defense, or the lack thereof, is also a concern.
Next Year's Role: One of the first off the bench
8. Robin Lopez
Contract: $5 million player option for next season
External Improvements: I don't think you can do better than your starting center's brother in the backup role. Robin is a solid player in his own right, and the price works for both sides. I think he's back next season.
Next Year's Role: Backup center again
9. D.J. Wilson
Contract: $4.5 million for next season
External Improvements: I will die on DJ's hill. I think the potential is there, and it's not like there's a ton of highly talented and cheap ninth men floating around out there. I'd love to see Wilson in a consistent role. I also would be able to stomach it if he's a piece in a trade. Again, I don't love any of the names that are being floated around right now, but trades are always possible.
Next Year's Role: 9th-10th man, consistent playing time
10. Ersan Ilyasova
Contract: Exactly $7 million for next season, but it's not guaranteed
External Improvements: We're getting to the point where external improvements are kind of not a thing. Can you really improve on your tenth man slot? It's almost guaranteed to not matter in the playoffs anyway.
Next Year's Role: I love Ersan, but $7 million is a bit much. Can we trim that down a little bit and keep him coming off the bench?
11. Thanasis Antetokounmpo
Contract: $1.7 million for next season
External Improvements: There's only one Thanasis Antetokounmpo.
Next Year's Role: Keep him exactly where he is now.
Free Agents
Milwaukee's free agents are Korver, Connaughton, Brown, Reynolds, and Mason.
I have no issue with bringing Korver back for $2-3 million again and letting him play the same role.
Same goes for Connaughton.
I'm not against Brown, but I don't know if resigning him is really worth it. It might be time to give someone else a shot to break into the rotation.
I looked at the G League guys with a little more detail.
The main problem for Mason is his size (5'11", 190 pounds). That makes him Milwaukee's shortest player by two inches, and only George Hill is lighter. The three contributors that are somewhat close are either bringing elite defense and occasional playmaking (Bledsoe and DiVincenzo) or calm and steady offensive playmaking and solid all-around play (Hill). Mason, at the NBA level, is not there yet, and his height will remain an issue on a Bucks team that prioritizes defense. With that said, could he replace Hill in a year or two? Possibly. He played well enough in the G League to get the chance to play some regular season minutes next year. I would not be against signing him to bring a playmaking spark off the bench during the regular season while he develops Hill as a potential bench guard down the road. I wouldn't go past $5 million per year at the most, but I think he deserves a shot.
It's hard to see anything changing for Reynolds given all of the players he will need to jump to find any sort of consistent minutes. He has no track record of NBA success, and his G League numbers don't exactly jump off the page.
Recap
I have zero issues with running it back. I would really hesitate to make major changes solely based on what just happened. This was just a different kind of season, and we could not have been closer to The Finals just last year. There's room to add playmaking, whether that's internal from DiVincenzo or through free agency (Jordan Clarkson, Bogdan Bogdanovic, Alec Burks, Justin Holiday, Tyler Johnson). Guys like Jeff Green, Glenn Robinson III, Torrey Craig (restricted), Andre Roberson, the Morris twins, and Jae Crowder are worth a look on the wings. The Bucks shouldn't avoid making changes, but I would be careful about making any major changes. One other point – the draft is going to be important. The Bucks need to start gathering some youth. This isn't a team with a bunch of 34 year olds, but there isn't a whole lot beyond DiVincenzo and Wilson in terms of young prospects. It's important that that aspect of team building gets some attention now and down the road.
The Coach
I'll keep this relatively short because I've already put a lot down here. I don't think Budenholzer should be fired. Why?
I think there's something to his thoughts about adjustments. If you can't win the way you play, do you really deserve to go all the way? Now, that's obviously a simplistic way of looking at things. You do need to be willing to make some changes, and that's an area that Budenholzer needs to improve upon. I still think the Bucks lost not because they failed to adjust (they clearly did fail to adjust), but because they didn't do what they were great at doing. They let Miami dictate the pace, and they let Miami control the paint. Adjustments are important, but so is winning the battles that you typically win. The Bucks didn't do that in this series, and that falls on the players as much as it falls on the coaches.
One thing I would say to continue off of that point – fast tempo and frenetic defense might be the two hardest things to replicate in a relatively empty gym. It's not an excuse, but it's just another reference to the fact that this year was not a normal season.
So, the point here is that Budenholzer does need to be better at adjusting, but I just don't see that as being Milwaukee's fatal flaw here.
I'll touch on two more things – the minutes question and the options beyond Budenholzer.
I really love what Budenholzer does with his minutes during the regular season because it allows everyone to play every night that they're healthy without taxing them too much. It's load management without the DNP – rest. When you play like that, you give a lot of guys minutes. I don't really have an issue with depending on those players when it matters. The Bucks really only went one deeper than the Heat, and I think Budenholzer did realize his mistake in playing Connaughton before Giannis's injury changed things. Pat only played one minute in Game 3. Miami's starters weren't playing 40 minutes each either, even though they were playing in the exact same close games. Eric Spoelstra leaned on his bench, and they delivered in a way that Milwaukee's bench did not. Is that really Budenholzer's fault. It's fair to question why Wes Matthews sat while Jimmy Butler went off in Games 1 and 3, or to question why Antetokounmpo and Middleton didn't get a little more playing time at times. Here are some interesting numbers though –
Average MPG in the second round –
Khris Middleton – 39.2
2. Jimmy Butler – 36.6
3. Bam Adebayo – 36.4
4. Giannis Antetokounmpo – 36 (doesn't include Game 4)
If you consider the fact that Giannis missed the one game that went to OT, this looks pretty normal. Budenholzer unquestionably could have thrown out some better rotations – the George Hill as the primary creator lineup is one that kills me every time I see it – but he really wasn't that bad from a minutes perspective.
To summarize in a sentence, Budenholzer was far from perfect in this series, but a lot of the blame is being incorrectly pointed in his direction.
Say we do move on from Budenholzer. Who replaces him? There are only six active coaches that have won a title – Gregg Popovich, Nick Nurse, Rick Carlisle, Doc Rivers, Steve Kerr, and Spoelstra. I'm honestly not convinced that Rivers, or even Kerr, would be a better fit with this team. I don't even know about Nurse, who has been a NBA head coach for less than two years. None of that matters because these guys aren't coming to Milwaukee. So who out there is better? Billy Donovan? Nate McMillan, whose teams have been swept in the first round two years in a row? Ty Lue? Kenny Atkinson, who's known for his player development rather than the steps that the Bucks need to take? We've seen what a bad head coaching hire can do with Jason Kidd. Why would you risk that right now? There seems to be the idea that the Bucks just need to kneel down at Giannis's feet and toss change after change at him in the hopes that those changes will lead to a title. Why? You have the pieces. They just need to get it done. That starts with Giannis, who wasn't at his best against Miami.
Change for the sake of change is never the answer. I hope that the Bucks recognize that this off-season.
It was another great season for a franchise that has been short on those for the last five decades. I'm looking forward to what's next. Fear the Deer.