NBA Mock Draft: The Lottery
14 min read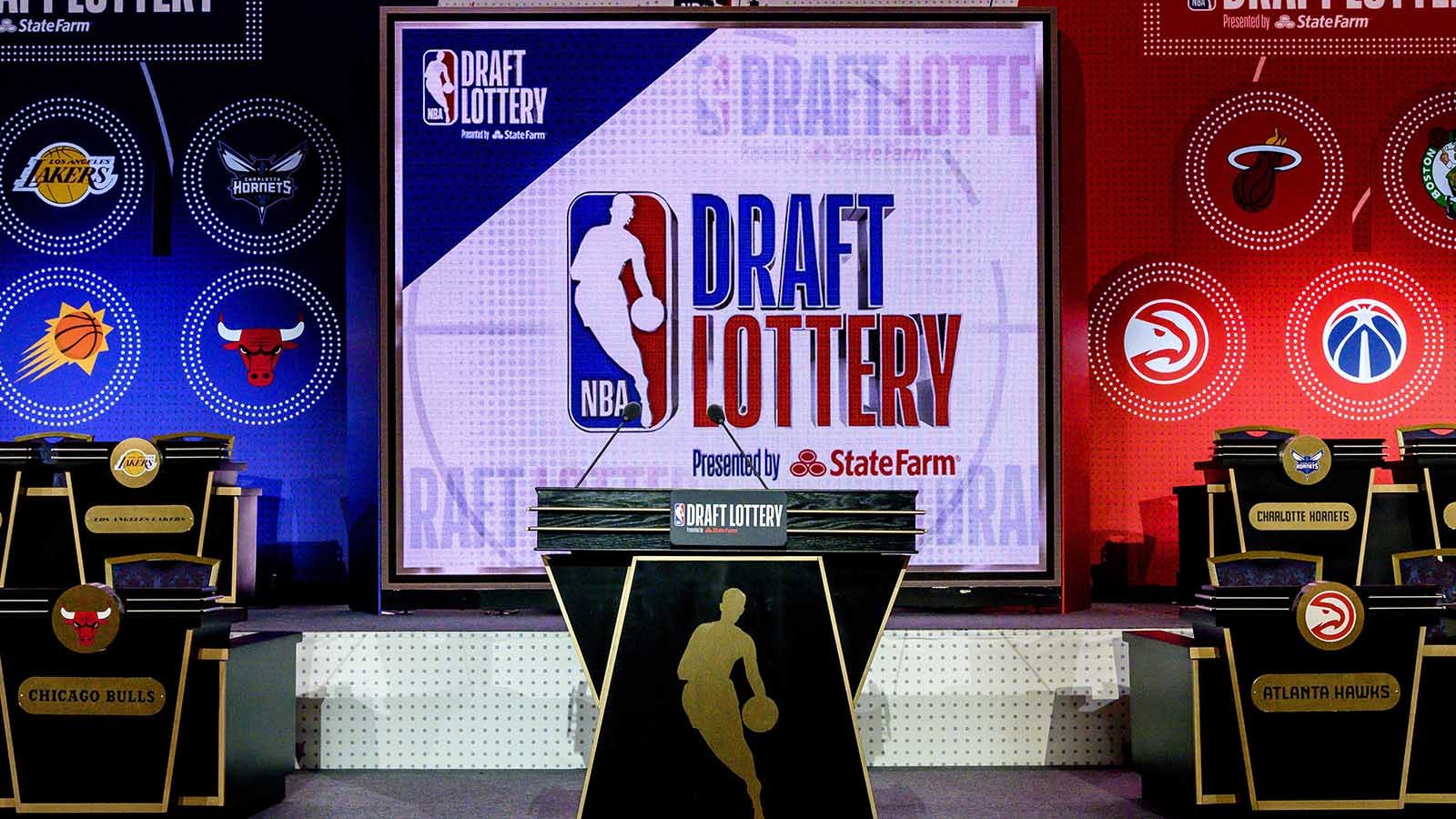 On August 20th, the NBA lottery took place and broke the hearts of fans from Detroit and New York. As a Pistons fan, this one kills as Detroit has still never moved up in the lottery. If you're a Knicks fan, this one hurts even more as you missed out on Ja and Zion last year and had to settle with R.J. Brick… I mean *Barrett.
If you hail from Charlotte or Chicago, congratulations! I am extremely excited for Chicago as the franchise also recently fired the monstrosity of a head coach that was Jim Boylen. Moving up in the draft along with a new head coach will hopefully accelerate Chicago's rebuild.
This mock draft will look to predict potential draft night trades and the best potential prospect fits for each team. With no guaranteed or clear #1 player or franchise altering talent in the draft, sparks will fly as I predict the first two picks to possibly be traded this year. I'm not 100% sure on the order, but the top 3 players off the board first will likely be James Wiseman, LaMelo Ball, and Anthony Edwards. Let's get started!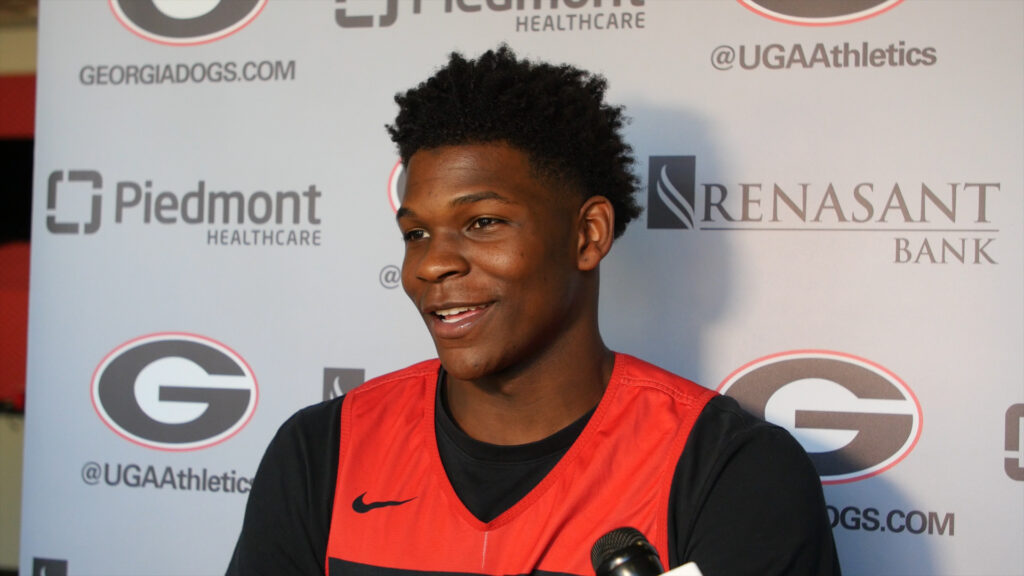 1. Anthony Edwards
To… The Suns
The trade: Timberwolves send the #1 pick, the #17 pick (via Brooklyn), Jarrett Culver, Josh Okogie, and James Johnson to the Suns for Devin Booker
Back in 2017, D'Angelo Russell stated that "We'll all be on the same team, I don't know which team, but we'll be on the same team." He was discussing teaming up with his friends Devin Booker and Karl-Anthony Towns, and Russell and Towns are already together in Minnesota. The so-called "NBA Goodfellas" trio are extremely close friends, and they have the potential to create a dynasty if this trade goes down. With Devin Booker as the shoot-first leading scoring option on the wing, KAT patrolling down low with filthy post moves and his ability to extend the floor as a second option, and D'Lo playing his natural role as a facilitating leader and third scoring option, these new-look Timberwolves could be a deadly trio out West for years to come. Two parts of the puzzle are already in place after D'Angelo came to Minnesota in this year's trade with Golden State, and by winning the lottery, Minnesota has a trade chip that may entice Phoenix enough to pull the trigger on this trade. Re-signing Malik Beasley as a wing sniper could help round out this team with a scoring bench presence.
Booker might want out of Phoenix, and instead of him playing upset and causing trouble down the road, Phoenix should capitalize on his trade value right now after a hot performance in the bubble. Jarrett Culver showed potential in his rookie year and was near the top of my draft board last season. He can be an above average wing starter in the future. Josh Okogie is a high energy wing defender already and is young enough to make strides in his offensive game. James Johnson is added for salary purposes. Phoenix can use the newly acquired 17th overall pick to add another young role player to accelerate their rebuild. With the #1 pick, Anthony Edwards can be Devin Booker's replacement. He was the highest scoring freshman in the country and can project to play a very similar game to Donovan Mitchell in the future. A core of Ant Man, Culver, and Ayton, along with many young role players like Kelly Oubre and Mikal Bridges, is not bad at all for Phoenix.
If no trade occurs, the Timberwolves will likely take Edwards.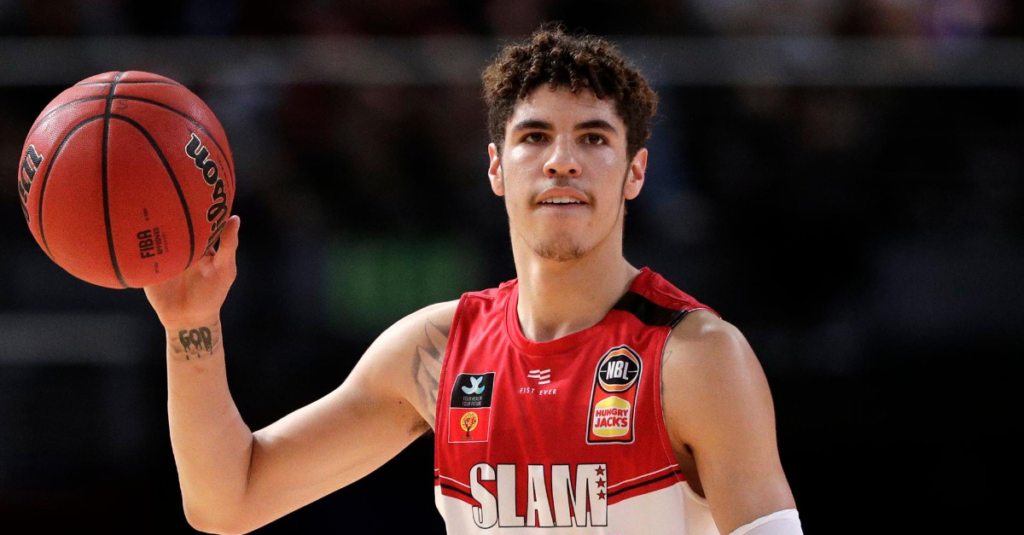 2. LaMelo Ball
To… The 76ers
The trade: Warriors send Andrew Wiggins, Jordan Poole, the #2 pick, their second round pick, and two future second round draft picks to the 76ers for Joel Embiid.
With the excitement of the first pick and one superstar already being traded, this trade will give NBA fans another huge rush of emotions. Basically, the Joel Embiid and Ben Simmons experiment did not work. Neither are elite shooters, and with Al Horford also in the mix, the floor is too crowded. Additionally, Simmons isn't a point guard. He's a power/point forward that needs to play at the pinch post (only player on the weak side of the court) to maximize his skill set. With both Embiid and Horford on the roster, that becomes hard to do. Something needs to give, and while Embiid is arguably the best center in the NBA, I'd rather keep Simmons on my team because of the interesting playmaking ability he brings with his size and his defensive versatility.
Embiid is injury prone, and centers are becoming less crucial to winning in today's NBA. Golden State has a hole at the center position, and the Sixers could retool in a different way around Simmons by letting Embiid go. The Warriors will be healthy come next year, and that means that the Big 3 of Steph Curry, Klay Thompson, and Draymond Green is ready to contend again. Those three and Andrew Wiggins might not be enough to win it all anymore though. Replacing Wiggins with a top thre center in the NBA, however, could lead them to another NBA championship. For Philadelphia, they would finally get a star point guard to pair with Simmons. In fact, I have LaMelo as the clear top player in this year's draft as he has the most potential, the best playmaking skills, and the highest level of finishing ability/creativity. Throwing in a bench shooter in Jordan Poole along with a couple second round picks and Andrew Wiggins to match salaries may be just enough to sweeten this deal for the 76ers.
If no trade occurs, Golden State will likely take C James Wiseman to get a center to complement their core.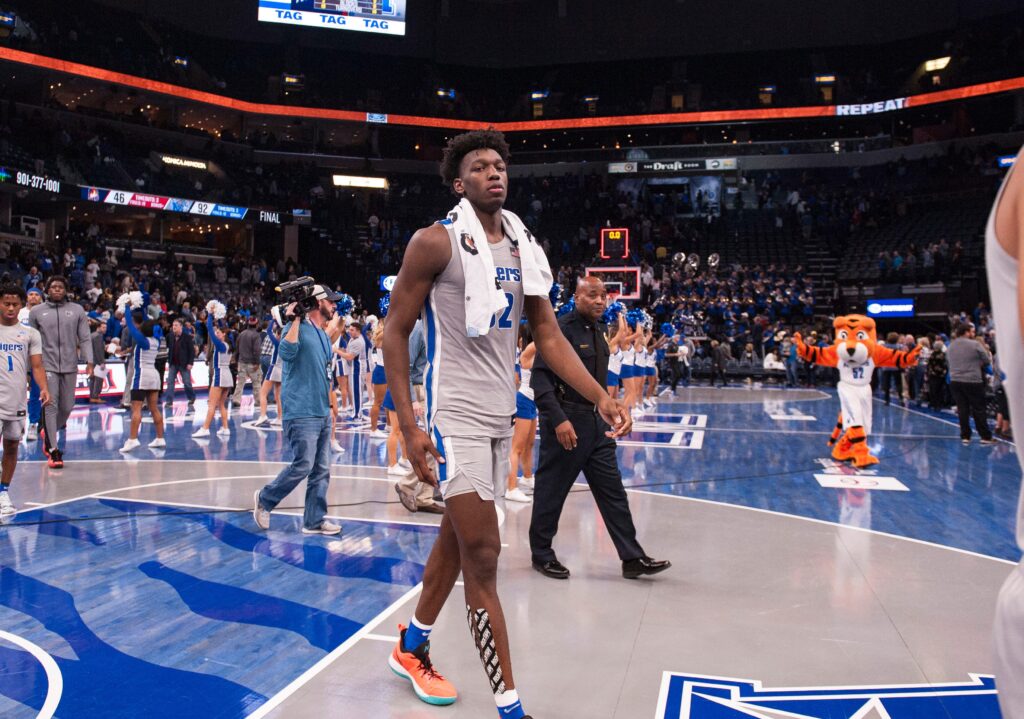 3. James Wiseman
To the Hornets
Finally, not a trade! The Hornets were one of the lucky teams this year. They only had a 6.7% chance of moving up to the 3rd overall pick, and yet that's exactly what happened. Looking at Charlotte's roster, there are a lot of holes to fill. Center is definitely one of them as they've been rolling out Cody Zeller there for a long time. Enter James Wiseman, a 7'1" athletic freak that could be a franchise altering center. A great inside finishing game, the ability to rebound, and his shot blocking presence could be just what Charlotte needs as it builds up for the future. It'll be interesting to see if he can develop an outside shot to unlock true star potential. Adding him to the mix with a young core led by Devonte' Graham, P.J. Washington, and Miles Bridges is a promising start for this team.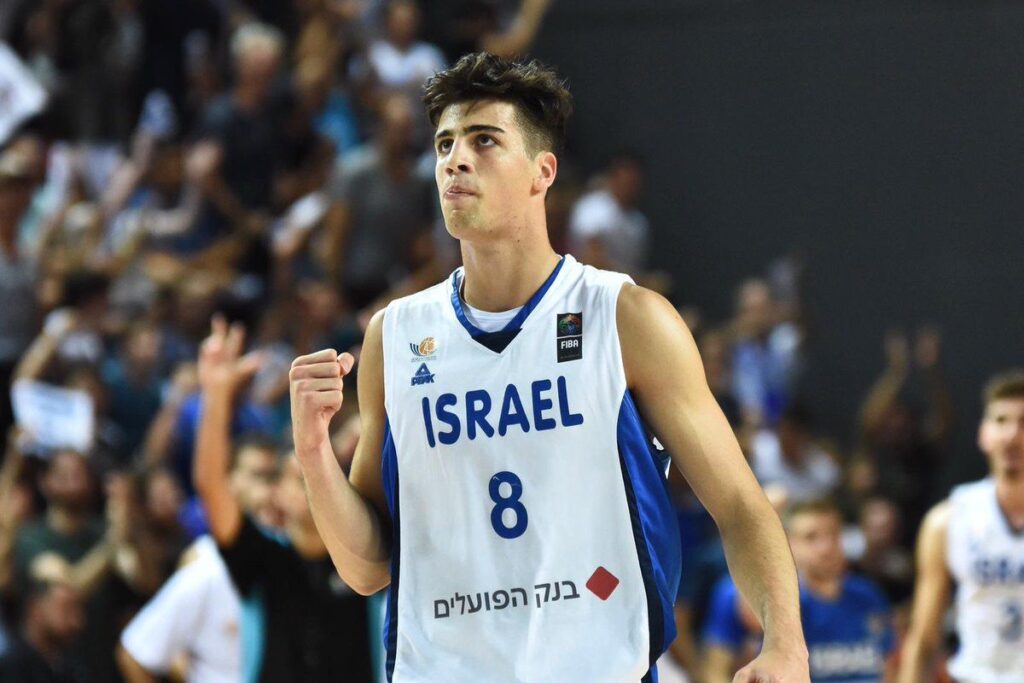 4. Deni Avdija
To the Bulls
This draft gets interesting once we leave the top three. The Bulls have plenty of options to choose from with the fourth overall pick here. For me, it came down to Mr. Avdija or Obi Toppin. All in all, Deni is younger and might have more potential due to his dribble-pass-shoot skill set. He's a combo forward swingman that might be the next star small forward in this league. Deni will definitely add value to Chicago with his passing and cutting ability. The Bulls need help on the wing, and with Avdija's playmaking ability, he can also help take some of the ball handling duties to alleviate pressure from Zach Lavine and Coby White. With Otto Porter's huge contract coming off the books after next season, Deni can eventually take that starting SF role, and create a nice, young starting core of PG Coby White, SG Zach Lavine, SF Deni Avdija, PF Lauri Markkanen, and C Wendell Carter. Daniel Gafford is a nice piece off of the bench as well for a Chicago team that has struggled since the Jimmy Butler era ended in 2017.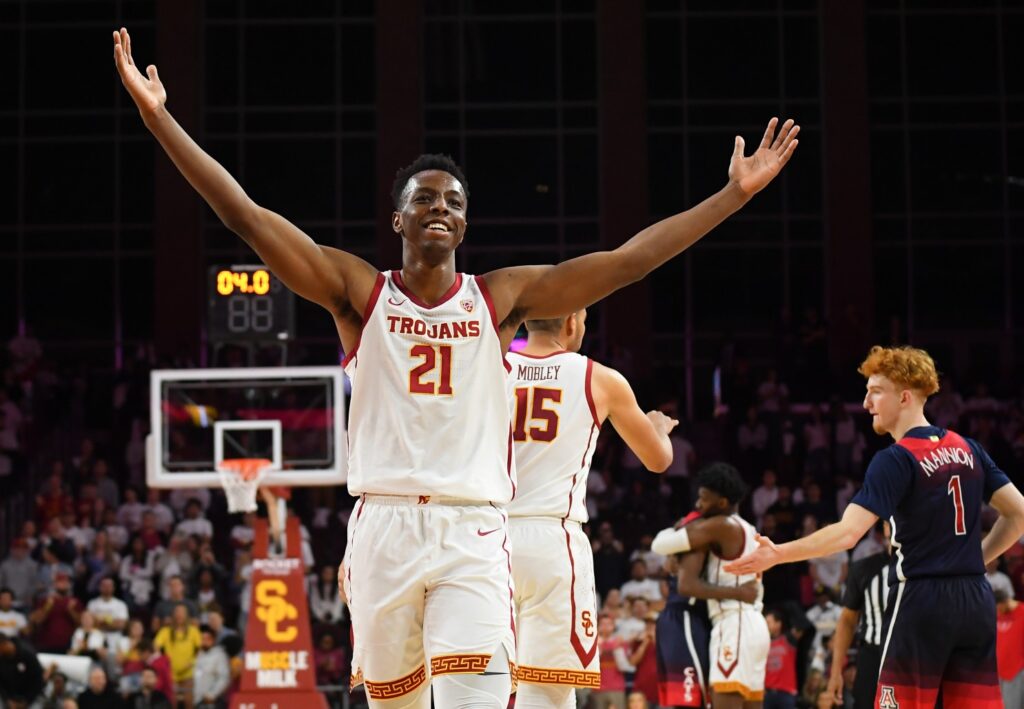 5. Onyeka Okongwu
To the Cavs
I know what you might be asking yourself. Cleveland takes another big man? But don't they already have Andre Drummond, Kevin Love, and Tristan Thompson? Actually, Tristan Thompson's $18 million salary is off the books after this past year. Drummond will likely pick up his monster $28 million player option but leave after next year. Love is under contract until 2023, but his name is always in trade talks. He could also be a solid fit next to the rim running Okongwu if the rumors of his departure from Cleveland never come true. Onyeka averaged 16.2 points and 8.6 rebounds per game with an elite true shooting percentage of .645 at USC. He may be an undersized big, but those are common in the league nowadays. It didn't stop him from being one of the best shot blockers in college either. Okongwu is an explosive big man that can learn from and be mentored by Andre Drummond for a season, and then move into the starting lineup alongside Cleveland's 3 guard tandem of Collin Sexton, Darius Garland, and Kevin Porter Jr. Look for him to catch lobs from these guards for years to come.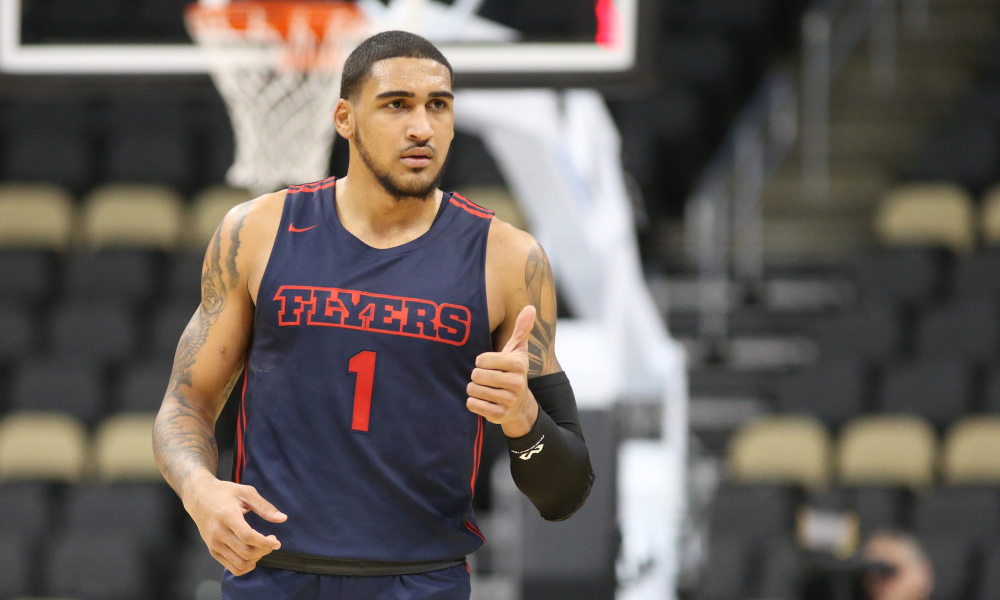 6. Obi Toppin
To the Hawks
I've said it before, and I'll say it again- the Atlanta Hawks will be a nightmare in the Eastern Conference in a couple of years. If Obi falls this far, Atlanta should rejoice. With the young core of star PG Trae Young, SG and future two-way star Cam Reddish, SF De'Andre Hunter, the underrated PF John Collins, and C Clint Capela, along with bench scorer Kevin Huerter, adding Obi is just another dynamic piece that rounds out Atlanta's bright future. Obi has a motor, insane finishing and dunking ability (especially in transition), and elite pick-and-pop potential as he shot 42% from 3 in two college seasons. It's no wonder he won the Naismith College Player of the year. All in all, his skillset shows he actually might be a John Collins 2.0 prototype. Because of that and rumors that Atlanta doesn't want to pay Collins max money down the road, Collins might be a trade chip that either adds future assets or better role players to the team. That shouldn't matter to the Hawks right now because Toppin is a future star. He's worth the pick regardless of the Collins situation.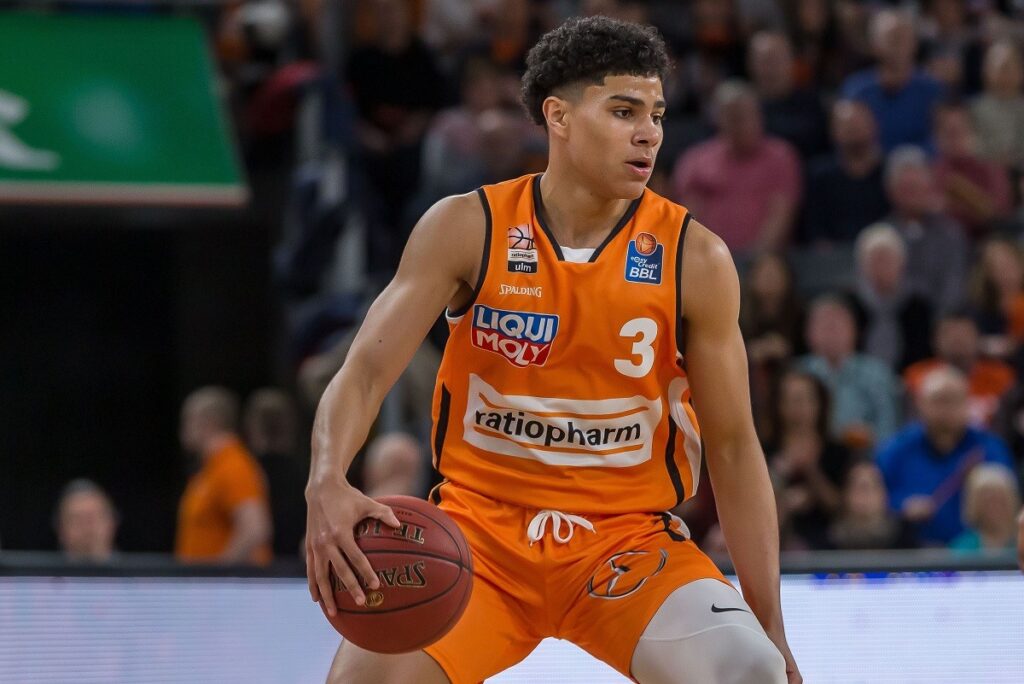 7. Killian Hayes
To the Pistons
As a Pistons fan, the draft lottery caused yet another year of unnecessary stress. Sure, I would've been going nuts if Detroit landed in the top 3 so we could possibly get LaMelo Ball, but sometimes life isn't fair. That being said, if international prospect Killian Hayes drops to #7, I would be ecstatic. Hayes reminds me a lot of Goran Dragic with his crafty lefty ball handling skills and finishing abilities. At 6'5", he is a big point guard that is quick enough to potentially lockdown opposing guards. He has tremendous IQ for an 18-year-old (he is one of the youngest players in this draft) and shows excellent maturity with solid pace and vision out of the pick-and-roll. In 26 minutes per game in Germany last season, he put up 12.8 points and 6.2 assists per game. He will need to continue to improve as a shooter, but his jump to 39% from three last year was a big improvement. Shooting over 90% from the free throw line shows he has potential to be a good shooter and that his three-point shot will continue to develop. I don't think he will be a star, but he will for sure be a quality, above-average point guard in the NBA. Also, being trained by former Pistons fan-favorite Will Bynum will surely increase his likeability in Detroit. A season (likely half season) of mentoring under skilled veteran Derrick Rose should help speed up his development as well.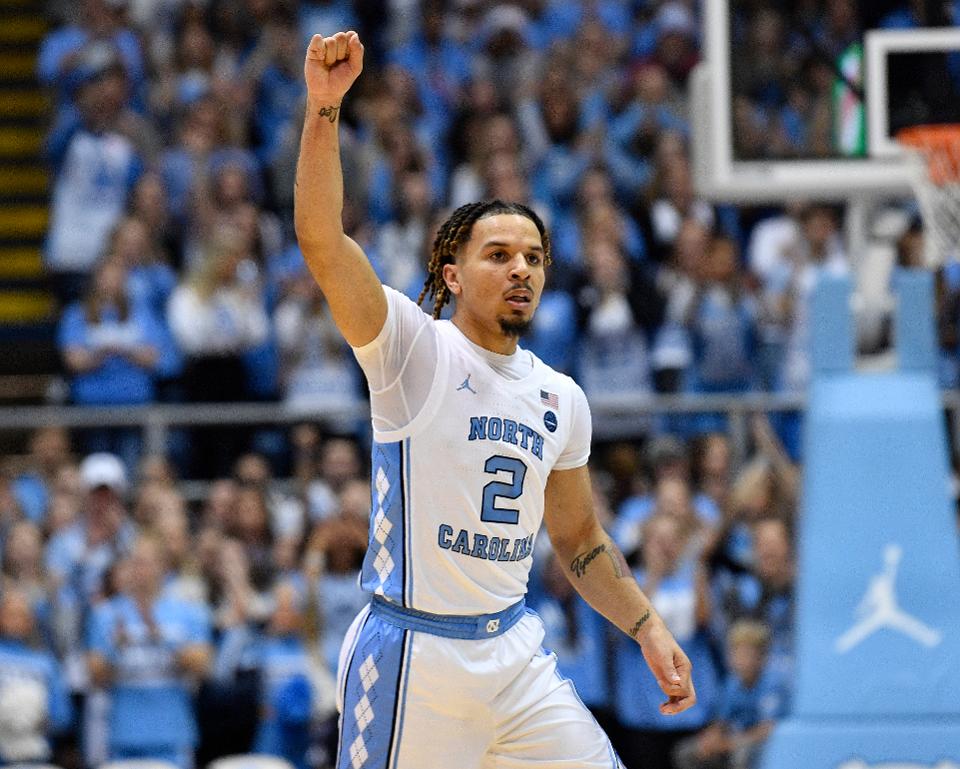 8. Cole Anthony
To the Knicks
With the Knicks, there is always a chance of chaos. At the start of the season, Cole Anthony was projected to go in the top five. After an up-and-down season at UNC that saw him shoot a meek 39% from the field overall, a lot of draft rankings have him falling out of the lottery all together. However, I think the Knicks need to take a chance on him. Anthony may be a hit-or-miss player, but he could be one of the best scorers in the draft and is deceptively bouncy for a point guard his size. In the last 3 drafts, New York has swung and missed on Frank Ntilikina, Kevin Knox, and, in my opinion, R.J. Barrett. Aside from Mitchell Robinson, the future of this team is not looking good. If I were a GM, I'd rather have Cole Anthony leading my offense than Frank Ntilikina. You can have R.J. or Cole take the majority of your shots…pick your poison.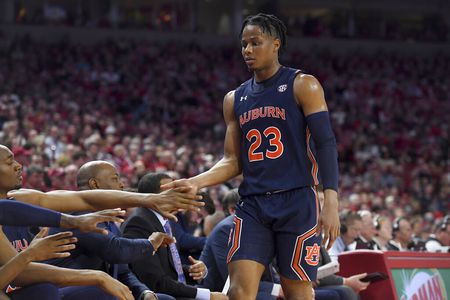 9. Isaac Okoro
To the Wizards
The Washington Wizards are in a weird situation. They have Bradley Beal, one of the best scorers in the whole league, in his prime. John Wall should be returning from injury to form one of the better back courts in the league if he can stay healthy. Thomas Bryant is a solid center that can stretch the floor. Washington also has a few intriguing wing players in Rui Hachimura, Jerome Robinson, and Troy Brown. So, what's the issue? They were 29th in defensive efficiency this season. Enter Isaac Okoro, a strong 6'6", 225 pound shutdown defender that can guard the opposing team's best player right out of the gate. He's probably the best wing defender in the draft, which is just what the Wizards need. Playing him next to Bradley Beal will help the team out tremendously as Beal was one of the worst defenders in the league this year. Okoro will need to eventually develop an outside shot, and I think he will to become a solid, coveted 3 and D role player.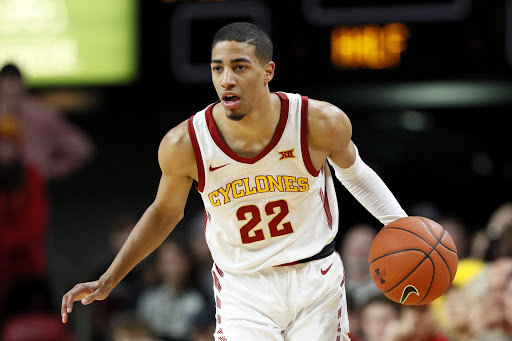 10. Tyrese Haliburton
To the Suns
Taking into consideration the Phoenix Suns' potential trade for the #1 pick that I predicted earlier, Tyrese Haliburton can be another exciting young player for the Suns' rebuild. Now that the Suns allegedly have Anthony Edwards, Jarret Culver, and Josh Okogie via trade, along with Kelly Oubre, Mikal Bridges, and Cameron Johnson, this team is absolutely stacked on the wing. Deandre Ayton is a double-double machine that will lock down the center position for years to come. Although they have Ricky Rubio, a young point guard is what this team needs. Haliburton is a jack-of-all-trades guard that can do a little bit of everything on the court. He has good size for a point guard (6'5") and averaged 5.9 rebounds and 6.5 assists per game in his last college season. He is a decent defender and the assist numbers show he can be a table setter for this young team. With so many young wing shooters, and Rubio as a prolific facilitator dishing dimes on the first unit, I can see Tyrese being a second string Lonzo Ball prototype for this exciting Suns team. Like Lonzo, Haliburton has an awkward shot form that might make teams shy away from him even though he shot 40% from deep in 2 college seasons.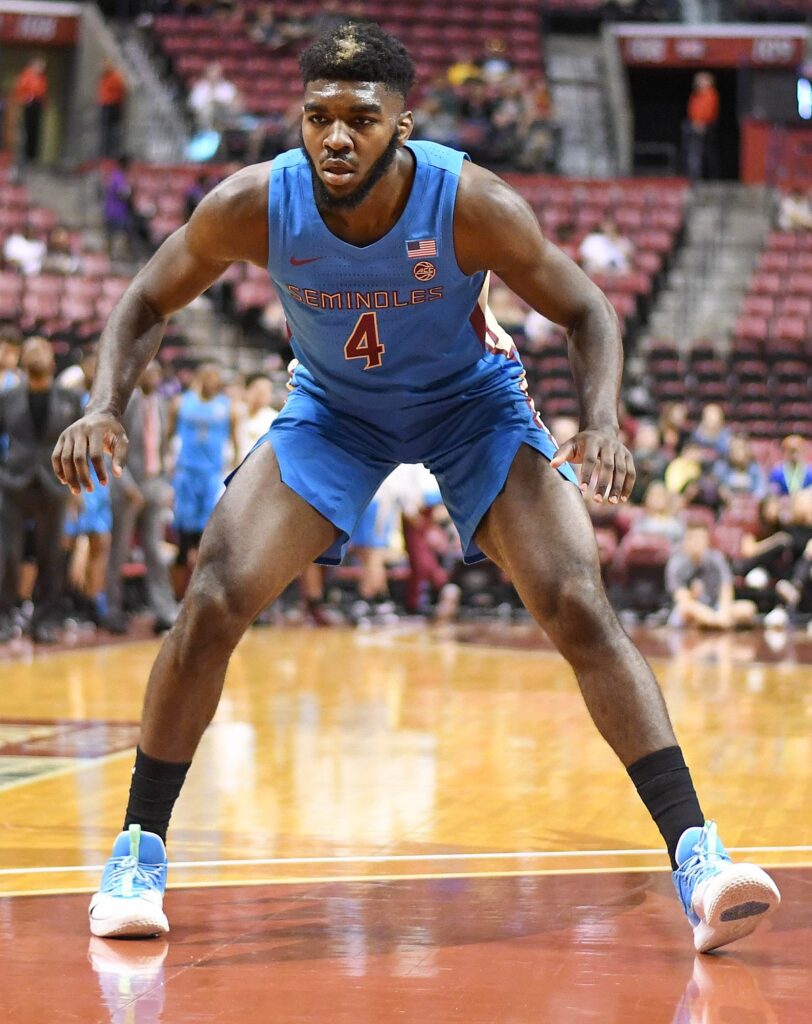 11.Patrick Williams
To the Spurs
I had the pleasure of doing a complete prospect breakdown on Patrick Williams earlier this summer, and it should be on https://www.sportstalk2319.com/ later this year. Essentially, Williams is a high energy hustle player that provides defensive versatility and plenty of off-ball scoring. Whether it's spot up shooting, backdoor cuts, lobs, monstrous put backs, or rolling in the pick and roll, Williams is a good team player on the offensive end. At Florida State, the team normally switches all picks, so Williams has plenty of experience guarding all positions. He was successful on the defensive end, averaging a steal and block in 22 minutes per game. Williams projects to be a role player "glue guy" that should be a solid defending bench piece on any roster. This sounds like a match made in heaven for Greg Popovich's Spurs system.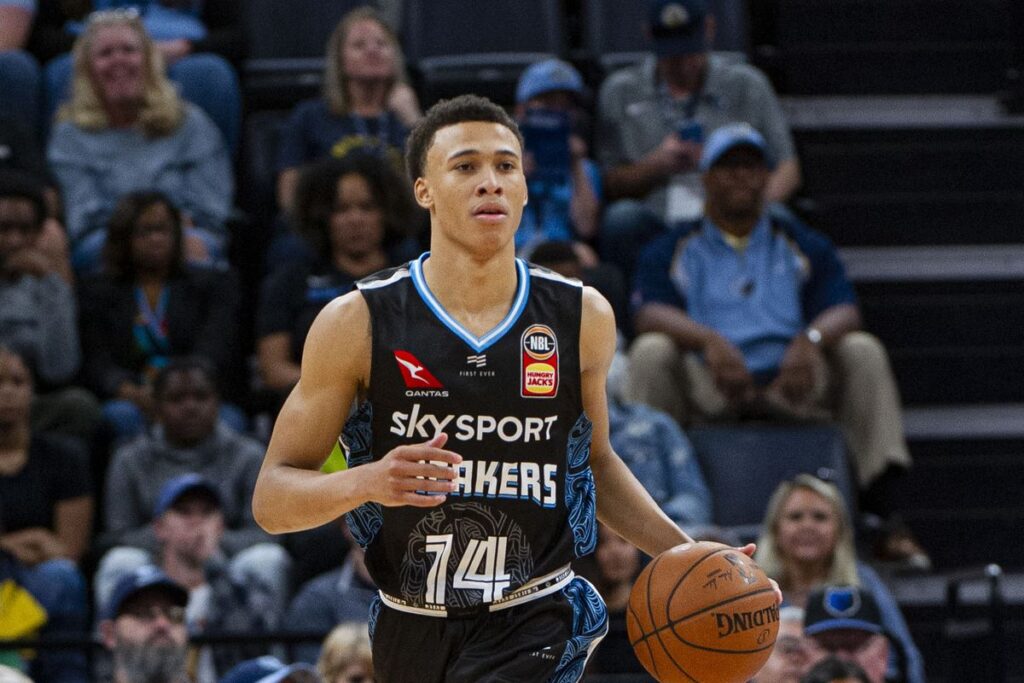 12. R.J. Hampton
To… The Pistons
The trade: Pistons send Luke Kennard to the Sacramento Kings for the #12 pick and their second rounder
Another trade in the lottery. There have been rumors floating around of the Kings wanting to possibly trade this pick and/or Buddy Hield for quite some time. Similarly, the Pistons have been floating Luke Kennard's name around and almost traded Kennard for Phoenix's 1st round pick this year before the deal fell thru. That pick ended up at #10 overall. The Kings need shooting to surround De'Aaron Fox, and with former Pistons star Joe Dumars stepping in as the Kings' GM, the Kings and Pistons could be connected with each other and make deals much like the Detroit Lions and New England Patriots do in the NFL. Kennard is a proven 2-guard sniper that could play around Fox in Sacramento instead of the Kings taking a risk on an unproven shooting prospect like Saddiq Bey. The Pistons might do this trade because of their concerns with Luke's knee tendinitis. With a new GM in Troy Weaver, the Pistons could be willing to take a chance to create a whole new backcourt in Detroit. Taking a big swing on not one, but two prospects that never played college basketball in the U.S. could be a ballsy move for the new GM.
For Detroit, Hampton is an intriguing prospect that reminds me of a more athletic Dejounte Murray. As a 6'6" combo guard, the Pistons could employ a dual guard set of Hayes (the seventh pick) and Hampton that can constantly attack the rim. Hampton's size and potential to guard wings will provide some playmaking and scoring that could be enough for the Pistons to pull a draft night trade. Outside of his skills, Hampton is extremely competitive and has been training as much as, if not more than, any other prospect in this draft. A core lineup of PG Hayes, SG Hampton, SF Sekou Doumbouya, and PF Christian Wood – if the Pistons can resign him – shows some promise for this young team.
If no trade occurs, the Sacramento Kings might take Saddiq Bey as another potentially elite wing shooting option.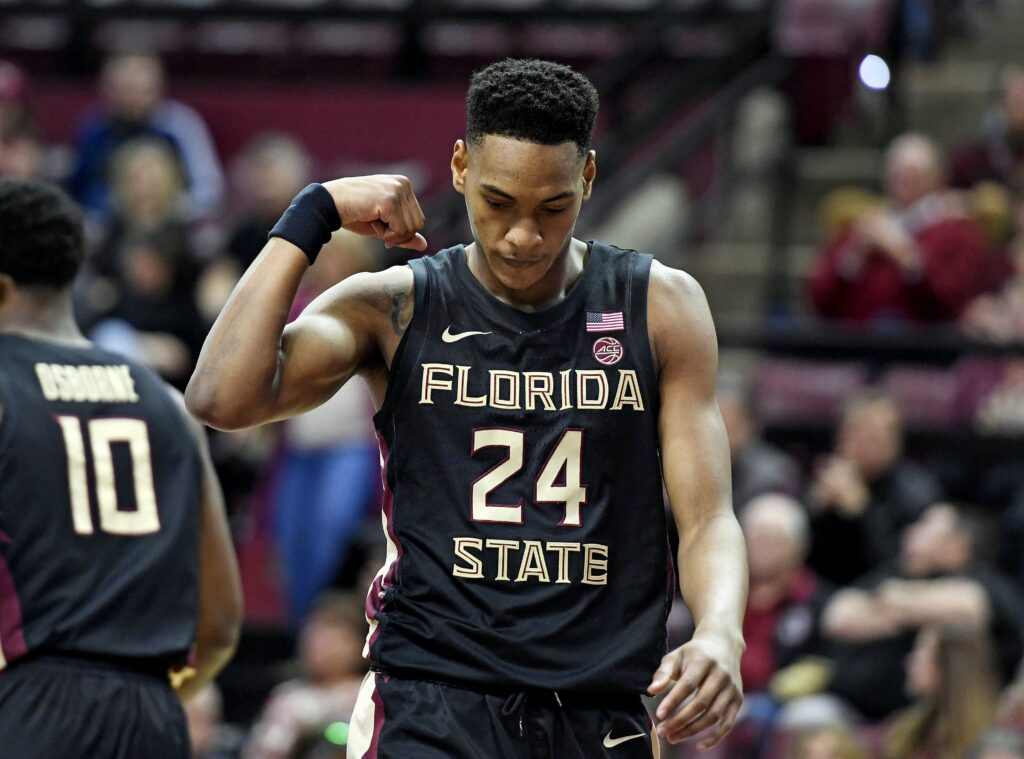 13. Devin Vassel
To the Pelicans

A new trend in the NBA is that every team keeps hunting for 3 and D rotational wing pieces. This trend is true in New Orleans as well, and Vassel is the epitome of a 3 and D prospect. He went from a possible sleeper to becoming a projected lottery pick. There is a lot to like about his game as he looks to become a premium two-way bench wing. Vassel shot around 42% from 3 in both of his college seasons. On the defensive end, with Florida State's "switch everything" defensive scheme, Vassel has experience guarding every type of player. The only weakness in Vassel's game is that he is not much of a creator or playmaker with the ball in his hands. Still, his off-ball shooting and defense next to Brandon Ingram and Zion Williamson could help this team out tremendously.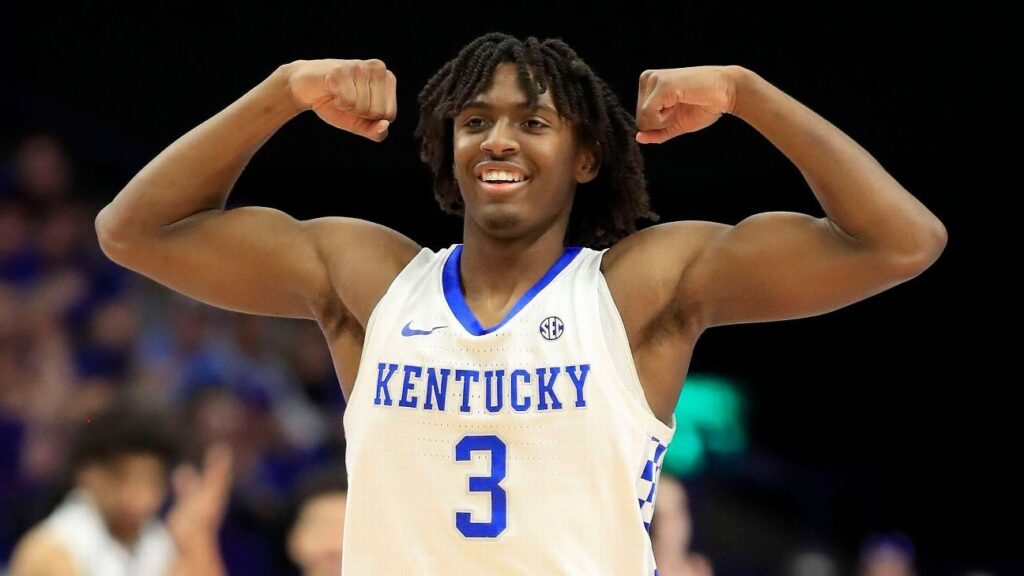 14. Tyrese Maxey
To the Celtics (via Grizzlies from past trade)
Finally, we have the last pick in the lottery. It's still early in the playoffs, but Boston looks like a really good team. The two-headed dragon of a wing tandem that is Jaylen Brown and Jason Tatum should give the East trouble for years to come. In regard to positional needs, Boston will need a replacement for Brad Wanamaker, a bench guard, if he doesn't resign. Tyrese Maxey could easily fill this backup point guard void. Maxey brings toughness and hard-nosed defense like Marcus Smart, the heart and soul of this Boston team. With a year or two of development, Tyrese could be an excellent bench piece in Boston.
Thanks for taking the time to read this! If you enjoyed reading, please comment below and I can write the non-lottery portion of this mock draft.