Realistic Blake Griffin Trade Scenarios
5 min read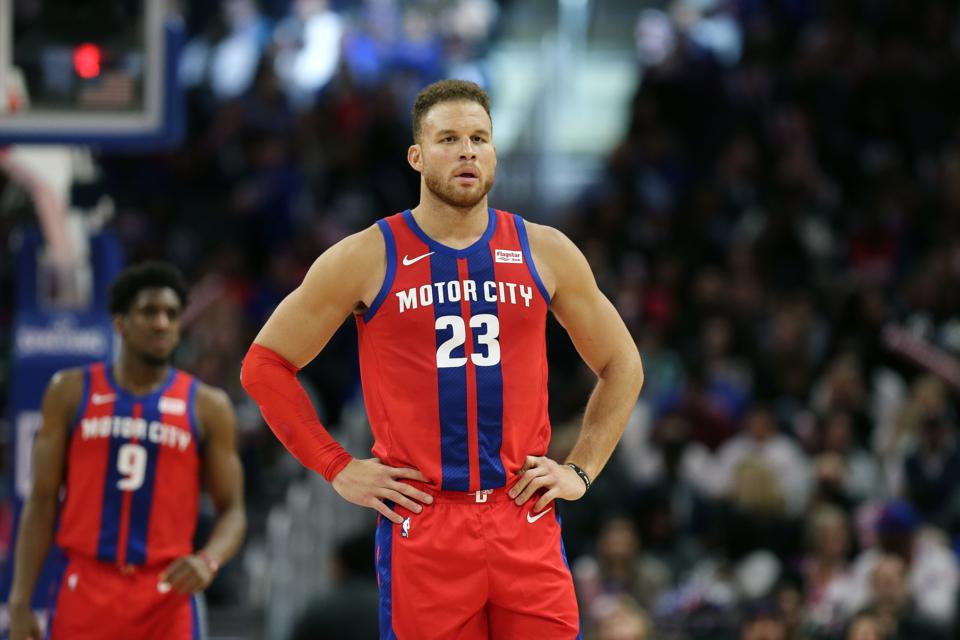 Stan Van Gundy must never get a front office job when he's done coaching. Three years ago, SVG made the ill-advised move to trade (and overpay) for Blake Griffin to get the Pistons a star. Yesterday, Griffin cut ties with the franchise after playing in two total playoff games since the trade. While Van Gundy's original decision has failed to meet expectations, I'm not mad with the decision to move on. In fact, I think it's a win-win move for Blake and the Pistons. Blake gave his all for the franchise, even though they were never contenders, and he basically single handedly took the team to the playoffs in his All-NBA 2019 season. With the Pistons in a full-fledged rebuild/tank and needing all the minutes they can get for young forwards like Sekou Doumbouya, it makes complete sense to honor Blake's wish of being moved to a playoff contender before the limited mileage left on his knees runs out. The only potential problem? Griffin has a monstrous $75 million left on his contract over the next 2 years. With the trade deadline coming up on March 25th, let's explore whether his contract and current level of play is potentially tradable and if he can be beneficial to any teams in the league. As we will see, I predict the Dallas Mavericks to be the most likely landing spot for Mr. Griffin.
Trade 1: Miami Heat
After making it all the way to the NBA Finals in 2020, the Miami Heat have fallen off a cliff and are off to an abysmal 11-16 start. Though injuries have played a factor, the team may need a jolt to propel them back to the finals or even playoff contention. With this trade, Griffin would be a big upgrade in the Heat's rotation in place of Kelly Olynyk as the stretch big. As a point forward, his playmaking ability could go a long way for a team that has no true point guard. Plus, Wayne Ellington's shooting (44% from 3) could be an improvement over Iguodala, who has struggled to connect from long range this year (30.9%). The prolific shooting of Ellington, Duncan Robinson, and Tyler Herro would be very hard to matchup against. The Pistons would do this trade for money-saving purposes. They could potentially buy out Iggy and let Olynyk walk in free agency on his expiring deal. Plus, the young guys would be getting more rotational minutes with the pressure to play Blake gone. 
Trade 2: Denver Nuggets
Similar to the Heat, the Nuggets are a team that went far in the playoffs last year but haven't performed up to par this year. With that said, they do have a respectable 15-11 record and are thus not likely to really shake things up unless they want to go all-in on a finals run. Enter Blake Griffin. Like Nikola Jokic, he is an unathletic big that is a hell of a playmaker and iso post scorer. With Jokic sitting, the Nuggets could bring Blake off the bench and play the same brand of basketball in tempo. Even more scary is imagining opposing teams trying to guard Blake Griffin and Jokic at the same time. Losing the defense of Gary Harris at the 2-spot in the rotation could hurt, but adding a sharpshooter in Svi Mykhailuk as a rotation filler could be enough compensation. Plus, this could also free up minutes for the potential monster that is R.J. Hampton. The Pistons would be intrigued by the opportunity to offload Paul Millsap's $10 million contract at the end of the year. Plus, Gary Harris, after playing college ball at MSU, could see his career revived after returning to the state of Michigan. This one is less likely, but it could be an interesting opportunity that might get Blake and the Nuggets a ring.  
Trade 3: Dallas Mavericks
A third team that needs to shake things up is the Dallas Mavericks. At 13-15, this is another former playoff team suffering from regression. Simply put, Luka may not be as generational as some fans have claimed… he needs some more help. Griffin could be the third option on the Mavericks that would take scoring and playmaking pressure off of Luka. Losing Tim Hardaway's scoring hurts, but adding Wayne Ellington is a nice hedge with his 44% shooting from deep this year. The Pistons would be thrilled to get two rotational players on expiring deals while getting rid of Blake's massive contract. The Michigan man Tim Hardaway Jr. could even be a candidate to re-sign in the offseason as he is a relatively young wing that could be productive in the long run. This seems like the best trade destination for a team taking on Blake's contract in my opinion. 
Trade 4: Boston Celtics
With the Celtics getting rid of Gordon Hayward this offseason, they were given a huge $28 million trade exception to use. With a record of 14-13, Boston, who was projected to be a top team in the East this year, is underperforming. Griffin may be the spark they need to shake up their roster. A major weakness of the Celtics seems to be the play of their big men; Daniel Theis and Tristan Thompson simply are not cutting it. Packaging one of them (preferably Theis) with that $28 million trade exception could be the answer to their prayers. A lineup of Kemba Walker, Jaylen Brown, Jayson Tatum, Blake Griffin, and Tristan Thompson – with Marcus Smart coming off the bench – might be good enough to come out of the East. The Pistons would obtain more depth at the center position with Jahlil Okafor out, and they would free up more minutes at the 4 for young Pistons forwards. I'm not entirely sure if the salary cap is compatible with this trade however…
Trade 5: Oklahoma City Thunder
A trade with OKC would only occur if the Thunder are willing to part with a small piece of the pile of trade assets that they currently own. The deal would revolve around exchanging Griffin for Al Horford, and the Thunder would also need to add on some sort of draft compensation for the Pistons taking on the excessive $28 million for Horford's third year. The Pistons may do this depending on how good of a draft pick they receive, and the Thunder would consider it if they want to get out of paying a max contract for three years and instead just do it for two.