The Atlanta Hawks are the Future of the NBA
8 min read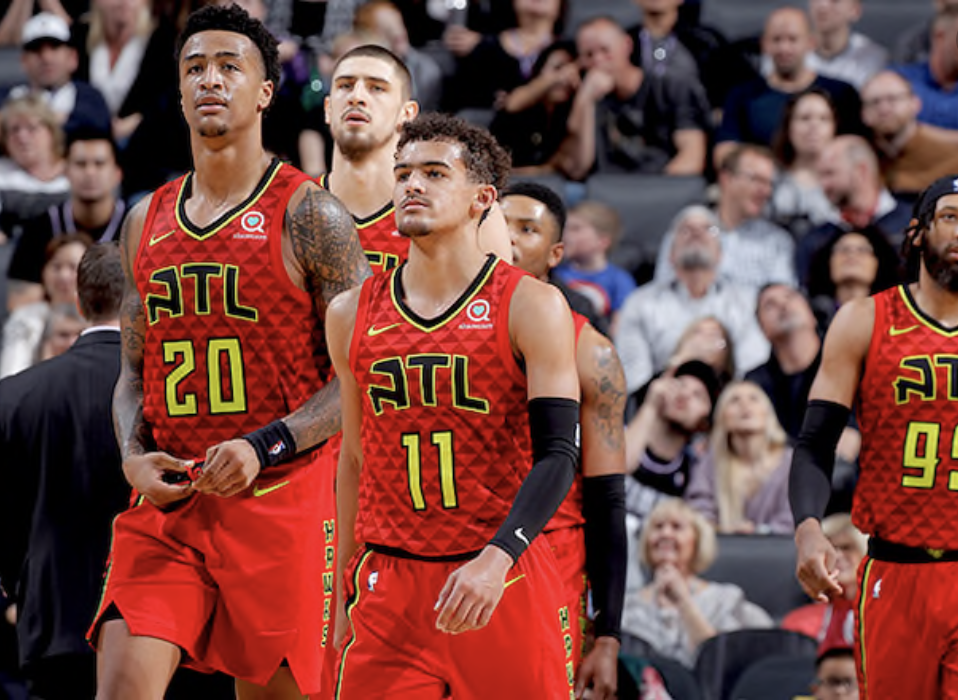 BY Robert Banas
Something is brewing in Atlanta. The Hawks have a combination of extremely young, cheap talent to go along with expiring deals that will clear up some cap space for star players in the future. Looking at the current roster and salary cap situation, there is a lot to be excited about. Right now, they rank 30th in team payroll, and they still have tons of horrible expiring deals coming off the books in summer 2020. As seen below, Chandler Parsons's 25 million, Evan Turner's  18.5 million and Allen Crabbe's 18.5 million add up to 62 million dollars of salary coming off the books next year! This doesn't even include the salaries of other cheap deals like Alex Len, Vince Carter, Tyron Wallace, and Tyron Bird. 
PLAYER

2019/20

2020/21

2021/22

2022/23

2023/24

Chandler Parsons

$25,102,512

$0

$0

$0

$0

Evan Turner

$18,606,556

$0

$0

$0

$0

Allen Crabbe

$18,500,000

$0

$0

$0

$0

De'Andre Hunter

$7,068,360

$7,422,000

$7,775,400




(team option)

$9,835,881  (team option)

$12,973,527




qualifying offer

Jabari Parker

$6,500,000

$6,500,000

$0

$0

$0

Trae Young

$6,273,000

$6,571,800

$8,326,471




(team option)

$11,040,900




qualifying offer

$0

Cam Reddish

$4,245,720

$4,458,000

$4,670,160




(team option)

$5,954,454 (team option)

$8,109,966




qualifying offer

Alex Len

$4,160,000

$0

$0

$0

$0

John Collins

$2,686,560

$4,137,302

$5,899,793




qualifying offer 

$0

$0

Kevin Huerter

$2,636,280

$2,761,920

$4,253,357




(team option)

$6,065,287




qualifying offer

$0

DeAndre Bembry

$2,603,981

$3,752,337




qualifying offer

$0

$0

$0

Vince Carter

$2,564,753

$0

$0

$0

$0

Damian Jones

$2,305,057

$3,457,585

$0

$0

$0

Tyrone Wallace

$1,620,564

$0

$0

$0

$0

Jabari Bird

$1,588,231

$0

$0

$0

$0

Bruno Fernando

$1,400,000

$1,517,981

$1,782,621

$0

$0

Jaylen Adams

$100,000

$0

$0

$0

$0

Charlie Brown

$79,568




2 way

$0

$0

$0

$0

Brandon Goodwin

$79,568




2 way

$0

$0

$0

$0

TOTALS

$108,120,710

$33,369,003

$1,782,621

$0

$0
Source: 
https://hoopshype.com/salaries/atlanta_hawks/
The Young Core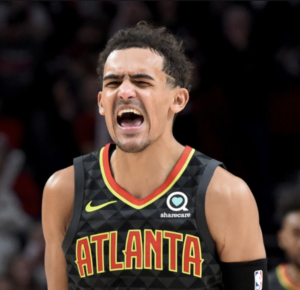 Trae Young~ The Quarterback
As legendary NBA draft guru Rashad Phillips has stated, Trae Young has the unquantifiable basketball skill of "magnetism". His teammates love him and he helps make them exponentially better players on the court. Not only is "Trigger Trae" a sniper that will pull up from anywhere behind the 3 point line, but his passing abilities are just as elite. Rashad Phillips also uniquely compares basketball players to what their roles would be on the football field. He identifies Trae Young as the QB of Atlanta that will be dropping dimes for years to come, similar to Tom Brady. With unprecedented vision, the player that has been compared to Steph Curry averaged 8.1 assists per game in his rookie year. Curry has only eclipsed that mark once in his career when he averaged 8.5 per game in 2013. Curry, a former MVP and one of the best shooters ever, is similar to Young, as he has an ease of wowing fans and bringing them to games. After drafting Young in 2018, the Hawk's season ticket sales rose 70% to watch the team and their star point guard play. Not only does Trae have a magnetism on the court, but the whole city has been drawn to the future all NBA player that was once labeled to be too small to succeed in the league. Trae is the culture in Atlanta. At the time of writing this, Trae is averaging 28 points per game and dishing out 9 assists per game while shooting 40% from three. Last year, the shifty point guard came up as the runner up for the rookie of the year award to Luka Doncic. These two players were basically traded for each other back during the 2018 draft. In my opinion, the Hawks undoubtedly will be the winners of the trade, as they also received a top draft pick which they turned into the possible steal of the 2019 draft Cam Reddish.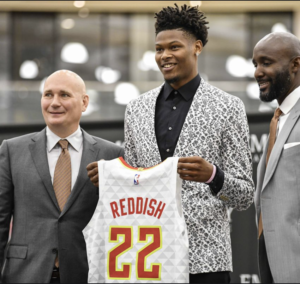 Cam Reddish~ The Wide Receiver
Reddish is one of the most skilled high school players I have ever seen. His game is so smooth. He has a 7"1 wingspan that makes it hard to score on him. Watching his film, you can see flashes of greatness as a two-way player. Dare I say, he could be a Paul George, Tracy McGrady or Jimmy Butler type of player one day. With so much hype going around at Duke with Zion Williamson and RJ Barrett, Reddish was the forgotten third star. There was not a lot of shots available for him. Cam almost looked bored on the court at times. Still, his own draft class voted him to have the most successful career and be the best player of the class. There are videos on Youtube of top high school recruits talking about how Cam Reddish was the hardest player they ever guarded and how he dropped 40 on their head with ease. Phillips is also big on Reddish. He compares him to a Randy Moss type of player. My interpretation of this is that he is a skilled player that can make big plays and run up the score. Reddish may not be a consistent player, but I project him to be a ticking time bomb that will explode for some high scoring games. He, like Paul George, is struggling in his rookie season, but once Cam figures it out, defenses will be in trouble.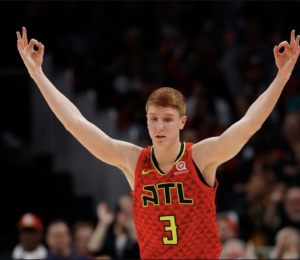 Kevin Huerter~ The Running Back
Next up you have the Red Velvet, Kevin Huerter. As a rookie, Huerter shot 38.5% from three. The 19th overall pick is extremely dangerous behind the arc. Some see flashes of Klay Thompson in him. Some see a Trae Young and Kevin Huerter backcourt as the next splash brothers backcourt. I don't know if he will be THAT good, but there is always a chance. Rookie-year Klay Thompson averaged 12.5 points on 44.3 percent shooting from the floor (41.4 percent from three) which was fairly comparable to Red Velvet's 9.7 points on 41.9% shooting (38.5% from three). In the words of Rashad, Huerter is the running back of the Hawks offense as he keeps the defense honest and keeps them from trapping (blitzing the QB Trae Young). If the Hawks sign a star 2 guard with all the cap space they have (which they should), Huerter should be a dominant 6th man that runs the Hawks bench in the future.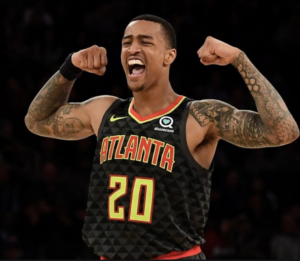 John Collins~ The Left Tackle
The left tackle is one of the most important positions in football as he protects the right handed QB's blindside. In other words, they make their QB (Trae Young) better. Last season, Collins was one of the most underrated players in the league, as he nearly averaged 20 points per game and 10 rebounds per game. When Trae struggled, Collins would carry the load. Collins would also boost Young's assist totals as he would always be in a good position to catch perfectly thrown lobs from Trae. When Trae got beat on defense, Collins would be there in the paint on the help side to protect his QB from getting scored on. Collins will be Trae's skilled sidekick big man for years to come. Unfortunately, he has been suspended 25 games for testing positive for some type of growth hormone he did not know about. He is trying to appeal it, but the Hawks will have to struggle without him for the time being.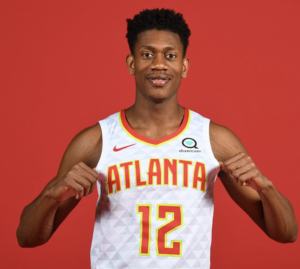 Other- Deandre Hunter
Deandre Hunter was the number 4 pick in this years draft. He was a hero and leader in Virginia's March Madness victory. He is also going to be extremely important for the Hawk's future. He is a plus defender, and has a strong NBA body frame. I think of him to be what Stanley Johnson was supposed to be if he was good- a 15-20 ppg score that gets rebounds and plays lockdown defense.
2020 Free Agent Targets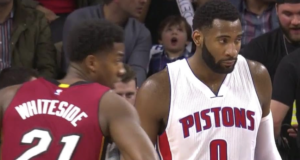 Andre Drummond~ The Defensive End (Defender & Dunker)
I think adding Drummond to the Hawks would take them to the next level. Drummond is one of the most athletic centers in the game. You can almost guarantee at least one steal and block a game from him. He is currently the best rebounder in the game if not the best of all time (19 per game this season). Pairing Collins with Dre as the 4 and 5 would be a twin towers type of lineup. Andre already plays with another skilled big man, Blake Griffin, so this pairing should not be an issue. Drummond would be a clear upgrade over the Hawks current center Alex Len. The Hawks would dominate the boards against opposing teams. Drummond would fit in at the Defensive End position for the Hawks as a rim protector that does all the dirty work inside. With so much cap space available, it would not be a huge risk giving Andre a max deal.
Cheap Alternative: Hassan Whiteside
Hassan Whiteside could do very similar things for the Hawks at a much cheaper cost. Though he won't put up the same stats as Drummond, Whiteside would most likely grab double digit rebounds and block some shots with ease.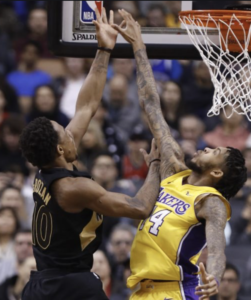 DeMar Derozan~ The Tight End (Slasher Wing)
Because this years free agent class is so thin, I doubt the Hawks will be big spenders this year. The two top targets, Andre and Derozan, will most likely either resign or join contenders. The Hawks might wait until the 2021 to throw their money at aging stars, but Derozan could be a solid pick up for them. He would fit in a slashing role (TE) role and provide some isolation scoring for the Hawks. This one is unlikely.
Brandon Ingram?
This one is also less realistic. If Atalnta decides to go extremely young and try to get another young, potential star player, I could see them reaching out to Ingram. I'm not sure how BI would fit on the roster, especially with Deandre Hunter and Cam Reddish in the mix, but anything is possible.
2021 Free Agent Targets
Rudy Gobert~ The Defensive End (Defender & Dunker)
If the Hawks don't go after Drummond or Whiteside in 2020, look for them to throw some money at the former defensive player of the year, Rudy Gobert, in 2021. Basically rinse and repeat what I said in Drummond's section and put it here with slightly less rebounds, but better defense.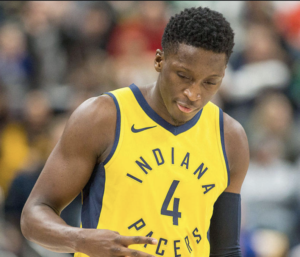 Victor Oladipo~ The Tight End/ CornerBack (Slasher Wing and Perimeter Stopper)
Oladipo is who I want the Hawks to really take a swing at in 2021. Imagine adding a shooting guard that would average around 20 points per game, 5 points per game, and 5 assists per game while locking down the opposing team's top guard and playing him next to Trae Young. This would shift Kevin Hueter to the bench and let him run the second unit, similar to what Luke Kennard has been doing for the Pistons this season. The lineup would be something like
Trae Young

Victor Oladipo

Cam Reddish

Deandre Hunter

John Collins

Kevin Huerter
Conclusion
With a few more years of development for these young players, and a new star (a prime 28 year old Oladipo) coming in free agency 2021, and a prolific shooter, Red Velvet, running the second unit, the Hawks could be a dynasty in about 2-3 years. Don't be surprised if Trae Young makes an All NBA team this season. Remember this article 3 years from now. In the words of the one and only Rashad Phillips, Talk Soon.
Shoutout to Rashad Phillips for many of the ideas in this article- You can find more of his content on his Twitter https://twitter.com/RP3natural?ref_src=twsrc%5Egoogle%7Ctwcamp%5Eserp%7Ctwgr%5Eauthor
Or his website
https://www.sportstalk2319.com