Comeback Carmelo
5 min read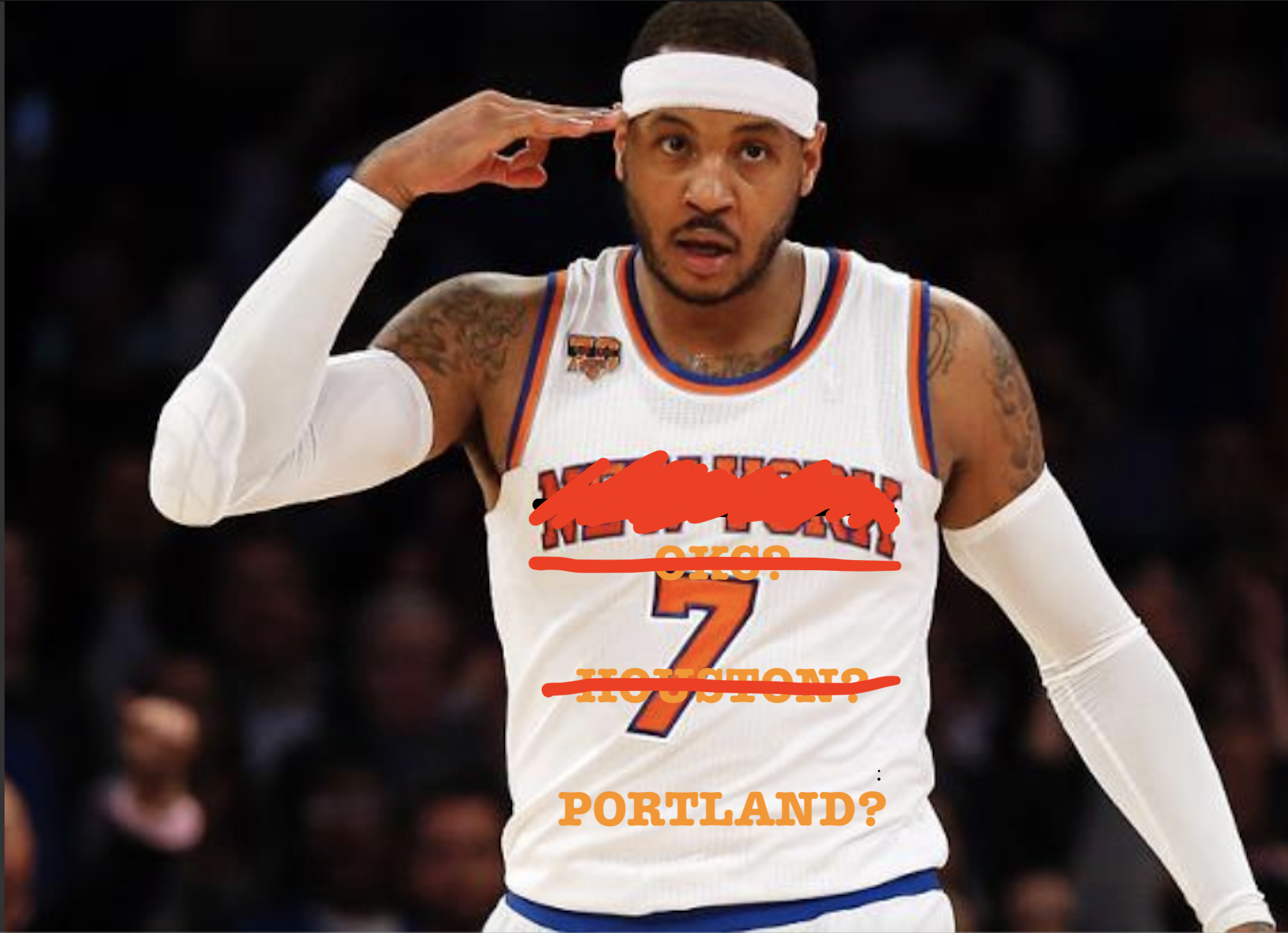 It's a big day for basketball fans around the world. The alarm bells are ringing on NBA Twitter. Everyone is very excited, and MELO IS BACK, in all caps, is trending. That's right, Carmelo Anthony is back in the league. The former Nuggets and Knicks star has emerged from the wilderness to sign with the Portland Trail Blazers, ready to reclaim his mantle as an elite scorer of the basketball. It won't be easy, as his affection for the isolation game and his unfortunate inability to play defense in the modern era are two significant hurdles to jump over. Will Melo make a mark in Portland? Here are some reasons that he will, and some reasons that he won't.
Melo WILL make a mark in Portland because the Trail Blazers don't have anyone else to turn to. There's a reason that the Blazers were the team to finally take a chance on Melo. Jusuf Nurkic's absence was compounded by a brutal, early-season shoulder injury to Zach Collins, and it destroyed Portland's depth. Damian Lillard is averaging 30.5 points, 6.9 assists, and 4.8 rebounds to start the year, but the Trail Blazers are still only 4-8. Hassan Whiteside has been solid, averaging 14.8 points and 12.2 rebounds, but his impact is limited by his position and skill set. C.J. McCollum has picked it up after a slow start, but Portland needs more. Rodney Hood and Anfernee Simons are the only other players to be averaging double-digit points per game, and the forward rotation (Mario Hezonja, Anthony Tolliver, Skal Labissiere) doesn't exactly strike fear into opponents. In comes Melo, who will have every chance to show that he still has what it takes. It might be Melo or bust for Portland at this point.
Melo WILL make a mark in Portland because he can still score. Despite his clear faults during his time with Oklahoma City and Houston, there is no doubt that Melo can still put the ball in the basket. He averaged 16.3 points per game over a full season for the Thunder, and he dropped 20 or more twenty-six times. In Houston, he hit 20 three times in 10 games, and also scored 17 in another game. As I established above, the Blazers don't have a lot in terms of individual scorers. They could use another go-to guy, and Carmelo might be the one to fill that role. 
Melo WILL make a mark in Portland because Jabari Parker is thriving in Atlanta. Coming into his rookie season, Parker drew plenty of comparisons to Anthony. While he hasn't exactly lived up to the standards of prime Melo, it's probably fair to compare the older version of Anthony to Parker. After struggling with injuries and, to put it nicely, inconsistent defense in his first few years in the league, Parker has emerged this year in Atlanta. He still isn't playing defense, but he's averaging over 17 points and 6 boards per game despite shooting 26.8% from three. If Parker can do it, so can Melo, especially as a career 34.7% shooter from deep. Lillard may not be quite as elite as Trae Young in his passing ability, but he holds the same kind of attention and magnetism that will open up space for Melo to go to work. 
Melo WILL make a mark in Portland because it isn't Oklahoma City or Houston. The situation that Anthony was in while playing in both cities didn't do him any favors. In Oklahoma City, the Thunder were trying to make something work after the departure of Kevin Durant. They really didn't have enough to contend for championships, but  they were still going to try. They didn't have much flexibility either, and Melo was brought in as a final piece of sorts that was supposed to help them get over the hump. It didn't happen. A similar situation evolved in Houston, where Melo was supposed to help the Rockets, led by Chris Paul and James Harden, get past the Warriors. But the defense was a disaster to start the year, and Melo was an easy and big target to receive the blame, some of which he did, admittedly, deserve. The pressure is still high in Portland, as they are trying to turn around a nightmare start to the season and meet their own set of high expectations. Still, it feels like there is less pressure on Anthony individually. He isn't seen as the last piece or as something that he isn't. He's a last-ditch attempt to add some offense, and that's something that he is more than capable of. 
Melo WON'T make a mark in Portland because he can't play defense. The problem here is that it's not clear if anyone on Portland's roster is going to play defense. No matter what you think about Melo overall, it's impossible to feel good about his defense, especially at this point in his career. Anthony has had a negative defensive box +/- in 15 of his 16 years in the league, and he was at exactly 0 the other year. The eye test, believe it or not, might be even more discouraging. Lillard and McCollum aren't exactly defensive stalwarts, and Whiteside is famous for attention lapses on the defensive side of the ball, despite his ability as a rim protector. Portland is currently 19th in the league in defensive rating, and it seems that their best outcome will be staying somewhere around there. Maybe Melo does enough to lift the 14th ranked offense enough to counter the defense, but, then again, maybe he doesn't. 
Melo WON'T make a mark in Portland because he won't fit with Damian Lillard and C.J. McCollum. This is at least worth considering. Lillard is 20th in usage rate, and McCollum is just outside the top 30. How does Carmelo, notorious for his isolation tendencies, fit here? The only two negative seasons of his career by offensive box +/- came in his last two, when he was playing with other high usage players like Russell Westbrook, Paul George, James Harden, and Chris Paul. Again, he's a solid shooter from deep, and he should be able to succeed off the ball and then do his thing occasionally if he's able to pick his moments. It's just hard to tell if he's willing to take that role.
Melo WON'T make a mark in Portland because he's Melo. That last point brings us here. Melo might be able to succeed, but he's going to need to accept some things that he has not accepted in the past. He infamously scoffed at coming off the bench, and that type of attitude, regardless of his rotational role in Portland, would be a killer to his chances to succeed here. Dame is the man in Portland, and McCollum comes next. If Anthony can't accept that, it might be a short stay in Rip City. 
Regardless of what happens next, let's all enjoy the moment. Carmelo Anthony is back, and, for now, we can all believe in him. We're too quick to go south on players. Hopefully Melo is able to play well and give us all someone to get behind.