2019-2020 NBA PREVIEW: Northwest Division
29 min read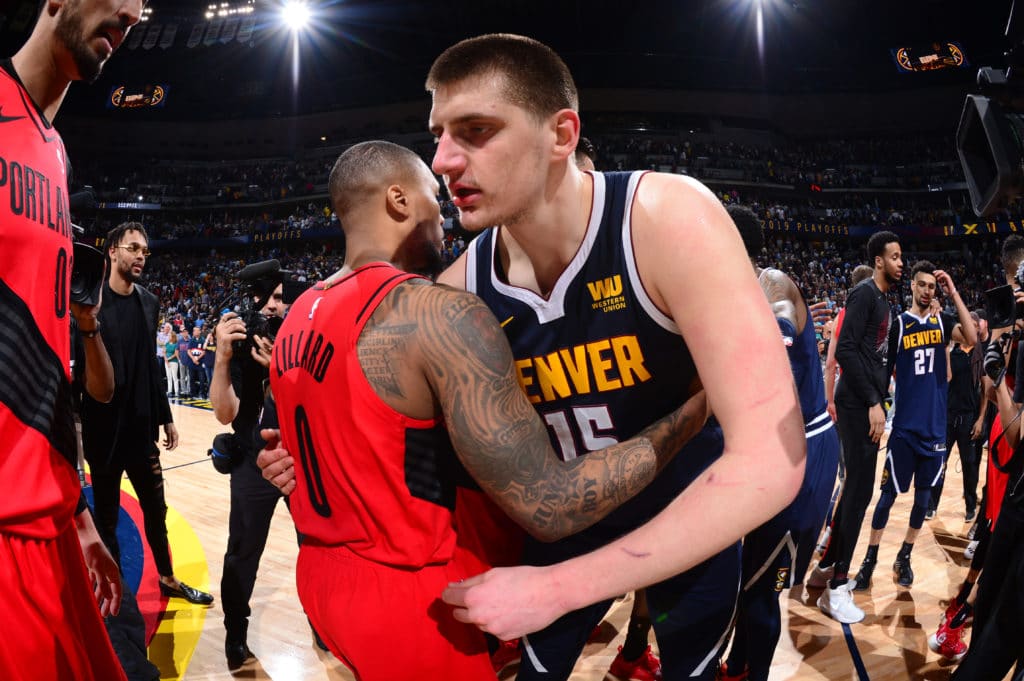 NORTHWEST DIVISION (Rankings based on predicted regular season finish in conference)
Oklahoma City Thunder
Key Player: Shai-Gilgeous Alexander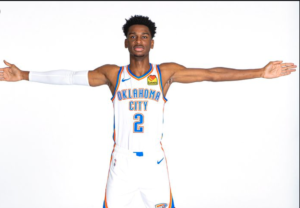 Young Talent to Watch: Shai Gilgeous-Alexander, Terrance Ferguson, Hamidou Diallo, Justin Patton
Key Losses: Paul George, Russell Westbrook, Jerami Grant, Patrick Patterson
Key Additions: Chris Paul, Danilo Gallinari, Shai Gilgeous-Alexander, Mike Muscala, Andre Roberson (missed last season with injury)
Projected Starting Lineup: Chris Paul (PG), Shai Gilgeous-Alexander (SG), Andre Roberson (SF), Danilo Gallinari (PF), Steven Adams (C) 
Major Storyline: Likely trades 
Worst-Case Record: 28-54
Best-Case Record: 45-37
Four of the five starters in OKC might be gone by the end of the year, as Paul and Gallinari, and potentially Adams and Roberson, might present more value to competitors than they do to a Thunder team that is looking to the future. It would be shocking if all four of these guys, Paul and Gallinari especially, made it through the year in Oklahoma City. As it stands currently, the Thunder have been left for dead after losing Paul George and Russell Westbrook. Granted, those two are top 15 players, and this team now has zero of those. They won't be a safe bet for the playoffs as they have been in recent years. But they won't be dead in the water either, as long as the four vets mentioned above are still on the court. Paul has passed his prime and has missed about 20 games per year over the last three seasons. His age has led to a slight loss of athleticism that has hurt his ability to get past good defenders. He has lagged a little defensively. That being said, he is still a solid shooter and an elite passer, and he's still got a long way to fall before he's bad defensively. He's pretty dang good when he's able to go, and there's a chance that he will perform even better on a team that focuses less on isolation. The Lakers and Heat seem to be the two major teams with rumored connections to Paul, though it's unclear how either team could make a trade work. Miami probably has more assets, but I just don't know how they get this done without Winslow. He wouldn't be the only part of that deal either, and it's just hard to see how the Heat really improve enough to justify giving away their young guys. Paul is still good, but he does not make that team into a Finals competitor, especially if multiple rotation pieces swap places with him. Just as with Beal, I would keep an eye on the Timberwolves, who are likely getting desperate for some sort of tangible results. Shai Gilgeous-Alexander should do whatever he can to learn from Paul while he's still in town. Gilgeous-Alexander had a promising start to his career last season in Los Angeles, flashing all-around potential as a solid defender and decent shooter (37% from deep). He averaged roughly 15 points, 4 rebounds, and 4 assists over 36 minutes, and he will look to build on that in what should be a big role this season. He could be a better passer, and Paul is certainly someone that could help with that. Roberson has missed the last year and a half with injury. He's very good defensively and pretty poor offensively as a career 26% shooter from deep who has never averaged more than 6.6 points or 1.2 assists per game. The Thunder have had spacing issues in running out him and Adams at the same time, and that will likely continue. Despite his flaws, he has made the Thunder better when he's out there, and they will welcome him back to the rotation. I could see a contender showing some interest in him at some point this year, especially considering that his contract will end at the end of the season, but I'm not all that confident that he will be traded. Gallinari was one of the better players on last year's Clippers team, but the additions of Kawhi and Paul George made him unnecessary. He averaged 20 points and 6 boards per game on 43% shooting from deep. He was fine defensively. It's unlikely that he will hit 43% of his threes again, as he hasn't come within 4% of that since his rookie season over 10 years ago, but it's not unreasonable to expect similar production from a scoring standpoint. Gallinari is getting paid over $20 million this year, but will be an unrestricted free agent this offseason. The Thunder will likely take an opportunity to get a return for him if they can get one, and there are a bunch of teams out there that could use wing help. He should be relatively cheap asset-wise, given his status as a rental. Adams has been steadily growing closer to averaging a double-double, and he could reach that this year without Russell Westbrook grabbing so many rebounds. He has never made an NBA three, although he did make one in a preseason game this year. That means absolutely nothing, and no one should expect Adams to come out of the gate firing from deep. Still, it does appear that he is at least making an effort to expand his game. He's turned into a plus defender and should run plenty of effective pick and rolls with Paul and SGA. Adams is still only 26, so a trade isn't imminent. I think he's probably the least likely of the four to go, as he has a decent chance to be around and still contributing when this team comes out on the other side of its rebuild. The Celtics and Clippers could both use upgrades at the 5 spot, but Adams carries a $52 million price tag over the next two years and it might not be worth the trouble of acquiring him. There are still some bench pieces here too. Dennis Schroder is pretty good, and he should step into the starting backcourt if/when Paul leaves. He averaged 19 points, 6 assists, and 3 rebounds per game in his last year in Atlanta before going for 15, 4, and 4 last year. Those drops are likely due to his reduced role in a star-studded OKC offense, and I would bet on them rising back up again, especially if he is reinserted into the starting lineup at some point. He was decent defensively last season. The major issue with Schroder is that he isn't well equipped to play off the ball as an average-at-best three-point shooter, which will likely mean that he is mostly a second unit offensive leader as long as Paul is on the team. Abdul Gaddy was a McDonald's All-American in high school. That was roughly a decade ago, and a series of injuries in college drove him overseas. He was signed and cut by the Thunder last year without ever stepping on the court, and the same thing might happen again this year. He appears to have some skill as a passer, but I do not see any impact coming from him. Hamidou Diallo didn't play much in his rookie year. He is very raw, but he's an athlete with some defensive potential. He will look to continue to develop this season. Like Diallo, Deonte Burton didn't get many minutes in his rookie season. He's four years older than Diallo, and, at 6'5", 245, he's a different sort of athlete. Still, he was a good scorer in college, and he will look to bring some of that to the table this year. He averaged 16 points, 4 rebounds, and 3 assists per game in the G League last season, and he could definitely be an effective NBA player. Terrance Ferguson is an electric athlete who needs to work on turning that athleticism into actual basketball production, He made some decent strides last year, and will hope to do the same on a team without a win-now mentality. Abdel Nader is a basketball player. He doesn't appear to be a particularly good one. I can't see him having a major impact, though he took some small steps last year and seems capable of improving and providing some average play off the bench instead of below average play. Darius Bazley is very intriguing. He skipped college as a McDonald's All-American and spent a year working out privately before entering the draft, so it's hard to know what to expect from him this season. He has all-around potential, but I wouldn't bet on him producing consistently in his rookie season. Mike Muscala is fine off the bench. He's a decent defender and shooter who was meant to be a solid addition to the Russ/PG Thunder. His impact will probably be a little less noticeable on the new Thunder. Eric Moreland has played just over 80 games in 4 years. He has rebounded incredibly well in a very small sample size and has shown plus defending potential, but he just hasn't played enough for there to be any solid conclusions about him even though he's already 27. Nerlens Noel is a plus defender and rebounder, and has improved his finishing ability. He hasn't played many minutes per game in a few years. He's a good backup center, although it's not clear if he can take his production in that role and apply it to a bigger one. As long as Adams is in OKC, he probably won't be asked to. Justin Patton is now on his fourth team in three years. He has played 25 minutes over four games in those two seasons because of a recurring bone injury in his foot. He was drafted in the first round for a reason, as he flashed incredible deep shooting potential for a seven-footer in college, but he just hasn't had the chance to make good on it. I would pay attention to his development if I were a Thunder fan. It's hard to project how this season will turn out for OKC. With their current roster, they should be competitive and probably won't be that far out of the playoff picture when they start making trades. Paul is still very good. Gallinari was one of the main players on a playoff team last year. Adams is a very good traditional center who should mesh with Paul on the pick and roll. There just really isn't any benefit for the Thunder in playing out the year with Paul and Gallinari because this isn't a title team, and those guys aren't going to be around if/when it becomes one. I wouldn't bet on Adams being traded, but it would be really shocking if Paul and Gallinari stick around. Without those two, this team  still isn't going to be terrible, but they will sink towards the bottom of an incredibly tough conference. They will still be in a positive situation, with SGA, Bazley, Patton, Ferguson, Diallo, and Noel all getting a chance to develop in a relatively pressure-free environment, any assets they obtain through trade, and a horde of draft picks. With Adams and Schroder, a few leaps from some of the young guys, and some luck in the draft over the next couple years, another successful era could be starting sooner than people think. 
Minnesota Timberwolves
Key Player: Karl Anthony Towns 
Young Talent to Watch: Jarrett Culver, Josh Okogie, Keita Bates-Diop, Jordan Bell, Noah Vonleh, Naz Reid, Jaylen Nowell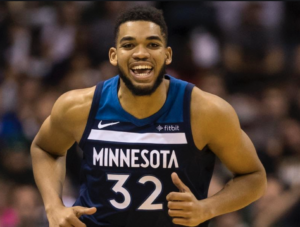 Key Losses: Taj Gibson, Dario Saric, Tyus Jones, Derrick Rose, Anthony Tolliver
Key Additions: Jarrett Culver, Shabazz Napier, Jordan Bell, Noah Vonleh, Naz Reid
 Projected Starting Lineup: Jeff Teague(PG), Andrew Wiggins (SG), Jarrett Culver (SF), Robert Covington (PF), Karl-Anthony Towns (C) 
Major Storyline: Do they go all-in with a trade?
Worst-Case Record: 32-50
Best-Case Record: 48-34
The Timberwolves went 36-46 last year, finishing 12 games out of the playoffs. Their weak defense should improve with full year of Robert Covington, and a healthy Jeff Teague should provide at least some benefit. Jarrett Culver should bring something to the table as a rookie. I'm just not sure that they have enough to make the kind of improvement that will be required for a playoff spot. Watch the Timberwolves in the trade market; Towns is only 23, but there has to be a building sense of urgency to show signs of competing for something more than the 11 seed. Jeff Teague has developed into a nice passer over the course of his career, averaging at least 7 per game in 5 of the last 7 years and reaching 8 per game last season. He's not going to light anyone up, but he's a solid and relatively efficient scorer and a career 36% shooter from deep. His defense has taken a turn for the worse in recent years, and he was never very versatile on that end to begin with. There is a potential starting lineup that has Okogie starting instead of Teague for defensive reasons, but the playmaking that Teague will bring (and the lack of it from Okogie and others) should keep him in the starting lineup. It has to be depressing for Timberwolves fans to watch Andrew Wiggins play, as he was supposed to be the two-way wing star that this team is lacking. The worst part about it might be that he's not completely unplayable like Josh Jackson, so they have to watch him trot out there every night, an unfortunate reminder of untapped potential. Wiggins has become a high volume scorer (19.4 per game over his career) that isn't particularly efficient or good at shooting. He doesn't really score enough to mask the lack of efficiency and shooting. He's not a particularly good rebounder or passer. He's not very good defensively either. He does just enough to look like a decent player, but he just doesn't have much of an impact on the game. It's also pretty concerning that his second and third year were, by most accounts, his best years, which makes it hard to hope for major improvement in year 6. I like Culver as an immediate starter here. He improved his ability to get his own bucket last season, improving to over 18 points per game. He also improved as a rebounder and doubled his assist numbers, showing signs of an ability to contribute as a playmaker. He only shot 30% from three, though he shot 38% from deep as a freshman. He'll have to work on returning to that success rate, which he should be able to do in time. He also has a chance to step in as a plus defender from the start, which would be huge next to Rob Covington. Covington is an elite defender by any measure, and a 36% career shooter from deep. He likely won't be asked to do much outside of defending and occasionally shooting, but his defensive impact alone is enough to make him a valuable player. Karl-Anthony Towns is great, although he has kind of fallen out of the center of attention as Giannis, Embiid, Nikola Jokic, and other unorthodox big men have found great team success. He put up 24 and 12 on 40% from three last season, and also poster a career high 3.4 assists per game. He's only missed five games in four years. He's not great defensively, though he has made some strides on that side of the ball. He went on a tear to end last season, and could be even better this year. The bench in Minnesota is looking pretty solid, especially on the wing. Shabazz Napier should be an effective backup point guard. He's not anything special, but he's pretty solid in that role. He's a limited version of Teague, which means he might get less minutes in favor of guys like Okogie. Okogie is not good offensively, but he's an energetic athlete that flashed elite defensive potential in his rookie season. He will likely get a good amount of playing time to work on maximizing that defensive potential and finding ways to contribute offensively. Jaylen Nowell is a rookie out of Washington. He went for 16 points, 5 rebounds, and 3 assists per game last season on 44% shooting from deep. He's someone to watch for potential offense off the bench after the loss of Derrick Rose. Jared Terrell is another potential option in this role. He only played about 100 minutes last year as a rookie, but he scored 17 per game on 41% shooting from deep in his last year at Rhode Island. Jordan McLaughlin shot at least 40% from three in his last three years at USC and put in 8 assists per game. These three are all very inexperienced, but there is a bench scorer spot up for the taking in the backcourt. Treveon Graham will enter his fourth year with his third team. He does not like anything more than an okay bench player, and he figures to have a fairly limited role. New addition Jake Layman had the best year of his career by far last year, and he is another option to start if Culver needs some time. He hustles constantly on offense to make up for his lack of playmaking ability, and has the shooting potential to improve on the poor start to his career from deep as he hit 40% from three in his senior year at Maryland. He's solid defensively as well. He will be a solid piece of this rotation, and he could be a big one if he continues his upward trajectory. Keita Bates-Diop only played in 30 games last year after a fantastic final season at Ohio St. He will look to continue to develop and adjust to the NBA game this season. I would not expect a major impact, especially early in the year. Jordan Bell hit a wall offensively last season, but at the very least, he offers value as a big man with huge amounts of defensive versatility. He needs to develop some consistency, but he can both protect the rim and run after people on the perimeter. He's only entering his third season, so he has time to develop his game. Noah Vonleh is a good rebounder. He's shown signs of providing decent value in other areas of the game, but he hasn't quite broken through yet, leading to a career that has sent him around the league multiple times. He's still only 24, and he will also have the chance to further his development this year. Gorgui Dieng has fallen into a limited bench role after starting 82 games in 2016. With the additions of Bell and Vonleh, that role might shrink even more, making Dieng a potential trade candidate. He's not bad; he's a solid rebounder with decent skills as a more traditional center. He just doesn't fit into this team anymore with Towns at the lead, and he hasn't really been able to orient his game into a more modern form. That is at least part of the reason that Bell was signed. I really like rookie Naz Reid as a potential double-double big who can step out beyond the arc despite being 6'10", 250 pounds. That is likely a few years away from happening, and it's hard to see him playing a major role in the rotation this year. This team will go as far as Towns is able to carry them. With Covington, Culver, and the defensively focused bench pieces like Layman, Okogie, and Bell that Minnesota has assembled, the team is pretty well equipped around him. They're just missing that one great two-way wing that would put them right in the middle of the hunt. Andrew Wiggins's inability to be that guy should get more attention.
Portland Trail Blazers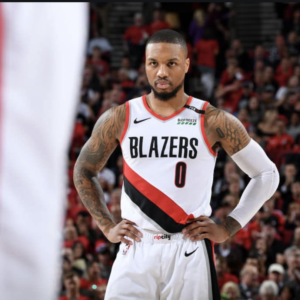 Key Player: Damian Lillard 
Young Talent to Watch: Anfernee Simons, Zach Collins, Nassir Little, Moses Brown
Key Losses: Al-Faroq Aminu, Evan Turner, Jake Layman, Maurice Harkless, Meyers Leonard, Seth Curry
Key Additions: Hassan Whiteside, Anthony Tolliver, Kent Bazemore, Mario Hezonja, Nassir Little
 Projected Starting Lineup: Damian Lillard (PG), CJ McCollum (SG), Rodney Hood (SF), Zach Collins (PF), Hassan Whiteside* (C) 
*Jusuf Nurkic out, likely until late winter
Major Storyline: Proving everyone wrong
Worst-Case Record: 45-37
Best-Case Record: 58-24
Last season, the Trail Blazers were elite offensively and average defensively, leading to a top 7 finish in both SRS and expected record. Defense will be a bit of a concern after the losses of Aminu and Harkless and the injury to Nurkic, but this is still a very good team. They should not be counted out. Damian Lillard is elite offensively. Each of the last 4 years, he's finished in the top 10 in scoring, averaging between 25 and 27 points per game on 36-38% from deep. He can hit shots from anywhere on the court. He's a good passer, finishing in the top 20 in assists per game each of the last five seasons at right around 6.5 per game. Lillard has finished in the top 12 in offensive win shares six years in a row, and he rose all the way to 2nd last year. He is as good as just about anyone on offense. He also chips in about 4 or 5 rebounds a game, and while he's not very good defensively, he's not a complete disaster either. CJ McCollum is a great offensive complement, and is one of the smoothest shooters in the game. He's a career 40% shooter from deep, and has hit 84% of his free throws. He's averaged at least 20.8 points per game each of the last few years. This backcourt can score with anyone. He's improved as a passer and rebounder, kicking in 3-4 of each per game. He's not good defensively either, but the offensive impact is so great that it doesn't really matter. The Blazers have gotten better at winning despite the defensive flaws of their stars. Rodney Hood was solid after being brought in late last season, and he will look to continue his success in Portland this year. He's a decent scorer and shooter, and he flashed an ability to make big plays in big moments down the stretch last year. He started off his career looking like a potentially good defender, but then declined. He took a step in the right direction last year, and the Blazers will hope he takes another one this year. It looks right now like Portland will end up going big and starting Zach Collins at the 4. He has good potential as an intelligent, athletic defender, but his offensive game needs some work. It's not terrible, but there is a lot of room for improvement. He's a decent finisher, but he could be better. He needs to improve as a passer. He's shown a limited ability to stretch the floor, but he needs to make jumpers more consistently. This is only his third year, so there is plenty of reason to hope that he can make at least some of those improvements. Jusuf Nurkic had a breakout season last year, almost averaging 16 and 10 on career high assist numbers. His ability to set screens opened up the floor for Lillard and McCollum, and that's another skill that Collins will have to work on this year. He had a very good year defensively as well, and he's still just 25. This team is going to be around for a while. Unfortunately, he suffered a gruesome injury near the end of last season and won't be available until the winter. That could leave him enough time to round into form coming into the playoffs, but he will likely not have much impact on the regular season. Still, if he's able to make it back for the playoffs, I really like this team. They made it to the WCF without him last year, and although the conference is tougher, they will have as good of a chance as anyone to make it back there. Portland brought in Hassan Whiteside to take his place, and I like the move. Nurkic is more of a team player, but Whiteside is an elite rebounder and rim protector, ranking first in the league last year in defensive rating. A frontcourt rotation featuring him, Collins, and Nurkic should be hard to score on. His inconsistent attitude and effort should be improved in a big, high-stakes role. Anfernee Simons might be the first guard off the bench, and he's been getting a ton of buzz recently. It's all potential right now, as he only played 20 games last year, but he could step in as a spark plug off the bench. He's an athlete with the tools to contribute in a variety of ways, especially as a scorer and defender. He will need to improve on his ability to make plays off the bench, but he could easily be a good scoring option off the bench for Portland. Kent Bazemore is pretty good defensively, and he will bring solid scoring and shooting (35% career from deep) off the bench. London Perrantes didn't even reach 100 minutes in Cleveland in his rookie year, so it's hard to see him doing much of anything this year. He shot 41% from deep at Virginia, and like everyone else that plays under Tony Bennett, he should know how to play defense. He has the tools to be productive in certain areas, but that will likely take some time. Troy Caupain played 16 minutes last year for Portland. He showed signs of solid, all around play in the G League, but he also probably needs more time. Gary Trent Jr. didn't play 100 minutes last year either. He was a 40% shooter from deep in one year at Duke. He could provide some of that this year, but, again, it's impossible to know if he is NBA ready going into the season. Mario Hezonja is fine in a variety of areas. He should play some decent minutes off the bench. He's not particularly good at anything, but he's fine as a role player. Anthony Tolliver is a solid, floor spacing veteran. He's a career 37% shooter from deep, and he should be decent off the bench as well. At 38, Pau Gasol is probably nothing more than a leader and good veteran to have around. He's still a good rebounder in limited minutes, but that's about all he can still do at this point. Skal Labissiere has a ton of upside as a gifted offensive player with impressive defensive versatility, but he has never made good on it. He was not as advertised at Kentucky, and that hasn't really changed in the NBA. He could be a part of the rotation if it does this year. Moses Brown showed potential as a paint-focused big man last year at UCLA, coming close to averaging a double-double with 2 blocks per game. He's someone to watch, though he may not factor into the rotation this year. Like Labissiere, Nassir Little was somewhat disappointing in terms of production at the college level. He's an elite athlete, and he has the tools to be something special in this league. It will likely take some time for him to get there. The Blazers have two of the best scorers in the league in Lillard and McCollum. Hood and Bazemore will be solid on the wing. Collins, Whiteside, and, eventually, Nurkic, have some really positive upside. Don't forget about Portland in a crowded Western Conference.
Utah Jazz
Key Player: Donovan Mitchell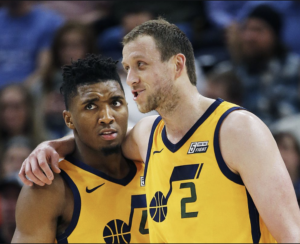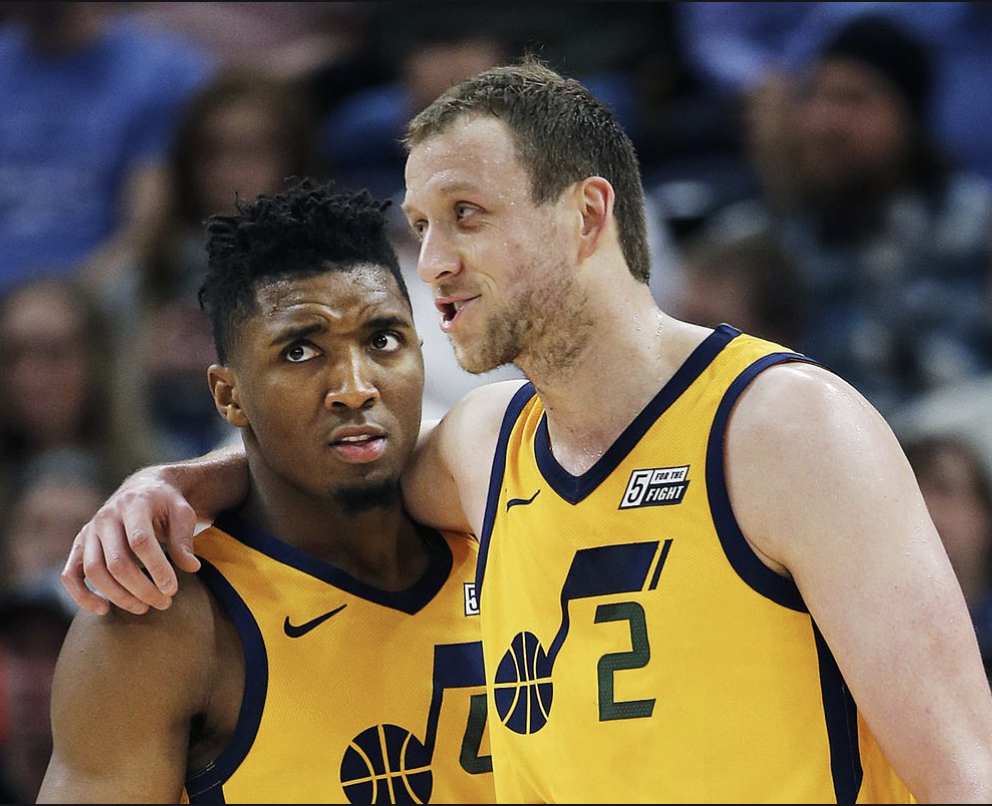 Young Talent to Watch: Donovan Mitchell, Emmanuel Mudiay, Dante Exum, Tony Bradley, Justin Wright-Foreman, Miye Oni
Key Losses: Jae Crowder, Derrick Favors, Ricky Rubio, Kyle Korver, Raul Neto, Thabo Sefolosha

Key Additions: Mike Conley, Bojan Bogdanovic, Ed Davis, Emmanuel Mudiay, Jeff Green
 Projected Starting Lineup: Mike Conley (PG), Donovan Mitchell (SG), Bojan Bogdanovic (SF), Royce O'Neal (PF), Rudy Gobert (C)
Major Storyline: Do they have enough to finally win in the playoffs?
Worst-Case Record: 45-37
Best-Case Record: 57-25
Last year's Jazz team was elite defensively, and average offensively. That made them one of the best teams in the regular season, and they would have finished tied for the 2 seed in the West if they had finished in line with their expected record. It wasn't enough during the playoffs; however, and they looked to add some offensive pieces to this year's team. Mike Conely is a huge offensive upgrade over Ricky Rubio. He's a career 38% shooter who has averaged 6 or more assists per game 7 of the last 9 seasons. He's averaged more than 20 points per game in 2 of the last 3 seasons, and is solid defensively as well. He will look to slightly boost his passing and efficiency numbers to best help this team. Donovan Mitchell has averaged at least 20 points per game in each of his first two seasons, and he is also very good defensively. He has kicked in right around 4 rebounds and 4 assists per game. His goal this season will be to take the next step as a scorer by boosting his efficiency and shooting numbers (36% career from deep, 43% career from the field, 17 PER), and to continue to develop as a passer. He will finally have more help on offense, which should make taking those steps easier. New addition Bojan Bogdanovic, a career 39% shooter from deep who hit 43% of his threes last season, will provide instant offense. He's also evolved as an overall scorer, and he will have plenty of opportunities to show that off this season. He won't need to be a great passer on this team, and he's fine defensively. He's not great as a rebounder, but Gobert should help cover that up. Royce O'Neale appears to be the favorite to get the fifth starting spot. He hit 39% of his threes last year and is a very good defender. He can lock guys down on the wing, and is getting more comfortable offensively. He could be huge for Utah this year. Rudy Gobert is an elite rebounder, finisher, and defender. He cannot shoot, but he has made some slight improvements as a passer, which is all that he needed to do. Gobert led the league in FG%, eFG%, and TS% last year, and his ability to finish around the rim is a key part of this offense that should be even easier on a team that has increased its offensive potential. He's an elite rebounder on both sides of the court, finishing third in total offensive rebounds, fourth in total defensive rebounds, and second in total rebounds while ranking fourth in both rebounds per game and rebound %. He is also one of the best defenders in the game, winning Defensive Player of the Year the last two seasons. He is the anchor of the Jazz's elite defense. He has ranked in the top 3 in blocks per game in 4 of the last 5 seasons and has ranked in the top 6 in block % each of the last 5 seasons, including two first place finishes. He has finished in the top 3 in defensive box +/- five years in a row, and consistently ranks well in pretty much every defensive metric. He is one of the more impactful players in the game, on both sides of the ball. Joe Ingles will fit nicely into his new role as the sixth man. He's a sniper from deep, hitting 41% of his threes across his career, and he has really improved as a passer (5.7 assists per game last year). He's also bumped up his rebounding numbers and is good defensively. He will provide plenty of space for Conley and Mitchell to work with. The Jazz aren't particularly deep at guard, but they weren't last year either. Dante Exum has missed a ton of time due to injury, and he's never been able to become a consistent contributor. He could be a decent playmaker and defender off the bench, but he needs to be on the court to make that step. Emmanuel Mudiay is still only 23, though he has never been able to live up to his potential. He's shown signs of being a good defender, a good passer, and a decent scorer, but he's never been able to do any of it consistently. He will have another chance here. Justin Wright-Foreman is a rookie from Hofstra with serious scoring potential (27.1 points per game on 43% from three and 51% from the field last season). It remains to be seen whether he can translate that to the NBA level, and it likely won't happen this year. Nigel Williams-Goss is back in American after spending the last two years attempting to improve in Europe after college. He has good size and shot 40% from deep in Europe. He has some potential as a passer and scorer, but it's hard to tell if he's ready to step in and contribute right now. Miye Oni is a rookie out of Yale who flashed some decent all-around potential last year. He might need some time to adjust to the NBA game though. Jeff Green was a solid offseason addition, who will bring some scoring off the bench. He's a seasoned veteran, and he can provide a little bit of a lot of different things when on the court. Georges Niang was solid in a very limited role last season. He took some major steps after only playing in 32 games his first two seasons, and the Jazz will be hoping he does it again. He shot 41% from deep on almost two attempts per game and was solid as a rebounder and defender in about 8 minutes per game. He could be a solid piece of this rotation if he improves again. Ed Davis was brought in to bolster the frontcourt. He's an elite rebounder and good finisher who plays well defensively. He will fit right in as a backup to Gobert. Tony Bradley has played 12 games in two year, so it's hard to expect much from him. He could, at some point, contribute as another rebounder, finisher, and rim protector, but he needs to continue to refine those skills. In two G League seasons, he has averaged roughly 15 points and 9 rebounds with okay defensive numbers. He has also shown signs of an emerging ability to space the floor, but that will also need more work. The Jazz were one of the better teams in the league last year, but they didn't have the offense to hang in the playoffs. Conley and Bogdanovic should help fix that. They don't have as much depth as other teams, but Ingles, Green, and Davis should work as the first three guys off the bench, and guys like Niang, Mudiay, and Exum should contribute at least something. This is a very good team with a chance to go all the way this summer. 
Denver Nuggets
Key Player: Nikola Jokic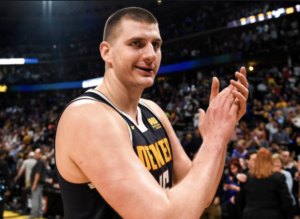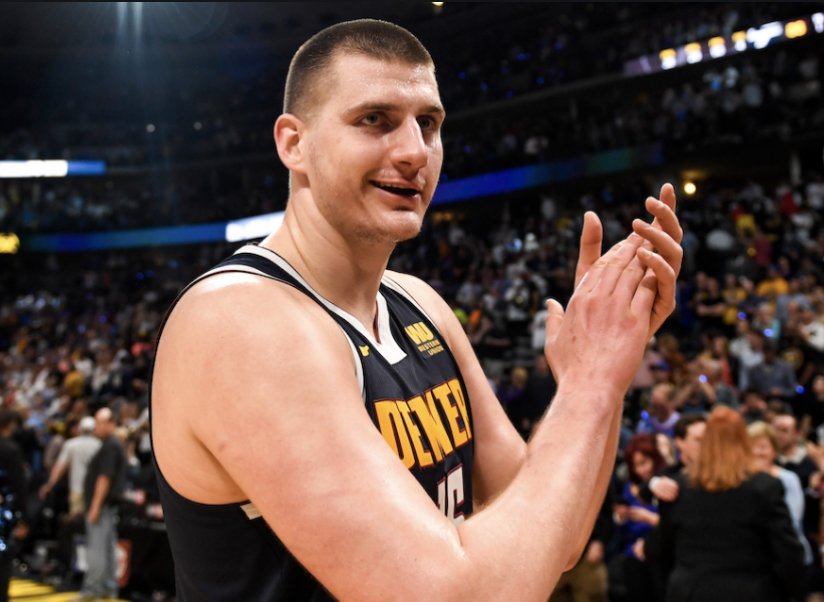 Young Talent to Watch: Jamal Murray, Malik Beasley, Michael Porter Jr., Torrey Craig, Bol Bol, Jarred Vanderbilt 
Key Losses: Trey Lyles
Key Additions: Jerami Grant, Michael Porter Jr (injury), Bol Bol
Projected Starting Lineup: Jamal Murray (PG), Gary Harris (SG), Many Options (SF), Paul Millsap (PF), Nikola Jokic (C)
Major Storyline: Consistency 
Worst-Case Record: 48-34
Best-Case Record: 60-22
This team was pretty good last year (6th-10th in offensive rating, defensive rating, SRS, and expected record). They have a lot of young players, they added a few pieces without losing anyone, and they also experienced a real playoff atmosphere for the first time. All signs are pointing towards the Nuggets being one of the top teams in the league this year. Jamal Murray has improved consistently across his first three years in the league. He's shot around 37% from three the last two years and is close to averaging 20 points per game. He boosted his assist numbers up near 5 per game, which makes him even more of a threat running off of Jokic. He's gotten better each year defensively as well. He's turned himself into a solid player, and a few more improvements in efficiency and passing could make him a very good one. He flashed that ability in last year's playoffs. Monte Morris turned himself into a solid backup point guard last year. He can run the offense, and he shot 41% from three. He's a good passer and efficient scorer who is capable defensively. He was second in the league last year in assist to turnover ratio, and he fills his role very well. Gary Harris is solid on the wing. He's a career 37% shooter from deep who can fill a number of roles offensively, and he plays good perimeter defense. The problem with Harris is his health, as he has missed almost 100 games in five years. With Malik Beasley on his tail and Denver potentially having to choose between the two sometime soon, this will be an important year for Harris to show that he can stay healthy consistently. The athletic Beasley had a breakout year last season in his third year, playing 81 games and shooting 40% from three on 5 attempts per game. He was a scoring spark plug off the bench, and he averaged 16 points on 50% shooting from deep in just under 20 starts throughout the year. He needs to improve the other aspects of his game, especially his passing and defense, but the potential is there. Harris, right now at least, is the more complete player, but if he can't stay on the court, then the Nuggets might take a bet on Beasley continuing to develop into a more complete player. The small forward position is really crowded in Denver. Will Barton is the veteran, but he's coming off of an injury-filled season. He's a capable shooter (34% from deep in his career), and can contribute in a variety of ways offensively as a scorer and passer. He does struggle with consistency at times, which could hurt him in the competition for the starting nod. He's solid as a rebounder and defender, and he will have a role on this team regardless of whether or not he starts. Torrey Craig filled the void caused by Barton's struggles with injury, and he emerged as a good, high-effort defender. His offensive game is limited, but he shot 47% from three in the playoffs. If he can be up around 40% from deep consistently, he might get the spot. Juan Hernangomez is yet another option at the 3. He had a pretty big role last year, nearly reaching 20 minutes per game in 70 appearances in his third year as a pro. Hernangomez is not a star, but he has flashed the potential to be a decent role player. He made some big improvements defensively last year, and he will look to continue that trend this year in an effort to become a positive defender. He has shown an ability to knock down the three (37% career), but he needs to be much more consistent after shooting 28% from deep two seasons ago. He's fine as a bench guy right now. Michael Porter Jr. appears to be ready to go after losing most of his freshman year and his entire rookie year to injury. He has the potential to be an elite scorer and he has the athleticism to be a great defender. He's also very much an unproven commodity at this point, and some caution should probably be urged. Still, he has as much talent as just about anybody, and after a year in the background adjusting to and learning about the NBA game, he could be ready to step into a decent role immediately. It's not entirely clear how big that role will be given all of the options here, but he should contribute in some way. Paul Millsap will start at the 4, and he's still very important despite his increasing age. He's not a great shooter, but at 33% he makes enough threes to be a threat. He's capable of making the necessary pass, and he can still provide scoring when it's needed. He's a good rebounder, and his defense is still very good. The Nuggets are much better when he is on the court. Jerami Grant was brought in to back him up, and he should be a solid addition. Grant really improved as a shooter last year, hitting 39% of his threes. He will provide some points and rebounds off the bench, and, like Millsap, is a plus defender. Jarred Vanderbilt played 70 minutes for the Nuggets last year, and it's hard to see him breaking into this deep rotation. Nikola Jokic is a dark horse MVP candidate at the 5 spot. He averaged 20 points, 11 rebounds, and 7 assists last season, and is a 35% career shooter from deep. He is one of the most gifted passers in the game, and his ability to do it from the center spot is huge for this offense. He's a good scorer as well, and the pick-and-roll that he runs with Murray is dynamite. He's smart enough to be solid as a defender despite his clear limitations athletically. Mason Plumlee is very good in his role off the bench. He's a solid rebounder and finisher who has developed into a pretty good passer. He's not Jokic, but he can make the passes that the offense needs to flow. Bol Bol might not have a very big role this year behind Jokic and Plumlee, but he should be someone to watch. He only played in 9 games at Oregon due to injury. In those games, he went for 21 points and 9.6 rebounds per game on 52% shooting from three while averaging almost 3 blocks per game. He needs to improve his ability to pass and score inside the paint, but he could contribute right away as a shooter and rim protector. This Denver team is betting on continuity after making very few changes this offseason. I like them a lot. They have a legitimate star in Jokic, a stabilizing presence that makes the team better in Millsap, an emerging point guard in Murray, and a ton of well-fitting depth around them. They are going to be one of the last teams standing this postseason, and they could go all the way.