2019-2020 NBA PREVIEW: Pacific Division
26 min read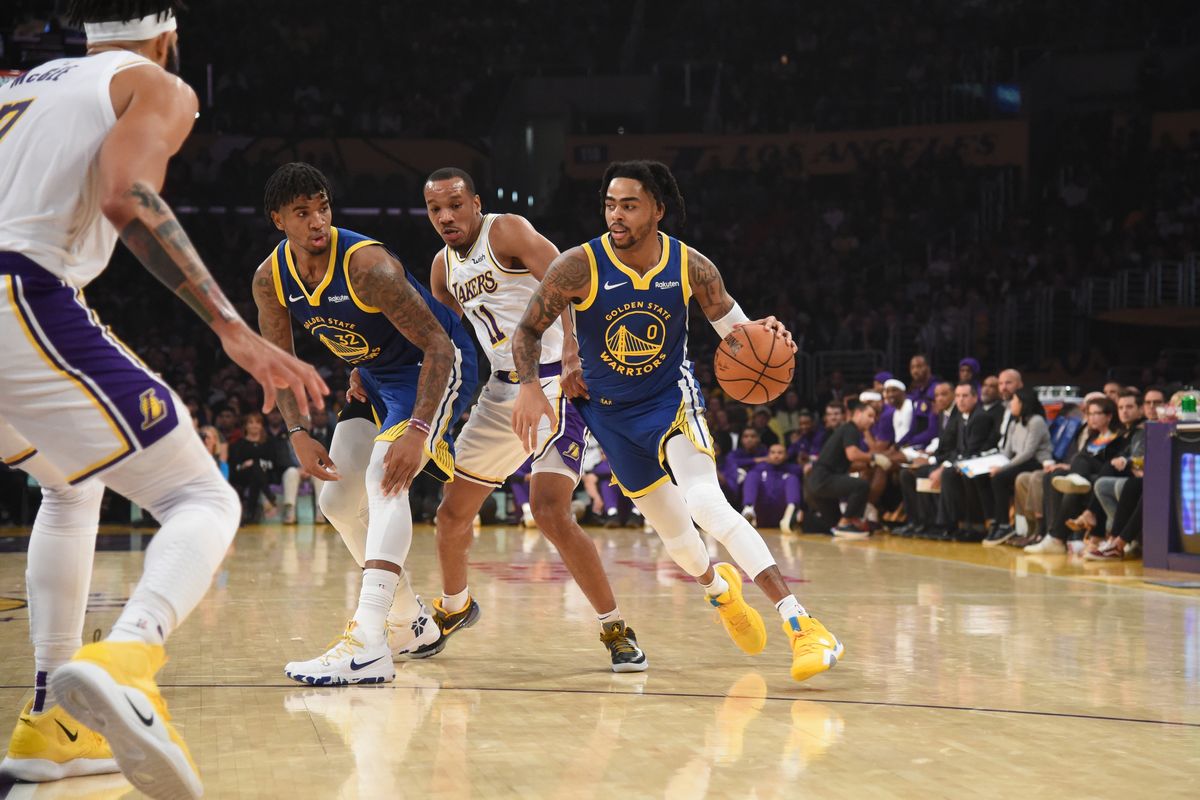 PACIFIC DIVISION (Rankings based on predicted regular season finish in conference)
Phoenix Suns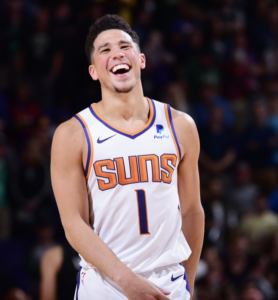 Key Player: Devin Booker  
Young Talent to Watch: Deandre Ayton, Ty Jerome, Mikal Bridges, Cam Johnson
Key Losses: TJ Warren, Josh Jackson, Richaun Holmes, Jamal Crawford
Key Additions: Frank Kaminsky, Ty Jerome, Ricky Rubio, Aron Baynes, Dario Saric
 Projected Starting Lineup: Ricky Rubio (PG), Devin Booker (SG), Kelly Oubre Jr. (SF), Dario Saric (PF), Deandre Ayton (C) 
Major Storyline: They have to be better, right?
Worst-Case Record: 20-62
Best-Case Record: 35-47
The Suns were pathetic last year, ranking in the bottom 3 in SRS, offensive rating, defensive rating, and expected record. The finished an astonishing 14 games back of the next worst team in the West. Even though Phoenix lost some scoring this offseason, their 28th ranked offense can't get much worse, and they actually made some decent additions to counter the losses and maybe even improve. On paper at least, they look halfway decent this year. Unfortunately, there are two big problems with this. The first problem for the Suns is that the West is absolutely loaded from top to bottom. Halfway decent won't cut it. The second problem for the Suns is that they're still the Suns. Ricky Rubio will step in right away and bring some needed stability and veteran presence at the point. He is by no means a star, but he does pretty much everything at a solid level. He can score some, create opportunities for others, play decent defense and is an okay rebounder as a point guard. He's never fully developed his deep shot, but he's making them at just above a 30% clip, which could be enough alongside Devin Booker to create some extra space. Rookie Ty Jerome might back him up. We could see a surprisingly effective rookie season from Jerome, who steadily improved in three years at Virginia. He can defend and shot 40% from three last year. It's not clear that the minutes are really there for him behind Rubio, Booker, and Tyler Johnson, but Jerome could be someone to watch. Elie Okobo didn't make Team France this summer, and will likely be hard pressed to make it into the Sun's rotation or even roster this season. Jevon Carter was a fan favorite at West Virginia, where he played great defense and developed into a good college point guard. He has an uphill climb to NBA relevancy as well. Jalen Lecque is someone to watch after he went straight to the draft after spending five years in high school. He's a super athlete with terrible shooting numbers, which likely won't translate to an immediate impact, but he's one to keep an eye on. I'm not a big Devin Booker fan, largely due to the Suns getting continually worse over the last three years while he, their best player, has supposedly been getting better. For me, it's a big red flag when you drop 70 and your team loses by 10. He's not a good defender, and he just hasn't shown an ability to lift the guys around him. He also only shot 33% from deep last year and has never topped 38%. That is likely at least partially due to the attention defenses are able to focus on him, but it's not ideal for a supposed sniper. Still, there's no doubting his offensive ability. He can score the basketball, averaging 22, 25, and 27 points per game over the last three years. He's also made big jumps in his assist numbers, reaching 6.8 per game last year. He's still young, but he hasn't given me any reason to believe those are anything but empty stats. Maybe the insertion of Rubio at the 1 will give him an opportunity to better apply his skills to winning basketball games, but I will have to see it to believe it. Tyler Johnson will back him up. He's a decent shooter, playmaker, and rebounder. He's not bad defensively. He will help the Suns coming off the bench. Phoenix has four wings to work with at the 3 and 4 spots. Kelly Oubre Jr. can score and rebounds fairly well, though he can't shoot or pass particularly well. He's not a bad defender. I just have a hard time seeing a team that is rolling out Kelly Oubre in the starting lineup doing much in this year's West. Mikal Bridges looked okay in his rookie year. He went for 8 points, 3 rebounds, and 2 assists on 33% shooting. Those aren't bad numbers for a rookie, but the Suns would probably have liked to see some more production considering that Bridges played nearly 30 minutes per game. He was fine defensively last year, and will get the chance to show that he can do more this year. Cam Johnson will turn 24 during his rookie year. He shot 46% from deep last year, and projects to be a good shooter even if that number is a little unrealistic. He might be able to slightly improve on Bridges's rookie season, but it's hard to expect much more. Like Rubio, Dario Saric should improve this Suns team. The former Sixer has only missed six games over the last three years, has shot 37% or better from deep the last two seasons, and is a solid defender. Also like Rubio, Saric is no star, and it's not clear that he can do anything beyond lifting the floor of this team a little bit. At center, Deandre Ayton had a quiet but successful rookie season, going for 16 and 10 on decent finishing numbers. He wasn't terrible on defense either despite some concerns going in. He needs to develop a three point shot and continue to work on his passing, finishing, and defending, but he had a good start to his career and should be a fixture in Phoenix for years to come. Aron Baynes will back him up. He's a solid rebounder and defender off the bench and has begun to develop a perimeter shot. He's not a great finisher or passer though, and he's nothing more than a backup center. Frank Kaminsky will likely get minutes at the 4 and 5. He's a solid scorer and rebounder with floor-spacing ability, He should be an overall positive in what will likely be a somewhat limited role. Cheick Diallo is a high volume rebounder with some promise as a paint presence, but it's not clear where his minutes are going to come from. Tariq Owens is very raw, and likely won't factor into this year. This Suns team should be better. Rubio and Saric are solid veterans, Ayton is legit, and Booker can score with pretty much anyone. They have some decent pieces (Johnson, Oubre Jr., Kaminsky, Bridges, Johnson) around them. It would be shocking if this team is totally unable to compete like last year, but it would also be pretty surprising to see them winning that many more games. The rest of the conference got better too, and the Suns were so far behind that they likely didn't close the gap. 
Sacramento Kings
Key Player: De'Aaron Fox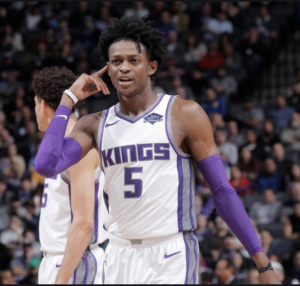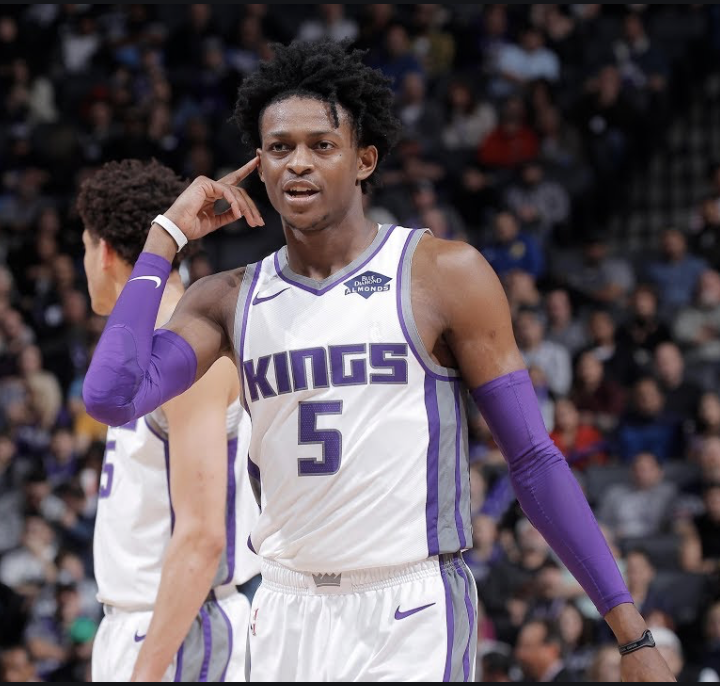 Young Talent to Watch: De'Aaron Fox, Marvin Bagley, Harry Giles, Kyle Guy, Caleb Swanigan, Justin James
Key Losses: Willie Cauley-Stein, Justin Jackson, Kosta Koufos, Frank Mason
Key Additions: Dewayne Dedmon, Trevor Ariza, Richaun Holmes, Cory Joseph
 Projected Starting Lineup: De'Aaron Fox (PG), Buddy Hield (SG), Harrison Barnes (SF), Marvin Bagley (PF), Dewayne Dedmon (C) 
Major Storyline: Fighting for the playoffs
Worst-Case Record: 38-44
Best-Case Record: 50-32
The Kings finished ninth in the West last year, ranking as an average to slightly below average team (16th-20th in Offensive Rating, Defensive Rating, SRS, and expected record) across the board. Caulie-Stein was really the only loss of consequence, and they probably went out and improved the 5 spot with the additions of Dedmon and Holmes. Ariza and Joseph should also add some veteran stability to a team that will lean on the development of its younger stars. They will need to improve defensively to see their potential realized. The one thing that last year's Kings excelled in was pace, and that should continue with the quick De'Aaron Fox leading the way at the point. Fox vastly improved in his sophomore campaign, boosting his per game averages by 6 points (to 17.3), 3 assists (to 7.3), and 1 rebound (to 3.8) while shooting 6% better from deep (37%) and 5% from the field (46%). He flashed solid defense as well in going from a promising but overwhelmed rookie to an NBA stud. If he improves even more, Sacramento will be right in the thick of the playoff race. Buddy Hield will join him in the backcourt. Hield has made good on his scoring potential. He's always been an elite shooter (42% career from deep), but he has bumped up his volume, reaching 8 attempts per game on a 43% hit rate last season. He boosted his scoring to 21 points per game last year, and is fine in other areas of the game. He's a good complement to Fox. Harrison Barnes should help the Kings in a full year. He scores in the mid-to-high teens and is a career 37% shooter from deep.  He's not particularly special in other areas of the game, but he's solid and able to fill a lot of roles. He could be a better passer and more impactful defender, but at this point in his career, that's not extremely likely. Marvin Bagley will look to improve on a solid rookie year that saw him average 15 and 7 on 31% from deep. He's a good scorer and rebounder that should get even better in those areas as he gets more comfortable, and his shooting should improve given his 40% year at Duke. His passing needs to be better, and like the rest of the Kings, he will need to buy in defensively to improve the unit. Dewayne Dedmon should be very good for the Kings at the 5 spot. He's a solid finisher and rebounder, and he has developed a three-pointer over the last 2 years, hitting 38% on roughly three attempts per game last season. He has shown limited signs of improved passing after a non-existent passing game in the first couple years of his career. He's improved defensively, though he's no star on that end. His ability to stretch the floor will be huge for a team that didn't have that coming out of the center position last year, and he is used to the pace after playing with Trae Young's Hawks last year. Cory Joseph was brought in to back up Fox. He's solid pretty much across the board, though he's not a great shooter. He's a good veteran, and he will do well in his role coming off the bench. Yogi Ferrell is a better shooter (37% from deep) and scorer than Joseph, but isn't quite as solid in other area of the game. He will be called on to provide some bench scoring, and he will likely look to mirror Joseph in other aspects. Bogdan Bogdanovic will complete the backcourt rotation, and will often be the first off the bench for Hield. Statistically, he compares to Barnes as a solid shooter and scorer who contributes across the board in a fairly limited manner. It's only his third year, though he is 27, and he will look to continue to develop as an all-around player. Kyle Guy is an elite shooter who made some improvements in rebounding last season at Virginia. He should be good defensively after playing under Tony Bennett. He has some work to do to develop his all-around game, and likely won't be a huge part of the rotation this year. Justin James is a rookie out of Wyoming. He went for 22 points, 8 rebounds, and 4 assists last year. He's probably going to need some time to adjust to the NBA game, but he's someone to watch down the road. Trevor Ariza will likely back up Barnes after starting for most of his career. He's another solid, little bit of everything guy. He's a decent shooter (35% career from deep), and adds decent passing, rebounding, and defense. Outside of having Barnes at the end of the year, the Kings didn't really have a small forward last year. Now they have two who should consistently do a solid job. Troy Williams chipped in at the 3 spot last year, but with Barnes and Ariza in town, his opportunities will likely shrink. Nemanja Bjelica is a solid big man who can stretch the floor (above 40% from deep the last two seasons). He's improved as a defender and rebounder, and he will join Bagley and Dedmon in a backcourt that will be able to step out beyond the arc consistently. The other guys that will contribute to the frontcourt rotation aren't great shooters, but they will still make an impact. Richaun Holmes is a very good finisher and a solid rebounder. He has improved defensively as well. Harry Giles is another solid rebounder that can finish in the paint. He showed some signs of playmaking ability last year. He didn't play much in one year at Duke, missed an entire year due to injury, and didn't play a ton last year either. It's hard to tell what his ceiling looks like. Caleb Swanigan put up 18 points and 12 rebounds per game to go along with 3 assists on 45% shooting in his last year at Purdue, but he hasn't broken into an NBA rotation yet. He might not break into this one either. I really like this Kings team. Fox is legit, Hield is an offensive stud, and Bagley should improve on a decent start. They've surrounded these guys with solid veterans and a ton of options in the frontcourt. They burned out at the end of last season and finished 9 games out of the playoffs. Bet on them staying in the race all the way this year, though it will be very tough to actually make it. 
Golden State Warriors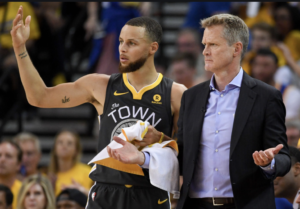 Key Player: Draymond Green  
Young Talent to Watch: Jordan Poole, Eric Paschall
Key Losses: Kevin Durant, Shaun Livingston, Andre Iguodala, Quinn Cook, Jonas Jerebko, Jordan Bell, DeMarcus Cousins
Key Additions: D'Angelo Russell, Jordan Poole, Alec Burks, Eric Paschall, Omari Spellman, Glenn Robinson III, Willie Cauley-Stein
 Projected Starting Lineup: Steph Curry (PG), D'Angelo Russell (SG), Alfonzo McKinnie (SF), Draymond Green (PF), Kevon Looney (C) 
Major Storyline: Steph Harden?
Worst-Case Record: 45-37
Best-Case Record: 55-27
The Warriors didn't just lose Kevin Durant. Iguadola and Livingston were significant pieces, and a few other role players joined them in leaving. Klay Thompson won't be ready to play for a while either. This is not going to be the same team. It would still be one of the shocks of the season if Golden State missed the playoffs. Curry is the greatest shooter the game has ever seen, and he will have every chance to show it this year. He's a career 44% shooter that has never shot worse than 41.1% over a full season. That is absolutely insane. He can score on the drive too, which is made much easier by his ability to shoot from literally anywhere. He's a solid passer and a surprisingly solid rebounder. He scored 27.3 points per game last year, the second highest output of his career, and he will have a chance to raise that even higher due to the relative lack of scorers around him. He might look like last year's James Harden in terms of usage and role, at least before Thompson's return. He's not a great defender, but he's not terrible either. He's pretty effective at grabbing steals. That may not be a great marker of defensive ability, but it's something. The worry with Curry is his durability, which has led to 44 missed games over the last two years after he only missed 16 games across the previous five years. The Warriors will need Steph available as often as possible. D'Angelo Russell will start next to Curry. He really took off last year, becoming a very good scorer and playmaker while playing solid defense. He shot 37% from deep on nearly 8 attempts per game. The passing and offensive movement of this Warriors team is going to take a hit with all of the losses and turnover, and Russell's ability to create off the dribble will be big in creating an alternative form of offense to replace some of the freewheeling motion and passing. The Warriors are probably going to use a committee approach at the 3 spot until Klay Thompson returns. Alfonzo McKinnie only played 14 minutes per game last year. He looks like a good rebounder and shot 36% from deep on pretty limited attempts. He's alright, but seems very limited. It's hard to project how he might do in a consistently bigger role. Jacob Evans barely played last year; he has the tools to contribute in a variety of ways, but it's even harder to project what he might look like in an actual role this year. Glenn Robinson III hasn't shown all that much in the first five years of his career. He just hasn't been able to make much of an impact at the NBA level. These three are basically emergency options, but they are all the Warriors have until Thompson returns. Curry and Russell should do enough offensively to keep this team afloat, but there isn't a ton of margin for error with Thompson out. Thompson is a career 42% shooter from deep, and has never shot below 40.1% over a full season. That's not quite on Curry's level, but it's still insane. He's a good defender as well, and it will be huge for this team to get him back. With Curry, Russell, Thompson, and Green, this team will have as good of a chance as anyone in the playoffs. Green is gunning for the DPOY award this year, and the Warriors will need him in that form to have a decent defense without Durant, Thompson, Iguodala, and others. Green is one of the best defenders in the game at his best. The problem is that he really hasn't needed to be at his best during the regular season ever since Durant chose Golden State. He's been able to coast a little, and it's shown in his stats. That won't cut it anymore, and his ability to maintain elite play across the course of a full season will determine if this team can rise a few spots in the standings. Green is also a very good passer, though he doesn't contribute much else offensively. It'll be interesting to see what his role in the offense looks like, especially early in the year without Thompson. I would anticipate plenty of pick-and-rolls with Curry and Russell. Kevon Looney can't shoot, but he's turned into a good finisher and rebounder, and has improved his defense and passing. The Warriors have never had a great center, and he should be completely fine in filling the role they give him. Alec Burks, Jordan Poole, and Andrew Harrison will back up Curry and Russell. Burks should provide some scoring and average shooting off the bench. Harrison had a decent sophomore campaign before struggling and being traded three times last year. He flashed an ability to do a little bit of everything two years ago, and the Warriors will be hoping that version of him returns. Poole has some real potential as a shooter and playmaker. He started to improve his defense, passing, and consistency last year at Michigan, and he will look to continue that development in his rookie season. Rookie Eric Paschall might get thrust into the rotation out of necessity. He averaged 16 points and 6 rebounds per game last year at Villanova, and looked pretty good defensively. He seems like a good leader as well. Damion Lee has only played 47 games in two years, but he actually looked okay in those games. He shot 40% from deep last year on 68 attempts, and has shown an ability to score and rebound. The Warriors might need him to take on a bigger role this season. Omari Spellman is an intriguing addition. He has potential as a rebounder, defender, and floor spacer. Willie Cauley-Stein will bring some needed depth at the center position. Like Looney, he can't shoot, but he's a good rim protector and rebounder and a decent finisher. Marquese Chriss has turned into a player to watch in Golden State. A disappointing start to the athletic big man's career in Phoenix has really tempered expectations, but he still has potential. Alen Smailagic is a 19-year-old from Serbia, and is just a project at this point. The Warriors are going to be fine. They still have Curry and Green. Russell will fit in well. Thompson will be back eventually, and Looney and Cauley-Stein should provide some decent production from the five spot. There isn't much room for error with the lack of depth around these guys, but Curry and Green are considered stars for a reason. They'll get the Warriors to the playoffs, and no one will want to play them once they get there. 
Los Angeles Lakers
Key Player: Anthony Davis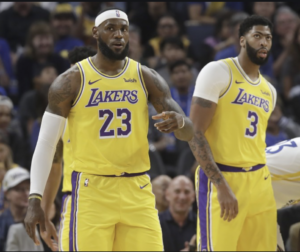 Young Talent to Watch: Kyle Kuzma
Key Losses: Lonzo Ball, Brandon Ingram, Josh Hart, Lance Stephenson, Tyson Chandler
Key Additions: Quinn Cook, Avery Bradley, Danny Green, Jared Dudley, Dwight Howard
 Projected Starting Lineup: Rajon Rondo (PG), Danny Green (SG), Lebron James (SF), Anthony Davis (PF), Javale McGee (C) 
Major Storyline: Health of stars
Worst-Case Record: 40-42
Best-Case Record: 55-27
The Lakers, barring another long-term injury to Lebron, are right in the thick of the title race. Rajon Rondo is still a good passer. He's solid as a rebounder. He's iffy defensively at this point in his career. He's made strides as a shooter, but he's still not a good one. Teams will continue to play off of him, which will hurt the floor spacing that should again be a problem in LA. Bringing in Danny Green should help with that issue. Green really struggled during the playoffs last year, but he had a very good regular season. A career 40% shooter from deep, he hit 46% of his threes last year. Some regression should be expected, but the attention on James and Davis should open up the looks that Green will need to come close to matching last year's number. He's good defensively as well. He doesn't do a lot outside of those two things, but the Lakers don't need him to when James and Davis are playing. Lebron, at his best, is still as good as anyone. He averaged 27, 8, and 8 last year. He's not a great shooter, but he's good enough with the rest of the offensive skills he has at his disposal. He's a menace defensively when he's trying on that end. He does everything, and he does it all well. He's elite as an individual player, and he makes everyone around him better in a way that almost no one else can. The problem at this point in his career is that he can't always reach his peak level, which really began to show last season. He took a number of possessions off defensively, even getting shoved in the right direction by Kyle Kuzma at one point in a late season game. He missed 27 games, the most in his career, and only the third time he had missed more than 10. He might not suffer a major injury again this year, but it's almost a guarantee at this point that he will miss a number of games for rest. This should help in the long run, but it won't be ideal in the battle for seeding. Davis is as physically talented as anyone. He's averaged a 20 point double-double each of the last six seasons, averaging at least 24 points per game 5 times and at least 28 points twice. He's not a great shooter, but, like Lebron, he just needs to be okay because he's so dominant as a scorer in other areas. He's gotten to okay over the last few years. Davis is also an elite defender who has led the league in blocks 3 times. He can guard pretty much anyone, pretty much anywhere. The major problem throughout his career has been his inability to turn that talent into team success. A big piece of this is that he just hasn't made the guys around him better. He's as dominant a player as you'll see, but, so far, he has lacked the ability to carry a team. There are two reasons to feel better about Davis here though. For one, he won't need to carry this team through the playoffs. He gets to dominate without the pressure of lifting everyone else up, and allow Lebron to pick up the rest of the team. He also made some impressive strides as a passer last year, nearly doubling his average assists per game to 3.9, suggesting that his ability to carry a team shouldn't be buried quite yet. He will have the chance to continue to develop that skill throughout the year, and it will be key in being consistently competitive when Lebron sits. The other problem for Davis is his injury history. He's one of the least durable stars in recent memory, seemingly walking back to the locker room during a game every other week. He's missed an average of just over 15 games each season, and has already picked up a finger injury as a Laker. The health and availability of these two will be a big story all year, and this team could miss the playoffs if one of them misses a significant stretch. It seems like they're both going to miss double-digit games at the very least, and that alone could be enough to eliminate them from a chance at the top seed. Javale McGee, the walking blooper reel, will likely start at the 5. He's good as a rebounder, inside finisher, and rim protector. He's not a bad player, and he's capable of doing all of the things that a traditional center needs to do. The bloopers come when he tries to do the other stuff. The shooting ability of a lineup featuring Rondo and McGee is questionable at best. To start the year, at least, the Lakers appear to be planning on Green's shooting ability and the sheer offensive dominance of Lebron and Davis being enough to make it work. Quinn Cook signed with the Lakers after a few years with the Warriors. He's a very good shooter (42% career from deep) and a solid passer. He should be solid off the bench. Kentavious Caldwell-Pope will be called on for some scoring off the bench. He's fine defensively as well. He's solid as a role player. Kyle Kuzma is the x-factor on this team, though he's out indefinitely to start the year. It doesn't appear to be a long-term injury, but there's a chance he misses a little stretch at the start of the season. He still has some improvements to make to reach his full potential, but he's already a good scorer. He's fine as a rebounder and defensively. He needs to be a better passer. He needs to be more efficient. He would benefit from better perimeter shooting, but that is likely going to take some time and work as he didn't show that skill in college. His ability to improve will likely have a significant impact on where this team finishes in the West, and if he develops into a legit third option, the Lakers will be in a very good spot for the playoffs. He's probably going to be a part of the finishing lineup, likely in place of McGee. A lineup with Green, Kuzma, Lebron, and AD is really, really good. Avery Bradley has struggled a bit recently after a good finish to his time in Boston. He's a solid shooter (36% career), but just hasn't done a whole lot else well over the last few seasons. Playing alongside Lebron and Davis might bring out the best of him. Alex Caruso could be a significant factor off the bench, but he's still a mystery at this point. He has shown an ability to be good in pretty much every area of the game, but it's been in very limited spots. He's only played 62 games the last two years. He averaged 17 points, 8 assists, and 5 rebounds in the last 5 games of the season last year. Those are promising numbers, but we won't know if they mean anything until he does it consistently in meaningful games. Jared Dudley is a good veteran and leader. He's a decent shooter, and he will pitch in some solid play off the bench. Troy Daniels is a career 40% shooter, but that's about all he's done well in his NBA career. Kostas Antetokounmpo is not his brother. He averaged 3.6 points and 6.2 rebounds per game in the G League. He won't contribute at the NBA level this year. Still, it can't hurt to see if there's anything there. Dwight Howard is back in LA, and will likely back up McGee. He's not the dominant center he once was, but he's still a solid rebounder and finisher. The problem is that he fell off a cliff last year defensively, which really hurt his impact. He only produced a quarter of his career block averages, and his defensive rating was 7 points higher than his next worst year. If he can reverse that at least partly, he will be a solid backup. Either way, the Lakers will likely look to bring in another cheap option at center with the loss of DeMarcus Cousins. At the end of the day, no other team in the league can match the star power of the Lakers's top duo. No one else can run out both Lebron James and Anthony Davis. When those two are on the court and going all out, this team could be as hard to beat as anyone. The problem, especially during the regular season, is that they will likely spend a lot of time on the bench in street clothes. The rest of this team isn't that bad, but they're not very deep and won't do all that much without them. That's enough to drop a few spots down the seeding ladder in the West. 
Los Angeles Clippers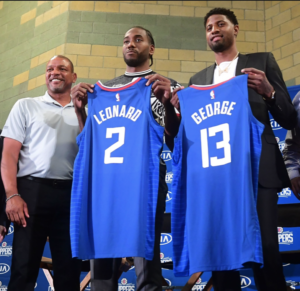 Key Player: Kawhi Leonard
Young Talent to Watch: Amir Coffey, Derrick Walton Jr, Terance Mann, Jerome Robinson
Key Losses: Danilo Gallinari, Shai-Gilgeous Alexander, Sindarious Thornwell, Tyrone Wallace, Mike Scott, Marcin Gortat
Key Additions: Kawhi Leonard, Paul George, Rodney McGruder, Maurice Harkless, Patrick Patterson
 Projected Starting Lineup: Patrick Beverley (PG), Landry Shamet (SG), Kawhi Leonard (SF), Paul George (PF), Ivica Zubac (C)
Major Storyline: Health of stars
Worst-Case Record: 46-36
Best-Case Record: 60-22
The Clippers are talented and deep. On defense, Patrick Beverley will take on anyone, anywhere. He's a good shooter (38% career) that can play off the ball and occasionally make plays for others (3.5 assists per game in his career). He's a solid rebounder as well. Landry Shamet is a sharp shooter (42 % career from deep). He's not very good defensively, but he doesn't need to be on this team. He will open up plenty of space for this offense. Kawhi Leonard has turned himself into an elite scorer. He scored 26.6 points per game on 37.7% from deep last season, and he's developed the ability to get a bucket whenever he wants to. He's a very efficient scorer. He's also one of the best defenders in the game, and he can lock up pretty much anyone. There are two holes in his game. For one, he's not a great passer, only averaging 2.4 per game across his career. A major part of the Raptors's offense last year was Kyle Lowry's facilitating, and it's not clear that the Clippers have someone in this starting lineup who can copy that. It's something to keep an eye on. Like the other stars in the Staples Center, Kawhi will likely miss plenty of games. He's missed at least 8 games every year of his career and has missed less than 15 only twice. He missed 22 last year during an aggressive rest campaign, and that will likely continue this year. Paul George joined Leonard in LA this offseason. He was a legitimate MVP candidate last year, averaging 28 points, 8 rebounds, and 4 assists per game on 39% shooting from deep while leading the league in steals. He is one of the premiere two-way players in the league, and trying to score on a defense that features Beverley, Leonard, and George will not be fun. On the other hand, he's going to miss at least ten games to start the season due to a shoulder injury. He's only missed 13 games over the last 4 years, so he might be able to avoid missing many games when he's back. He's still going to miss a significant chunk of time either way. On the bright side, the Clippers have more pieces around their star duo than the Lakers, and their missing games shouldn't have as negative of an effect. The Clippers's biggest weakness might be their starter at the 5 spot, Ivica Zubac. In limited action, Zubac has shown an impressive ability to grab rebounds, but he needs to improve as a finisher. He can't really space the floor, and his passing leaves something to be desired as well. He is good as a rim protector, but he was taken off the floor and made irrelevant in the playoffs against the Warriors. It's not really clear who the Clippers have as a rim protector if that happens again. With their perimeter defense, it might not matter all that much, but it's still a potential flaw. He's only 22, so there's still plenty of  room for improvement. The Clippers need that improvement to be now though, and it's not clear that it will be. Lou Williams is probably the best bench player in the league right now. He's averaged at least 20 points and 5 assists per game the last two years on 36% shooting from deep. He's just a really good scorer and playmaker, and he provides a huge impact off the bench. He's not great defensively, but his offense more than makes up for it. His partner in crime is Montrezl Harrell, a forward-center hybrid who brings great energy off the bench. He and Williams run a great pick-and-roll, and he finishes well within the paint. He grabs rebounds at a decent rate, and might look to expand his shot beyond the arc this season. He's solid as a defender, but he doesn't offer as much as rim protector or perimeter defender as others on the roster, and that, along with his connection with Williams, will likely keep him in a similar role this season. Maurice Harkless and JaMychal Green are two bigs who can offer perimeter defense. Harkless is capable of filling a limited role offensively, but his calling card is his defense. He can guard pretty much any forward in the league, and he will likely do enough offensively to stay in the rotation, especially during the regular season. Green, as a career 37% shooter from deep, offers more offensively, and he's a good rebounder as well. He plays solid defense too, and will be another key piece of this very talented bench. Rodney McGruder is another gritty defender who can make some limited contributions offensively. He's hit 36% of his threes. The Clippers go 10 deep easily, and it's going to be hard to beat that come playoff time. Amir Coffey is a rookie out of Minnesota on a two-way contract. He's got some potential as a point guard that can do a lot of things, but that very likely won't be seen at the NBA level this season. Derrick Walton Jr. averaged 16 points and 7 assists on 38% shooting from deep in the G League last year. There may not be much of a role for him here, but he can probably provide some spot minutes off the bench as a solid passer and shooter. Jerome Robinson almost averaged 19, 4, and 4 on 41% shooting from deep in the G League last year. He also looks like someone that could potentially contribute, but it's just hard to see the minutes opening up for either of these guys. Terance Mann is an athletic rookie out of Florida State. This is going to be a development year for him as he looks to continue to translate those athletic skills into on-court production. The Clippers really love rookies from Florida State, as they also ended up with Mfiondu Kabengele. It should be a development year for him as well. Patrick Patterson is also in LA. He's taken a step back, but he could provide some floor spacing in a limited role. This Clippers team has two top-ten players, and almost endless stream of talented scorers and defenders around them. Depending on how much Leonard and George are able and willing to play in the regular season, they might lose out on the chase for the one seed, but this team has as good of a chance at winning it all as anyone.