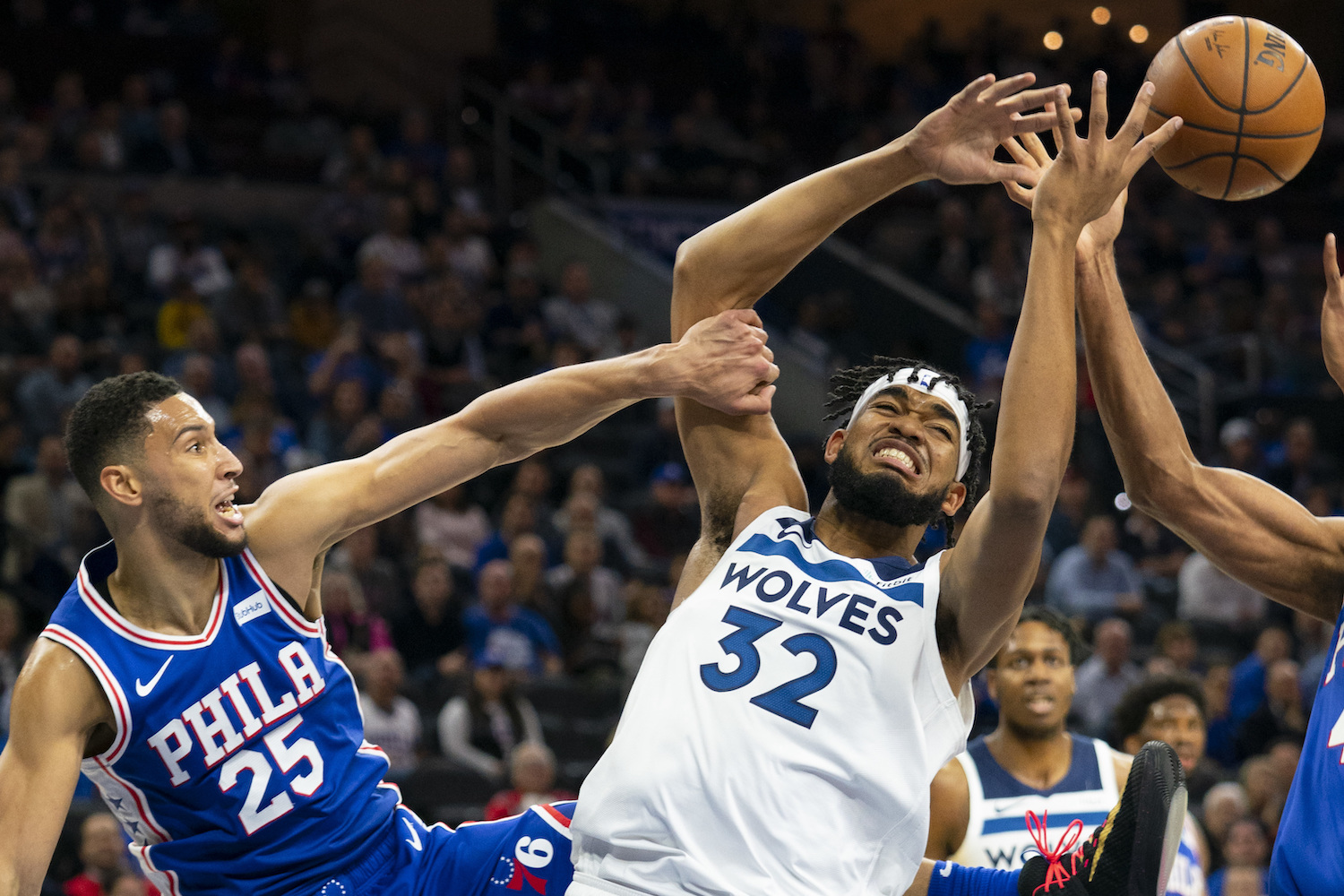 See part 1 here. The basic idea – Simmons and the Sixers are headed to a likely split, so let's take a look around the league and see where he might end up. Today, we're looking at the middle of the league by alphabetical order. Let's get to it.
11. Indiana Pacers
The Pacers are the kind of team that makes sense in just about every one of these scenarios because of their roster depth and place in the league, but they also never really seem to make their way into any sort of substantial rumors or news. We'll see if that changes at some point in the near future.
Let's start with where they stand in the NBA. Indiana has been a consistent playoff team since 2011, with nine postseason appearances in eleven tries and an additional trip to the play-in last year. They haven't been anywhere near to a true contender since 2014, however, and every trip to the playoffs since has ended in a first round defeat. They've been stuck in the middle of the league for about a decade, maintaining a decent enough level of play without the ability to reach that extra gear. That's why Simmons makes a lot of sense. His disappointing postseason makes it easy to forget that he was an All-Star and the second best player on the East's 1 seed last season. He's produced at least .146 win shares per 48 minutes in each of the last four seasons, something that only twenty-five players have done. Only nineteen have done it while also playing at least 1000 minutes in each season. At the minimum, Simmons is a very useful regular season player, and that means taking a chance on him likely wouldn't sink the ship in Indiana. What it might do, if things go well, is give them the key piece they've been missing in their efforts to rise above the middle of the pack. At his best, Simmons could be a significant playoff difference maker, the kind that Indiana sorely needs.
Then there's the package Indiana could offer in return. They have a number of useful players that could be very appealing to the Sixers. That starts with Malcolm Brogdon. He's a good playmaker who stepped up to score a career-high 21.2 points per game last season. He's also a very capable shooter, and while Brogdon is no Simmons defensively, he won't be a major weak link either. His offensive game is a better complement for a player like Embiid, he would slot right into the PG spot that would be left open by Simmons's departure, and he has experience in playing a secondary role from his time in Milwaukee. Durability is a concern, especially on a team with Embiid, but there's a lot to like about a potential Simmons-Brogdon swap. Of course, being three years older and having less potential and two-way ability means that a one-for-one deal here likely wouldn't fly in any scenario, never mind the one in which Philly believes Simmons has the value of James Harden.
We could go really wild with a Myles Turner inclusion, but there are likely too many moving pieces and risks involved for both teams there. So, let's go with this –

The Sixers get Brogdon, and then they get a bit of an advantage in the swap of backcourt/wing role players with the pick also thrown in. I really like Holiday as an impact scorer, and both he and Lamb are capable of contributing for a team of Philadelphia's quality. This would also open up some more room for Tyrese Maxey and Jaden Springer to have their chances throughout the season. Obviously, this trade would require a more realistic view of Simmons's value (he and Brogdon aren't all that different if we consider their current impact). It would also depend on Indiana's view of their spacing.
The Pacers have been a mediocre offensive team in recent years, ranging between 11th and 19th in offensive rating the last four seasons. To some degree, that comes with the territory of being an annual first round exit, but there is something to be said for the awkward fit of Turner and Domantas Sabonis. Indiana was outscored by 2.3 points per 100 possessions with those two on the court last season, and the team had a true shooting percentage about 2% worse than their average in those minutes. Sabonis is an all-around stud, but his inability to shoot from distance has effectively turned Turner into a guy who stands around the perimeter to keep spacing tenable. In his rookie season, Turner took 6.9 twos per 36 minutes. He took just 3.4 per 36 last season. He's a fantastic rim protector which means he can still have a sizable impact for the Pacers, but there's a reason he's been the subject of a lot of trade rumors himself. The offensive fit just isn't great. Here's the good thing – Sabonis took 162 threes last year, more than he took in the previous three years combined. 32.1% isn't great, but it's at least something that can open the floor up a bit more for Turner and the offense as a whole. Indiana's confidence in Sabonis's ability to continue that progress might determine just how interested they are in bringing Simmons in.
Trade Match Score (1-10 scale): 5
12. Los Angeles Clippers
Kawhi is obviously off the table, and Paul George did everything anyone could have asked from him last year. He's not going anywhere either. As far as fit goes, Simmons would make a lot of sense with the Clippers. Throwing out three of the best wing defenders in the league is a rather appealing option, and both George and Leonard have the offensive versatility to make Simmons a fine fit there. Playmaking isn't something the Clips have in great abundance either, which means he could even make for a pretty decent addition offensively. The Clippers have finished 21st and 24th in assist percentage in the last two seasons. While that's not necessarily a mark of offensive quality (or a lack thereof), it does show a more isolation-based approach that could potentially use a little more diversity come playoff time. With that said, the Bucks did just win the title after finishing 25th in the same category, so that diversity would be more of a luxury than anything else.
The greater question is whether there's anything here that would appeal to the Sixers (George would appeal to them quite a bit but that's not happening). The answer is probably not. Outside of their lead duo, the Clippers can only offer some combination of Marcus Morris, Nic Batum, Luke Kennard, Terrance Mann, and Serge Ibaka (Eric Bledsoe and Ivica Zubac make no sense at all). There are a lot of good options there but no one that's particularly close to Simmons in a one-on-one comparison. We also have to consider that the Clippers will be somewhat hesitant to part with too many players given that this season will largely played with Kawhi on the mend from his ACL injury. Simmons to the Clippers makes at least some sense, but it doesn't really work in practice.
Trade Match Score (1-10 scale): 1
13. Los Angeles Lakers
Adding the most polarizing spacing killer in the league to a team that really struggles from deep (21st in three-point percentage each of the last two years) and just added one of the other most polarizing space killers in the league would be nothing short of audacious. Can you imagine a lineup of Russell Westbrook, Ben Simmons, LeBron James, Anthony Davis, and Dwight Howard? I can't either. We don't even need to get into the Lakers not having the assets to pull this off.
Trade Match Score (1-10 scale): 0
14. Memphis Grizzlies
The Grizzlies have been excellent at making shrewd moves to help build their future roster around Ja Morant and Co., but I'm not sure Simmons makes a whole lot of sense here. For one thing, this would feel like the kind of swing that a team ready to compete right now makes. The Grizzlies aren't quite there yet. They're tough, but they were still nothing more than a borderline playoff team these last two years. You don't jump from there to the Finals. Even the Warriors made the second round and then won 51 games in the last two seasons before Steve Kerr came in to jumpstart their run of true contention. Like we said earlier, trading for Simmons won't sink anyone's regular season aspirations, but this move would disrupt the chemistry that's been building in Memphis. Are they really ready for the kind of move that emphasizes winning now? There's also the question of spacing on a team that now has Steven Adams, Rajon Rondo, and Morant, who's shot below 32% from deep so far. Playing Simmons, Morant, and Adams at once – something that would surely happen given the roster construction – would be playing with fire. The defense and playmaking Simmons would bring might be worth the risk, but there are things to worry about from Memphis's perspective.
Then there's the real dealbreaker – a lack of matchable assets. Like the Clippers, Memphis has a number of interesting pieces they could include but a lack of players that are both expendable and capable of giving Philly a comparable on-court impact. Dillon Brooks, Tyus Jones, and Kyle Anderson make for a package that's far from insignificant, but it's likely not something that has Philly chomping at the bit with what they believe they can get. It also puts Memphis in a potential bind with their backcourt/wing depth, and I'm not sure they want anything to do with a Brooks trade. This is a bit like Miami below. Theoretically, the pieces to make this happen might be there, but a trade just isn't likely.
Trade Match Score (1-10 scale): 0.5
15. Miami Heat
Bam Adebayo, Jimmy Butler, and Ben Simmons spacing the floor sounds like an absolute nightmare. Since Butler went south two years ago, those four are 63-260 from three during the regular season. That's not even 25%, and Simmons (5-17) is actually the best in the group by percentage. For reference's sake, Duncan Robinson made 52 threes in January alone last year. It only took him 132 attempts to get there.
Robinson has joined the second tier of elite volume shooters, also known as the best shooters that play outside of Golden State, with the likes of Damian Lillard and Buddy Hield. He's one of six players to make 3 or more threes per game each of the last two seasons, and only he and Paul George have also made at least 40% of their triples in both years. That type of spacing is unbelievably valuable for a team with a non-shooter in Adebayo and a suddenly struggling one in Butler, and switching it out for another non-shooter in Simmons just doesn't really make sense.
The same general spacing idea applies to Tyler Herro, regardless of what you think about his true ceiling and value, and those two would likely be at the center of any trade Miami makes for Simmons. That swap just doesn't make sense from a team-building perspective. Spacing concerns existed with the dream of Giannis joining in free agency rather than via a trade that would rid the team of some of its best shooters, and Antetokounmpo is both a willing shooter (even if he's not a very good one) and a much more imposing offensive player than Simmons. Throw in the fact that Miami recently signed free agents that addressed to at least some degree Simmons's best features- playmaking (Lowry) and defense (Tucker) – and it's hard to find a reason that this would happen, even if the Heat technically have the pieces that could draw some interest.
Trade Match Score (1-10 scale): 0.5
16. Milwaukee Bucks
He's a great defender. An advanced playmaker for his size. An elite athlete. A frustrating shooter. He's Giannis Antetokounmpo, and he's both far better than Simmons and possibly the worst player you could find to pair with him.
Trade Match Score (1-10 scale): 0
17. Minnesota Timberwolves
The Timberwolves have been one of the teams making some real noise in the Simmons rumor mill, and it's not hard to understand why. They've made the playoffs just once in seventeen seasons, they're 26th in the NBA in win percentage since drafting Karl-Anthony Towns, and they've won less games in the last two seasons combined (42) than they lost in either season alone (45 and 49). With Towns closing in on 26 and his team about as far as you can get from contention, we're reaching the point of now or never in Minnesota. There are only so many tries left.
Defense has been the key problem. Since Towns entered the league, the Timberwolves have ranked 28th, 27th, 27th, 24th, 21st, and 28th in defensive rating. That's just abysmal, and it puts them just behind the Cavs with the worst defensive rating in the league over the last six years (112.2). Their offense, meanwhile, ranks 11th over that same span despite two pretty abysmal seasons in a row on that side of the ball. You don't need to dive any deeper than that to see the issue. Regardless of your outlook on Simmons, there's simply no doubting his defensive ability. He was one of seven players to finish in the top ten in both defensive win shares and defensive box +/- last season. Among players who have averaged at least 500 minutes per season, he's 5th and 10th in those two stats, respectively, since his debut. One note that's not fully the result of Simmons but is worth including – the Sixers had 66 different duos play at least 100 minutes together this past season, and every single one of them ended their combined minutes with a defensive rating better than Minnesota's average. That's tough. Much like Dame or Luka, Towns could use an elite defensive wingman (the Timberwolves were about 2 points per 100 possessions stingier with Towns on the bench last year).
What Minnesota doesn't really need is offensive help. The more pressing issue there is health. Towns missed 22 games last year after missing 29 the year before. When he was on the court in 2021, Minnesota scored 114.2 points per 100 possessions. That would have been good for 10th in the league, just behind the Hawks. When he was on the bench, Minnesota scored 102.2 points per 100 possessions. That would have been more than half a point behind the Thunder, who finished last by nearly two full points. Spacing could be an issue (Minnesota was 25th in 3pt% last year), but, at some point, you just have to take a swing. Spacing will always be a concern with Simmons. Towns is a massive creator of space, and you just hope it works. Not much else is for Minnesota right now.
So what can they offer that might pique Philly's interest? It would be a huge shock to see them trade D'Angelo Russell given both his shooting ability and his relationship with Towns. He's also played pretty dang well in just 54 games with Minnesota, and they surely want to see more of him and Towns together after two frustrating injury-filled seasons. Theoretically, anyone but Towns is on the table, but I just don't see Russell going anywhere for a borderline All-Star, which is essentially what he is at his best. He's also just 147 days older than Simmons. The Timberwolves won't be eager to give him up here.
The return would likely start with Malik Beasley, who, we can now say, is not in jail. Character traits aside, Beasley has developed into a very nice player, scoring about 20 points per game and making more than 40% of his threes on roughly 8 attempts per appearance since moving to Minnesota. He can create his own look to some degree as well; about 35% of his twos and 15% of his threes for the Timberwolves have been unassisted. Beasley and Seth Curry would be a pretty nice complement to guys like Danny Green and Matisse Thybulle for the Sixers. Here's the greater issue – you would then need to throw in Anthony Edwards. There's no way around it (unless you'd rather include Russell). Part of the problem with being a bad team is that it's very difficult to make your way out by trading for better players since you just don't have many assets outside of those sacred draft picks (Philly taking Beasley and picks doesn't make sense for a contending team anyway). Simmons would fill a clear need for the Timberwolves, but giving up Beasley and Edwards would be a pretty significant blow now that could get much bigger in the future. Can a team like the Timberwolves really afford to make a trade like that? It would be a massive risk, and that's why it's pretty likely that we don't see Minnesota make any significant moves until at least some of the season has passed. They're going to want to see a healthy Towns, Russell, and Edwards together to gauge their progress before they do anything of this magnitude. This would be a DEFCON-5, everything-else-has-failed type decision, and I don't think Minnesota is quite there yet.


For Philadelphia, this all kind of depends on how they feel about Simmons. This isn't necessarily a move that you would seek out on your own if you're fine with running him out there, but it's pretty good value if you're actively trying to move him. If we still find ourselves in this position by January, look for the discussions between Minnesota and Philadelphia to heat up a bit.
Trade Match Score (1-10 scale): 6
18. New Orleans Pelicans
This would be a pretty massive risk for the Pelicans. On the one hand, they're not very good defensively (21st-23rd in defensive rating the last three seasons), so Simmons makes some sense in that regard. Zion, for all of his positive attributes, is never going to be any sort of star defender. He took some steps this past season, and serviceable would be a good place to be. Brandon Ingram, Jonas Valanciunas, and Devonte Graham aren't exactly scaring anyone on that end either. There's not much reason at all to believe in this team defensively. That means that you could at least think about Simmons. There are also some pretty interesting playmaking and pick-and-roll considerations to be had in combining him with Zion.
The issue is that New Orleans would be going all-in on a bet that one of those two finds a game-ready deep stroke. They went 21-65 on threes the last two seasons, which leads to a per game average of roughly one three every three games between the two of them. That just will not do from two-fifths of your starting lineup. Sometimes we put too much emphasis on spacing as the ultimate goal, but running out both Zion and Simmons – the only two non interior bigs to have played more than 2000 minutes but taken less than 50 threes across the last two seasons – just doesn't seem doable. You'd have to be some kind of desperate to even consider it, so don't expect this to happen unless David Griffin sees someone walking towards his office with pink slip in hand.

As you can start to see in the bottom right corner, this can't be done for a little while until some trade restrictions on Hart and Graham expire. That's a good thing because I don't think this happens unless the Pelicans really start to panic and the Sixers find themselves needing to get rid of Simmons and not having too many options (Ingram is an absolute non-starter here given the spacing implosion that would occur even if he stayed). This one isn't all that likely.
Trade Match Score (1-10 scale): 1.5
19. New York Knicks
The Knicks were 4th in defensive rating and 22nd in offensive rating last year, which isn't necessarily the recipe for needing Ben Simmons. On the other hand, they were 29th in assist percentage, which he could potentially help turn around (New York's inability to create offensively was pretty clear in their brief playoff appearance). It's also somewhat likely that the departure of Reggie Bullock for (indirectly) Evan Fournier and Kemba Walker will have some negative effect on a defense that might have regressed anyway. The Knicks were 3rd in three-point shooting last year, something Fournier and Walker will only help, so there would be another positive sign as far as Simmons goes. All of this is to say that you could potentially see room for Simmons, but he's far from the clearest fit.
The issue, of course, is that you usually don't want to throw resources at an All-Star that kind of fits, especially when things are proceeding rather nicely for a franchise that has deeply struggled for the better part of a decade. In the most general terms possible, New York needs offensive help far more than defensive help, and, in that vacuum, Fournier and Walker might end up being just about as helpful as Simmons. Throw in the fact that any deal for Simmons likely includes Fournier and others, and you start to ask yourself if the Knicks are really getting any better here. Trading for a 25 year old All-Star isn't purely for the present, so it is possible New York really likes Simmons and tries to take a swing here. That just seems like more chaos than is necessary for a team that finally embraced the fact that a quiet off-season isn't always a bad one. I would sit back and let things play out if I'm the Knicks.
Trade Match Score (1-10 scale): 1
20. Oklahoma City Thunder
From a team-building perspective, there isn't really anyone in the league who doesn't fit in Oklahoma City. The whole team is young and trying to find their groove, and you can test out just about anyone in that kind of framework. SGA, Lu Dort, and Darius Bazley have all staked their claim to a roster spot moving forward, and that's about it. Even SGA isn't necessarily off the table. That makes the Thunder a possibility in most trade situations that don't involve a win-now, in-his-prime star, but the reality is that they're really not a good fit for trading with a contender. OKC isn't moving SGA and Dort for Simmons unless several other pieces are involved, which doesn't match with Philly's ambitions, and trading Simmons for picks and nothing else doesn't do the Sixers a whole lot of good. With where both of these teams are, it would be a massive shock to see Simmons end up in Oklahoma.
Trade Match Score (1-10 scale): 0