29 Potential Ben Simmons Trades – Part 3 (21-29)
23 min read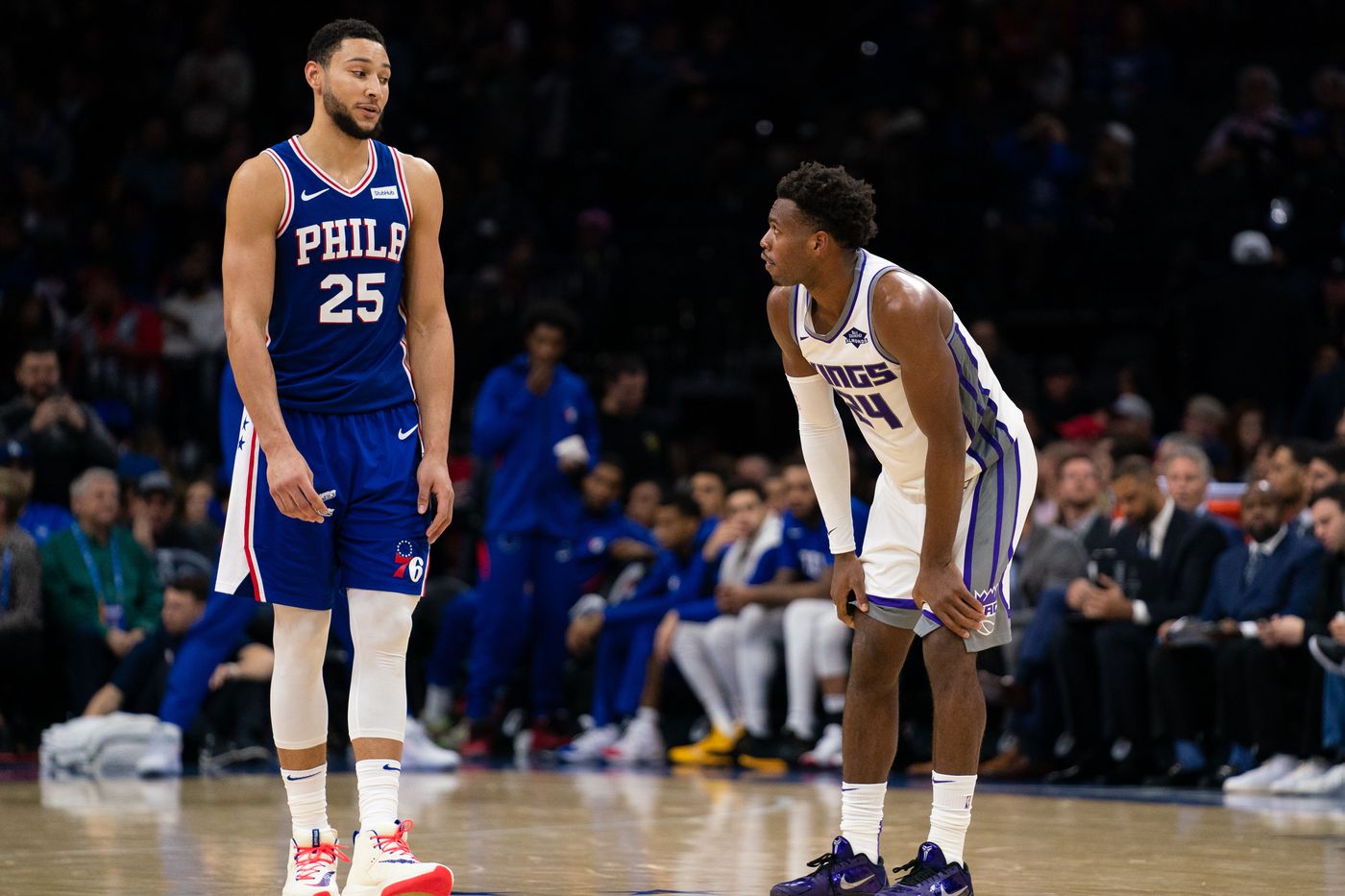 You can find Part 1 here and Part 2 here. This is the last of it. Over the last week or so, a Simmons trade has seemingly become even more imminent. It's very difficult to tell what might happen given the uncertainty around Philadelphia's asking price, but, here are the most realistic trade fits across the league based on my trade match scores out of 10 –
1. Blazers – 8
2. Hawks/Mavs – 7
4. Timberwolves – 6
5. Kings – 5.5
6. Pacers/Warriors – 5
If Simmons is moved, these seven are the most likely destinations. We'll see if he ends up with one of these teams or if a wildcard enters the race late. With that, let's get to the last nine possible trade partners, including the Blazers and Kings.
21. Orlando Magic
What do the Magic have that a contender like the Sixers might want? Not a whole lot.
Jonathan Isaac is essentially a diminished, less durable version of Simmons. He's more than a year younger, but that doesn't really mean a whole lot, especially for a team that wants – and needs – to win right now. Simmons has also played roughly 20 more games per season these last three years, which is rather significant with an injury magnet like Joel Embiid being the face of your franchise.
Jalen Suggs is going nowhere, and while Franz Wagner could (should?) be the kind of versatile, two-way player that could have a role on any team, Philly doesn't have any reason to seek him out as a primary trade piece if Orlando is even offering so soon after the draft.
Wendell Carter Jr and Mo Bamba make no sense with Embiid, Drummond, and Harris all there to soak up front court minutes.
Cole Anthony did have a better rookie season than Tyrese Maxey, especially given the rather significant gap in volume between the two. But that gap shrinks quickly when you look at per minute and advanced stats, and there's just no reason for the Sixers to covet the former when they already have the latter.
Gary Harris has fallen off in just about every way imaginable since a very good 2018, and if his recent change of scenery is going to do him any good, it hasn't happened yet.
The rest of the roster is either completely unproven young players like RJ Hampton, random assorted veterans like Robin Lopez, Terrence Ross (a useful bench scorer who is simply not enough to be a big piece of the return for Simmons), and Markelle Fultz, who's already been through this whole Philly flameout process himself. There's just no way this works, regardless of how Orlando feels about Simmons.
Trade Match Score (1-10 scale): 0
22. Phoenix Suns
Devin Booker is untouchable here for many reasons, so there are two questions when it comes to Phoenix. One, does a potential swap centered around Simmons and Chris Paul make sense for both sides? Two, are the Suns willing to give up some pretty significant depth to put Simmons alongside Booker and Paul?
In either scenario, the Suns would obviously need to want Simmons, so let's start there. Defensively, there's some intrigue. Phoenix was throttled by Giannis Antetokounmpo in The Finals, and it's not clear how they're going to handle a player of his caliber if they manage to make another deep playoff run. I really don't like asterisk talk (champions are the ones who win no matter the circumstances), but there's no denying that Phoenix was saved from facing Western Conference teams at their full offensive powers.
A beat-up LeBron managed to hang 23.3 points and 8 assists per game on them, and the Lakers were +37 in his minutes but 2-2 overall through the first four games of the series. Who know what happens if Anthony Davis – who scored 34 points in both Game 2 and Game 3 – manages to avoid his disastrous Game 4 injury.
Nikola Jokic dropped a casual 25 points, 13.3 boards, and 5.8 assists per game in the second round, yet Denver never really had a chance with Jamal Murray, their second-in-command, out for the season.
Then there's Paul George, who went out and averaged 28.7 points, 10.5 boards, and 5.5 assists per game against the Suns for a team missing one of the best players in the league.
Phoenix's run ended, of course, at the hands of Antetokounmpo, who produced one of the most dominant individual Finals performances in NBA history. Khris Middleton and his three games of 29+ points weren't all that shabby either.
None of this is to say that Phoenix didn't deserve to make The Finals last year. They won the games. They also were far from a disaster defensively, finishing about a point per 100 possessions stingier in the playoffs than in the regular season. But that relatively small improvement ended up being a key difference against a Bucks team that roughly tripled that rise, and there's no doubt that individual players were largely able to have their way with the Suns in a manner that the Bucks were able to taper to some degree. Milwaukee allowed just five players (Paul, Booker, Durant, Irving, Young) to average more than 16 points per game across a full series. For Phoenix, that number was nine, including all three members of the Bucks' Big 3. The Suns aren't beyond the type of defensive help Simmons could provide.
The greater question would be offensive fit, especially with Deandre Ayton. It's not likely Phoenix would listen to an offer for him, and Philadelphia wouldn't need him anyway. That means he and Simmons would need to coexist, and that's a tough ask. They combined to shoot 7-30 from three last year, and, like we talked about with Zion in the last part of this, you just don't have two complete non-shooters in such big roles. There were only two duos in the league last year made up of teammates that individually shot twenty or less threes and played 1000 or more minutes (Howard and Simmons, Favors and Gobert). In both scenarios, you're looking at one All-Star level player and then a backup big. Starting, and, likely, closing, with two of those players just isn't normal. The last time two teammates both started at least fifty games and took less than twenty threes each was 2018, when both Michael Kidd-Gilchrist and Dwight Howard played for a 36-46 Hornets team. Funnily enough, the 2017 Hornets also finished 36-46 and boasted another one of these duos (this time MKG and Cody Zeller). Modeling your team after the Kemba Walker Hornets isn't the way to go, especially when you're trying to build on a really great 2021 season.
That, ultimately, is the death blow here. The Suns should be happy with where they are. That doesn't mean they should be complacent and stop looking for routes to improvement, but it does mean that the kind of swing-for-the-fences move that is trading for Ben Simmons just doesn't make sense. They pulled the trigger last summer in moving for Paul, and there's no great reason to sacrifice him or most of your deep crop of wings just so you can start messing around with some sort of evil scientist spacing experiment that might improve your defense by a little bit.
Trade Match Score (1-10 scale): 0
23. Portland Trail Blazers
The Blazers and Sixers have been tied together often this summer, whether its rumors of the Sixers chasing Damian Lillard or a potential trade centered around Simmons and CJ McCollum, and there's good reason to draw these two together.
The Blazers are a very good offensive team that simply can't play defense. Since Lillard entered the league, they have the fourth best offensive rating, but they fall to 23rd defensively. That's been the consistent story. If you only look at the second half of Dame's career (2017-2021), Portland is still 4th offensively and just a little further down at 24th defensively. This is what happens when your two best players are 6'3″-ish guards who don't play defense, and the Blazers have only finished in the top half of the league defensively in two of Lillard's nine seasons, eight of which have come with McCollum also on the team. The biggest problem here is that this divide is getting even worse. Portland has boasted a top three offense each of the last two seasons, but they've been undone by a defense that has been on the other side of the league in the bottom three. Enter Ben Simmons.
The Sixers don't have quite as big of an issue, but there is a clear divide between their defense and offense. It's hard to look past one rather glaring statistic – Philly went 2-5 in "clutch" games this postseason (game within 5 points in the final 5 minutes), and they scored just 87 points per 100 possessions in those clutch minutes. Only the Clippers, Nets, and Suns (largely because of the Finals) were worse. There's also this – offensively, the Sixers were more than 11 points better per 100 possessions with Embiid on the floor last year, and, during the playoffs, there wasn't a single bench player who didn't hurt the offense by at least 8 points per 100 possessions when they were on the court. Even with a relatively small sample size, this is just ridiculous –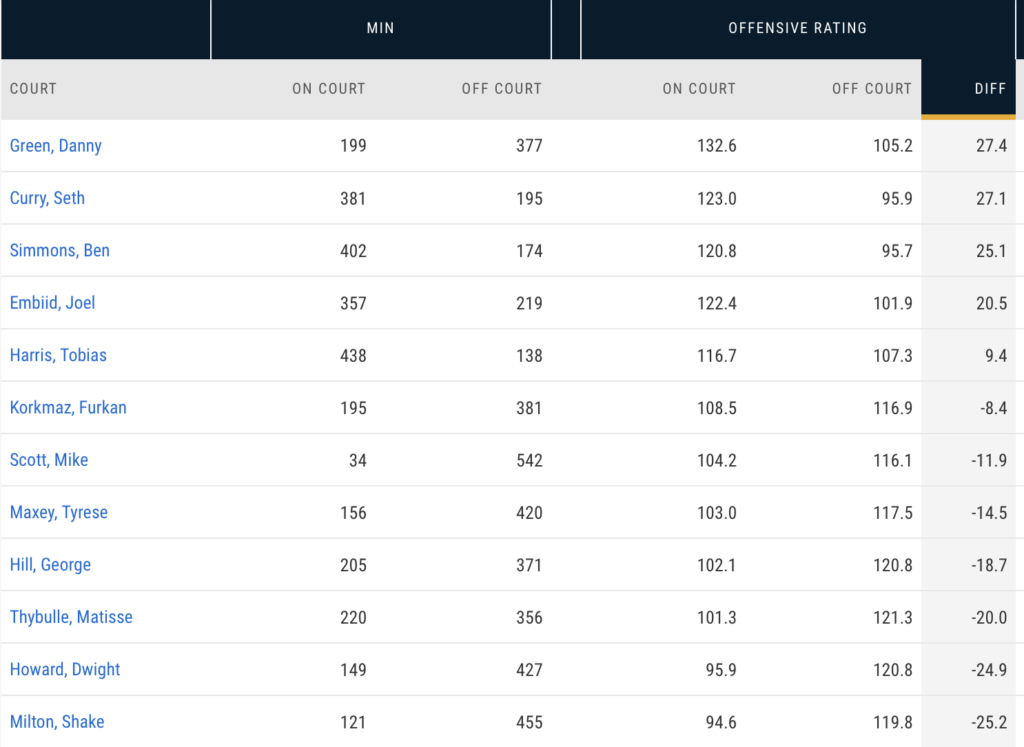 You might notice something about Simmons here, but I think that ship has sailed. While there is some danger in relying too much on these numbers – the offensive reliance on Embiid hasn't existed to the same extent in past years, for example – there's no question that the Sixers could use a second high-level bucket getter offensively. This was the line of thinking that brought Curry to Philadelphia, and getting an even better scorer in return for Simmons makes a lot of sense. Again, the gap is nowhere near as stark (the Sixers rank 11th offensively and 6th defensively over the last four seasons), but that secondary go-to scorer is the one big thing you can point to as a hole. Enter the Blazers, who happen to have two go-to scorers in Dame Lillard and CJ McCollum.
At this point, a Lillard trade seems unlikely. It doesn't look like Dame is going to want out – if he ever does – before the Sixers pull the trigger on Simmons. But, for the heck of it (and because the Sixers have the type of defensive infrastructure even without Simmons that could really help Lillard thrive) let's take a quick look at that potential deal.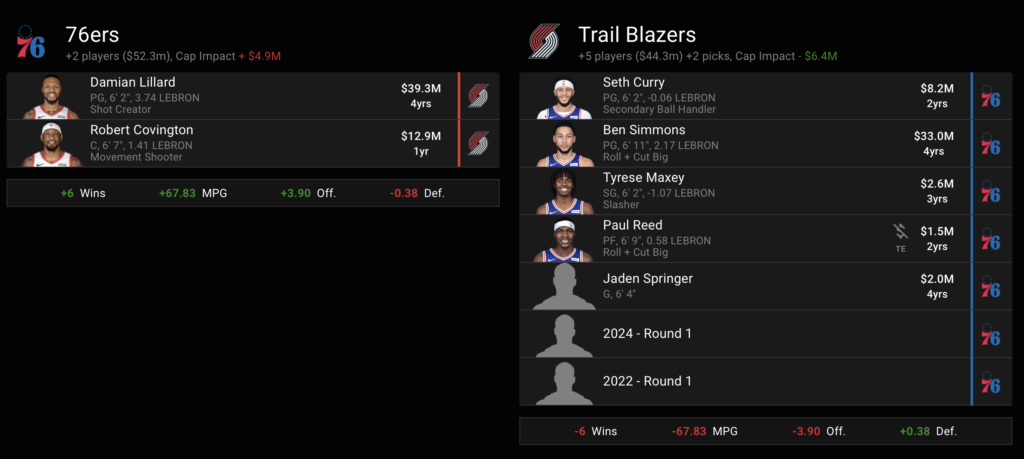 The Sixers get Lillard, and they also bring back Robert Covington for a little extra defensive insurance. Any lineup with some mix of Thybulle, Green, Covington, Harris, and Embiid should still do just fine defensively, and Covington can also hit some shots on the other end. For the Blazers, this is about the future without tossing away everything. You get a really good shooter that you can plug right in (or trade for someone else) with Curry. You get Simmons to become a foundational piece of your lineup. You get two young guards with a lot of potential and a shot at Paul Reed. Then you get the two draft picks as well, which will mean at least something even if they end up far outside of the lottery. You could do a lot worse, and a lineup of Curry-McCollum-Powell-Simmons-Nurkic with Snell, Maxey, Springer, Nance, McLemore, and more on your bench isn't bad at all. You're obviously admitting that you need to reset and try to reach the Finals by a different road, but this is going to allow you to take a step back and refocus without finding yourself at the bottom of the league. I don't think this is much of a possibility unless the Blazers really struggle early and the Sixers hold onto Simmons for another four months or so, but it's worth looking at.
The more realistic trade involves McCollum. I really like Simmons with Dame. We've gone over the defense, but this would also force Simmons into more of an off-ball role. He can be really dangerous as a cutter, from the elbow, in the short corner, as a screen-and-roll threat, etc. Putting him into those positions – alongside one of the best shooters and playmakers in the league – could be a great thing for his offensive growth. They'd have to commit to it because having Simmons stand around on the perimeter or in the post makes little sense, but I think there are some good possibilities to pursue there.
The question is McCollum in Philadelphia. There's no doubt that he's comfortable being the #2 guy, and he's played that role pretty well in Portland. He's a great shooter who's upped his per game volume by about three attempts per game over the last few seasons. He's also a very good scorer (20+ ppg six years in a row), and he's more than capable of getting his own shot. When you have a player like Embiid and a good overall defensive set-up with Green, Harris, Thybulle, etc., a player like CJ can just step in and do what he does best without worrying about the rest. I think Curry is a good example to look to here. Both guys are iffy defenders who can contribute a lot offensively. Curry is as efficient of a shooter as you can find anywhere, but McCollum has the clear edge in volume and general offensive ability (which is why they'd be interested in him in the first place). The Sixers were +8 per 100 possessions during Curry's minutes last year, more than 4 points per 100 better than when he was on the bench. While that's far from a perfect individual stat and likely says a good deal about the guys Curry often played with – Embiid, Simmons, Harris, etc. – it still drives home the basic point that a player of that general framework can succeed with this team. Throw in some more scoring and playmaking volume and ability from CJ and you've got yourself a solid fit.
That said, I don't love McCollum. He's not particularly efficient from inside the arc. His defense is really, really poor. There are questions about his ability to do it when it matters, and he's shot 15-47 from the floor and 3-14 from deep in clutch minutes these last three postseasons. He's about to turn 30 too, which means Philadelphia will be very hesitant to pull this one off without some sort of future piece involved. But the man can shoot and score the basketball. He's been doing it at an elite level for six years. Bottom line – he is a good offensive player, and he can help the Sixers. If you're going to trade Simmons, McCollum as the main return makes about as much sense as anyone in the league (at least among those who are realistically available). He's as close as you're going to get for a 1-1, keep both teams in their competitive window swap. Let's look at a potential deal –

You need to throw in something here if you're Portland. I'd take Simmons over McCollum as overall players, and Simmons is also five years younger. I think this might get it done (if everyone is viewing their players' value realistically). The issue here when it comes to adding players is that there aren't too many secondary players to throw in. The only options that make sense for Philly are Norm Powell (who the Blazers won't want to give up with McCollum) or Covington (who's valuable enough to make this trade way more complicated for both sides). It's possible that including Covington, Curry, and maybe Isaiah Joe makes for another possibility here, but it's far easier just keep it to the central figures with some additional draft compensation heading to the east coast with CJ.
I don't know if the trigger gets pulled here, but this makes as much sense as anything.
Trade Match Score (1-10 scale): 8
24. Sacramento Kings
The Kings, much like the Timberwolves, are the kind of team that just needs to make a splash. They've been bad for so long; you need to make something happen. It's been fifteen straight seasons of watching the playoffs from home, and the Kings have topped 35 wins just twice in that span. While the Luke Walton era has been okay comparatively (two 31-41 seasons tie for the 3rd best winning percentage of the last decade and a half), it's been a disappointment after Dave Joerger led the team to a 39-43 record in 2019.
It's hard to look past defense as a central cause here. Since that 2006 playoff appearance, the Kings haven't finished better than 20th in defensive rating, with two last-place finishes thrown in for good measure. Last year's 30th-ranked defense is a pretty sizable part of the pressure around Walton right now. While some of that is the natural consequence of being a bad team for so long, there's no question that the defense has lagged behind the offense this whole time. The Kings have finished better than 20th in scoring efficiency eight times in the last fifteen years, including as high as 11th.
To put this in greater perspective, the Kings have the worst cumulative defensive rating in the league since the 2006 season (with only the Timberwolves within a point per 100 possessions). Offensively, they're 22nd, a bad but nevertheless somewhat respectable figure. The Blazers, Nuggets, Pacers, and Bulls, all teams who have won more than half of their games over this span, rank in the bottom ten on one side of the ball. It's possible to be decent when you're asking questions on one half of the court. It's not possible to be decent when you're asking questions on one side of the court and flailing around helplessly on the other. In that respect, Simmons is worth considering. When your defense is abysmal, you go and get defensive talent. If Simmons is anything, he's that. Throw in the fact that he's still relatively young and an All-Star who is very likely going to raise your regular season floor at the minimum, and it makes a lot of sense for the Kings to be interested.
Spacing is a question here. This is especially true when you consider that Buddy Hield – most threes in the league since 2019 – is all but guaranteed to be part of any significant trade the Kings make. Trading one of the five or so best volume shooters in the league for the exact opposite of that is going to put some holes in your offense, and the Kings would need to be ready to adjust to that. Simmons would too with some of the actions we talked about above with Dame. Fox isn't the shooter Lillard is, but he is the kind of gifted playmaker and scorer that deserves offensive initiation rights, and there's also Tyrese Halliburton to think about. All of that aside, there's enough shooting here – Harrison Barnes, Halliburton if his rookie season is any indication, Fox at times, Marvin Bagley in dream world – to pull the trigger. The Kings need to make the playoffs, and Simmons, even if he never evolves into a more serious and diverse offensive threat in the biggest moments, will help them do that.
Now the question is trade return. Everything starts with Hield, a fantastic shooter (and consistently disgruntled King) who immediately boosts Philadelphia's offense, but where does it go from there? Barnes doesn't really make sense for either team. The Kings need him on the wing for spacing and solid, if relatively average, play, and the Sixers have Tobias Harris, Danny Green, and others. Halliburton is likely a no-go for the Kings. I would imagine rumors of them dropping out of the Simmons sweepstakes because of asking price likely revolve around him. Either that, or the Sixers are even crazier than I think and are asking for Fox. The best option is likely Bagley. The Kings are hanging onto a thread with him, but he could help Philadelphia. At the very least, he can score and rebound at a decent clip, and the change in scenery and step-up in stakes might inspire him to show the potential that led to him going so high in the draft. The Sixers have always struggled terribly in minutes where Embiid sits. Can Bagley and Andre Drummond combined be enough to help change that? If you're the Sixers and you need to trade Simmons, you could do a lot worse than one of the game's best shooters, a potentially high-reward flyer, and a pick from an okay team. Based on reports, there's little chance this happens – at least right away – but it's not a bad move for Philly.

Trade Match Score (1-10 scale): 5.5
25. San Antonio Spurs
There's something here. Dejounte Murray isn't Ben Simmons, but he does check a lot of the boxes that you'd be looking for if you want part of the return package to be someone who can replicate some of the things that Simmons brings to the table.
He's an emerging playmaker who produced 5.4 assists per game last year and has boosted his assist totals by at least one per game each season of his career. He's also one of just 34 players to average at least 5.5 assists per 36 minutes each of the last two seasons (minimum 1000 minutes player per season), which is nothing to scoff at. Simmons is the only Sixer on that list, and no one else on the team has done it in even one of the last two seasons.
He's a very good rebounding guard. Murray has pulled down 1,315 total rebounds in his last three seasons (2018, 2020, 2021). From 2019-2021, only Russell Westbrook topped that number among players 6'5″ or shorter (Murray is 6'4″), and Murray would have been 14th among all players 6'9″ or shorter. Simmons – obviously a much taller player – has never averaged less than 7 boards per game.
He can play defense. The Spurs were 2.6 points stingier per 100 possessions with him on the court last year, and he's one of five players with 200+ steals over the last two seasons. Believe it or not, he's tied with our man Ben Simmons at 212 steals. I told you there was something here.
Murray isn't the full player Simmons is, but he does enough of the same things at a decent enough clip to keep the Sixers from missing what Simmons provides too badly. He's also a far more willing shooter who has shown some signs of promise there. He was only 2% below league average on roughly three attempts per game last year, and he shot 37% from deep on 1.7 attempts per game in 2020. Slot him in as your starting point guard in Philadelphia, and things might work out alright. If Simmons needs to go, replacing him with the three-quarters or so version (who also has plenty of time to grow as a 24 year old) is far from the worst-case scenario.
The issue is that not a whole lot else makes sense for this trade. Jakob Poeltl is probably a little too valuable to San Antonio for them to trade him at backup 5 value, and the Sixers did just sign Andre Drummond (there's a good argument to be made that Poeltl would be more effective in that role but it's not likely we see that argument played out). The Sixers won't be looking for role players like Bryn Forbes, who was unplayable for much of last year's playoffs, when they already have a decent amount of shooting and shot better than all but two teams from beyond the arc in the playoffs. Doug McDermott is probably the best bet there as someone who at least offers something other than shooting. After a year of watching Forbes with the Bucks, I'm convinced that he simply doesn't know how to do anything else. I'm not really sure what Derrick White gives Philly, and San Antonio is likely far too high on Keldon Johnson for the perception of value to match up here. There's also the Spurs looking at Simmons and wondering just how much better he makes them given the similarities between him and Murray. Is it enough to push them a little further up the standings? There's a good chance, and there's also not much long-term risk in swapping the two out. So maybe, if the Sixers struggle to find a trade partner, they'll find themselves talking to the Spurs.
I don't think San Antonio can compete if teams are really gunning for Simmons, but…there's something here.

Trade Match Score (1-10 scale): 3.5
26. Toronto Raptors
We keep hearing about the Raptors in a lot of these trade scenarios because of the whole Kawhi ordeal, but they haven't really done anything special since. Every off-season after his departure, we were told that Masai Ujiri would blow things up to create the new great Toronto team, and now we're sitting here with a team that couldn't even make the play-in, just swapped Kyle Lowry for Goran Dragic, and picked 4th in the draft. Can they turn the page with a Simmons trade?
I'm not really sure that it makes sense. When you take away the pieces that you need to trade for him, which is probably something similar to Goran Dragic and Pascal Siakam or Dragic/VanVleet/Anunoby, is Simmons going to make things better? Making trades of this magnitude usually involves getting rid of some key depth or development pieces to put an All-State caliber player next to your star (see Love to LeBron's Cavs, AD to LeBron's Lakers, Harden to the Nets, Paul George to the Clippers, etc.). In other words, you're trading one focus (winning now) for another (rebuilding for the future). The Sixers, a contender, wanting to trade their second best player throws a bit of a loop in alI of this, but we should also see that the Raptors are in a weird spot. They should be focusing on adding depth and young talent, but instead they're kind of stuck in this middle zone where they want to win with a team that simply doesn't have what it takes. Lowry should have been traded earlier when more could have been taken back in return. Siakam probably should be traded because he's 27 and the simple reality is that Toronto is not in a position to attract the talent he needs around him. The same could be said of Fred VanVleet, though his salary is certainly a bit of an issue. Dragic should be traded too because he's still capable of helping a contender.
The issue when it comes to this specific scenario is that getting just Ben Simmons for two or more of these pieces does absolutely nothing for your future. I like Simmons a lot, but there are only five-ten players in the league (and that might be pretty generous) that can go anywhere and immediately jumpstart a franchise. He's not one of them. Unless the Raptors want to help the Sixers out, they shouldn't be anywhere near these trade discussions. They need to tear things down. This would be the opposite of that, and it might even leave them worse off. Imagine this depth chart if you trade Dragic and Siakam for Simmons –
VanVleet, Flynn, Bonga
Anunoby, Trent, Gillespie
Barnes, Johnson, Watanabe
Simmons, Achiuwa
Boucher, Birch
What is this team doing? The defense might have its moments, but there's not much hope of any sort of significant improvement from the current roster. The Raptors just aren't all that good right now, and they need to admit it. The pieces are here to get the Sixers on the phone, but it just wouldn't be the right call to make.
Trade Match Score (1-10 scale): 1.5
27. Utah Jazz
I don't know how Utah would possibly pull this off from a team-building perspective without involving Rudy Gobert. Simmons and Gobert would be a spacing nightmare that would probably be even worse than pairing Zion and Simmons, and as we said there, you just don't see two players with such big roles on the same team that don't ever shoot the three. The Sixers obviously have zero need for Gobert. There's not really much to explore here.
Trade Match Score (1-10 scale): 0
28. Washington Wizards
From the widest possible view, this makes sense. The Wizards have finished in the bottom twelve in defensive rating in four of the last five seasons, and while last year was an upgrade after two truly abysmal years on that end, Washington was still right around 20th. They were also almost nine full points worse defensively per 100 possessions with Bradley Beal on the court, which should speak to the root of the issue. That marks the third season in a row in which Beal was the single worst defender on the team by on-off splits. Like Luka and Dame, he could use a defensive running mate like Simmons. The question is whether or not the Wizards have the pieces to pull this off. Obviously the ideal scenario for the Sixers is a trade that sends Beal their way, but I don't see that happening. We've been through the Beal rumor mill for years. He hasn't gone anywhere, and Washington is moving in the right direction right now. I don't think he's leaving.
The problem for the Wizards is that they don't really have the pieces to make this work without Beal. Thomas Bryant doesn't fit in Philadelphia. Rui Hachimura doesn't really fit next to Harris and Embiid either, though you could potentially see him slot into Danny Green's spot in the not-so-distant future. Davis Bertans becomes somewhat irrelevant with Curry as a sharpshooter and Harris as a very good one from the four. Spencer Dinwiddie just made the move to Washington, and he's not going to be enough to be the center of a package after missing all of last year. Aaron Holiday and the Lakers' trio can't be moved for another few months because of their recent trades. So, this is a "we'll wait and see" situation. If Simmons is somehow still in Philly come December, and the Wizards find themselves really struggling defensively, they might be able to make something work here.

Trade Match Score (1-10 scale): 2
29. Denver Nuggets
Because I can't read a list apparently
Last but not least are the Nuggets, who I somehow skipped back in the Ds. This is what happens when I get too excited writing about the Luka-Simmons pairing. To some degree, the Nuggets make sense. In four years of Jokic being the every-game starter, they're first in the league in offensive rating and seventeenth in defensive rating. The defense has gotten a bit better recently, but it's still just the fifteenth best in the league over the last two years (the offense ranks fourth). The Rockets competed for years with the elite offense, mediocre defense pairing, but there's no question that being top ten in both makes you a more likely title contender (and that the Rockets ultimately fell short of the Finals each year). The last time a champion was well outside of the top ten on either side of the ball was the 2004 Pistons, who had one of the league's great defenses. The bottom line is that you usually can't compete for titles if you're offense or defense isn't good enough to break the league's top 11-12 at a minimum. Now it is worth noting that the Nuggets did move up to 11th in defensive rating last year. Can that be maintained this season? It's possible, especially considering that Denver allowed 110.6 points per 100 possessions no matter where Jamal Murray happened to be last season. His return from injury likely won't rock the boat too much in either direction.
What that means is that Simmons is at least worth considering as an idea. In reality, however, this doesn't work. Denver, for good reason, won't want to give up either Murray or Michael Porter Jr, and there's no simply no way a Simmons trade happens without at least one of those two going to Philadelphia. This is a young core that's knocking on the door of title contention. You don't break that up for this. We're ending with a no; Ben Simmons won't end up in Denver.
Trade Match Score (1-10 scale): 0