29 Potential Ben Simmons Trades – Part 1 (1-10)
19 min read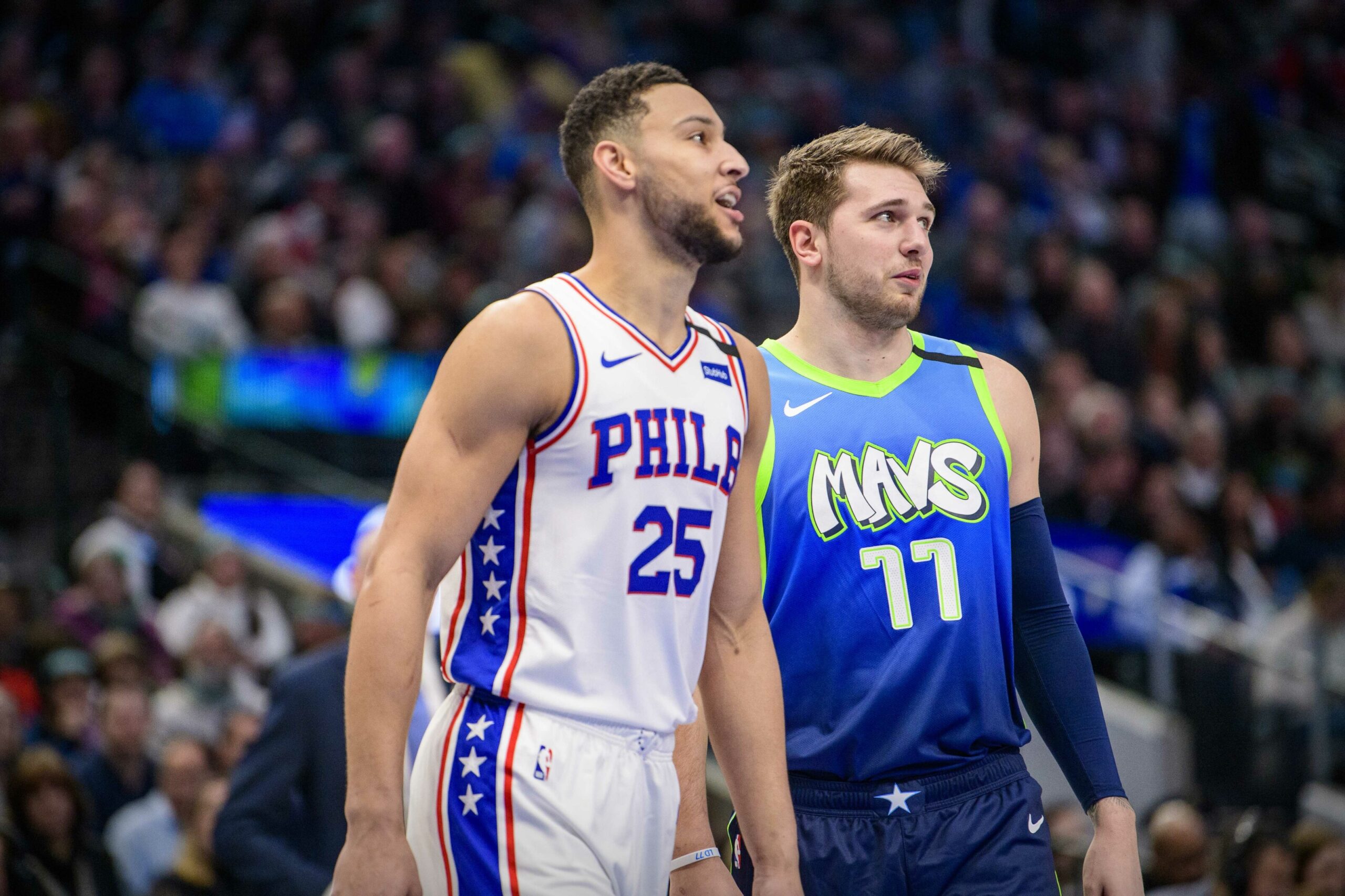 The pending departure of Ben Simmons from the 76ers is the last big NBA move waiting to happen. It's hard to see the two sides continuing together through next year's playoffs after Doc Rivers and Joel Embiid participated in a public clowning of Simmons and his disastrous shot selection in the aftermath of their second round defeat. This was the fourth year of the Simmons-Embiid pairing, and they've yet to make it to the conference finals. With Embiid's fragility making the future murky, there's only so much time Philly has to play around with before they pull the trigger on the final move they can make around their star center. That was the case before the loss to the Hawks, and everything that happened there only increased the urgency around the team.
Here's the bottom line – Simmons is young (25), an elite and versatile defender, a gifted and productive playmaker, and the kind of athlete that should be able to wreak some additional havoc offensively. The shooting is a complete mess, and his offense has suffered around it. His offensive output against the Hawks was simply embarrassing. But, this is the kind of player that almost any franchise would love to have. The one exception is the contender in the middle of its championship window – where the time for the "should" to turn into reality is lacking – and that's where the Sixers find themselves. Throw in what looks like a broken relationship, and you've got your explanation for why Simmons is on the trade block. Of course, the rest of the league knows this too, which means no one is going to come charging in with an insane offer. It's a game of cat-and-mouse, and it's not at all clear when it might end (the one thing that is clear is that the four-pick plus an All-Star haul that Philly is reportedly requesting will likely get them nowhere). So we sit and wait. And while we do that, we might as well canvass the league – all 29 other teams – to see where Simmons might fit and what might be a reasonable package to head in the other direction. Let's get to it, starting with the first ten teams (alphabetical order).
1. Atlanta Hawks
Funnily enough, the Hawks make a decent amount of sense here. Simmons lines up with their core as far as age goes. When he's 30, Trae Young will be 27, Clint Capela will be 32, Kevin Huerter will be 27, John Collins will be 28, Onyeka Okongwu will be 25, Cam Reddish will be 26, and DeAndre Hunter will be 28. Obviously some of those pieces would end up in Philly, but that mix of ages works really well.
Simmons is also a pretty good complement to Young. He can guard anyone, boost any defense on a more general level, and provide some key secondary playmaking. For Trae, who is an absolute minus defensively despite his offensive genius, that's not a bad running mate. These Hawks have always been in need of additional playmaking too.
One key question here is Bogdan Bogdanovic. On the basis of age, he makes a lot of sense as a trade target here. He'll be 29 in about a week. Philadelphia would also love to have him. But his ability to create his own shot is crucial for Atlanta, and they certainly wouldn't be able to trust in getting something comparable in that regard back with Simmons, at least not right away. They have things to play for right now too after their run to the ECF. The Celtics have shown us; however, that expecting that initial run to lead to greatness in the years after could very well be a fool's errand. Getting Simmons now would likely be a far better move for 2023 and beyond, and that might be the time zone the Hawks should really have their eyes on. With that in mind, let's look at a possible trade.

The Hawks get Simmons and a potentially useful floor spacer (Joe shot roughly 37% from deep in just under 400 minutes last year). The Sixers get three playoff ready guards/wings and one pick that could turn into something. There are a few different considerations here from Philly's perspective –
They've carried a defensive identity for the last few years, but trading Simmons would certainly shift that to a significant degree. The question is how much they want to seek some defensive ability in return. Reddish might provide some potential there, but this isn't great as far as that side of the ball goes. This would be more of a move to increase the offensive weapons available around Joel Embiid. With this, you'd have a rotation looking something like this –
PG: Shake Milton, Tyrese Maxey
SG: Bogdan Bogdanovic, Seth Curry, Kevin Huerter, Matisse Thybulle, Jaden Springer
SF: Danny Green, Cam Reddish, Furkan Korkmaz
PF: Tobias Harris, Georges Niang
C: Joel Embiid, Andre Drummond
With that rotation, you have Embiid and Harris locked in with guys capable of playing spot backup minutes behind them, and then you have a wealth of options all over the place from 1-3. That's ten players who can cover those three positions (with some being capable of sliding up to the 4 at times). If that seems like a lot, it's because it is. The reason – as I see it – that the Sixers want so many picks is that taking on three more quality players suddenly makes for a very crowded rotation. Where do you find minutes for Springer here? Or Korkmaz? Or the kind of minutes someone like Curry or Bogdanovic deserves? Of course, there are worse problems to have and these things tend to sort themselves out. There's no doubt that this would open a lot of doors for the Sixers offensively, and I like this for Philadelphia.
Collins is the other trade chip to consider. Hunter instead of Reddish or Huerter is obviously possible, but I think he has the most two-way potential in that group and will likely stay put as a result. The issue here for Philly is that you've got your two best players manning the 4 and 5, and Collins has played 99% of his career minutes in one of those two slots. Harris is best suited as the 4 too; he's played 72% of his minutes as a power forward and only played the 4 and the 5 last year. He hasn't been a primary small forward since 2015. You don't pay $20 million plus per year each to three guys who can only combine to cover two positions, and that's why Collins to the Sixers doesn't make a whole lot of sense.
Trade Match Score (1-10 scale): 7
2. Boston Celtics
Let's start with this – you're not trading Jayson Tatum or Jaylen Brown for Simmons. Tatum, while he's not quite there yet, has true superstar potential, and Brown is right there with Simmons if he's not a little better. There's no reason to take a chance on giving him up for a player who's a year older and arguably worse. So the question is whether or not you can add him alongside that duo. From the perspective of fit, it makes sense. Both guys can score, which takes the load off of Simmons, and his defensive and playmaking abilities would be valuable here. Tatum and Brown could use a boost in both categories, and you'd have a trio of wings that can combine to do just about everything.
The next question is whether Boston has the goods to pull something off. The biggest trade asset they have (outside of the obvious two) is Marcus Smart, and he just doesn't make a whole lot of sense in Philadelphia. He'd be squeezing Matisse Thybulle out of a job to some degree. He's not a particularly great fit alongside Joel Embiid either. I like Smart a lot, but I don't see how switching him for Simmons helps the Sixers get better. Al Horford and Josh Richardson obviously aren't coming back to Philly either, which means you'd have to trade practically the entire remaining roster to make the money work. That number of players makes no sense, and I'm not all that sure that Philly would want any of them anyway. Throw in the fact that we've got two division rivals here, and a trade doesn't make sense.
Trade Match Score (1-10 scale): 0
3. Brooklyn Nets
Would Ben Simmons be a great fit alongside three of the most gifted and productive scorers in the league (and two of the greatest ever)? Sure. Is there any way that this could be pulled off without giving up one of those three? No. And those three are all staying. On to the next.
Trade Match Score (1-10 scale): 0
4. Charlotte Hornets
LaMelo is staying. PJ Washington doesn't make any sense for the Sixers, and the Hornets probably don't want to give him up. The real question here is Gordon Hayward. For both financial and on-court reasons, he's going to Philly if a Simmons trade happens. So does that make sense?
For the Hornets, this would clearly lift their defensive floor. They're not great on that end right now, and Simmons is the kind of game changer that can begin to shift that. For a team that's not ready to do anything but compete for a playoff spot heading into next year, there's no great reason to not want to make a future-leaning move. Having both Ball and Simmons chucking passes around is a pretty attractive thought too, and Ball's playmaking might be just what Simmons needs to really unlock his off-ball scoring ability. I like this pairing a lot. The key question is whether or not they want to part with Hayward, who I like a lot. They just brought him in on a big contract, and trading for Simmons right now is far from a guaranteed home run. Do you really want to risk the good vibes you have going down in Charlotte?
The other question is one of other assets. Parting with first rounders doesn't make a whole lot of sense for the Hornets right now, and giving up Miles Bridges too would leave a decently-sized hole in the rotation. The Sixers aren't doing this for Hayward, Cody Martin, and Vernon Carey Jr. Theoretically, something like this might work –
The Sixers get a Simmons replacement in Hayward who will be a much better offensive fit, though Milton and Maxey would have some playmaking slack to pick up. Bridges would provide some nice depth on the wing too, and they get a pick thrown in too. It's not a bad return, though I don't know that this really competes if other teams are really interested in Simmons. I'm also not sure Charlotte wants to give that up. Getting Joe back might help ease the pain a bit, but Philly likely balks at that if they're even listening to this offer to begin with.
Trade Match Score (1-10 scale): 2
5. Chicago Bulls
DeRozan, Ball, LaVine, and Vucevic are all off-limits before we even consider how any of them might fit elsewhere, and the Sixers moving for Lauri Markkanen is completely nonsensical. Patrick Williams is not Simmons, but he'll do as the wing defender archetype here. There's no way this makes any sense for anyone.
Trade Match Score (1-10 scale): 0
6. Cleveland Cavaliers
How mean is Daryl Morey feeling right about now? I'm not sure that it really matters because the Cavs just don't have the assets for this. Kevin Love, Larry Nance, and Jarrett Allen all play the wrong position, and none of those guys are worth any sort of drastic change that might include Harris. Cleveland won't want to give up a pick given how valuable those tend to be for them, and they won't part with both Darius Garland and Collin Sexton either. That leaves us with this –
There are some interesting pieces here. Sexton, especially, is someone I like for Philly. He can score, and his defensive and playmaking deficiencies would be better covered on a better team. Of course, trading Simmons for a worse player who ranges from awful to mediocre in the areas where Simmons is most impactful doesn't really make a whole lot of sense. This doesn't make the Sixers better today, tomorrow, or, barring some sort of miracle, five years from now, and that means it's not even worth considering. Even for the Cavs, there are questions to be asked here given the spacing issues of a Simmons-Mobley-Allen trio. You can kind of put something together here at least, but it's not happening.
Trade Match Score (1-10 scale): 0.1
7. Dallas Mavericks
Let me start by saying that Luka and Dame are the two players that I would begin with in any list of ideal partners for Simmons. I wrote this last year before the bubble –

I LOVE Simmons in Dallas. They badly need both defense and secondary playmaking, and that's where he excels. He's the stopper that they simply don't have, and he is absolutely capable of providing a boost as a passer. As much as his scoring has been maligned recently, he is also capable of creating his own look every once in a while, and Dallas could use that too. He and Luka could be a clear centerpiece duo for the next decade, though additional maneuvering would be required to turn them into one that competes for titles (this would not just be the fault of Simmons, the gap between consecutive first round exits and championship is rather large).
But can they make this trade happen? Luka is obviously untouchable. The two key questions –
Is there a way to make this work with Porzingis going to Philadelphia?
Are the Mavs willing to part with Tim Hardaway Jr?
If the answer is "no" to both, the deal is in trouble. I think the answer should be no in regards to Hardaway. Dallas just signed him to another long-term deal, and he's the kind of player that fits both Simmons and Doncic. He can shoot. He can score on his own decently well. He's good, and the Mavs wouldn't necessarily be better off with Simmons but without Hardaway and two-three other pieces. As deep as Philly is into win now mode, the Mavs aren't that far behind. Luka is locked up, but they didn't fire Rick Carlisle and revamp the front office to take a step back. This needs to work in a way that allows both sides to feel confident that they've made progress heading into next year.
So the real question is whether or not Philly is willing to move Harris down to the three and play some big boy lineups because this trade needs to include either Porzingis or Maxi Kleber if Hardaway is off the table. With a bench player like Kleber, there'd be more flexibility to play Tobias at both the 3 and 4, but that sort of deal simply wouldn't cut it for Simmons. Here's where things currently stand for Philly's rotation –
PG: Ben Simmons, Shake Milton, Tyrese Maxey
SG: Seth Curry, Matisse Thybulle, Jaden Springer
SF: Danny Green, Furkan Korkmaz
PF: Tobias Harris, Georges Niang
C: Joel Embiid, Andre Drummond
If you take Simmons out and shift Harris down, you get this –
PG: Shake Milton, Tyrese Maxey
SG: Seth Curry, Matisse Thybulle, Jaden Springer
SF: Tobias Harris, Danny Green, Furkan Korkmaz
PF: Georges Niang
C: Joel Embiid, Andre Drummond
There's a hole at PF obviously, and a little extra depth in the backcourt wouldn't hurt. Now, we did go over Harris's (lack of) recent history at the 3 earlier. So why trade for Porzingis and not Collins? While pulling that trigger is far from a no-brainer, KP is a better defender and more of a volume shooter from deep. He does open up some things that Collins wouldn't. Embiid isn't any less ball-dominant than Doncic (they were 2 and 1 in usage rate last season), but he is a different type of player. There might be some more room for Porzingis to find his groove.
Fit is a difficult question. Lineups featuring Porzingis and Dwight Powell, a non-shooting big, were a brutal -10 per 100 possessions last season. Lineups featuring Porzingis and Maxi Kleber, who took 77% of his shots from deep, were almost +9 per 100. They played well over 500 minutes together too. Would Embiid and Porzingis be able to complement each other inside and out? They can both score from various zones, but it'd be up to Doc Rivers to find the best balance to keep them both happy and maximally productive. Do you roll with Porzingis at the 5 when Embiid sits to let him run things down low? Maybe get funky with some Embiid-KP pick-and-rolls? The shooting around these two is definitely there now, especially if Simmons is on the way out. At the very least, it'd be really dang interesting.
Ultimately, swapping Simmons and Porzingis would be a pretty sizable risk. But with both players causing chaos within their respective organizations, it might be time to take that risk. This would be where we find out just how badly Simmons and the Sixers want to move on from each other. One potential trade I like –

The Sixers get Porzingis, another 3-and-D guy to pair with Danny Green in Finney-Smith, and a good bench playmaker in Brunson.
I like this –
PG: Seth Curry, Shake Milton, Tyrese Maxey, Jalen Brunson
SG: Danny Green, Matisse Thybulle, Jaden Springer
SF: Tobias Harris, Dorian Finney-Smith, Furkan Korkmaz
PF: Kristaps Porzingis, Georges Niang
C: Joel Embiid, Andre Drummond
You've got three clear starters and about nine guys to mess around with in the backcourt and on the wing. There's a lot of versatility there. Now how does Dallas look? This would be a rough draft of the rotation –
PG: Luka Doncic, Trey Burke, Tyrell Terry
SG: Reggie Bullock, Sterling Brown
SF: Tim Hardaway Jr, Isaiah Joe
PF: Ben Simmons, Maxi Kleber (starting or closing with Kleber at the 5 for some extra spacing would be an interesting option)
C: Dwight Powell, Willie Cauley-Stein, Moses Brown, Boban
Would they miss Finney-Smith? Yes. Is this a pretty massive bet on Simmons? Absolutely. But this is suddenly a lineup with a lot more defensive potential and a lot more playmaking outside of Doncic. A risk, but maybe the one worth taking.
Trade Match Score (1-10 scale): 7
8. Detroit Pistons
Trading for Simmons doesn't really sound right for the Pistons given where they are as a franchise right now (just let things gel for a bit), but let's see what we can cook up here. For this to make sense, you need to believe in Simmons as an off-ball threat (cutting and the like apply here). There's no reason to trade for him otherwise in the aftermath of the Cade Cunningham selection. Cade is going to have the ball early and often, and you can't afford to have Simmons standing there unable to contribute.
Anything that happens here will begin and end with Jerami Grant. He took a major step forward last year in what was close to being an All-Star worthy campaign, and he's the kind of player that could catch Philadelphia's eye. Grant is a decent volume shooter capable of getting his own bucket. His playmaking, while limited, took a significant jump forward last season. Pairing him and Harris on the wing is an attractive option, but the question would be the other assets involved. Detroit isn't giving up any big pick package after just picking first, and the Sixers won't be all that intrigued by Killian Hayes with both Springer and Maxey on the roster. Saddiq Bey is likely borderline untouchable for the Pistons. With Embiid and Drummond, someone like Isaiah Stewart becomes nonsensical too. Kelly Olynyk doesn't really meet any needs either.
The bottom line here is that the Pistons are short on playoff-ready assets beyond Grant, and it's not really clear why they'd want to make this move anyway. Technically, something like this is on the table –

I just don't see it happening from either side.
Trade Match Score (1-10 scale): 2
9. Golden State Warriors
The Warriors are an option in the sense that they're desperate to everything they can to maximize the last few years of the Steph-Klay-Draymond era, but I'm not sure that I love the fit. Both Zach Lowe and Stephen A Smith suggested that there were internal arguments taking place over a potential Simmons-Green pairing, which suggests 1) Green is going nowhere and 2) there are a lot of hoops to jump through on Golden State's side of things.
The reality of the situation in Golden State is that having two of the greatest shooters of all-time glosses over a lot of spacing issues. It allows you to play Andre Iguodala and/or Shaun Livingston with Green, as the Warriors have in the past. Would Simmons be a step too far?
It's a little hard to tell, especially with the uncertainty surrounding Thompson. The man hasn't played an NBA game in two years, and he'll turn 32 a few months into the season. It'd be something close to a miracle if he comes back and hasn't lost a step, and every drop-off we see in his sprint speed, cutting ability, and the like is going to cause problems elsewhere. This is part of the Warriors' dilemma. Can you go all-in around your Big 3 without being fully confident that one of them has recovered (never mind the fact that Green's production may not be the same as it was a few years ago)? What Simmons does offer in that respect is youth; he's not done in three years even if the Warriors never find their former level before their core breaks apart.
The other key question regarding spacing will be the roster around Simmons and the existing top trio. It's been reported that a package of Andrew Wiggins, James Wiseman, and four firsts (two from this year) was turned down by GSW, and understandably so. So what's fair? Any trade will include Wiggins, and let's throw in Jordan Poole and Damion Lee to give Philadelphia a few more options (with potential of their own) in the backcourt.

That's a pretty significant step down from that earlier offer, but it should still give the Sixers a few different things they need. Wiggins will slot in at the 3, and Philly will then have to choose between Green, Thybulle, (Seth) Curry, and Milton for those last two starting spots. I do think Wiggins has become under-appreciated after his disappointing first few years in Minnesota. He's essentially Brandon Ingram with half the playmaking ability, a little less scoring efficiency, and slightly better defense. That makes him a perfectly fine NBA starter, and he's looked to be bought-in when playing in more high-stakes moments. Poole was much better in his second year, and he's got some scoring pop with decent passing potential. Lee is already 28, but he's a capable shooter who can play some defense. Then you have the picks too. This likely isn't an offer Philadelphia is going to take unless they're really pushed to the limit with Simmons and not getting any great offers elsewhere, but you could do worse than this.
Now back to the Warriors. With this move, they'd be starting Curry, Thompson, Simmons, Green, and Wiseman/Looney (likely Wiseman). Otto Porter Jr, whatever's left of Andre Iguodala, and Nemanja Bjelica would be leading a bench that also features Jordan Bell, Moses Moody, Juan Toscano-Anderson, Michael Mulder, and Jonathan Kuminga. I think the spacing is there. Throwing Simmons, Green, and Iguodala out there would get dicey, and the same goes for Wiseman/Looney lineups. The best lineup here likely puts Steph and Klay in the backcourt and then features Porter, Green, and Simmons in the frontcourt. But Steph and Klay will make it work, or Golden State wasn't going anywhere to begin with. The defense could be something special with Green, Simmons, and (potentially) Thompson. If you can somehow get this done – even if it takes Bjelica in a few months or an extra pick – I don't see why the Warriors shouldn't really think hard about trying to get this done. Wiggins is fine, but he's not going to make-or-break anything. Simmons might be able to.
And again, if you're Philly – you could do worse. Holding onto Simmons in wait of a monster offer could do far more harm than good. This isn't a bad option, even if the Sixers could get more elsewhere.
Trade Match Score (1-10 scale): 5
10. Houston Rockets
At this point, we should be clear on why Simmons would be an appealing player to pair with Jalen Green and his elite scoring potential. Simmons has often struggled to score, an issue that reared all of its ugly head in this year's playoffs, but he can do just about everything else. He's a fantastic complement to a scoring guard.
The issue in Houston is that they just don't have the goods to pull this off. Betting on a Simmons reconciliation is a far better option than betting on an old John Wall (32 missed games and horrible efficiency last year), and that leaves Eric Gordon and Danuel House as just about the only current Rockets that would have any sort of appeal for Philly. The Sixers don't have any need for Christian Wood. Houston does have a nicer collection of young talent than some might give them credit for (Tate, Porter Jr, Martin Jr, etc.), but, again, those aren't players that the Sixers would want as the focus of a Simmons trade. There's no reason for the Rockets to be giving away picks here either given the time they likely have left before they start to compete again. There's a very real chance they can keep their top 4 protected pick for next summer. The bottom line here is that there's no comparable on-court talent switch that can be made. Win-loss projections on trade machines are a little iffy but just look at this –

That leaves Houston well behind most potential Simmons suitors.
Trade Match Score (1-10 scale): 0