After posting a wildly unexpected 8-0 record in the NBA bubble, the Phoenix Suns caught a lot of eyes, and their success has been one of the biggest stories out of the bubble so far. The elevated play of first time All-Star Devin Booker and second year player Deandre Ayton powered the Suns past formidable opponents including the Mavericks (twice), Clippers, Heat, and Thunder. Unfortunately, despite their undefeated run, the Suns were just short of making the playoffs and had to head back home. Regardless, this is certainly something worthy of celebration for Suns fans, who don't usually have too much to celebrate. But the question remains. Was this just a combination of good timing and luck, or are the Suns no longer your bottom of the barrel Western conference team?
First, let's look with more depth at the competition the Suns were facing in the bubble. In the first matchup with the Mavericks, Dallas was playing a lot of their normal roster, including Luka Doncic and Kristaps Porzingis. After barely squeaking out a win, the Suns would build on their streak with a buzzer beater fadeaway from Devin Booker to take down a Clippers team that had their two main stars Kawhi Leonard and Paul George playing. Here, it's important to note that sixth man of the year award winner Montrezl Harrel did not play that game. Phoenix would then cruise past a TJ Warren led Pacers team, beat the Miami Heat without Jimmy Butler, outplay a depleted Thunder team featuring Chris Paul, and then manhandle an injured 76ers team before beating the Mavericks again, this time without Porzingis.
Looking back, a couple of the teams the Suns played were clearly nowhere near full capacity, but in Phoenix's defense neither were they. Starting small forward Kelly Oubre was out the entire bubble due to a torn meniscus, backup center Frank Kamisky was just coming back after suffering a knee injury, and rookie Cameron Johnson was also dealing with a knee injury before play resumed. Aron Baynes also didn't play a single game inside the bubble.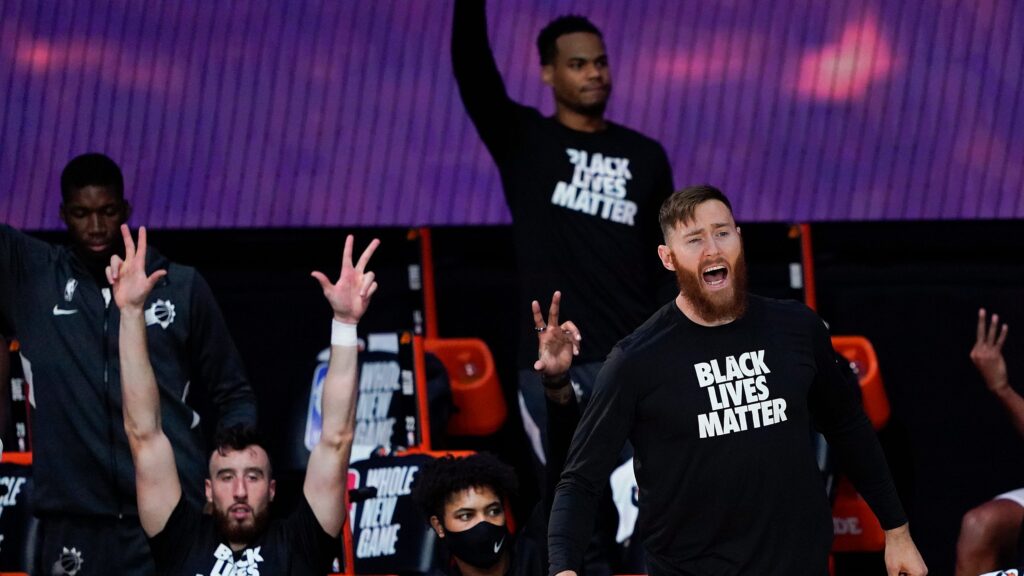 Another thing that would make viewers a little hesitant to call the Suns a playoff team is just the fact that the bubble has been so weird. Whether it's due to the lack of fans, easier depth perception from the basket to the wall, or an AAU type of environment, there have been a lot of unexpected things happening, whether it be the Suns going 8-0 or the Heat making the NBA Finals. As a result, it's hard to tell if success in the bubble suggests better things to come, or if that success is solely attributed to this environment.
While there are a lot of question marks that come out of Phoenix's undefeated run, there are a few things that are certain and can carry over to next season. First, Monty Williams is the right man for the job. He has done such a good job with player development, and his inspiring and caring words have seemingly won over every player in the locker room, especially after their bubble performance. Second, Devin Booker is more than capable of putting a team on his back, in case that wasn't clear already. He put up 30 or more in 5 of the 8 play in games, while shooting 50.2% from the field. Third, we saw the supporting cast really step up and prove that they can help out Booker. Players like Jevon Carter and Mikal Bridges really brought their A-game to the bubble and were integral to the team's success. Finally, and most importantly, we got a good glimpse of the mental toughness of the Phoenix Suns. Bleacher Report predicted the Suns would go 0-8, ESPN analytics gave Phoenix less than a 1 percent chance to make the playoffs, etc. It's safe to say that basically everyone wrote off the Suns, but the team never gave up on themselves. The mental fortitude that this team must have had to believe in themselves when no one else did is an indication of the success to come.
These factors are all things that can be transferred to the next season, among other off-season factors. Phoenix has a lot to be excited about, including the 10th pick in this year's draft and the fact that they also have some flexibility in their roster with only eight of their fifteen players guaranteed roster spots for next year. The other seven are either on a team option or will enter restricted/unrestricted free agency. The Suns also have the seventh most cap space in the NBA, so they could possibly sign a FA. Unfortunately, more likely than not, the salary cap will take a dive due to COVID and viewer ratings.
Overall, it's kind of tough to say if the Suns will make the playoffs next year, especially when the West will only get better with the return of Golden State, but I'll predict that they will be the 8 seed in the 2021 playoffs. Once they get there, it probably won't be pretty for Suns fans, but at least they would have snapped their decade-long playoff drought.