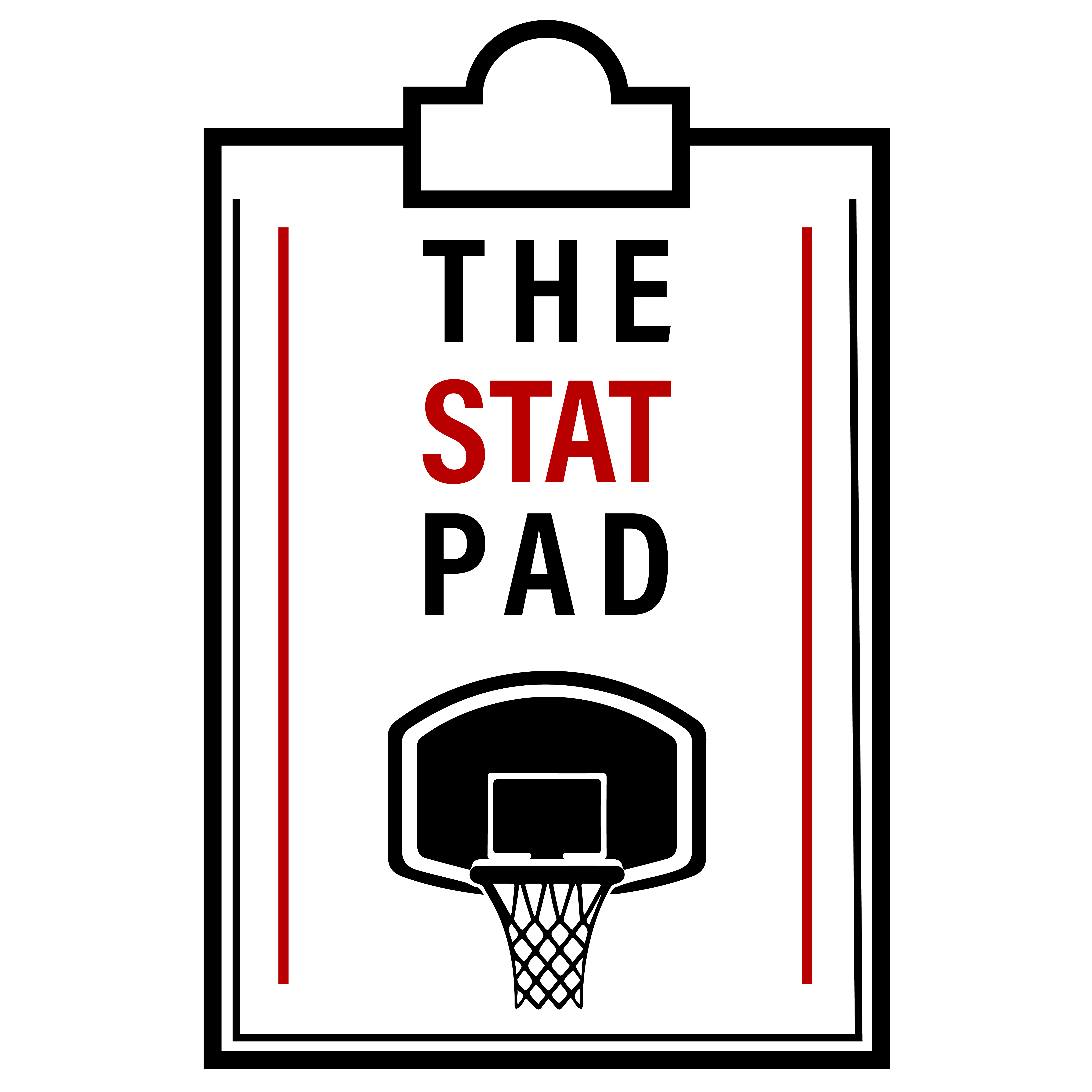 The Lakers are the favorites in this year's Finals. How do the Heat come away with the win?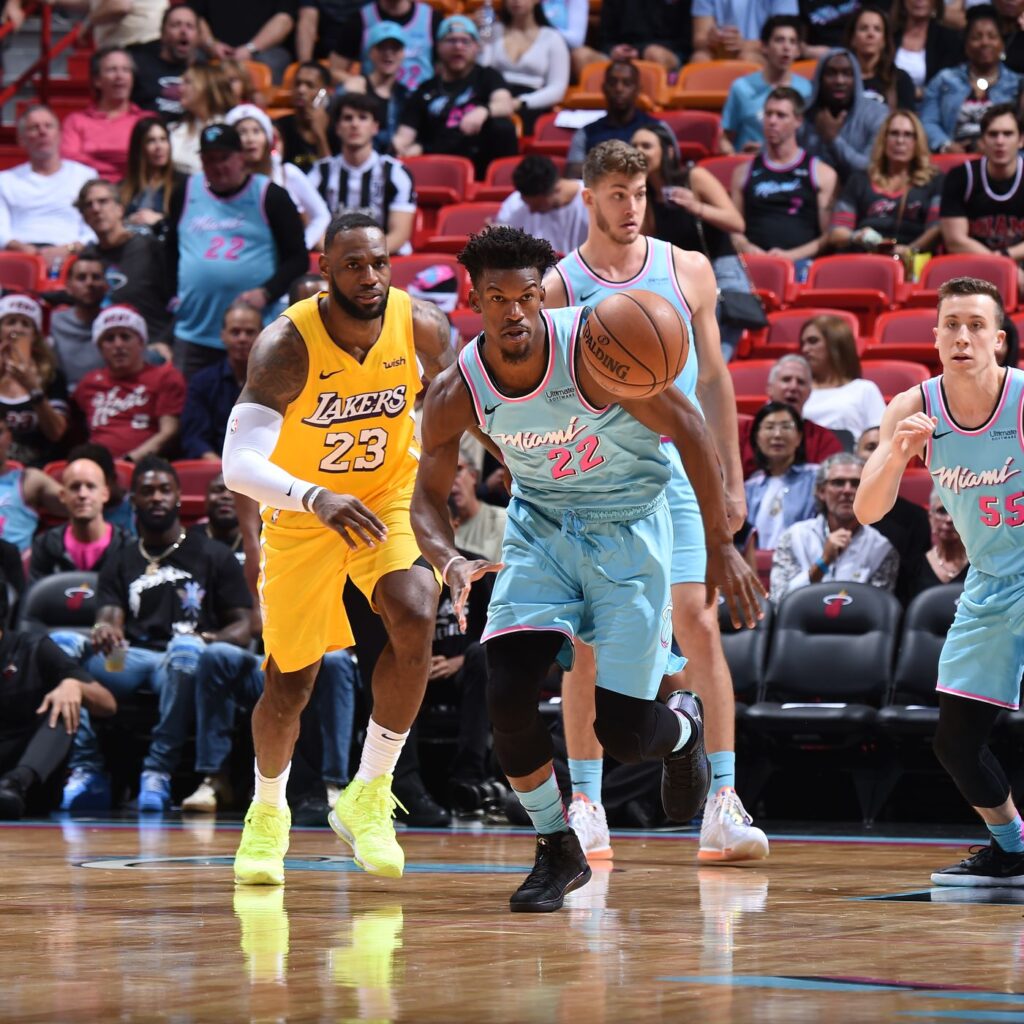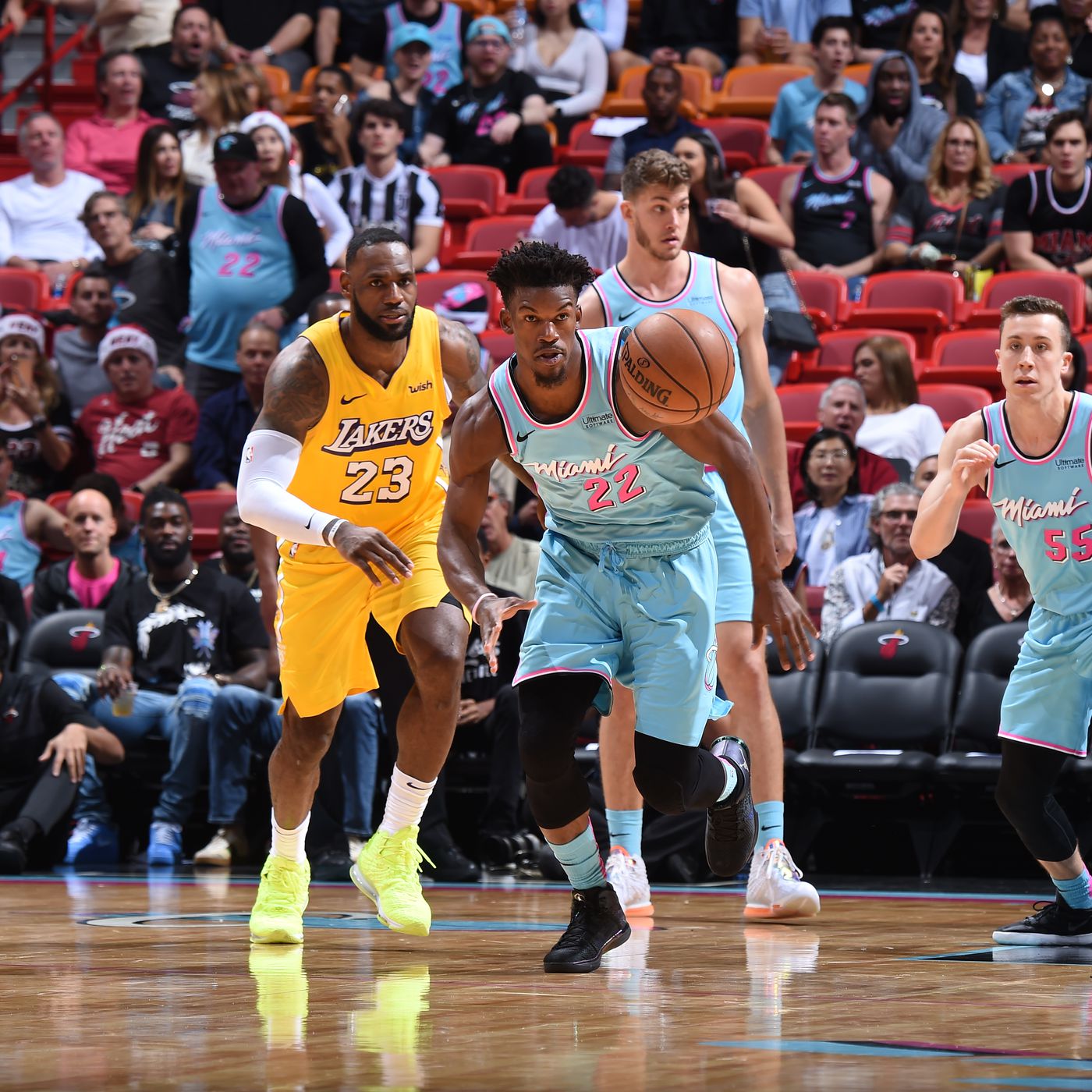 Michael Regan: The Lakers probably win this series if LeBron and AD are fully optimized, but I like the Heat a lot more than the general public here. They have one of the most versatile big defenders in the league in Bam Adebayo to throw at Anthony Davis. They have three veteran wings – Jimmy Butler, Jae Crowder, and Andre Iguodala – to throw at LeBron. You don't stop those two, but limiting them will be the first key for the Heat. How often can you force Kyle Kuzma, Alex Caruso, Danny Green, Rajon Rondo, Markieff Morris, and Kentavious Caldwell-Pope to score in ways that don't involve spotting up for a catch-and-shoot jumper?
On the other end, the Heat will need their role players to bring the offensive firepower that they've contributed all postseason long. Goran Dragic and Tyler Herro need to be able to score on Caruso, Rondo, Green, and Caldwell-Pope. Crowder, who struggled from deep against Boston after murdering the Bucks, and Duncan Robinson need to hit their shots. Butler and Adebayo will likely have tough match-ups against LeBron and AD/Dwight Howard, but they will need to find ways to contribute. Both do far more than score, and those contributions around the margins will be huge here.
Robert Banas: The main key to the series is BAM. He is arguably the best person in the league that can matchup to Anthony Davis. If he can disrupt AD's scoring presence, this series will be closer than most will think. Additionally, bringing in Iggy and Crowder via trade seems like Pat Riley knew they'd be facing LeBron in the finals. Iggy has won a Finals MVP for "locking up" LeBron and Jae Crowder plays a similar role and brings similar tenacity on the defensive end. Goran Dragic is also a huge X-Factor. His isolation scoring helps Miami win the point guard matchup in this series (Goran> Rondo and Caruso). Both are solid defenders though, so if they minimize Goran's scoring, the Heat are in trouble.
Tyler Rosen: The Heat have a chance if Dragic, Herro and Robinson can combine for 50+ a game. Crowder needs to shoot at least 33% from three along with Bam and Jimmy just playing solid basketball. Jimmy and Bam will struggle with putting up their normal numbers with Davis and Lebron on them, but if they can, then they'll have a chance at beating this Lakers team.
We've seen Donovan Mitchell, Jamal Murray, Tyler Herro, and more explode in the bubble. Are these improvements sustainable in a normal NBA arena?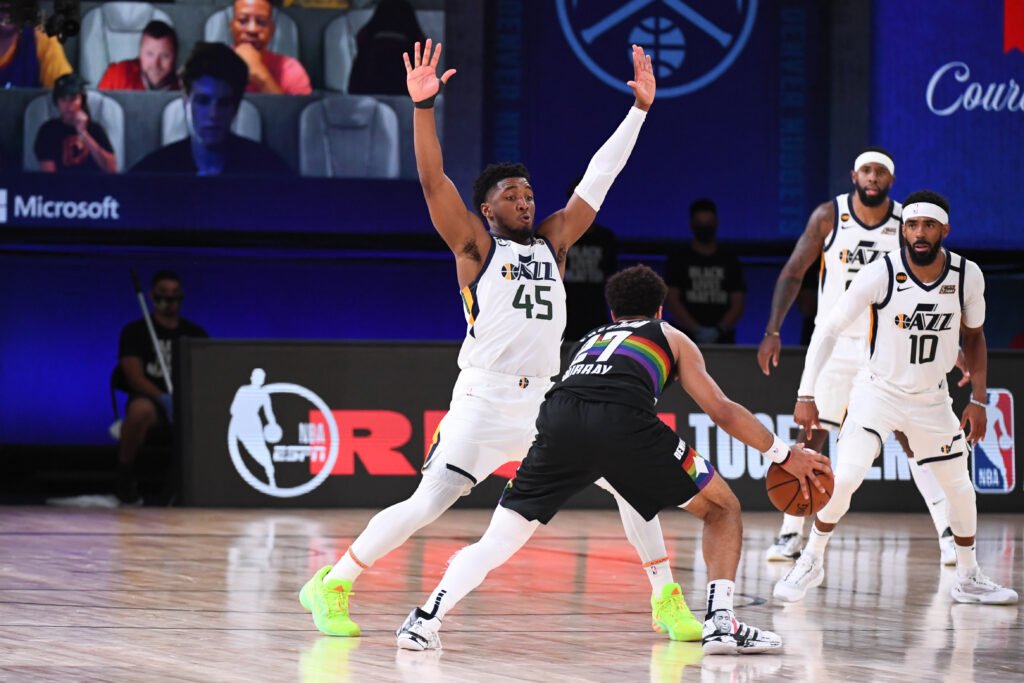 Michael Regan: The short answer is probably not. The first thing to be wary about is the small sample size – players that no one would put near the top of the league are capable of elite stretches, so these mini runs aren't necessarily a sign of permanent improvements. Malik Beasley, for example, averaged more than 20 points and 5 rebounds per game on 43% shooting from deep in fourteen games with the Timberwolves to close the season. That can't be taken as anything more than a promising sign, and the same rules have to apply here.
Then there's the very likely boost provided to certain players by the bubble environment. Experienced grinders (see: Jimmy Butler and the Heat, LeBron) have done very well because their work rate will be a constant regardless of the setting. Younger players (Mitchell, Murray, and Herro) have also done well, and there's likely a tie there with their past experience with the AAU setting that closely mirrors that of the bubble.
Herro has scored 15 or more points eight times in fifteen playoff games. If you include seeding games, he's hit that number in thirteen of his twenty-three games in the bubble (56.5%). During the first part of the regular season, he scored 15+ points just twenty times (36.4%). His increased role (roughly six more minutes per game) will account for some of that difference, but the bottom line is that Herro has had more big games in the bubble. 40% of his 20-point games have come in the bubble despite only 29% of his games being played there. Did he get that much better over the break? Maybe, but the more likely result is that his microwave scoring gets a little hotter in this environment, where the pressure turns down a few notches. Herro is made for the big stage – maybe as much as any rookie in the league – but it's still a lot easier to go off when the only thing on your mind is the game in front of you. 40,000 fans bring a different variable to the equation.
I think similar things can be said of Murray and Mitchell. Murray averaged roughly 8 more points and 1.5 more assists per game in the playoffs. Mitchell averaged 12 more points per game. Both players likely have a different level than the one they've produced in past regular seasons, but we haven't seen it before. It's hard to believe that the massive improvements we saw in the bubble are sustainable. I wouldn't count on seeing the same version of these two when the next season tips off, especially if we're back to more typical circumstances.
Robert Banas: Time will tell. The bubble definitely brought a more AAU game play style. Teams like the Clippers suffered because they have high energy guys (i.e. Montrez Harrel and Lou Williams) that come in and make a spark and play better with fan reactions. Murray and Herro only turned it up without fans. We will see if they can produce on the big stage in a normal setting with fans in the future.
Tyler Rosen: Mitchell, Murray, and Herro have all played amazing basketball, but I don't think any of them will keep this production up outside the bubble and next season. In Mitchell's case, I don't think you can make any big assumptions based on 7 games against the same exact team, especially when that team doesn't have great perimeter defenders. Plus, they were missing a big scorer in Bojan Bodganovic.
Murray has the highest chance to keep up this performance, but again, he was missing a big scorer in Will Barton. Barton coming back will take a lot of the scoring needs away from Murray, decreasing his stat lines.
For Herro, I do believe the bubble experience benefited him. Coming out of college and barely even high school, he is more adept to the AAU style experience. Plus, he has seemed streaky in his scoring, which could hurt his chance at performing at this level outside the bubble.
Victor Oladipo reportedly wants out of Indiana. How does this impact the Pacers, and where do they go from here?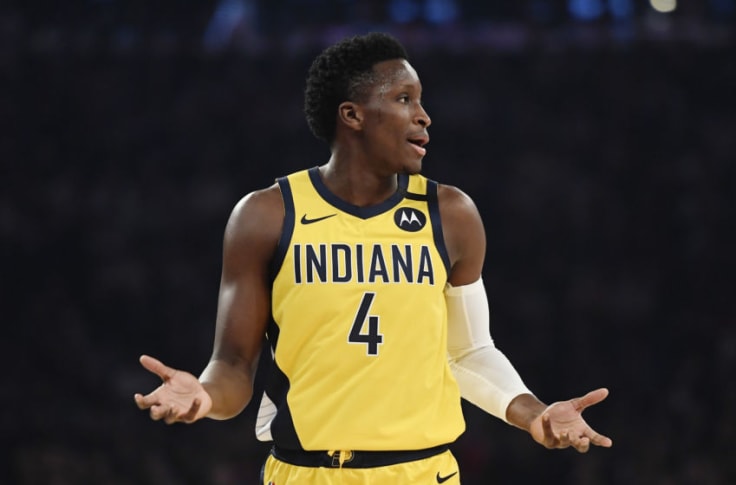 Michael Regan: The Pacers are obviously worse off. You don't lose a high-energy All-Star with a great work ethic and get better. With that said, Indiana is about as well-situated as possible to deal with the loss of Oladipo. They haven't had the peak version of him for over a season and a half, and they were without him completely for much of that time. They still managed to be a mid-level playoff team, and they still have a solid core centered around Domantas Sabonis, TJ Warren, and Malcolm Brogdon. Losing Oladipo likely means the potential of true championship contention is gone until external improvements are made, but it's not going to sink this Pacers team.
If he truly wants out, his trade value likely won't be all that high given his injury history, his impending free agency, and his status as a former All-Star rather than a star, but getting a useful piece/pick or two is very possible. Maximizing that return will be key, and then Indiana will have to try to do what they've done in the past with Sabonis and Oladipo – buy low on someone they can turn into an All-Star. Unfortunately for them, a free agent star likely isn't in the cards, and their status in the middle of the playoffs makes relying on the draft a risky proposition.
Robert Banas: This is tough. I really liked the Pacers potential, but they never worked out. Obviously, whatever they do, they need a good replacement coach that can provide some change. From here on out, I think you look to build around Brogdon and Sabonis. Brogdon is a do it all point guard that is a solid foundation as the facilitator in the offense. Sabonis is a young, intriguing big man that you can play thru on the post very similar to Bam on the Miami Heat. T.J. Warren did insane in the bubble, and he is another scoring presence on the wing. If they trade Oladipo though, they should also trade Myles Turner because the experiment twin towers lineup of him and Sabonis does not seem to be a sustainable solution in today's NBA.
Tyler Rosen: Oladipo wanting out quite honestly might be a blessing in disguise. Obviously, it's never good when your All-Star player wants out, but they could get a good amount back for him. Jeremy Lamb showed promise earlier this year, and without Oladipo, he has a chance to become a real threat in the league. Based off the bubble, TJ Warren has a chance to be great next year, too (but this is unlikely). Bringing in a role player for a spot they need as well as another asset in a pick or young player could be very beneficial. Overall, I don't think this move hurts the Pacers very much, if at all.
Doc Rivers is out in LA. Was it the right move for the Clippers? Who do they need to hire? What roster changes, if any, do they need to make?
Michael Regan: I don't know how much Rivers is really to blame for this year's shortcomings, but I think it was fair to move on. He's had so many chances with some really good Clippers teams, and they still haven't even gone to the Western Conference Finals. At some point, the constant theme in those losses has to be held accountable. I do think Becky Hammon holds some appeal as a potential option. This is a team full of established veterans that don't really need to be developed into winners. There's not much risk here in bringing in someone that's not an established NBA head coach (see Nick Nurse in Toronto), and the Clips might want a fresh style to be brought in here. On the other side of things, Mark Jackson and Jeff Van Gundy likely hold some appeal as well. Like Rivers, they have the ability to really relate to their players, and LA might opt to plug in an experienced coach and run from there. Ty Lue would be the other top option given his spot as the lead assistant this season. 
I wouldn't attempt to trade Paul George if I was in charge here. He and Kawhi Leonard will need to be better in the playoffs, but there's reason to believe they will be next year. Both have been in the past. George never quite found his rhythm this season amid issues with injuries. That should change next season. I think the Clippers were one of the teams most affected by the bubble. There were just so many of them that didn't play up to par – from George and Leonard to Lou Williams and Montrezl Harrell. I would bank on them being much better next postseason in front of fans, and I would hesitate on making huge changes based on what happened in Orlando.
Robert Banas: I think so. Doc is a classic choke artist. I like him, he's classy, but he's not a finisher. Changes are coming for the Clippers, and this is a good start. I wouldn't mind them reaching out to Becky Hammon as a replacement. There is previous synergy between her and Kawhi on the Spurs. She could be a unique, fresh start solution to the Clipper's problems. The roster should look very different next year as well.
Tyler Rosen: I think firing Doc was the right move. If Bynum wasn't hurt in 2008, he probably never gets any championship, even with that Celtics super team. Then he infamously couldn't win in the playoffs with the Lob City Clippers. Honestly, I'm not sure how he's made it this far, but this year's Clippers clearly pushed it over the edge.
One of the reasons Kawhi came to the Clippers was to play for Doc. For this reason, they need to bring in a coach who has a good relationship with Kawhi if they want him to be happy and stay in LA. Becky Hammon is someone who already has an established relationship with Kawhi and has a lot of potential as a head coach. She hasn't had a shot yet to show what she could do as a head coach, and being under Pop for so long, there's a lot of upside.
The Clippers should try to shop Paul George. However, I think his value is way down right now, so they should not be set on getting him out. If they can't get much back for him, then keep him and see the impact on the team of a new coach. Then if that doesn't seem to be working, shop him around at the deadline.
Let's play Quick Hitters. No analysis. Just predictions. Give me your predictions for…
– Finals Winner
Michael Regan: Heat in 6
Robert Banas: Lakers in 6
Tyler Rosen: Lakers in 5
– Finals MVP
Michael Regan: Jimmy Butler
Robert Banas: LeBron James
Tyler Rosen: Anthony Davis
– Most surprising player
Michael Regan: Andre Iguodala
Robert Banas: Duncan Robinson (Go Blue)
Tyler Rosen: Markieff Morris
– Most disappointing player
Michael Regan: Anthony Davis
Robert Banas: Anthony Davis gets locked up by Bam
Tyler Rosen: Bam Adebayo
– How many combined minutes do we see from Dion and JR?
Michael Regan: 0
Robert Banas: They both should be playing 48 minutes per game
Tyler Rosen: 8