Bucks-Heat Preview
10 min read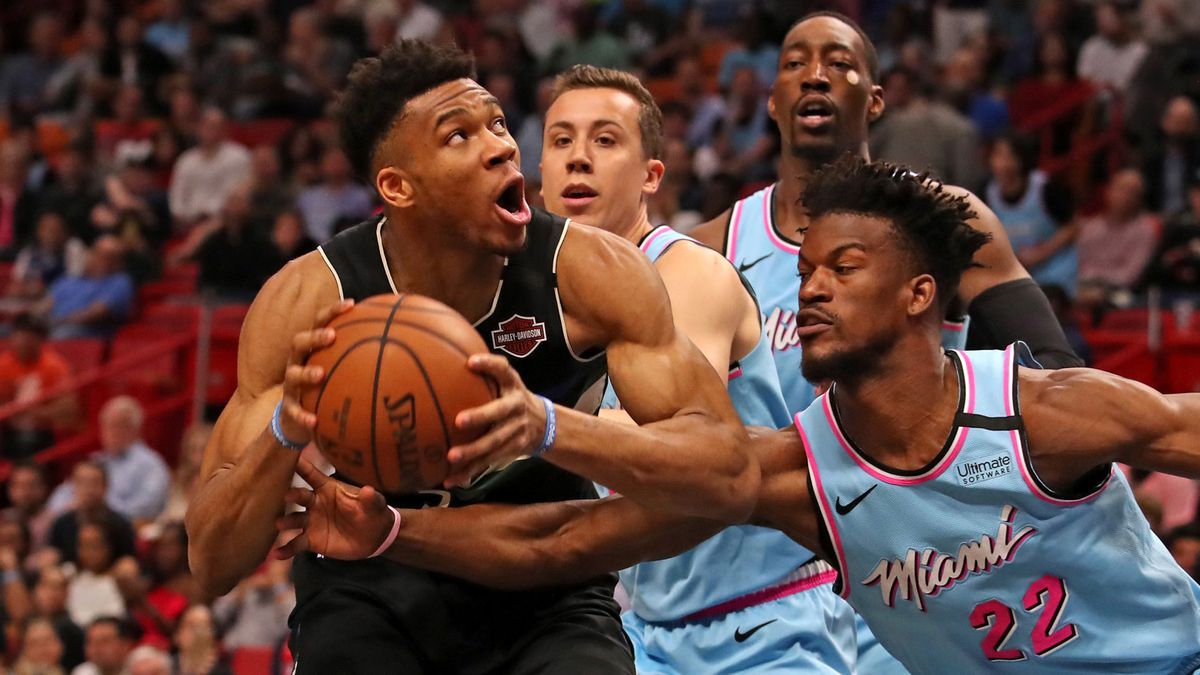 The Bucks and Heat are set to kick off the second Eastern Conference semifinal tonight. Milwaukee has been the best team in the league all season, and they enter the series with the 1 seed. But Miami has the shooting to attack an interior-oriented Bucks defense, and they have a group of long defenders, led by Bam Adebayo, that can pull off the wall method against Giannis Antetokounmpo. That defensive plan, which includes throwing two, three, or even four defenders into Antetokounmpo's path at once, killed the Bucks last summer. One year later, will it end their playoff dreams again? Or will Milwaukee, improved from last season both around the margins and at the very top, continue their run towards history?
Let's go through the basics –
The Schedule
Game 1 – August 31 (Today) @ 6:30 p.m. Eastern

Game 2 – Wednesday @ 6:30 p.m. Eastern
No other game times are determined, but there will be a game every other day until the series is decided.
Game 3 – Friday
Game 4 – Sunday
Game 5 – Tuesday, September 8
Game 6 – Thursday, September 10
Game 7 – Saturday, September 12
Injury Report
Bucks –
None
Heat –
Chris Silva (groin) is day-to-day and Gabe Vincent (shoulder) is listed as out. Those two players 346 and 83 minutes for the Heat this season, respectively.
Both teams are at full strength heading into the second round.
Season Series
October 26 – Heat 131, Bucks 126 in OT
March 2 – Heat 105, Bucks 89
August 4 – Bucks 130, Heat 116
The Heat have played the Bucks as well as anybody this year. Their shooting and defensive length make a tough match-up for Milwaukee. In their lone win over the Heat, the Bucks needed a huge second half comeback with both Jimmy Butler and Goran Dragic out. Of course, that did come during the relatively meaningless seeding games, so it's hard to say how much can really be taken from that game. The Bucks have been the best team in the league for a reason, and it's never going to be easy to take down a team of Milwaukee's quality four times in seven tries. Still, there's reason to feel positive from Miami's side of things here.
My Original Predictions for this Series
What did I predict back in my full playoff preview (http://statpadders.com/?p=1277)?
Bucks-Heat
Bucks in 6
I predicted a Bucks sweep and a six game series between the Heat and Pacers, but I got the overall outcomes right. It's Bucks-Heat in the second round, and the Bucks are still alive to move on.
Quick Team Summaries
The Bucks were far and away the best team in the league this season. With Giannis on the court, they were an astounding +15.8 per 100 possessions, and that number dropped slightly during the seeding games. The closest player to Antetokounmpo is Milwaukee's Donte DiVincenzo, who posted a +13.3 in his minutes. Wesley Matthews is third and Brook Lopez is fourth, and then you finally get to Kawhi Leonard and his +12.0 in fifth before Eric Bledsoe, George Hill, and Khris Middleton round out the top eight. Milwaukee ran through pretty much everyone they played. As I said a few weeks ago, the trick will now be winning the games that truly count.
The Bucks easily had the league's best defense pre-virus, and they were a top five offense for almost the entire season before they slipped to sixth by less than 0.1 points per 100 possessions right before the suspension of play. Giannis is going to be the back-to-back MVP, and he was deservedly named the Defensive Player of the Year last week. Khris Middleton was an All-Star for the second season in a row, and no one combined volume and efficiency as well as he did. Eric Bledsoe and Brook Lopez are defensive studs that play key offensive roles, and the Bucks have a wide array of skilled role players alongside those four.
After they posted average net rating and point differential numbers in the seeding games and lost to the Magic in their playoff opener, there was a lot of doubt spreading about Milwaukee's playoff chances. That hasn't gone away, but it probably should. The Bucks ran all over an injury stricken Magic in the last four games of the series, and Middleton recovered from some early shooting struggles to thrive in the final five quarters. Milwaukee's defense also made some noticeable improvements after the Game 1 loss. The Bucks are ready for the second round.
The Heat surrounded their two-way All-Stars (Jimmy Butler and Bam Adebayo) with a deep and elite group of shooters. Despite a poor shooting season from Butler and Adebayo being non-existent beyond the arc, Miami led the league in 3PT%. They play slow, run a lot of their offense through the pass, rebound well, and are solid but short of great on both sides of the court overall. Erik Spoelstra has a lot of options to work with across the board because the young talent has stepped up. Kendrick Nunn was in the G League last year, and he was an effective starting point guard this season. Tyler Herro immediately stepped in as a scorer and playmaker off the bench. Duncan Robinson produced volume and efficiency from deep that no one but Steph Curry has matched over a full season. This is a tough team that could be great, but they have yet to consistently play at a championship level.
They had no issues with a somewhat depleted Pacers team in the first round, winning in a sweep as Indiana could never execute in the fourth quarter. Goran Dragic was particularly impressive, and the starting point guard position is back in his hands for the stretch run. Miami has a lot of shooting and a lot of bodies defensively, and they've looked good inside of the bubble so far.

X-Factors
Khris Middleton
Middleton really struggled from the floor for most of the first round before he turned it on late. He made less than one-third of his shots across the first fifteen quarters of the series, and he scored just two points in Game 2 and three points in the first three quarters of Game 4. Then, in the last five quarters of the series, he shot roughly 50% from the field and scored 39 points, beating out his total from the previous fifteen quarters (36). Middleton had an unbelievably efficient season as a second option this year, and he deserves to be in the discussion for a Second Team All-NBA spot. The Bucks will need that version – the one that showed up in the last few quarters of the series against the Magic – to show up the rest of the way. It's going to be tough to win if Middleton is shooting 4-12 every game. One positive sign – he was solid outside of his shooting woes throughout the series, averaging 7.8 rebounds and 5.2 assists per game. If that is part of your disaster scenario, then you're probably in a pretty good spot. Khris Middleton is going to be okay.
2. Bam Adebayo
Adebayo is going to be at the center of Miami's defensive plan. He is one of the more versatile defenders in the league, and he has the size, speed, and athleticism to stick with almost anybody. Limiting Giannis will take a team effort, but Adebayo will need to be at his best on an individual level to solidify the game plan.
On the other side of the court, he will likely ending up being a glue guy of sorts. He's not a shooter at all, which plays right into the hands of Brook Lopez and the Bucks, so his big offensive contributions in this series will involve his ability to set up others. His screens and his passing can create the looks around the perimeter that others will need to take advantage of. This is also a battle between a poor regular season offensive rebounding team and the best (by far) defensive rebounding team in the league. Adebayo leads the Heat on the offensive glass, and they will be in a better position if he can put up a fight in that battle and provide an extra couple possessions in each game.
3. Eric Bledsoe
Bledsoe's playoff struggles are no secret, but he played very well against the Magic, averaging 11.6 points, 6.6 assists, and 3.8 rebounds in just 26.4 minutes per game. He was relatively efficient, focused on setting up others, and played his typical defense. Those are all good signs. For the Bucks to be at their best, they need a good version of Bledsoe to show up. He has struggled to do that in past postseasons, but he has the momentum to change that this year. With a red hot Goran Dragic (22.8 points per game against Indiana) staring him down, his efforts will need to start on the defensive side of the court.
3 KEYS
This is what the series comes down to. If Giannis is running through people and dominating games, the Heat will need both an incredible offensive performance and some ice cold shooting from the rest of the Bucks. That's possible, but it's really unlikely that it happens four times in seven games, especially considering how good the Bucks are defensively. However, if the Heat are relatively successful in walling up Giannis, it could shift the series. It puts the ball in his teammate's hands on the perimeter – if he can get it there this year – and that's always a better position to be in if you're the defense. Don't expect that to happen though. Antetokounmpo will be raring to go after the Raptors swung last year's Eastern Conference Finals by throwing three or four bodies at him each possession because he couldn't quite handle it. Those memories have been in his head for a year. He leaves them in the past this time around.
The other East semifinal has two great coaches in Nick Nurse and Brad Stevens, and this match-up between Mike Budenholzer and Eric Spoelstra is no different. Budenholzer is a two-time Coach of the Year and Spoelstra just edges out Rick Carlisle as the second-longest tenured coach in the league. He's led the Heat for more than twelve consecutive years now, which is kind of crazy. Like I said with the Raptors and Celtics, the players are going to decide the series. That doesn't mean that the moves the coaches make throughout are irrelevant.
How will Spoelstra adjust if Giannis destroys the defensive wall? Does he trust Kendrick Nunn to play big minutes after a rough start to his bubble experience? Who does he trust late in games alongside Jimmy Butler and Bam Adebayo? You have to think Goran Dragic is a lock with how he's been playing, but how will Tyler Herro, Duncan Robinson, Jae Crowder, and Andre Iguodala fit into the fourth quarter rotation?
Who does Budenholzer trust off his bench? Is he finally ready to play his starters big minutes after limiting them throughout the season? Will Donte DiVincenzo play a significant role after his own bubble struggles? Does Brook Lopez close games or will Giannis finish the fourth at the five? Who gets the late minutes between Wes Matthews, George Hill, Pat Connaughton, DiVincenzo, and Marvin Williams? When is Kyle Korver going to be the most useful? Is there a plan to beat the defensive wall outside of just letting Giannis do his thing? Budenholzer's ability to make adjustments during the series will be key. It's something that he has struggled with in the past.
The supporting cast battle
Giannis Antetokounmpo and Khris Middleton are better than Jimmy Butler and Bam Adebayo. It's not even a contest with Antetokounmpo in the mix, and Butler wasn't very far ahead of Middleton this season. The Bucks are simply better at the top, and they will roll if the rest of the team outplays the rest of the Heat.
It goes without saying that guys like Dragic, Robinson, Herro, Crowder, and Kelly Olynyk will need to play well. They need to hit their shots when they get the opportunities, and they need to be solid defensively. If they don't do those things, this series won't be long.
For the Bucks, the goal is avoiding terrible shooting. In their first loss to the Heat, no one other than Middleton and Antetokounmpo topped 14 points, and those players combined to shoot 38.5% from the floor (really bad) and 34.2% from three (a little below average). In their second loss, an offensive collapse for everyone not named Brook Lopez, the team as a whole shot 40.7% from the field (still very bad) and 20.6% from deep (beyond awful). Are we going to see similar numbers four times out of seven in this series? Probably not. The Heat deserve credit defensively, but it's also true that the Bucks simply didn't shoot the ball well in those games. Miami allowed their opponents to shoot above 44% from the field and 34% from deep on the season, and the Bucks are a very good offensive team. The odds of them not meeting those numbers in this series are low. If they do avoid the unlikely, they'll be in a very good spot.
The Bucks are as fast as it gets while the Heat have been one of the slower teams in the league. For Miami, limiting Milwaukee's ability to get out in transition and score easy buckets might be the determining factor of this series. If they make these games half-court battles, things will shift in their direction. It might not be enough to win, but it'll be a whole better than watching Giannis run all over the place and throw down dunks on the fast break.
Prediction
This won't be an easy series for the Bucks. They were clearly better than the Heat overall during the regular season, but Miami matches up well with them. They have the shooters and the defensive wings to compete with a Giannis-led team, and a lot of these games are likely going to be very close. If the Bucks go cold around Giannis, the Heat will extend this series. If Miami's shooters find their groove, the Bucks will need to bring their best on the other side of the court. Giannis's improvements after last year's ECF collapse will be the difference, and the improved rotation around him makes enough plays down the stretch to shift this one Milwaukee's way. To put this series simply – the Bucks are the better team and Miami's only hope is that their game plan is enough to make up the gap. It won't be. I can see the Heat winning a few games here, but this is Milwaukee's series.
Bucks in 4 (I refuse to pick the Bucks to lose a playoff game at this point)