CBB Roundup: ACC
10 min read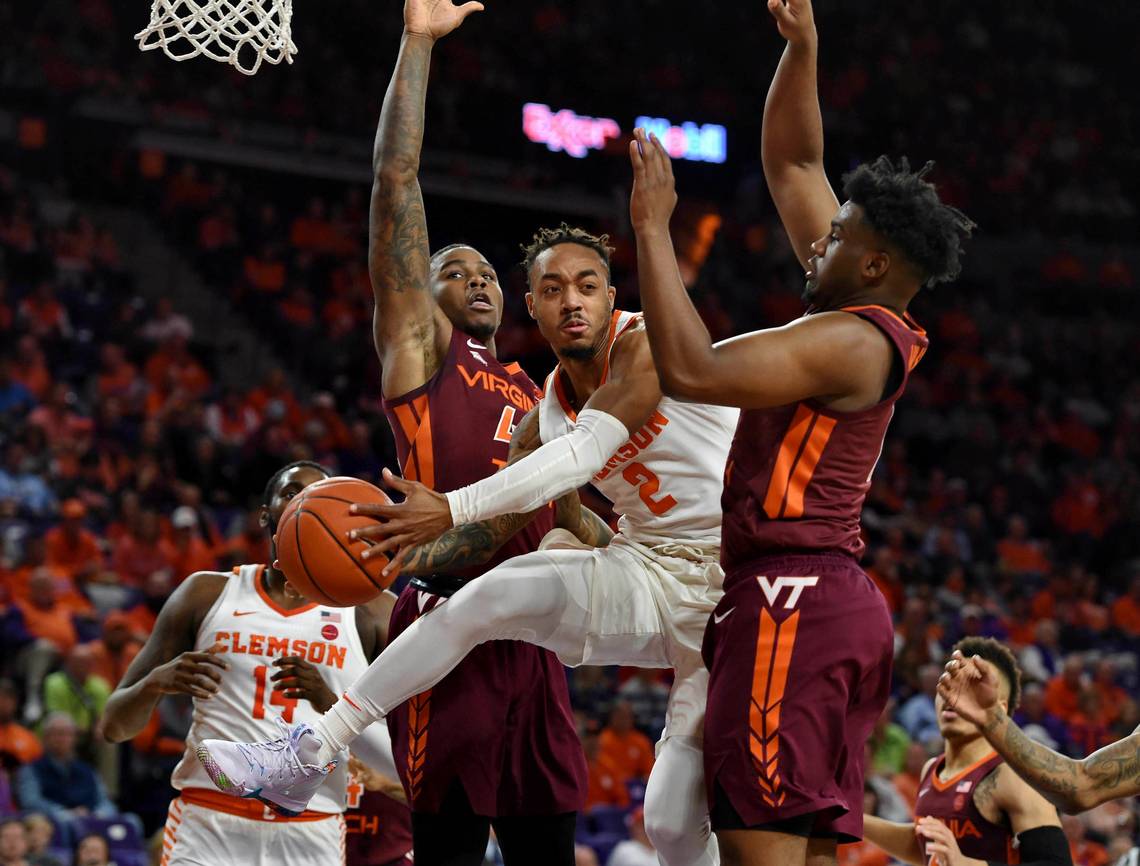 Every year since 2001, we've seen between four and nine ACC teams making the NCAA tournament, with six being the rough number in a year of average success for the conference. What might we see this year? Let's take a peek.
The Great
1. Louisville 3-0 (8-1)
It's not clear that there is such a thing as a great team in the ACC this year, but Louisville is one of the few teams that have separated themselves from the pack early on with a mix of good wins and good overall numbers. The Cardinals rank 26th on KenPom with a top 50 offense and a top 25 defense. They also happen to be 26th in the NCAA's NET rankings, and they rank 6th in ESPN's SOR ranking, which is an indication of schedule strength and performance. They picked up a huge win over Virginia Tech yesterday, and they also have wins over Pitt, WKU, Seton Hall, and Kentucky. The lone loss was a blowout against Wisconsin when they took a heavily diminished roster in their first game back from covid difficulties to Madison. Louisville is well on their way to the tournament, and they'll have a chance to make some noise once they get there at this rate.
4. Clemson 3-1 (9-1)
Clemson might be my favorite ACC team. They've picked up a ton of quality wins – Mississippi State, Purdue, Maryland, Alabama, Florida State, and North Carolina State. The lone loss came in Blacksburg to Virginia Tech. They lead the country in KenPom's defensive ranking, and they rank 16th in the NET rankings and 5th in SOR. This is a very good team, and they're one of the favorites to win the conference and go deep in March. One thing to watch – the Tigers have beaten Miami and NC State by just five points combined in their last two games after picking up all of their previous wins by at least 8 points. There's nothing wrong with a narrow conference win, but you can't count on consistently winning games when they come down to the final possession. Keep an eye on Clemson over the next few weeks to see if they can start to put together some bigger wins again.
5. Virgina Tech 2-1 (8-2)
The Hokies have two fantastic wins over Villanova and Clemson. Those are the kind of wins that make a tournament resume, and Tech will have some margin for error if they go through a rough patch. Right now, there's no indication that they will see any sort of major losing streak. Outside of an outlier 20-point loss to Penn State, they've only lost to Louisville in a one possession game. They beat South Florida by 18, and they largely handled the inferior teams on their schedule outside of a poor second half that allowed Miami to push them to the final possession. Like everyone else, they will need to keep winning at a decent rate to secure a tournament spot, but Virginia Tech absolutely belongs in this top tier of ACC teams as of today.
The Good
2. Virginia 2-0 (6-2)
The advanced metrics love Virginia. KenPom has them 18th in the country with a top 40 offense and a top 20 defense. ESPN's BPI has them 17th overall. But they sit outside the top 60 in SOR because they simply don't have impressive wins. Notre Dame, Wake Forest, and Kent State are the best three, and while that will obviously change as the season goes along, it's worth wondering whether or not UVA is up to the task of matching the lofty expectations brought on by the metrics. This is, after all, the team that lost to Gonzaga by 23, a number just five less than the combined margins of defeat of WVU, Kansas, and Iowa. They also lost to a San Francisco team that's decent but also likely on the outside of the bubble. With Notre Dame (again) and Boston College coming up, the chance to pick up significant wins won't be there for another week. The rest of the schedule gets much tougher, and it starts with a trip to Clemson on January 16th. We'll know more about Virginia soon. This looks like a tournament team, but they still have plenty to do to secure that position.
6. NC State 2-1 (6-2)
North Carolina State looks like a tournament team too, but, as is the common theme for the middle of the ACC, there's still plenty of work to do. They went 4-0 with four wins of 19+ against the non major conference teams on the schedule, and they've secured wins of three points over UNC and BC. That's not the greatest collection of high-level wins, but the losses to Clemson and St Louis are nothing to worry about. This is probably not a team that is going to make the tourney with a .500 finish over their next sixteen games, but they also probably won't need to be much better than that to give themselves a good shot. The overtime loss at Clemson last time out was a big missed opportunity, but both Duke and Virginia Tech will visit Raleigh. They also have two games against Virginia. There will be chances to pick up quality wins. For what it's worth, KenPom has them 43rd with a top fifty offense and defense. They should squeeze into an at-large spot.
The Maybe Good
7. Georgia Tech 2-1 (6-3)
The Good? Wins over UNC, Wake Forest, Kentucky, and Nebraska. The bad? A fourteen-point loss to Florida State. The ugly? Opening losses to Georgia State and Mercer. Those two defeats are going to be very tough to overcome, and those four wins aren't as impressive as they might be in the average college basketball season. Tech is also dealing with some covid issues right now, which isn't going to help matters. The bottom line is that they're going to need a pretty great run through conference play to make the tournament, and recent history isn't exactly on this program's side. With Clemson, Duke, UVA, and Florida State on the schedule over the next few weeks, we should find out more about this team pretty soon. Unless they come out of that stretch favorably, the conference tournament will likely be the only way to the big dance.
8. Pittsburgh 2-1 (6-2)
Pitt picked up a big comeback win over Northwestern in non-conference, and they'll need that win because of their opening loss to St Francis. In conference play, they bested Miami and Syracuse around a loss to Louisville. Like Georgia Tech, this is a team that's going to need to show more. They've done some good things and some bad things, and floating in the middle or shifting in the wrong direction as the season continues won't get the job done. They need more of the good, and that could start with a home win over Florida State this weekend.
9. UNC 2-2 (7-4)
UNC, by virtue of their brand, could probably fit in the next tier down, but I'll leave them here. It was assumed heading into the season that the Tar Heels would be better than they were last year. They appear to have accomplished that goal, but it's not yet clear if their gains will be enough to push them into an at-large bid. The losses to Georgia Tech and NC State aren't necessarily bad, but those are the kind of games these middle-of-the-pack ACC teams will need to win more often than not. UNC needs to stop losing them, and consecutive one possession wins over Notre Dame and Miami aren't exactly confidence inspiring. The win over Stanford was nice, but the close loss to Texas was a crucial miss. This is not a bad team, but they just don't have too strong of a resume right now. They need to start winning. Their first four ACC games don't suggest that they will win enough, but Clemson and Florida State await on the next two Saturdays. These are season-defining games for UNC.
The Confusing
3. Duke 2-0 (4-2)
KenPom loves Duke, putting them 17th in offensive efficiency and 23rd defensively, but everything else looks a little dangerous for the Blue Devils so far. They're 103rd in the NET rankings with five of six games (and all four wins) coming in Quad 3 or 4 scenarios. They're just barely in the top 75 by SOR. They needed a comeback the other day to avoid a loss to Boston College. Their best win – and only win of any sort of significance – came against Notre Dame, and they were completely uncompetitive against Illinois a few weeks ago. To be fair, Duke has won the games they should after escaping against BC. There's nothing wrong with losing to Michigan State and Illinois. Everything is ahead of this team, and they have another easier game against Wake Forest to find their footing before the real conference slate starts. It's not like Duke is on the edge and in need of a 15-1 finish to make it to March. We just don't from what's happened so far if this team is good. They're one to watch over the next few weeks.
10. Syracuse 1-1 (6-2)
Is Syracuse good? They did beat Boston College by 38 and picked up a decent win over Buffalo. They also beat Bryant by just 1 and Northeastern by just 6. The loss to Rutgers was more than understandable, but the loss to Pitt stings, especially after the score was 32-18 in Syracuse's advantage at half. There are fifteen games left here. Ten are against Clemson (X2), Duke, UNC, UVA, Louisville (X2), NC State (X2), and Virginia Tech. They need at least five of those, and then they they need to sweep Georgetown, Boston College, and Miami and take one or two against Georgia Tech and Pitt. If they do that bare minimum, we're looking at a 15-8 team with Pitt and/or Georgia Tech as the worst loss and some pretty good wins. That puts them in the range they need to be in to have a shot come Selection Sunday. At their best, Syracuse is capable of that. The question is whether or not they're consistent enough to get it done. Beating Georgetown and Clemson at home over the next five days would be a great start.
11. Florida State 1-1 (5-2)
Florida State has gotten off to a bizarre start. They played very well in their first four games, beating North Florida by 30 and picking up wins over Indiana, Georgia Tech, and Florida. Since, they've lost to Clemson and UCF and beaten Gardner Webb by just twelve after leading by two at the half. This should be a tournament team. They certainly have the talent. But there's still a good deal to prove after the last few weeks. the next five – @Pitt, NC State, UNC, @Louisville, Clemson – will be very telling.
The Ugly
12. Wake Forest 0-2 (3-2)
Wake Forest started 3-0 with a non-conference slate that included a 60-point win over Delaware State and a covid break of more than thirty days. That made it a little difficult to get a good read on them, but they don't look great right now. They've lost to Georgia Tech and Virginia by 25 combined so far in ACC play, and those games followed a 70-62 win over Catawba and their 1,200 students in the first game back from the big break. It's still technically not over because they've played so few games, but we'd need to see a full (and quick) turnaround that would be coming out of nowhere.
13. Notre Dame 0-3 (3-6)
Notre Dame isn't that bad. Their offense has actually looked quite good. They've now held UNC, Michigan State, Duke, Purdue, Ohio State, and Virginia to wins of 10 point or less. Of course, the problem is that they lost all six of those games, and the defense is closer to terrible than the offense is to great. Their only decent win came by one point against Kentucky, and they almost a blew a lead of more than 20 points in that one. There's just no way that this team wins enough games to make it to the postseason, but they could potentially beat some good teams before the season is over. Virginia Tech and Virginia are up next.
14. Miami 0-4 (4-5)
Miami has lost their last three games by five points combined. That's heartbreaking, especially because wins over Clemson and Virginia Tech could have given the Hurricanes a relatively impressive resume early. They already have the win over Purdue, though that came with a bad loss to Florida Gulf Coast. They also have the defense to compete and would have been in a decent spot if a few more bounces had gone their way. Instead, they're 4-5 with the one decent win and the one bad loss, and this year's ACC isn't exactly stacked to the brim with quality opponents. It's just a regular old major conference this time around. A 10-10 (14-11) record seems like a huge ask of Miami by now, and that probably would still be a good two to three games off of the bubble.
15. Boston College 0-4 (2-8)
Boston College is already out of at-large contention. You just can't start 2-8. They did pick up a decent win over Rhode Island, but that doesn't help much when your only other win came against Maine. As I said in the A-10 piece, this isn't as bad of a team as you might expect given the record. Outside of big losses to Florida (20) and Syracuse (38), BC has been pretty competitive. They held Nova within 10 and have lost to Duke, NC State, Minnesota, and St Johns by two or less possessions. Being competitive doesn't matter when you can't win though, and BC simply hasn't. A respectable record is the best case scenario here, and that will need to start with some wins in the next five games, where Pitt, Notre Dame, and Miami are on the schedule.
Prediction: I don't see Clemson, Louisville, or Virginia Tech missing out on the tourney at this point. The question is how many ACC teams will be joining them there. I think Florida State and Virginia are good bets. The bottom four are out, and I don't trust Pitt or Georgia Tech. That leaves Duke, NC State, UNC, and Syracuse. In this year's ACC, it'll be hard to get more than two of those teams in. Right now, I would lean with the first two, but there's still a lot of games left.