CBB Roundup: American Athletic Conference
7 min read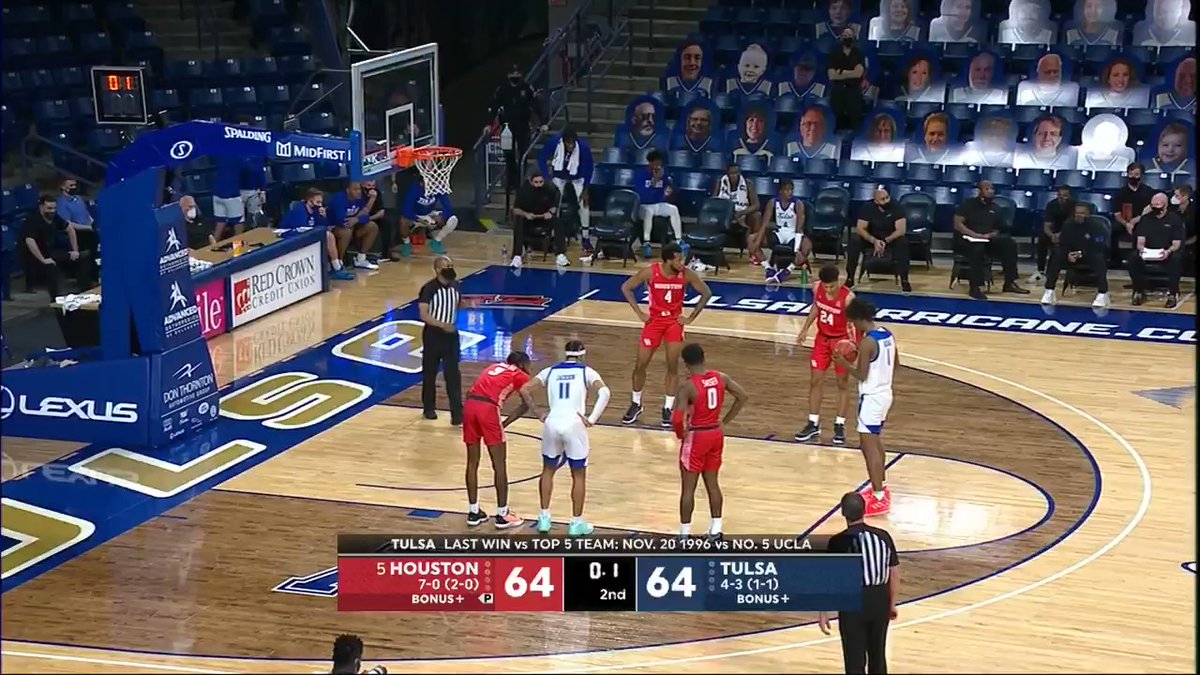 Since it formed in 2014, the AAC has sent anywhere from one to four teams to the NCAA tournament. Which teams will have a shot at an at-large spot? What do they need to do to secure it? Who's a threat to take the automatic bid? Let's take a look at the conference as it stands now.
Looking good for the tournament
1. Tulsa 4-1 in conference (7-3 overall)
Tulsa might not be the best team or the favorite in this conference, but their one-point win over Houston, the team that presumably fits into both of those roles, has them atop the standings today. A defense ranked 28th by KenPom's efficiency rankings has led the way to wins in seven of eight games since opening losses to TCU and South Carolina. That stretch has included wins over Memphis, Cincinnati, South Florida, and the aforementioned Houston. This can be a tournament team. The win over Houston will go a long way, and none of the losses (the third via Wichita State) are all that bad. With fifteen games left, the target finish is probably somewhere around 18-7 or 19-6. If losses to Temple, Tulane, East Carolina, and Cincy are avoided, that could be enough. A road win over Houston in two weeks would be huge. Up first is a three-game stretch against UCF, Wichita State, and Memphis. If the tourney is the goal, anything less than two wins there would be a bad misstep.
2. Houston 4-1 (9-1)
No one is a tourney lock quite yet, but Houston is well on their way there. KenPom has them at the 16th most efficient offensive team in the country, and they're 6th defensively. The offense is something to watch down the stretch. The resume is great as well, as Houston can already claim wins over Boise State, Texas Tech, South Carolina, UCF, SMU, and Wichita State. It would take a complete disaster to keep this team out of March Madness, but it might not take many more losses to knock them out of the running for a top seed given the relative weaknesses of the AAC in comparison to the Big Ten and others.
Tourney hopefuls
3. Wichita State 2-1 (6-3)
Wichita State's losses have come against Houston, Missouri, and Oklahoma State, which is not a bad run of opponents as far as losses go. They also have the win over Tulsa to lean on and can add Ole Miss and South Florida to the list of decent wins. There are sixteen games left on the schedule. Does a team that finishes 19-6 with two losses to Houston, a split with Tulsa, and a 15-4 run through the rest of the schedule get an at-large bid? Probably. That's still far easier said then done. Can you take three of four from SMU and Memphis and then sweep the rest of the conference? It's a big ask, especially because there's just not much reason to believe the Shockers are significantly better than some of the teams below them here.
4. Memphis 2-1 (6-4)
Memphis hasn't gotten off to a roaring start, but they do have a key win over St Mary's. None of their losses are significant either, with single digit defeats to Tulsa, Western Kentucky, and Auburn and an 11-point loss to VCU. Their top-twenty defense is fantastic, but they've struggled on the other end. That likely won't be good enough to win all the games they will need to get. The other problem here is that the second best win is USF. Wichita State at least has that win over Ole Miss too. Will that matter if Memphis pulls off the 19-6 type season? Probably not, but the main takeaway for these teams is that they have so little margin for error. You can't afford to go out there and win just four times in seven games or have a quick two-game losing streak because you'll likely be fighting for your postseason life in the conference tournament if those things happen.
5. SMU 2-2 (6-2)
SMU is an interesting team. They rank in the top 60 in both scoring and defensive efficiency, going as high as 39th in the former. They beat ECU and Temple by 23 combined points, and they were down by one at half against Houston before falling off. Yet, their best win was a 66-64 game against a Dayton team that has been very disappointing recently, and yesterday's loss to Cincinnati was crushing. There's still to believe in what looks like a decent team, but a 2-2 start in this conference really hurts the margin for error. We didn't know how good this team was before yesterday, and the loss isn't doing them any favors there. I wrote before the SMU-Cincy game that the key for this team would be beating both Cincy and Temple ahead of consecutive games against Memphis and Wichita State. If they had entered those two at 8-1, even a split would have been a solid result. Now they might need the win over Temple and victories over both Wichita State and Memphis. I do still think SMU is third in terms of tournament chances, but they need to prove quite a bit now.
Probably need to win conference tournament
6. South Florida 2-3 (6-5)
South Florida does have wins over UCF, Wofford, and Cincy. This is not a bad team, but the bottom line is that they've already lost five times in eleven tries. Their third most impressive win is either Stetson or FGCU. Even though none of the losses are terrible, the 6-5 record makes it almost impossible to see this team going on the type of run they would need to have to get to March Madness without having to rely on the conference tournament. The best-case scenario is that USF hits their best form of the season late to give themselves a shot at winning the automatic bid.
7. UCF 1-2 (3-3)
UCF is very hard to figure out, mostly because we only have six games from them. The wins – Florida State (by 12), Auburn, Cincy. The losses – Michigan (by 22), Houston, USF. We've seen some impressive wins here that might suggest a higher level of quality, but we're also looking at a 3-3 team with unimpressive overall stats. The next four games will be massive. A road trip through Tulsa, Temple, and Houston before SMU comes to visit will be a season-defining stretch. If they take three of four, it might be game on.
Definitely need to win conference tournament
8. Tulane 1-2 (6-2)
The good thing for Tulane is that they're 6-2. The bad thing (other than their terrible offense) is that those wins came over Lamar, Grambling State, Lipscomb, Arkansas Pine-Bluff, Southern Miss, and ECU. Their ability to compete against Houston on Saturday will be telling of just how much noise this team might be able to make, but an at-large bid seems almost impossible given that there's just no resume to speak of right now beyond the 6-2 record. Because that's the case, you almost need to go 13-2 the rest of the way with either splits with Houston and Tulsa or a sweep of one or the other to get the necessary quality wins. This is a better conference than most, but it's not one where you can afford to go 9-9 and still make the tournament after doing nothing in non conference. After their opening split with ECU and loss to Memphis, it's not even clear Tulane can get to 9-9.
9. ECU 1-2 (7-2)
ECU is in a very similar boat, so I'll keep this one shorter. They've opened conference play with a split with Tulane and a loss to SMU. They've only beaten Tulane, Radford, UNC Wilmington, Charlotte, North Florida, North Carolina Wesleyan, and James Madison. Like most of the conference, they appear to be defensively focused, with a top 85 defense and an offense that falls outside the top 180. The resume needs to get a lot better, and there's no proof that this team is up to that task.
10. Temple 0-2 (1-2)
Temple is not particularly good. They've lost to Houston and SMU by 26 and 8 after an opening win over NJIT. They could move up a little bit as the season continues, but they haven't come all that close to the tournament-worthy teams so far.
11. Cincinnati 1-3 (3-6)
Cincy is struggling. After a 2-1 start against Lipscomb, Xavier, and Furman that at least inspired some hope in a decent outlook, they lost five in a row to Tennessee, South Florida, Georgia, UCF, and Tulsa. That's not an easy stretch by any means, but you simply can't be going 0-5 there if you want to make the tournament out of the AAC. The win over SMU last night offered some hope in a return to form, and playing good basketball by the time the conference tournament rolls around is likely the only way we see this team playing in the NCAA tournament. .
Prediction: Houston strolls into March, and Tulsa makes it as well. If there's a third team, it will be because SMU, Wichita State, Memphis, or UCF hits their stride at the right time and takes the conference tournament title.