CBB Roundup: Atlantic Sun
5 min read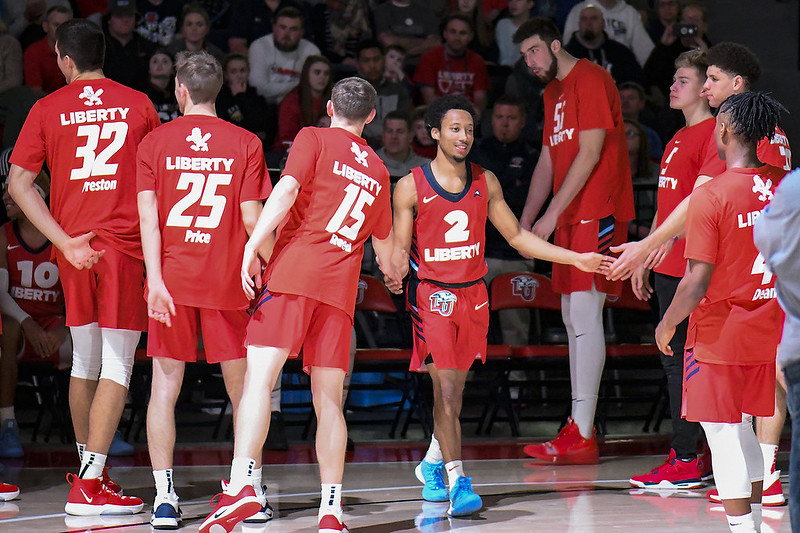 This is going to be a one-bid league, and it's a little hard to read so far with covid issues preventing a number of teams from starting conference play. Liberty is the favorite, but FGCU, Lipscomb, and potentially a few others will feel they have a chance at taking home the auto bid. Let's take a look at where everyone stands.
The favorite
2. Liberty 1-1 (9-4)
Liberty should win the automatic bid. They're the best team in this conference. The Flames have wins over South Carolina and Mississippi State. Three-fourths of their losses have come against major conference opponents (Missouri, TCU, Purdue), and those three losses came by just 9, 4, and 13 points, respectively. They have absolutely rolled bad teams with wins of 22, 47, 30, 53, and 43. This is the kind of team that could steal a game on the first weekend in March. And yet, they lost to Lipscomb the other day, which showed that they don't have anything locked up yet. They responded well with a 66-50 win in the second game of the series, but a single loss in the conference tournament will end their national tournament hopes. Liberty is in the unfortunate position of being the clear best team in their conference and yet also likely falling short of at-large quality. They're just 70th in the NET rankings as I write this, and every single remaining game on their schedule fits into Quad 4 (FGCU at 200th is the next highest Atlantic Sun team). The wins over South Carolina and Mississippi State won't get the job done, which means Liberty is going to have a nerve-wracking few days in early March where they need to win a basketball game against an inferior team with all the pressure on their side.
The potential tourney champs
1. Jacksonville 2-0 conference (8-4 overall)
The good thing for Jacksonville is that they're 8-4. The bad thing is that they still might stink. KenPom has them 303rd in the country, good for eighth in the Atlantic Sun. They lost to Campbell, who just fell to 3-7 against D1 opponents. They lost to Georgia by 33 and a terrible Kansas State by 24. Two of their eight wins have come against D2 teams, with one coming by just nine points. They beat 0-12 South Carolina State by just two points. And yet, Jacksonville is still 8-4. In a conference like this, that means something. They swept Kennesaw State in their first two conference games, and now the key will be maintaining those wins moving forward. They won those first two games by just eleven combined points. The next four are all against 2-8 North Florida, and they should show us what kind of team Jacksonville truly has. Anything less than 3-1 would be a big disappointment.
3. Lipscomb 1-1 (6-6)
Lipscomb won 20+ games from 2017-2019 before the departure of coach Casey Alexander to Belmont prompted a 16-16 season last year. This team wouldn't win 20 games either even on a full schedule, but they will have a shot at the conference tournament. They already beat Liberty during a two-game split, as we've gone over. It's probably a competition between Lipscomb and FGCU for that number two spot, which isn't saying all that much when you consider that this is a team that's 3-6 against D1 competition. That Liberty win holds a lot of weight, and four upcoming games against 3-3 Bellarmine and FGCU will give the Bisons a chance to solidify their spot in this conference's second tier.
NR. Florida Gulf Coast 0-0 (5-2)
FGCU's four-point win over Miami automatically gives them the second most impressive collection of wins in the conference. They also picked up a nice win over Georgia Southern, but we can't ignore the blowout losses to USF and FIU or the fact that this teams is still just 3-2 against D1 competition. The bottom line is that no one is particularly close to Liberty overall, so the key for the other eight teams in this conference is getting as close as possible to give themselves the best chance to win during the conference tournament. As things stand, FGCU is one of the clear teams to watch in that regard. They also happen to play Bellarmine next (FGCU gets them next weekend after Lipscomb gets them this weekend), and then there's the January 22nd and 23rd series with the Bisons. The next three weeks will be very important in determining who stands where behind Liberty.
The likely non-players
4. Kennesaw State 0-2 (3-7)
Kennesaw State is 0-7 against D1 competition. They lost to Creighton by 35 right after losing to UAB by 25. They have kept Samford and Jacksonville (twice) within six, including a two-point loss to Samford, but this just isn't a team that has the capacity to compete at the top of the conference. Liberty will begin to feel some heat if they don't sweep them in their upcoming series.
NR. North Alabama 0-0 (4-2)
All four of North Alabama's wins have come over non D1 teams. They were all big wins, including one of 48 points and another of 67, but they mean very little. The loss to a pretty bad Troy team and the 35-point loss to Indiana are more meaningful. It's possible that North Alabama shows some grit and makes their way to a spot near the top of the conference, but there's no reason to expect that based on what we have in front of us.
NR. Bellarmine 0-0 (3-3)
This is Bellarmine's first year as a D1 team, so a conference championship would be a bit of a surprise. It's also very hard to tell how they'll end up playing in-conference. This is a team with two non D1 wins of 50+ and a win over Howard by 24. They lost to Duke by a somewhat respectable 24 and lost to Notre Dame by 11 and Chattanooga by 9. At the end of the day, that's not a terrible track record. It doesn't tell us a whole lot though. The next few weeks should with two games against both Lipscomb and FGCU coming up. Bellarmine will be thrown right into the fire at the beginning of conference play.
NR. Stetson 0-0 (2-4)
Stetson does have a win over Florida Atlantic. Of course, so do South Alabama, Jacksonville State, and James Madison, so take of that what you will. Stetson also has a loss of 46 points to Florida, and they suffered an opening loss to Emmanuel College, a D2 team that is now 1-2 overall. They have played Florida, Miami, and USF, but most of the teams here have some decent experience against high levels of competition. That shouldn't be a boost for Stetson, and they don't have much else going for them.
NR. North Florida 0-0 (2-8)
This is not a particularly good team, but they have played a decent schedule with NC State, Florida State, FIU, Eastern Kentucky, and ECU. They even beat FIU, which is more than Florida Gulf Coast can say. There's no reason to believe this team can compete with Liberty, but they could improve upon their 2-8 start. Their chance to do that begins with four games against Jacksonville.