CBB Roundup: Big 12
10 min read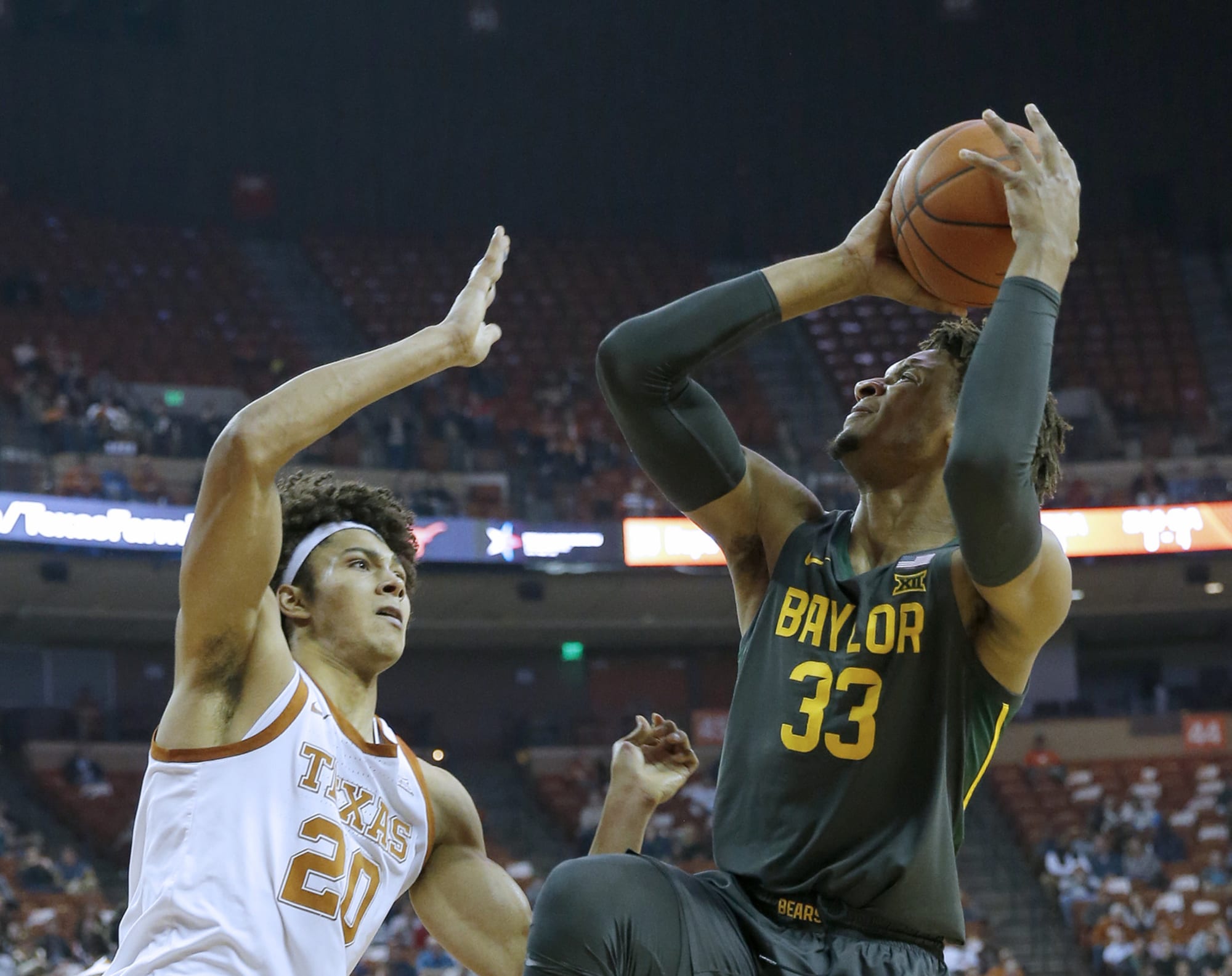 The Big 12 is a decent conference this year with three great teams, five likely tournament teams, and seven potential tournament teams. When only nine are eligible for the tournament, that's not a bad place to be as a conference. Those numbers match what we've seen from the Big 12 in recent years. This has been a ten team league for eight full seasons, and they've sent six or seven teams to each of the last six tournaments. Five went back in 2013, and obviously zero went last season. One other note about the Big 12: the SEC-Big 12 Challenge at the end of the month will be an opportunity for some teams to pick up a significant win on the way to Selection Sunday.
Top tier
1. Baylor 3-0 in conference (10-0 overall)
Baylor entered the season behind only Gonzaga in the AP Poll, and neither team has done anything to challenge those initial rankings so far. This is a great, title-contending team. They beat Illinois by 13. They beat Oklahoma by 15. They beat Washington and Kansas State by 65 combined. They beat Iowa State by 11 on a down shooting night. Their other five wins have all come by at least 29 points. Baylor is making the tournament, and they'll be a favorite to make the Final Four once they get there. With that said, it's fair to want to see this team go through some more tests. Illinois is very good, but the rest of the slate (minus Oklahoma) has been pretty poor. That will change quickly with TCU, WVU, TTU, and Kansas coming up over the next two weeks. If Baylor sweeps those four, Texas will very likely be the last team standing alongside them in the Big 12 race.
2. Texas 3-0 (9-1)
And Texas is quite good. The Longhorns have only lost to Villanova in a two possession game, and they have wins over Davidson, UNC, Oklahoma State, Indiana, and Kansas. KenPom has them seventh overall with a top three defense. The NET rankings have them 9th. BPI has them 13th, and they trail only Gonzaga and Michigan in SOR, a stat that looks at how impressive your record is given how difficult it was to accomplish with the opponents you played. The interesting question for Texas is consistency. They murdered Indiana and Kansas by 22 and 25, only allowing those two to combine for 103 total points. They also beat UNC, Davidson, and Oklahoma State by just 7 points combined. They allowed all three of those teams to break 65 and two to score 74 or more. They give up 72 to Iowa State in a six-point win the other day. To summarize this point, Texas has been very impressive so far, but they also feel far less invincible than a team like Baylor. Their next two come against WVU and Texas Tech. Can they win both convincingly? It would be far from a failure if they don't, but every loss figures to be significant when you're racing Baylor for the conference crown.
3. Kansas 3-1 (9-2)
After last weekend, Kansas does kind of feel like the odd man out in this tier of three, but don't forget the Jayhawks when you're talking about the elite teams in the country just because they were blown out by Texas. This is a team with two top five losses and no other stains on the resume. They rolled past West Virginia and outlasted both Texas Tech and Creighton in one possession wins. They survived Kentucky too, and they responded to the Texas disaster with a 29-point win over a decent TCU team. KenPom, BPI, and the NET rankings all have the Jayhawks in the top 15, and they're all the way up at 7th in SOR. There's no doubt that the Texas loss was a significant blow to both Kansas's general resume and the overall feel around this team because of the way it happened, but there are a lot of opportunities coming to prove the blowout was a one-time thing. WVU, Tennessee, Baylor twice, Texas Tech, a rematch with Texas, and more are still on the schedule. Kansas is a little down but far from out.
Tourney teams
4. West Virginia 2-2 (9-3)
It's pretty difficult to see either West Virginia or Texas Tech missing out on the big dance. Both teams were highly rated coming into the season, and they've done enough despite some missteps to put themselves in good early position. This is a well-rounded Mountaineers team that ranks in the top twenty in offensive and defensive efficiency, according to KenPom. They have three very good wins (Richmond, @Oklahoma State, VCU at a neutral site), and they also picked up decent wins over South Dakota State and Western Kentucky. Georgetown is the other big name in the win column, but that's not a particularly significant win in this current era of Hoya basketball. All three losses (Gonzaga at a neutral site, @Kansas, @Oklahoma) are easily forgivable. One potential issue is that West Virginia has trailed Oklahoma and Oklahoma State by 18 and 10, respectively, at half in their last two games. They came roaring back in both but only managed to split the two. That's a worrying trend, but for now it's just that. With games against Texas and Baylor this week, West Virginia could move up a tier by next weekend. A split would probably do it. Two losses would do little to affect their Selection Sunday prospects, but it could slightly diminish the overall expectations around this team.
5. Texas Tech 2-2 (9-3)
Tech is in a weird spot. They have a fantastic. They're also 9-3. But six of those wins came against Northwestern State, Sam Houston State, Troy, Grambling State, Texas A&M Corpus Christi (not the SEC team), and Incarnate Word. They did crush all of those teams, but those are meaningless wins when it comes to building a tournament resume. It's somewhat worrisome that the Red Raiders are just 3-3 in their other six. A road loss to Houston, a one-point loss to Kansas, and an overtime loss to Oklahoma State aren't going to sink any ships. The bigger problem is just the relative lack of quality wins. Tech beat a top 125 Abilene Christian team by 7, and that's their second best win of the year. The third-best win came over Kansas State, who is thirty-three spots below ACU on KenPom and a whopping 108 spots beneath them in the NET rankings. A two-point road win over Oklahoma is very nice, but it's not ideal to have that as the crown jewel of your resume when you're looking to do more than just make the tournament. We need to see this team to show they can win some big games, and they'll have their chance to prove it with Texas, Baylor, and West Virginia coming up.
One important side note for TTU: five-star freshman Nimari Burnett is leaving the program after playing just six minutes against Kansas State. He had struggled from the field all season and was averaging 17 minutes per game in a crowder rotation despite strong defensive performance. His departure won't crush this team, but it is a hit to their potential. There's no doubt that it hurts.
Teams with good shot at tourney
6. Oklahoma 2-2 (6-3)
Oklahoma is in a good spot. They don't have a bad loss, they took care of business at TCU in their Big 12 opener, and they've gone 1-2 so far against the top five teams in this conference with the big win coming against West Virginia. Let's look at some logistics here. Oklahoma is 6-3 now. They have fifteen games left. What do they need to get from those games? Losses to Iowa State and Kansas State won't be easy to overcome, and wins in those four games (which are spread throughout the next two months) would put the Sooners at 10-3. Let's assume that happens. In an ideal scenario, you also take at least two of three from your remaining games against Oklahoma State and TCU. That brings us to 12-4 with eight games remaining against Alabama, Baylor, Texas Tech, West Virginia, and Kansas and Texas twice each. Eight losses there won't get it done. You probably need to go 3-5 to get to 15-9 with no bad loss and four really good wins along with three against TCU/OK St. That should put OU in the tournament without too much stress. Anything better than that would obviously be great, but that 9-6 finish isn't exactly an easy accomplishment. The Sooners could very well fall short, and that would push them onto the bubble or even below if it's a few games short. They are in a good spot, but there's some tough work left to do.
7. TCU 2-2 (9-3)
TCU is the hinge team in this year's Big 12. We have six teams that should make it past the conference tournament. Will there be a seventh? It's a little too early to tell. TCU does have some nice wins over Tulsa, Liberty, Texas A&M, and Oklahoma State, but as I went over with Oklahoma, that level of quality as your top-level wins isn't going to be enough at the end of the day. If the Horned Frogs don't beat any of the top five Big 12 teams or Missouri, they'd finish just 14-13 (7-11 in conference) even if they swept through Oklahoma, Oklahoma State, Kansas State, and Iowa State. That finish would leave the conference tournament as the only path to the national tournament. They need some wins over those great teams, and their 64-93 home loss to Kansas the other day isn't a promising sign. This is a team with single digit wins over North Dakota State, Prairie View, and Northwestern State. They're alive because of their 9-3 record, but it's hard to see that record looking good by the end of the season if they don't start playing better.
Ineligible. Maybe
8. Oklahoma State 1-3 (7-3)
Oklahoma State's resume is irrelevant to them if they can't play in the tournament. I'll have a little more detail on that in a bit. It might end up being relevant to the teams they've beaten, however, and that includes Texas Tech. They don't want this Cowboys season to fall off the rails because it won't make that loss look very good. Luckily, there's no indication that it will. OK State has three Big 12 losses by only seven combined points, and they came against TCU, Texas, and West Virginia. These guys can compete with the best of them. They let TCU score nine straight point at the end of a one-point loss and let WVU come back from 19 down too, which only drives home the point that this is a very good team at their best (and a very mistake-prone team at their worst). Cade Cunningham is the real deal. That matters too, as an Oklahoma State win here or there could disrupt the conference title race or prevent Oklahoma or TCU from picking up a much-needed quality win.
If the Cowboys do manage to avoid the tourney ban this season and get a chance at March Madness, the same rules that apply to OU and TCU will apply here, which would make the blown games against TCU and West Virginia huge missed opportunities early on. This could happen, as OK St would currently qualify for the field because the appeal process is ongoing. Until there is a decision, they won't actually be banned from postseason play. Will there be a decision before March. I have no idea. Obviously, the longer we go without one, the more likely it becomes that it won't happen until after the season.
Not good
9. Kansas State 1-3 (5-7)
Kansas State is not a good basketball team. They lost by 10 to a UNLV team that is now 1-6 on the season. They lost by 13 to D2 Fort Hays State, who didn't even have their head coach on the sidelines for the game. Their best win is Iowa State (see below), and they beat UMKC, UW Milwaukee, and Omaha by just seven points total. They lost to Baylor by 31, TCU by 7, and Texas Tech by 11. This is a team in the spoiler-only zone, and I've seen no signs of an ability to beat good teams and actually spoil something.
10. Iowa State 0-4 (2-6)
Iowa State is not great, which was to be expected after they went 12-20 and then lost a lottery pick to the NBA last year. We're looking at a team that doesn't even have a top 300 win right now, which is ridiculous for a member of the Big 12. For reference's sake, there are only 342 D1 teams actively playing basketball this season. Now, I do want to be fair to the Cyclones. They've lost to Baylor, Texas, Iowa, West Virginia, South Dakota State, and Kansas State, so they're not losing to a bunch of bad teams. The last two games there are the only two that anyone would give them a chance in. They've also performed relatively respectively, holding both WVU and Texas within two possessions and only losing to Baylor by 11 in a game that was far closer well into the second half. None of that means that this is a good or even average team, but they still might be able to pull off a big upset before the season ends.
Prediction: Oklahoma makes it six for the Big 12, but TCU falls short barring a surprise run through the conference tournament. Oklahoma State has a better shot at it if they're available for selection in March, but I just don't know if that's going to happen. We'll see.