CBB Roundup: Big East
9 min read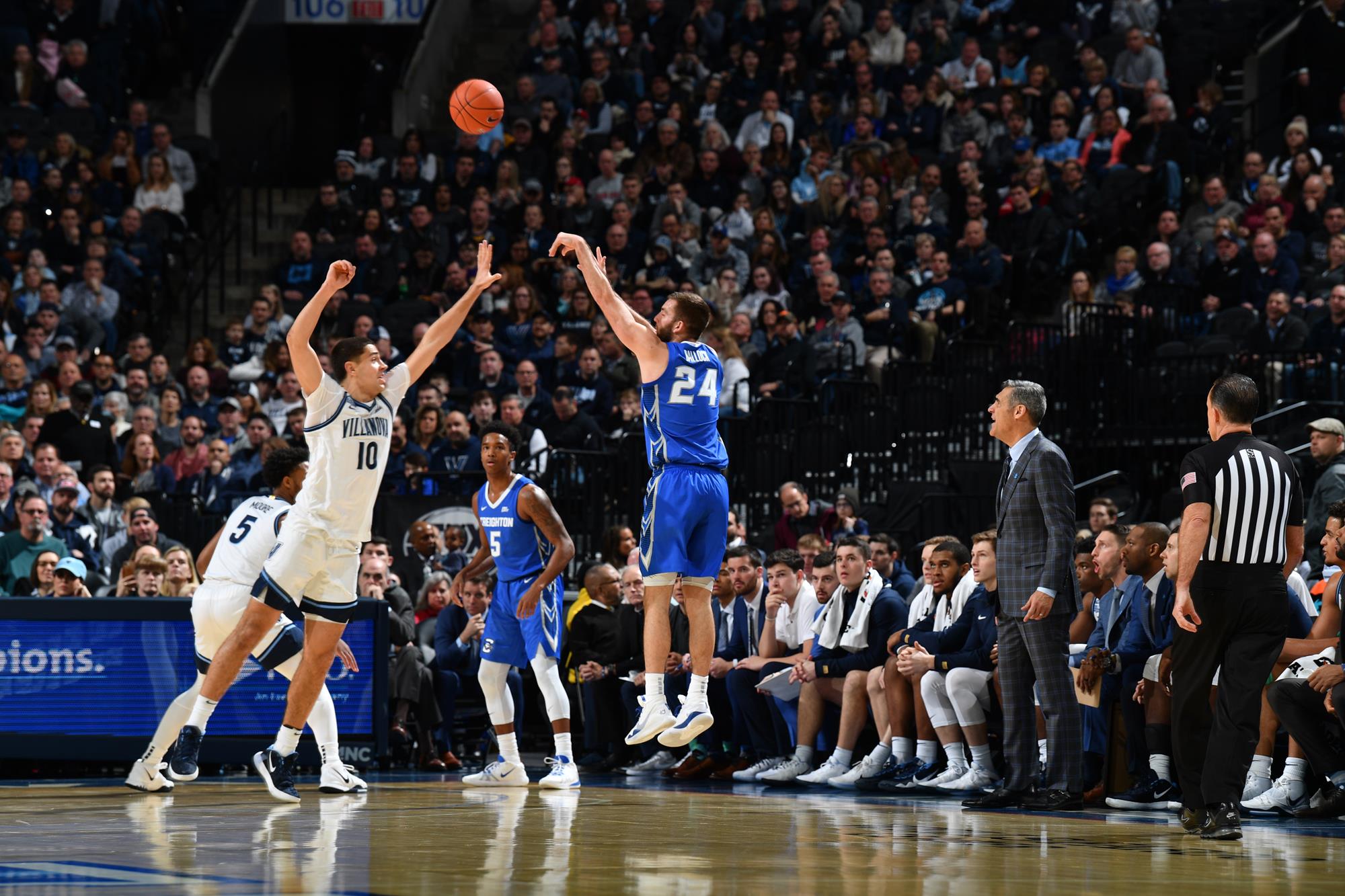 The Big East has eleven teams this season after the addition of UConn. We've seen anywhere from four to seven teams reach the tourney since the old Big East split into the new, and that range shouldn't be at risk this season. There are two locks, one good but still relatively unproven team, and four bubble team here. That should produce at least four tournament bids. Let's take a look at where everyone stacks up.
The locks
1. Creighton 5-1 in conference (9-2 overall)
Creighton is narrowly ahead of Nova by virtue of games played right now, and this should a very entertaining title race between two really good teams. KenPom has Creighton ranked 11th in the country with a top ten offense. They're 6th in BPI and 12th in SOR. The NET rankings don't love them quite as much – they're 23rd there – but you must be in a pretty good position if 23rd is the clear floor across a spectrum of rankings. The Bluejays have wins over Nebraska, Xavier, St Johns, Providence, UConn, and Seton Hall, and that last one came by 36 against one of the better teams in the conference. Their only losses are Kansas and Marquette, and both games were decided by two possessions or less. That Marquette loss looks more confusing every day, but Wisconsin is in the same boat. It shouldn't matter all that much by the end of the season. As far as the conference title goes, Creighton and Villanova play twice but not until February 13th. The goal will be getting to that game within a game or two of Villanova, as that should leave control of the title race in Creighton's hands. It's likely that Nova trips up at least once or twice, so there's some room for error here. Obviously, you'd like to be even heading into those last few weeks since beating a top ten team twice is no easy task, but you'll at least take the chance to win the conference with a sweep.
2. Villanova 3-0 (8-1)
Villanova has one of the best wins in the country (@Texas), and they've had no issues with the rest of the schedule outside of the loss to a good Virginia Tech team and a rough first half against Georgetown. They deserve their top three ranking in the AP poll, and they sit in the top eight across KenPom, NET, SOR, and BPI, where they rank second. This is a great team with an offense that is about as good as it gets and a good defense. It's still going to be interesting to see how they react when the Big East schedule picks up a little bit. They did run through Georgetown, Butler, and Marquette, but those teams are a combined 5-12 in conference. UConn, Providence, Xavier, and Seton Hall (twice) are all coming up over the next six games. Those are the four best teams in the Big East outside of this top two, and Nova's performance there will show us whether or not they're capable of truly dominating the conference this year.
The maybes
3. Seton Hall 5-2 (8-5)
Seton Hall has, somewhat quietly, turned in a pretty good season in the first year of the post Myles Powell era. Their offense has been very good. Wins over Xavier, Marquette, and Penn State highlight a decent resume with no really bad losses (Oregon, Rhode Island, Louisville, Providence, Creighton), though there is a distinction between losing to Oregon, Louisville, or Creighton and losing to Providence at home or Rhode Island. The important thing is that none of those losses will sink the ship, and that puts Seton Hall in a good spot thirteen games in. All they need to do to give themselves a decent shot is maintain this level of winning (easier said than done). Taking advantage of one of three upcoming opportunities against Creighton and Villanova would be big, but their 36-point loss to Creighton two days ago doesn't provide too much hope there.
4. UConn 2-1 (5-1)
In just six games, UConn has beaten USC and Marquette. Their only loss came in overtime to Creighton. Looking solely at the games that have been played, this looks like an easy tournament team. They range from 22nd-28th in KenPom, NET, BPI, and SOR rankings. UConn is good. That doesn't change the fact that it's hard to make any sweeping conclusions about a team that's played only six games. They're on the way there, but it's early. They (especially) just need to keep winning since the existing track record is half the size of most. That starts with a road trip through Butler and DePaul before Villanova comes to town.
5. Providence 3-2 (7-4)
Providence is your typical bubble team. They're top 75 on both sides of the court via KenPom's efficiency rankings, but they're not higher than 50th on either. They have two notable non conference win over Davidson and TCU. They picked up a nice win over Seton Hall. They also have a bad loss against Butler and have missed opportunities to pick up a premier win against Indiana, Alabama, and Creighton, losing that third game by just two points after much bigger losses in the first two. Everything is ahead of this team. We're not in win-out mode or anything close. With that said, Providence needs to take care of the business in front of them, and that starts with a huge road trip to Xavier and Marquette over the next few days
6. Xavier 2-2 (9-2)
Xavier is 9-2 after sweeping their non-conference slate with notable wins over Oklahoma, Bradley, Toledo, Eastern Kentucky, and Cincinnati. Three of those wins came by just one possession, but they were wins all the same. In conference play, they've downed Marquette and St Johns around losses to Seton Hall and Creighton. That rate of Big East success might do the trick. A 17-10 team with an even 10-10 conference record and a number of decent wins would be in a really good spot. Beating UConn, Creighton, or Nova in the five attempts they will have ahead of them would make things even better. Xavier has put themselves in prime position to go and earn an at-large bid.
8. Marquette 2-4 (6-6)
Marquette has wins over Wisconsin and Creighton, and that's always going to keep them within reach of an at-large bid. Those are elite wins. The issue is that they're just 1-6 against other major conference teams with a win against Georgetown and losses to Oklahoma State, UCLA, Seton Hall, Xavier, Villanova, and UConn. It's not that those losses are bad, it's just that they suggest that this is a Marquette team that might even struggle to finish at .500. It's not easy to see a 13-13 team that goes 9-11 in conference making the tournament, regardless of who they beat. It's pretty simple for Marquette. Keep losing like this, and it's over. Start winning and end up a few games over .500, and those two wins might just carry you across the finish line. Finishing 9-5 to stand at 15-11 and 11-9 in conference would make this team hard to pass up on Selection Sunday.
St John's
9. Mississippi State
Nope, it's
9. St John's 1-4 (6-5)
St John's isn't going to make the tournament, but I'll give them their own little section because of the 6-5 overall record that separates them from the teams below. Boston College, Stony Brook, and La Salle don't make for a killer trio of non-conference wins, but that's better than anything Butler, Georgetown, or DePaul put together. Unfortunately, that hasn't helped St John's at all in conference play as they've started off 1-4. Now, they are 1-1 against the bottom half of the conference after a split with Georgetown. Being 0-3 against Xavier, Seton Hall, and Creighton isn't the end of the world. It is likely the end of their at-large hopes though. Another loss to Creighton tomorrow will put them at 6-6 and 1-5 in conference. You just don't recover from that when you don't have any Marquette-level wins, especially when making the tournament would have been a great accomplishment from the start. There's room to win more than 20% of their Big East games as the season continues, but St John's simply won't win enough to even be on the bubble.
The noes
7. Butler 2-3 (3-5)
Butler has been one of the more disappointing teams in the country so far, as a twenty day covid break has combined with a season that didn't look right from the start to leave them well outside of tournament contention. They won their first game against Western Michigan by just four after being favored by nearly twenty, and they didn't play again until three weeks later, when they lost to Villanova by nineteen. Losses to Indiana and Southern Illinois followed, and Butler has won two of their last four with the losses coming against Providence and Seton Hall and the wins coming against Providence and Georgetown. They're showing some signs of life that could lead to a more respectable finish, but starting to play like a borderline tournament team eight games and a loss to Southern Illinois in won't get the job done. It's too late.
10. Georgetown 1-5 (3-7)
Georgetown is not a very good basketball team. They've only beaten St Johns (in overtime), Copppin State, and UMBC this season. That's a rough collection of wins, and the loss to Navy doesn't look very pretty either. On the bright side, they're not getting blown out by anyone. All of their losses, which includes games against West Virginia, Seton Hall, and Villanova, have come by 13 or less points. So that's good.
11. DePaul 0-2 (1-2)
DePaul hasn't been good in a very long time, and it's been covid's turn to smack them around so far this season. It's brutal to have only played three games, and they've now seen multiple Big East games canceled because of other teams' issues after their own problems wiped their non-conference slate almost entirely clean. The Blue Demons beat Western Illinois in their opener. They also hung with Providence before eventually falling in double overtime. That loss was followed with a blowout loss to UConn. The good thing for DePaul is that they've shown clear signs of progress under Dave Leitao, who is back with the program after he left for the Virginia job after the 2005 season. They moved to the Big East that summer, and they haven't put a good team on the court since. Leitao has them moving in the right direction again though. They won just 29 games over his first three seasons back with the team, and they won 35 combined over the last two. They even started 13-1 last year before a collapse in conference play. DePaul is on the rise again, and it's a shame that this year has seen so many interruptions. It's hard to see this team making a tourney run given the absence of non-conference wins and the result of their first two conference games, but they're at least worth watching to see if they can at least produce a respectable product. That would make for a decent year, and it would keep the forward momentum going.
Prediction: Creighton and Villanova are locks, and UConn gets the job done as well. There are four bubble teams here in Seton Hall, Xavier, Marquette, and Providence. As of today, all four rank between 50th and 59th on KenPom, though Seton Hall and Xavier sit in the NET's 40s while Providence and Marquette sit back in the 70s. These four are all capable of making the tourney, but it's highly unlikely (though theoretically possible) that they all actually do. In order of likelihood, I'd go Xavier, Seton Hall, Providence, Marquette right now.