Troy Weaver, the Pistons' new GM, clearly has the guts, but will he take this formerly respected franchise to glory? After the way he went about cleaning house during this free agency, I'm not entirely convinced. Sure, he put a clear emphasis on a rebuild, something that the Pistons have been scared to commit to in the past, but some of the other moves he has made are very questionable. Adding Jerami Grant at $20 million a year while creating a logjam with the forwards may be the biggest question mark… or was it adding Mason Plumlee at $8 million a year when he could have brought back future star Christian Wood back for only $5 million more. And I don't want to hear backlash that Wood didn't want to come back: here's the proof (that has now been deleted).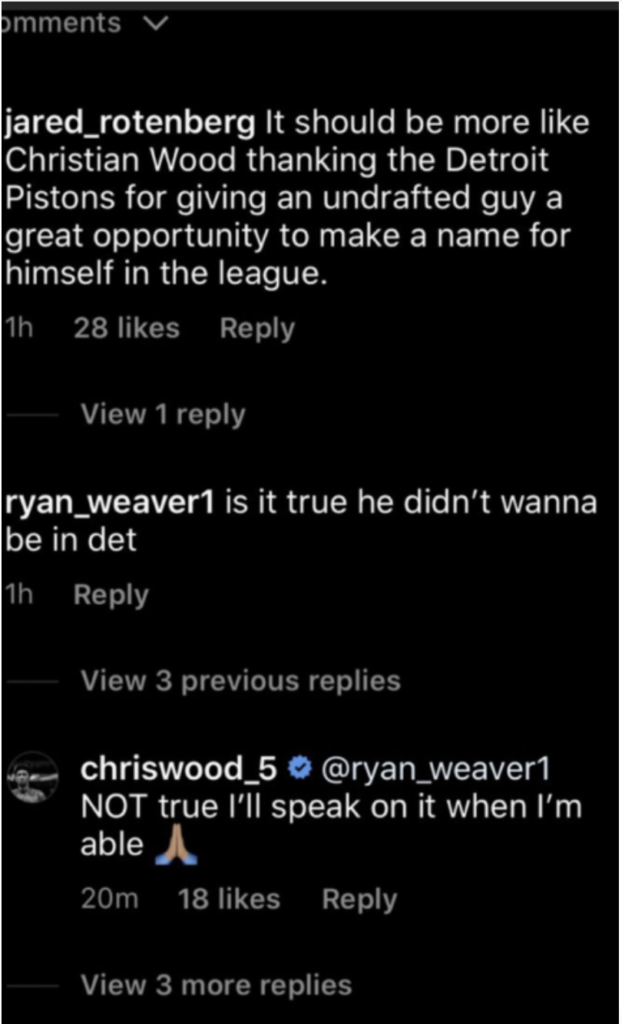 No matter how you interpret Weaver's moves this offseason, the past is the past and none of us can change it. What does matter is the future, so I'll be sharing with you my potential ideas on what the next few years might look like for the Pistons through 2K. I think with a 3 year rebuild, which is basically 2 more years of tanking until Blake's contract is gone, the Pistons can possibly surge back to the playoffs in the Eastern Conference. Even better, I truly believe that this future team can match the identity of historic Piston teams that played team basketball with no clear star. Bringing in Killian Hayes, who could be the main distributor on this team, and Saddiq Bey, who flashes high upside 3 and D potential is a good start. Further, one could say Isiaiah Stewart's high energy demeanor portrays a bench player version of Ben Wallace. With the excitement of these three players as building blocks for the future, along with Sekou Doumbouya, let's get started.
Year 1: The 2021 Season
After a 2020 season where the Pistons had the 5th worst record in the NBA, an even worse roster suggests the team is in full tank mode for 2021. It's still early, but the goal in mind (in my opinion) is to lose enough to be able to target a top SG to create the backcourt of the future along with Hayes. Potential targets that would be great for the roster are Cade Cunningham, BJ Boston, Jalen Green, or maybe even Josh Christopher. Evan Mobley could also be a possibility, but with 3 serviceable centers on the roster already, it seems unlikely that the Pistons go after a center in the next draft.
With the season already underway, I will not be making any roster changes until the trade deadline besides sending last year's second rounder, Deividas Sirvydis, to the G league for development purposes. That being said, here is the rotation I will be running with to start the season:
Starters
PG: Killian Hayes – 24 minutes
SG: Svi Mykhailiuk – 24 minutes
SF: Jerami Grant – 30 minutes
PF: Blake Griffin – 30 minutes
C: Mason Plumlee – 30 minutes
Bench
Derrick Rose (PG) – 24 minutes
Josh Jackson (SF) – 24 minutes
Jahlil Okafor (C) – 18 minutes
Sekou Doumbaya (PF) – 18 minutes
Saddiq Bey (SF) – 18 minutes
Note: Delon Wright is not getting any minutes right now as he takes minutes away from young players Svi and Josh Jackson at the 2. Delon will take Derrick Rose's minutes as backup point guard when Rose gets traded for future assets at the deadline. Also, Mr. Isaiah Stewart is not getting any minutes yet, but will probably overtake Jahlil Okafor as backup center next year.
2021 Season Trade Deadline
As I just hinted at, D-Rose was involved in a trade at the deadline. No teams seemed to be willing to give up young player assets, but as can be seen, OKC was willing to give up one of the plethora of first round picks that they own. Obtaining a 2022 1st round pick, top 10 protected, via the Suns fits in our timeline of adding young talent. We thank Mr. Rose for his services and mentoring of Killian Hayes. I would not be surprised if something like this happens in real life with Rose being flipped for draft capital at the deadline.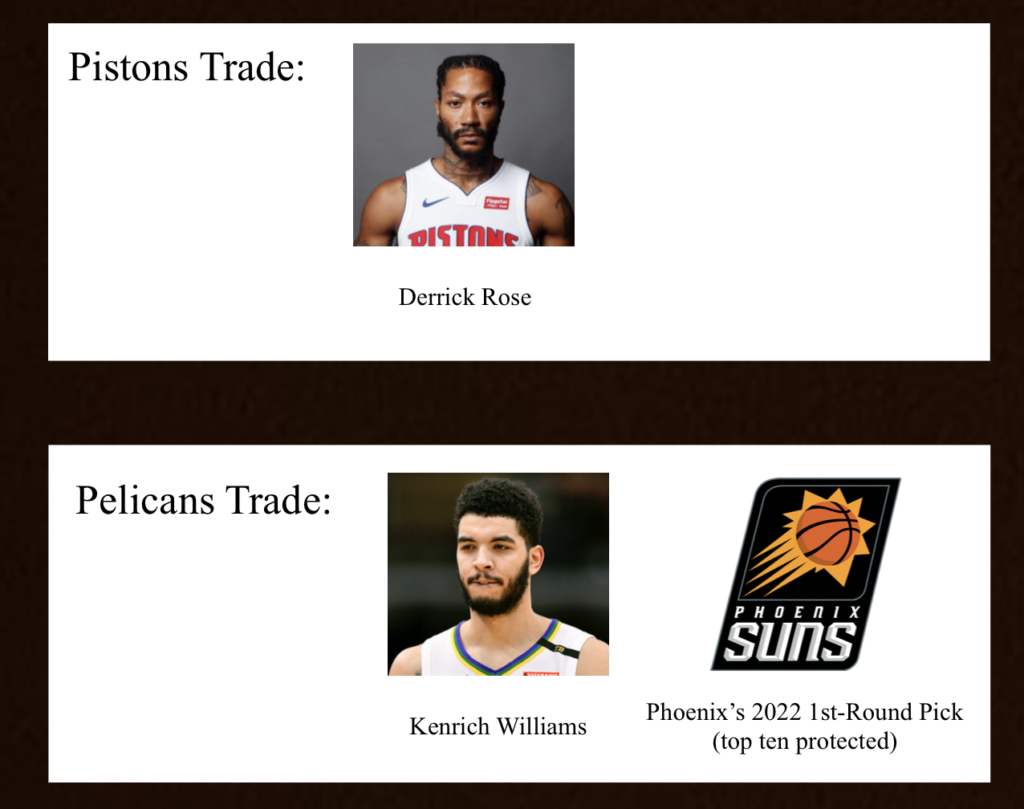 Rodney McGruder was also flipped to the Wizards at the deadline for a trade exception and Raul Neto on a minimum expiring deal. McGruder will not get minutes on this team, and was almost waived twice already by Troy Weaver. I would not be surprised if he gets traded or cut later on as well in real life.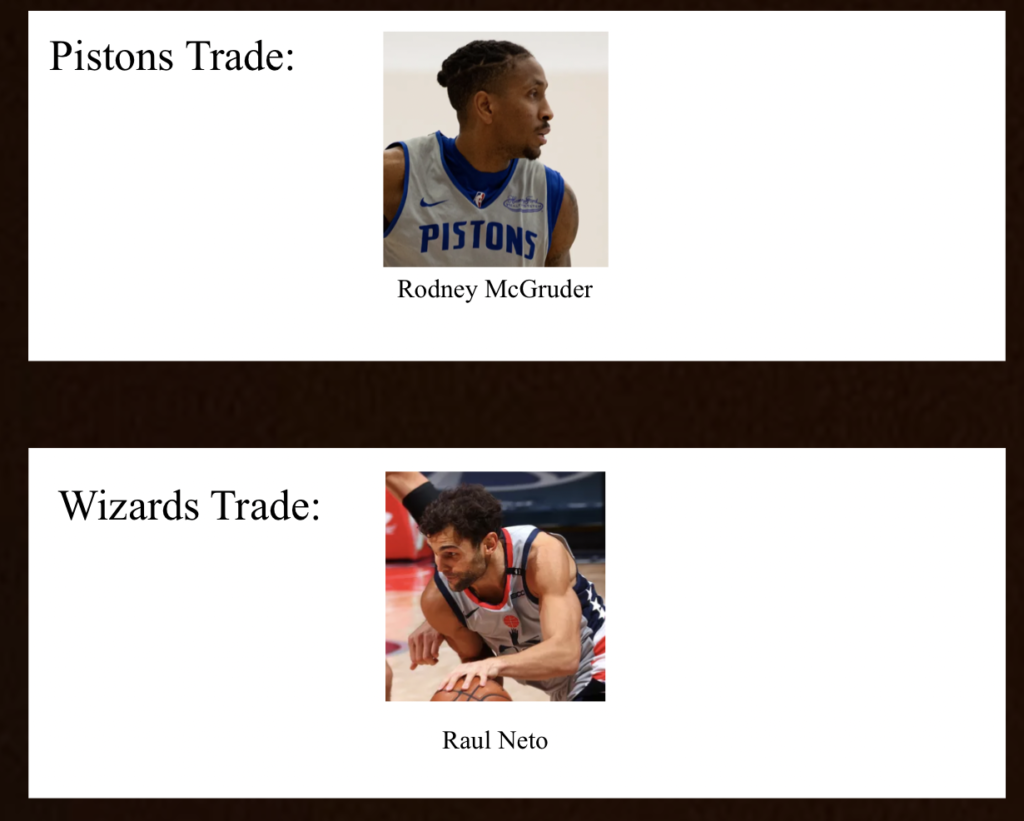 2021 Draft and Free Agency
After the trade deadline, the team performed even worse, winning only 3 more games in the second half of the season to end up with a 17-65 record overall. This putrid record left them as the second-worst performers in the league, only finishing above the OKC Thunder. Unfortunately, luck was not on our side as the draft pick fell to #6 after the lottery. Fun fact: the Pistons still have never moved up in the draft lottery. Anyways, the young guys showed some potential in year one. Specifically, Killian Hayes looked like a solid pick as he flashed playmaking production throughout the season, averaging 12.9 points and 5.4 assists per game. He was decently efficient too, shooting ~44% from the field and ~34% from deep.
To find a complimentary piece to fit next to Killian in the backcourt, the Pistons selected SG B.J. Boston (Brandon Boston Jr.) from Kentucky with Cade Cunningham and Josh Christopher already off the board. Jalen Green was also considered, but with no G-League season going on right now, there was too much uncertainty to draft Mr. Green at this time. Boston, the former Sierra Canyon High School standout, is not shooting the ball at a high percentage right now in college, but he is still averaging 14 points per game while getting to the free throw line frequently. He may be the shot creator that this team is currently missing to iso and get a bucket when needed. After doing some quick research, multiple websites are comparing him to a Brandon Ingram type of player, with a lanky 6'7" and 185 pound body. Detroit fans should be ecstatic if they can get their own version of BI in the 2021 draft.
In the second round, we were able to scoop up Center Charles Bassey from Western Kentucky with the 51st pick. I'm surprised he was still on the board as he is currently averaging a double double while shooting above 60% from the field in college. He will fill in as the 3rd string center since Jahlil Okafor denied his player option for the 2022 season. The high energy Isaiah Stewart will now fill in as backup center.

With the rest of free agency, I kept the young core together, re-signing Svi on a 3 year $19 million deal. Getting a Kyle Korver type of shooter role off the bench at around $6 million per year sounds like solid value to me. Frank Jackson, who is currently on a two-way deal with the Pistons, was also re-signed to be an insurance third string PG for the team going forward.
Possibly most importantly for this team, DWANE CASEY WAS FIRED as he should be in real life. Sometimes, his offensive sets look worse than my high school basketball team's playbook. It's only been a couple of games, but he plays the veterans over the rookies when everyone wants the team to tank and let the youngins get comfortable in the NBA. I think Dwane can be a good assistant coach in real life, but I've never been a fan of his decision making when at the helm of a team. His replacement is the current Rockets head coach, Stephen Silas, who is a younger option that could potentially be an elite head coach in the NBA. We will see how Silas coaches in real life and how he does with the Pistons here.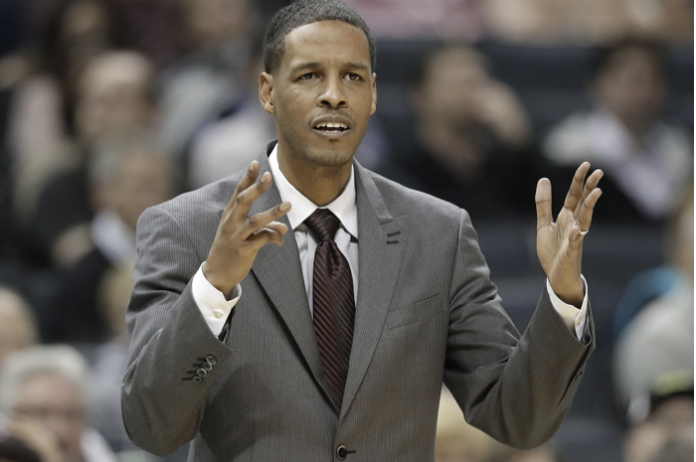 Year 2: The 2022 Season
Similarly to Killian Hayes, B.J. Boston will be thrown into the starting lineup right away as a rookie. He and the rest of the young core will get pretty significant minutes in year two. The objective for this season is to focus on player development, but still tank pretty hard for a power forward in the draft even if we improve our record slightly. This rookie would pair with Sekou to replace Blake Griffin's production when his huge contract expires after this year. Knowing that, here's the lineup to start the season:
Starters
PG: Killian Hayes – 30 minutes
SG: Brandon Boston – 32 minutes
SF: Jerami Grant – 24 minutes
PF: Blake Griffin – 28 minutes
C: Mason Plumlee – 24 minutes
Bench
Isaiah Stewart (C) – 24 minutes
Saddiq Bey (SF) – 24 minutes
Sekou Doumbaya (PF) – 20 minutes
Delon Wright (SG) – 18 minutes
Svi Mykhailiuk – 16 minutes
2022 Season Trade Deadline
By the time trade season rolled around in March, we were hitting the mark on many of our main objectives for the season. The team already had 15 wins (after 17 total in 2021) and the young core's stats were improving steadily. B.J. Boston was a pleasant surprise out the gate, leading our team in scoring at around 18 points per game. So, to improve the young team further, I looked to flip the expiring contract of Delon Wright for more young assets. Blake Griffin trades were also explored, but we would either have to take on long term contracts or attach young pieces to move him. In the end, this is a relativity realistic trade that I went with.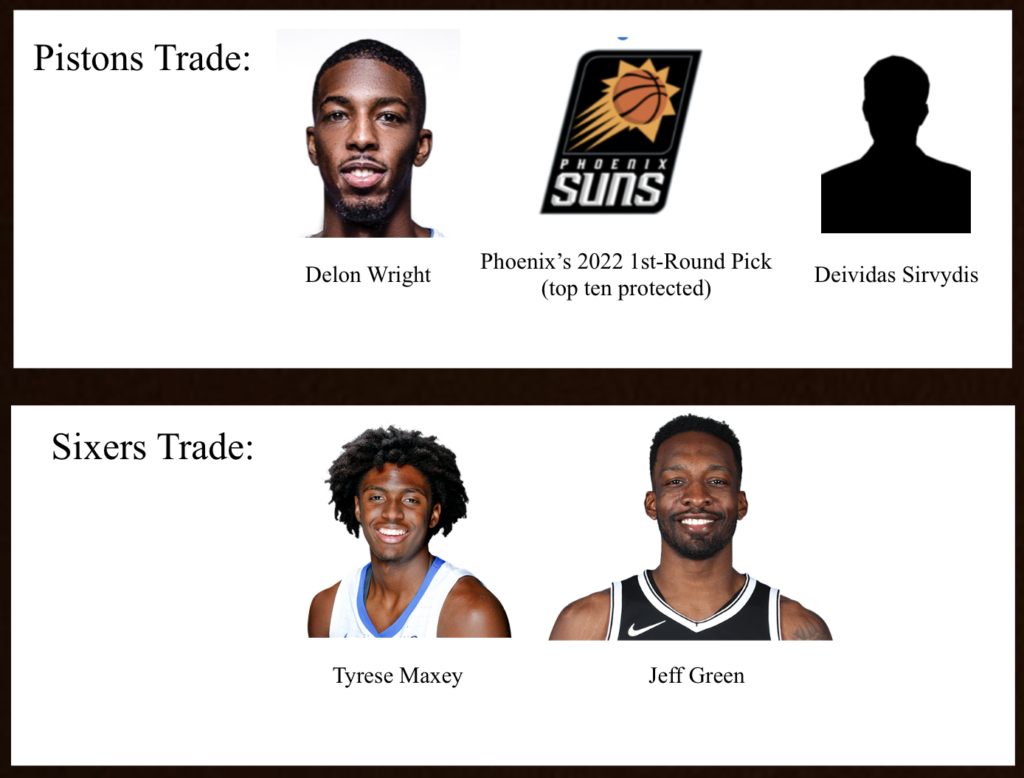 Adding Tyrese Maxey, who surprisingly slid to the 21st overall pick in the 2020 draft, will lock up the backup point guard position behind Hayes for years to come. We got rid of Wright's expiring contract and flipped the 1st round pick we got from the Rose trade to the 76ers. The Suns were the 9 seed in the West at this time, so this draft pick will probably end up somewhere in the middle of the draft. I'll take the more promising two-way point guard in Maxey rather than taking my chances in the 2022 draft. The plan of action now is to finish out the season by tanking for a power forward, and then going all in on a young center in free agency with the money that we were previously paying Griffin. Also, if Chet Holgrem is available in the draft, he could be the center we need instead of overpaying in free agency. Additionally, a different strategy is shifting Jerami Grant to power forward and then targeting a SF in the draft. Let's see what ended up happening.
2022 Offseason and Draft
At the end of the season, the Pistons finished with a 24-58 record, an improvement of 7 wins from the year prior. This was the this worst record in the NBA. Although not great in the win column, the young core improved, and B.J. Boston was the runner-up for rookie of the year, averaging a solid 19 points per game. Luck was not on our side in the lottery as we ended up with the 6th overall pick in the draft… again. Still, with a ton of money to spend in free agency, and a top draft pick, this team could achieve our goal of sneaking into the playoffs next year.
In the draft, with top prospect Chet Holgrem off the board, the Detroit Pistons selected PF/SF Paolo Banchero with the 6th overall pick. At 6'9" and 225 pounds, he brings excellent length, size, and versatility to our roster to split minutes with Sekou at the 4. In real life, he is a 5-star recruit and consensus top-three player in his class. He has already committed to Duke. Coach K is excited about his game since he can do a little bit of everything and is a positionless player. The Pistons may have hit the mark in the draft in 3 consecutive years.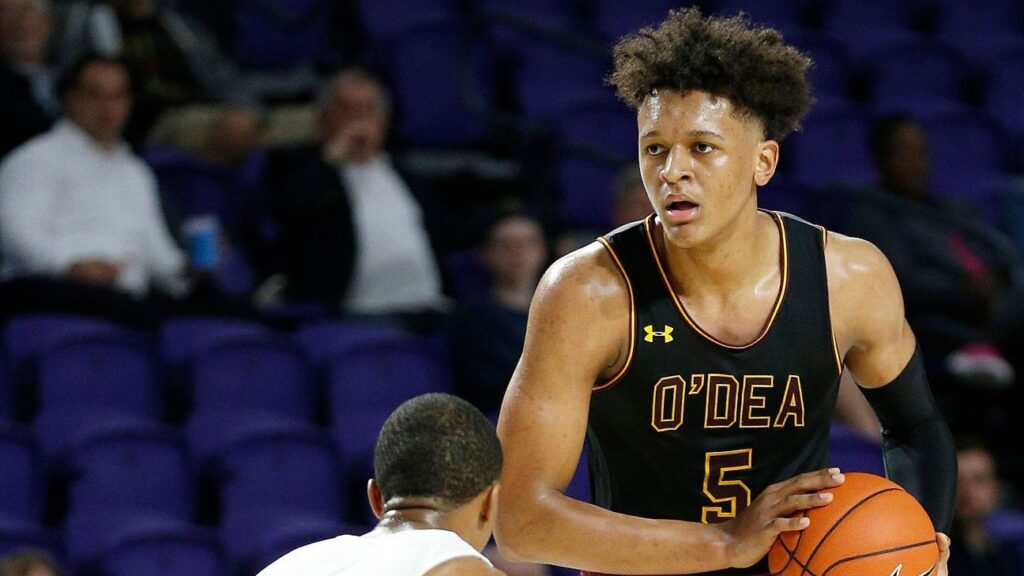 In free agency, Troy Weaver GOT BUSY. First, in a salary dump, Jeff Green's expiring deal was traded to Chicago for two second round picks (2024 and 2025). These picks will become important shortly.
Then, as promised, Detroit went after some star centers to fill out the roster in free agency. Our top options were Deandre Ayton, Mitchell Robinson, Wendell Carter Jr., Jaren Jackson Jr., and Marvin Bagley III. After throwing the max at Ayton and Jackson, both of their current teams matched the contracts. Wendell Carter was offered ~$25 million a year and was also matched. Thankfully, Mitchell Robinson was an unrestricted free agent and the Pistons were able to get him on a 3 year, $75 million deal. However, this contract was just used in a sign and trade to acquire a more versatile big, Marvin Bagley, on a 4 year, $123 million deal from the Kings. Bagley's dad recently wanted him to be traded in real life, so a Bagley trade could come up sooner than later.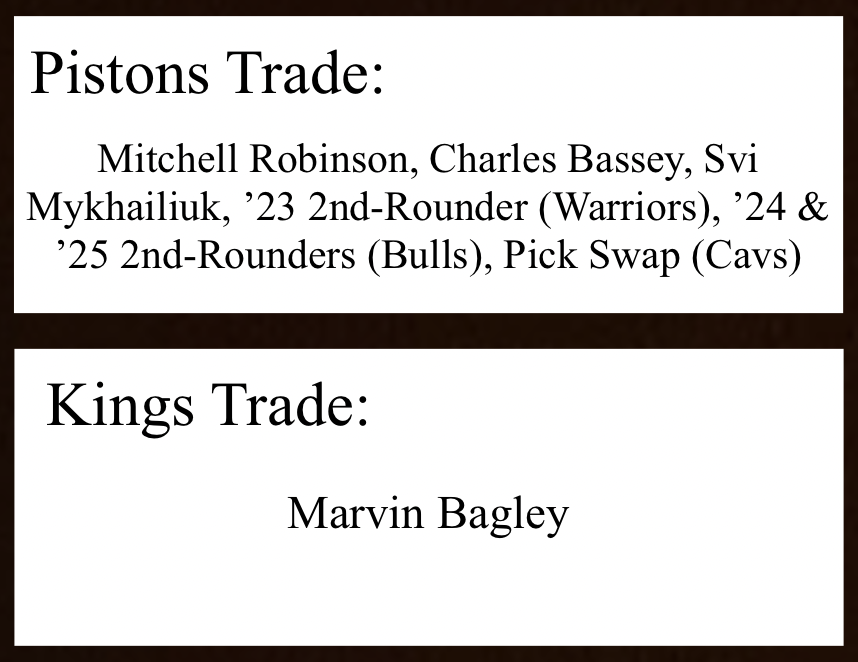 As can be seen, we had to give up Robinson, Svi, Bassey, and three second round picks to complete the deal. Two of those picks came from the Jeff Green trade, so we thank Chicago for that trade a lot. Losing Svi's shooting hurts, but thankfully, we still have some money in free agency to sign a backup shooting guard to fill his spot. We signed Gary Harris, a Michigan State alum, on a 2 year, $15 million deal to back up Boston at the two and take Svi's place.
I love this signing as he can shoot the three and be a wing stopper off the bench with his tenacious defense. He is likely an upgrade over Svi because of the defense that Mykhailiuk lacks. The roster was filled out with veteran minimum contracts. This is what the depth chart looks like heading into year three, the 2023 season:
PG: Killian Hayes, Tyrese Maxey
SG: B.J Boston, Gary Harris
SF: Jerami Grant, Saddiq Bey
PF: Sekou Doumbouya, Paolo Banchero
C: Marvin Bagley, Isaiah Stewart, Mason Plumlee
If Weaver is able to produce a roster that is this young and talented by 2023, I would be extremely happy with his performance. The next goal for the 2023 season is to monitor how well this team performs and hope to make it into the playoffs. The Pistons could explore trades with Grant and Plumlee (both on expiring deals) throughout the season to find a star SF to complete the roster. Let's hop right into my final year as GM.
2023 Season
Right from the get go, this team looked better than previous years, starting out the season 9-5. This proved not to be a fluke as the team continued to a 19-15 record, good enough to be the 7 seed in the East. Then, they went on a 10-game losing streak and everything was lost. There would be no comeback for the Pistons, and they finished off the year with a 31-51 record, which again was a seven win improvement from the season prior. Nothing crazy happened at the trade deadline besides flipping Plumlee's expiring deal for Nemanja Bjelica's cheaper expiring deal and a second round pick. With Bagley and Stewart manning the middle, Plumlee was not even in the rotation anymore. I explored Jerami Grant trades, but teams did not seem to find him as attractive as they might in real life.
I know most of you were expecting a playoff berth by year three, but this in fact is the Detroit Pistons. The future is not too dim, however. Banchero made the All Rookie 2nd team, averaging 11.7 points and 5 rebounds per game. He came off the bench behind Sekou, but if he really put up those numbers as a rookie, he might have become a starter for this young team. Additionally, Boston still scored a lot, averaging 18 points per game in year 2. The Marvin Bagley signing was solid, as he put up 16 points and 11 rebounds per game in his first year in Detroit. Finally, Hayes took tremendous strides in his third NBA season, averaging 17.5 points and 8.5 assists per game, which is borderline All-Star potential. Plus, the 31-51 record was the sixth worst in the league, basically guaranteeing another top 10 draft talent. With a ton of young assets involved in this rebuilding process, I'm confident that in real life, the Pistons may be a solid playoff team in around 5 years. In reality, the 2024 offseason might be scary for the team as the Pistons will likely have many first round picks to re-sign (Bey, Hayes, Stewart). We will see what Troy Weaver does, and I wish him much luck.
How do you think I did during this rebuild? Were the moves I made realistic? Do you like the future draft picks the Pistons added? Comment below for more content.