End of Season Power Rankings: 25-21
10 min read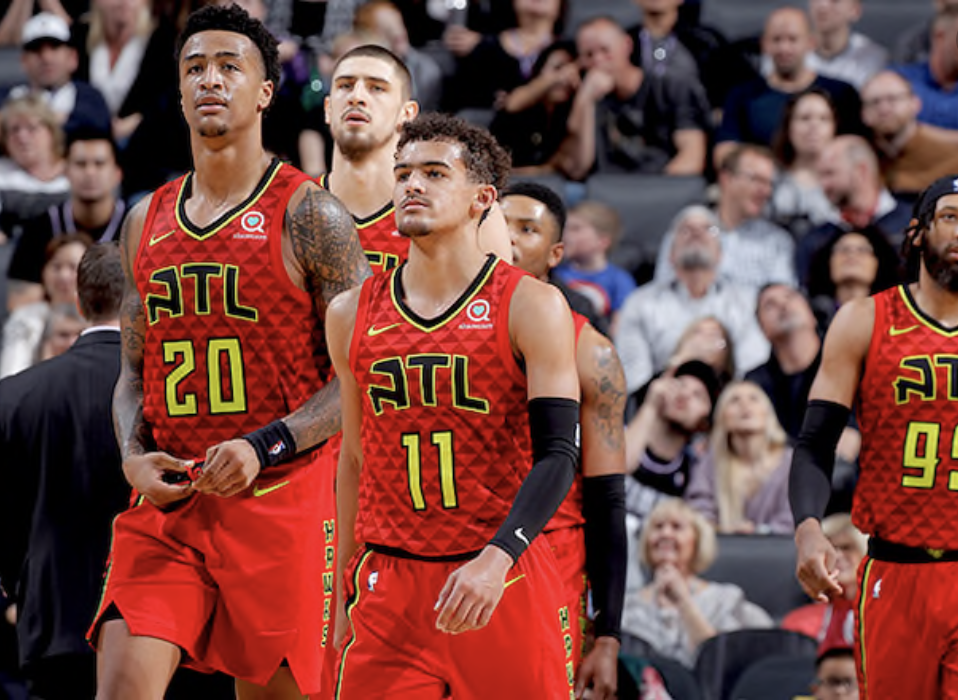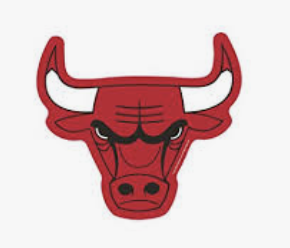 Pre-Bubble Ranking: 24
Returning Players (in order of money owed): Zach LaVine, Thaddeus Young, Tomas Satoransky, Cristiano Felicio, Coby White, Lauri Markkanen, Wendell Carter, Ryan Arcidiacono, Chandler Hutchison, Luke Kornet, Daniel Gafford
Player Option: Otto Porter
Free Agents: Kris Dunn, Denzel Valentine, Shaquille Harrison
Last year's two-way players: Max Strus, Adam Mokoka
Draft Picks: Two (4, 44)
The Bulls were never going to contend for anything beyond a low playoff spot last year, but it was a bit of a disappointment when they never even approached playoff contention. This is a solid team at its best, and Chicago made some good moves last summer to set up a potential run towards the bottom of the playoff bracket. Then a mix of injuries, stagnation, and poor play left them on the outside looking in once again. It wasn't the first time that those issues have wreaked havoc on a Bulls team, and it led to some welcome organizational changes. New head coach Billy Donovan will bring some much needed stability, and he has a better chance at developing the younger players on this roster and getting consistent play out of everyone than his predecessor. Artūras Karnišovas and Marc Eversley will rejuvenate what had been a questionably run front office, and they will now face the challenge of taking this team, one without true top-tier talent, to the next level.
For now, the base structure of a mid-level team is here, and it all starts with Zach LaVine. Getting him going in Donovan's system will be important, but the biggest key will be keeping Otto Porter Jr. (14 games last year), Lauri Markkanen (missed at least 14 games in each of his first three seasons), and Wendell Carter (missed over 60 games in two years) on the court. This may be a solid roster, but it's not going to work if more than half of the projected starters aren't available. It will also be crucial for Chicago to continue to develop Coby White and hit on the fourth pick. Tyrese Haliburton comes to mind as an ideal fit with his size and elite playmaking ability. He could slot in alongside LaVine from day one and bring a whole new element to this offense.
The Bulls will need some things to go their way – health, that pick, and the Donovan-LaVine relationship chief among them – to make a serious playoff push in 2021, but they have the pieces to give it a go if everything falls into place.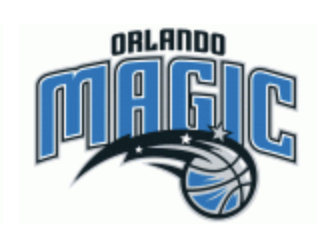 24. Orlando Magic
Pre-Bubble Ranking: 19
Returning Players (in order of money owed): Nikola Vucevic, Aaron Gordon, Terrence Ross, Markelle Fultz, Al-Faroq Aminu, Jonathan Isaac, Mo Bamba, Khem Birch
Player Option: Evan Fournier, James Ennis
Team Options: Melvin Frazier
Free Agents: DJ Augustin, Michael Carter-Williams, Wes Iwundu, Gary Clark
Last year's two-way players: Vic Law, BJ Johnson
Draft Picks: Two (15, 45)
The Magic spent another year right in the middle of the East. They were in the bottom ten offensively and in the top ten defensively, which will tend to lead to the unspectacular but solid brand of basketball that they played. The offensive issues have been a theme in Orlando for way too long, as both scoring efficiency and general scoring numbers will show –
| | |
| --- | --- |
| Year | Orlando's League Rank in Offensive Rating |
| 2020 | 24th |
| 2019 | 22nd |
| 2018 | 25th |
| 2017 | 29th |
| 2016 | 21st |
| 2015 | 27th |
| 2014 | 29th |
| 2013 | 27th |
| 2012 | 15th |
| 2011 | 14th |
| 2010 | 4th |
It's been an inescapable issue since the Dwight Howard era fizzled out, and the current collection of players in Orlando don't exactly inspire confidence in a turnaround.
Nikola Vucevic, one of the better big men in the league outside of the top tier, leads a group that simply doesn't have enough offensive firepower. Evan Fournier and Terrence Ross are fine offensive players, but they're too high on the pecking order for the Magic. Aaron Gordon has stagnated a little more than five years into his career. Markelle Fultz is still just showing flashes. The rest of the roster is either not going to consistently move the needle for an NBA offense or out for the year (Jonathan Isaac). Isaac's injury is going to hurt the Magic where they're at their best, as he's developed into one of the best defensive players in the league. It's also going to hurt them on the other side of the court, as Isaac represents their best chance at major internal improvement offensively. 
With all those things said, this is still a very solid basketball team. Unless they blow things up by trading Gordon and potentially Vucevic, they're not going to drop to the very bottom of the conference, even with Isaac out for the year. The issue for Orlando is that you just don't see the potential to do anything better than they've done over the last two seasons, especially with Isaac injured, and someone is likely to pass them over for that eighth playoff spot at some point. The Pistons, Bulls, Hawks, and Wizards didn't do nearly enough to challenge them last year, but if one or more of those teams makes a serious push in 2021, we might see the wheels fall off in Orlando. Their close to this past season without Isaac was poor, and they might not have made it to the final sixteen if the teams behind them weren't even worse. It's unlikely that happens again, and the Magic are likely going to be up against the wall in their defense of the coveted 8 seed.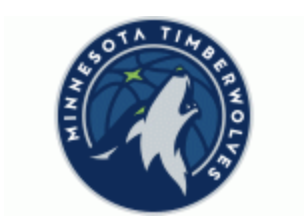 23. Minnesota Timberwolves
Pre-Bubble Ranking: 28
Returning Players (in order of money owed): D'Angelo Russell, Karl-Anthony Towns, Jarrett Culver, Jake Layman, Josh Okogie, Jacob Evans, Omari Spellman
Player Option: James Johnson
Partially Guaranteed Deals: Jarred Vanderbilt, Jaylen Nowell, Naz Reid
Free Agents: Evan Turner, Juan Hernangomez, Malik Beasley
Last year's two-way players: Kelan Martin, Jordan McLaughlin
Draft Picks: Three (1, 17, 33)
The Timberwolves are a complete mystery. Can Karl-Anthony Towns lead a team to the playoffs? How will he and D'Angelo Russell mesh? Is Malik Beasley, if he returns, capable of stepping into a major role? What do Josh Okogie and Jarrett Culver bring to the table next season? Where does the depth come from? What happens with the #1 pick? I think it's probably fair to say that this team isn't going to break into the West's top five next year. It would be irresponsible to predict that high of a finish given the complete lack of prior success here in non Jimmy Butler seasons. But it's anyone's guess as to where they finish beyond that. Is this a playoff team? A team that starts hot and loses steam? A team that starts slow and almost makes the postseason after a big second half run? The answer to all three questions is maybe, and the most likely outcome might be the fourth option – another rough season in Minnesota. The West is a cruel place to be, and it's not clear that the Timberwolves will have the bite to compete this season. Of course, it's not clear that they won't either.
One thing is clear – Towns will be at the root of everything this team does. If they succeed, it will be thanks in large part to his ability to finally go from budding star to true superstar. If they fall short, his inability to make that transition will likely be a big reason why.
Is Towns the next Anthony Davis? The numbers suggest he could be better –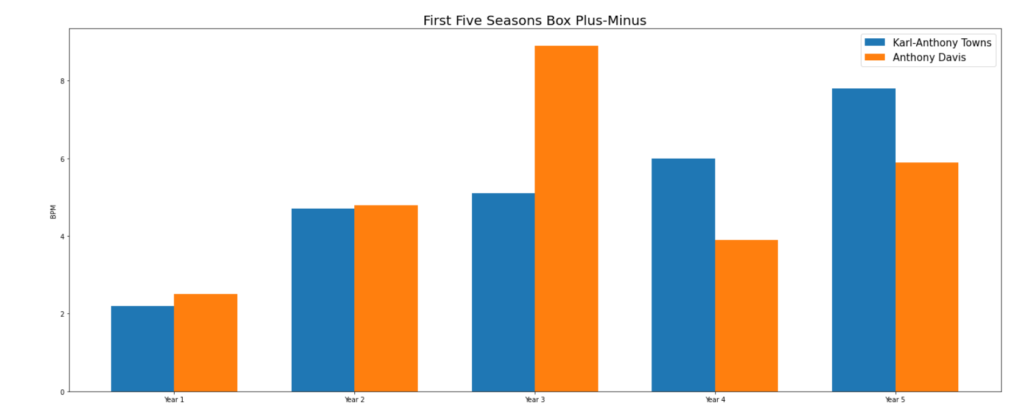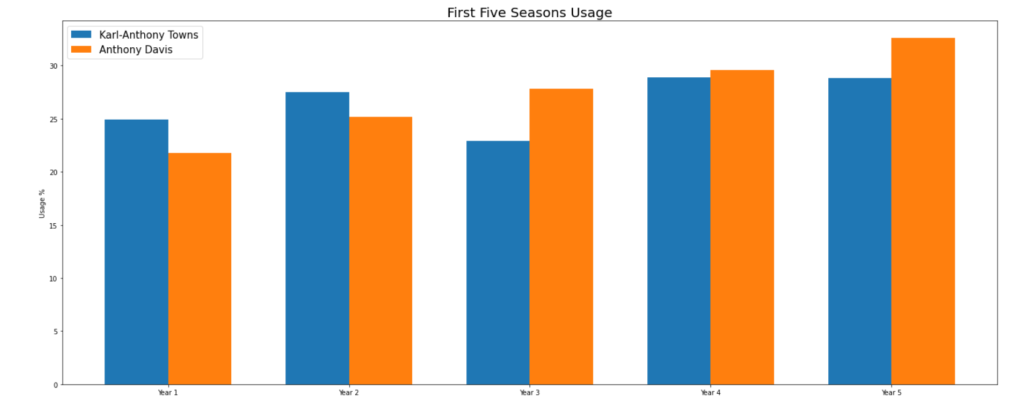 It's about time that he starts to prove it by winning with the team that drafted him. With Russell, Culver, and whatever the first pick lands, there might not be too many more excuses if he doesn't.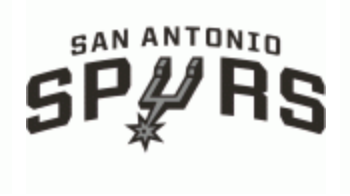 Pre-Bubble Ranking: 20
Returning Players (in order of money owed): LaMarcus Aldridge, Dejounte Murray, Rudy Gay, Patty Mills, Derrick White, Lonnie Walker, Luka Samanic, Keldon Johnson
Player Option: DeMar DeRozan
Partially Guaranteed Deals: Trey Lyles
Free Agents: Marco Belinelli, Jakob Poeltl, Bryn Forbes
Last year's two-way players: Drew Eubanks, Quinndary Weatherspoon
Draft Picks: Two (11, 41)
The Spurs and Thunder are probably the two most intriguing Western Conference teams to watch as we head into the off-season. They're the only two that might actively try to get worse between now and January. San Antonio faces quite the dilemma. There's no question that the current roster isn't good enough to actively compete for titles, and the only way to potentially speed up the return to true contention would be trading DeMar DeRozan and LaMarcus Aldridge to create more resources for improvement moving forward. On the other hand, there's also no question that this team is good enough to compete for a playoff spot. DeRozan and Aldridge are still studs, Dejounte Murray and Derrick White form a promising young backcourt, and San Antonio thrived in the bubble. There are defensive issues to work through, especially if Gregg Popovich is going to give major minutes to guys like Bryn Forbes and Patty Mills again next season, but the Spurs aren't dead in the West quite yet. With Popovich nearing the end of his legendary career, do they keep running it back until he calls it quits? It's a fascinating situation, and it might be the ultimate test of the Spurs Way, a culture that emphasizes the team over any individual players. Does it apply to Popovich as well? If the Spurs don't pursue a rebuild, the answer to that question might be no.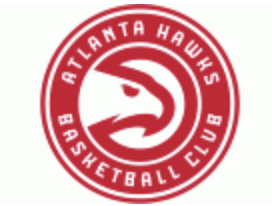 21. Atlanta Hawks
Pre-Bubble Ranking: 25
Returning Players (in order of money owed): Clint Capela, Dewayne Dedmon, De'Andre Hunter, Trae Young, Cam Reddish, John Collins, Kevin Huerter, Bruno Fernando
Partially Guaranteed Deals: Brandon Goodwin
Free Agents: Jeff Teague, DeAndre' Bembry, Skal Labissiere, Damien Jones, Treveon Graham
Last year's two-way players: Charlie Brown
Draft Picks: Two (6, 50)
The Hawks were a popular dark horse playoff team in the East last summer. I had them as a 10 seed with the chance to push higher if things went well. That obviously didn't happen. Atlanta wasn't even close, as they were dragged down by an unfortunate combination of suspensions, injuries, and rough adjustment periods for some of their youngest players. They even finished behind the Cavs in point differential, which is an automatic indicator of a bad basketball team. The good news for the Hawks is three-fold. One, Trae Young had a spectacular offensive season despite the overall struggles of the team. Two, they'll enter next season with Clint Capela, who addresses a clear area of need, and the chance to add more talent with the sixth overall pick. Three, this is an incredibly young team with another high draft pick, some key bench pieces that were added late last season, and a massive amount of cap space. The old saying about fooling me twice might apply here, but it's impossible to look at this team and not get really excited. I'm in on Atlanta, but I do still need to see a decent start to the season before I move them any higher than this. At some point, they need to prove they can make good on all the potential.
Four quick signs that this team can be noticeably better next season –
Capela, Atlanta's deadline addition, didn't play a game for them last year due to injury, but he will step in as a starter right away and provide some much needed rim protection (Hawks ranked dead last in paint points allowed), finishing ability (Hawks ranked 16th in FG% within 10 feet of the rim), and rebounding (Hawks finished 27th in rebounding percentage)
The Hawks were 5-21 in the games John Collins missed and 15-26 in the games he played. The latter record isn't great, but it is far better than the former. More games from Collins should equal better play from the Hawks
The Hawks have three young wings that could really boost this team with a jump in performance. Kevin Huerter has done some really good things as a shooter and passer in his two seasons. Can he take the next step and be great in one of those areas? Can he step up defensively after a poor start to his career there? Cam Reddish improved his shooting rapidly as the season went along after an absolutely abysmal start to his rookie season. Can he take the next steps as a 3-and-D wing now that he appears more comfortable at the next level? De'Andre Hunter's rookie season wasn't one to remember as far as the advanced metrics go. He understandably struggled to step in to a major defensive role with so little defensive talent around him, and his efficiency could use quite a bit of work on the other end of the court. Both of those issues can be fixed, and they do tend to improve as experience increases. Just how quickly can Hunter turn into a plus defender with an ability to find and make his shot on the other end? The answers to those questions likely determine just how far Atlanta can climb next season.
The Hawks have another high pick (#6) and only $60 million on the books. There will be plenty of opportunities to add playmaking to a roster that struggled dramatically in that area without Young