NBA Contender Offseason Trade Ideas
12 min read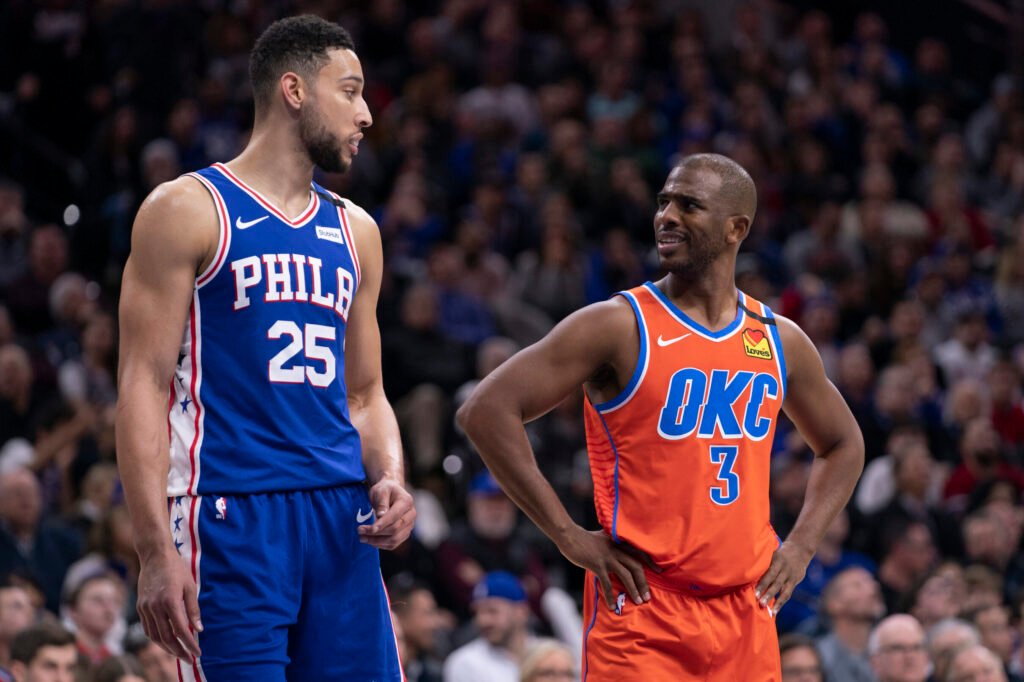 In the unprecedented COVID-19 2020 NBA season, the Los Angeles Lakers came up on top. Though it takes a lot of work to win a title, some fans have already put an asterisk next to Lebron's 4th ring. Lebron and the Lakers will have to prove they can protect their championship, and show that they can win in a normal setting rather than the no fans, AAU style of basketball that was played in the Bubble.
Hopefully, with a potential vaccine on the way, the NBA can return with fans in the 2021 season. With TV ratings down, the rich may need to get richer to make the top teams in the league even more exciting and competitive to peak the interest of fans. Therefore, I will examine some potential win-win trades that can improve the top teams in the league. I'll consider some trades for (arguably) the top 3 teams in each conference. For this article, this is the Lakers, Clippers, and Warriors in the West and in the East, this will include the 76ers, Nets, and Heat. Let's get started.
The West
Los Angeles Lakers
The trade: The Detroit Pistons trade Derrick Rose to the Lakers for JaVale McGee and Kyle Kuzma.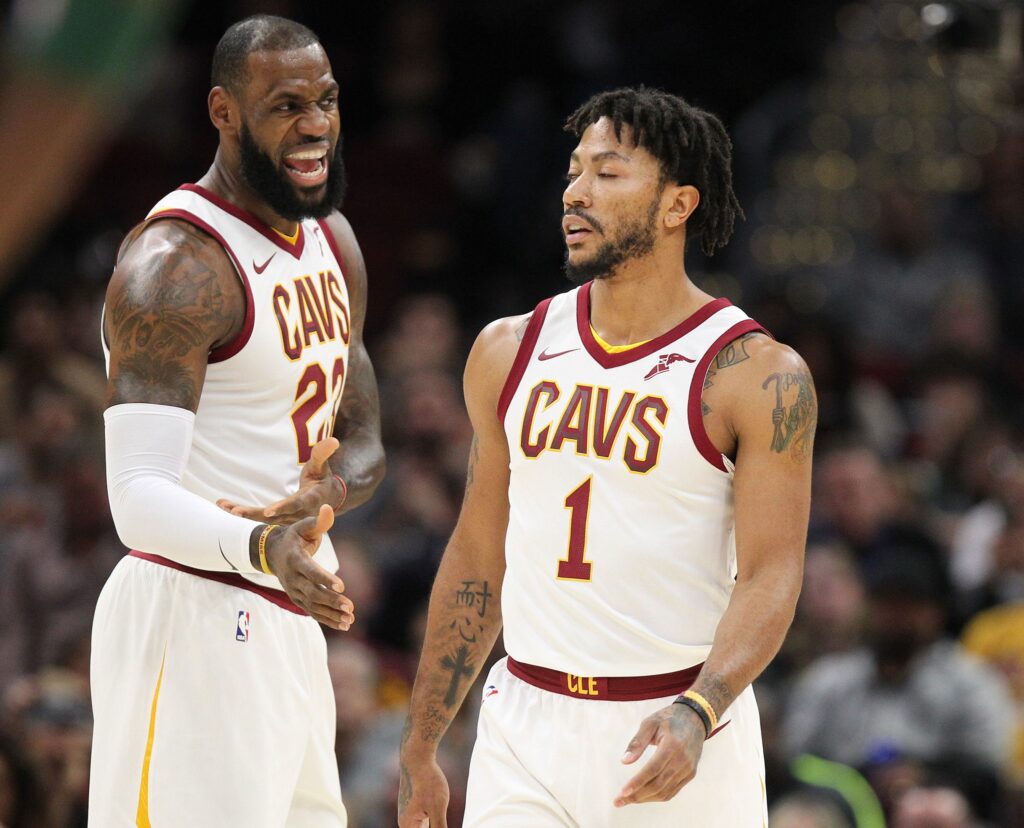 As previously mentioned, some people may not validate the Laker's 2020 championship. Because of this, the Lakers may need to continue to improve their roster to remain "the best team in the world". They can do that with this trade. The Pistons and Lakers were in trade discussions in January with ultimately nothing happening. Now, after a successful playoff run, many Lakers fans saw that McGee and Kuzma don't really have a big role in team success. McGee barely played in the playoffs, and assuming the Lakers can resign Dwight Howard, they don't need JaVale in the playoffs, making him expendable. Kuzma was supposed to be the 3rd option on this team, but, like many 3rd options that have played with Lebron, he was largely forgotten and hated on. Kuzma is still young enough to carve out a successful career with another team, but that's already looking unlikely with the Lakers. The fans will never love him, and he will never have a well defined role.
Enter the Detroit Pistons. Kuzma is a Flint, Michigan native, and could be an intriguing scoring option for a young team starting a rebuild. JaVale is also from Flint and almost signed with the Pistons last offseason before the Lakers got him. He could easily fill the backup center position for the Pistons and be a clear upgrade over Thon Maker or Justin Patton. This is a potential win for the Lakers as they get their own clear upgrade at the point guard position with Rondo almost guaranteed to leave, and they can do it without having to give up an intriguing young piece in Talen Horton Tucker. The Pistons get a nice young piece in Kuzma for their rebuild with a fun veteran presence in Javale McGee. Ideally, you would want Rose to stay and mentor whatever point guard the Pistons draft, but Kuzma may be enough for the Pistons to execute the trade this offseason.
Golden State Warriors
The Trade: The Golden State Warriors trade the #2 overall pick, #48 overall, and Alen Smailagic to the New York Knicks for Mitchell Robinson and the #8 pick.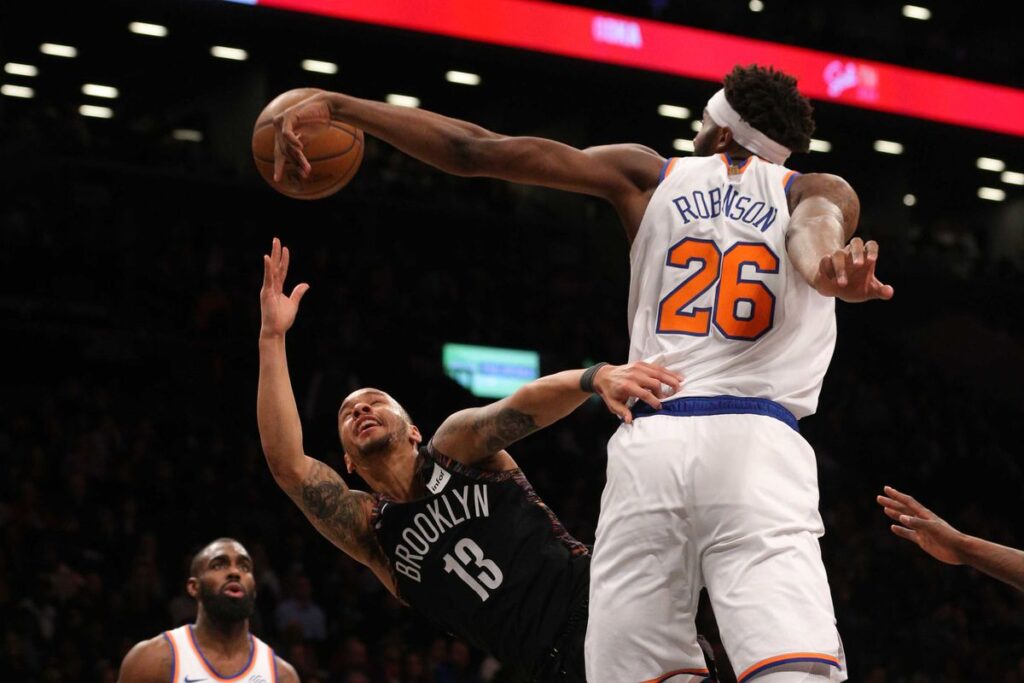 Essentially, Golden State gets their rim protecting center, and the Knicks can get a young star player with this trade. Golden State is basically back at it with their star core of Curry, Thompson, and Draymond, and the only missing pieces on their team now is a lockdown center and wing bench pieces. With this trade, the Warriors would get a young, exciting rim-running center that would be a great fit on the defensive end. Additionally, by getting the eighth pick in return, they can still get a young 3 and D player in Isaac Okoro or Devin Vassell that would be excellent off the bench along with Jordan Poole and Eric Paschall.
For the Knicks, it would probably be not the best move, but Knicks gunna Knick. Trading the leading FG% shooter in the league to move up in the draft is probably not the best idea, but depending on how much they believe in Lamelo Ball or Anthony Edwards, they might just do it. It would give them a trustworthy young guard, rather than a hit or miss Cole Anthony type of player they would get at pick 8. Throwing in a second round player last year in Smailagic and adding another second rounder this year may even out this trade enough for the Knicks to pull the trigger. When fans do come back, having a LaMelo Ball type of player in the Garden would undoubtedly sell some tickets in New York.
Los Angeles Clippers
The Trade: The Los Angeles Clippers trade Patrick Beverley and Ivan Zubac to the Phoenix Suns for Ricky Rubio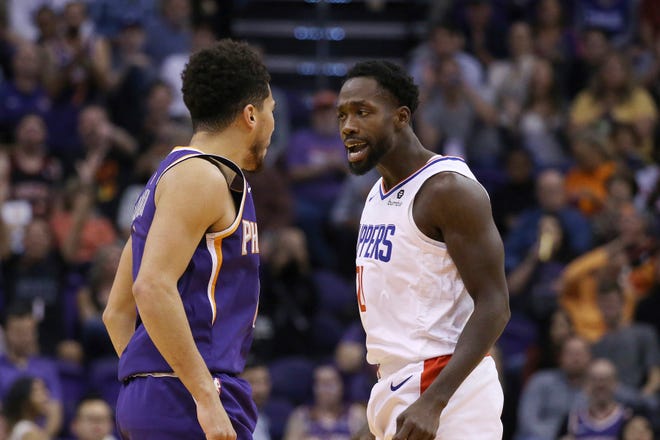 The Clippers locker room is currently a mess. Everyone is mad at Playoff P, Doc Rivers left town, some people are jealous of Kawhi getting star treatment, Lou Williams dipped the bubble for the strip club, and Montrezl Harrell might leave after vocally complaining about team effort multiple times. Still, when they're on their game, the Clippers are one of the best and deepest teams in the league. However, Kawhi Leonard still recently publicly stated that they need more playmakers on the roster. The injury prone Patrick Beverley and Reggie Jackson did not meet expectations for the 2020 season. So why not make a push for Ricky Rubio? As one of the best passers in the league, Rubio averaged 8.8 assists per game last season and shot a career high 36% from 3 point range. He could be the missing piece that completes this roster, assuming that the Clippers can resign Harrel, and do something to mitigate the potential loss of Marcus Morris. Though Patrick Beverley is the better defender than Rubio, his personality is opposite of Leonard's, which leads to many mental lapses and technical fouls, and his offensive production and playmaking ability simply were not cutting it. Though Rubio is not the same caliber of defender as Beverley, he still does rack up a lot of steals.The loss of Zubac and his rebounding and pick and roll play hurts, but Joakim Noah or another veteran minimum contract signing at the center position could definitely cover his job.
So why does this make sense for the Suns? With a hot run in the Bubble, the Suns are thirsty to make it back into the playoffs. Beverley and Zubac are 2 veterans that can help the young Suns make the jump to the next level. Specifically, the Suns are fairly weak on the defensive end of the floor. Beverley brings that dog mentality that helps him lock up the opposing team's best guard, which is something Devin Booker is unable to do. Zubac can be an excellent backup for Ayton at the center position. With Aaron Baynes having a career year, he may be up for a big contract in free agency that the Suns may not want to match. Zubac is on a team friendly deal of $7 million dollars per year for the next couple years, so he could be a nice piece for the up-and-coming Suns. Losing Rubio's playmaking ability hurts, but with the #10 overall pick, I project the Suns to pick a point guard anyway, like Tyrese Hailburton. The loss won't be a huge hit.
The East
Philadelphia 76ers
The Trade: The 76ers trade Tobias Harris, Zhaire Smith, and the #34 and #36 overall picks to the Oklahoma City Thunder for Chris Paul.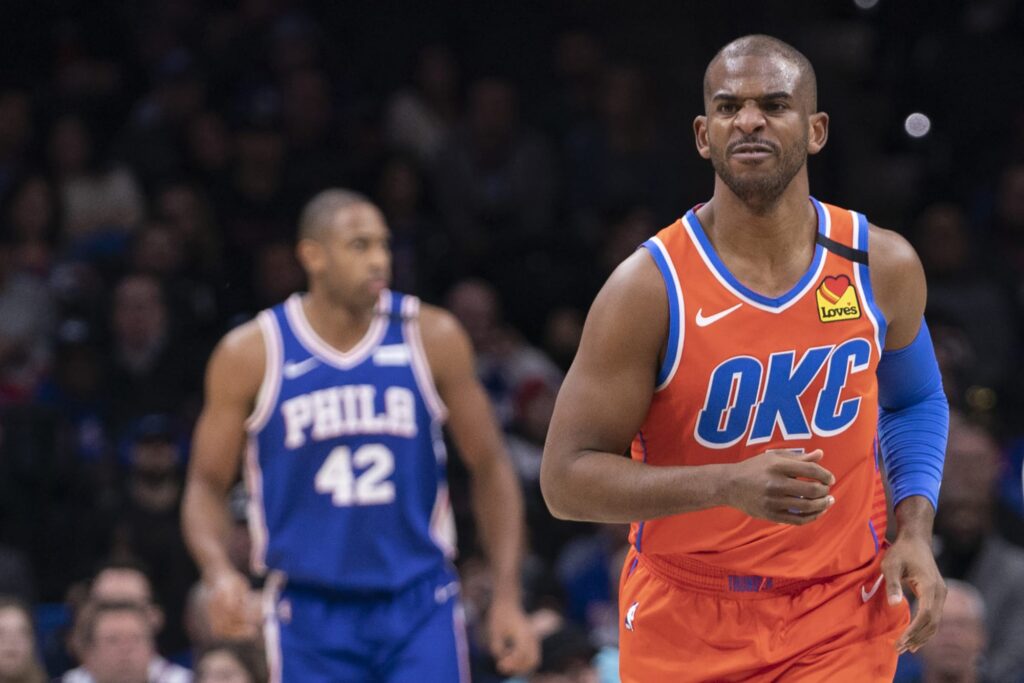 Like the Clippers, the Sixers are extremely talented, but they don't have the correct roster construction or chemistry to succeed. While Tobias is a great teammate and player, he is not a max contract player (neither is Al Horford but he has almost no trade value). Also, the casual fans can complain all they want, but Ben Simmons is not a point guard. The 76ers need a real point guard if they have any chance of winning. In my opinion, they need to split up Simmons and Embiid to win because they both need space down low to optimize their skills, but more likely than not, the team will either move Horford or Tobias first. In this situation, they do just that and get the true point guard that the roster needs. CP3 shocked the world with his elite playmaking skills last season with OKC, and proved that he still has some life in his game. With the 76ers only having a couple of years left to see if the Simmons and Embiid combination works before having to blow it up, Paul's big contract is not a huge risk over the next couple years. Even better, with this trade, they aren't stuck paying Tobias a similar amount of money over an even longer period of time. Further, even though he was a recent 1st round pick, Zhaire Smith does not seem to be a huge part of the future, and Philly has multiple second round picks this year that they could throw at OKC to entice the offer. The biggest question with this trade might center around the relationship between Paul and new Sixers coach Doc Rivers. Would both be on board with running it back after their relatively successful but ultimately unfulfilling time in Los Angeles?
For OKC, they have already obtained a tremendous amount of assets via the Paul George and Russell Westbrook trades, so why not get more? The Thunder were a good team this year, but being a small market team, they are unlikely to be able to draw in top talent in free agency to take this team to a true contender level status. Therefore, they should capitalize on CP3's trade value and get out of that monstrosity of a contract before he gets hurt or his production dips. Though the return isn't out of this world, Tobias is a younger scorer that can take over Danillo Gallinari's role as a score first power forward. Smith hasn't had the chance to prove himself yet in Philly, but there unquestionably is 3 and D potential there. The #34 and #36 picks are close to being 1st rounders, and with a proven track record of solid drafting ability, I'm sure at least one of those picks could at least become a solid role player for OKC. With Shai Gilleous Alexander and Dennis Schroeder, OKC can still play around with duo guard sets, and still play well rounded basketball as they reap in the long term benefits of their trades of PG13, Westbrook, and CP3.
Miami Heat
The Trade: In a sign and trade with the Toronto Raptors, the Raptors send Serge Ibaka to the Heat for Andre Iguodala, the 20th overall pick, and a 2022 second rounder.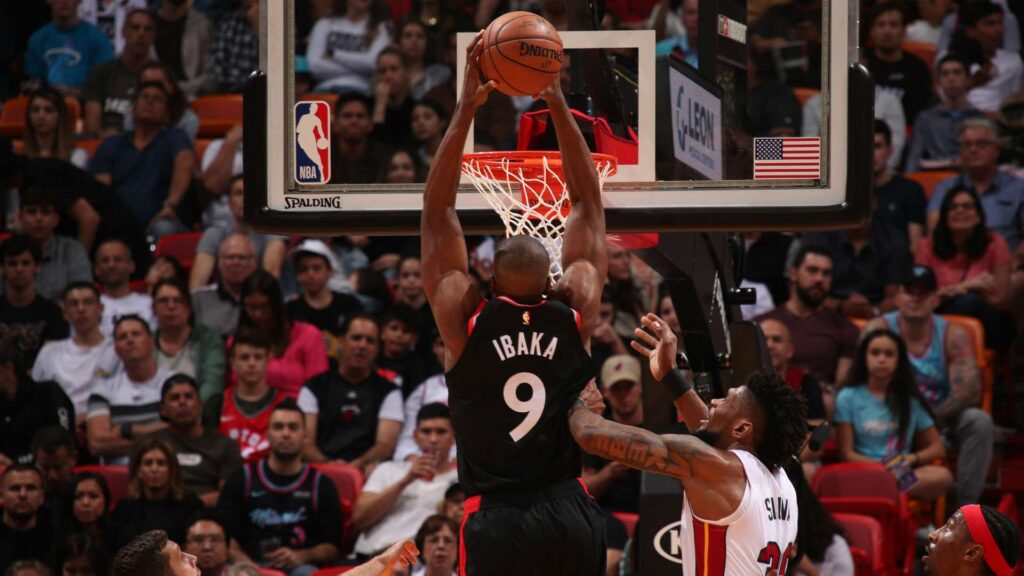 This one is a little different as Serge Ibaka is technically a free agent after another season with the Raptors. Both the Raptors and Heat had great seasons in the East, but are in slight dilemmas with some key players on each team potentially leaving in free agency. For the Raptors, this comes in the form of Ibaka, Fred VanVleet, and Marc Gasol. VanVleet totally may resign, but Gasol has been rumored to possibly going back to play in Barcelona before his retirement. This means that the Raptors will need to sign a center to fill that potential gap. However, they can kill 2 birds with one stone by doing a sign and trade with Ibaka to receive Andre Igoudala and draft picks from the Heat. Igoudala is a perfect match in Toronto with their elite wing defense that can switch almost anything, and with the #20 overall pick, there should be a young and valuable center available for the Raptors to draft to take over Gasol's role. Or, the team could look to package that newly added pick with their #29 overall 1st rounder to potentially move up in the draft if they like someone enough that they think they could replace VanVleet or Gasol. In the NBA, you need to adapt or die, and with this move, Toronto strengthens their menacing defense even more while mitigating the potential loss of Ibaka.
For the Heat, this is a match made in heaven. As seen in the NBA finals, the team really struggled when Bam Adebayo had to rest. The introduction of Ibaka is the ultimate checkmate chess move for this team. With Bam resting, Ibaka can come in the game and do many of the same things Bam does such as blocking shots, rebounding, and providing high energy production. Even better, as evidenced by his 38.5% shooting from 3 this season, Ibaka can stretch the floor even better than Bam. Though Kelly Olynk currently does the same thing of stretching the floor when Bam rests, he is not nearly the same rim protector or rebounder as Serge Ibaka. A twin tower lineup of Bam and Serge could also be utilized at times, and it would allow minimal points in the paint while still being quick enough to guard against quicker forwards. By executing this trade, the Heat would need to be confident that Jae Crowder is returning to the team, otherwise, it would make more sense to retain Igoudala and play him in Crowder's role if Jae signs elsewhere. If the Heat are able to resign Crowder, keep Dragic on a team friendly deal, and execute this mastermind trade, don't be surprised if they make it to the NBA finals again.
Brooklyn Nets
The Trade: The Brooklyn Nets trade Spencer Dinwiddie, Jarrett Allen, and Garrett Temple to the Sacramento Kings for Buddy Hield, two 2020 Second Round picks (#35 and #52 overall), and a 2025 second round draft pick.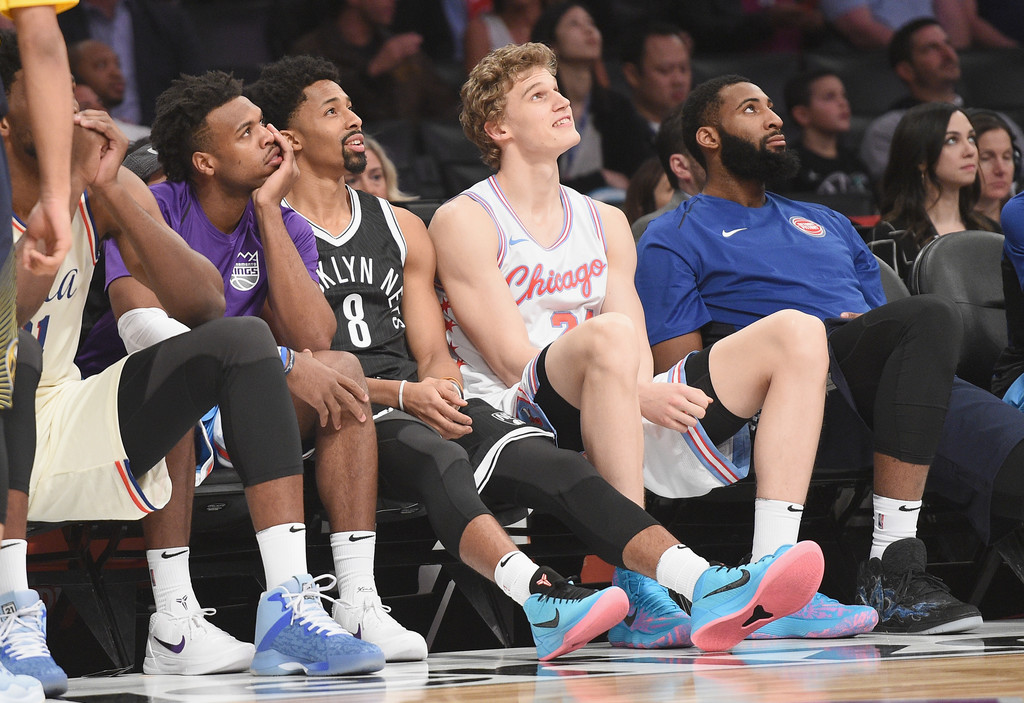 Last but not least, you cannot forget about the Brooklyn Nets. With KD and Kyrie alone, they have one of the most dangerous duos of all time – even with the concerns of Kyrie's locker room presence and KD coming off an injury. KD will still be one of the better scorers in the league, and though Kyrie will never be the #1 option that can lead a team, he is one of the best sidekicks of all time. With Caris Levert as a more than serviceable 3rd option, two concerns about Brooklyn's roster would have to be the lack of shooting and the lack of excellent options at the shooting guard position. Buddy Hield encompasses both of those needs. With Joe Harris likely signing somewhere else on a big payday, Brooklyn needs to minimize that loss of shooting.
Hield has averaged around 20 points per game over the past two seasons and is one of the premier shooters in the league. Losing Dinwiddie and Allen will hurt depth a lot, but this starting lineup

PG Kyrie Irving
SG Buddy Hield
SF Caris Levert
PF Kevin Durant
C Deandre Jordan
might be deadly enough to make this trade worthwhile. Though he struggled last season, Taurean Prince is not bad at all as a 6th man off the bench. Dzanan Musa and Rodions Kurucs are lengthy forwards that have intriguing play styles, and I would not be surprised if at least one breaks out with an increased role. The loss of Spencer requires the Nets to find a new backup backup point guard, so for this trade to be worthwhile, the Nets have to work that out. However, looking at that starting lineup, I'm not sure if there is any team in the league that can lockup that offensive production.
For the Kings, this is lowkey a steal. Dinwiddie is an intelligent up and coming point guard that can relieve some of the playmaking pressure off of De'Aaron Fox. It would be fascinating to see a quick, dual point guard lineup of Fox and Spencer in action in Sacramento. Additionally, Jarrett Allen is a phenomenal rim protector that can split time with Richuan Holmes. Hield has had chemistry issues with coach Luke Walton which caused him to be benched earlier this season, so getting Buddy out of town for that type of return would be unreal for the Kings. This would be a step in the right direction for a Kings team that has been on the hunt for a playoff run for a long time. Depending on if the Nets can attract more free agent talent on cheap deals to fill out their bench, this again may be a win-win trade.
So, which trade do you like best and which one do you think can make a team into a 2021 NBA title favorite? Comment below.