Does a move to Indiana make sense for Houston's (allegedly) disgruntled star?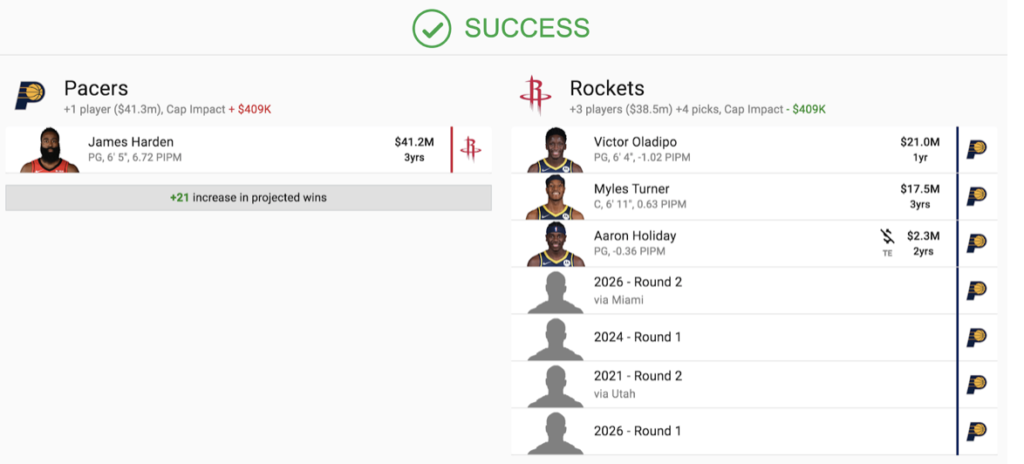 Before you get mad at me, it might more sense than you initially think… for both sides. Would this trade happen in real life? No, probably not. Would Harden and his strip club addiction survive in the cornfields of Indiana? Even less likely. However, in some utopian, pure basketball world, this deal could be a franchise altering win-win trade for both teams.
First off, this trade would only happen if nothing pans out with trade partners on Harden's preferred list of the Brooklyn Nets, Philadelphia 76ers, and Miami Heat. Here are some potential frameworks for trades with those teams:
NETS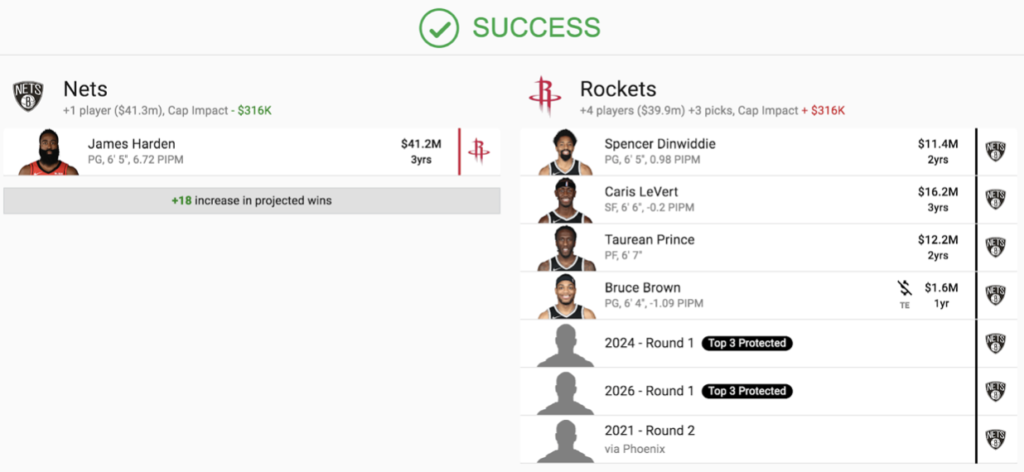 If a Brooklyn trade did occur, it would have to be with some combination of the salaries of Dinwiddie, LeVert, and Prince to match Harden's $41 million cap hit. Bruce Brown could be used as a salary filler and as another young player to entice Houston. Some variations of the trade would be subbing in Jarret Allen as a more intriguing prospect piece instead of Brown, and/or potentially adding another first round pick. However, a deal is unlikely as Houston is demanding Kyrie Irving as part of the trade in any deal with the Nets.
SIXERS

Obviously, the main pieces in this move would have to be some type of Harden-Simmons swap. Embiid for Harden could work as well but has not been discussed yet. The connection with Daryl Morey initially seemed to link these two teams as trade partners; however, rumors are floating around that Houston has demanded Simmons and three firsts for Harden. Philly seems very unlikely to pull the trigger when losing this much draft capital. An important note on this trade is that it is not possible to execute until December 27th since Green was just traded during the off-season. Therefore, if this move were to happen, it would probably have to happen at the trade deadline if both teams needed to shake things up.
HEAT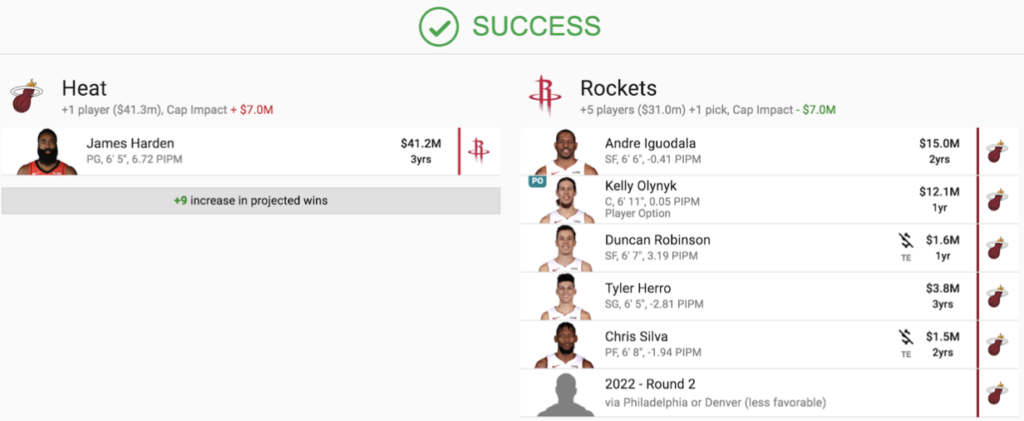 Miami just went to the finals and their team chemistry is unmatched. In my opinion, Harden would kill their locker room vibe. Additionally, looking at the potential trade itself, the amount of valuable assets and depth Miami would have to give up to obtain Harden is insane! It could go even further than the trade shown above, as Houston may ask for Kendrick Nunn, another great young player, instead of Chris Silva. Lastly, Houston would probably want a few first round picks as part of the deal, which just seems like an overkill at that point. Throw in the fact that Miami's front office has put out a disclaimer that Tyler Herro is untouchable, and this deal will probably not happen given that Bam Adebayo and Jimmy Butler aren't being traded either.
The difficulties in those three trades bring us to the main topic in this article – the Indiana Pacers.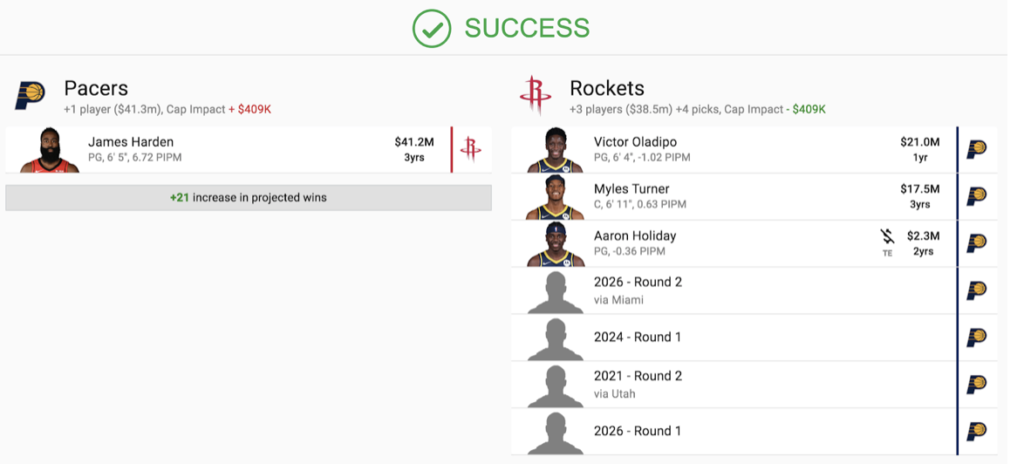 The salaries match up well, the players involved are all valuable assets, and Houston gets 1st round picks that replenish their draft capital in 2024 and 2026. It also keeps Houston competitive while turning Indiana into a real contender in the East after removing the big man logjam of Turner and Sabonis. Best of all, IT IS RELATIVELY FAIR.
Starting off with why the Pacers do this trade, it arguably makes them the favorites to come out of the East. A big 3 of Malcolm Brogdon, James Harden, and Domantas Sabonis is a really sexy combo. All of them can pass and dribble, make plays for shooters, and create their own shot in isolation. Brogdon averaged 7 assists per game last year. Sabonis came in at 5 assists per game as a center which is ridiculous for a big man. Harden averaged 7.5. With all the great passing, this potential team would be spreading the sugar and sharing the wealth when it comes to scoring. Brogdon is a big guard that is a perfect complement next to Harden as he plays great defense, rebounds well, and shoots the 3 ball at a solid clip on top of his playmaking. Sabonis is a dominant rebounder, creative passer, and phenomenal post scorer who is one of the best centers in the East. He will probably improve even more with Myles Turner off the team and not clogging the paint anymore.
This team is even better when you consider that they have one of the most underrated scorers in the league in T.J. Warren as a 3rd or 4th option. He basically has no weaknesses when scoring the basketball, and would be an iso-scorer when Harden sits on the bench, and an elite spot up shooter when playing on the court with him at the same time. Assuming Jeremy Lamb, who is a very solid wing, recovers from an injury-filled season and starts as well, Justin Holiday, Doug McDermott, and T.J. McConnell would round out a very solid bench for this team. Upgrading from Oladipo to Harden, especially when there were rumors that Oladipo wanted out of Indiana, would be a huge plus, and removing the cluster at the center position with Turner and Sabonis is a huge potential W for the Pacers.
Houston would theoretically do this trade if none of the previously mentioned trade options work out. It's a future oriented move as it replenishes some of their first round draft picks in 2024 and 2026 that were traded in the past. It also keeps them competitive now as Victor Oladipo is one of the better two-way shooting guards in the league, creates a powerhouse at their center position with Turner and Boogie, and adds a skilled, young, and much needed backup point guard in Aaron Holiday to their team. The backup point guard position has become an even more important need for Houston with Chris Clemons unfortunately tearing his achilles in a preseason game. In fact, Clemons may be included in the trade for salary reasons since Houston is currently hard-capped and his inclusion would save the team some money. Turner may produce an uptick in performance with the increased motivation of returning to the state where he played his college career (Texas).
As compared to the other potential trade scenarios, the return is about on par with the other trades. With Philadelphia, you get a building block franchise player for the future in Ben Simmons, but with Brooklyn or Miami, you get the same caliber of relatively young players and draft picks. However, with the Pacers, you get the best shooting guard of the bunch to replace Harden in the lineup in Victor Oladipo, who could potentially keep the Rockets as a top seed in the West when paired next to John Wall, Christian Wood, Boogie, P.J. Tucker, and Eric Gordon. The defensive potential on that team with a starting lineup of the pick-pocketing Wall, an athletic wing-stopper in Oladipo, the defensive menace that Tucker has become, a lengthy Christian Wood, and a ferocious rim-blocker in Turner would be a nightmare to match up against. With Eric Gordon and DeMarcus Cousins coming off the bench and providing a ton of scoring, this would be a sneaky good team out West. Make it happen Houston and Indiana!