How Does Playoff Chase Stack Up in Crowded East? – Part 1/3
7 min read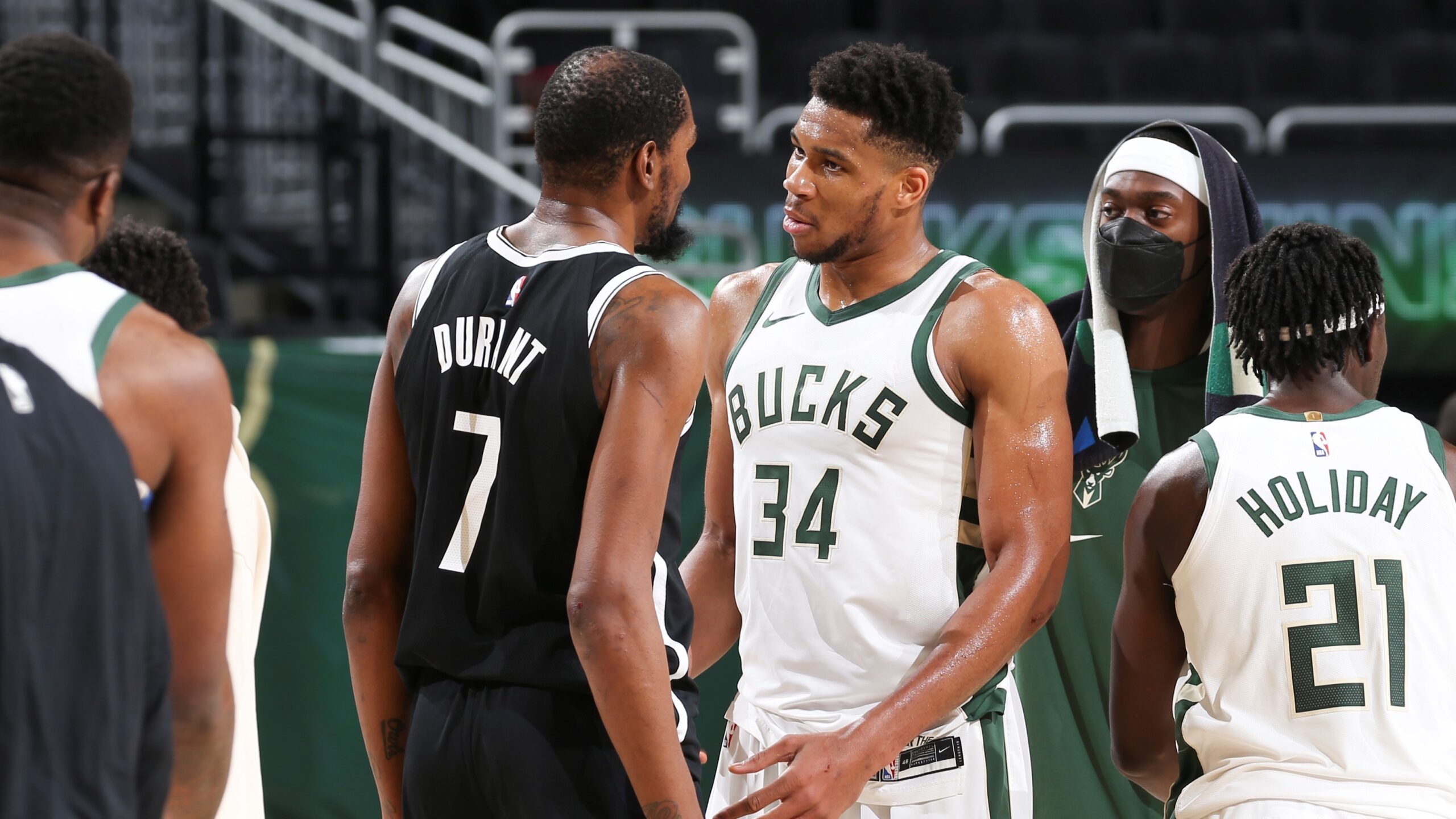 The NBA season begins on October 18, which means we're closing in on another year of one of sport's most interesting leagues. Can the Bucks defend their title? Can LeBron and AD rekindle their magic with a brand new Lakers roster? Can the Nets turn their paper supremacy into a real-life championship? Will the Bulls find the playoff spot they seek after a summer full of moves? Will the Clippers stay afloat while Kawhi recovers from his ACL injury? Which teams are ready to take the next step? Which teams are about to fall off the inevitable cliff? Over the next few weeks, we'll be taking a quick look at various questions facing NBA teams this season. The 2022 season is on the way. Let's get ready for it.
The Eastern Conference isn't shaping up to be any sort of easy stroll in the park this time around. The Bucks and Nets are prime title contenders, and the Sixers aren't far behind. The Heat and Hawks are both looking to build on their own methods of progress – unexpected playoff performance and off-season trades, respectively – and should be relatively stable members of the conference's top half. The Celtics and Knicks both look like solid playoff teams. Then there's the new-look Bulls, who figure to be in playoff-or-bust mode. Throw in the Wizards, Pacers, and Hornets, all teams that made last year's play-in, and you have eleven teams that won't make things easy for each other. With whatever's going on up in Toronto and teams that should have gotten at least a little better in Cleveland, Detroit, and Orlando, it should be a fun year of basketball out east.
With October (and the return of NBA basketball) closing in, let's take a look at how the conference stacks up from top to bottom. I have the first three of my seven tiers below, divided based on how likely I think a playoff appearance is for each team/group. There's a percentage for each tier, and the less time you spend thinking about those percentages outside of how they generally compare to each other, the better.
THE LOCKS (100%)
1. Milwaukee Bucks
The Bucks are led by the man that just stomped his way through the Phoenix Suns in one of the most dominant Finals performances of all-time. Khris Middleton is a premier volume scorer who stepped up repeatedly as a playmaker and in the clutch throughout the playoffs. Jrue Holiday's defense shifted the Finals, and his playmaking remained elite despite his postseason shooting struggles. With a supporting cast led by the always dependable Brook Lopez, a healthy Donte DiVincenzo, playoff super-sub Pat Connaughton, hype man Bobby Portis, and a group of new additions including Grayson Allen and old Buck George Hill, the Bucks are set up to have a good shot at defending their title. After three consecutive years near the top of the East, the playoffs aren't really a question.
2. Brooklyn Nets
The Nets have some unfinished business after a trail of injuries were left in the dust of their second round playoff loss. Their offense is historically great with two of the most dangerous offensive weapons in league history in Kevin Durant and James Harden and a current top-10 offensive player in Kyrie Irving also happening to be there. Joe Harris and Blake Griffin lead a supporting cast that should be both stronger and more versatile after the additions of Patty Mills, LaMarcus Aldridge, Cam Thomas, and Paul Millsap. Like the Bucks, the Nets are playoff locks with their eyes on a much grander prize, and many will have them at the top of their list of contenders. The defense is a question though. I took a deeper look at some of the numbers here, but the general gist is that Brooklyn was a borderline top 10 defensive team in KD's minutes but a few spots outside the top 20 when Harden and Irving played. With all three on the court, they stood at 22nd. Millsap, Mills, and Aldridge won't be of much help there. Will the Nets get the job done despite their uneven approach? We won't know until next summer.
THE VIRTUAL LOCKS (95%)
3. Philadelphia 76ers
The Sixers are pretty much playoff locks. That said, there's enough uncertainty in Philly right now to merit some caution. The bottom line is that this is a team that would likely make the playoffs even if you sent Ben Simmons on a one-way trip to Mars with no on-court return to take his place. Joel Embiid is fantastic, Tobias Harris is very good, and there's a good amount of shooting and defensive talent around those two regardless of whether Simmons is there or not. But it's hard to put them in the same tier as teams like the Bucks or Nets when their second best player is refusing to play and trade talks are showing no signs of progress. Will Simmons return? Will a trade land comparable immediate on-court impact? As easy as it is to ding Simmons now, his elite defense and volume playmaking are going to leave a hole that won't be easy to fill. That's not the kind of question you want to be facing in late September as a wannabe contender that can't seem to reach the ECF. After a brutal seven-game loss in 2019 against the Raptors, the Sixers went out and outscored the Hawks by 20 points in the conference semis…only to lose in seven games again. Embiid's fragility and stamina, the bench's shortcomings, and a pervasive inability to win when it truly matters are all looming in the background, but we just need to look at the Bucks to see how quickly those narratives can change. The problem in Philly is that it's just not gonna happen without Simmons – or relatively comparable talent in his place. Milwaukee's team culture shone through last summer. It's not easy to see that happening here.
THE "WE'RE ALREADY THINKING ABOUT SEEDING" (90%)
4. Atlanta Hawks
We can look to the Celtics as an example for why one conference finals appearance guarantees absolutely nothing, even for a young team, but I can't blame any Hawks fans for feeling great about this year's team. Trae Young's first playoff run was an absolute masterpiece that made his readiness for the moment about as clear as it could be, and the supporting cast around him proved deep enough to cover for the various ups-and-downs that individual players experienced. Clint Capela's stabilizing presence in the middle deserves a shoot-out too. The Hawks showed a shocking ability to pull an anti-Sixers and pull out just about every possible close game, which may be meaningful moving forward. Atlanta was 6-2 in games decided by single digits, perhaps the single biggest factor behind their win over Philadelphia. Some would suggest a return to the mean is coming, but I tend to believe that certain teams have a winning factor that others don't. At the very least, the Hawks showed they weren't scared of the bright lights. Now comes the hard part: turning the initial excitement into stable contention. That starts with a strong regular season that puts Atlanta in the East's top five and sets them up well for another run at the playoff bracket. A play-in fight – never mind missing the playoffs entirely – would be a disastrous step backwards.
5. Miami Heat
The Heat have been all over the place these last two years – from an above-average playoff team during the pre-bubble regular season to a bubble juggernaut that was only topped by the super juggernaut that was the Bubble Lakers to a below-average playoff team last year. They were swept aside rather unceremoniously by the Bucks last year, revealing the truth that the bubble managed to hide for a little bit longer: that version of the Heat didn't have what it took to compete with the best of the best in a normal NBA atmosphere. So they did what any team in that situation should do and improved the roster as well as they could. Kyle Lowry is going to be an upgrade over the Nunn/Dragic point guard rotation, and I can feel the hard work energy being let off by a team with him, Jimmy Butler, and Bam Adebayo from here. PJ Tucker and Markieff Morris will help solidify the defensive floor on the wing, and there should be hope that Tyler Herro and Victor Oladipo can combine to get a little more out of the 2 spot this time around. I don't know if the Heat are really contenders – they're old, Bam's offensive limitations were put on full display by Mike Budenholzer and the Bucks, and I'm simply not taking Miami over Milwaukee, Brooklyn, and, assuming they fix their primary issue, Philadelphia. But the Heat will be better, and pushing their way up the East ladder to land a top five spot and be a dangerous playoff matchup is a very reasonable goal.