How Does Playoff Chase Stack Up in Crowded East? – Part 2/3
11 min read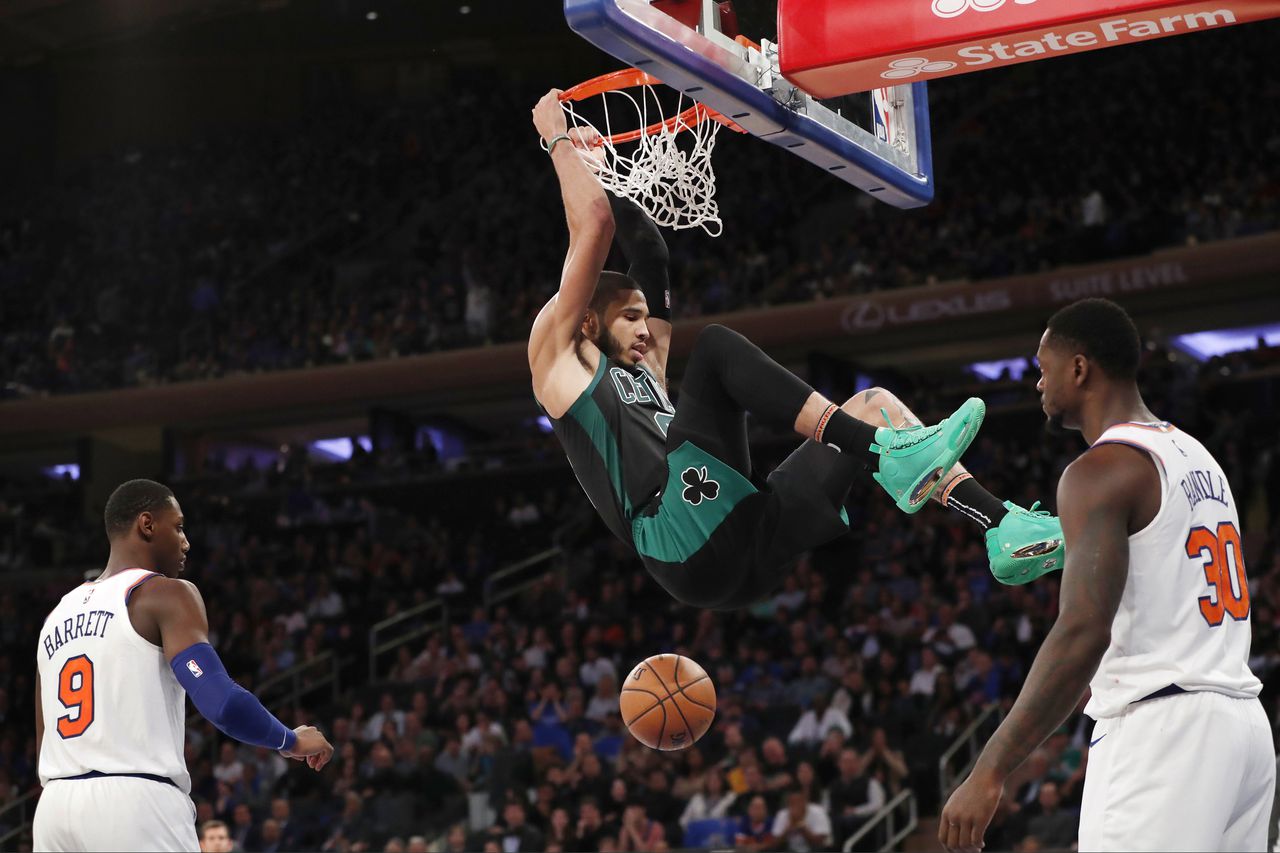 The NBA season begins on October 18, which means we're closing in on another year of one of sport's most interesting leagues. Can the Bucks defend their title? Can LeBron and AD rekindle their magic with a brand new Lakers roster? Can the Nets turn their paper supremacy into a real-life championship? Will the Bulls find the playoff spot they seek after a summer full of moves? Will the Clippers stay afloat while Kawhi recovers from his ACL injury? Which teams are ready to take the next step? Which teams are about to fall off the inevitable cliff? Over the next few weeks, we'll be taking a quick look at various questions facing NBA teams this season. The 2022 season is on the way. Let's get ready for it.
The Eastern Conference isn't shaping up to be any sort of easy stroll in the park this time around. The Bucks and Nets are prime title contenders, and the Sixers aren't far behind. The Heat and Hawks are both looking to build on their own methods of progress – unexpected playoff performance and off-season trades, respectively – and should be relatively stable members of the conference's top half. The Celtics and Knicks both look like solid playoff teams. Then there's the new-look Bulls, who figure to be in playoff-or-bust mode. Throw in the Wizards, Pacers, and Hornets, all teams that made last year's play-in, and you have eleven teams that won't make things easy for each other. With whatever's going on up in Toronto and teams that should have gotten at least a little better in Cleveland, Detroit, and Orlando, it should be a fun year of basketball out east.
With October (and the return of NBA basketball) closing in, let's take a look at how the conference stacks up from top to bottom. I have the fourth, fifth, and sixth of my seven tiers below, divided based on how likely I think a playoff appearance is for each team/group. There's a percentage for each tier, and the less time you spend thinking about those percentages outside of how they generally compare to each other, the better. Before today's tiers, I have the short version of what we went over for the top five teams here.
THE LOCKS (100%)
1. Milwaukee Bucks
2. Brooklyn Nets
THE VIRTUAL LOCKS (95%)
3. Philadelphia 76ers
THE "WE'RE ALREADY THINKING ABOUT SEEDING" (90%)
4. Atlanta Hawks
5. Miami Heat
With the top five down, let's take a look at the rest of the playoff hopefuls.
THE "WE SHOULD BE SAFE, RIGHT?" (75%)
6. New York Knicks
The Knicks rode the best season of Julius Randle's career, a defensive renaissance under Tom Thibodeau, and a mix of veterans (Derrick Rose, Taj Gibson, Alec Burks, Reggie Bullock, Nerlens Noel) and youth (RJ Barrett, Immanuel Quickley) to their best year (and first playoff appearance) since 2013. The playoff blowout, made worse by an undisputedly abysmal performance by Randle, dimmed the lights a little bit, but the Knicks took a clear step towards respectability last season. Now they just need to maintain it. Kemba Walker and Evan Fournier were brought in to replace Bullock (Dallas) and Elfrid Payton (still sitting on the playoff bench but also now playing for the Suns), and they should combine with Burks and Rose to boost an offense that ranked in the bottom third of the league last year before its brutal playoff collapse. Losing Bullock shouldn't be too big of a blow to Thib's defense either, though it will be important for Fournier and Walker to buy into the system like their new teammates did last year.
The two key questions revolve around Mitchell Robinson and Randle. Robinson is a massive center with equally large potential, but he didn't show much in the way of improvement during the 850 minutes that he managed during an injury-plagued 2021, arguably turning in his worst season as a pro even if you just consider the time he spent on the court. Whether it's fouls or health, Robinson has struggled to stay off the sidelines throughout the first three years of his career, and getting and staying on the hardwood this year will help raise the Knicks' bottom line and lessen the load on Gibson and Noel. Then there's Randle. To call last season a complete outlier would simply be wrong; Randle averaged roughly 20, 9, and 3 across '19 and '20, and last year was another jump forward, something he's been doing throughout his career. The reasonable doubt would be his shooting. After making 168 threes across his first five full seasons, Randle made 160 last year alone. His 41% hit rate was about 12% higher than his previous career average and 7% higher than his previous best in a season. After watching him clank his way to a playoff field-goal percentage below 30%, it's not unreasonable to want to see a second act before we call Randle a great shooter. Would the more negative result sink Randle or the Knicks? No, but it would put further strain on an already struggling offense. Who, from Quickley to Barrett to Walker to Fournier, would be ready to step up and fill the gap? The 2020 Knicks made the playoffs, and the 2021 Knicks should too. A top six spot is achievable, and anything less than a strong fight for one of those non play-in spots would likely be a disappointment.
7. Boston Celtics
The better way to describe the Knicks and Celtics might be as teams that you struggle to see as either contenders or borderline play-in teams. They're just sitting there right in the middle. The difference between the two is that the middle is a heck of a spot to be in for the 2021 Knicks. That's not the case for the Celtics, who followed up a run of three conference finals in four years with a .500 season and a coaching change. The return of Jaylen Brown will help boost the feeling around the team, but it doesn't really answer any questions. Boston was still just 30-28 when he played last year.
Al Horford and Enes Kanter will reshuffle the frontcourt and likely provide some benefit offensively, but that's not a groundbreaking change. The issue with Boston's bigs wasn't that they were terrible but that they stood out as a potential position of improvement since they were competent rather than exceptional. Will a 35 year old Horford and the well-known pros and cons of the offensively-minded Kanter really change that?
In the backcourt, Dennis Schroder and Josh Richardson will combine to replace Kemba Walker and Evan Fournier (not that Fournier was in Boston for long). That's a very similar situation. Schroder can bring playmaking and scoring, and Richardson has potential as a two-way wing If he can regain his confidence after moving to his fourth team in half as many years, but there's not much reason to believe those two will significantly outshine the players that came before them. Walker is certainly not the player that left Charlotte a few years ago, but he still averaged more points per game last year than Schroder ever has. That gap is admittedly narrow – and Schroder has topped Walker's 2020 assist numbers a few times – but the point isn't that Schroder can't be a reasonable Walker replacement. The point is that the Celtics likely need more than a replacement to find themselves back in contention, and there just isn't a good reason to think Schroder can be that.
The Celtics are a good team. Anything less than the 7-8 seed and a comfortable play-in spot would be a clear fall beneath their potential. But if Boston is going to be anything more than a middling playoff team, they'll need another jump from Brown and the full superstar season that Jayson Tatum has yet to deliver.
THE DEAD-IF-THEY'RE-NOT-SAFE (65%)
8. Chicago Bulls
The Bulls traded two first round picks and a former first round pick in Wendell Carter Jr for Nikola Vucevic. They dished out $170 million to DeMar DeRozan and Lonzo Ball. They have Zach LaVine, their best player the past three seasons, playing out a contract that ends at the end of the year. The stakes are high in Chicago. You simply don't put these kinds of resources into a failed project, and the Bulls will be left grasping for straws if their home run swing results in a pop-up. LaVine has never made the playoffs; another season short of that goal might convince him that Chicago is simply not capable of getting it done. And that would leave them with little flexibility after everything they put into this team.
The ultimate question then – how good will this team be? The offense shouldn't be an issue. LaVine is a premier volume scorer. Vucevic is as good of a floor spacer and playmaker as just about any big in the league. Lonzo is a much-improved shooter capable of pushing the ball in transition and making plays all over the court. DeRozan is at his playmaking peak, and he can consistently put the ball in the basket despite his aversion to the deep shot. The defense is the glaring red flag here. The Bulls were in the bottom third of the league defensively before LaVine's late season covid absence. They were six points worse per 100 possessions on that side of the court when he played versus when he sat. With Vucevic, they were seven points worse per 100. Their four most important returning players – LaVine, Vucevic, Patrick Williams, and Coby White – were all in the bottom five on the team in defensive on-off splits. And help isn't on the way. The Spurs were 10.5 points per 100 possessions less stingy in DeRozan's minutes last year, and Lonzo, despite a good defensive start to his career, did not make a poor Pelicans defense any better when he played. Alex Caruso is a very good on-ball defender who will make an impact, but he simply isn't enough to make what looks to be an awful defense serviceable. Unless Billy Donovan can pull off a tactical miracle, it'll likely be a fight all year for a middling Bulls team with a clear strength and a clear weakness.
THE PLAY-IN HOPEFULS (50%)
9. Charlotte Hornets
Don't forget about the Hornets in this crowded Eastern Conference. LaMelo had a very good rookie year, and he has room to grow as a shooter. Terry Rozier has quietly turned himself into a very productive player – one of just seven that averaged 20+ points, 4+ assists, and 3+ made threes per game last year. Gordon Hayward missed some time with yet another injury, but he looked as good as he has since leaving Utah. Charlotte was 24-20 when Hayward played, which was on pace for a record of roughly 39-33 over the full season. That puts them right in the middle of the race for a top six seed (Miami ended up finishing 40-32). Miles Bridges, Kelly Oubre, and PJ Washington make for a quality wing rotation to complement the "Big 3", and Mason Plumlee – a very good passer for his size – should be an upgrade over Cody Zeller. Throw in an exciting group of rookies led by a potential immediate scoring spark plug in James Bouknight, and there are plenty of reasons to feel good about the Hornets. The momentum is pointing in the right direction, and the Celtics, Knicks, and Bulls will need to be careful to avoid the kind of slump that might open the door behind them. Charlotte will be looking to take a jump and push that top eight, and the goal should be another play-in appearance.
10. Indiana Pacers
Don't forget about the Pacers either. If they manage to stay healthy for what would feel like the first time in a decade, they have a chance to make some noise in the playoff race. Domantas Sabonis is one of the better bigs in the league, and he's capable of scoring, passing, and rebounding at a high level. He's a fantastic playmaker for his size. Malcolm Brogdon is a very strong point guard who doesn't sit far outside of the All-Star conversation. He can score, shoot, pass, and play solid enough defense. Myles Turner, a premier rim protector with floor spacing ability on the other side, will hopefully not miss 25 games this year. Caris LeVert, a shifty, high-volume scorer, will hopefully play more than half of Indiana's games. Jeremy Lamb, a very good shooter and solid guard off the bench, will hopefully not miss 36 games. And TJ Warren, who had become a much more efficient scorer even before the bubble, will hopefully play at least five games this time around. With TJ McConnell being an incredibly solid backup point guard, Justin Holiday bringing some shooting punch off the bench, and Torrey Craig coming in to provide some more wing depth, the Pacers should have a solid team.
Contending for a title or going on a deep playoff run is a different matter – Sabonis's shooting, the awkward fit between him and Turner, various durability concerns, the lack of a true takeover player, and more are hard-to-miss-flaws. There is a reason Nate McMillan failed to get past the first round here. But this is a team capable of making the top eight if they stay healthy and put last year's coaching issues behind them with the Rick Carlisle era beginning.
11. Washington Wizards
With Bradley Beal remaining committed to the franchise, the Wizards will be hoping to stay relatively competitive and earn another shot at the playoffs. Unfortunately for them, that's going to be a challenge. Last year's team wasn't particularly noteworthy on either side of the court, ranking 17th offensively and 22nd defensively. They needed an impressive late run just to squeeze into the play-in, with their seventeen wins from April 1st through the end of the season tying for second in the league across that span. There's work to be done to create the type of (relatively) consistent success that will likely be necessary to compete in this prime version of the East.
The good thing is that Washington has some reasons to feel good about the updated roster they'll be taking into the year. Thomas Bryant's return after playing in ten 2021 games will bring some positives. He's a highly efficient scorer with the potential to become more versatile offensively. But his defense is an absolute negative, and he's struggled to create an overall positive impact throughout his career. The obvious change is the departure of Russell Westbrook, who has been replaced – directly and indirectly – by Kyle Kuzma, Montrezl Harrell, Spender Dinwiddie, Aaron Holiday, and Kentavious Caldwell-Pope. Kuzma has some decent scoring potential, and he will have the opportunity in a low-pressure environment to take the steps he couldn't after his strong rookie season a few years ago. There are questions to be asked of Harrell's potential role on a legitimate contender (see last year's playoffs), but he's a high-energy, offensively productive big that should help the Wizards. Dinwiddie can be a high-level scorer and playmaker alongside Beal, and his shooting struggles will be familiar after a year of Russ. Throw in some solid shooting from KCP and decent enough backup guard play from Holiday, and the Wizards did fairly well to put themselves in position to chase a low seed again. That's about all you could ask for here.