Will the Charlotte Hornets Rise to the Occasion in the 2021/2022 Season?
5 min read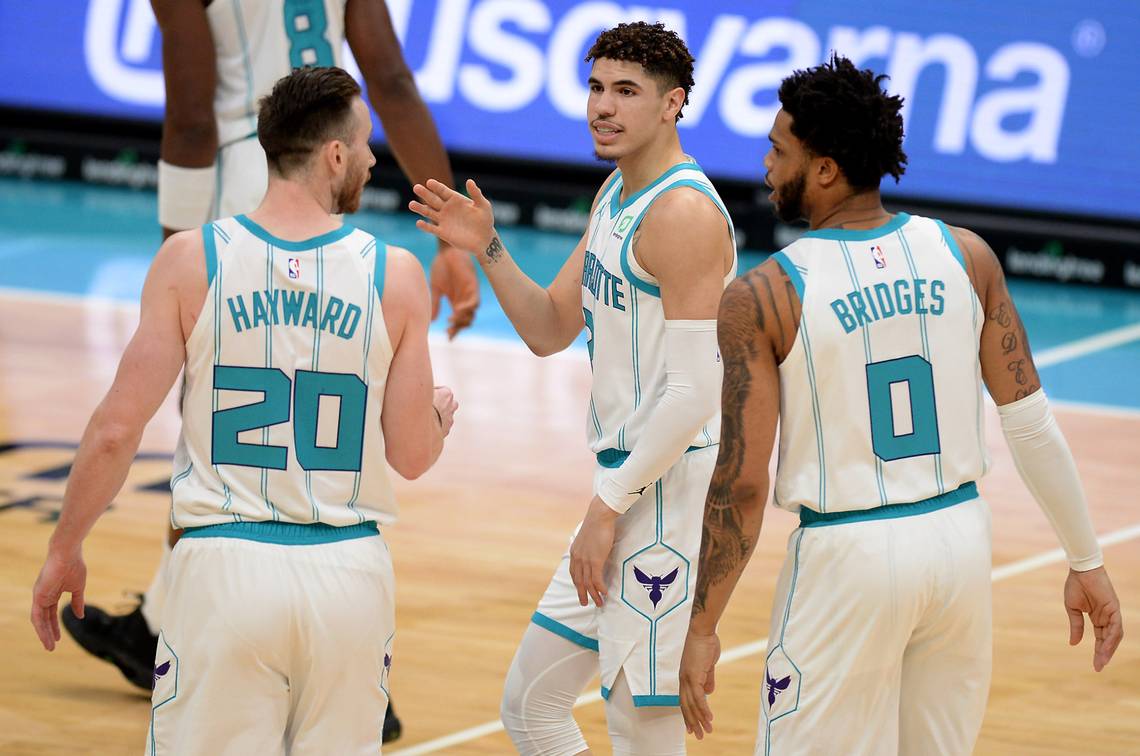 Two years ago, I predicted that the Atlanta Hawks would be on the come up led by their young core of Trae Young, John Collins, Deandre Hunter, and Cam Reddish. That has come into fruition with their recent trip to the Eastern Conference Finals, powered by their continued success of hitting in the draft: side note, Jalen Johnson and Sharife Cooper were excellent picks by the franchise yet again in this draft. This year, I am forecasting a similar story with the Charlotte Hornets. In 2020, they drafted their face of the franchise player in LaMelo Ball, and he met expectations by winning Rookie of the Year. Showing elite flashes of scoring and playmaking ability should excite the fanbase, with 20 ppg and 8 apg averages not out of the question for this upcoming season. In regard to the 2021 draft, I am extremely bullish on the selections of James Bouknight, Kai Jones, and JT Thor. It will be tight for the team in a newly stacked Eastern Conference, but I think it's possible for the Hornets to play .500 basketball and sneak into the playoffs as an 8 seed due to their young and upcoming roster. A recent contract extension for head coach James Borrego, who embraces the 3 point movement, should help the Hornet's cause. 
Alongside LaMelo's magnetism of being the focal-point of defensive schemes, the team has two above average NBA veterans that can score the ball in bunches in the form of Terry Rozier and Gordon Hayward. These two players are shoe-ins for the starting lineup and could both score near 20 points a game in an efficient offense. Both could also take some playmaking pressure off of LaMelo, as I could see them each averaging at least 4 assists per game. Both players are also locked into long term contracts and should continue their positive team chemistry on the court for the next couple seasons.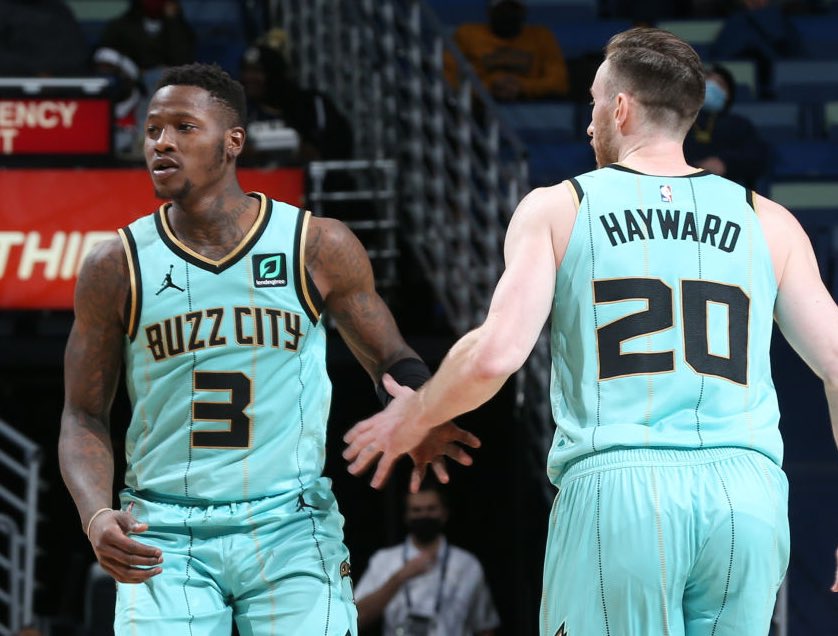 The team has a nice young core too, which has developed a bit in the past few years with the uber-athletic Miles Bridges upgrading his game to be a 40% from deep player. If he can sustain that shooting ability, he is a positive rotation player that could have a very long career. His effective field goal percentage was elite at 59.6% this past season, which ranked 15th in the league overall. He is a great lob threat for LaMelo along with the young and bouncy Jalen McDaniels. I am also very intrigued by P.J. Washington's ability to be a small ball stretch big that can play productive basketball in short spurts. He shot over 38% from deep last year, and though only 6'8", he showed some rim protection potential averaging 1.23 blocks per game and coming in the 90th percentile of block percentage for the league. These three guys can be productive and probably relatively cheap rotation players for Charlotte to complement their superstar LaMelo and their bucket-getters in Hayward and Rozier.
Free agency was also a success for Charlotte: They had a great trade on draft night to move up 20 spots in the draft to select JT Thor and get Mason Plumlee as a starting center upgrade. Plumlee can do everything former center Cody Zeller could do, along with being a way better playmaker that can initiate the offense from the high post. He was in the 91st percentile of true shooting percentage this past season which will provide the team some much needed efficient offense down low. I also really like the Ish Smith acquisition as insurance for losing Devontae Graham as a way to initiate offense off the bench for the team. Ish is super quick and can fit well on this team if LaMelo gets hurt like he did last year. Last but not least, Kelly Oubre Jr. is a phenomenal wing depth fit. Oubre took a step back last season, but he did not really fit well in Golden State's offense as he seemed to be shot hunting at times. I think Kelly will perform much better with less pressure on him in Charlotte. He is another athletic forward that can create for himself if necessary and is a solid defender that gets a ton of deflections on defense. The forward rotation of Hayward, Oubre, McDaniels, Washington, and Bridges is scary deep and should be a plus for this roster.
Saving the best for last, the team has a few incoming rookies with breathtaking star potential. In my humble opinion, the Charlotte Hornets were unquestionably the winners of the 2021 draft. Getting James Bouknight at pick 11 was an absolute steal. He has top 3 star potential in this draft class, and I had him ranked as the #7 player coming out of the 2021 draft. Bouknight excelled in summer league, scoring 17 points per game, which is very feasible for him to reach in the NBA within the first two to three seasons in the league. He's an absolute bucket-getter from three levels, and the scoring potential of a LaMelo-Bouknight backcourt for years to come is scary for defenses in the Eastern Conference. Additionally, the Hornets made a great trade, giving up a protected future first rounder to move up to pick 19 to select Kai Jones who I predicted the team would take at pick 11 originally. This pick is another highway robbery. Jones is a freak athlete who in the short term can at least be a rim-running, big body pick-and-roll lob threat for LaMelo Ball. In the long term, he has the potential to be a Myles Turner or Jaren Jackson Jr. type of player. If Jones reaches his potential, he is a unicorn big that can stretch the floor, convert down low, be a rim protector, and is athletic enough to lockdown wings on the perimeter. Further, at pick 37, the Hornets scooped up JT Thor who was one of the biggest question marks in the draft. He is a swiss army knife potential pick that is a great athlete and can potentially do a little bit of everything for this team. This is one of those drafts where pretty much everyone agrees the Hornets made the right picks and could have struck gold.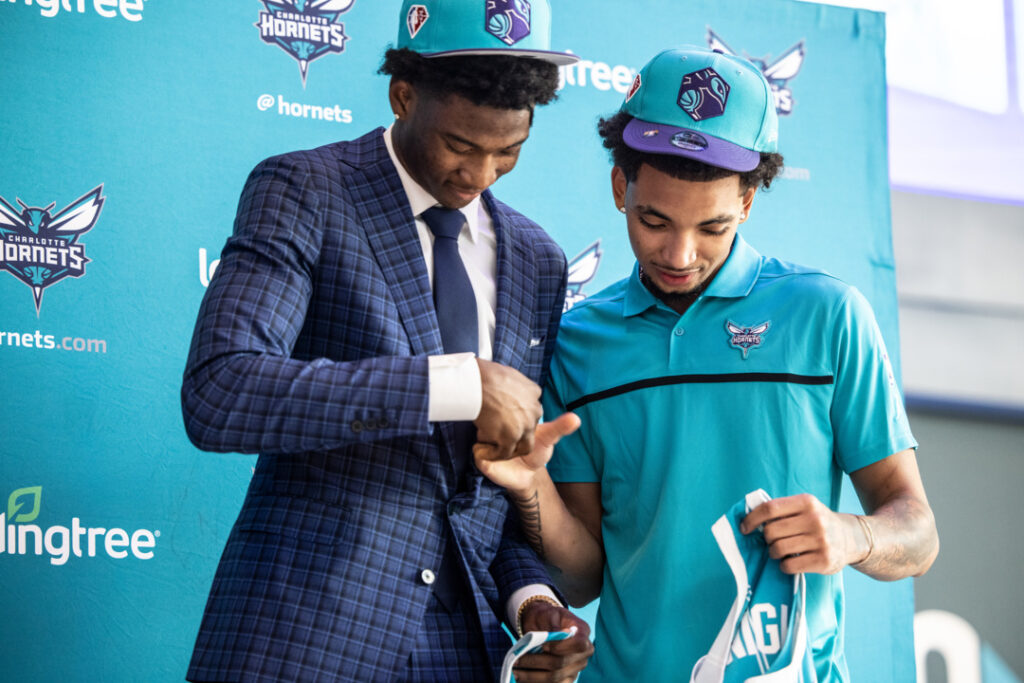 In summary, I am extremely bullish on the Charlotte Hornets and you should be as well. Realistically, they are probably the 9th best team in the conference as Philadelphia, Brooklyn, Milwaukee, Atlanta, Miami, and Boston are probably guaranteed to be better than them, with Chicago looking to jump into the playoffs as well coming off a huge offseason and the Knicks hovering in playoff contention too. It will come down to how much their young core and rookies can develop, but I'm making the hot take that Charlotte jumps into the playoffs this year if one of these other teams regresses. In the medium run in around three years, I could conceivably see this roster becoming a contender. You have been warned.